Without doubt Rolex is the KING of the Auction Room!
This is what $ 9 million looks like on my hands. 2  iconic grail Rolex for SFr 5,170.000,= and 3.722.000,=, incredible!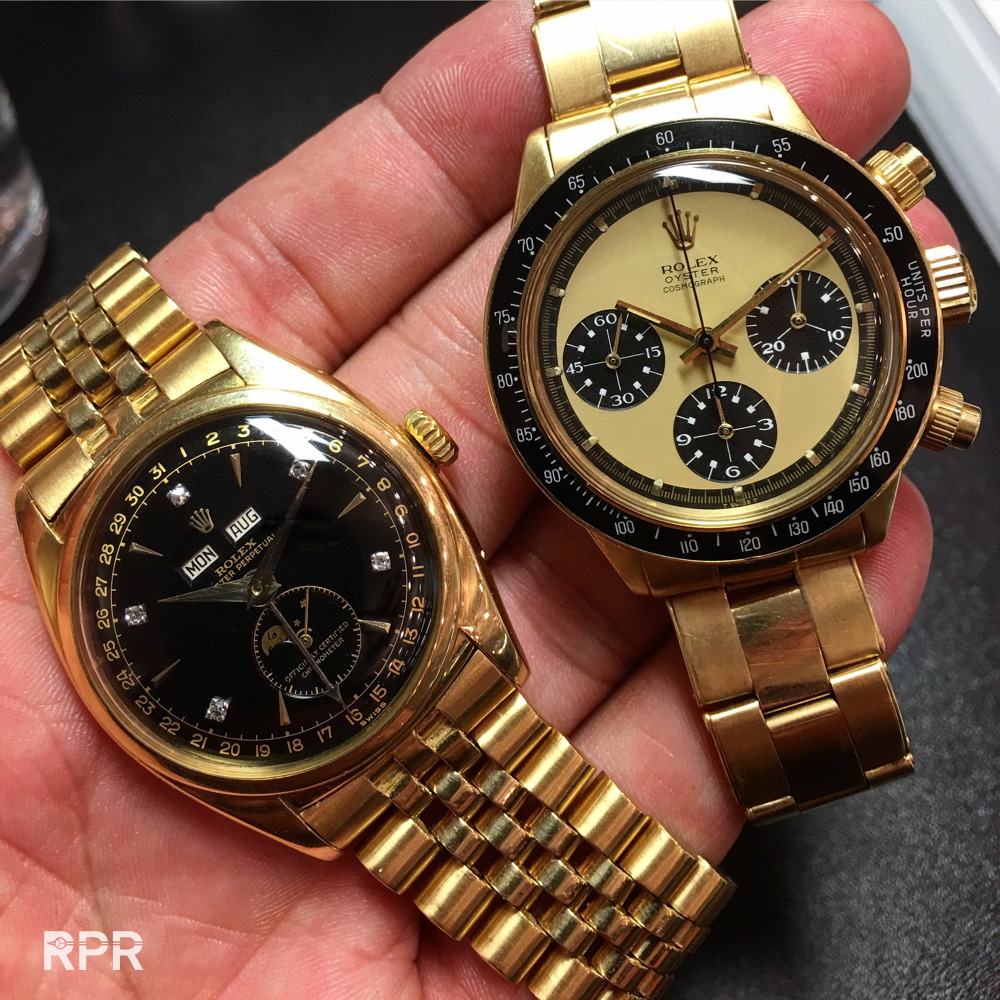 Mama mia what a performance it was again to see vintage Rolex dominate the world record prices that have been achieved during the watch auctions last weekend in Geneva! I was prepared to see some strong bidding for the top lots but that it would have been this intense, I could not imagine! When the previous world record price of any Rolex sold at auction get smashed 2 times (from 2.5 million for the steel Split second last year to 5 million for the Bao Dai ref 6062) one could think this is a sign of a well created hype. Au contraire, there where only 2 bidders for Haile Sellassie's Patek, we saw almost 10 bidders for the Bao Dai! The vintage Rolex market is strong as ever and shows this on all levels…
Up close and personal, the UV light test to see if the luminous dots have been worked on. You see below it's not perfect…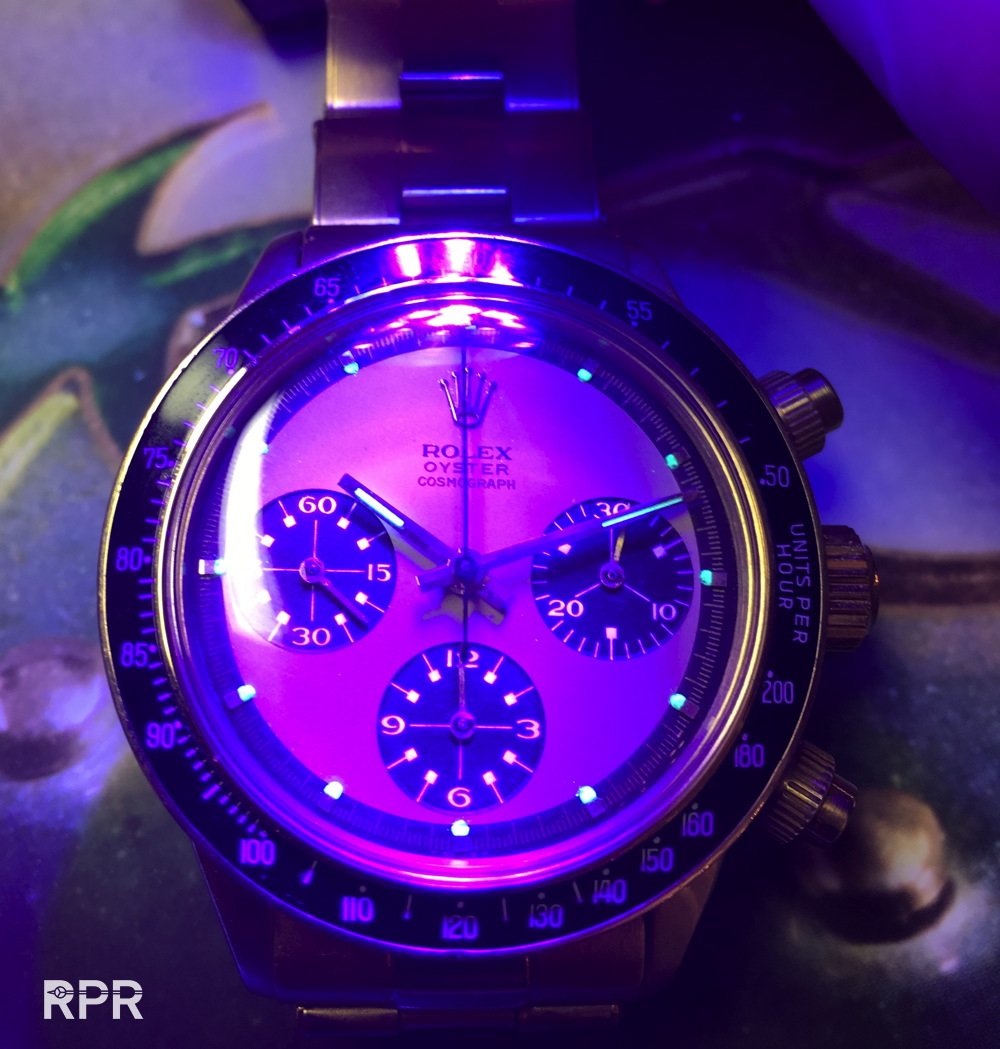 Pink it is at the entrance of hotel Des Bergues, Christie's location for their successful monday Rolex sale..
CHF 1.930.000,= for a serieus rare steel Rolex 6062…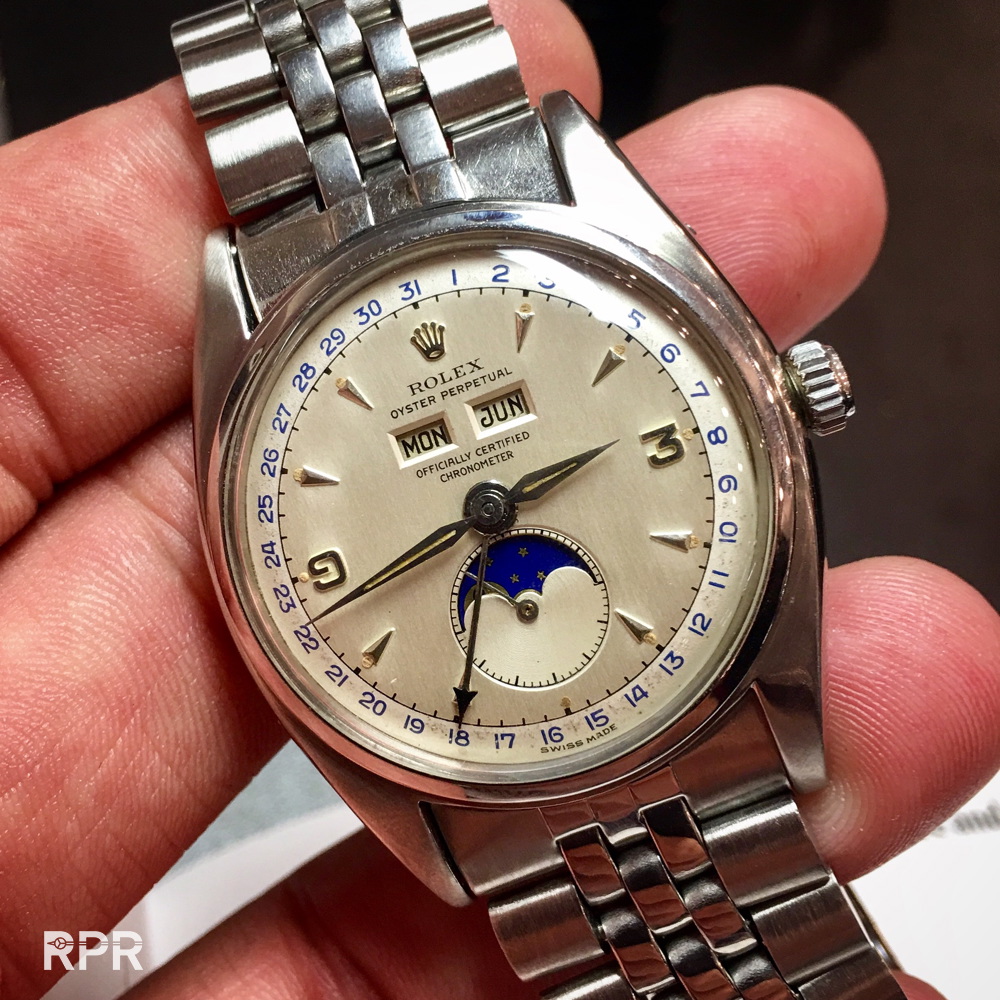 White gold Submariner Ref 1680 prototype case, with added bracelet, dial and movement, handful know, sold first time publicly for $ 640.000,=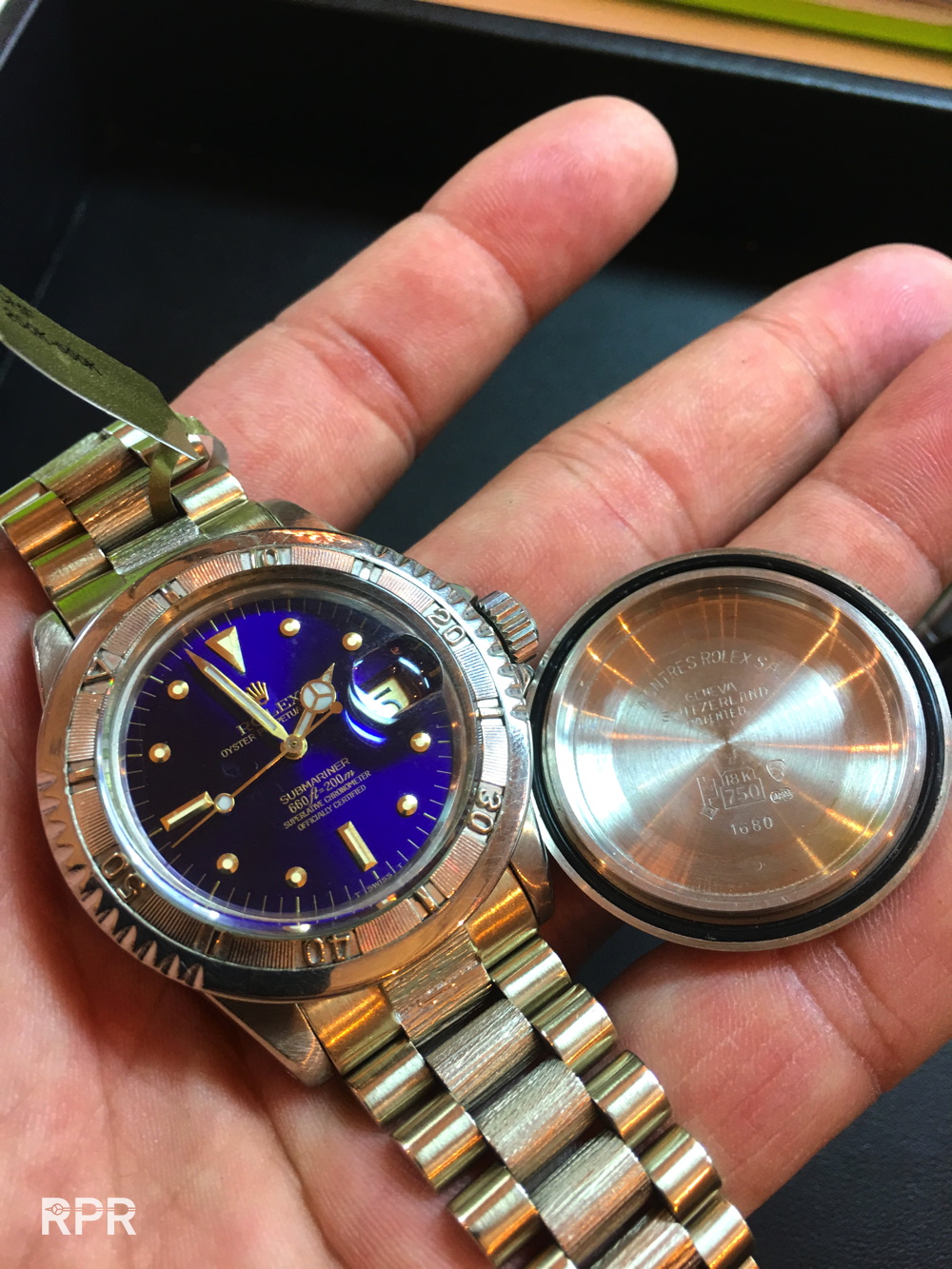 I don't want to step on anybodies toes but my impression was that Patek Philippe has become old fashioned, by far as sexy and sought after as Rolex is. Off course I noticed that some Rolex prices where pushed to the limit, like the big ego bidding when 2 guys alone went from 1.5 million to the final hammer price of 3.1 million on the Oyster Lemon gold Paul Newman.
The above "Haile Selassie" Patek Phillipe Ref 2497 sold for CHF 2.911.500,=
Besides a dozen of world record watches, many many more watches came up for auction this weekend. I heard lots of people complain that the quality wasn't great but then isn't that just a logic consequence from the fact that the prices for great quality are still rising extremely hard at the moment. With other words, why should there be any bargains to find in Geneva now auction houses has been focusing to sell to customers directly? Furthermore why should somebody sell his great vintage watch if he doesn't get any return from his bank but most importantly, within 6 months the price might go up with another 25% or more?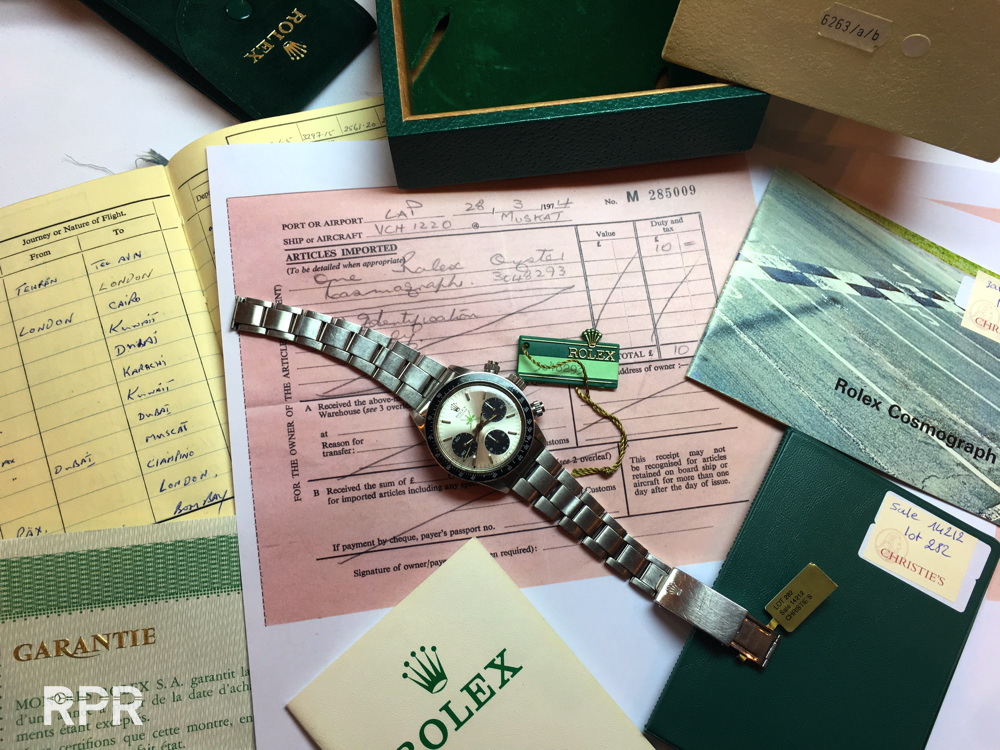 Sure there are some exceptions like the original 80 year old owner of the green Khanjar Daytona, who couldn't believe his eyes that it finally fetched more then CHF 700.000,=. For me the market is very healthy because since the last time I was in Geneva I noticed that the 'usual suspects' where not buying, let alone bidding anymore but the results are all over still great. Off course some examples where disappointing like the Rolex Neptune Cloisonné that went for half the money it sold some years ago, showing us that when 1 guy, who was buying them all before steps out, stops bidding, the market corrects the price…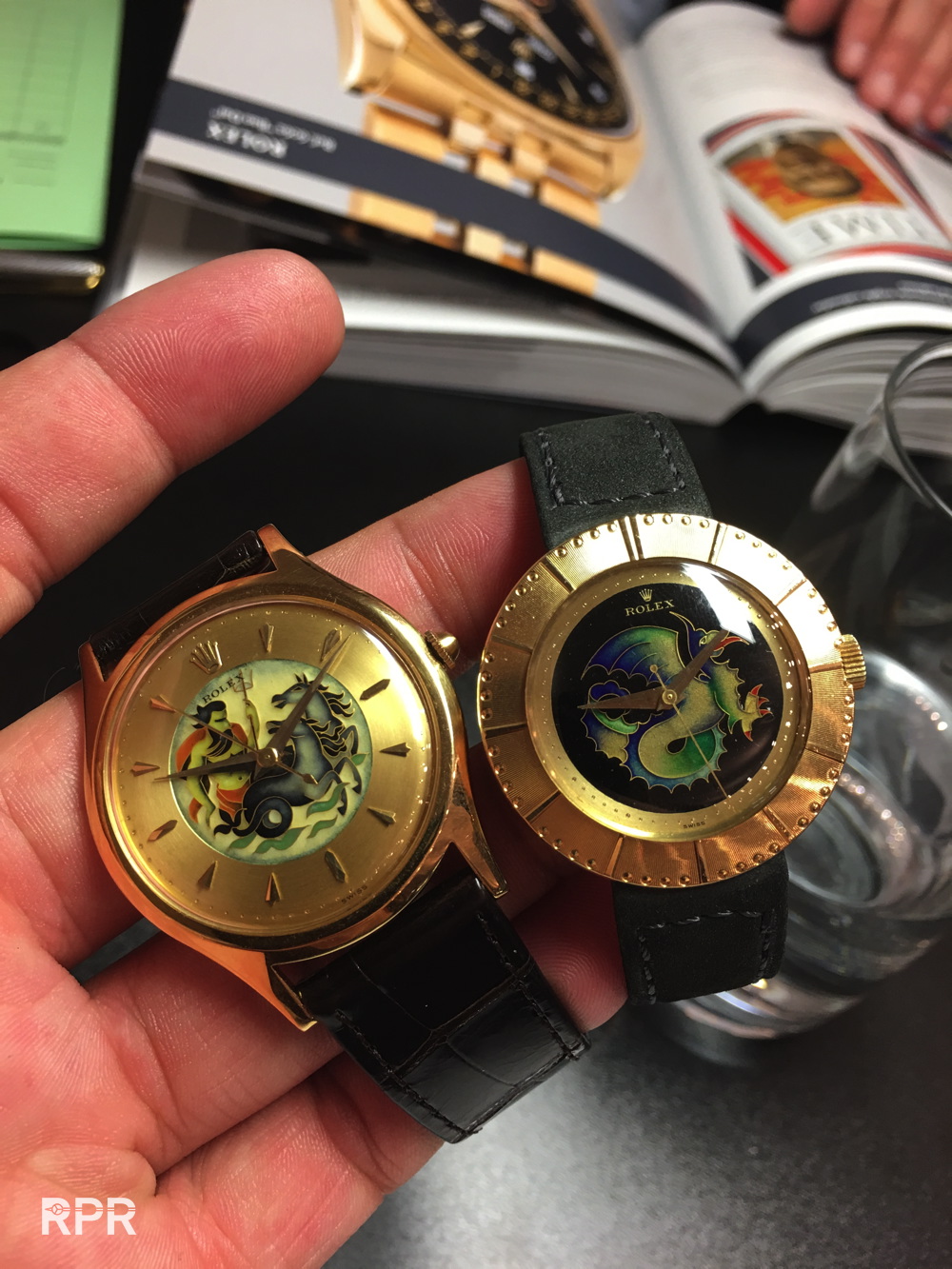 More asian buyers are entering the vintage watch world after they got fed up with the modern stuff. Not only on the phone and online but I met also in person many new collectors making their effort to come to geneva and bid live. All over I saw many new faces, some where also bidding, others where just there to see the magic happen. Actually I think more privates where active then dealers…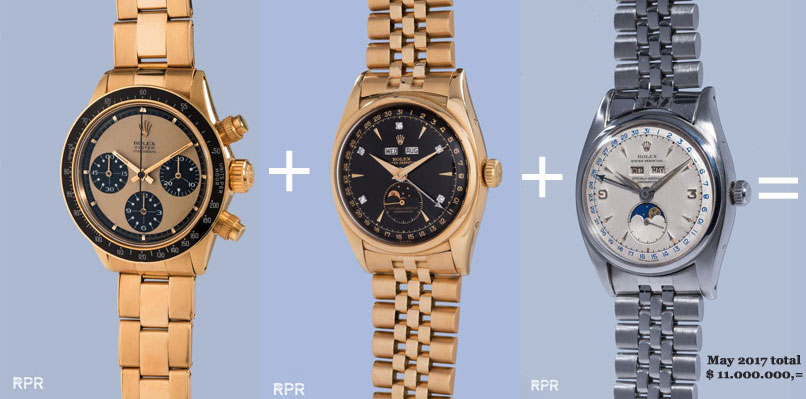 The vintage watch world has changed dramatically since social media is bringing the collector together. Many deals are made directly without any dealer or auction house come true. Collectors know whats going on, what to buy and what not. It's not like they where waiting for me to write my report and find out that the gold Tiffany John Player Special Daytona was relumed, no, information travels fast and those interested are aware! Anybody who was online during the auctions could have live followed the sale from their lazy chair seeing that quality sells like crazy..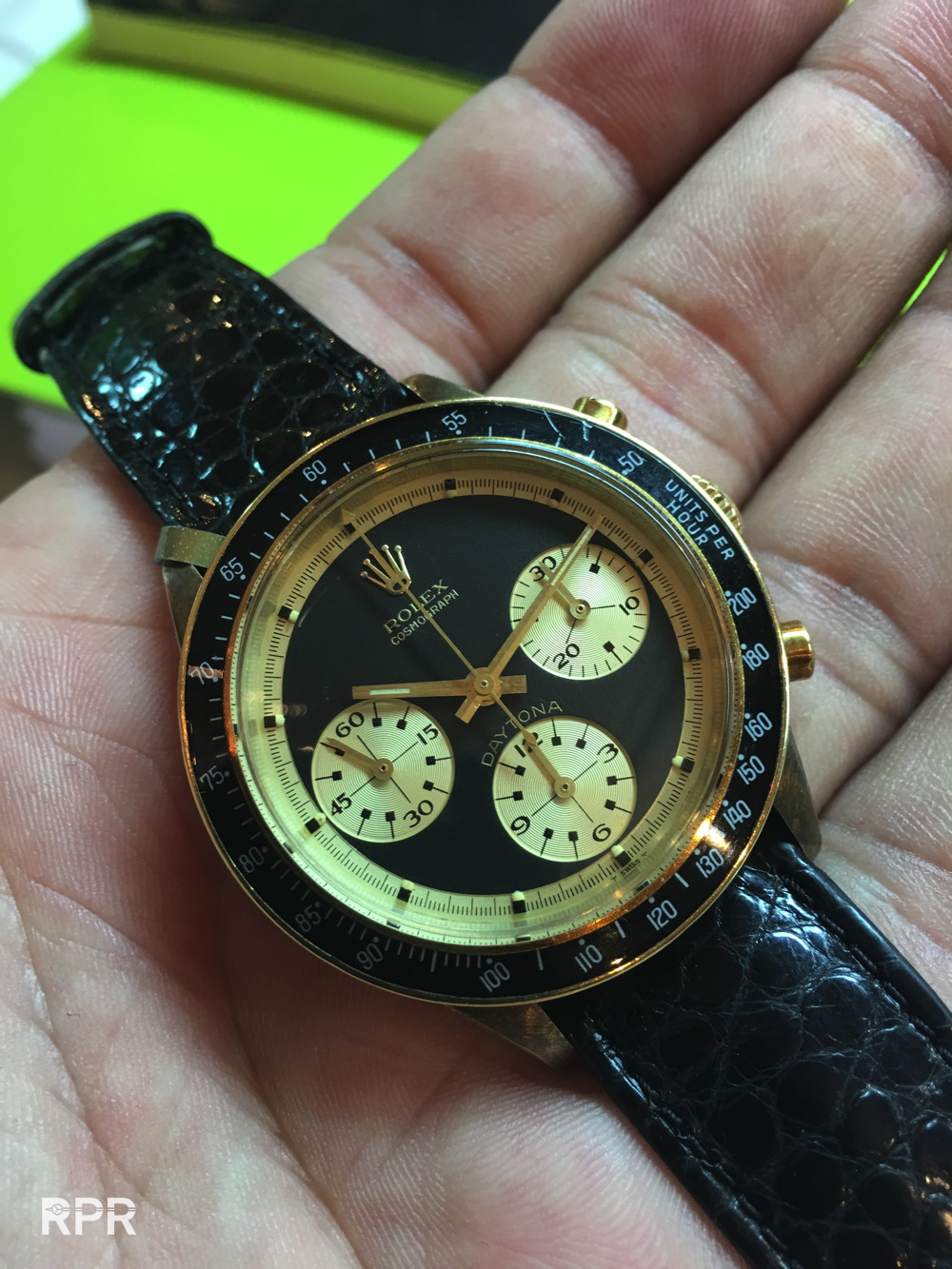 200-400 estimate and sold finally at CHF 559.500,= or $ 565.000,=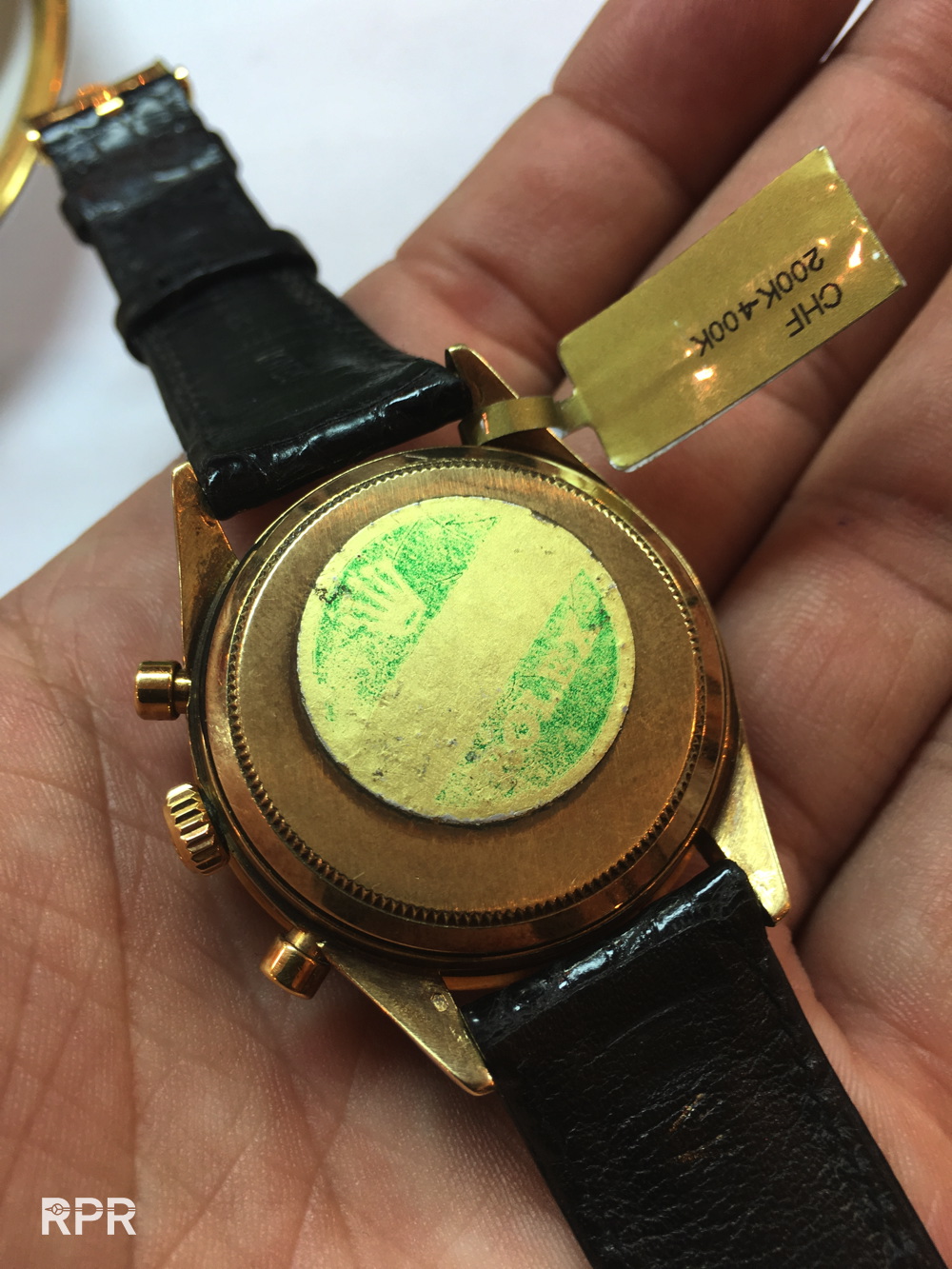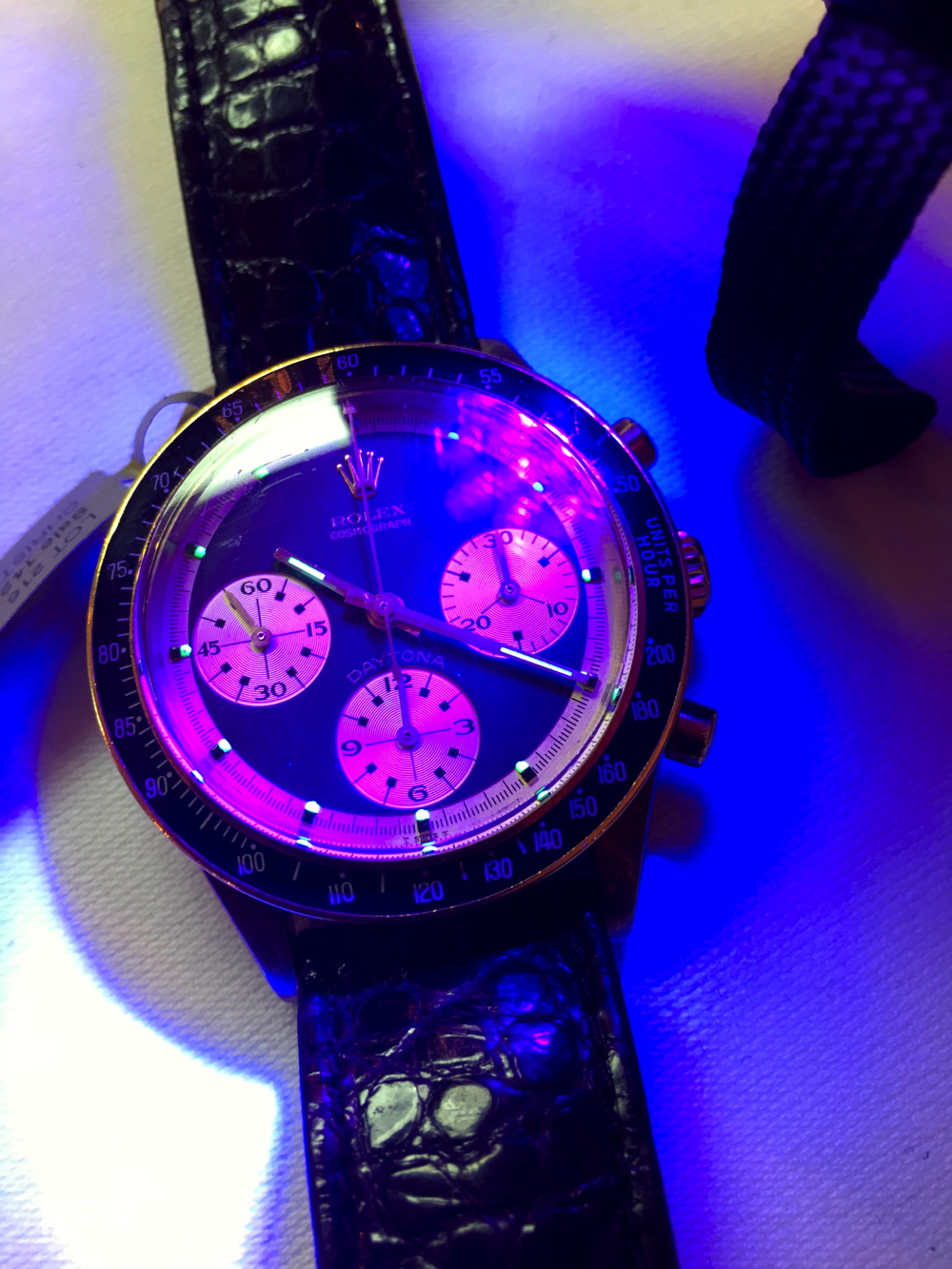 Since information is available for everybody we see prices gone up ever faster then before. I was surprised to speak to an old school dealer who told me he still thinks that auctions are for professional buyers only and their clients / collectors had to wait till they got something offered from them. I told him to wake up, open a Instagram account and stop moaning. Everybody can sell a great watch for a great price on IG nowadays, the problem or lets name it the challenge nowadays is in finding great original watches. Geneva is hardly the place to be for dealers anymore to buy their stock, it has become a consumer market..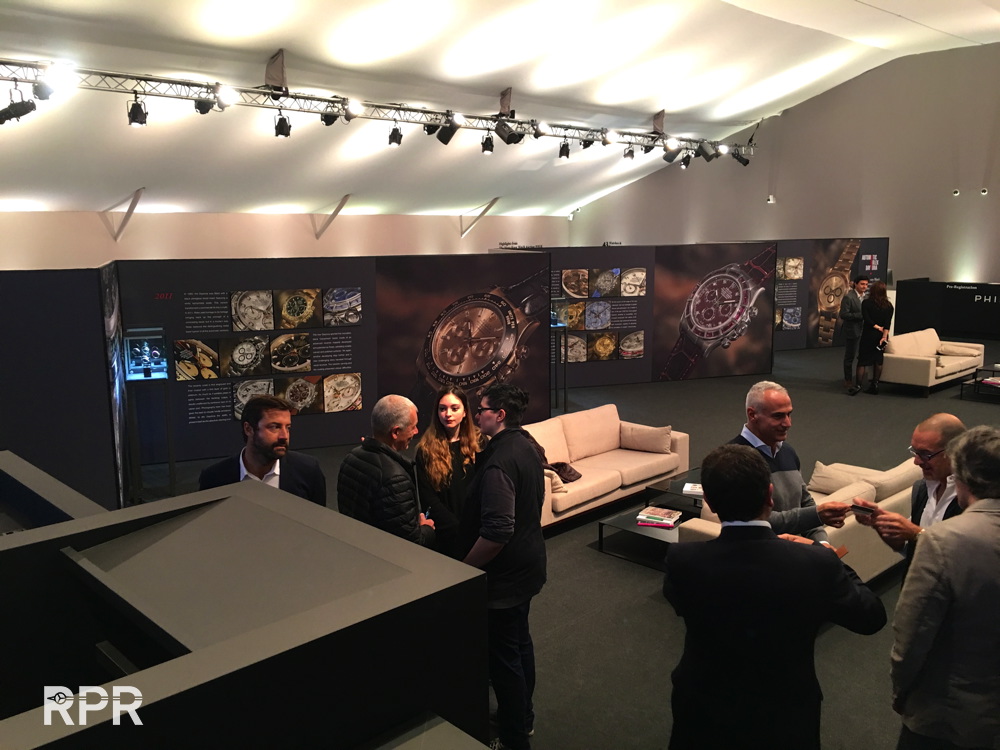 The next following days I will add some comments to the picture I took and like to share with you. For now i'm off enjoying the sun! In the meantime I want to thank the great number of collector friends I have met again! I also want to thank the auction houses for taking so good care of me. Remember that the price is just a number and partly important on owning a vintage watch. The pleasure I still notice in the eyes of the owner of a great watch, no matter if he's a dealer or a collector, is the reason why I visit Geneva.
Enjoy and see you next time!
Cheers,
Philipp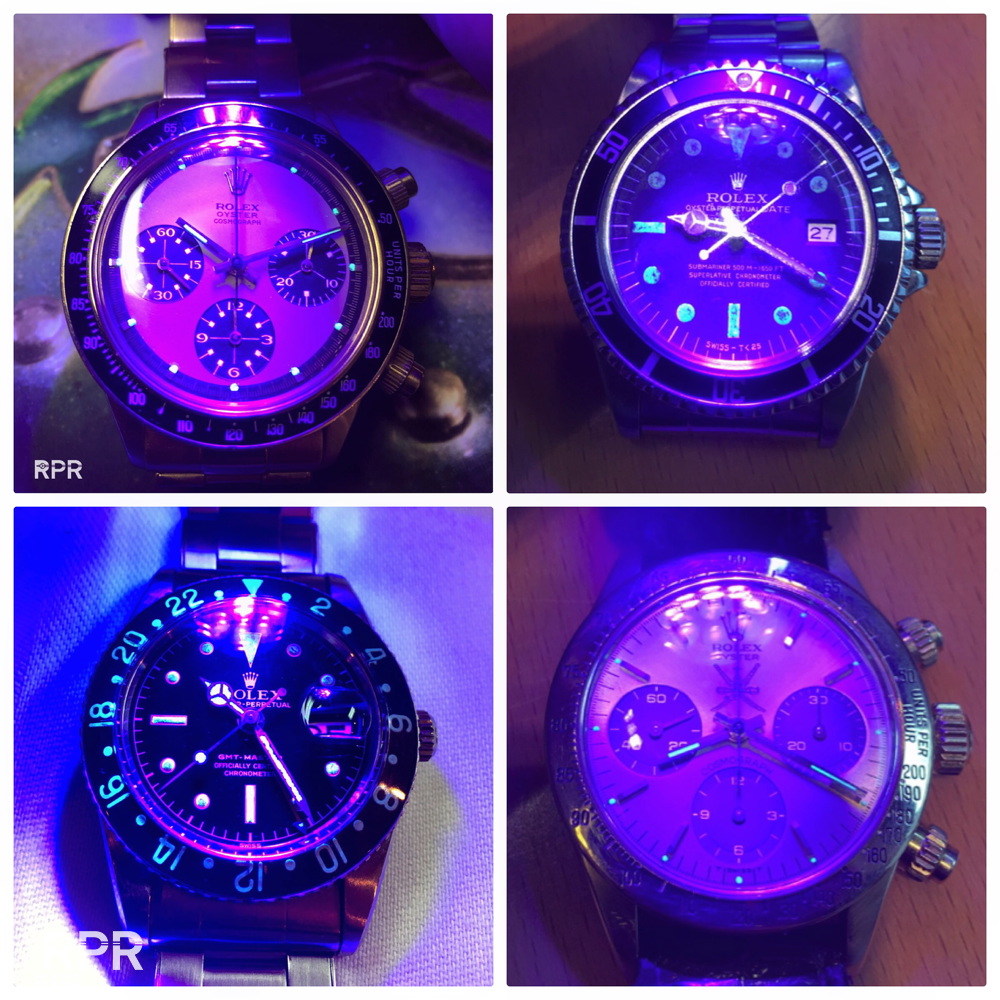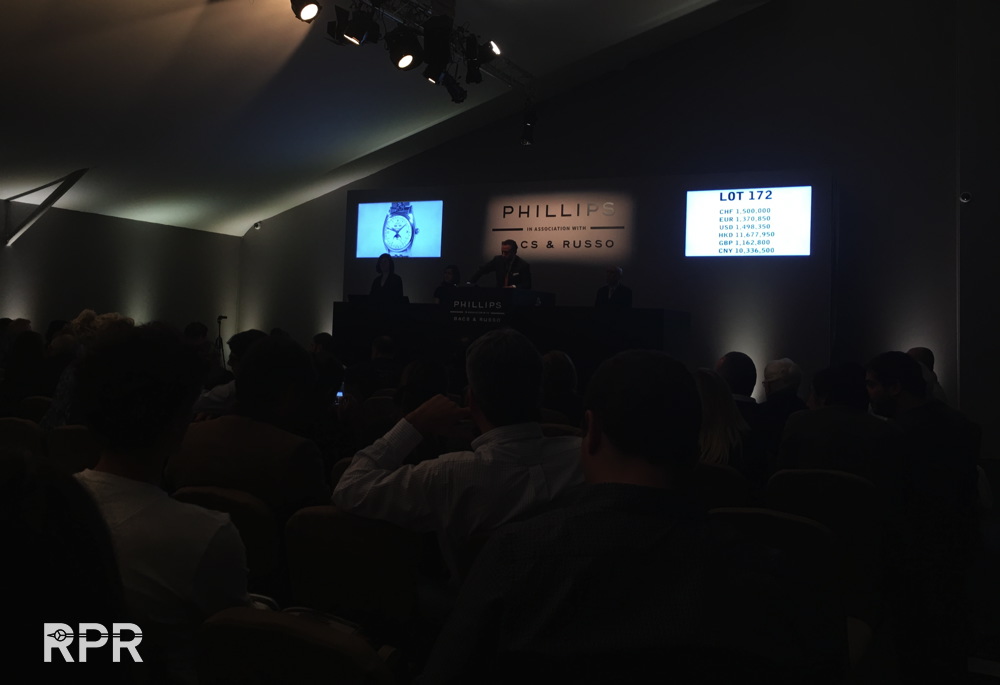 The RCO passed due to obvious relumed dial, pushers, bezel etc. Kind of sad to see that Rolex themselves have killed the value of their own vintage during services done around the world…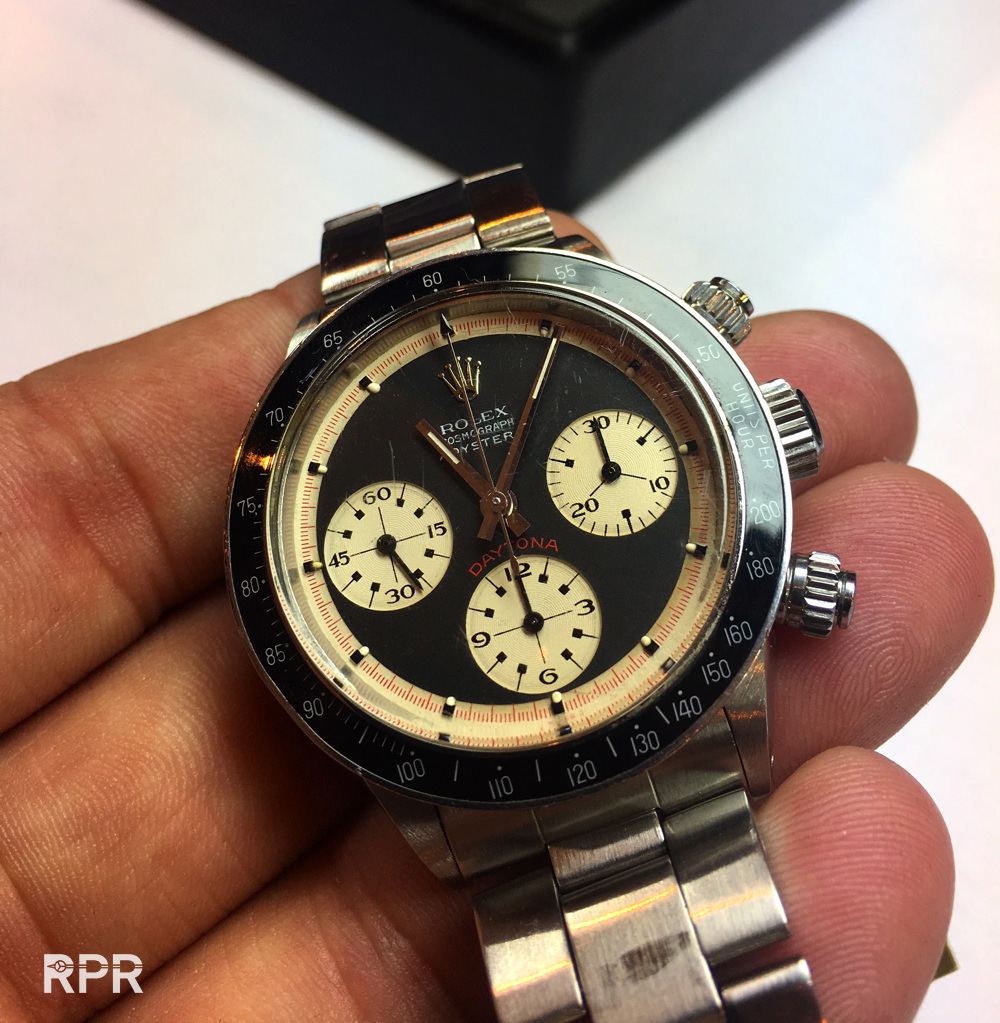 Although this 6264 is much more rare then the previous crisp gold 6241, we clear see collectors waant the best as it sold a little bit cheaper at CHF 583.500,=…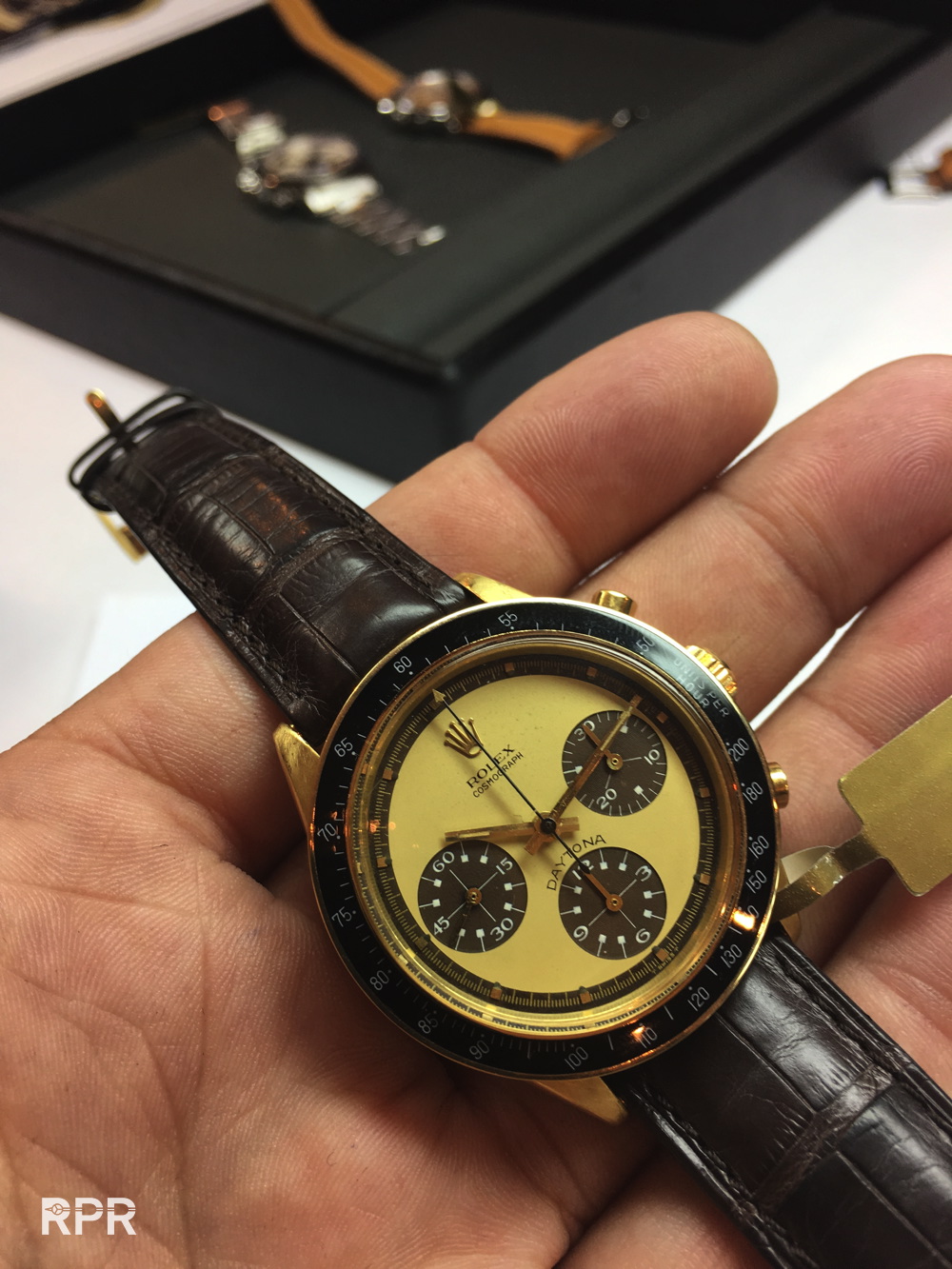 This is one of the many pictures I show you and a trained eye can determine what has been done to it during it's life….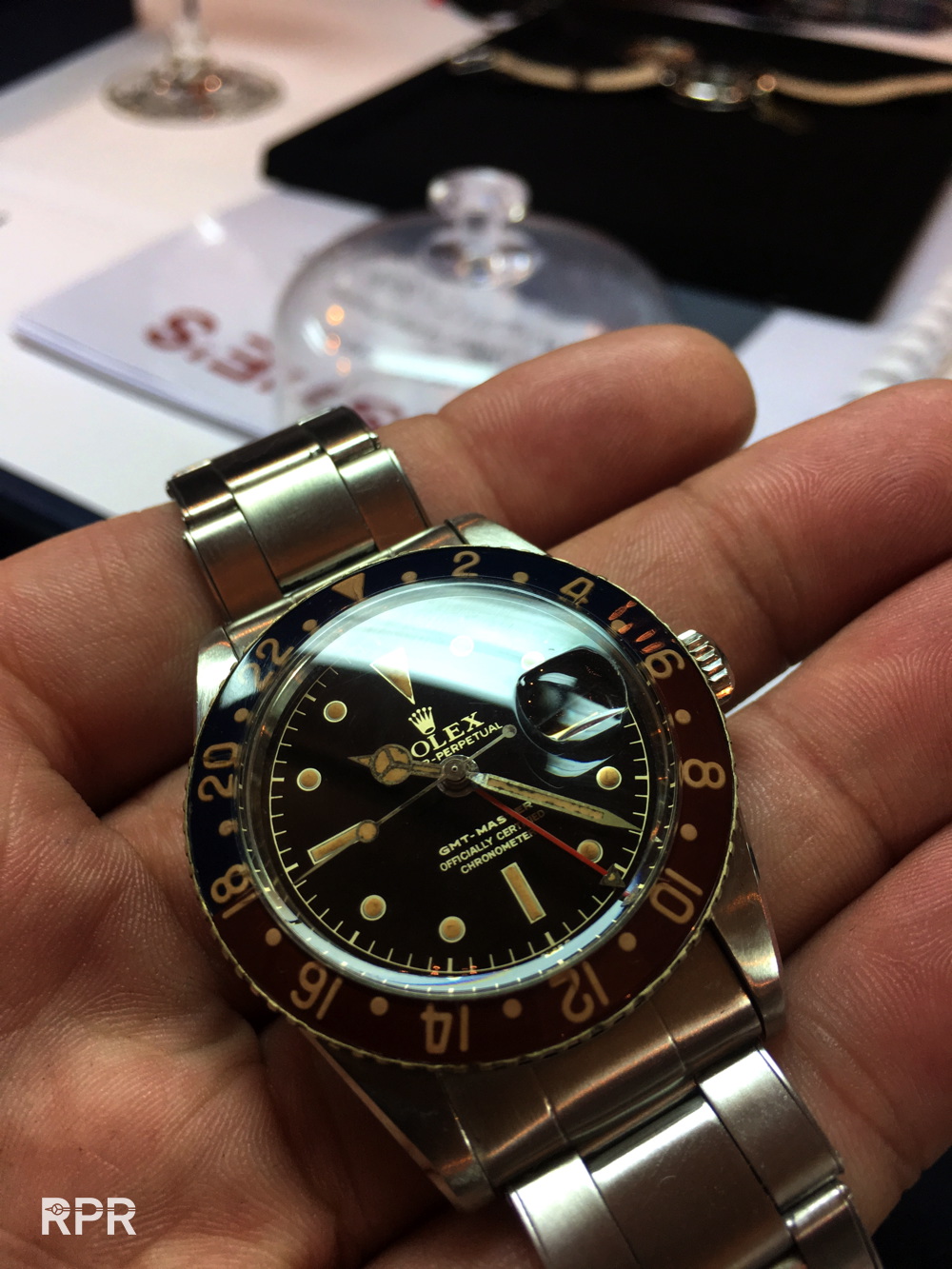 The UV light helps you to determine the originality of the luminous. IS it all original, partly worked on or totally relumed..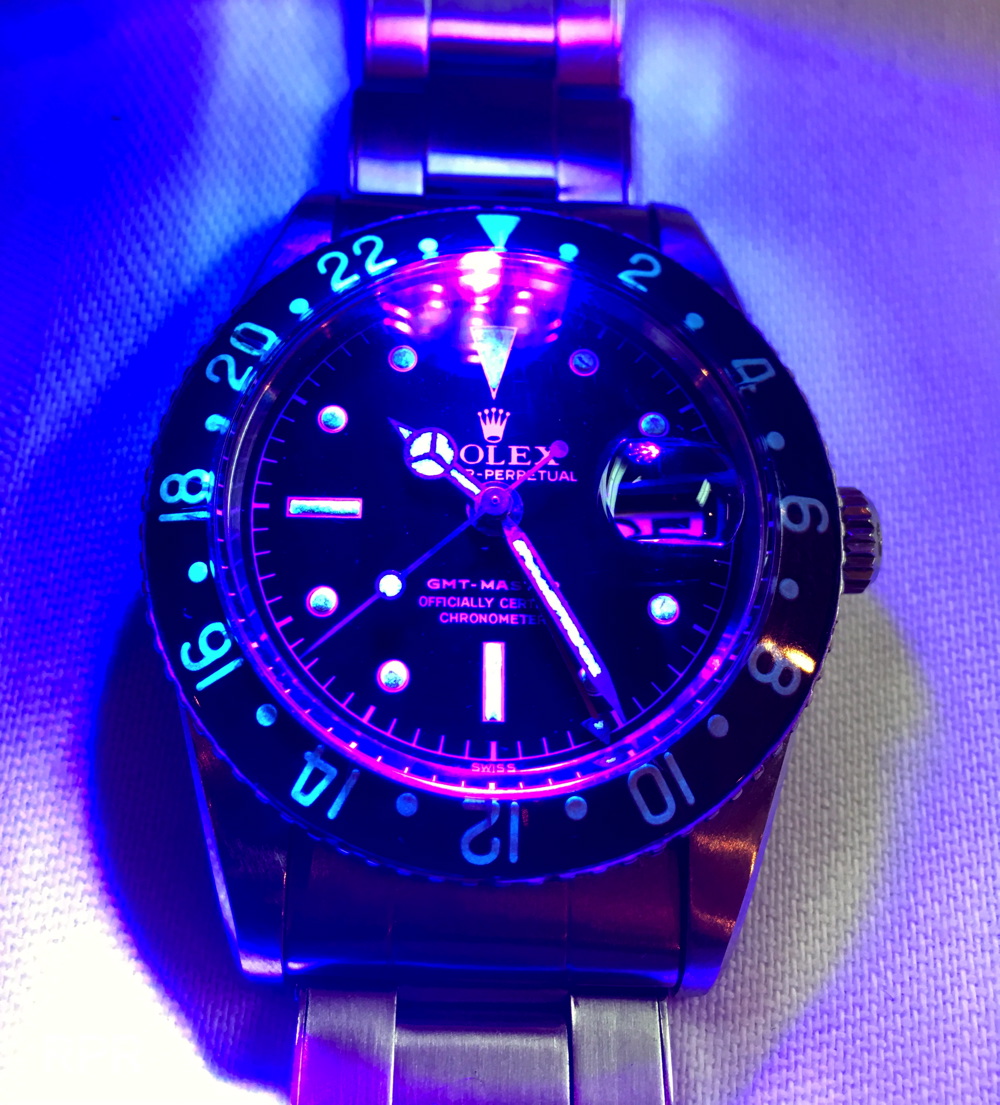 Cheapest Rolex Star dial is still CHF 187.500,=..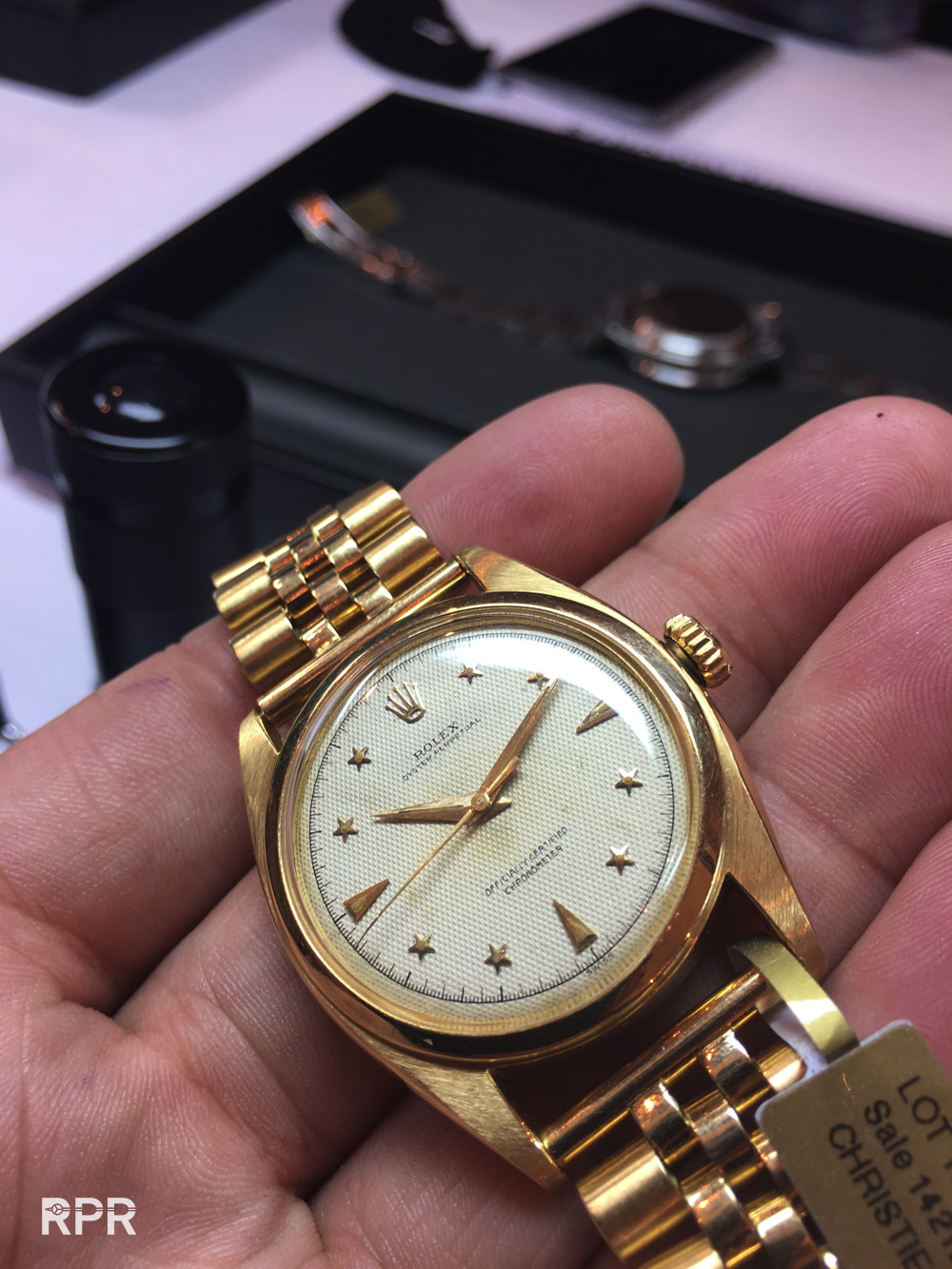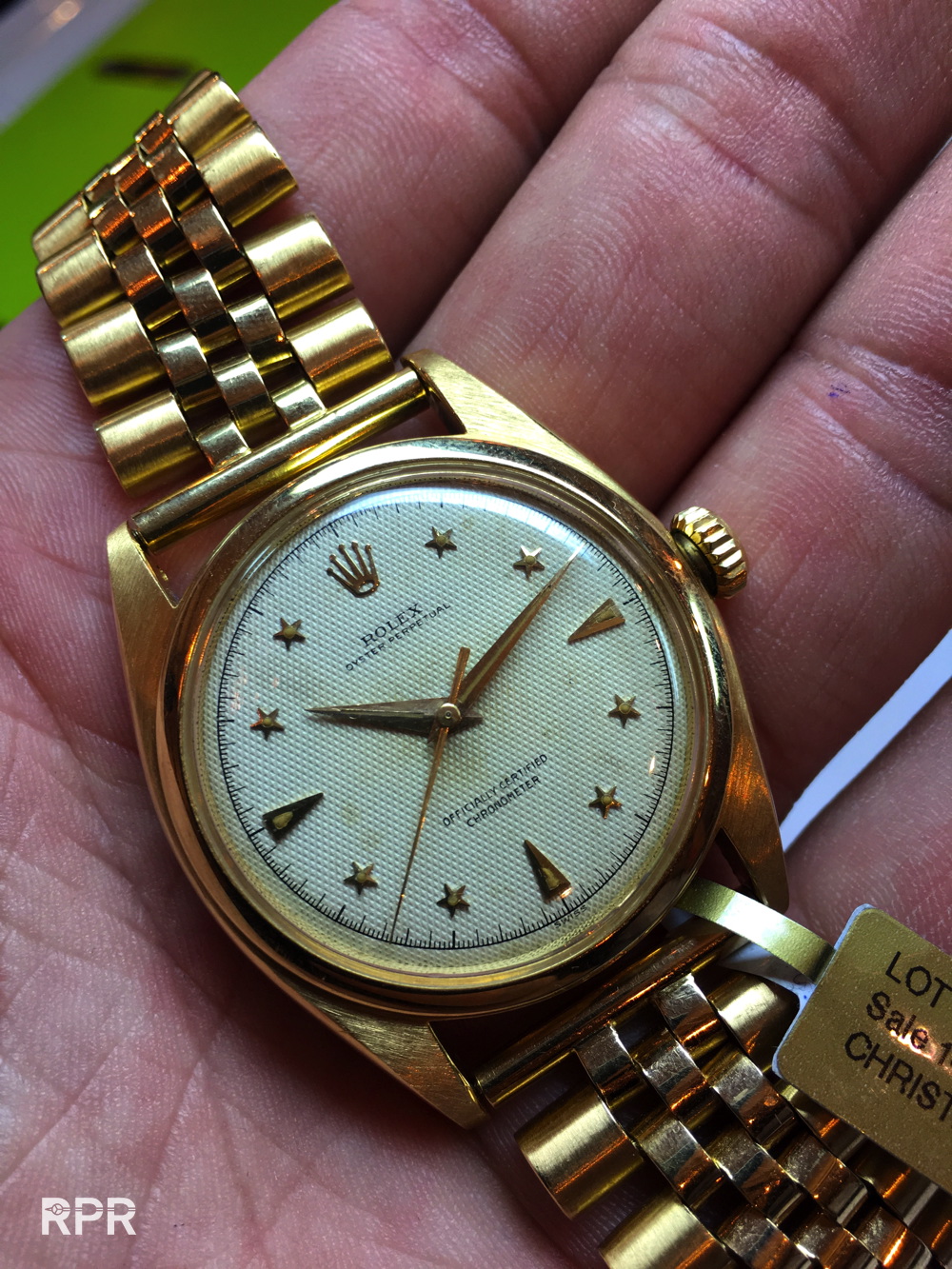 Sold for CHF 430.000,=, the Tiffany 6264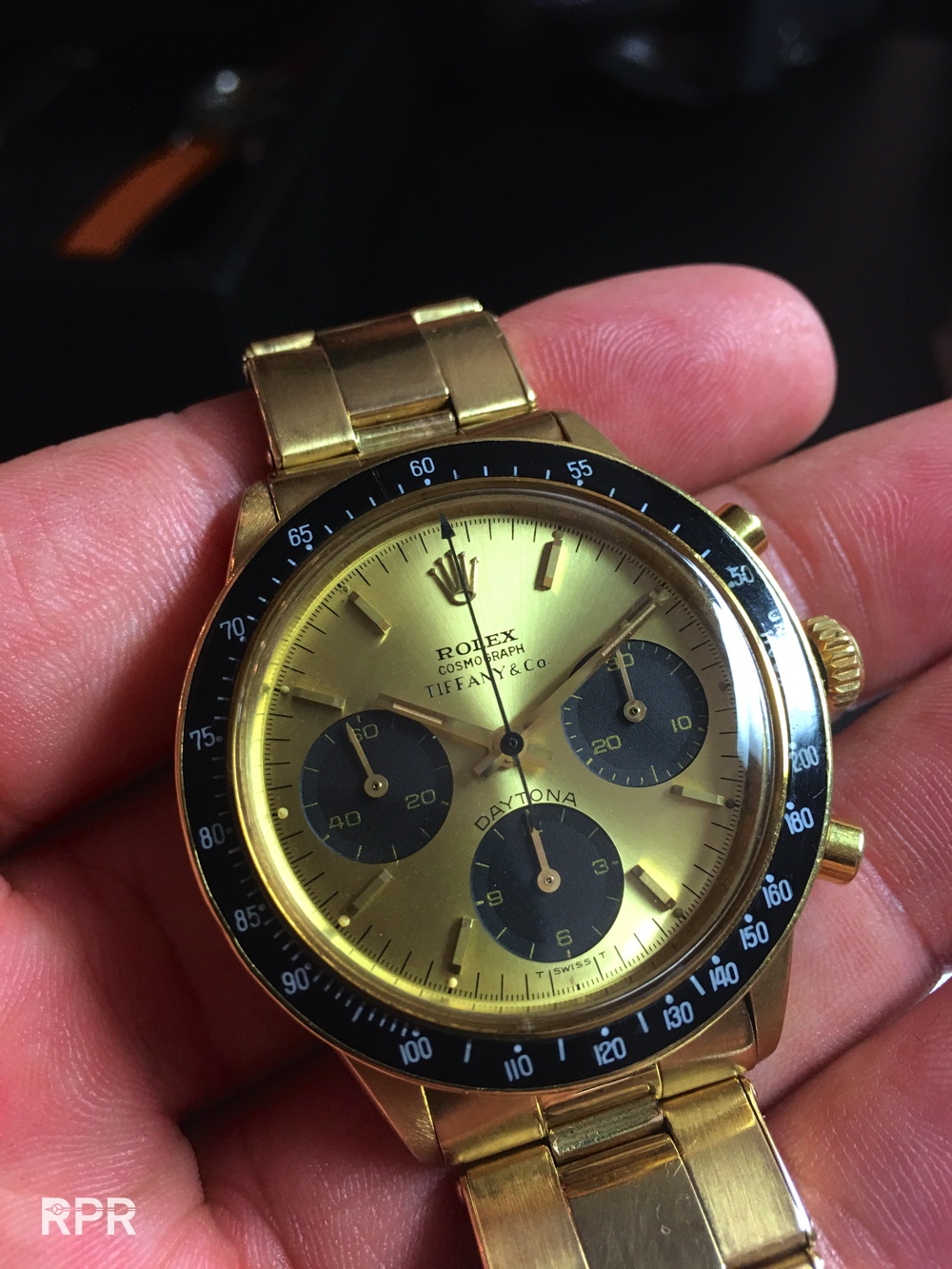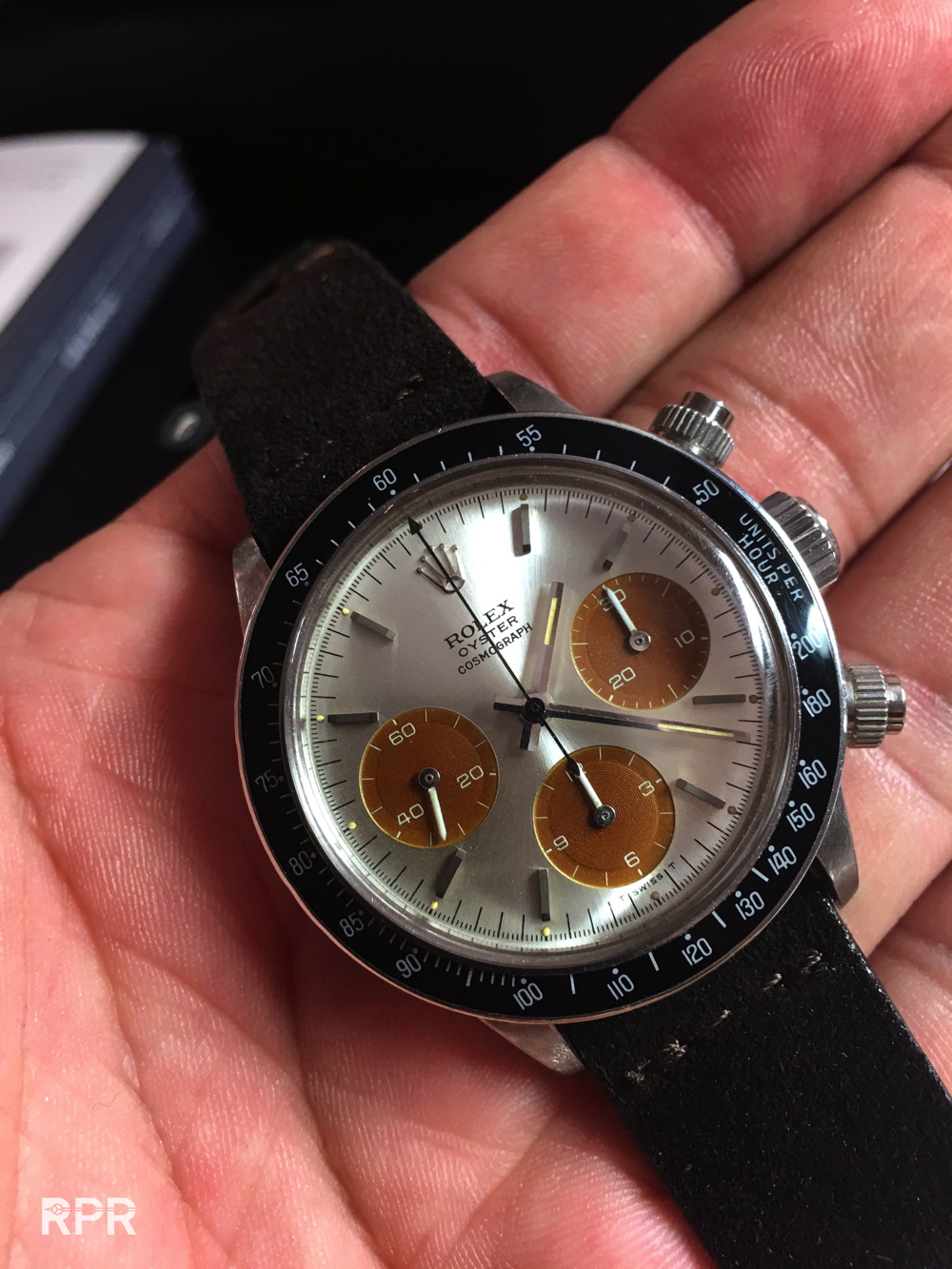 CHF 162.500,= is a huge premium for brown sub-dials, if it was me spending that kind of money I wanted to be 100 % sure the lume dots are original and not caramel paint was added…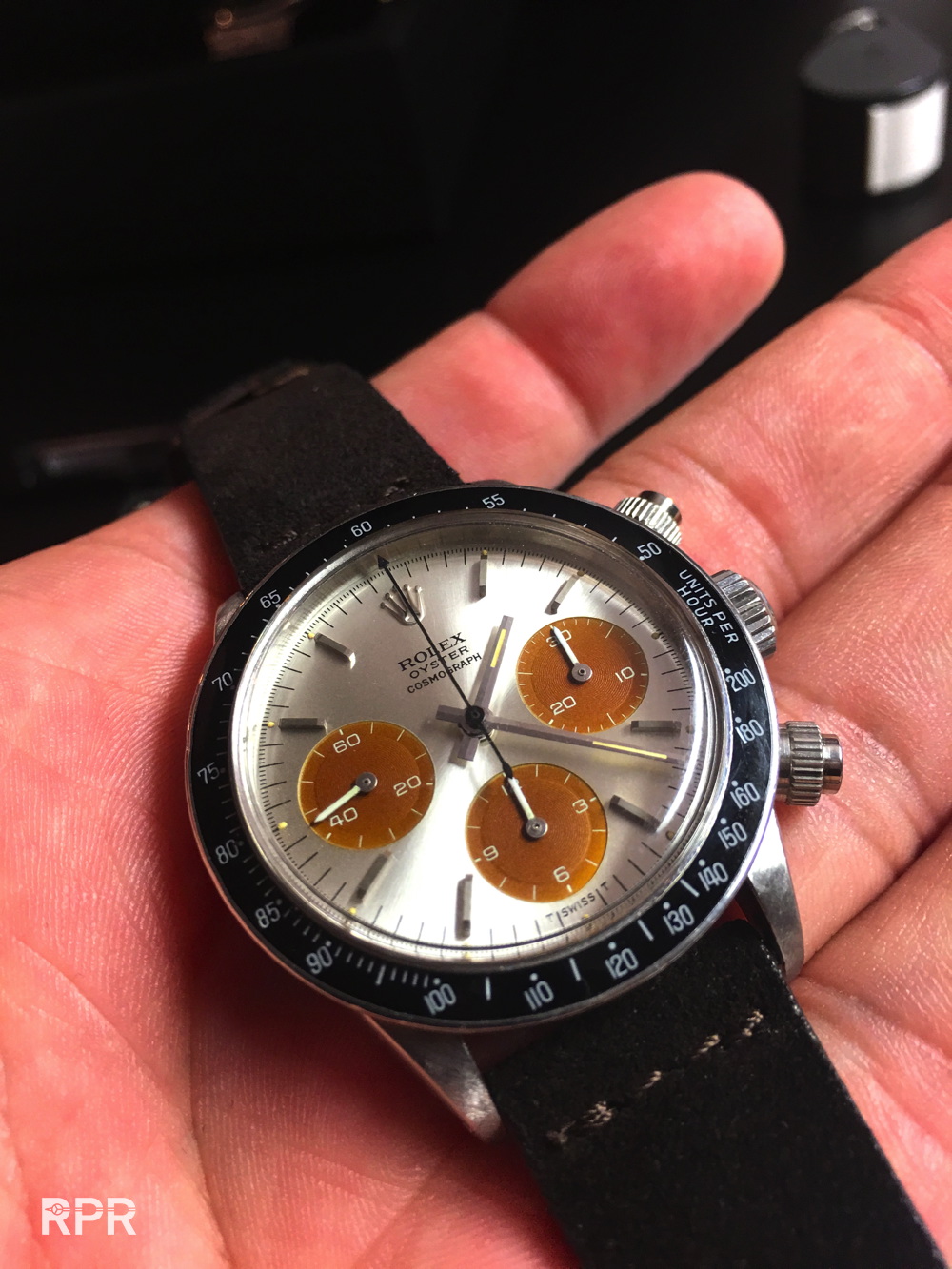 This doesn't look very convincing…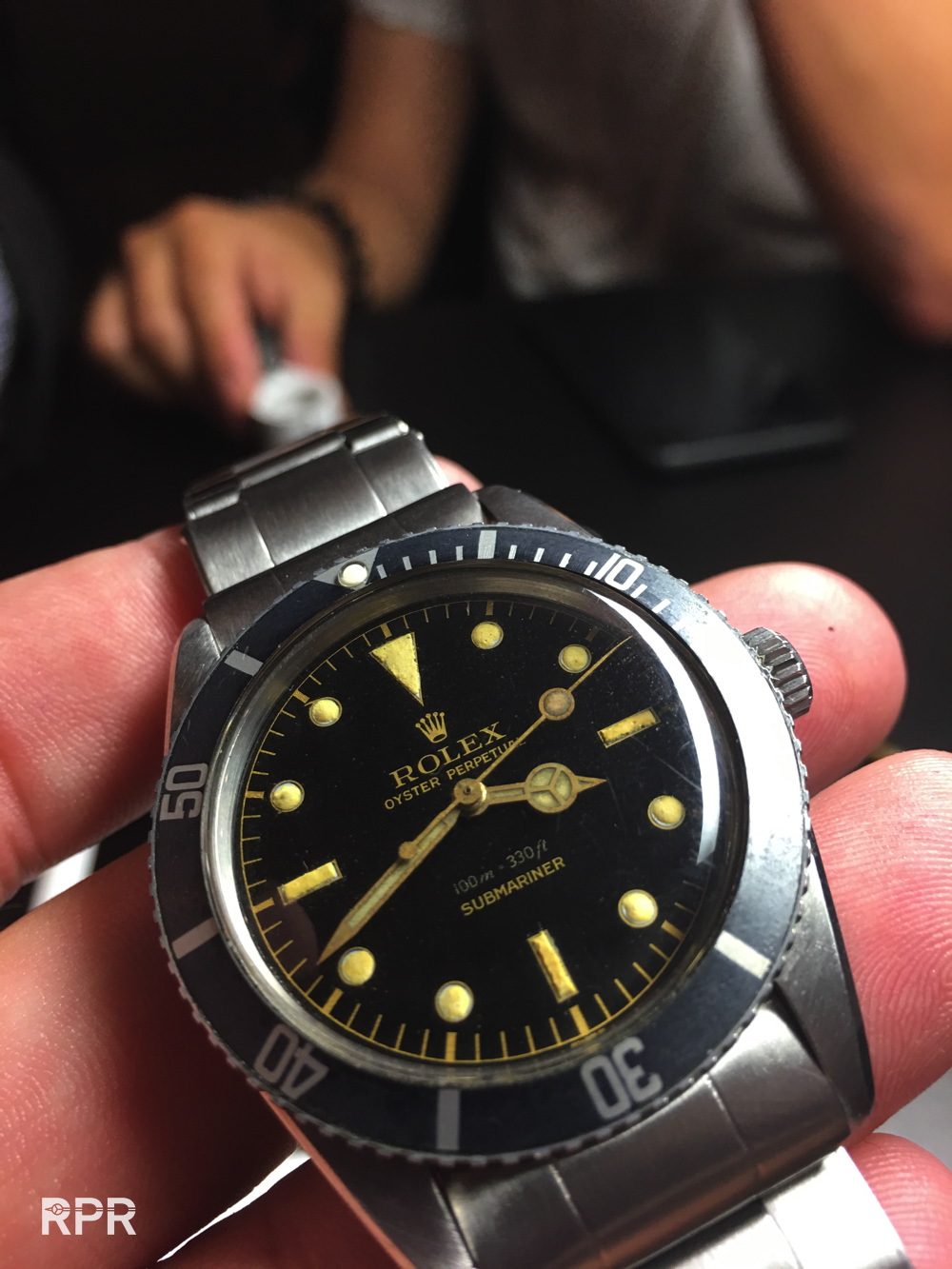 CHf 71.850,=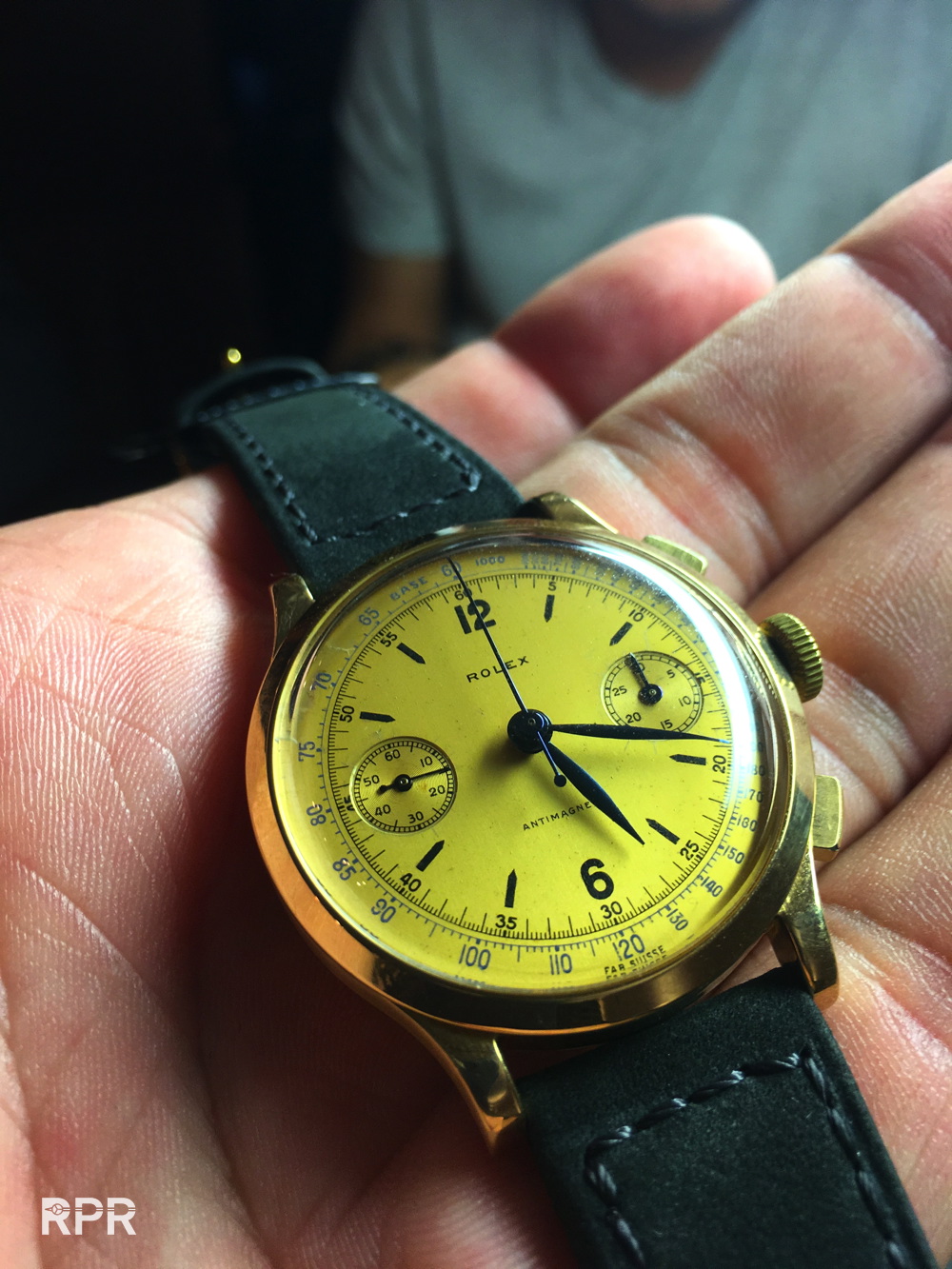 PPDRSD CHF 175.000,=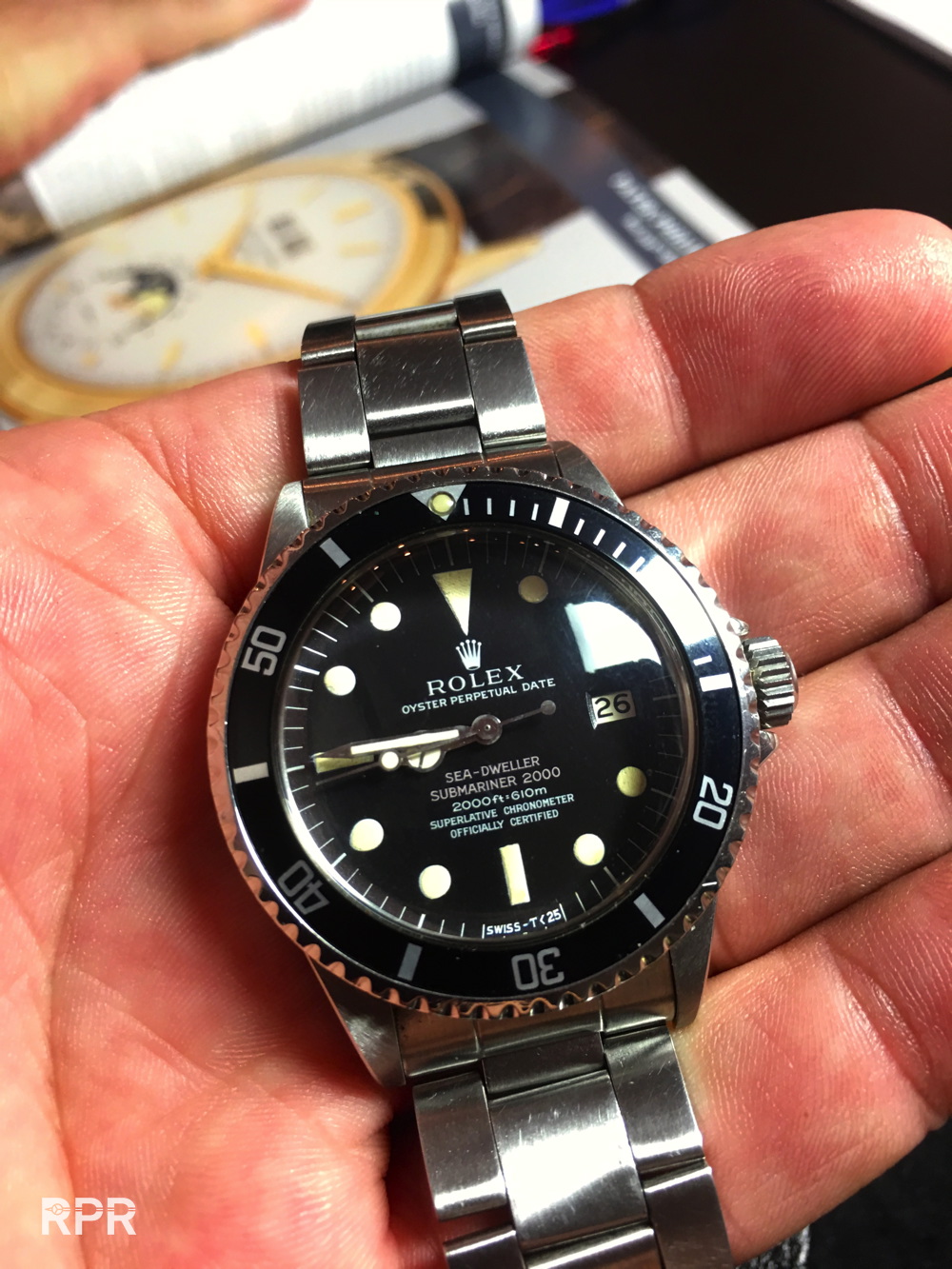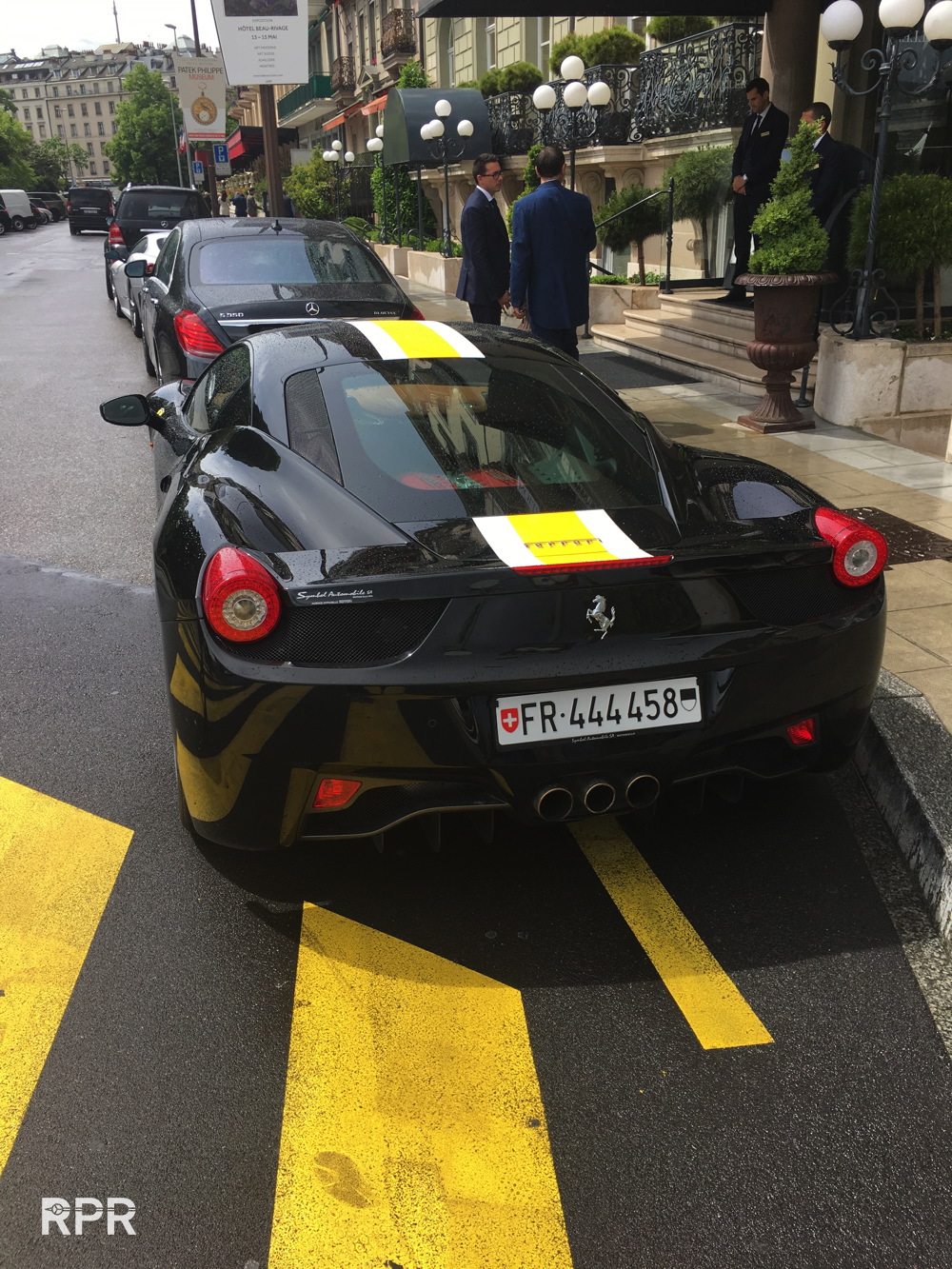 Was it the luminous again why it didn't go much higher? Although it had serial numbers in the case back it sold for 'merely' CHF286,000,=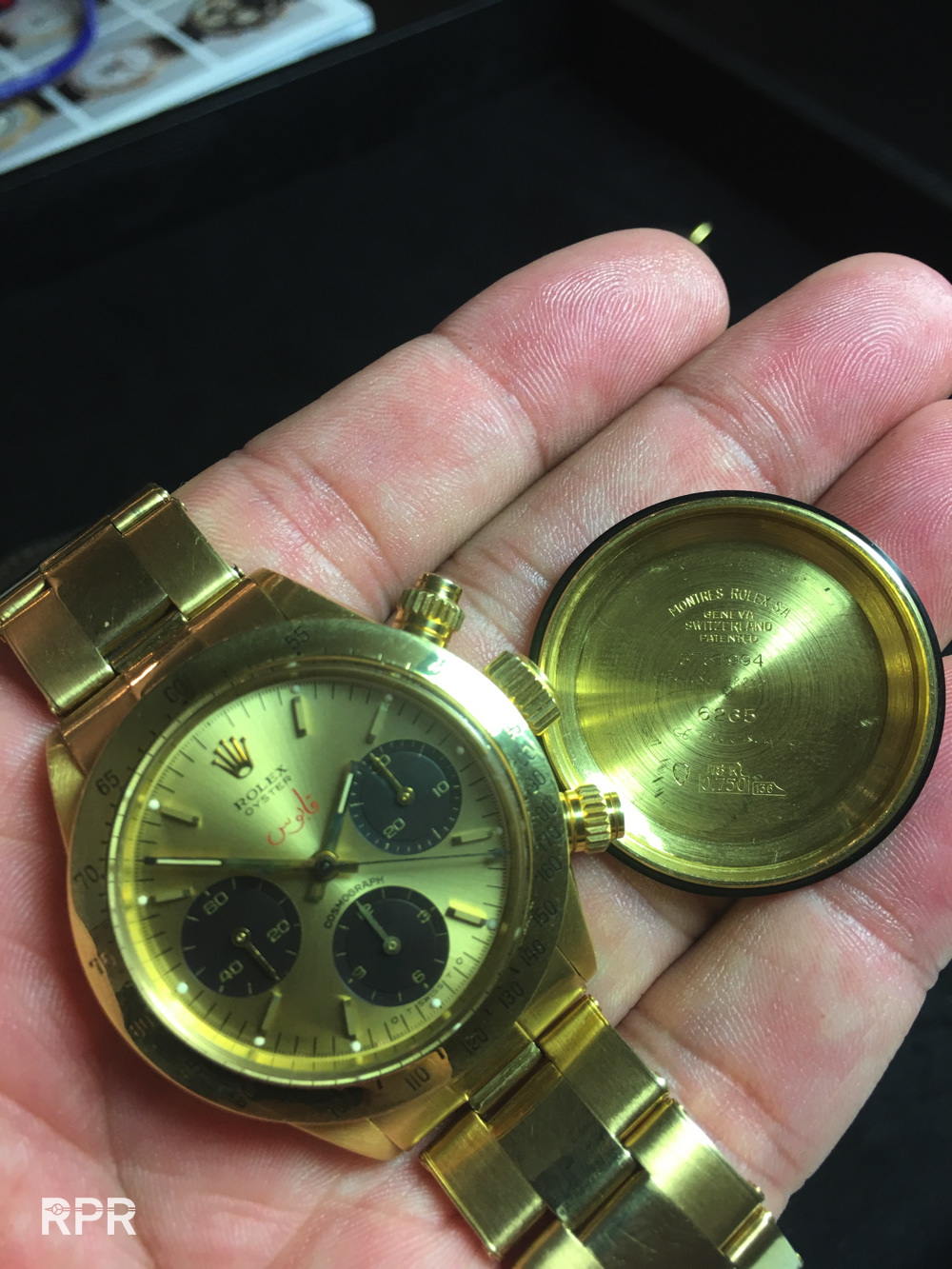 Killy 6236 sold for CHF 162.500,=…
Comex Ref 5514 for Chf 97.500,= double the low estimate…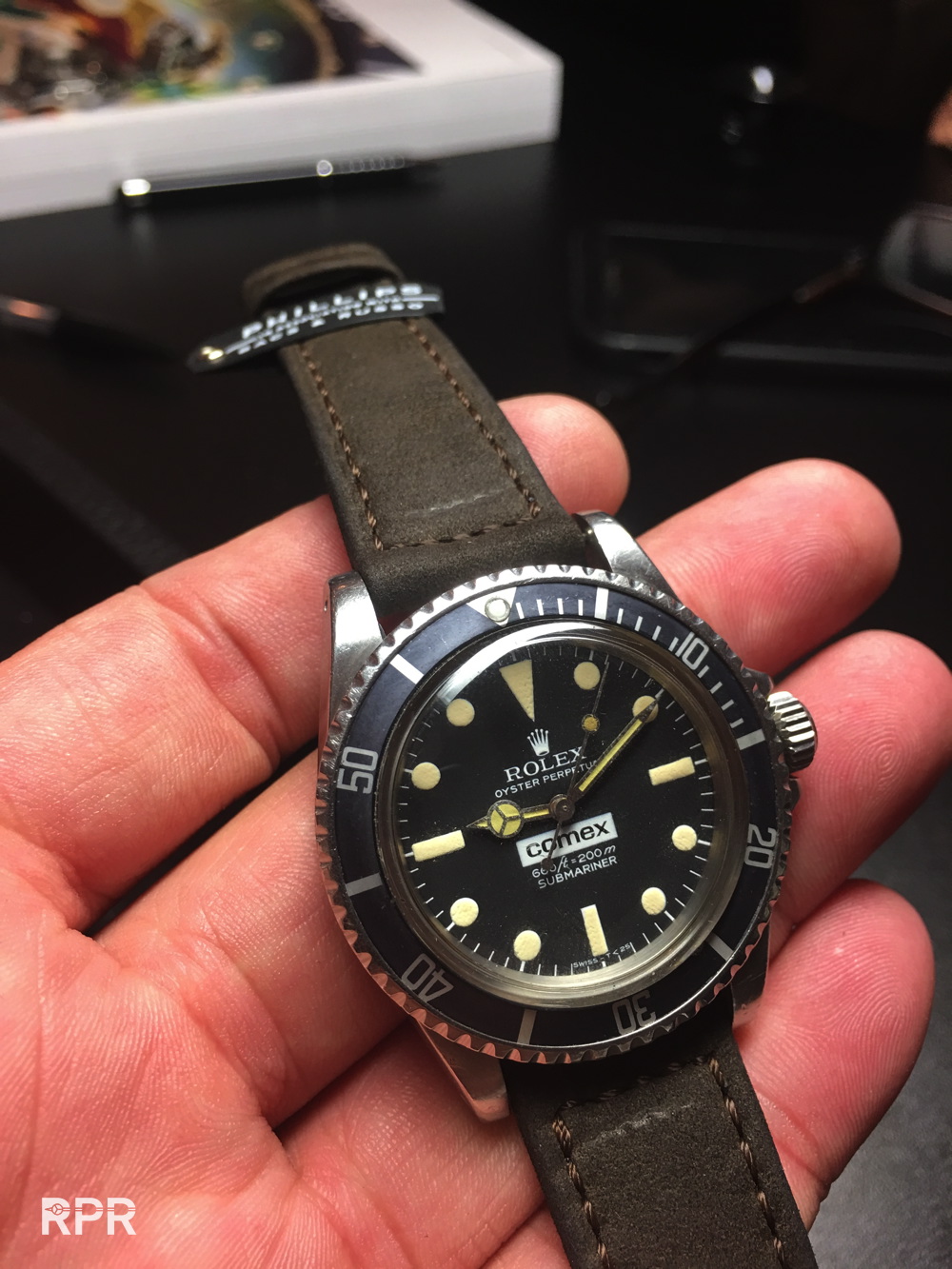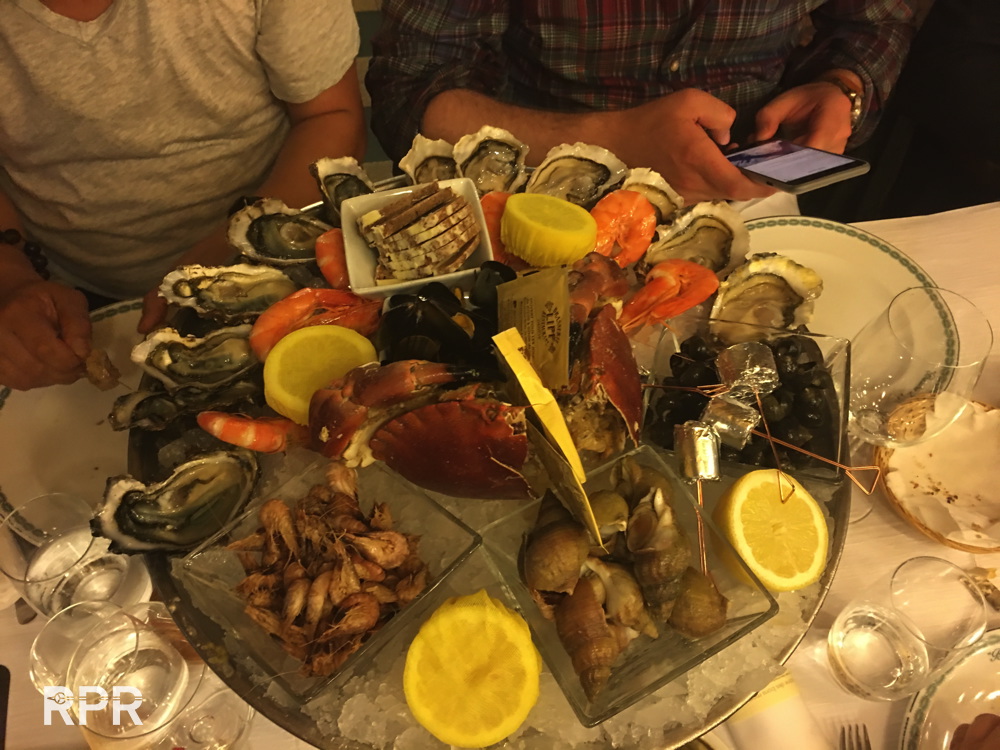 Explorer with Tiffay…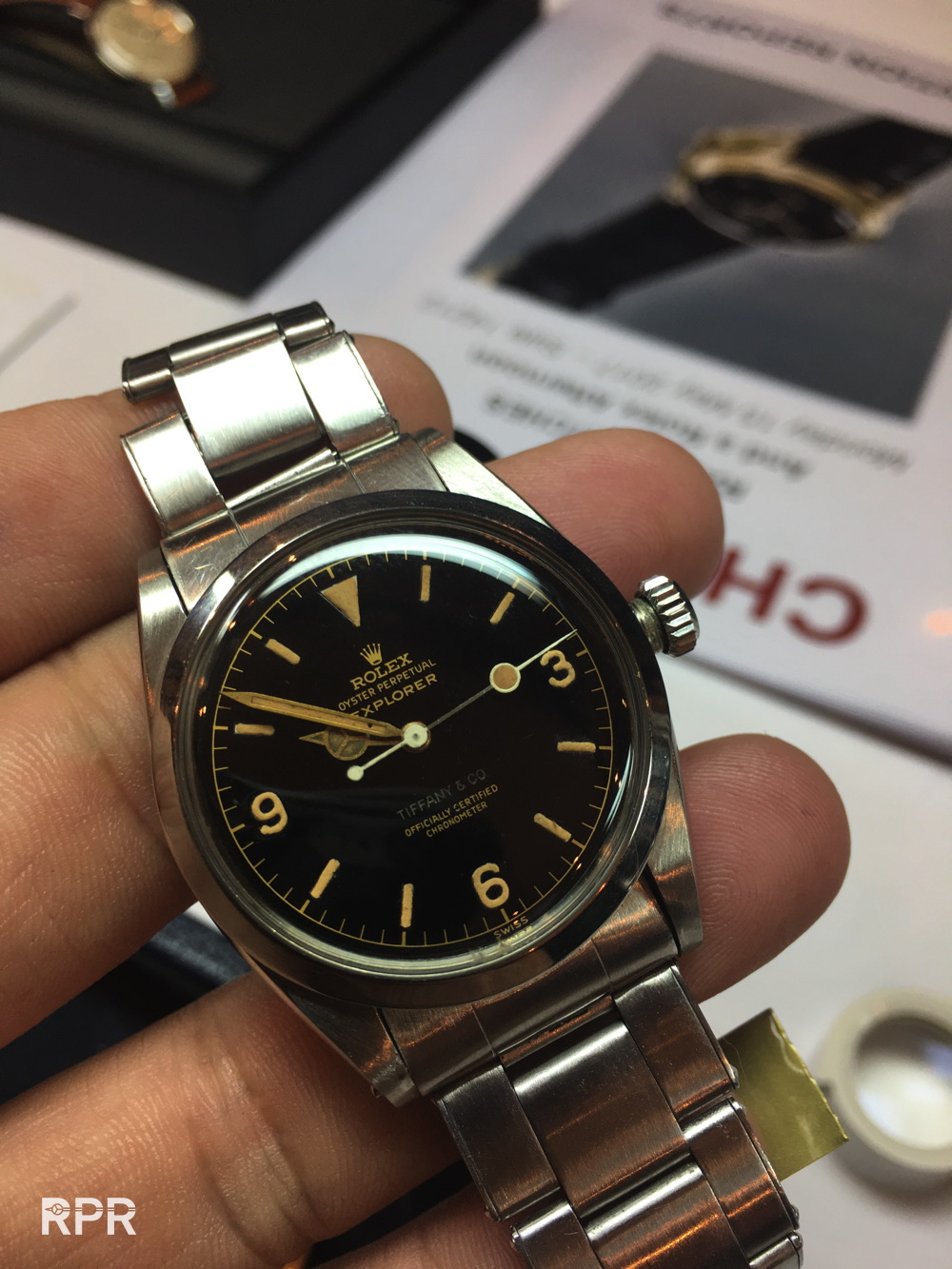 Result would have been even more when there wasn't a little stain in the middle of the double name…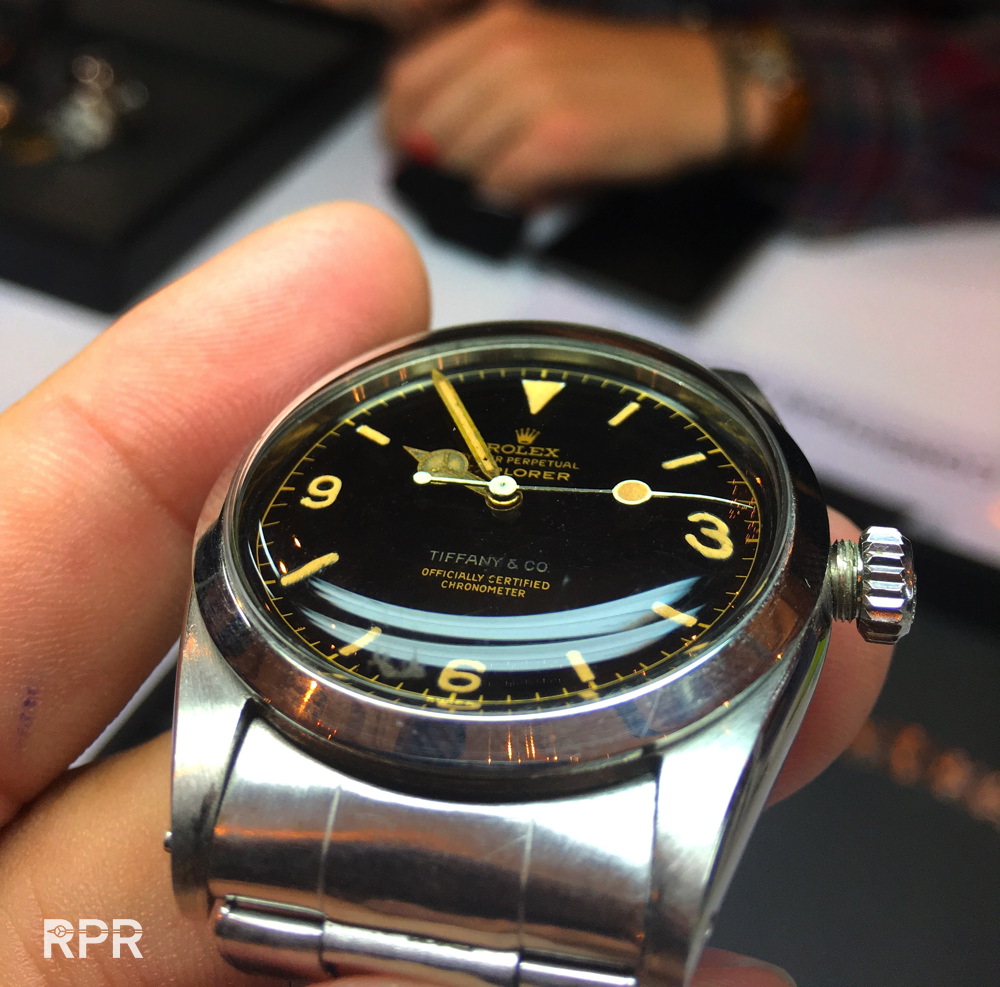 Diamond and steel are always rare… making this time only 'Big Precious' Ref 8029 CHF 60.000,= expensive…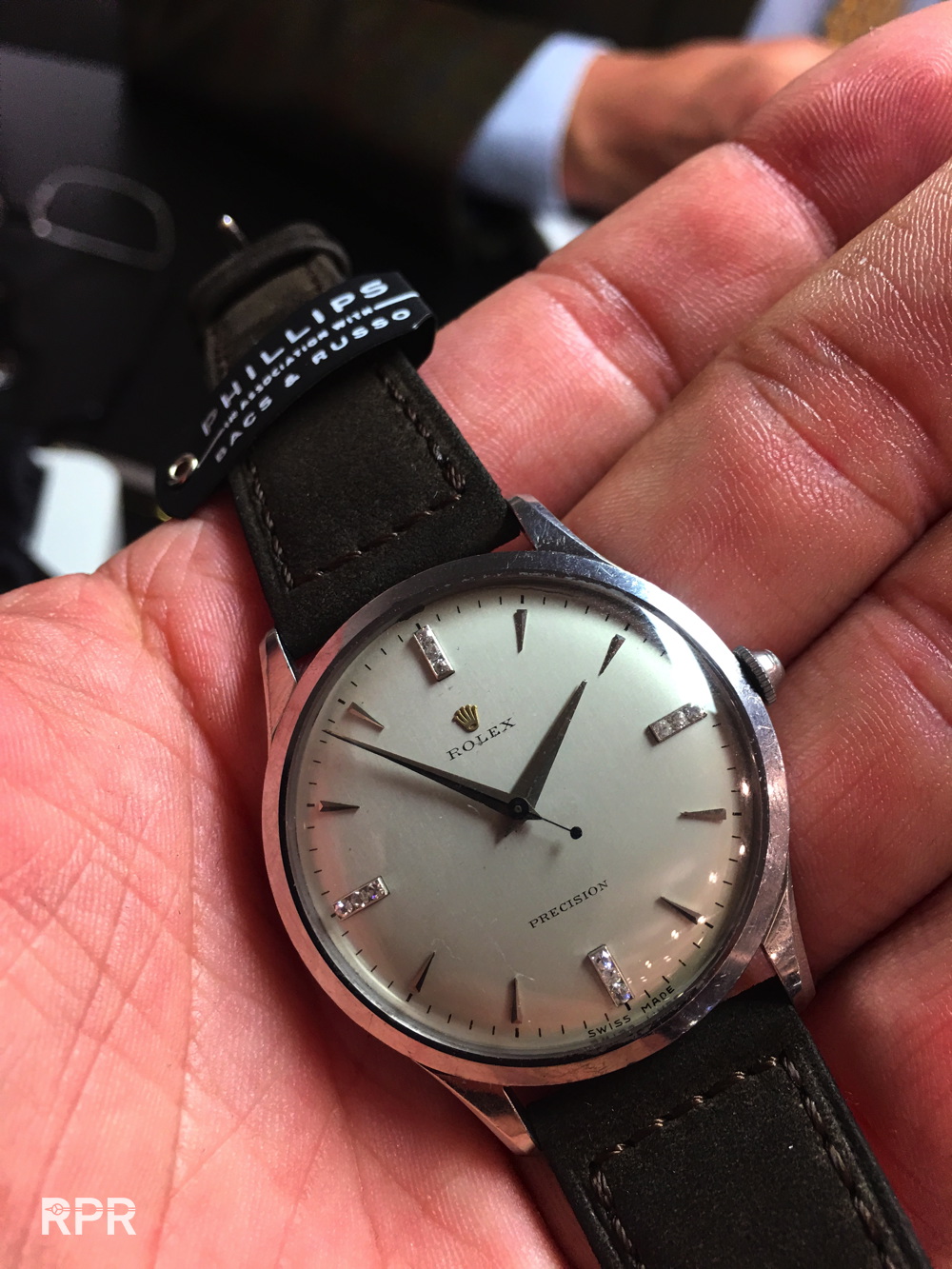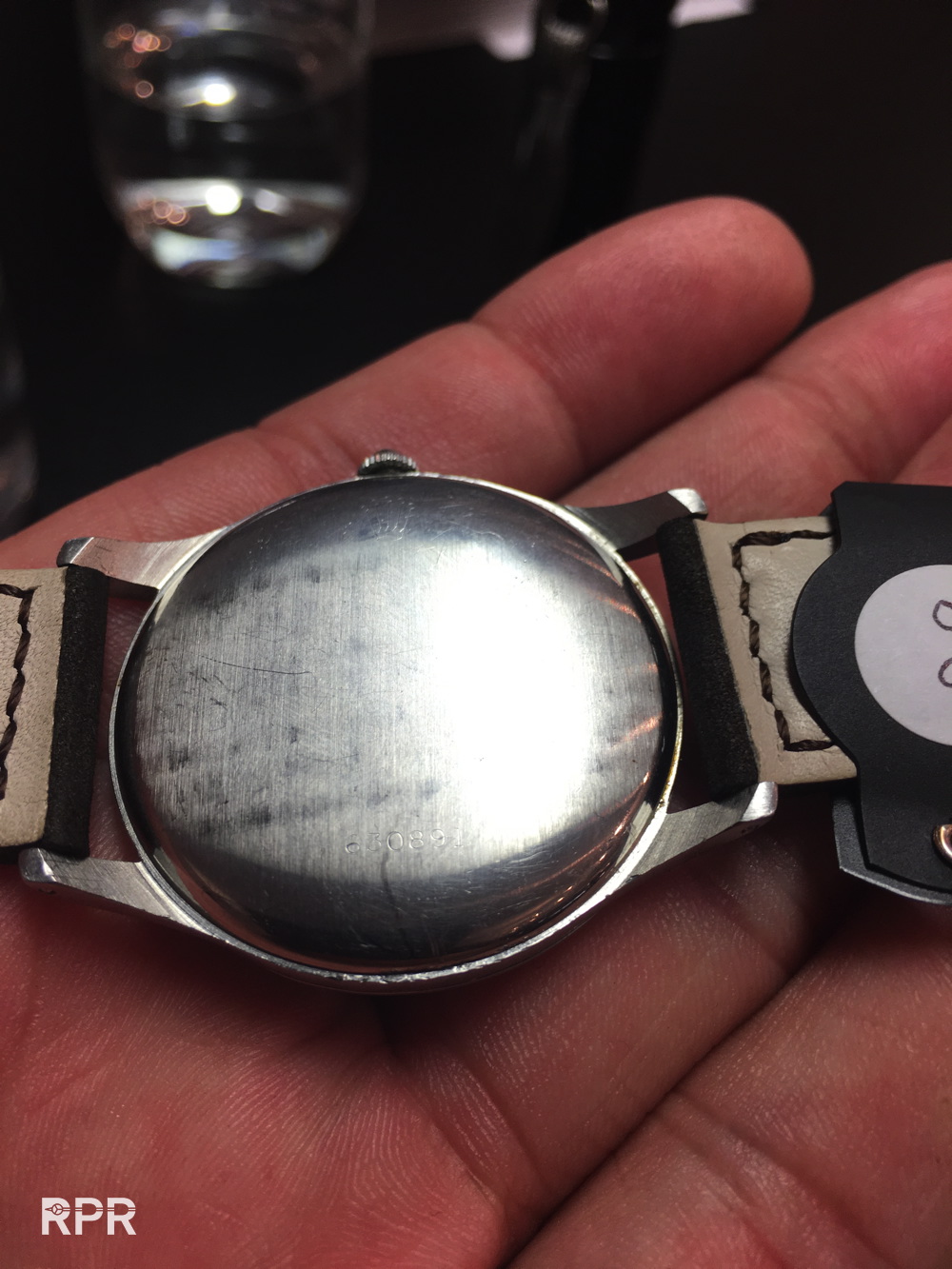 What a sexy CHF 466.000,= Rolex… The glossy black and gilt print is just amazing!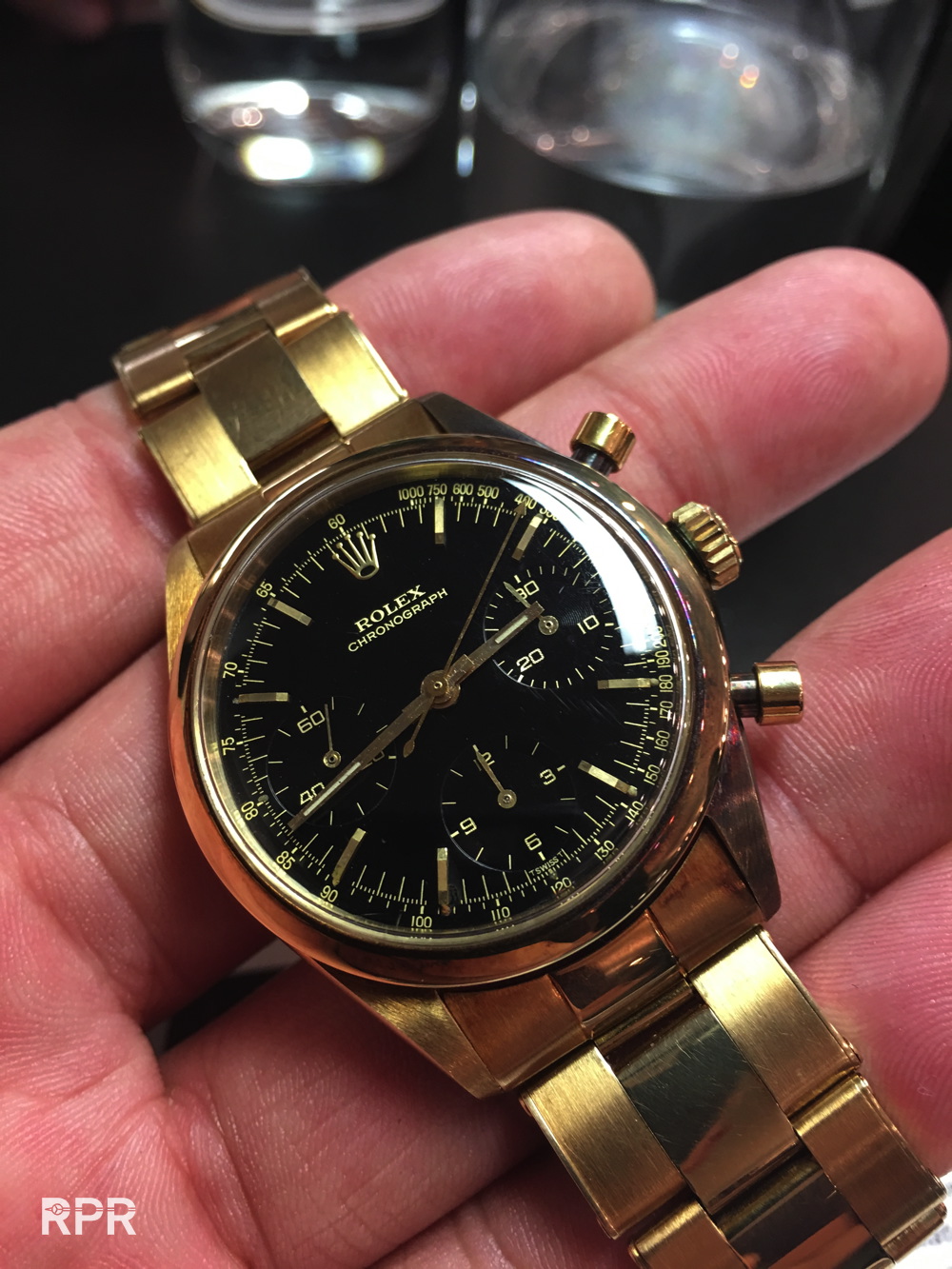 The patina on the case is as black as the dial….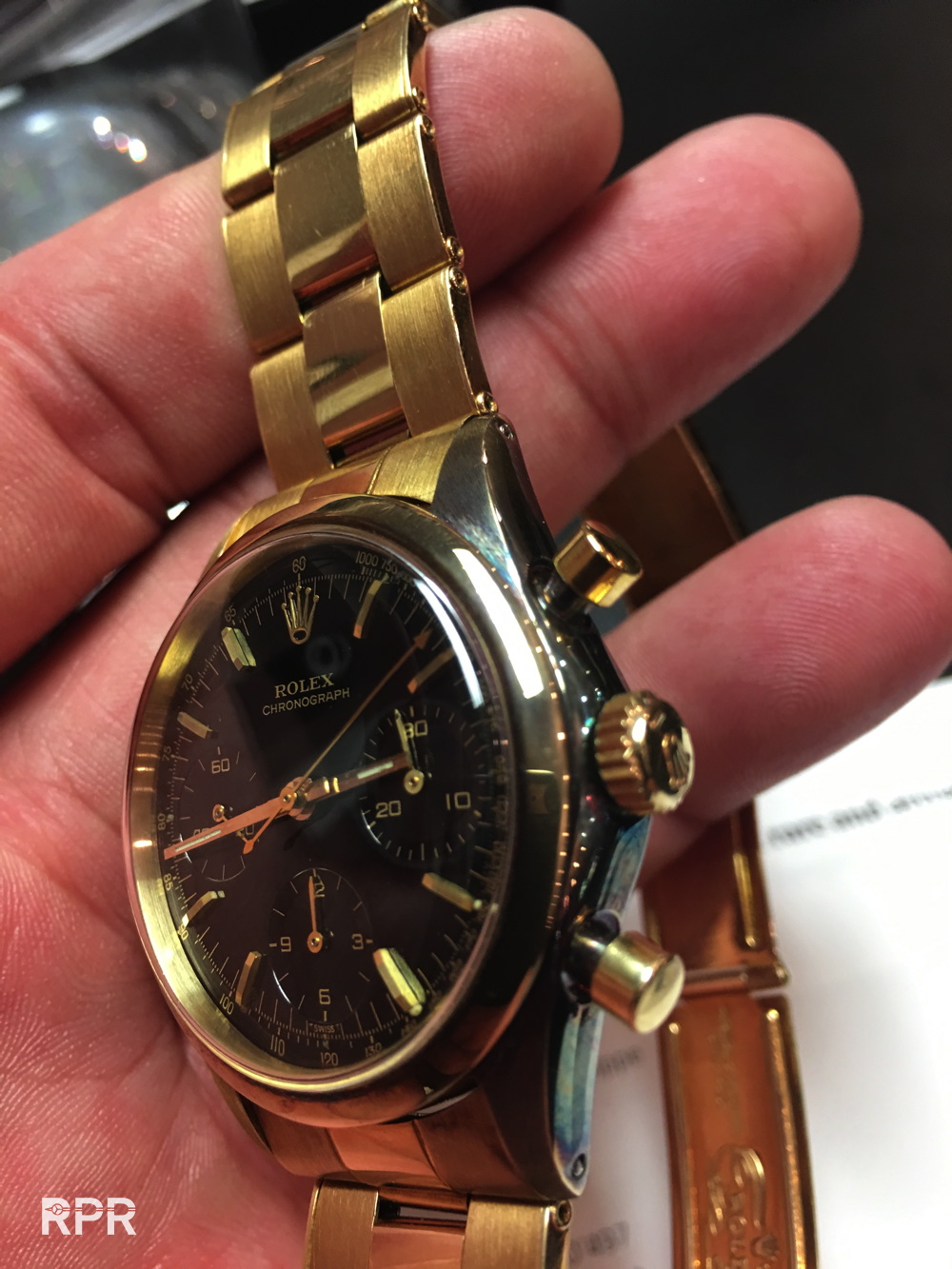 Many asked before and I thought 5 million it should be and finally it got hammered at that amount. Crazy? Not really compared to other trophy assets like pink and blue diamonds, GTO Ferrari, Picasso etc…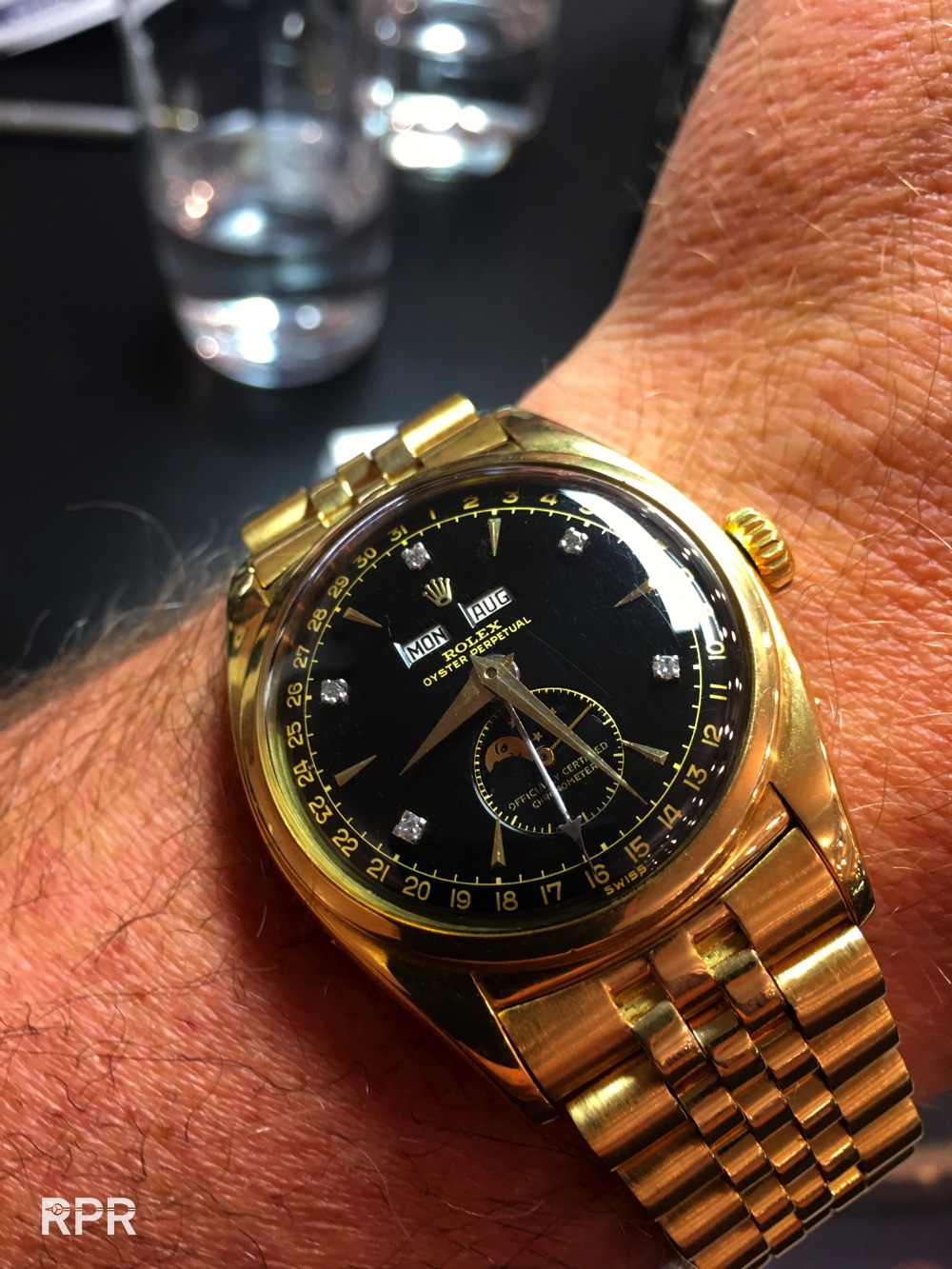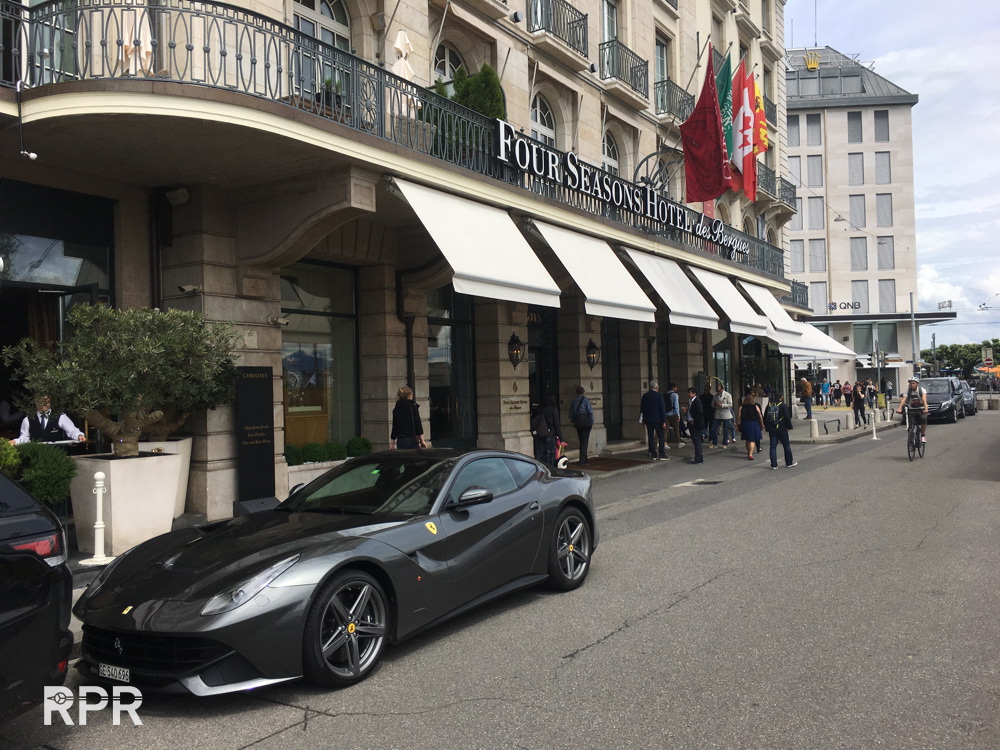 Cheers…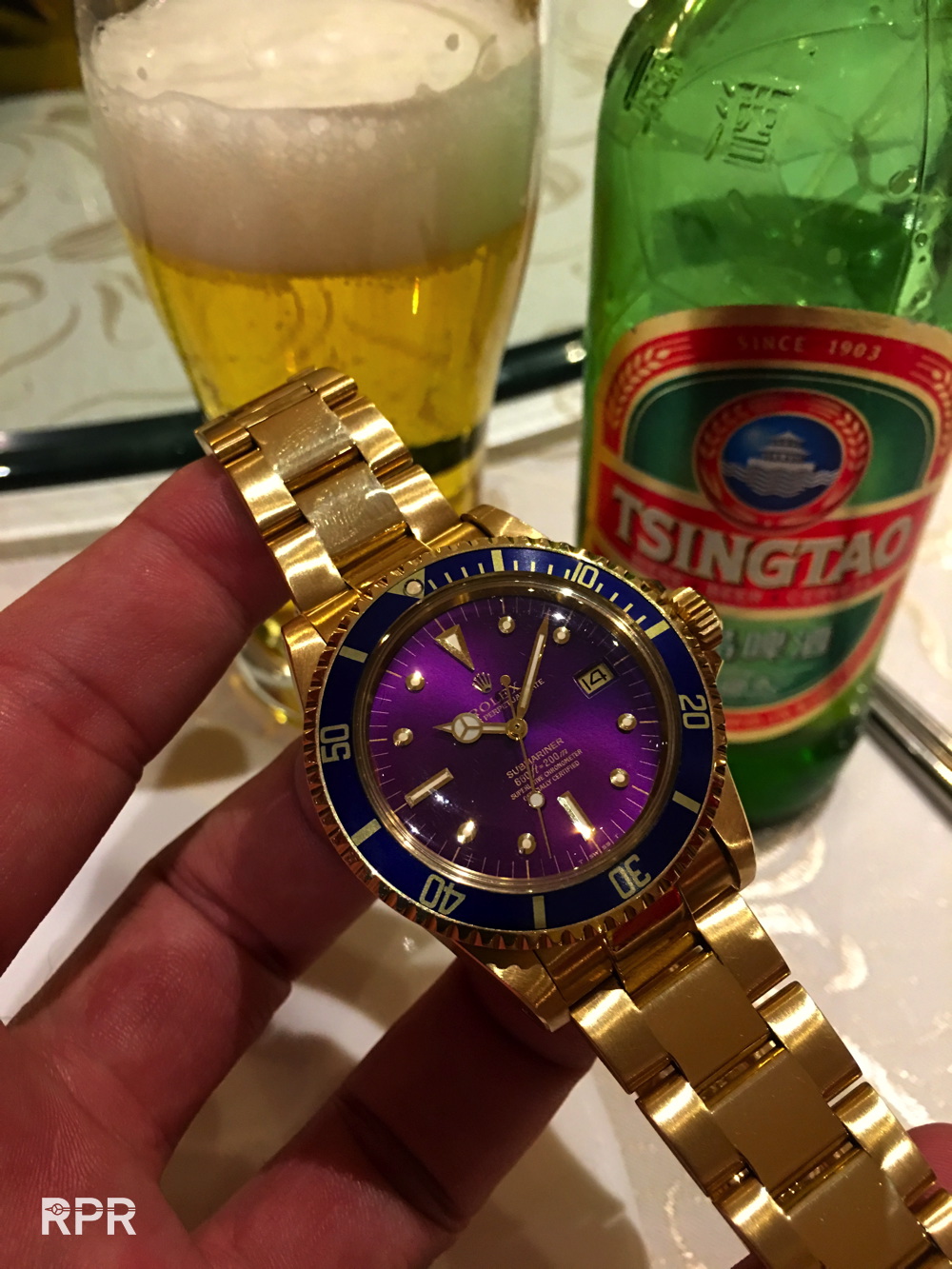 From this angle you don't see the dark brown minute track… The new owner paid CHF 550.000,= for it!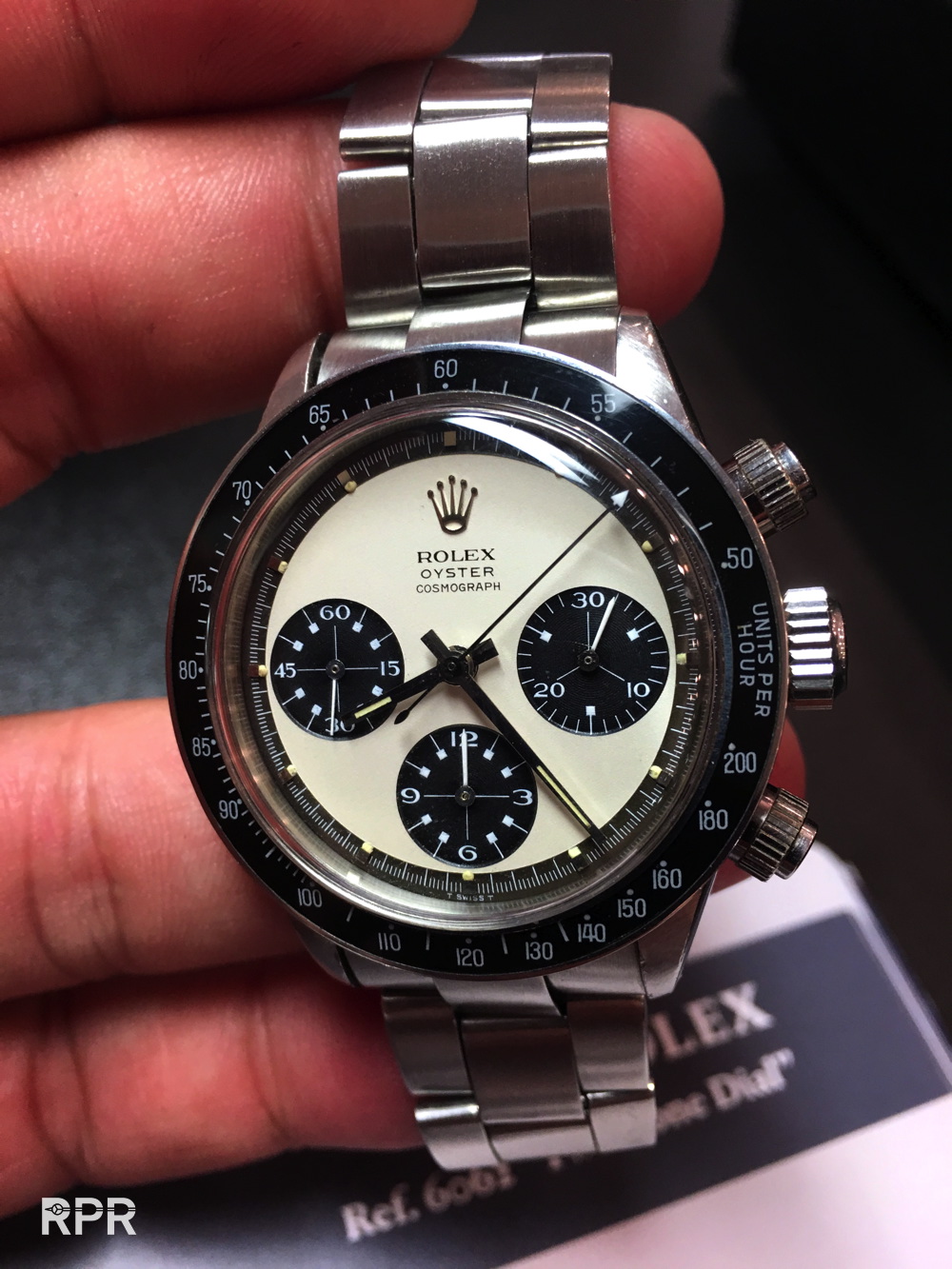 A great steel Padellone for ONLY CHF 212.500,= ??….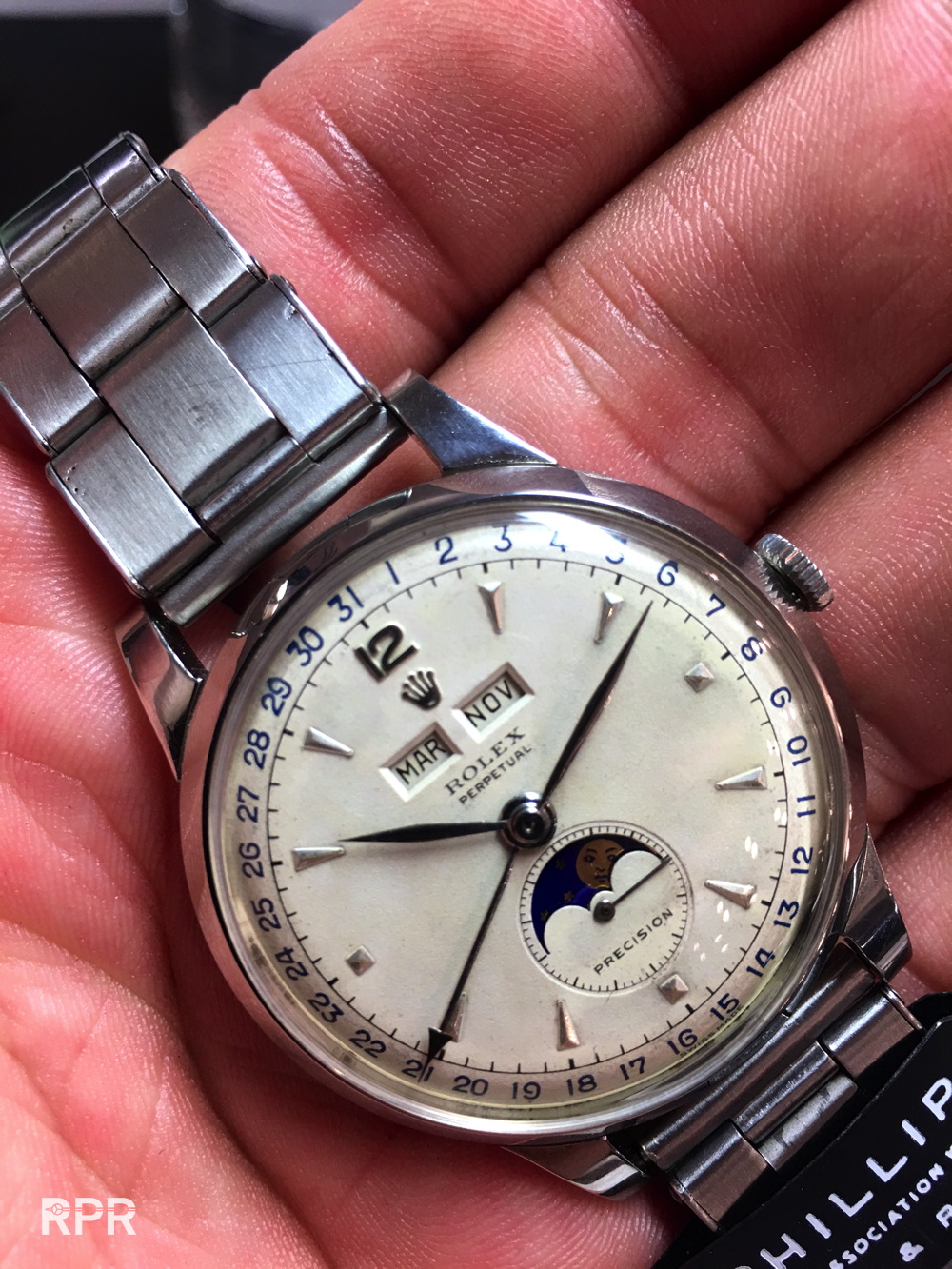 And you understand why it didn't went all the way. Small nuances can make or break a great result….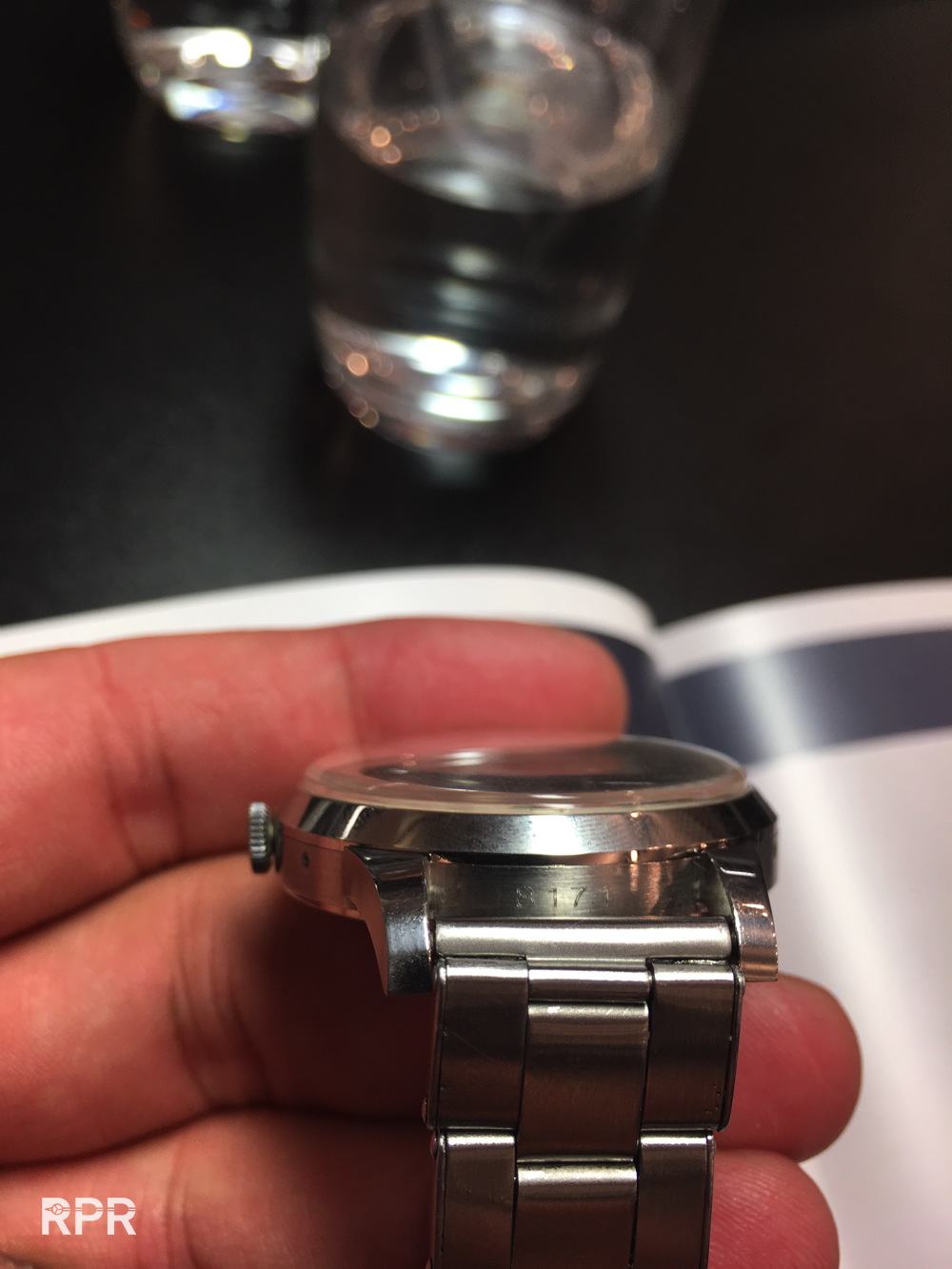 The next trend, perpetual Daytona?…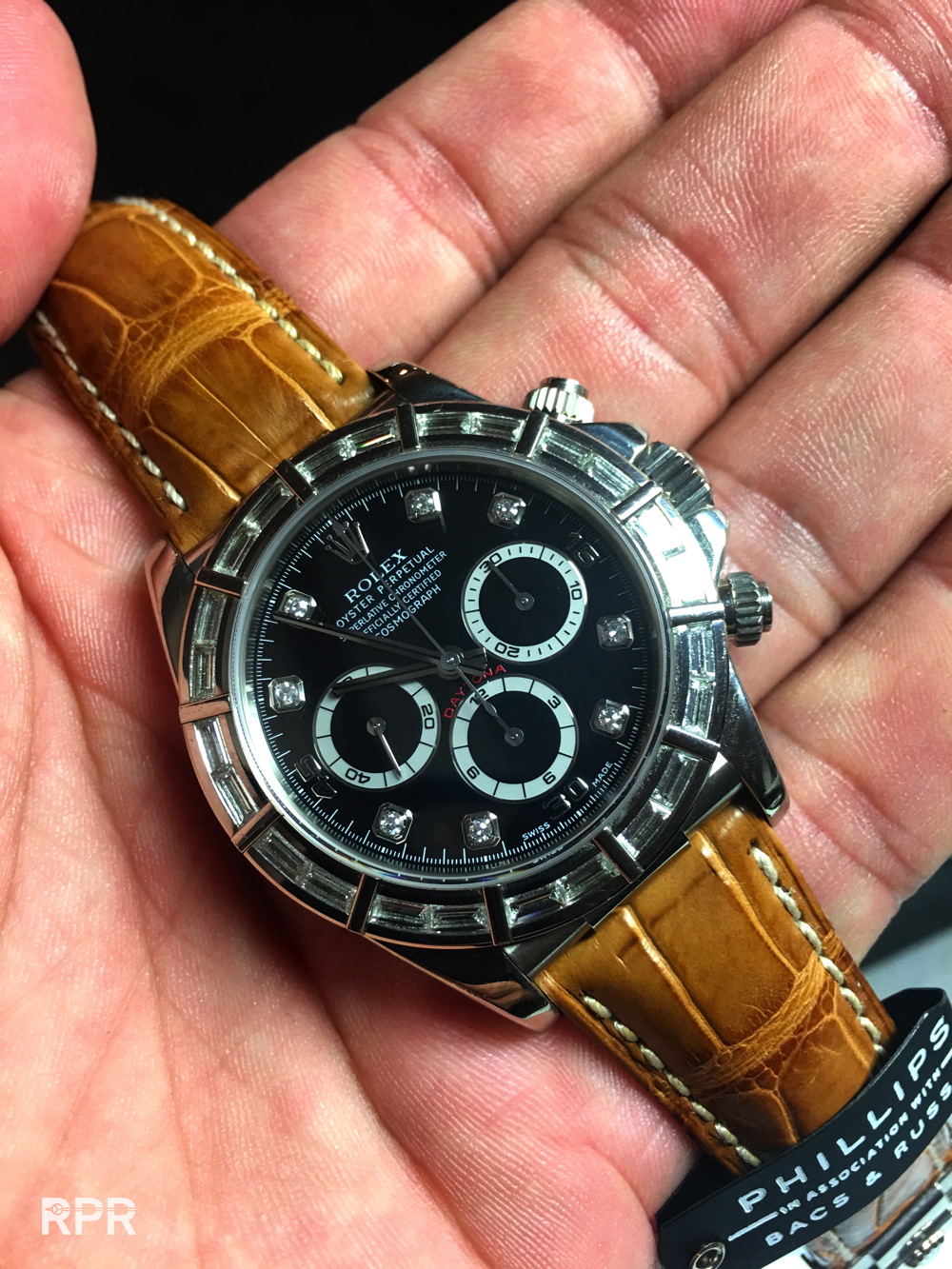 Big Crown 6538, 4 line OCC…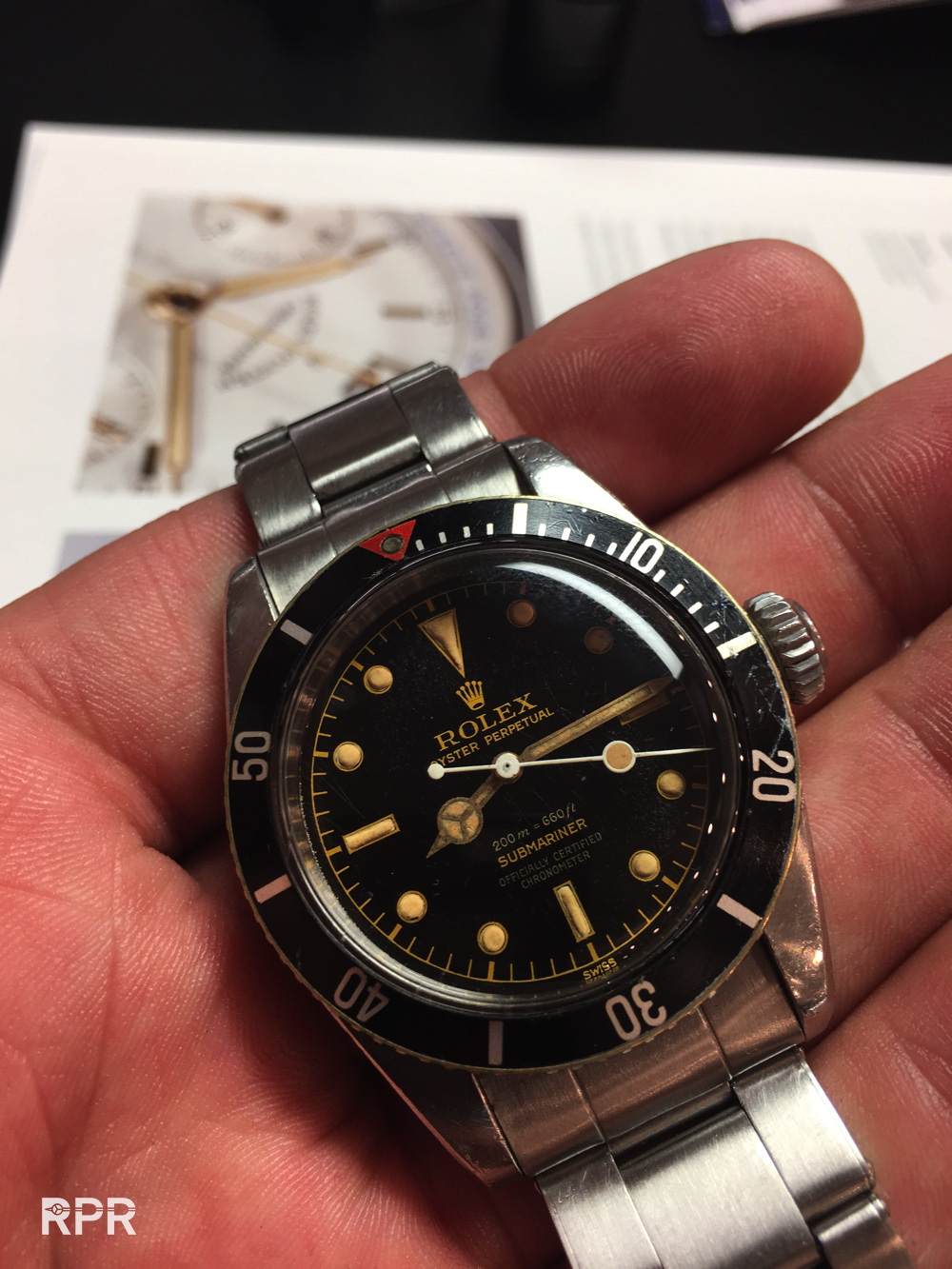 Wrong papers was not the only issue why it stuck at 170K ( Wasn't there a saga a couple of years ago about adding papers afterwards but using wrong type writers ) when you turn the dial you see the obvious spider marks deep in the dial and over sudden the surface is also much less glossy…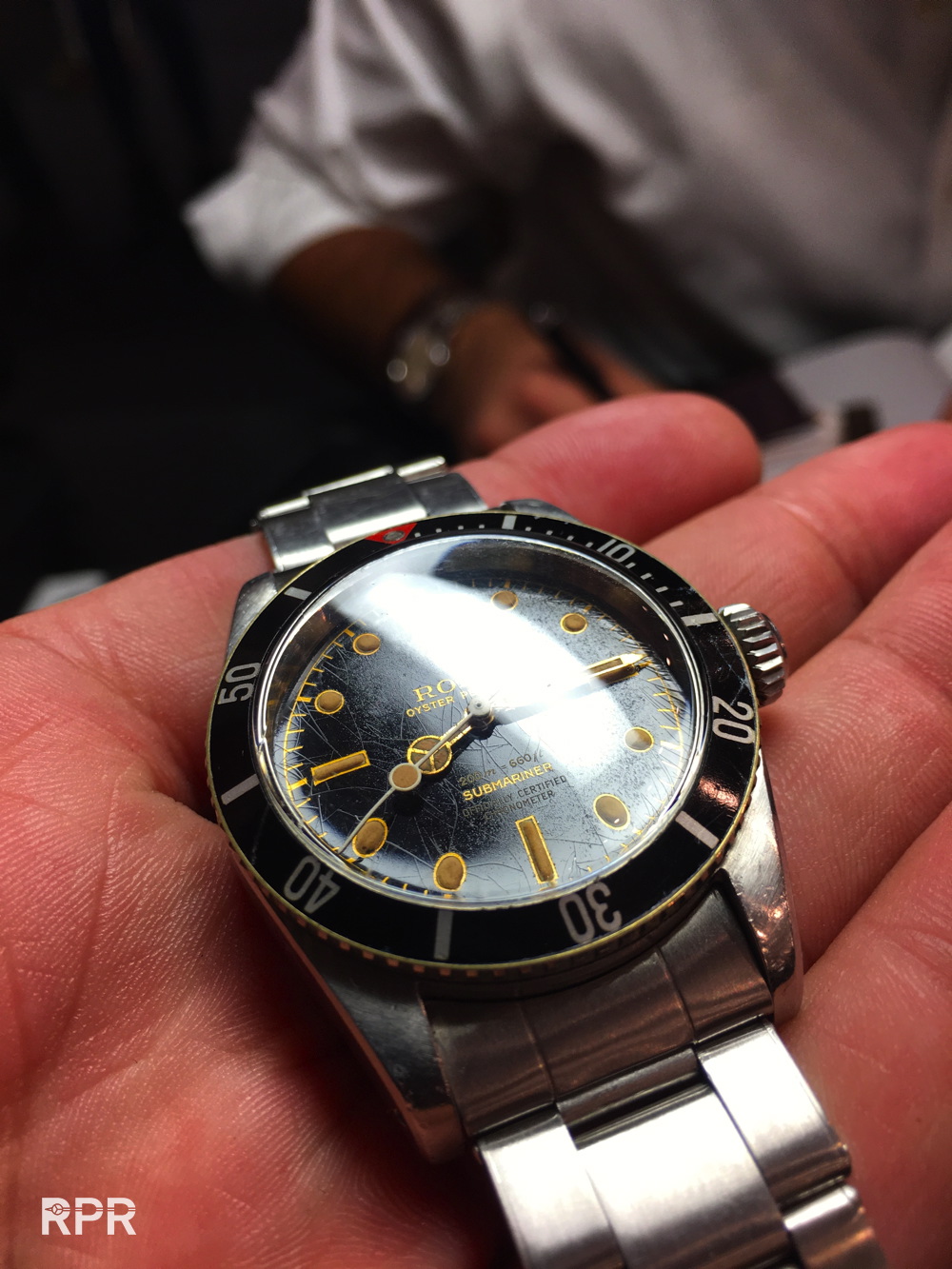 Certainly a big result for a Paul Newman, CHF 730.000,=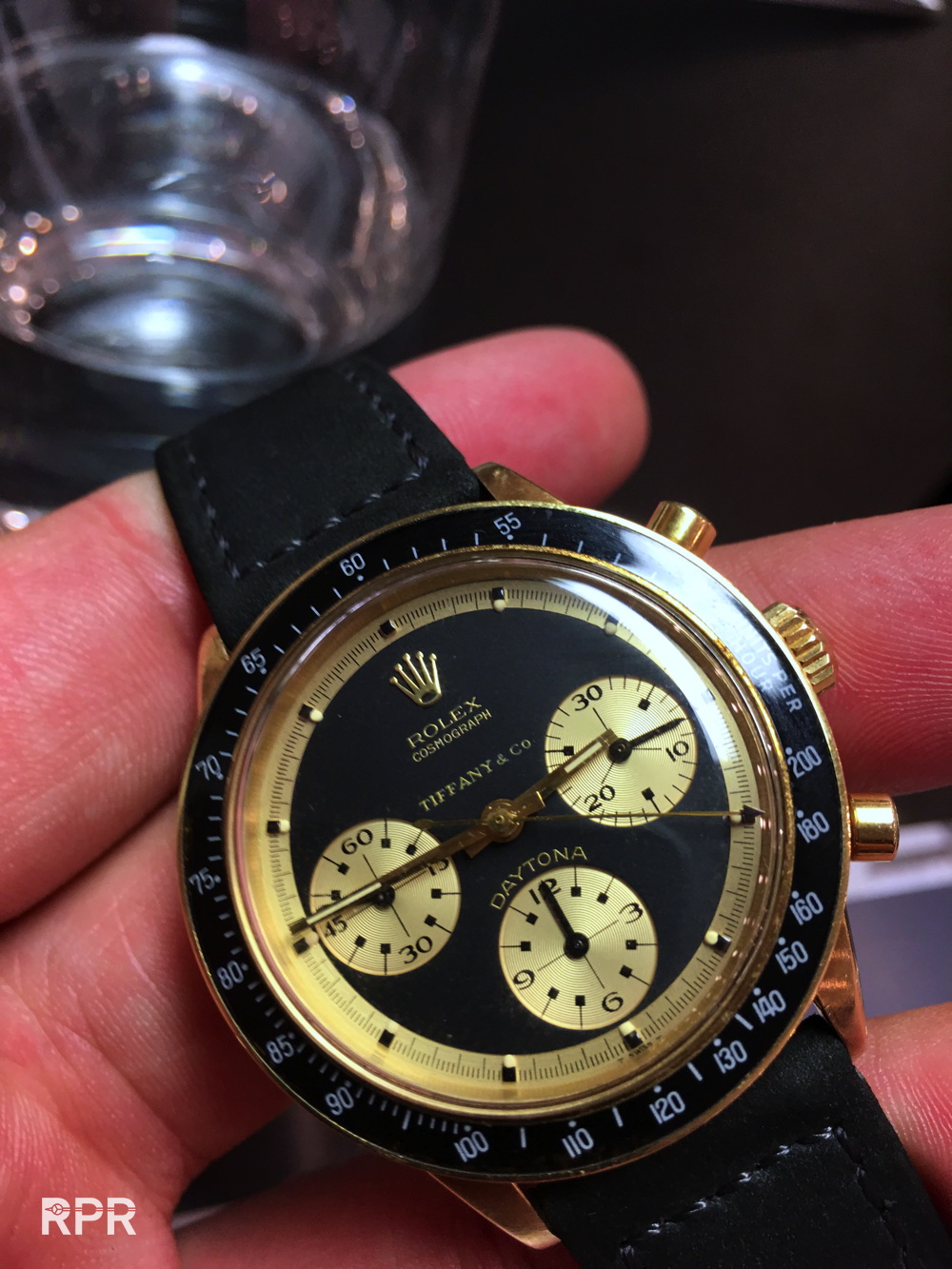 CHF 274.000,= killing it..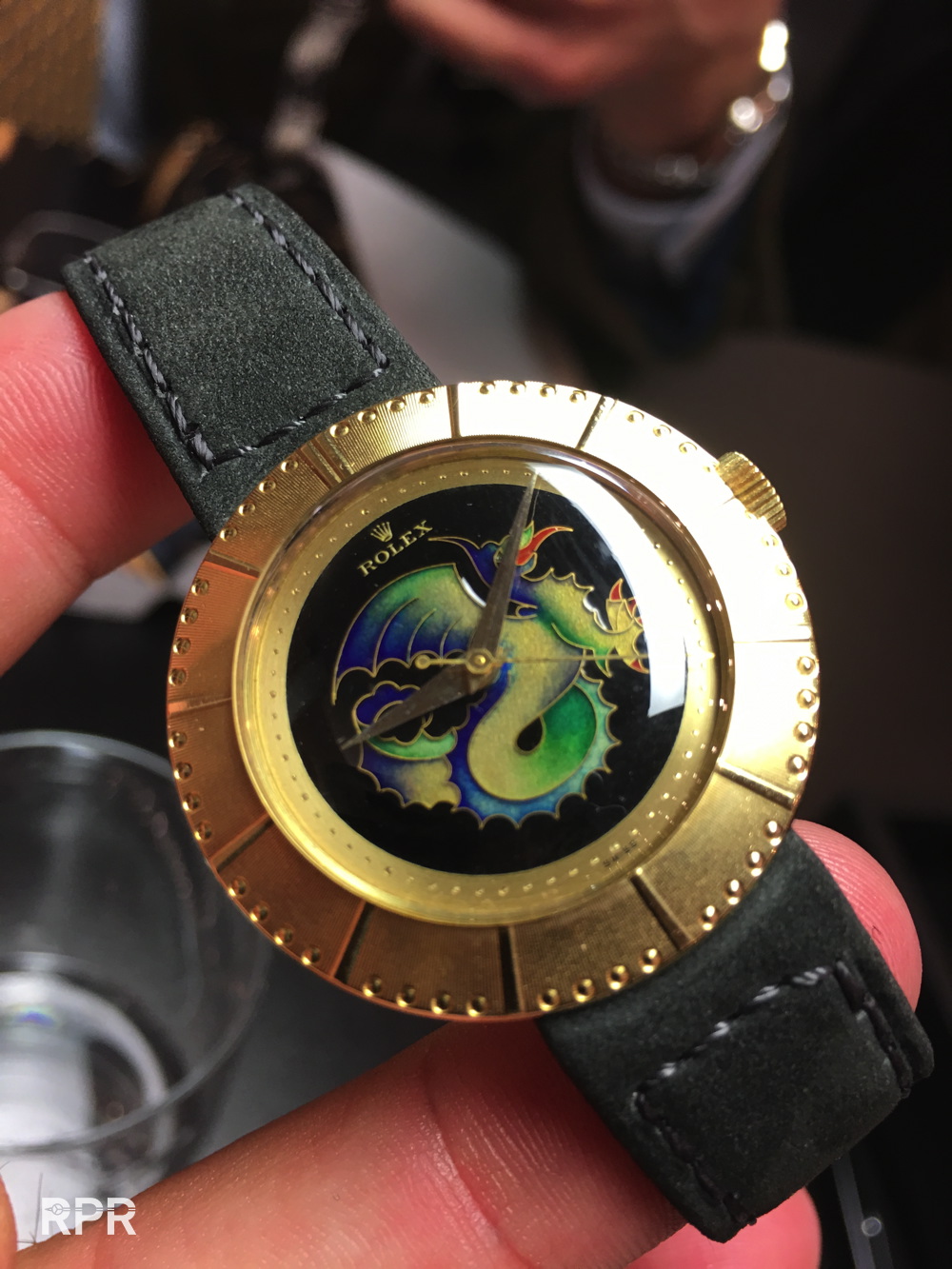 This is what Pre 1963 tritium luminous looks like when you put UV light on it. VERY bright and greenish…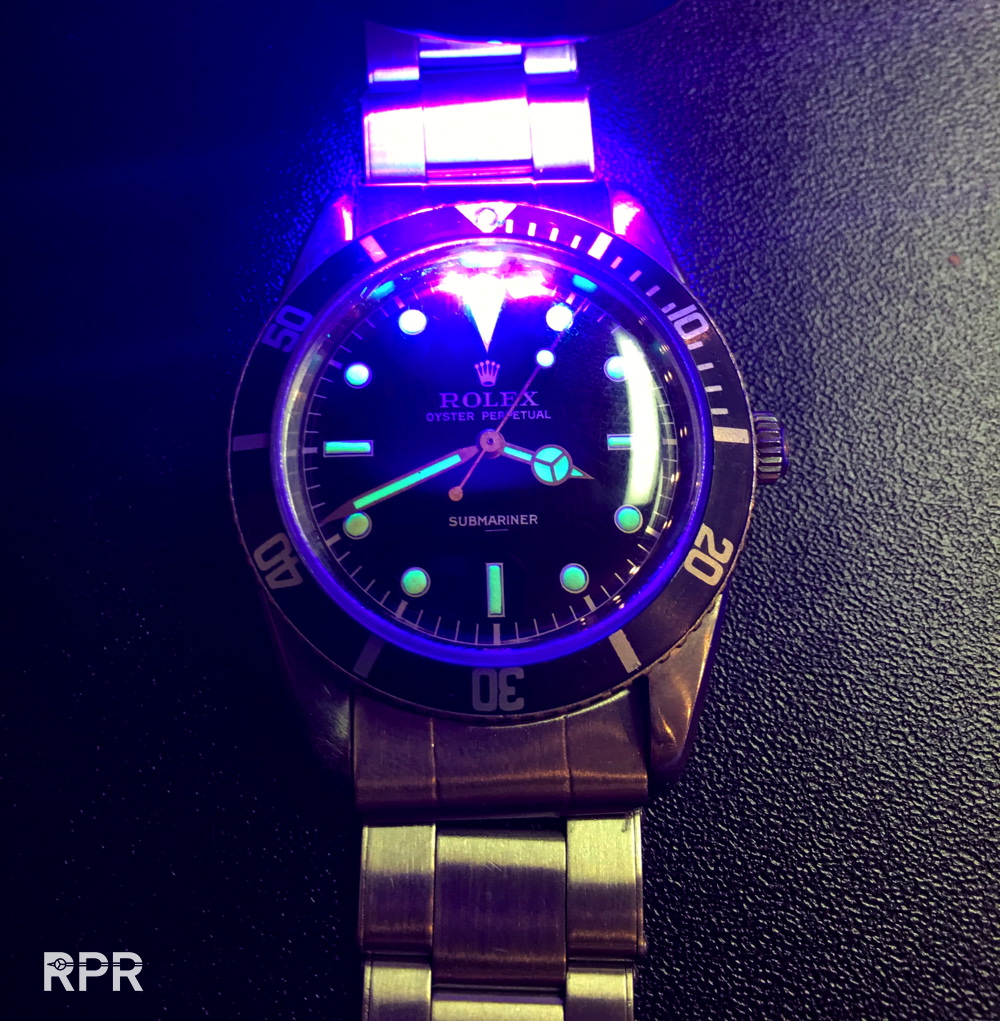 I was expecting the Riviera print to be in silver and not white…sold anyways for CHF 32.500,=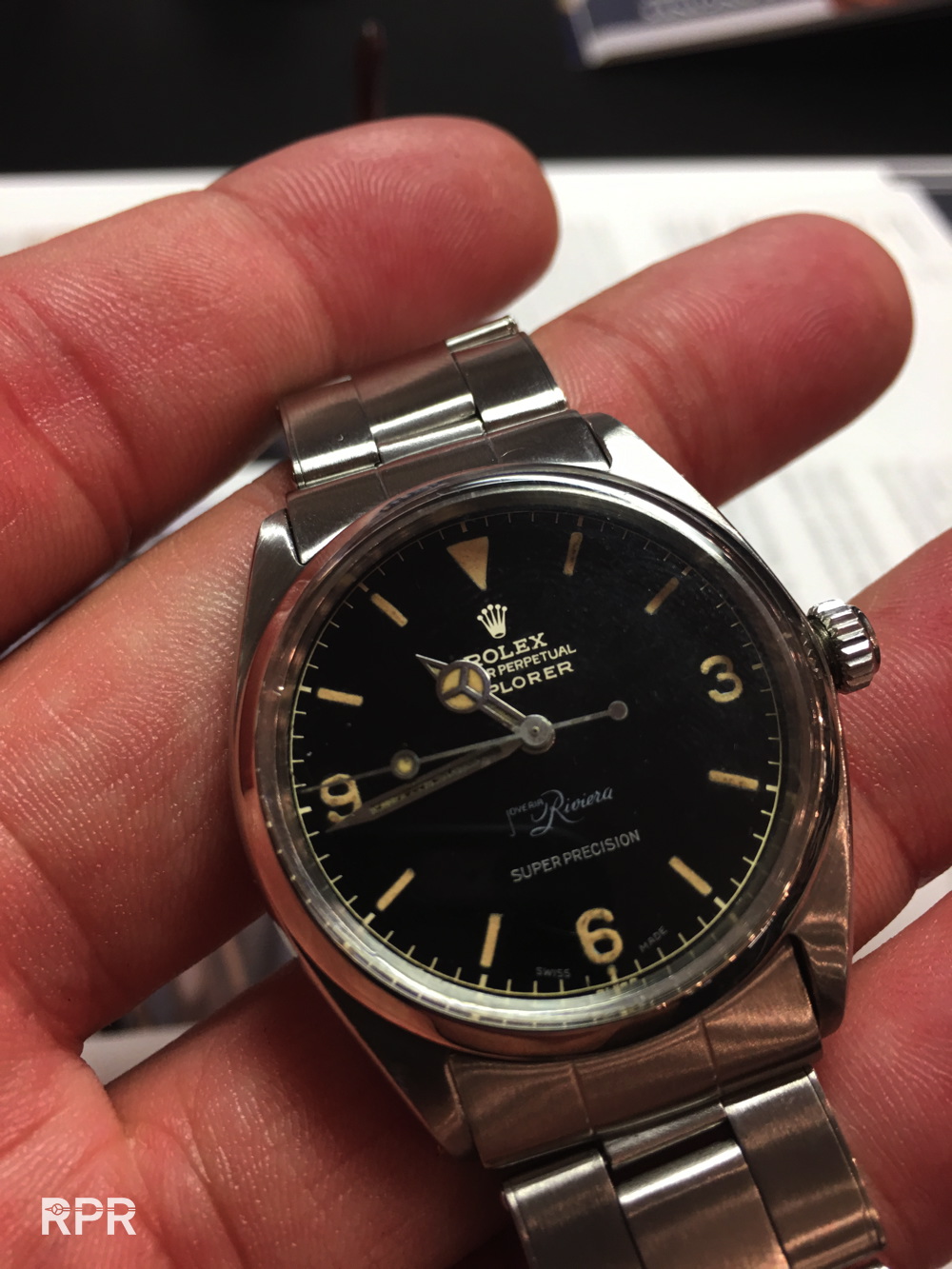 UV light shows you somebody has been working on the minute hand….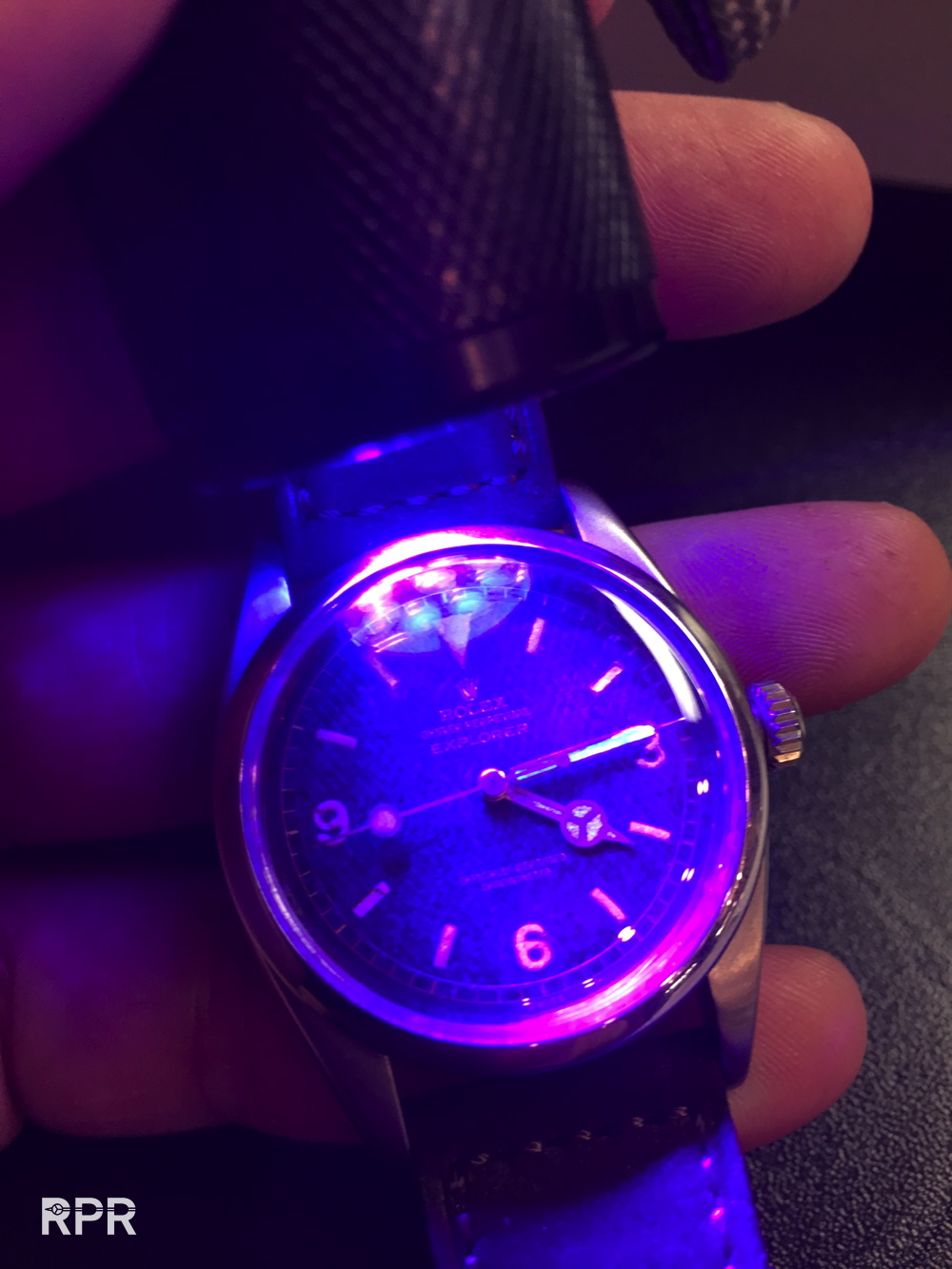 Now you see it yourself… Besides that the lume is broken from the dial at 8 & 9 o'clock…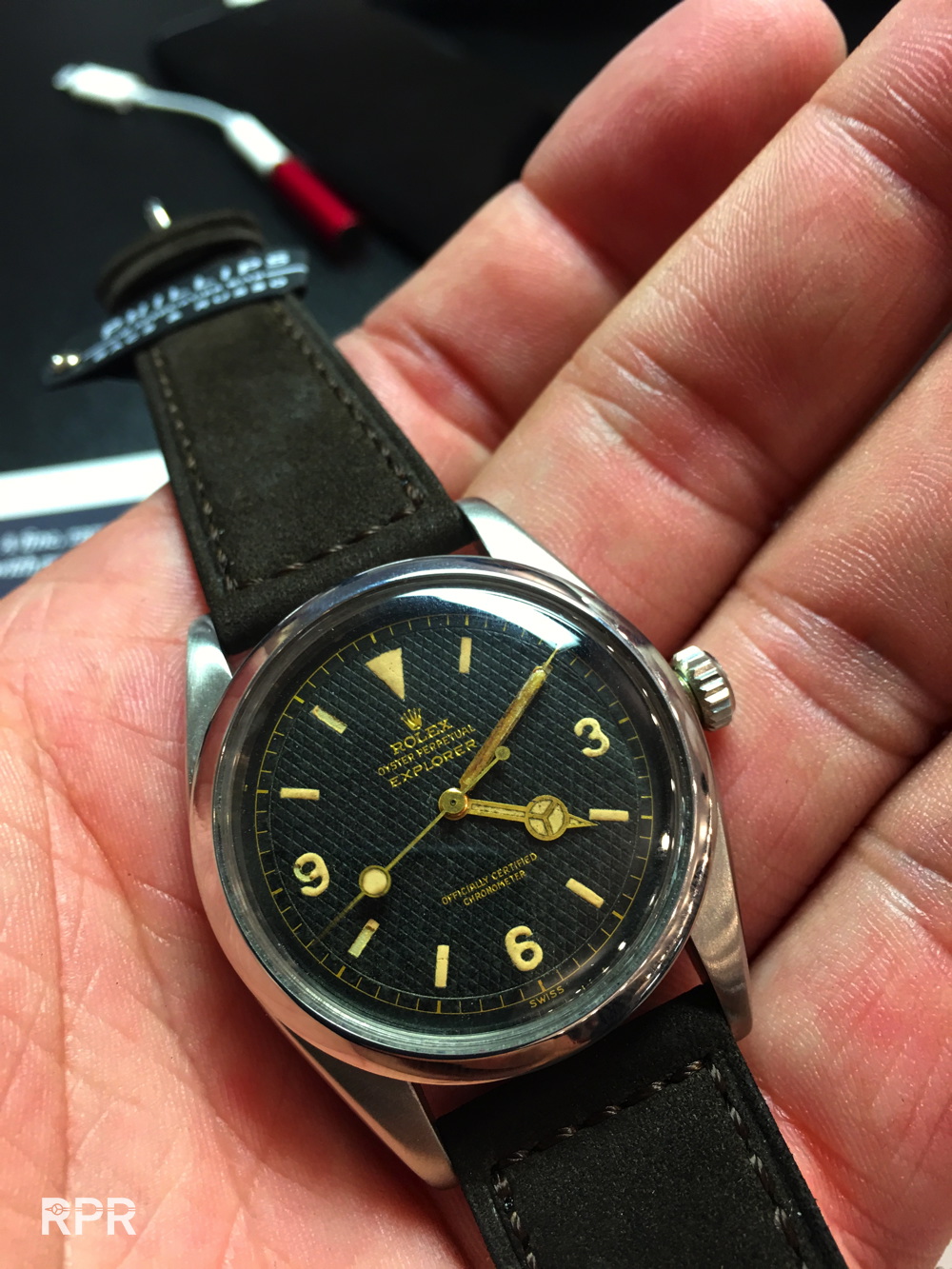 The Tudor prototype dial sold for CHF 93.750,=. Thats like 70K for the dial only !! Serious money for a Tudor…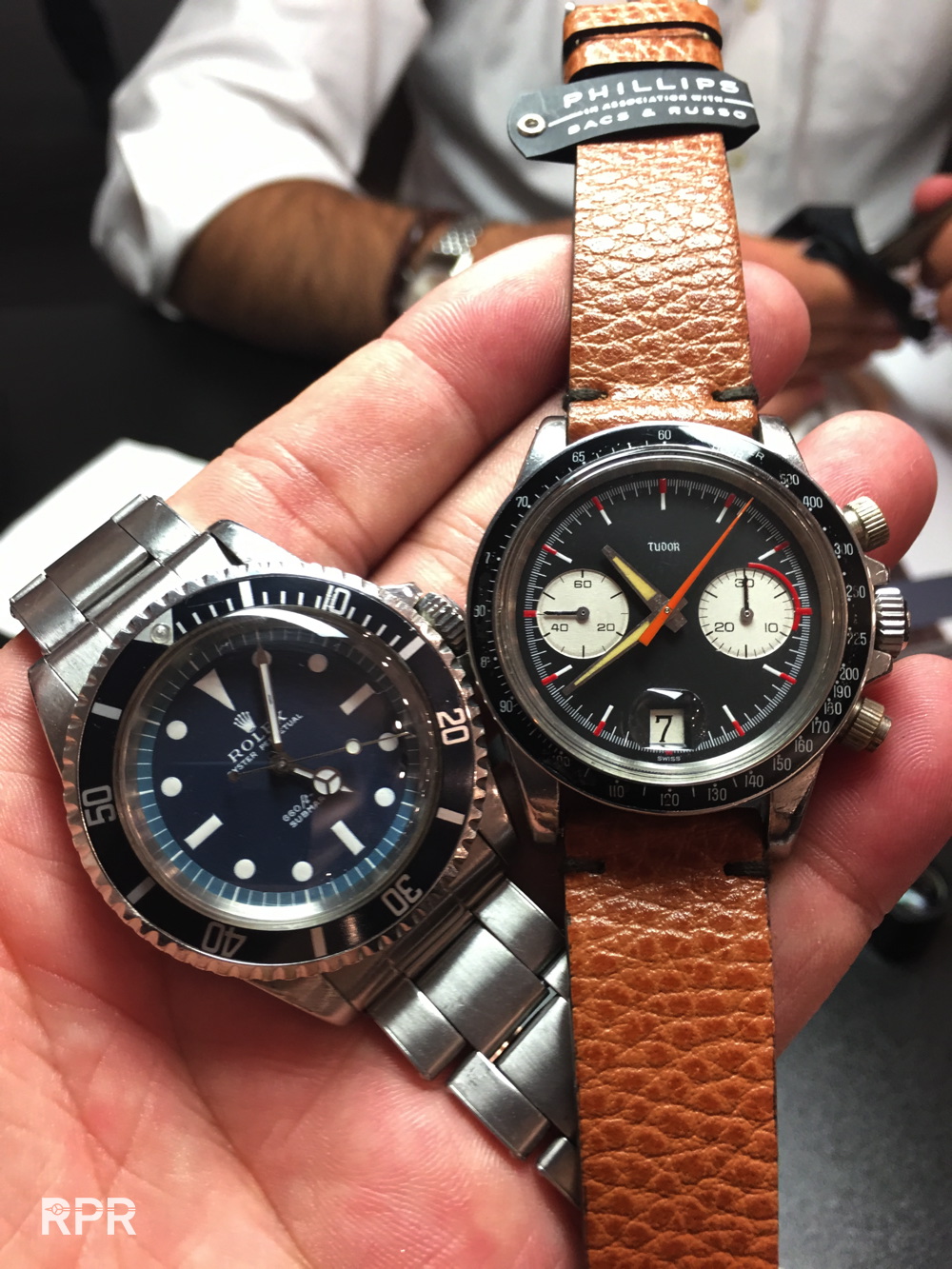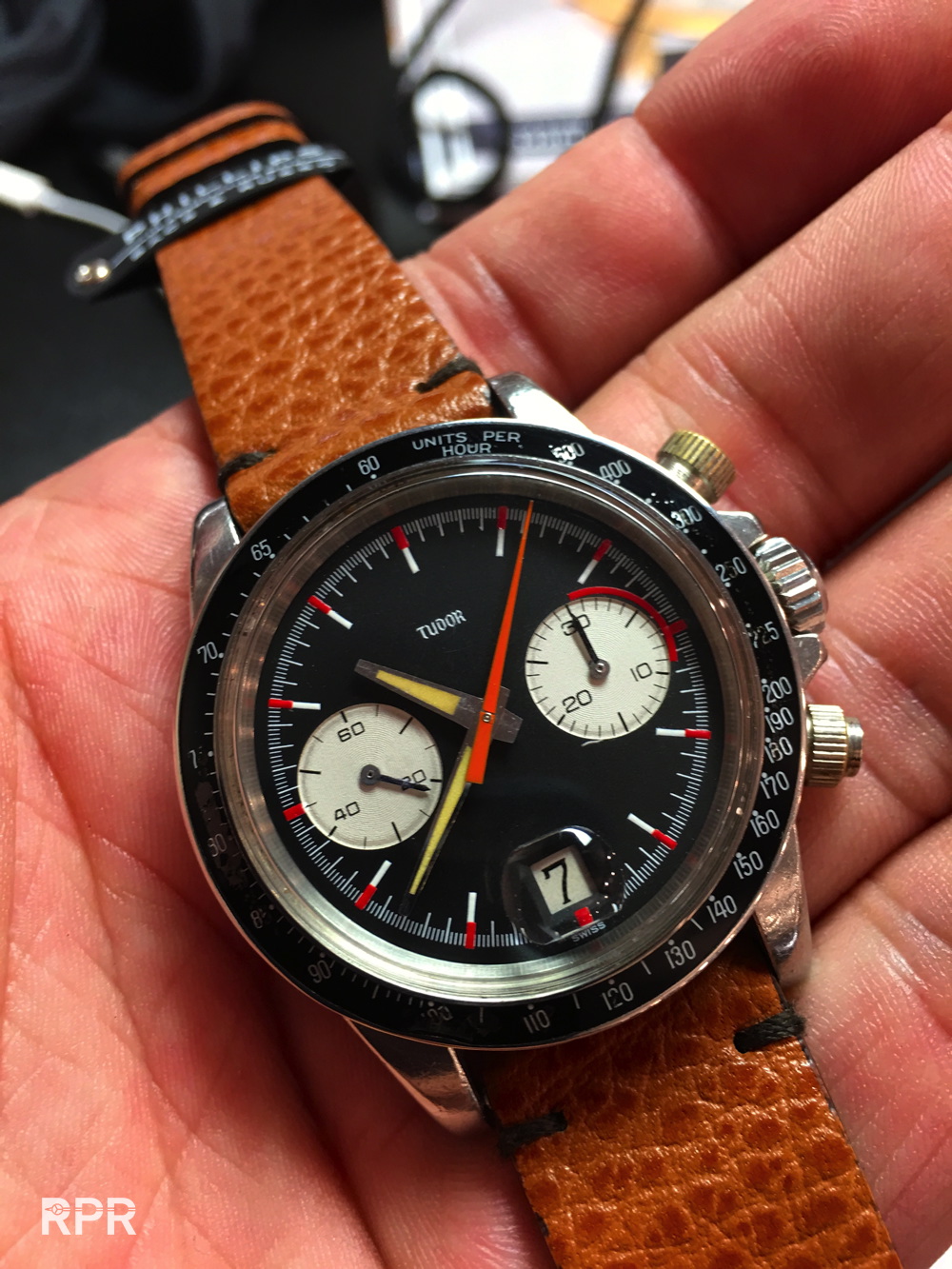 Found in the wild… stunning Oman!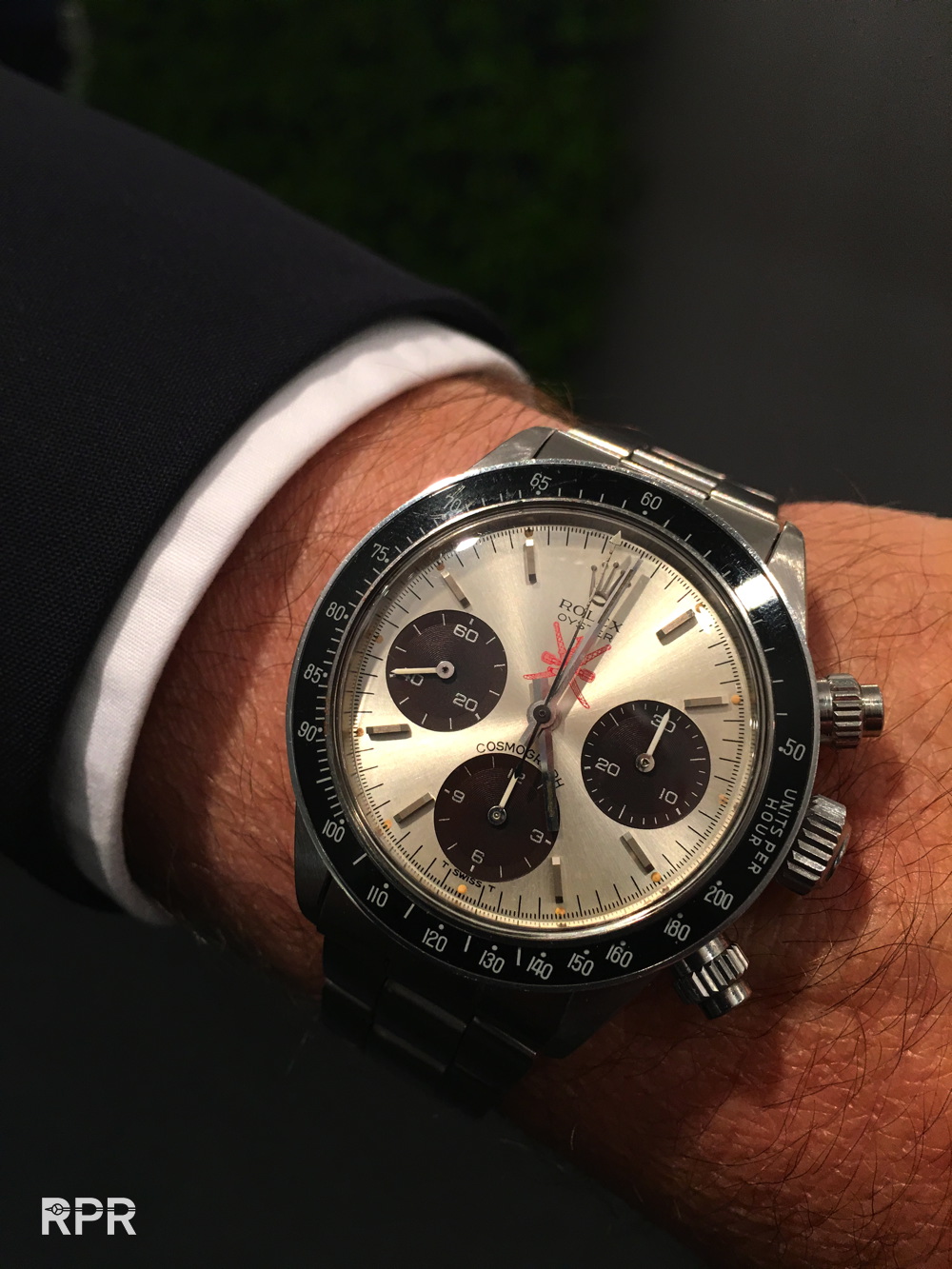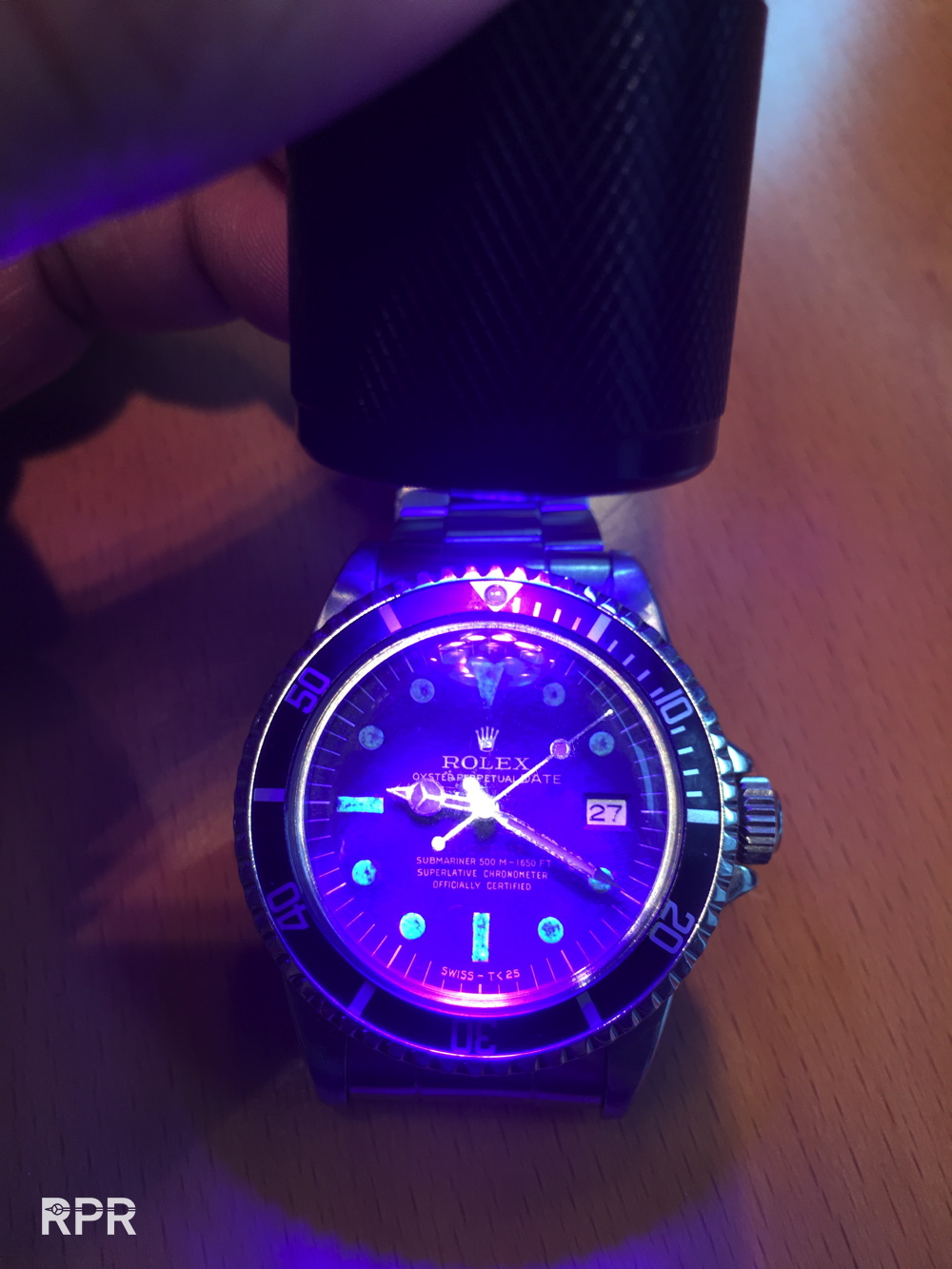 What a pity that dial looks so dirty!…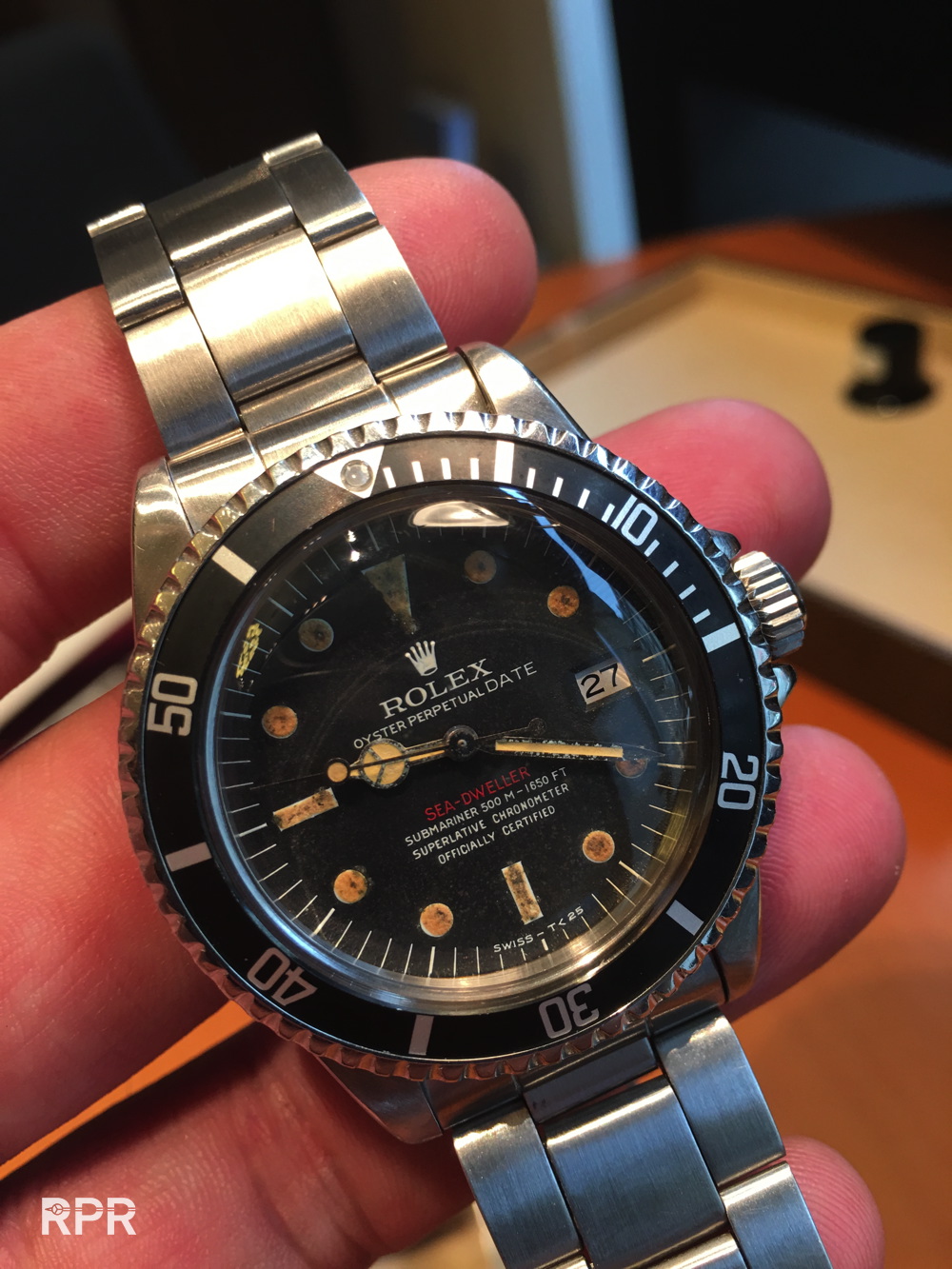 Killer look, the brown was so evenly faded, just lovely!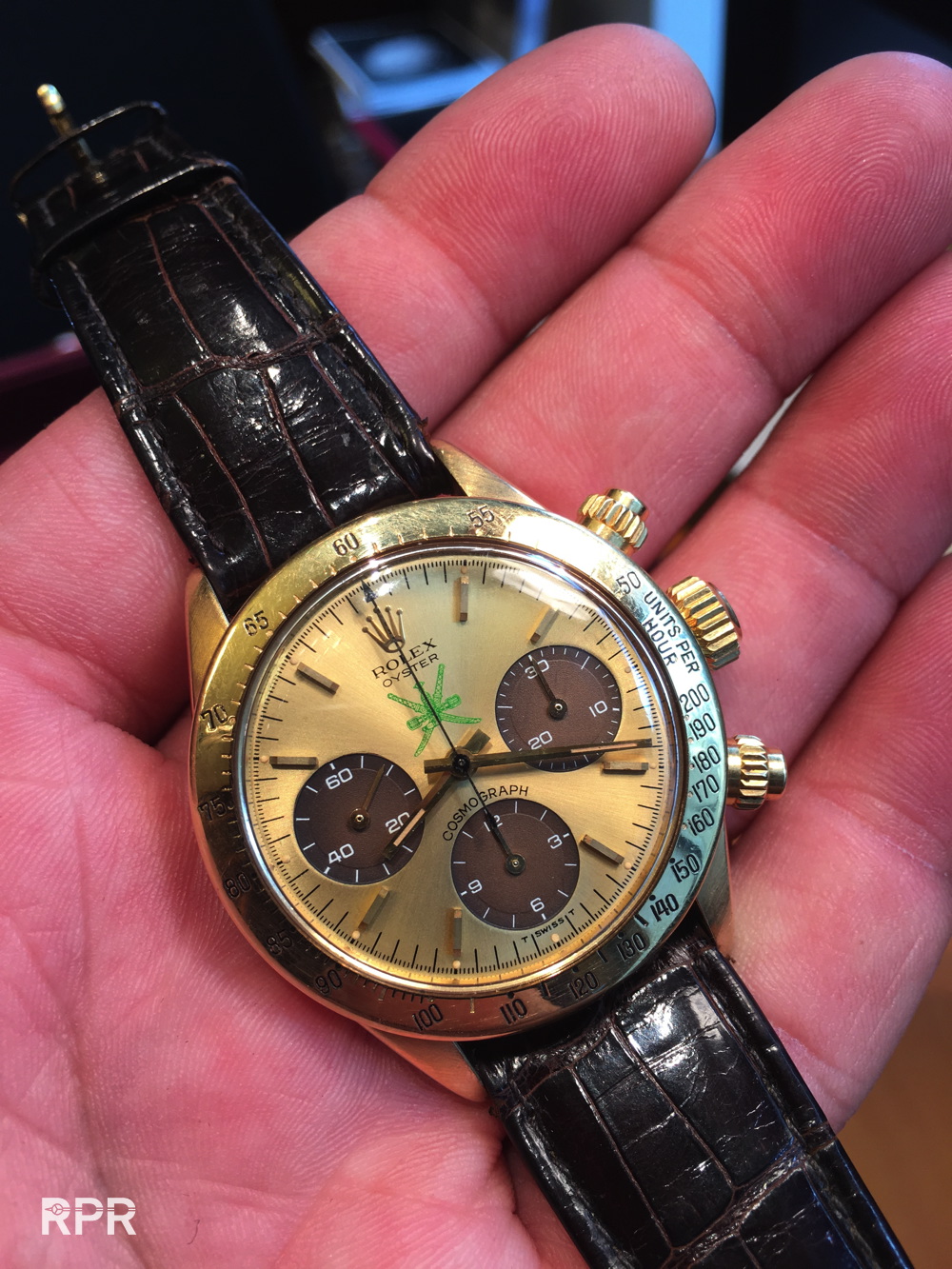 Bought for scrap gold and gifted to his son…
It finally sold for CHF 449.000,=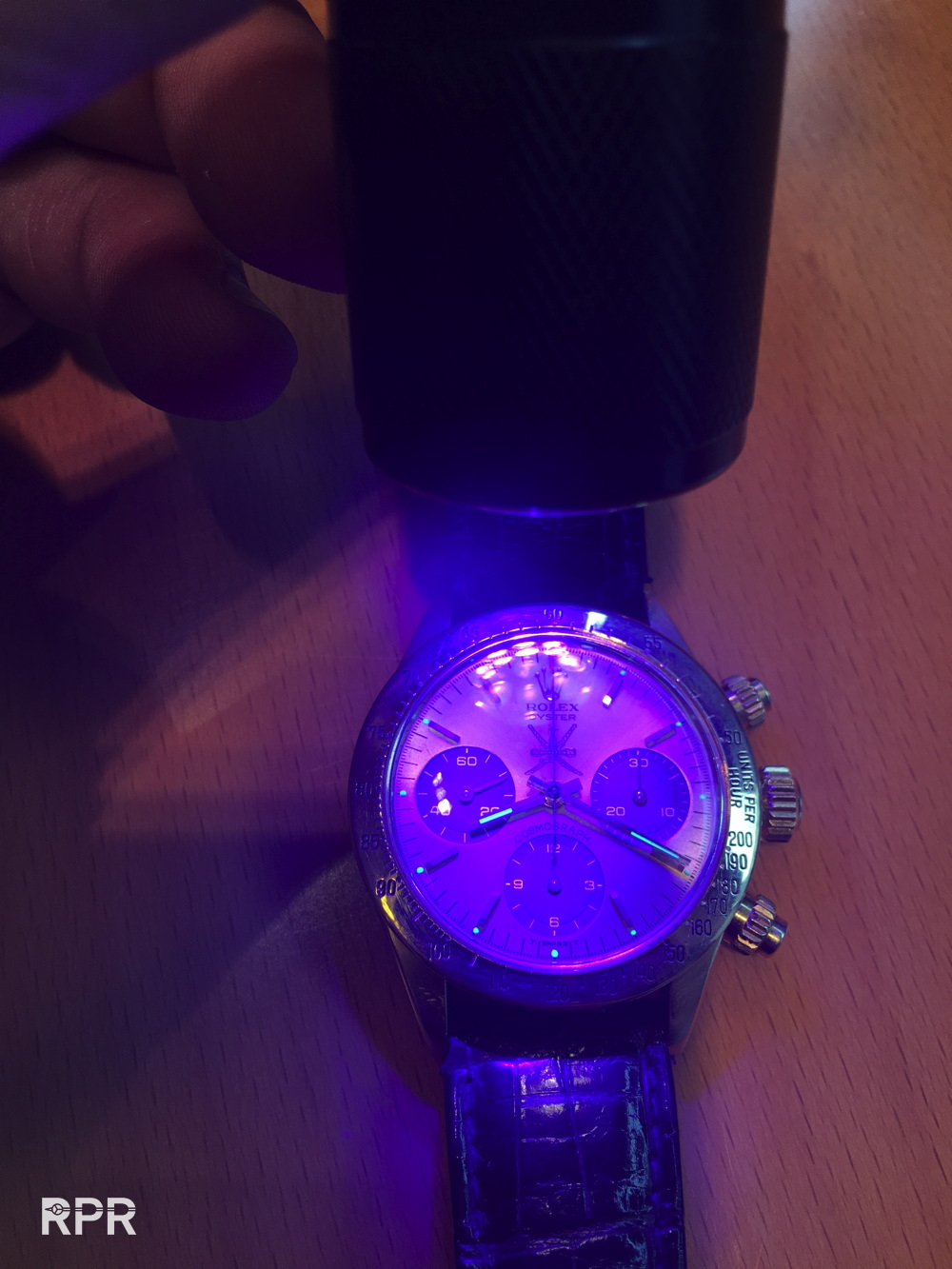 Interesting Sea Dweller, Philippe Jeantot 501 dive…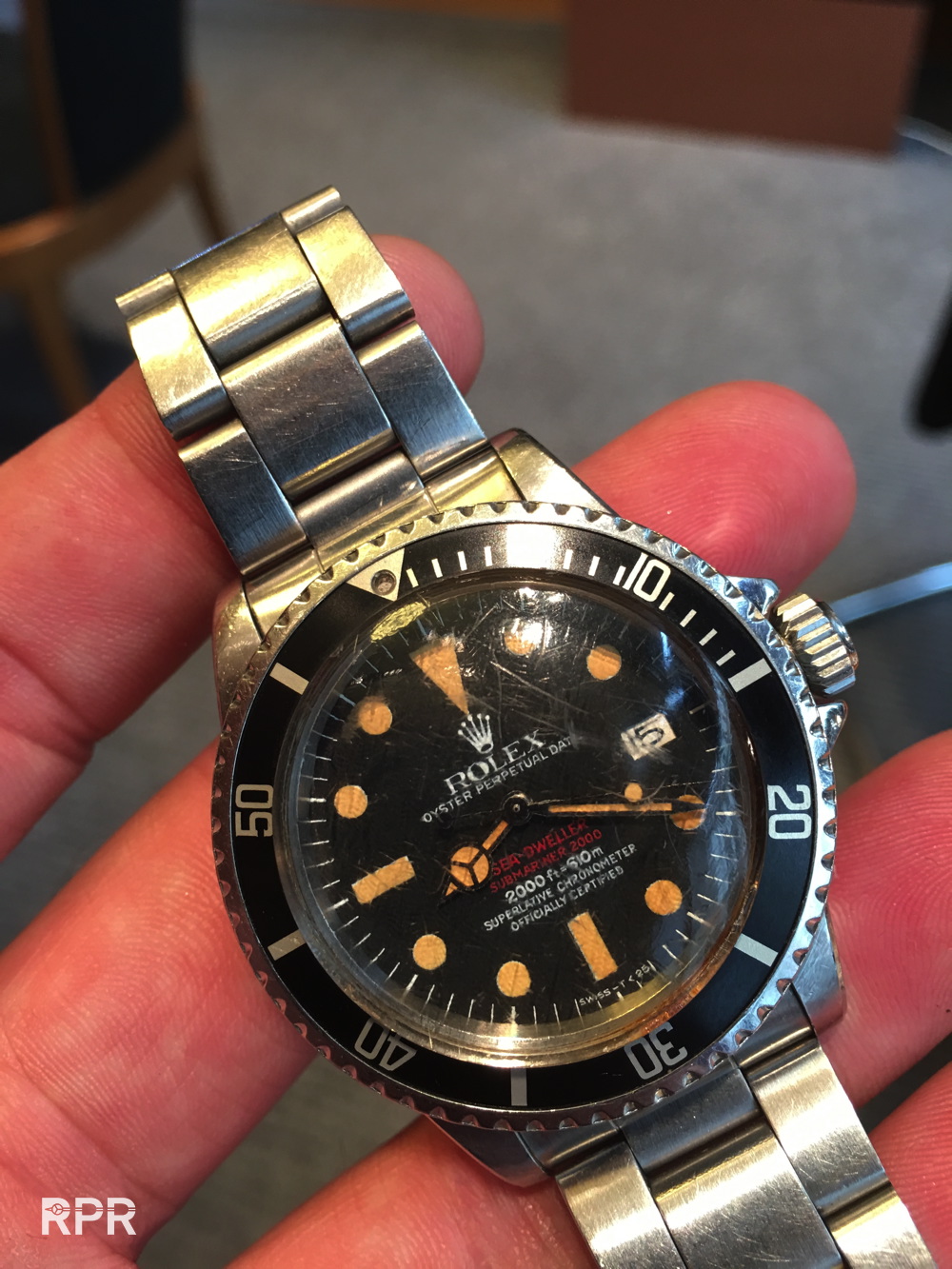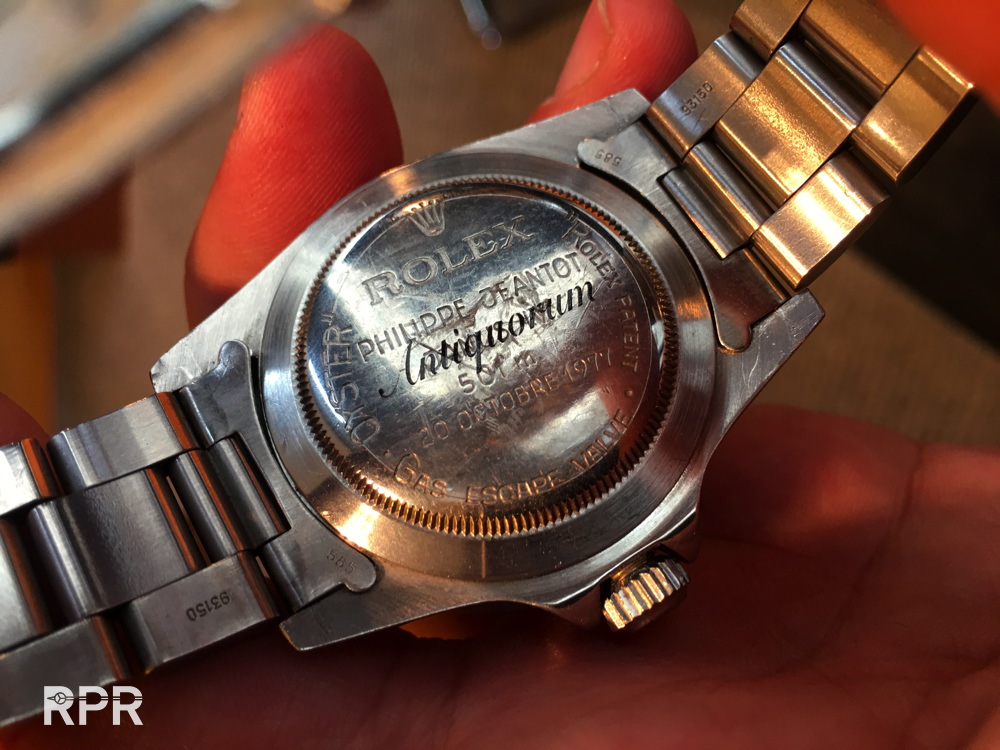 Underline & white swiss….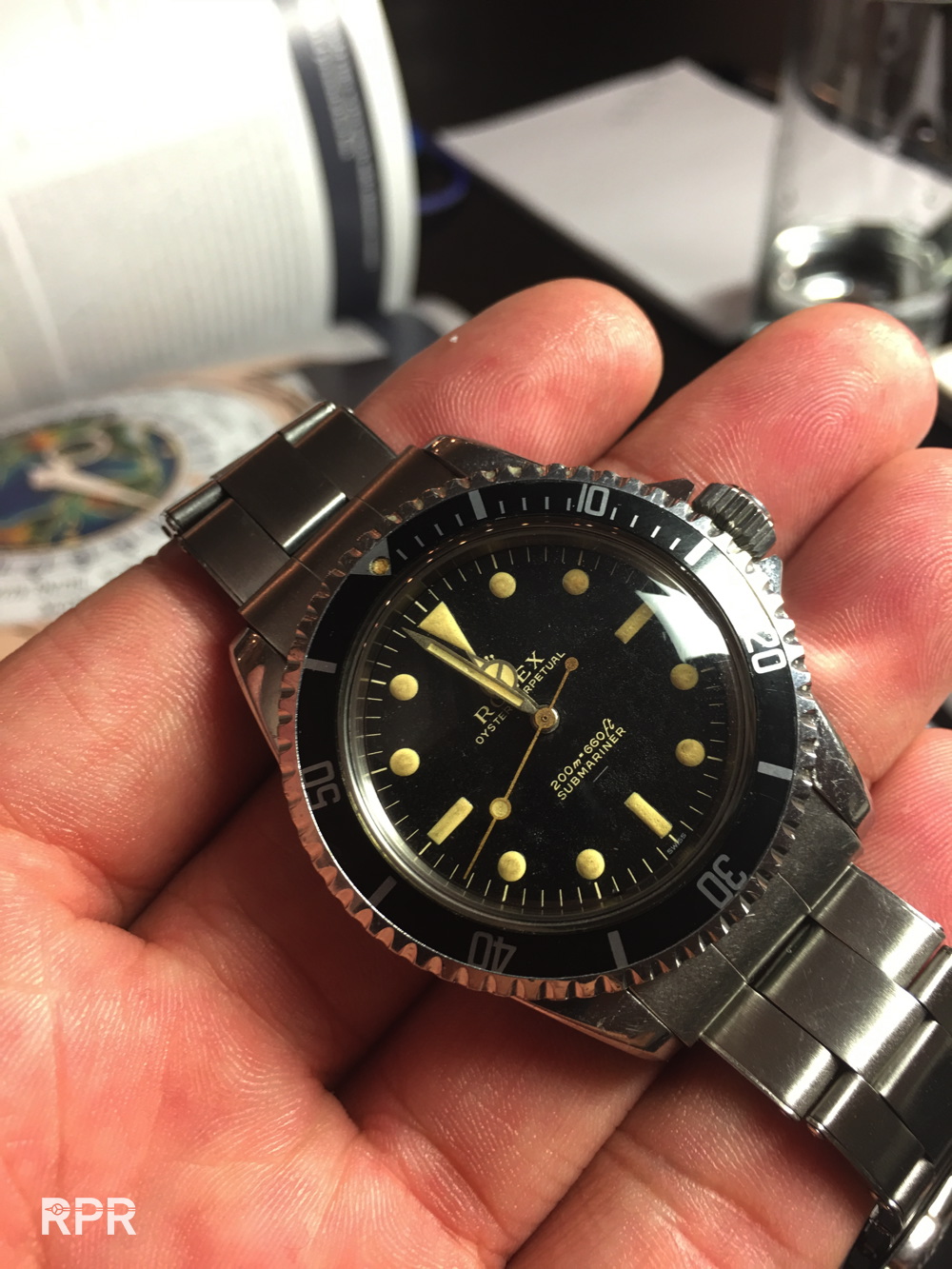 I see..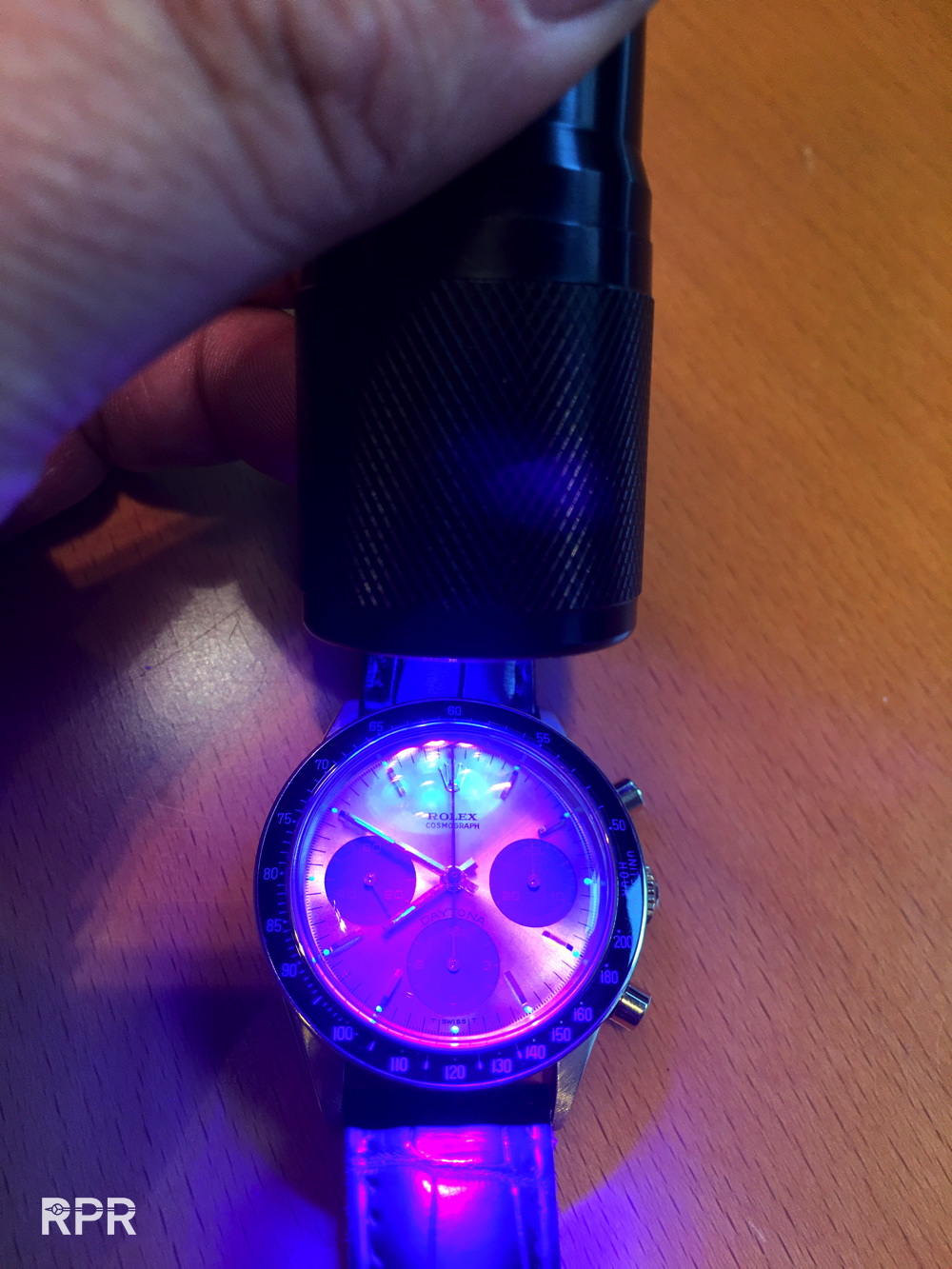 White gold Submariner case…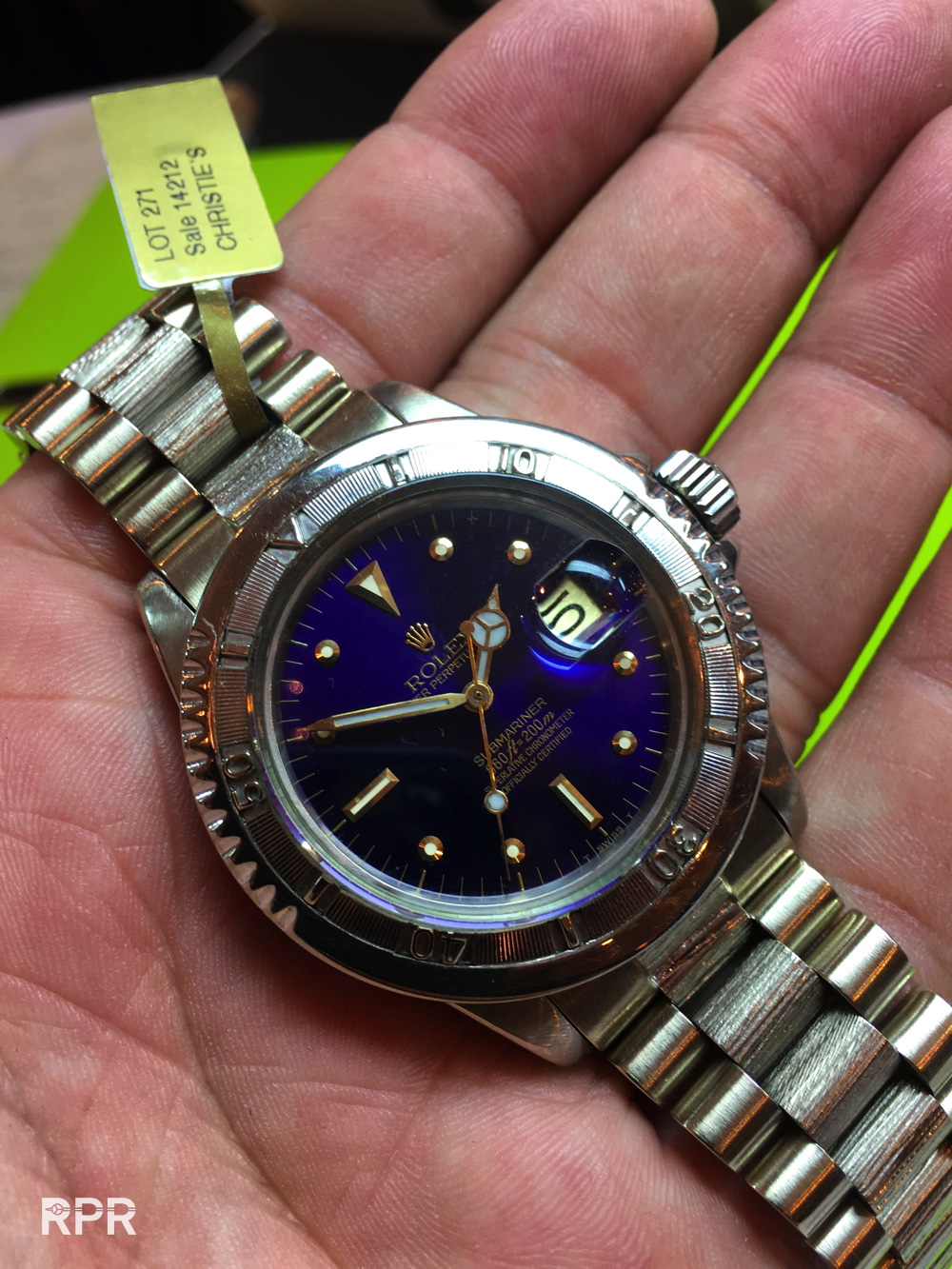 The prototype case has been made in 18K white gold and never got finished and sold to public.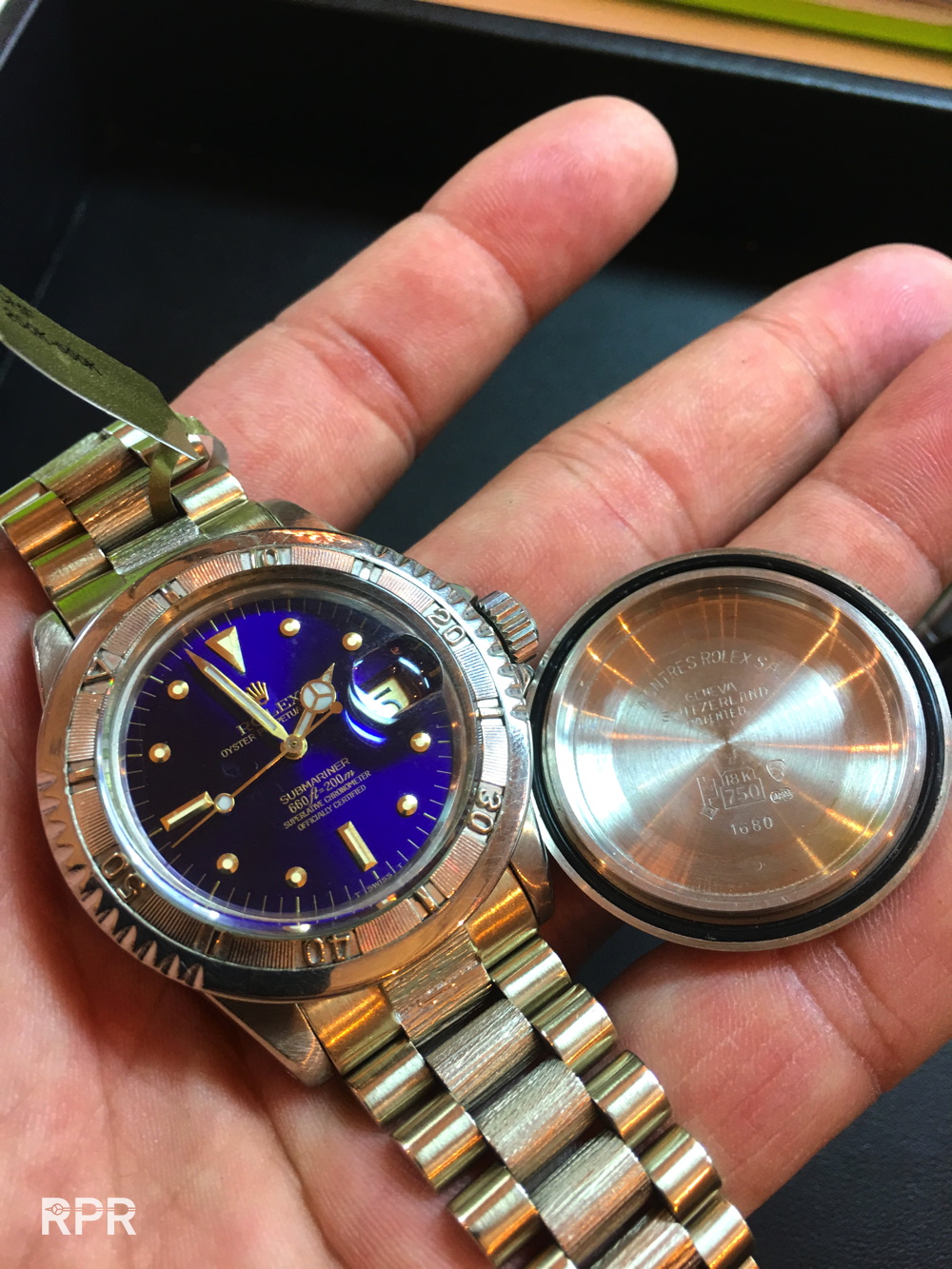 @perezcope was reading my mind when he posted the inspiration Rolex used many years later for their Yachtmaster…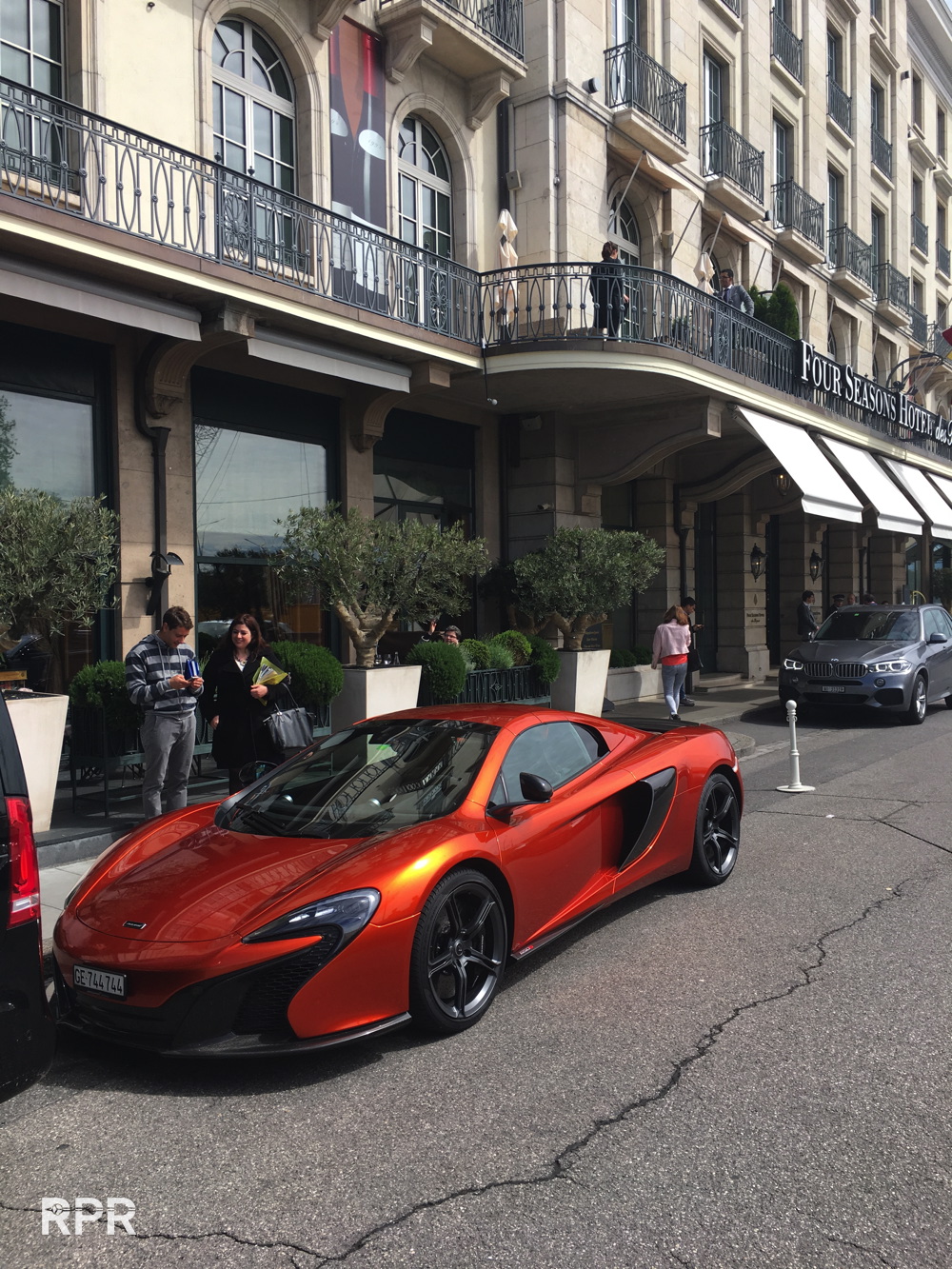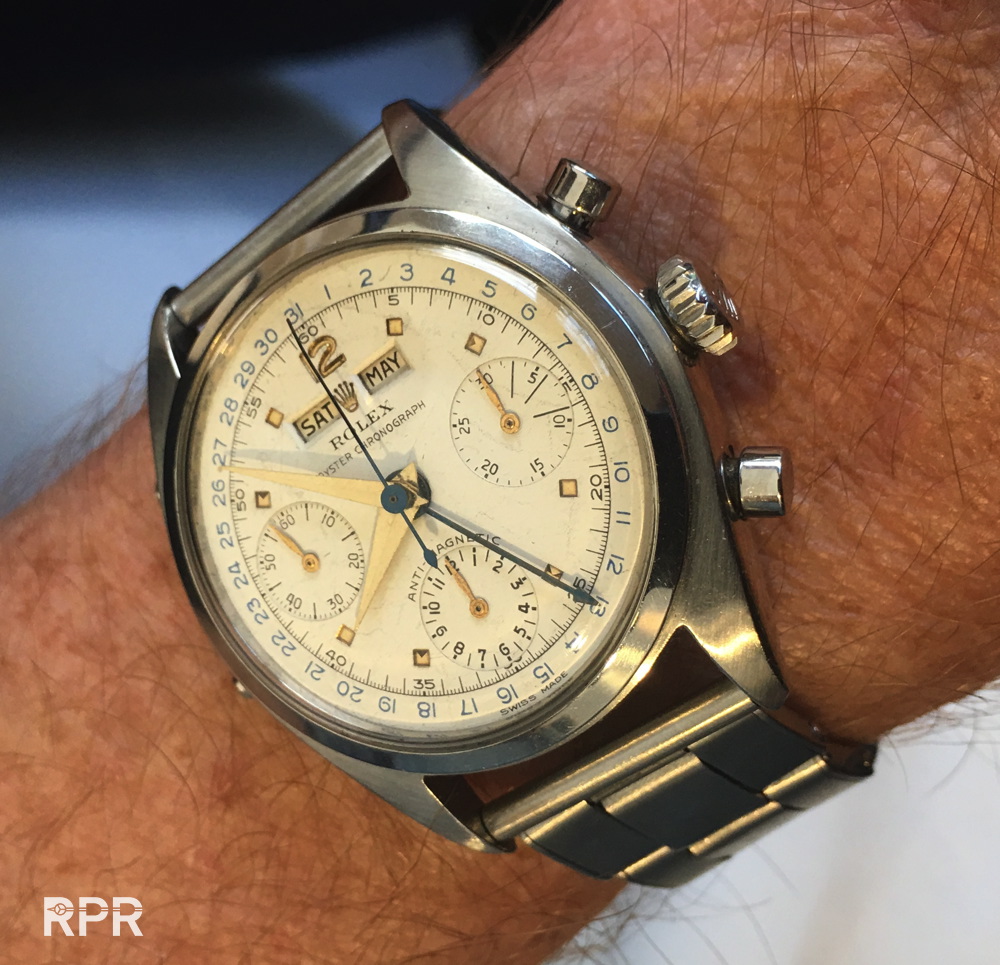 What a difference a little line can do…. CHF 48.750,=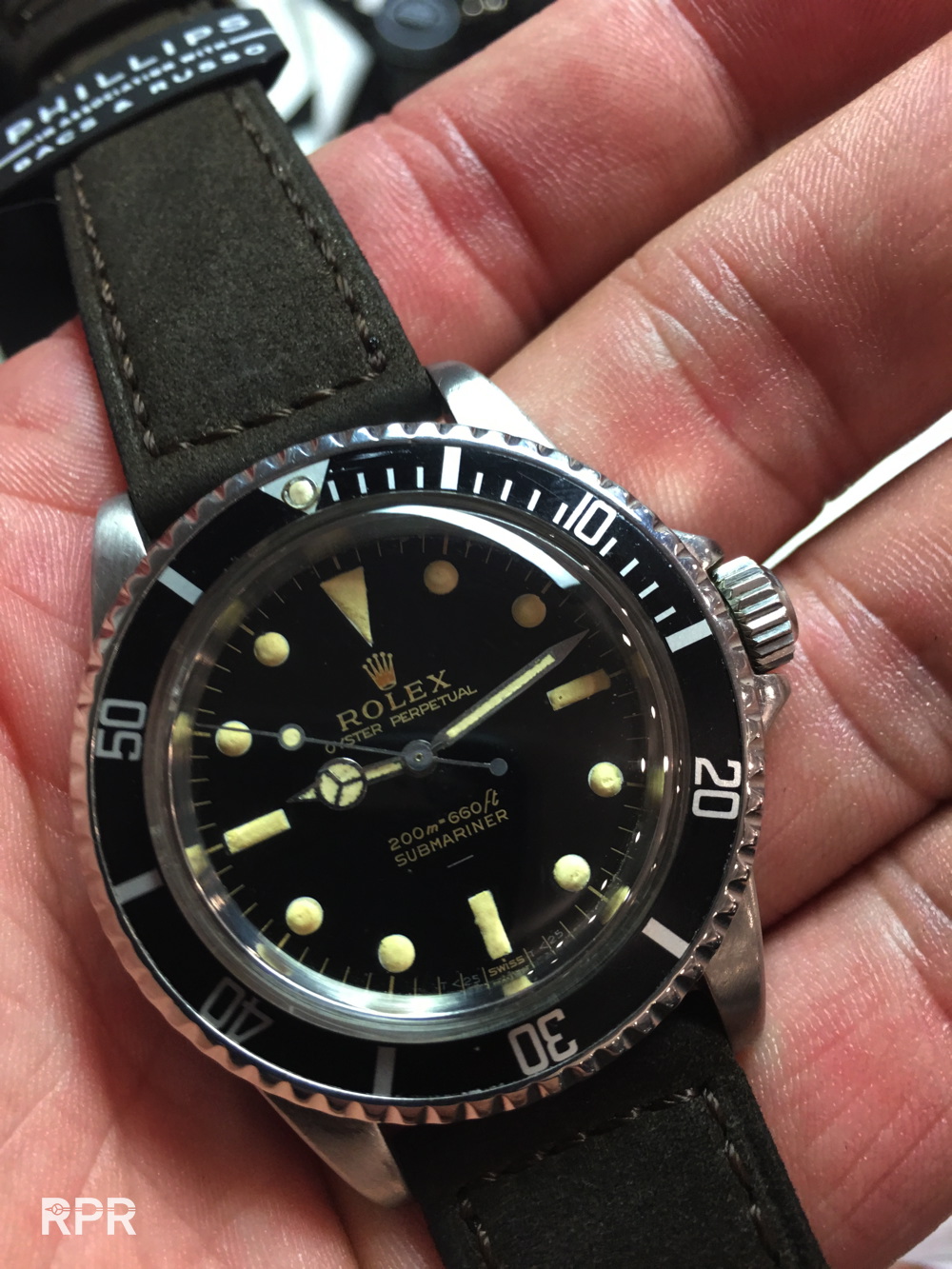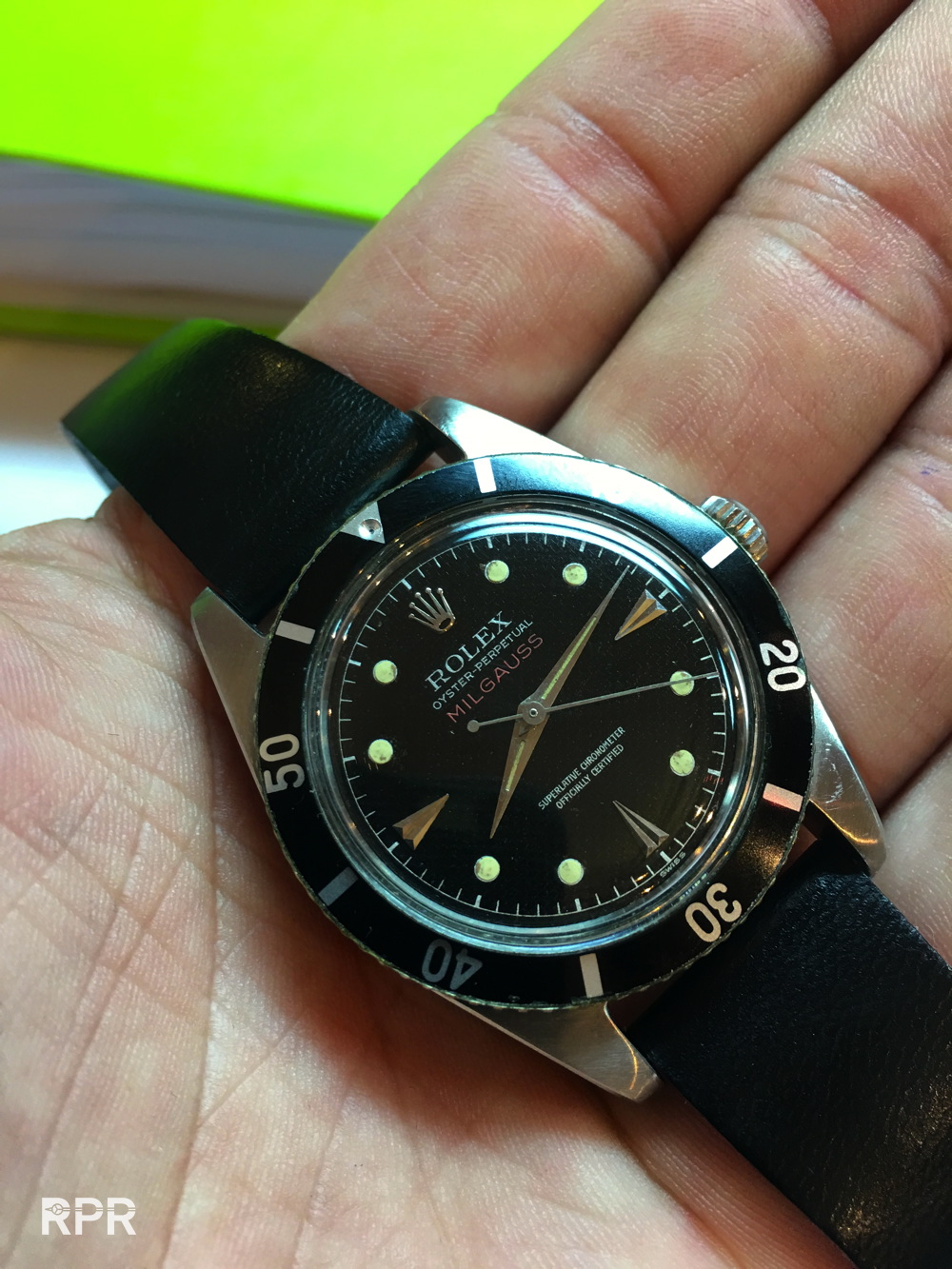 Almost perfect..CHF 271.500,=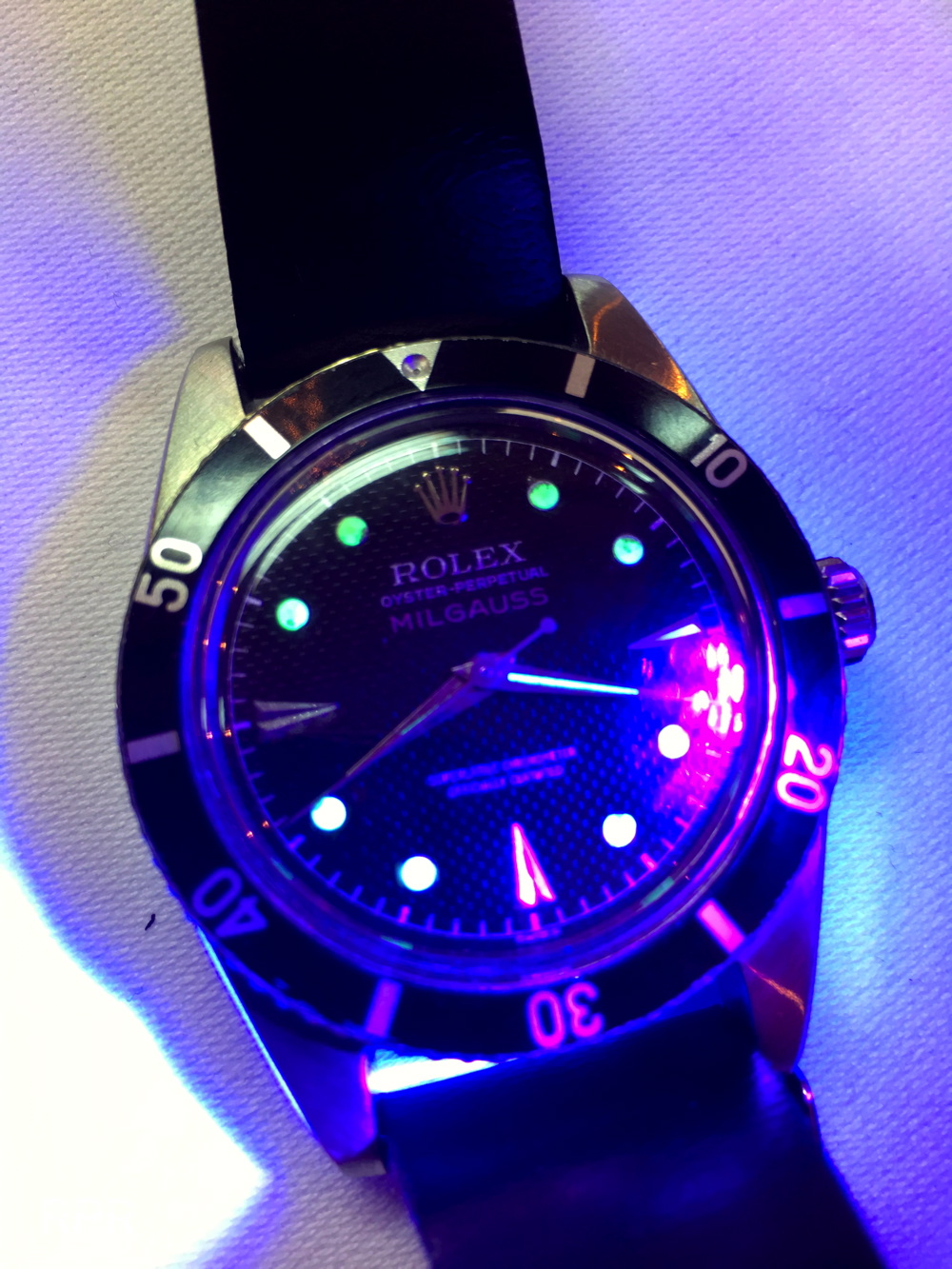 Nice but not perfect makes CHF 13.750,=..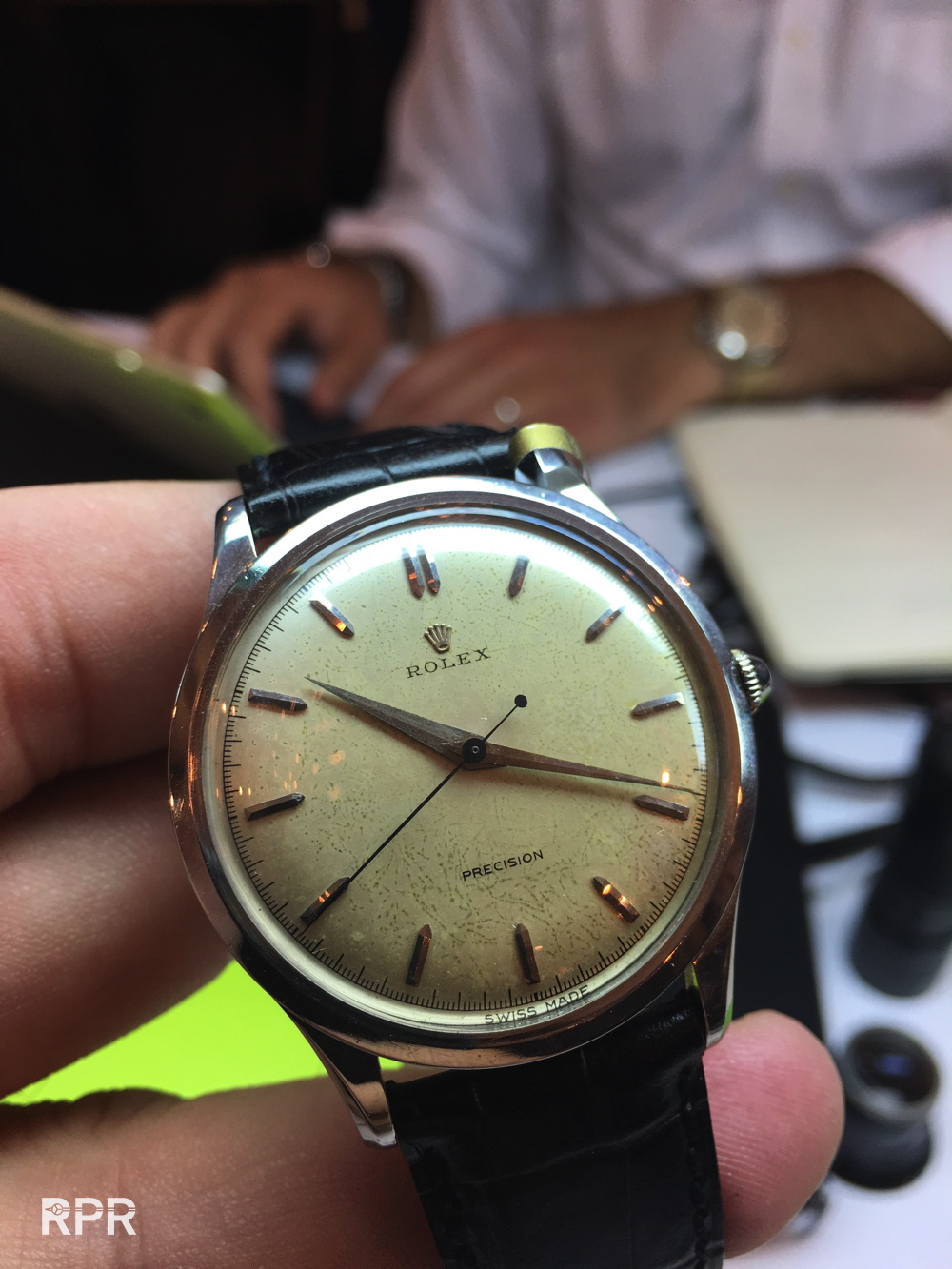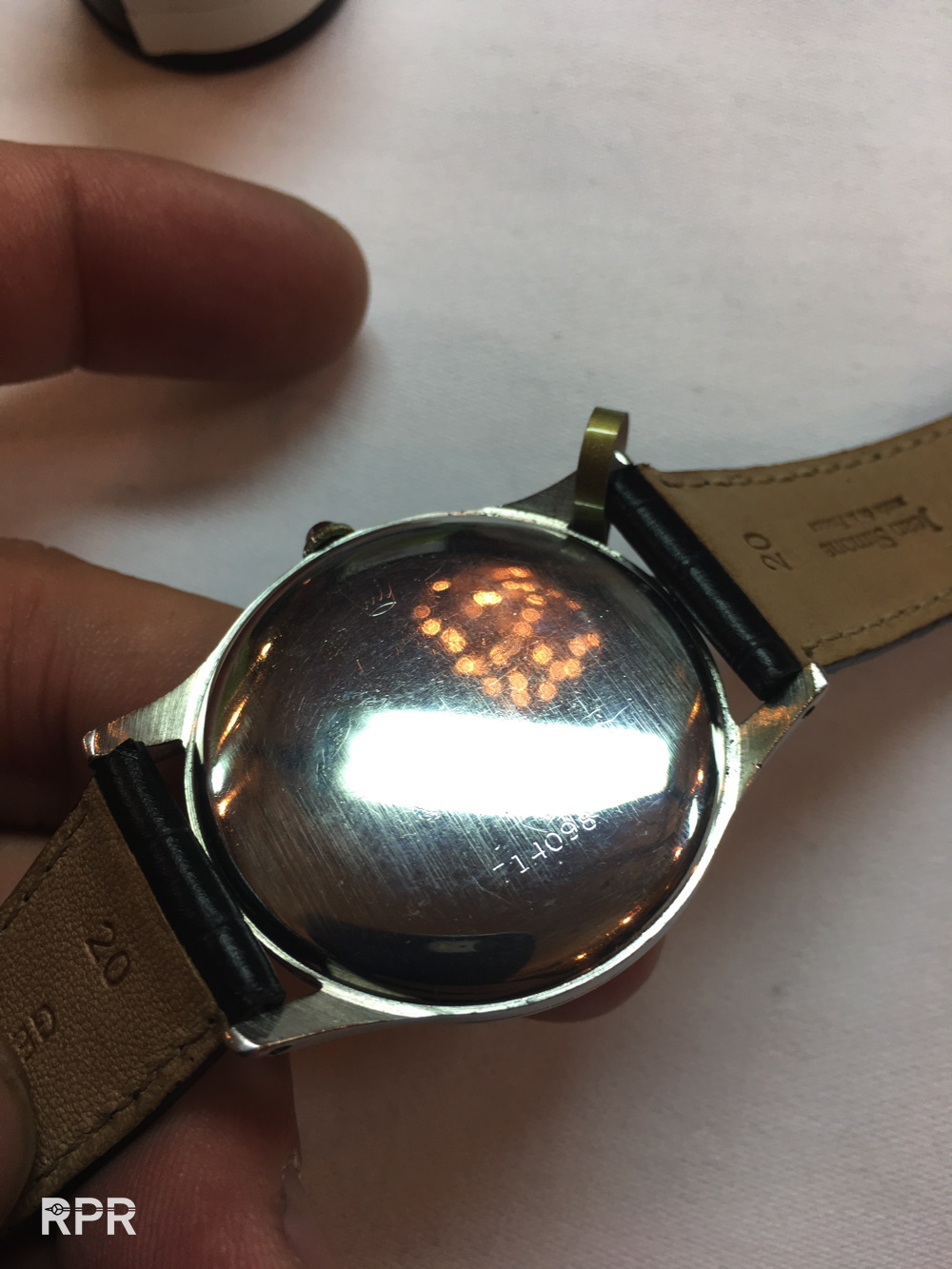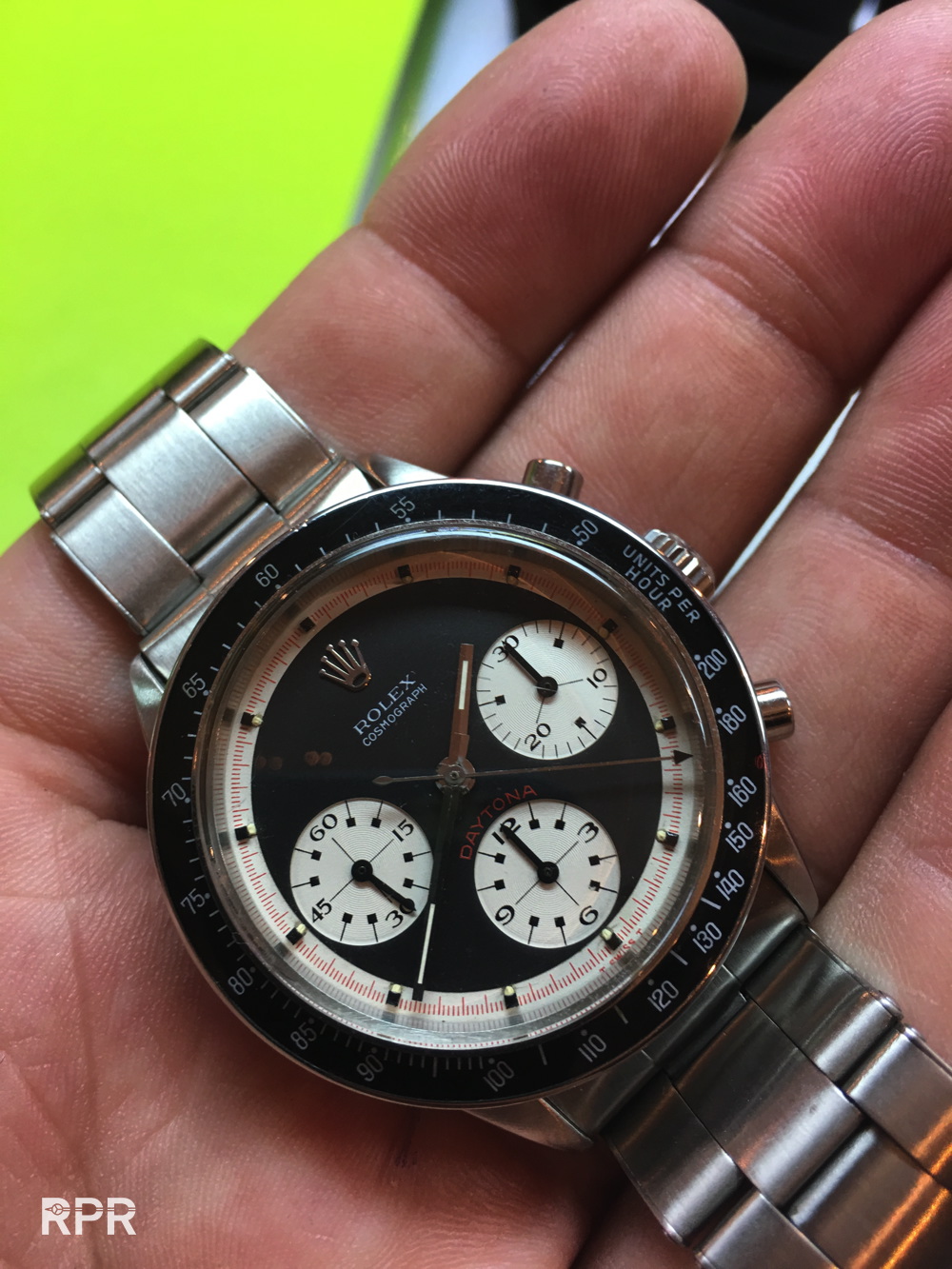 Obviously relumed…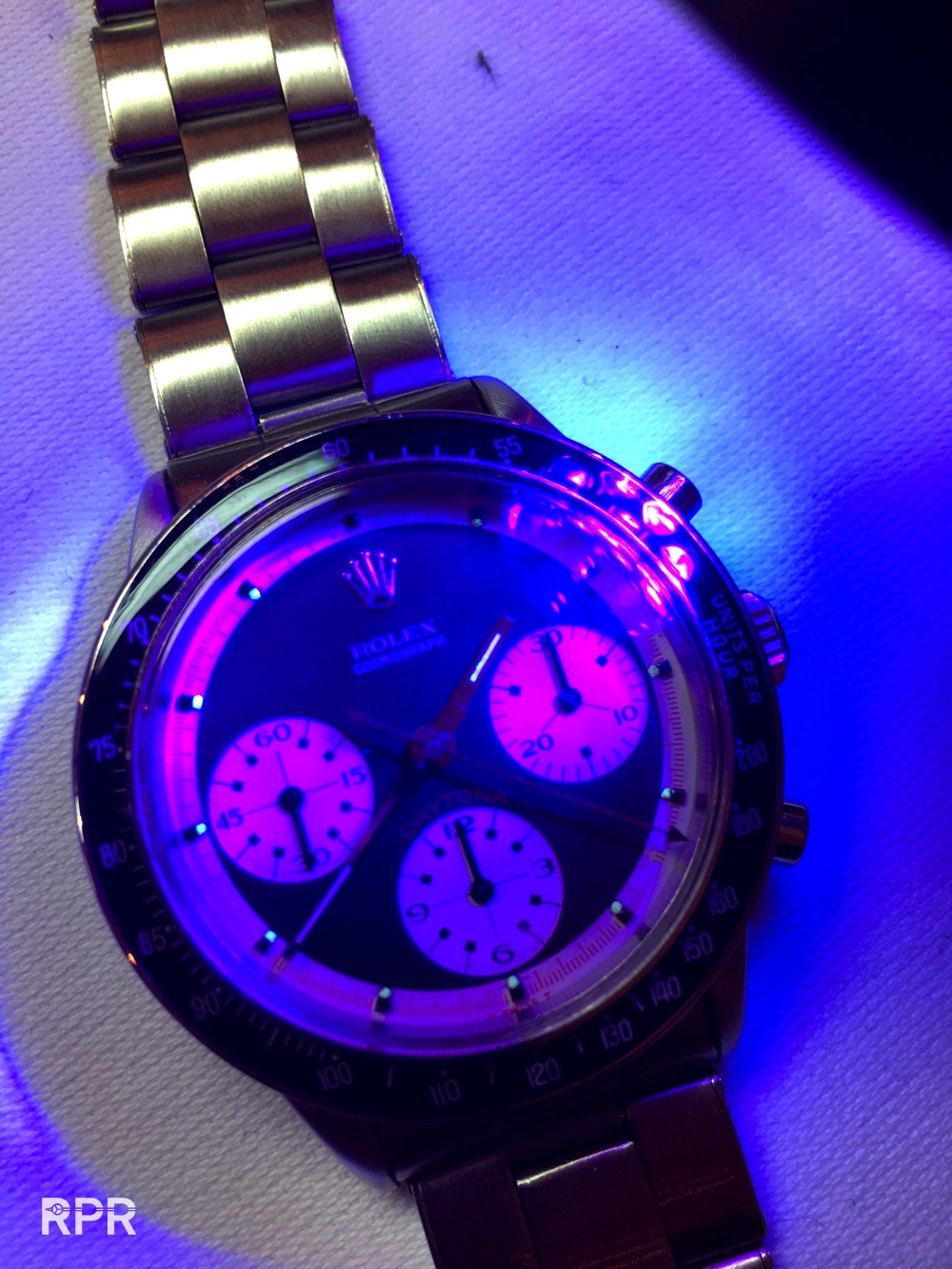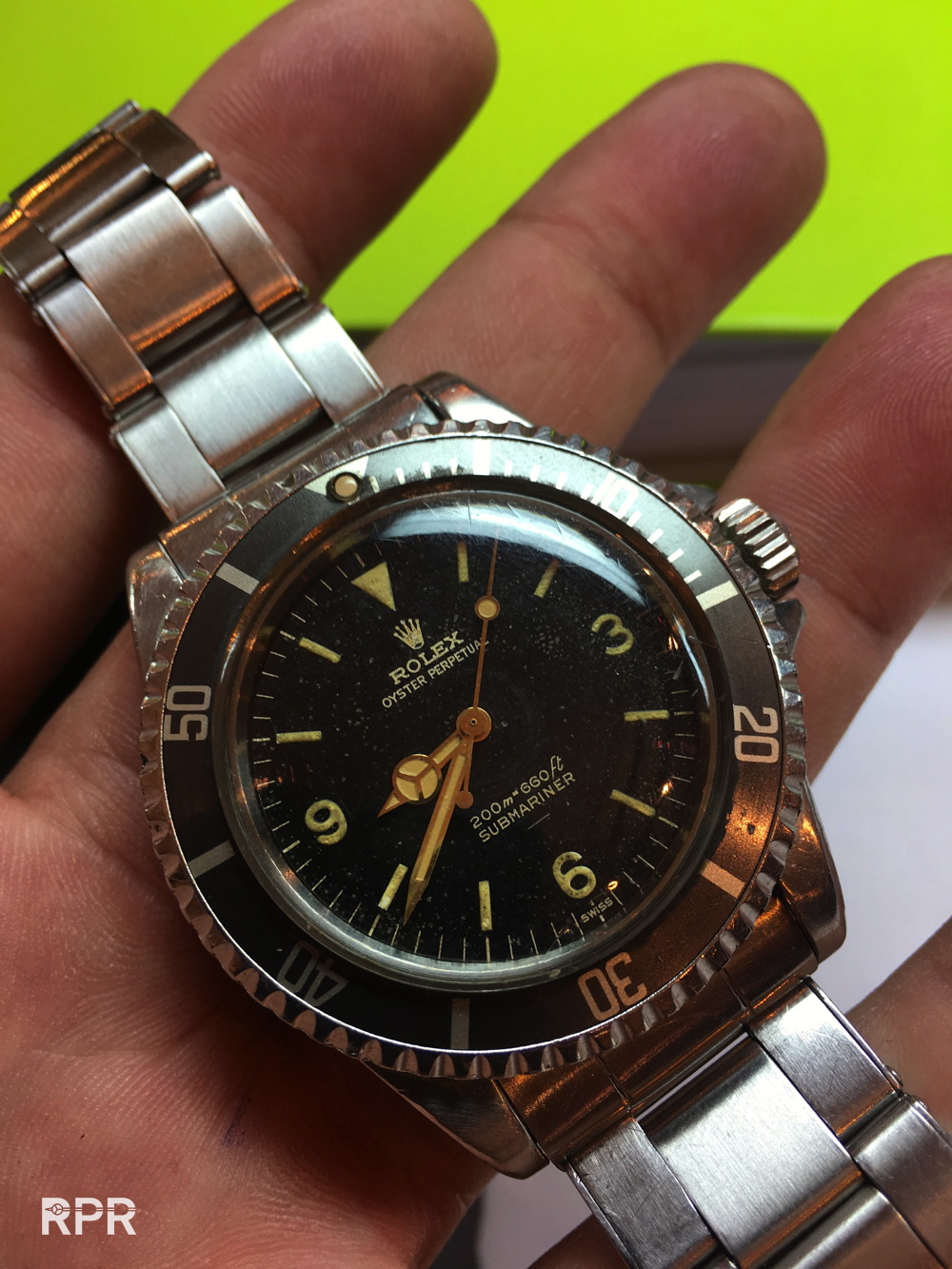 Up front you see the hands don't match…from the side you see the spots and marks the hour hand left in the middle of the dial…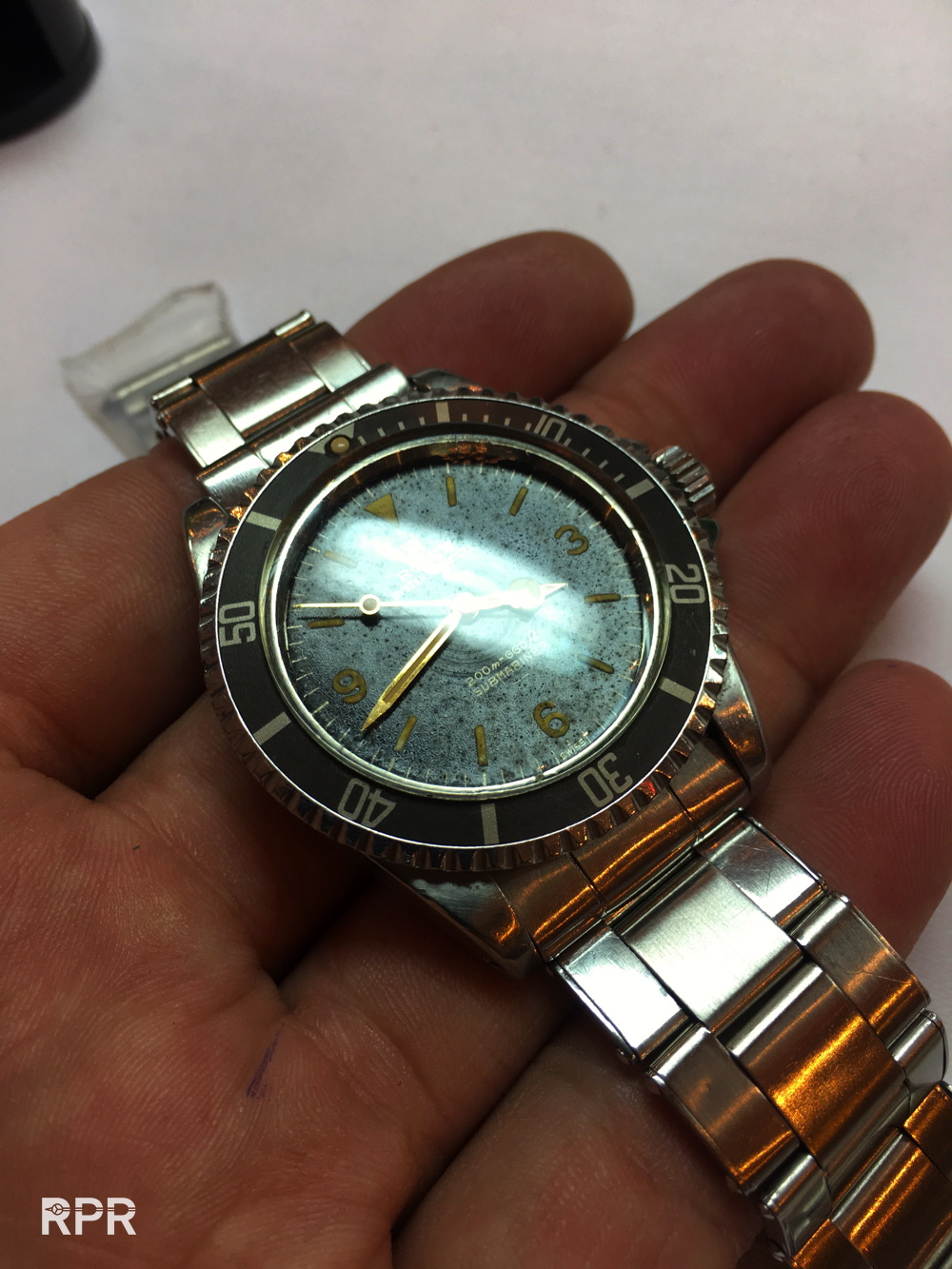 Great Newman, great result! CHF 559.500,=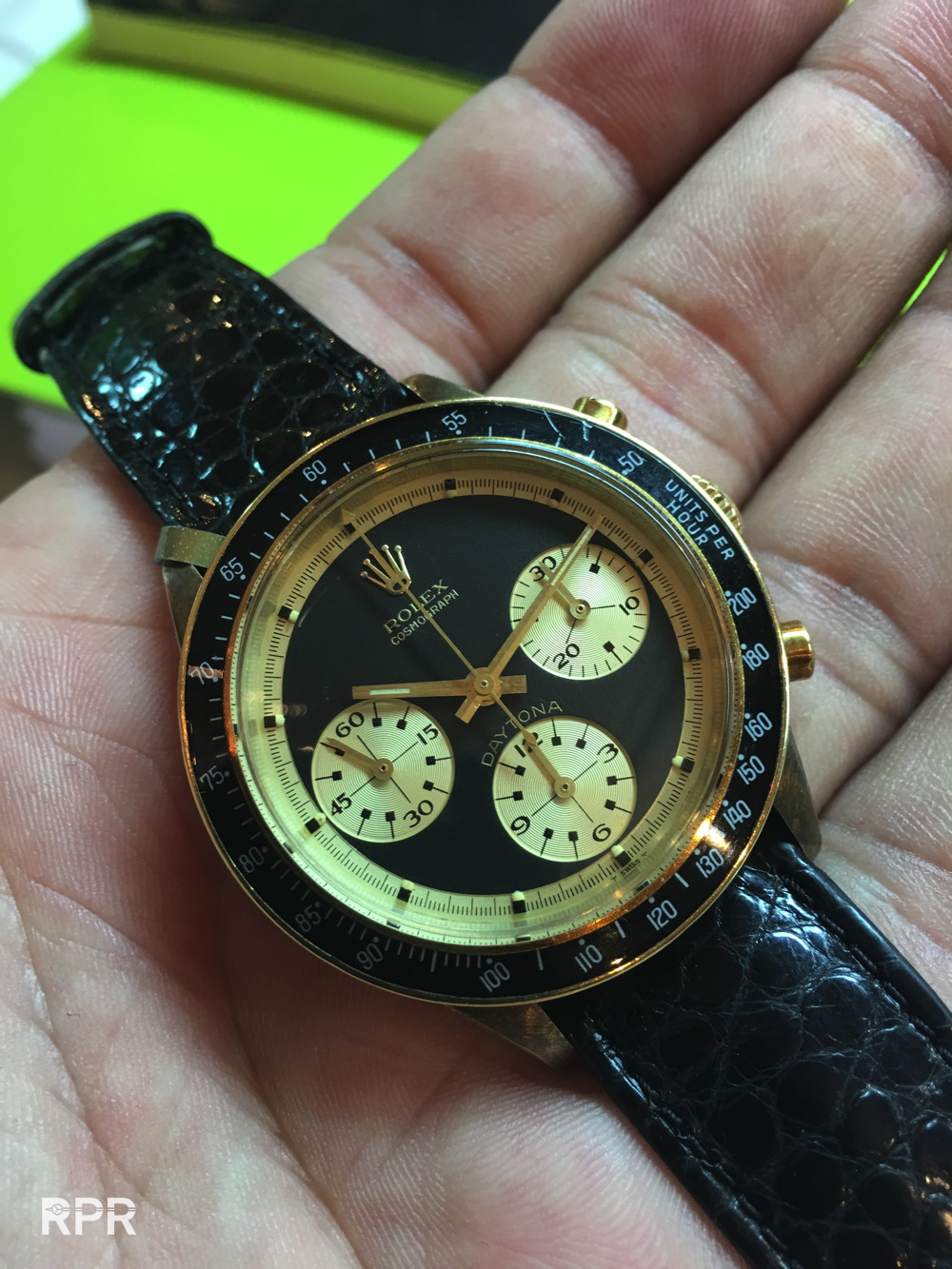 Although I wonder what happened with the small hands..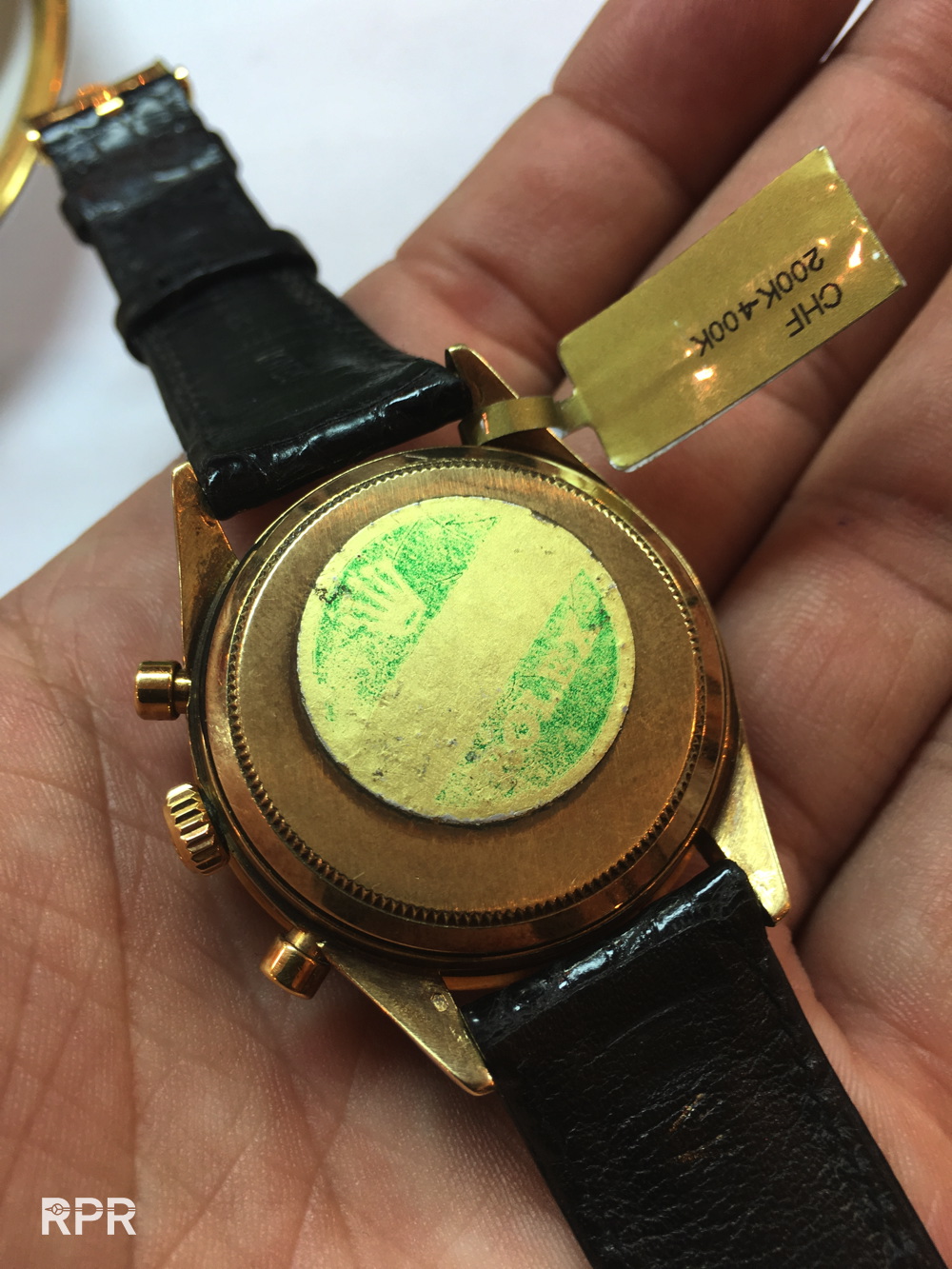 Yellow, almost more orange Stella dial…CHF 90.000,=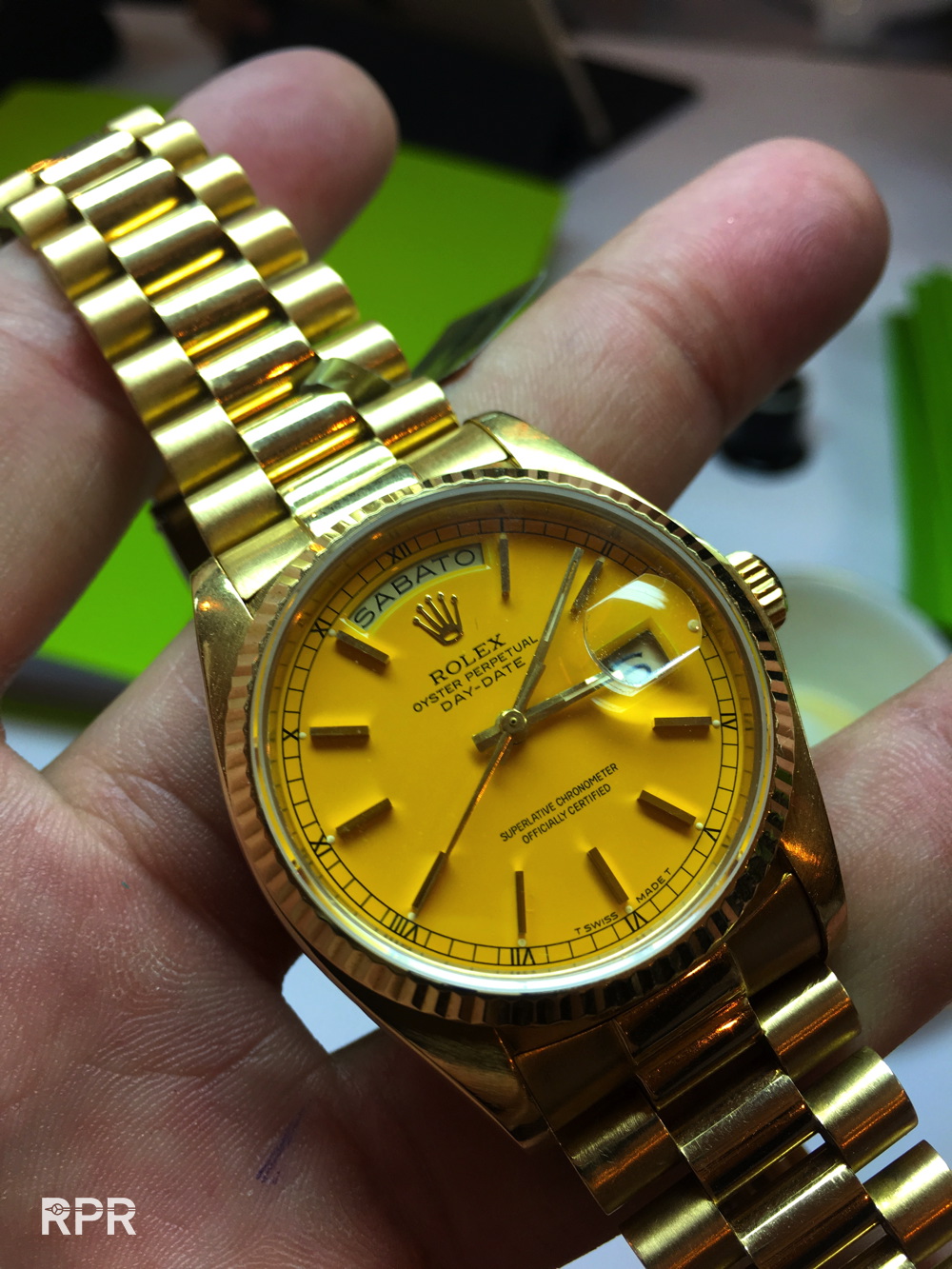 The lemon Oyster Paul Newman Daytona, one of 3 known so far…
This pink 8171 sold for CHF 199.500,=…
This pink gold ref 3525 monobloc double name sold for CHF 81.250=….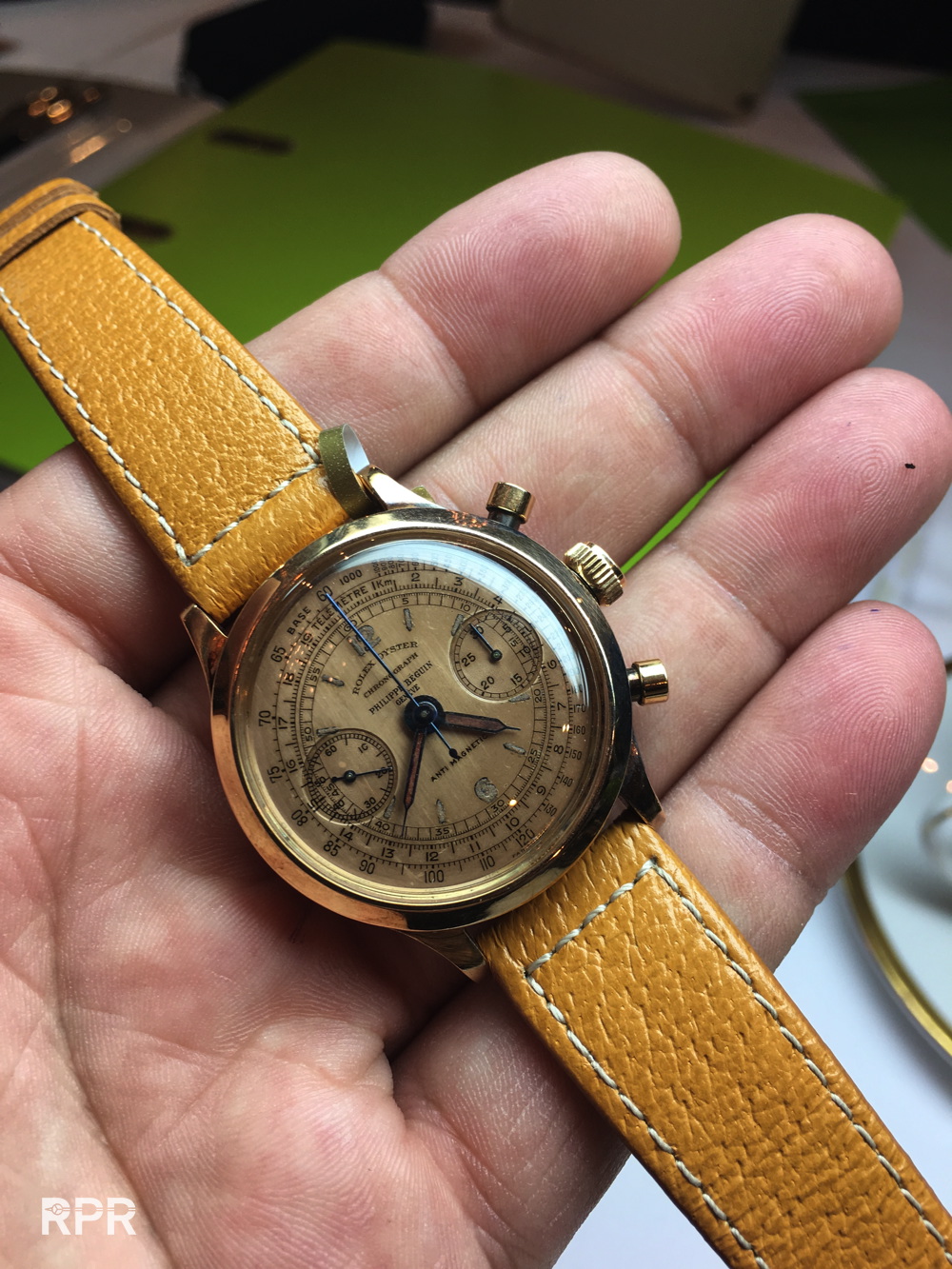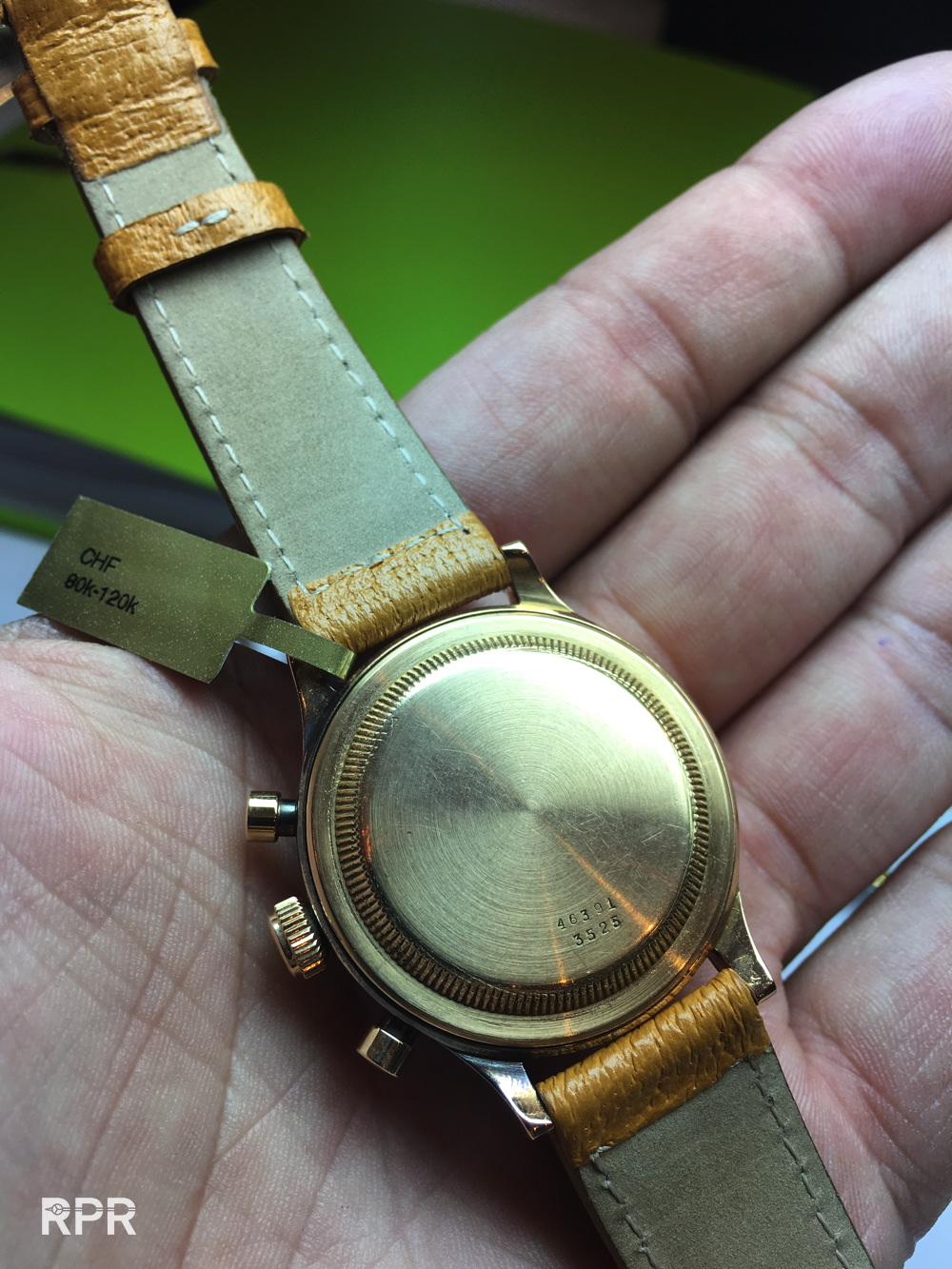 And this steel Ref 3525 salmon dial sold for twice the gold one, it achieved CHF 162.500,= and went to a nice asian home, enjoy!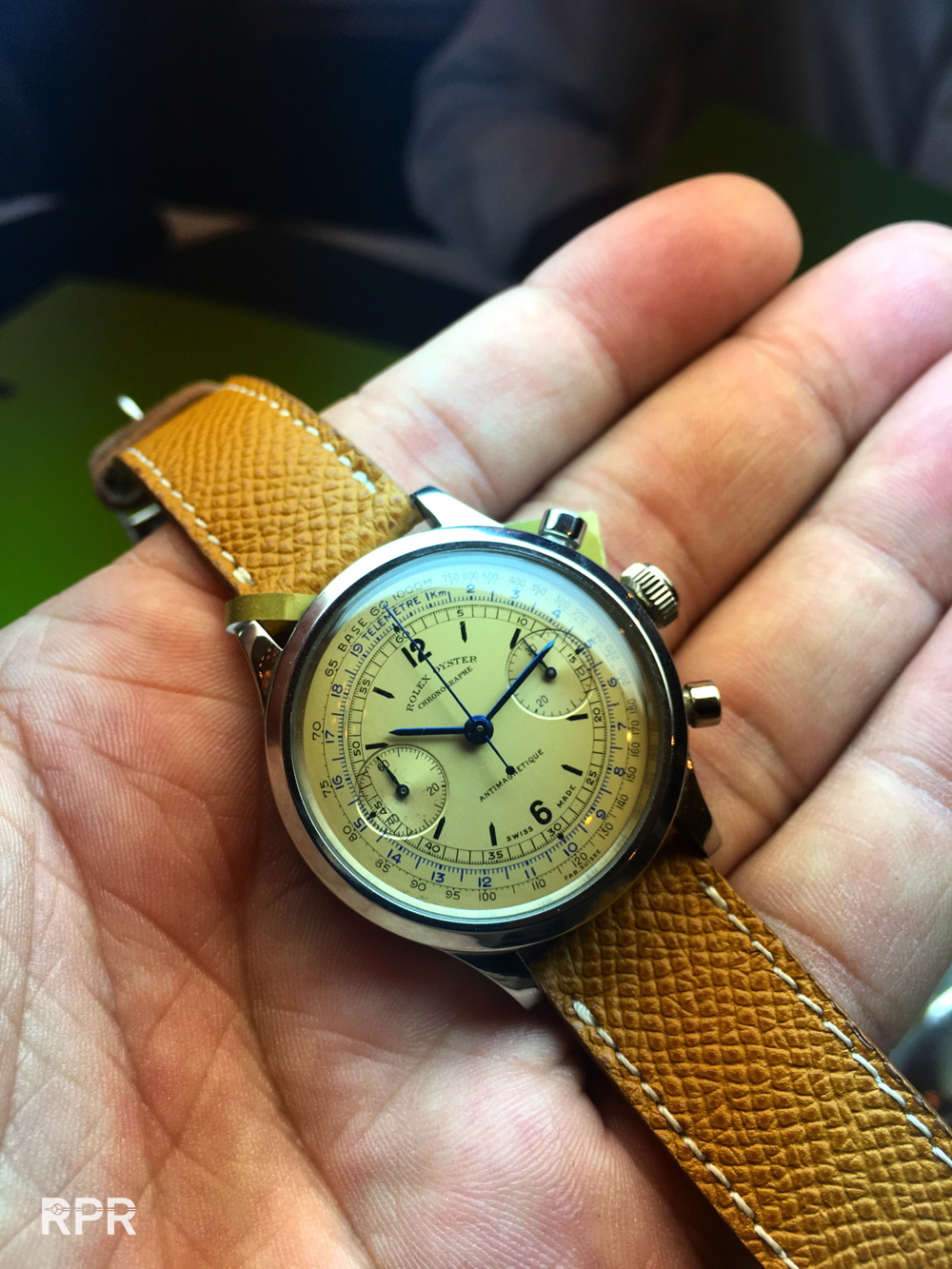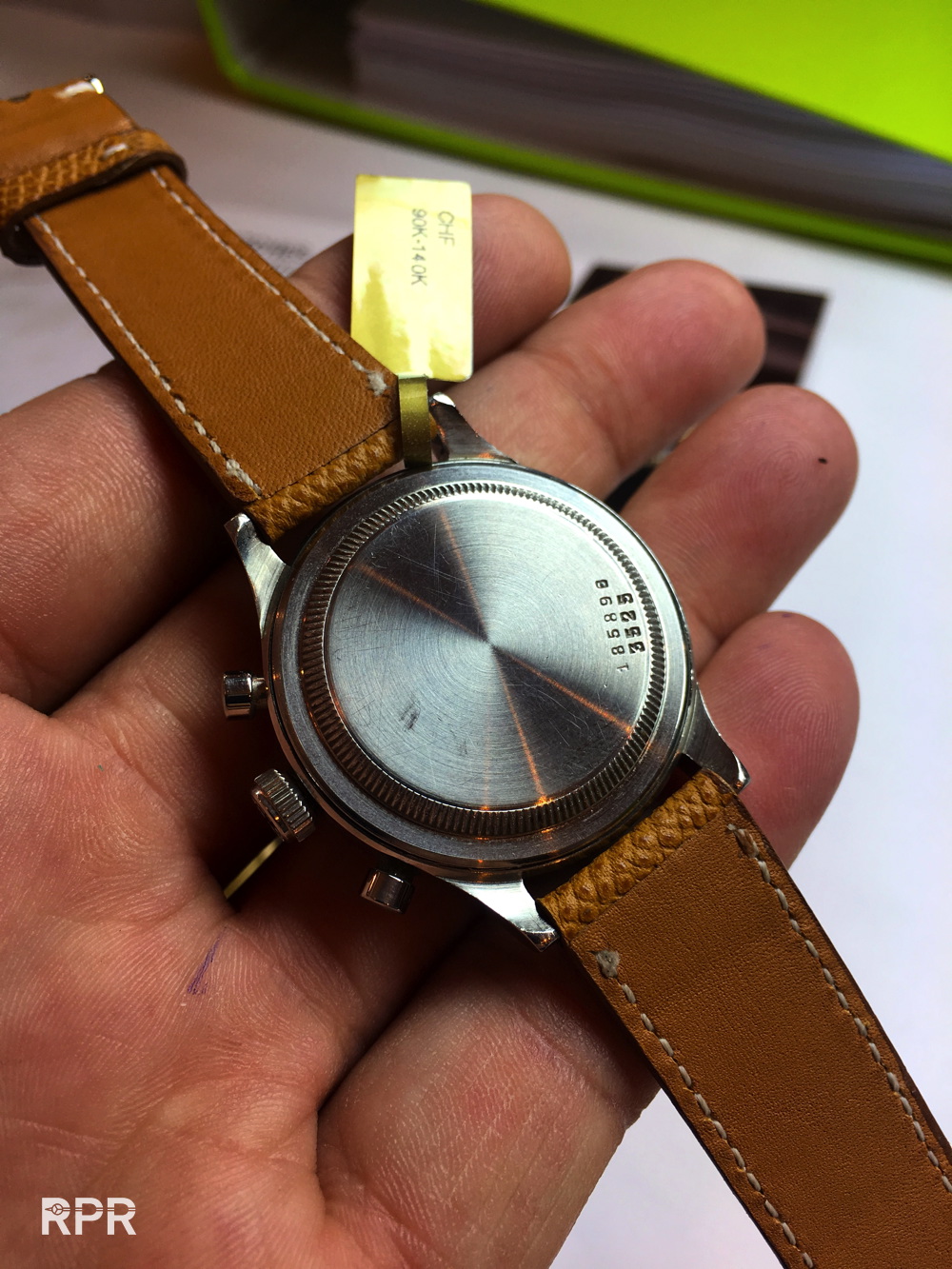 The green Khanjar. Youy see that nothing is for sure in collecting. There are always exceptions, like this one. Although the serial number is earlier then the known batch, and the serial number was not engraved in the case back, neither Asprey on the outside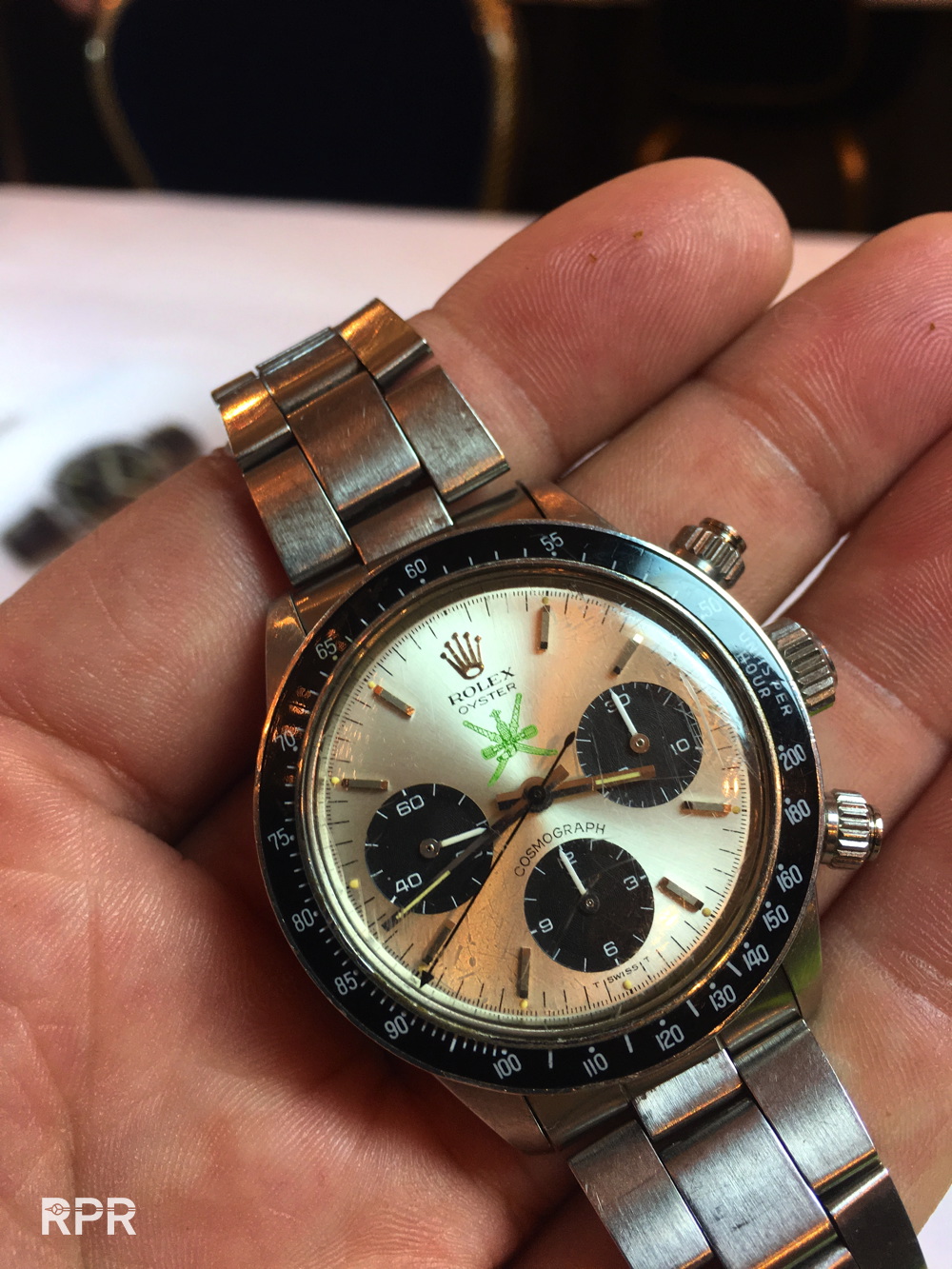 But with actual proof his gifted 3.04 million flew on his wrist from Muskat to London, transporting the sultan…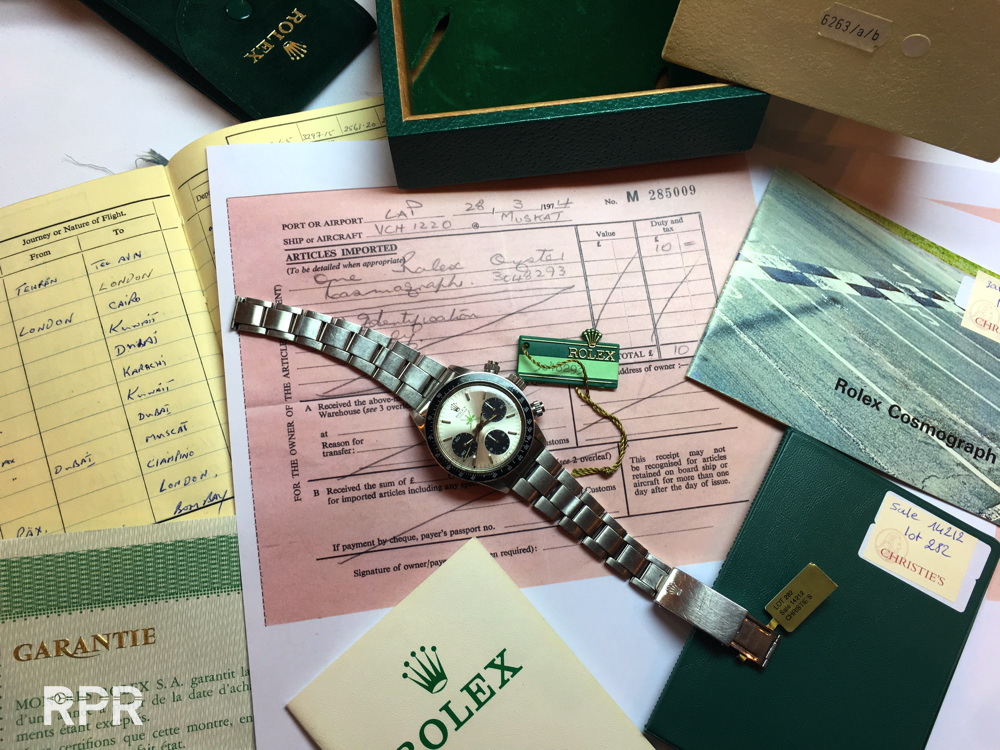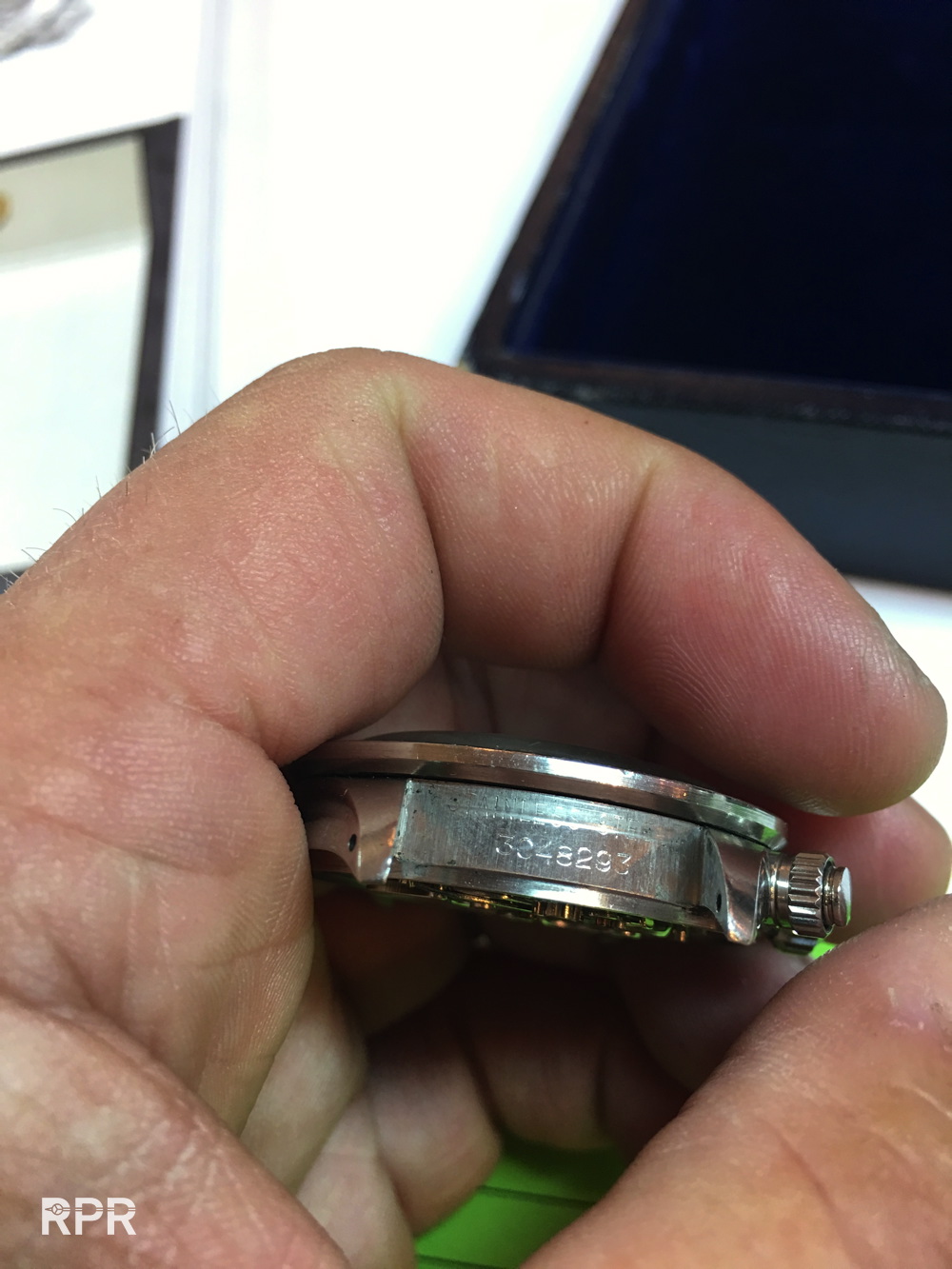 The CHF 727.500,= is a great result and i'm happy for both the original owner who sold it, Christie's and the highest buddy 😉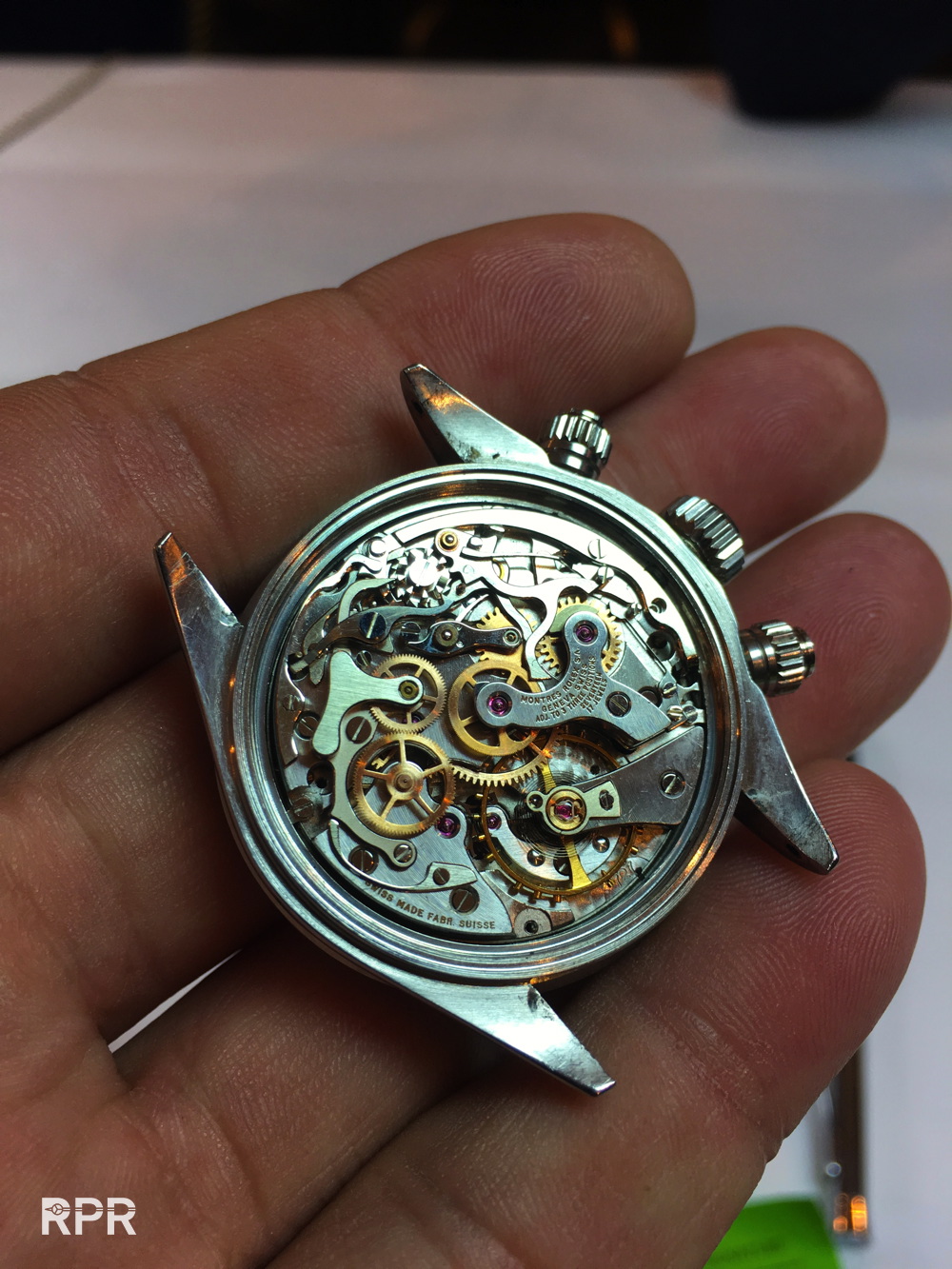 Sure lets go to the Phillips cocktail party and take the Ferrari 250 SWB with aluminum body, my ULTIMATE car dream!
Very rare lugs….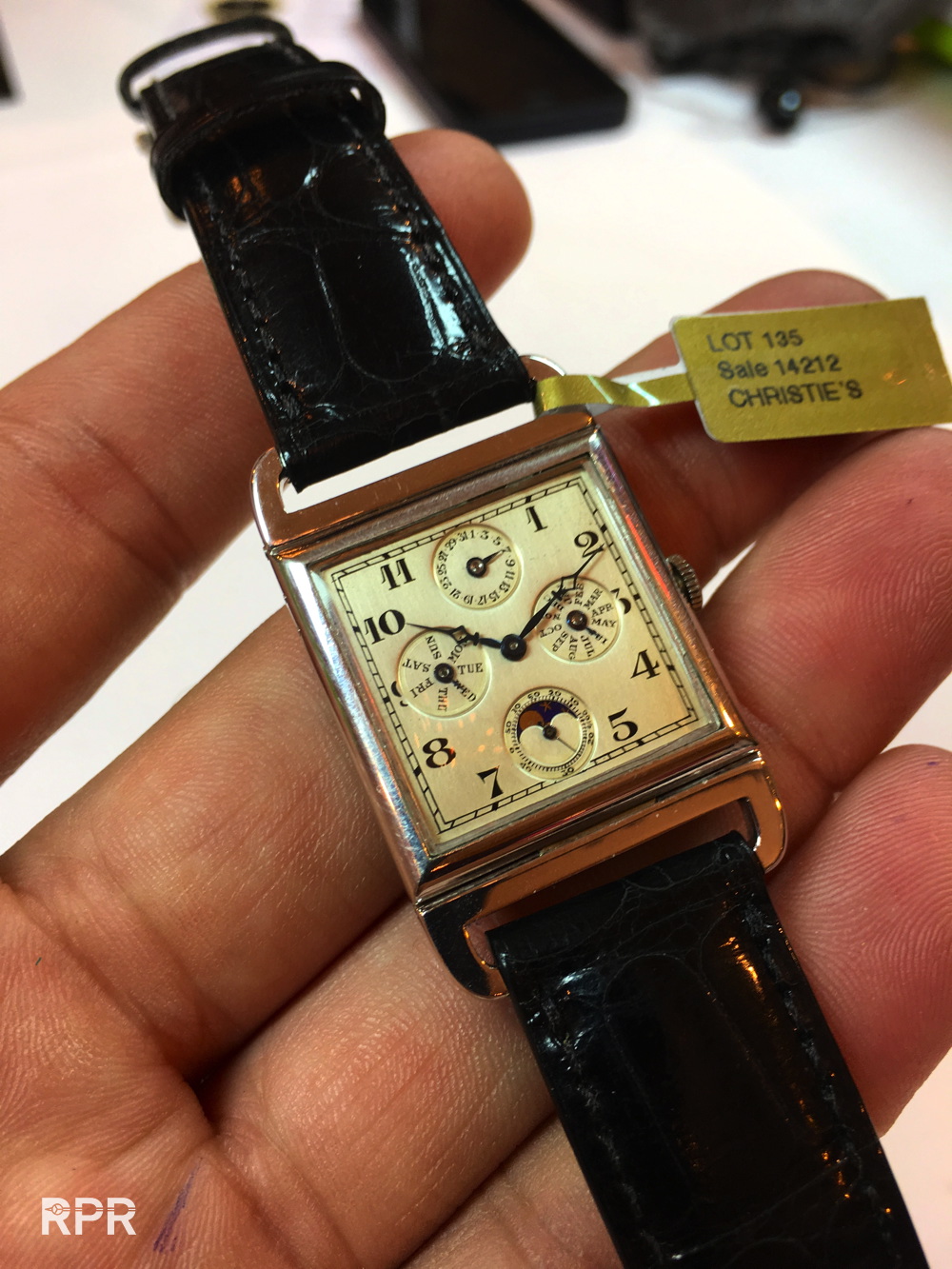 5517 in the wild..
Somehow only nice GMT's are beautifull..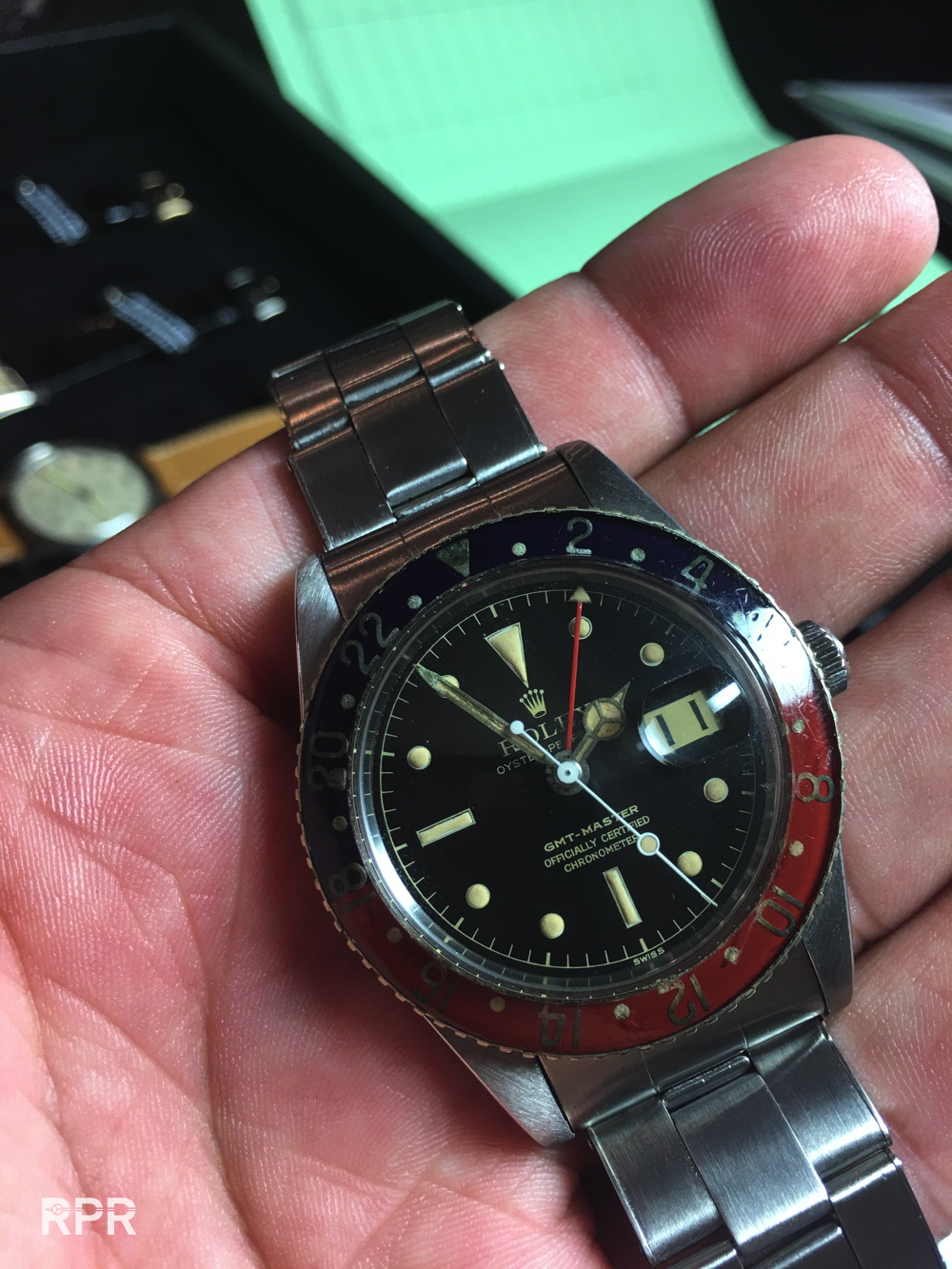 Lovely design and therefor great result of 125.000,=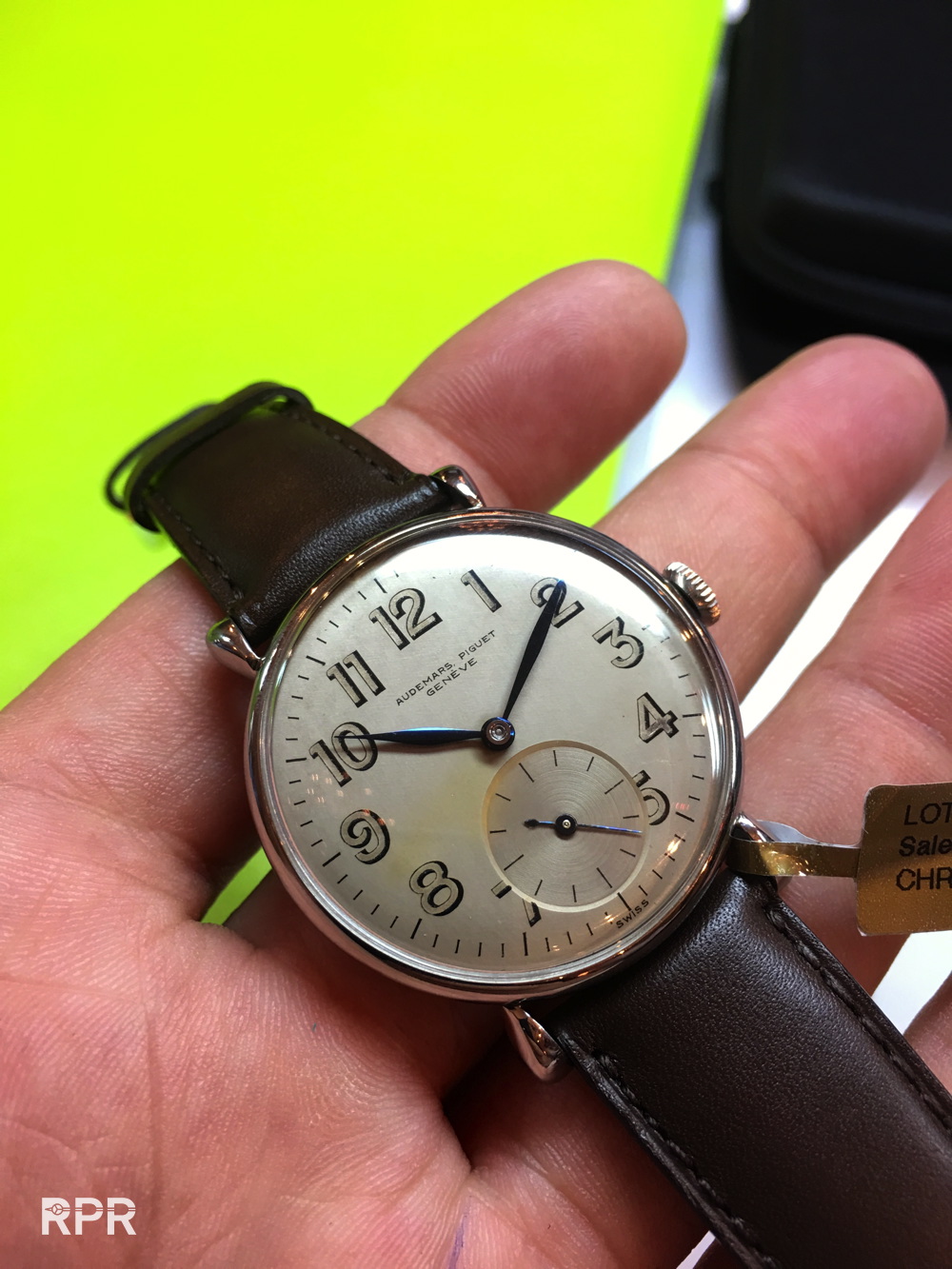 Killer Longines with buddy Bas…
Crisp.
If a conservator is in the room bidding, then you know when the next hype is created.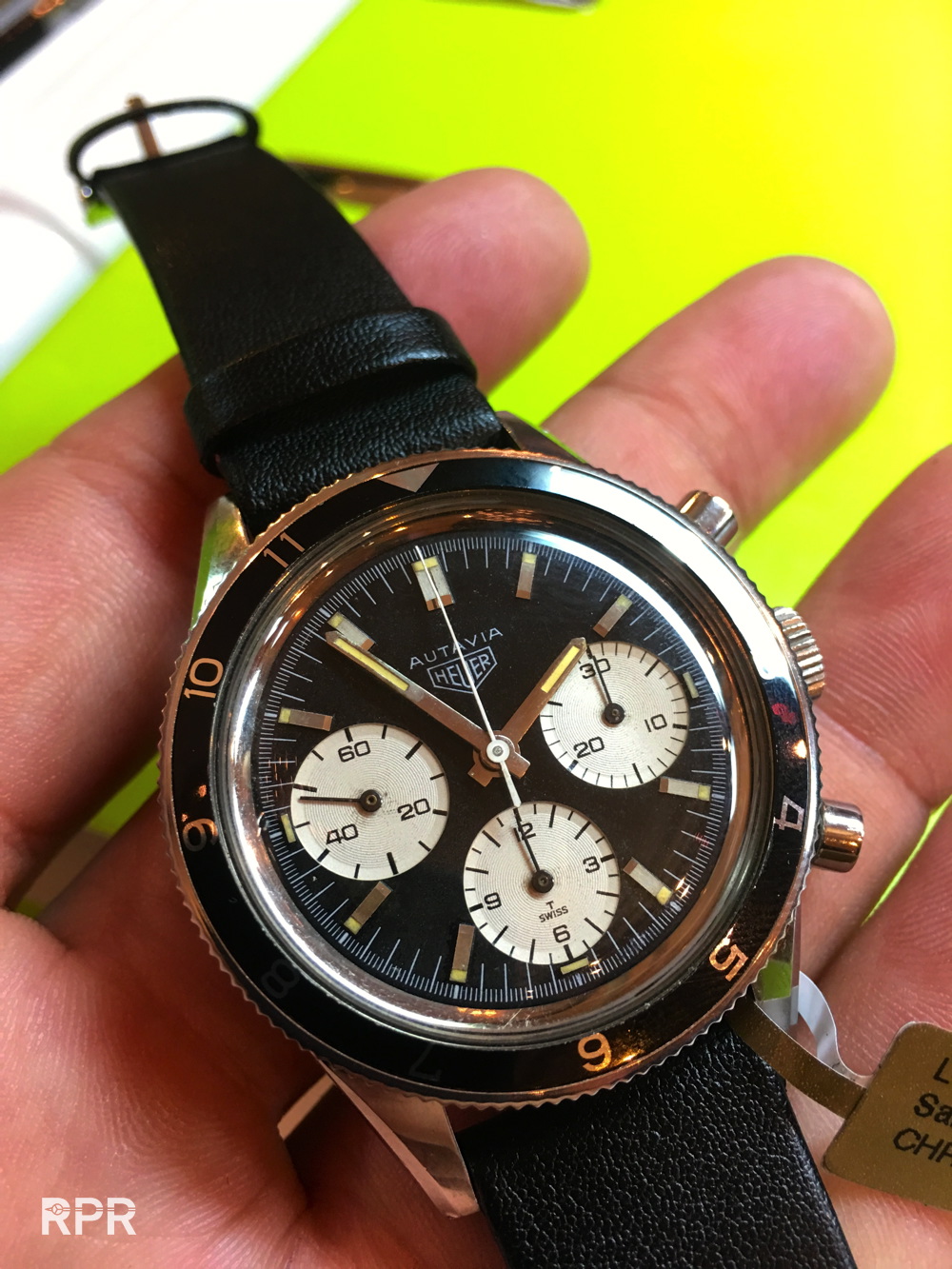 Nice good looking version…although the white gold condition was so so, the almost 90K show it's no Daytona 😉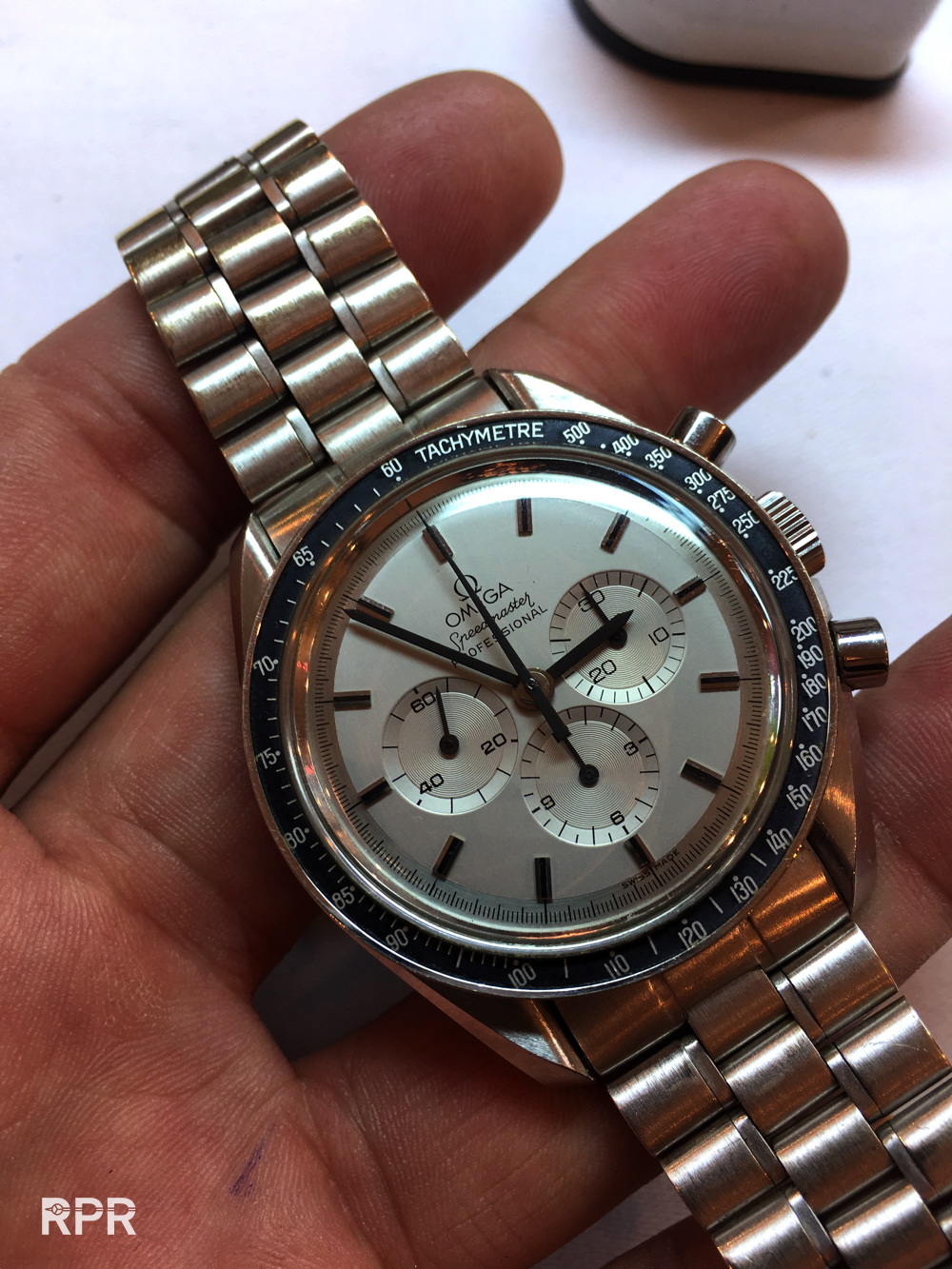 I'm by far a Longines specialist but then probably a blind guy could see this dial was refinished… Clueless why it hasn't been pulled prior the sale…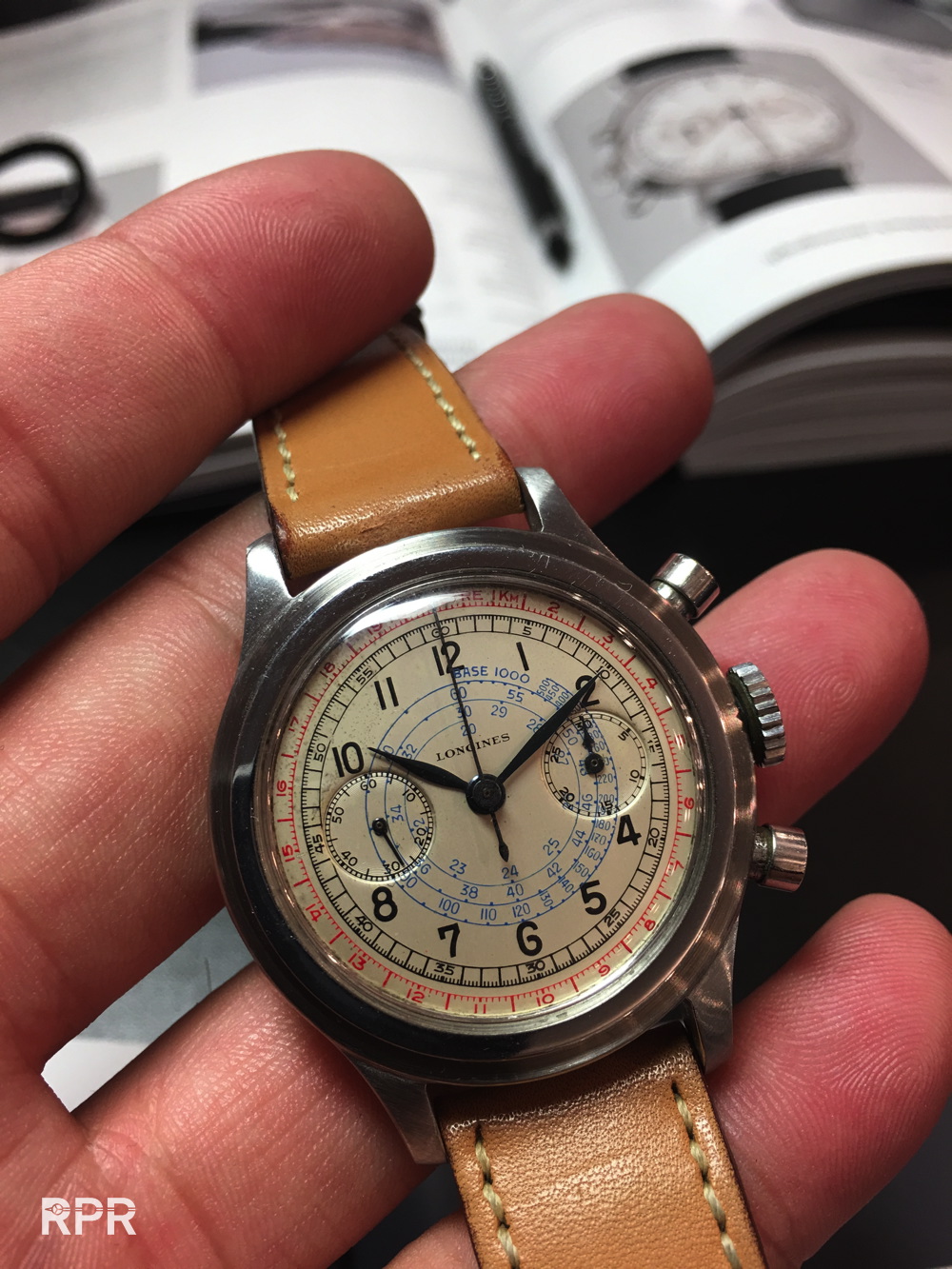 What a great example and what a stunning condition!! This 530 Breguet is really amazing.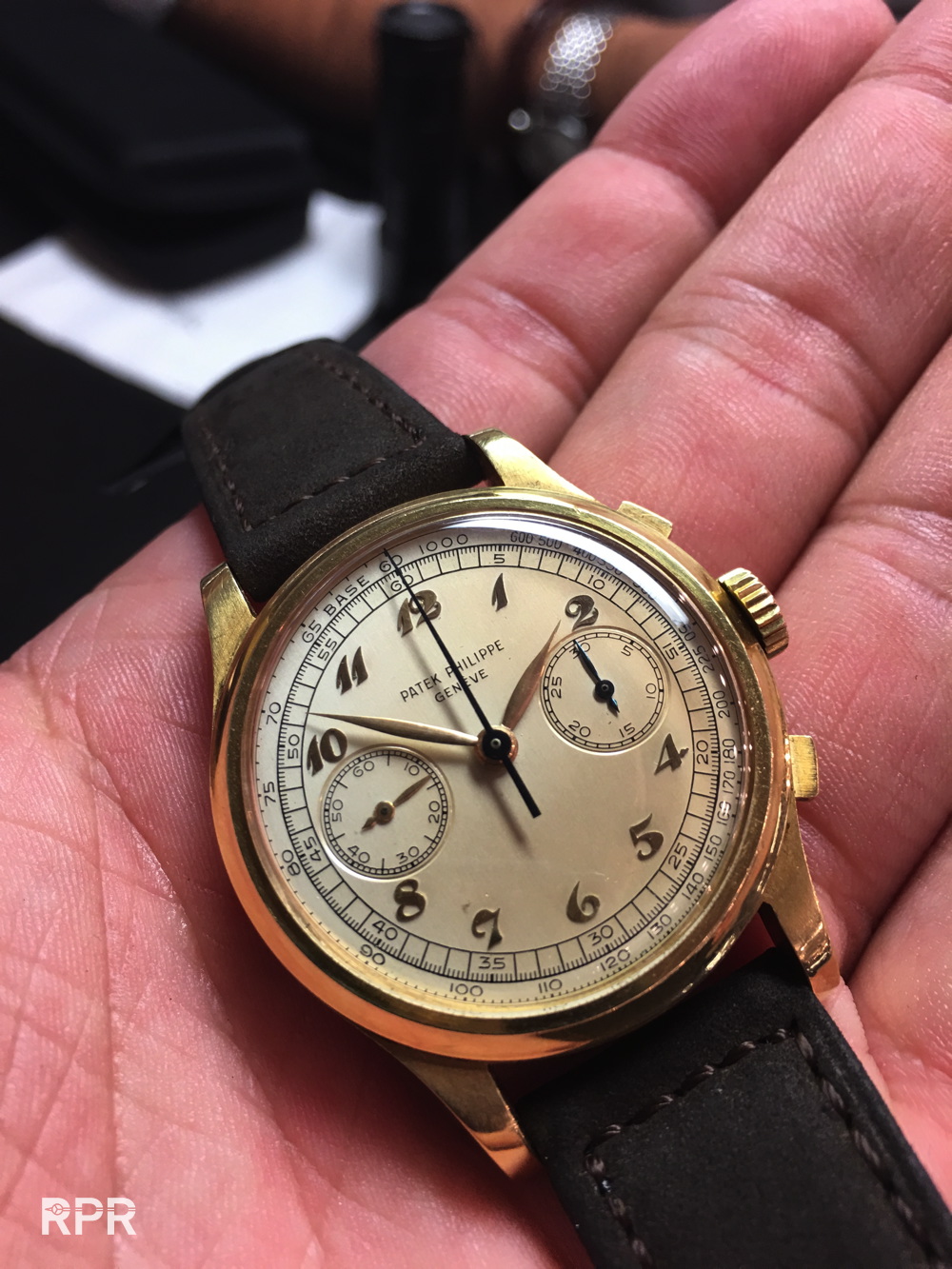 CHF 790.000,=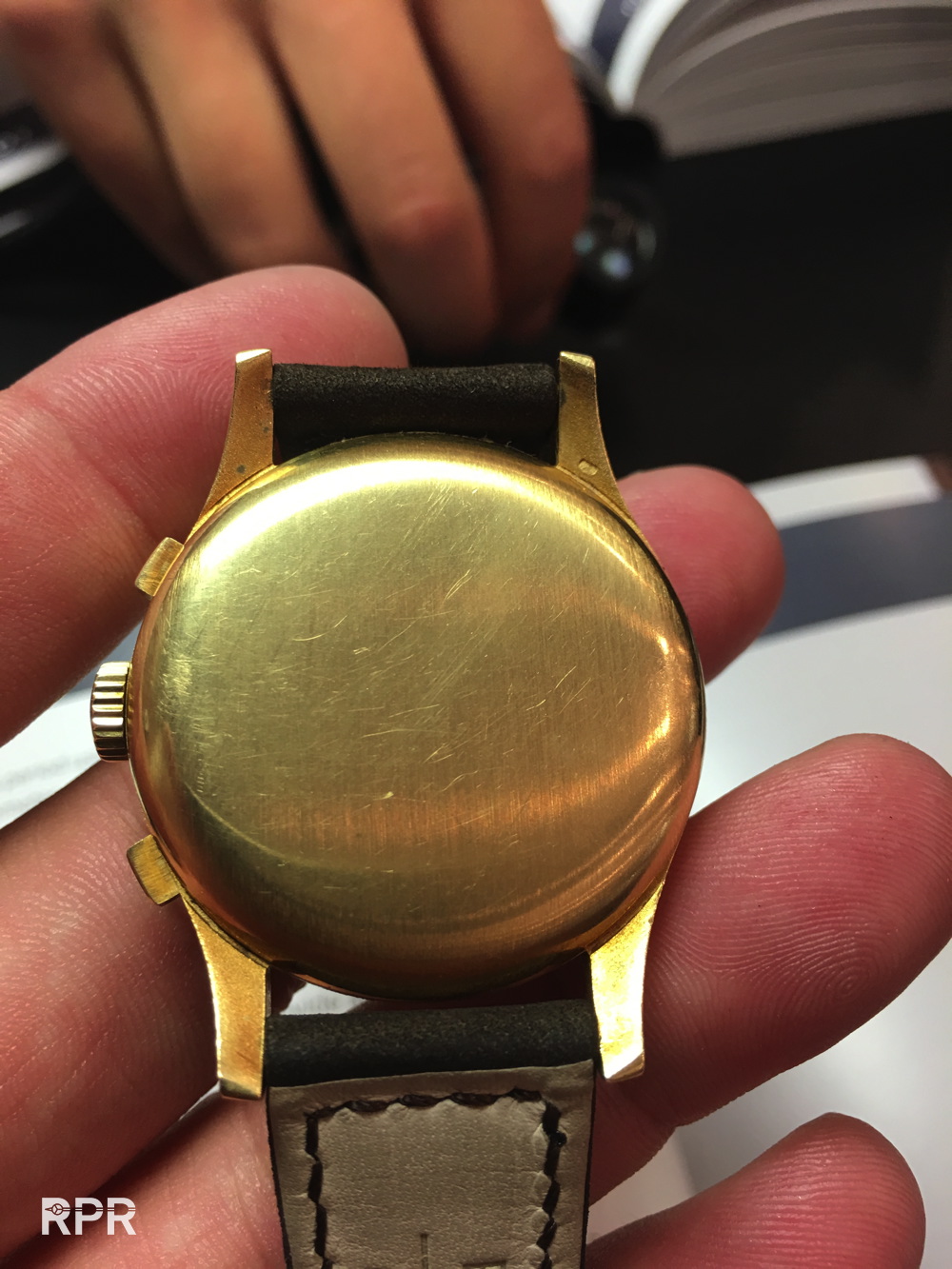 PATEK PHILIPPE, Ref. 2523/1. An extremely rare, important and attractive 18K gold dual crown world time wristwatch with 24 hour indication, retailed by Tiffany & Co. CHF 1450.000,=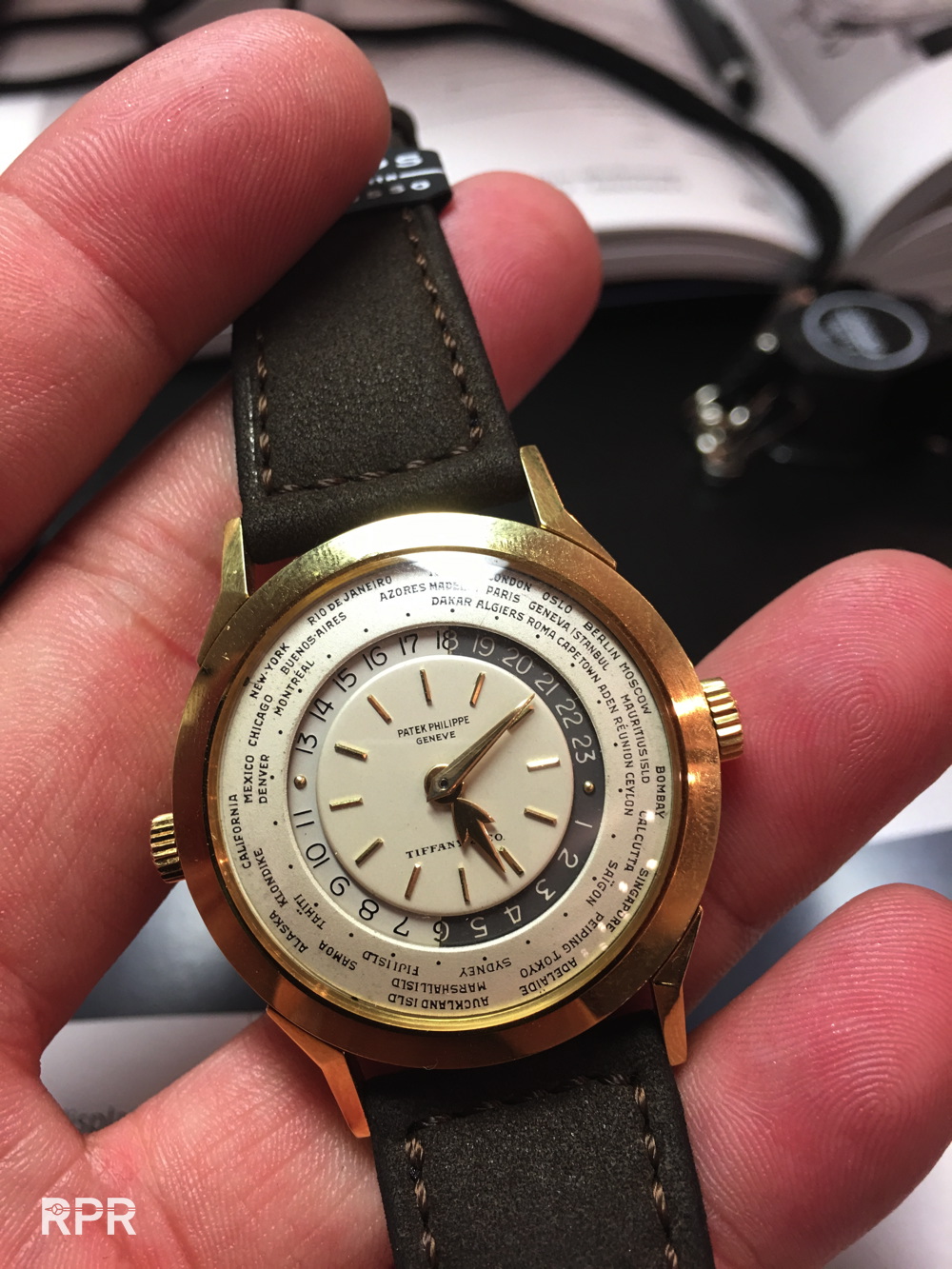 CHF 1.570.00,=
PATEK PHILIPPE, Ref. 1526, A very attractive and extremely rare pink gold perpetual calendar wristwatch with moon phase,  CHF304,000,=
Sold for 118.750,=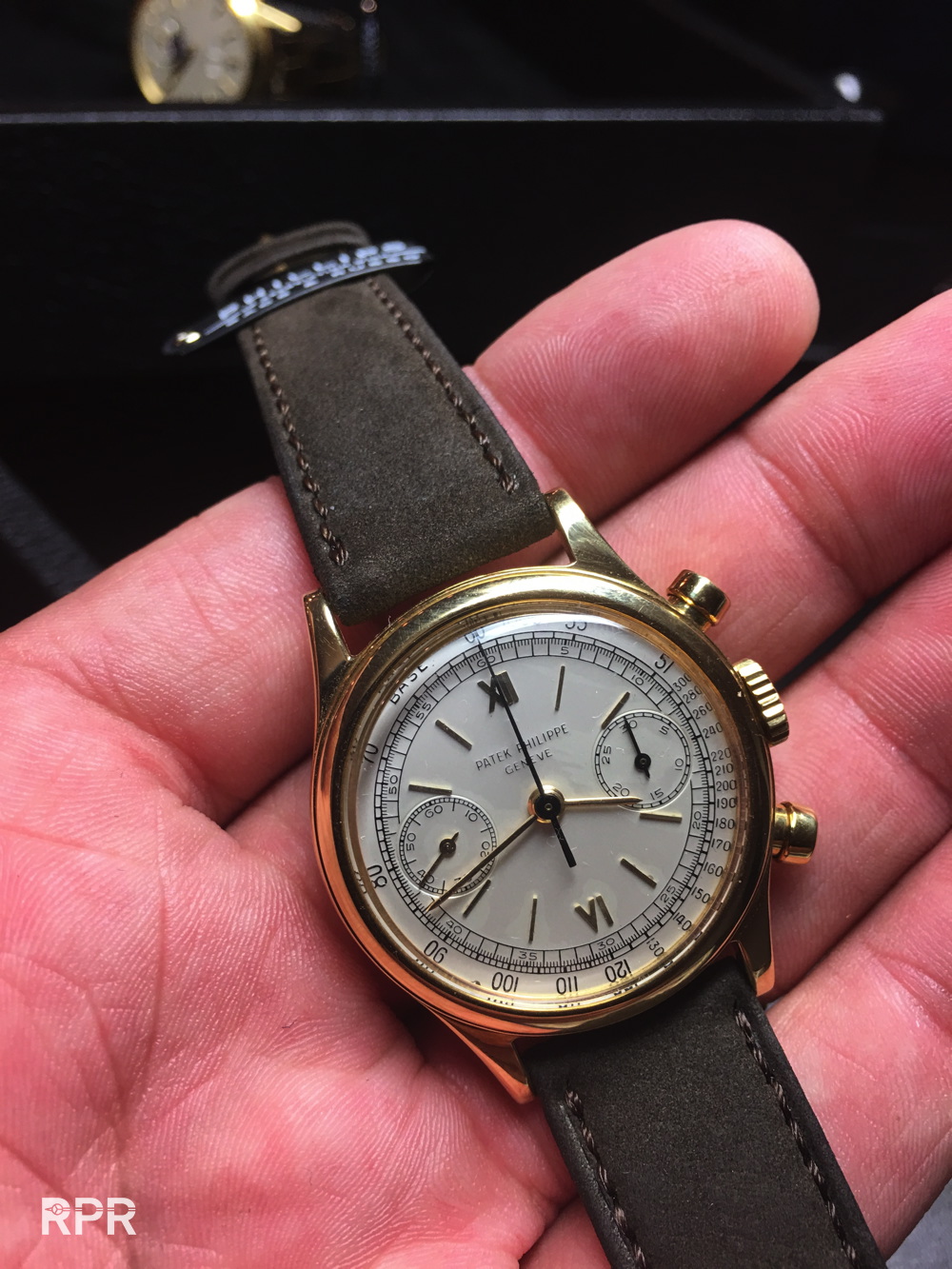 2 x ref 1518 of which the big number is one of 2, with the one in the Patek Museum..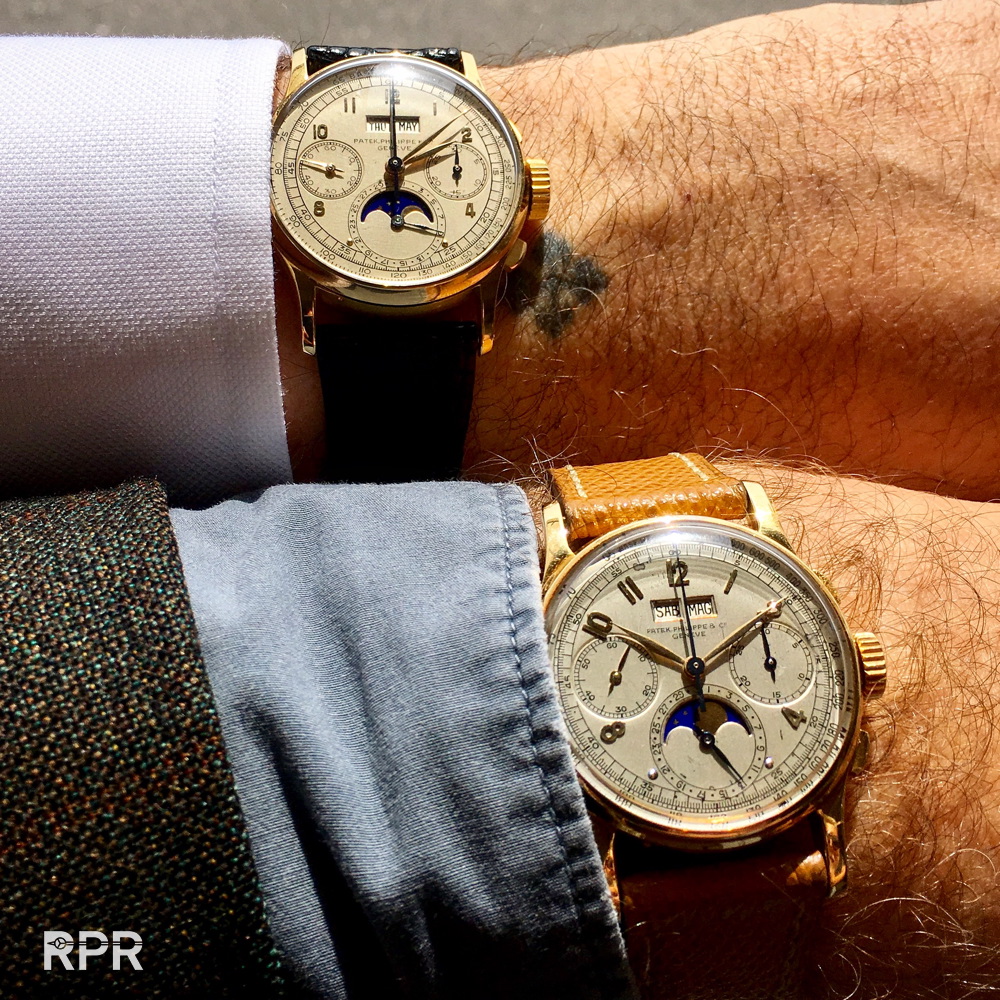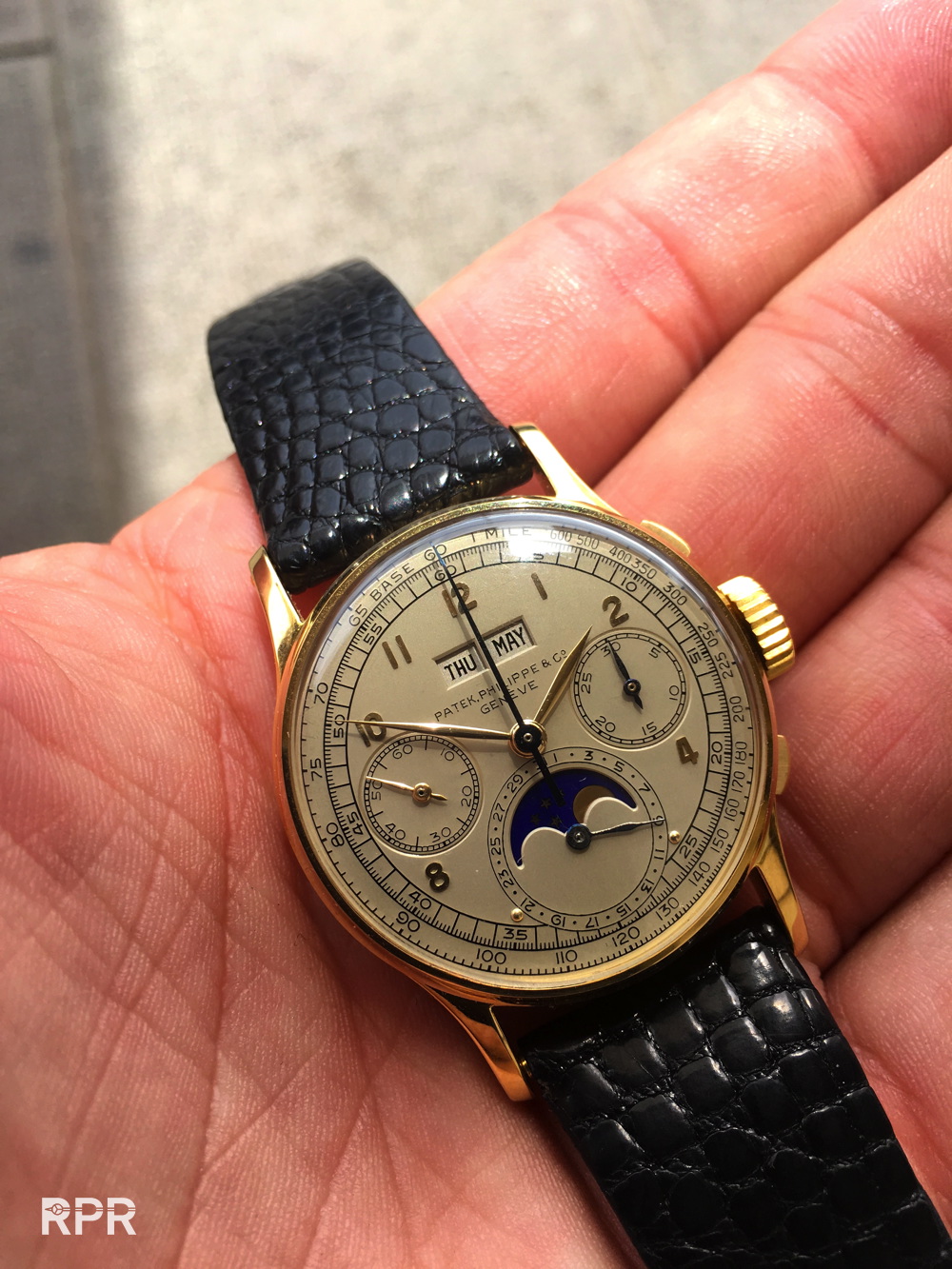 LM002 Lambo…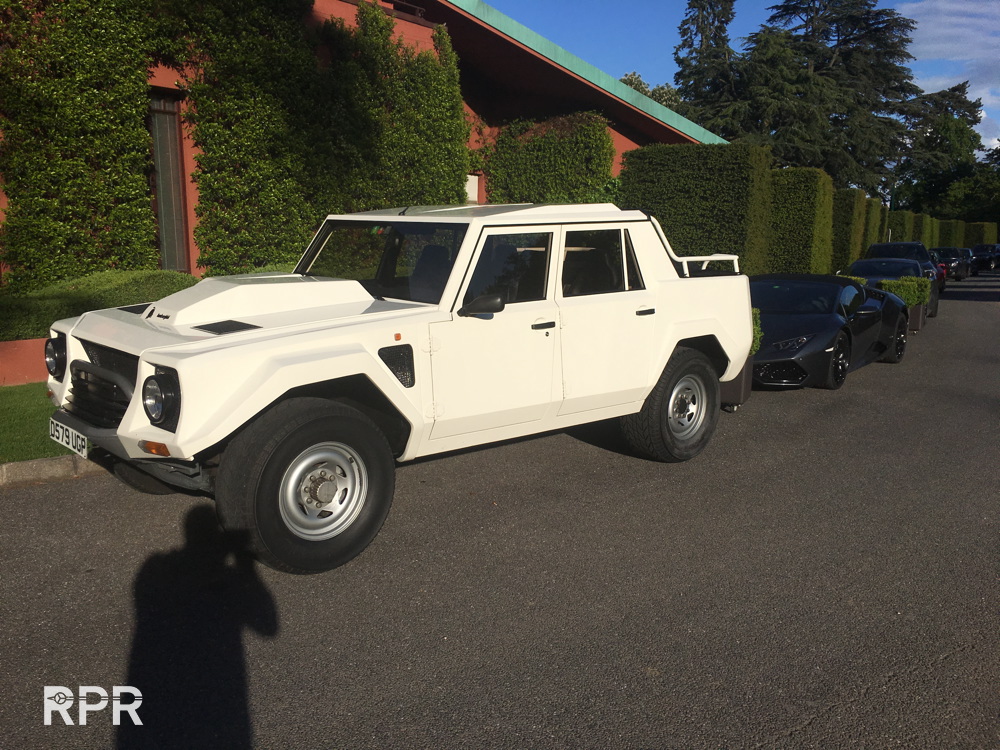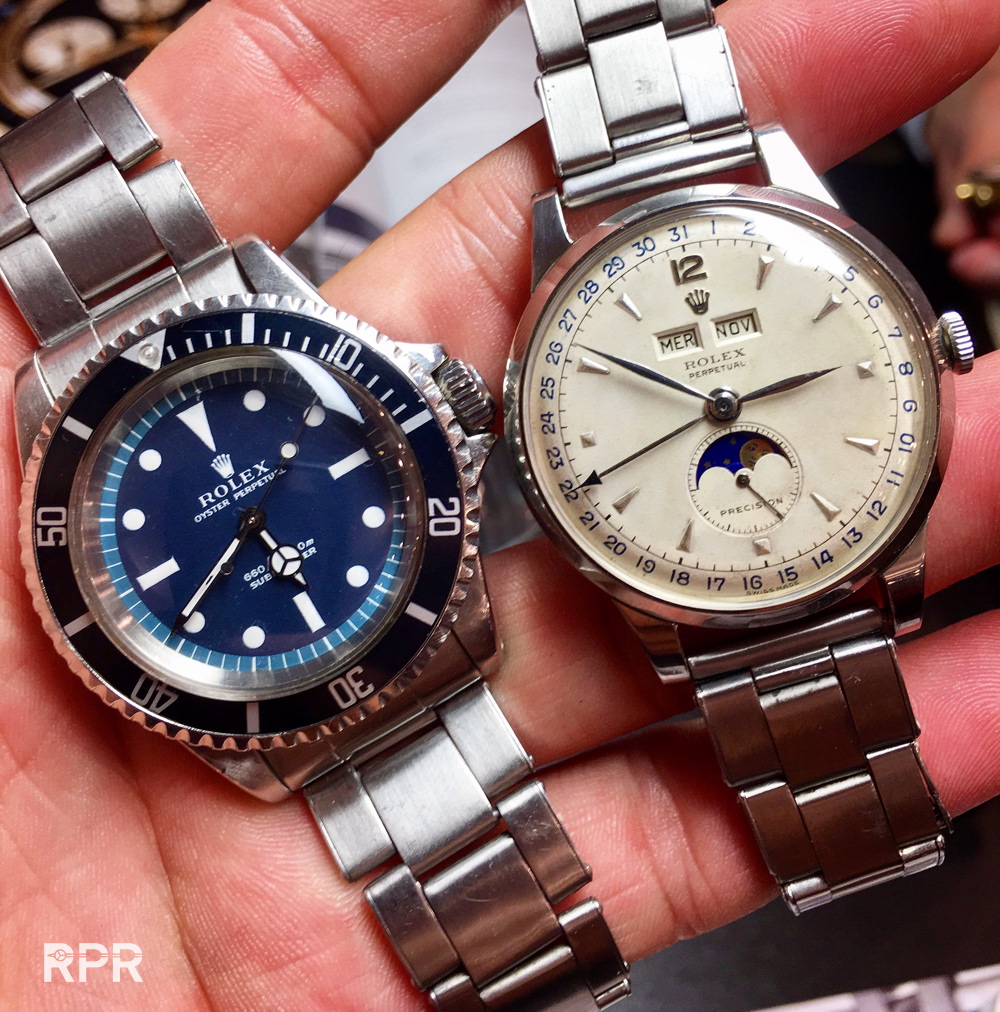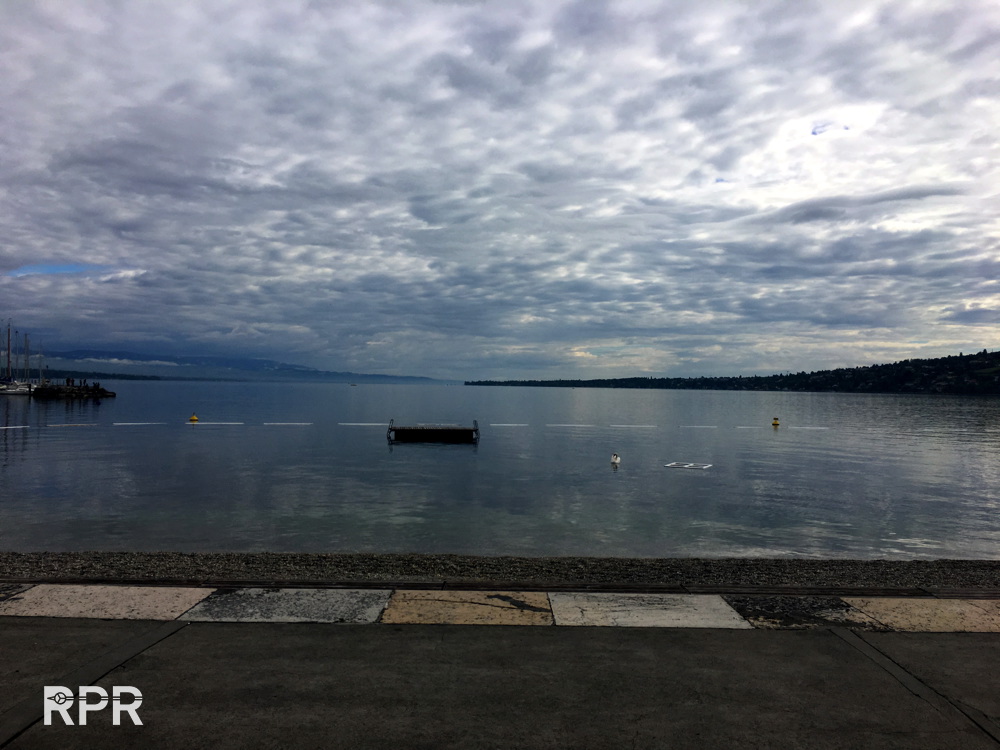 Nice and quite sitting on the lake and 5 minutes later, a robbery of a jewelry store, just next to Hotel Dees Bergues ;-((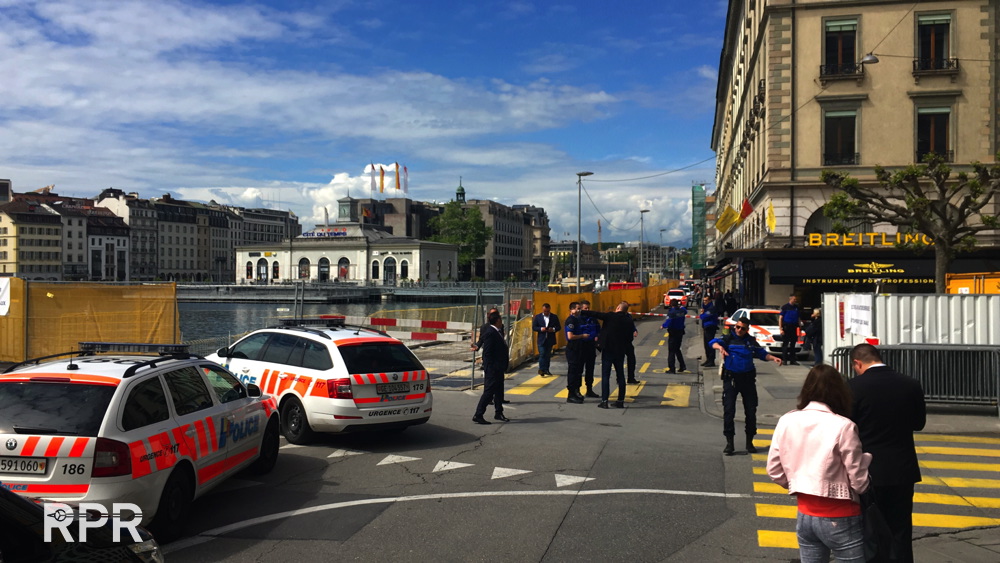 Here are some first impressions from the new book and exhibition " Perpetual Daytona" of Pucci Papaleo and his great team…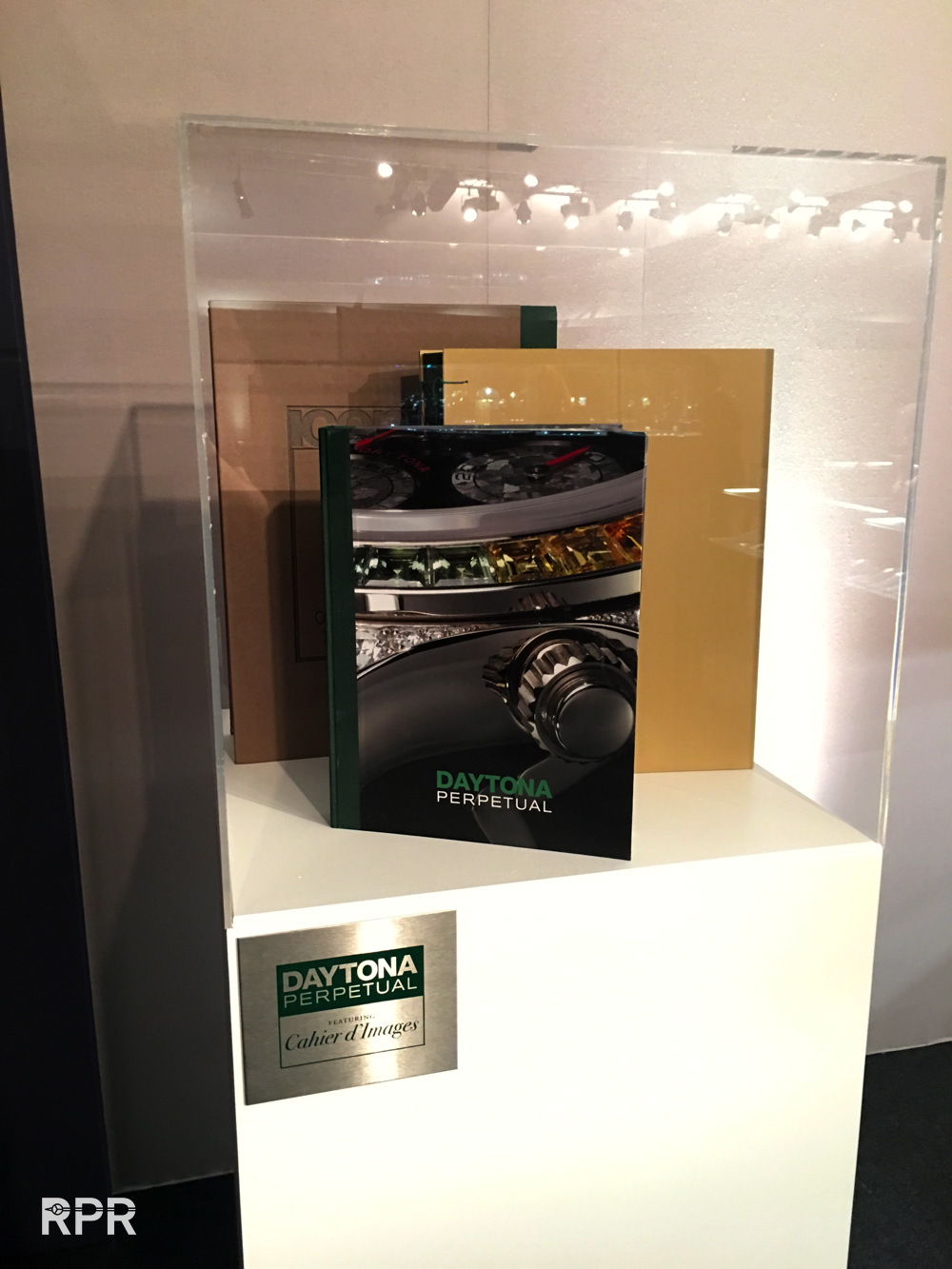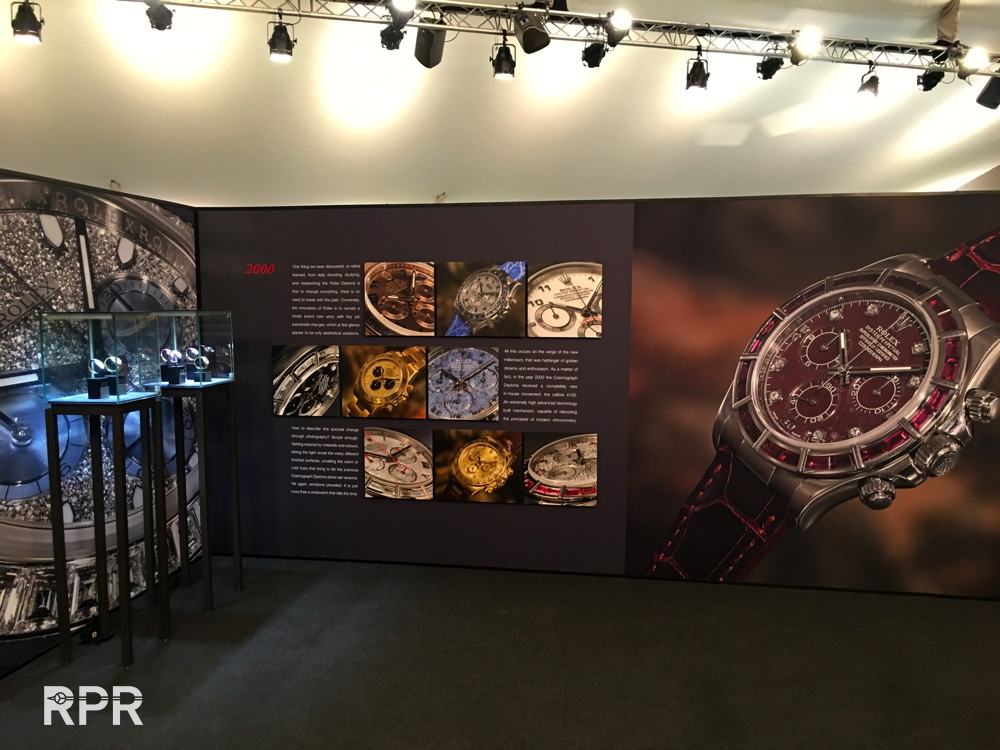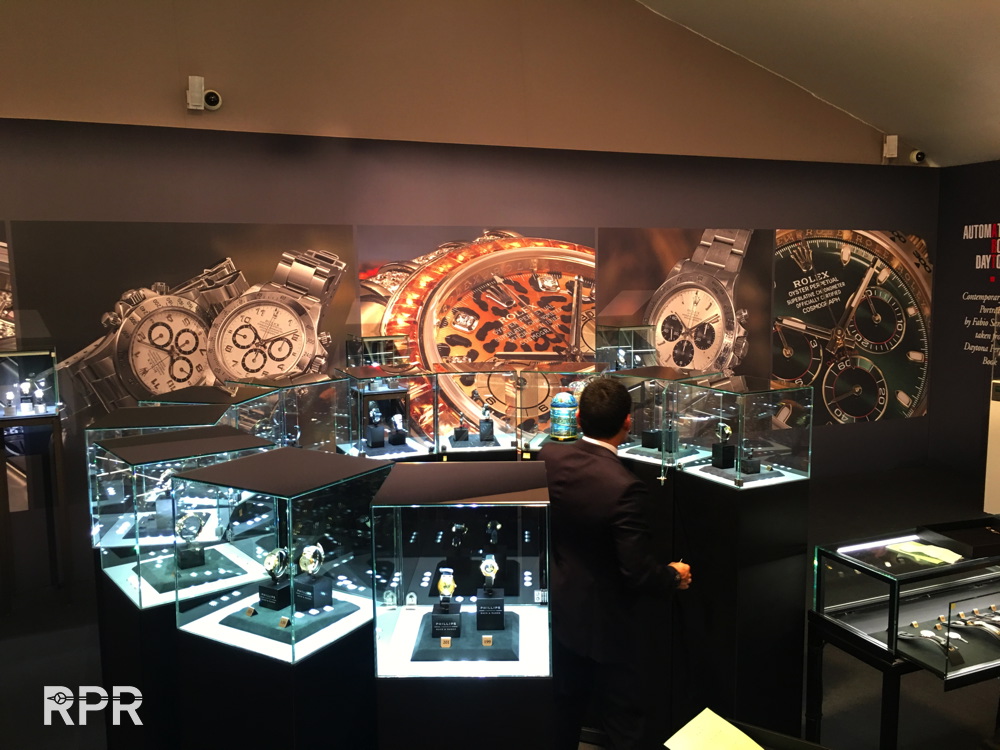 Here are some impressions from the Davidoff brothers exposition about "Watches with Nicknames", enjoy! I always like it when I see that people put serious effort in promotion our passionated hobby, cheers to that!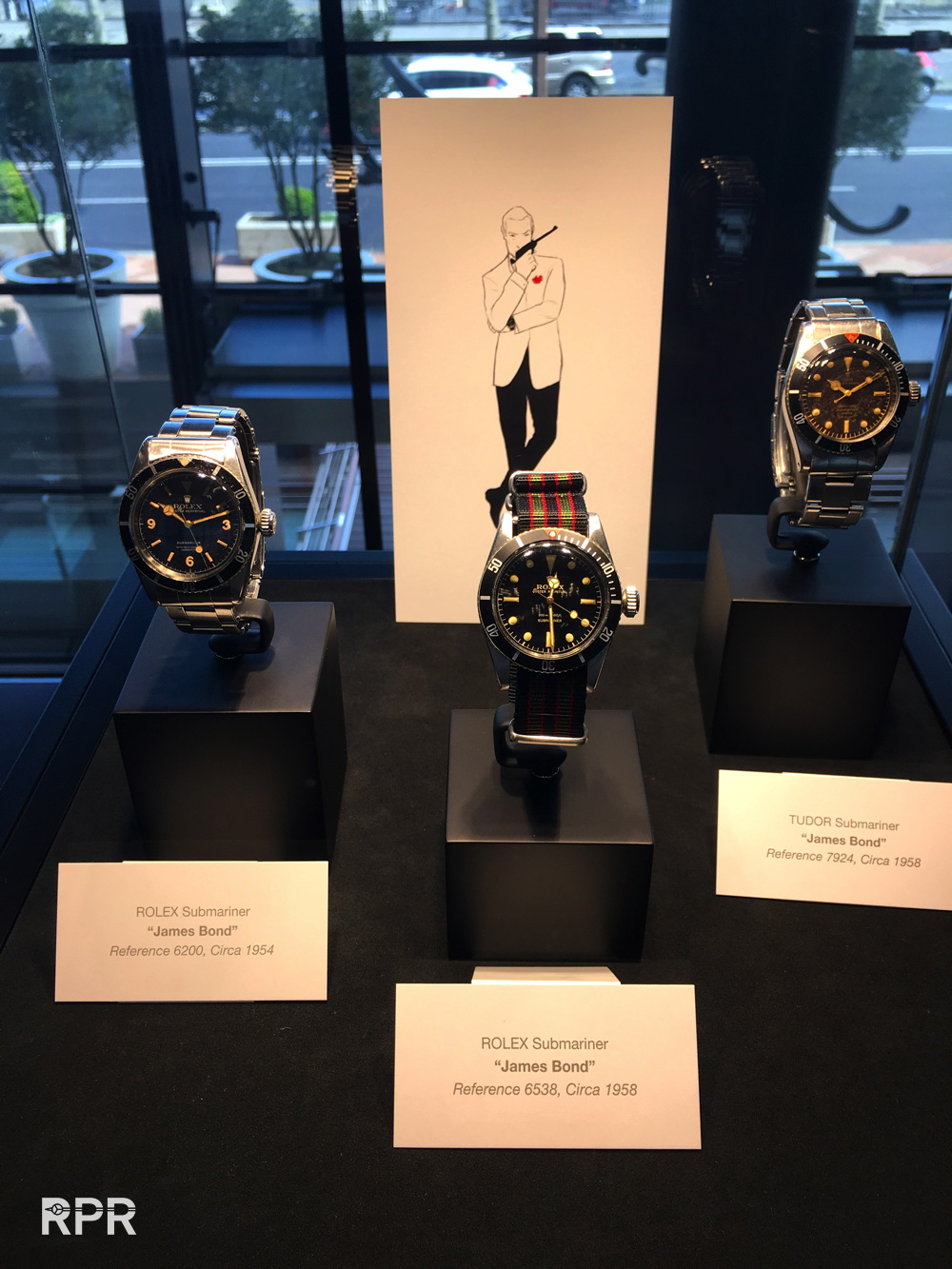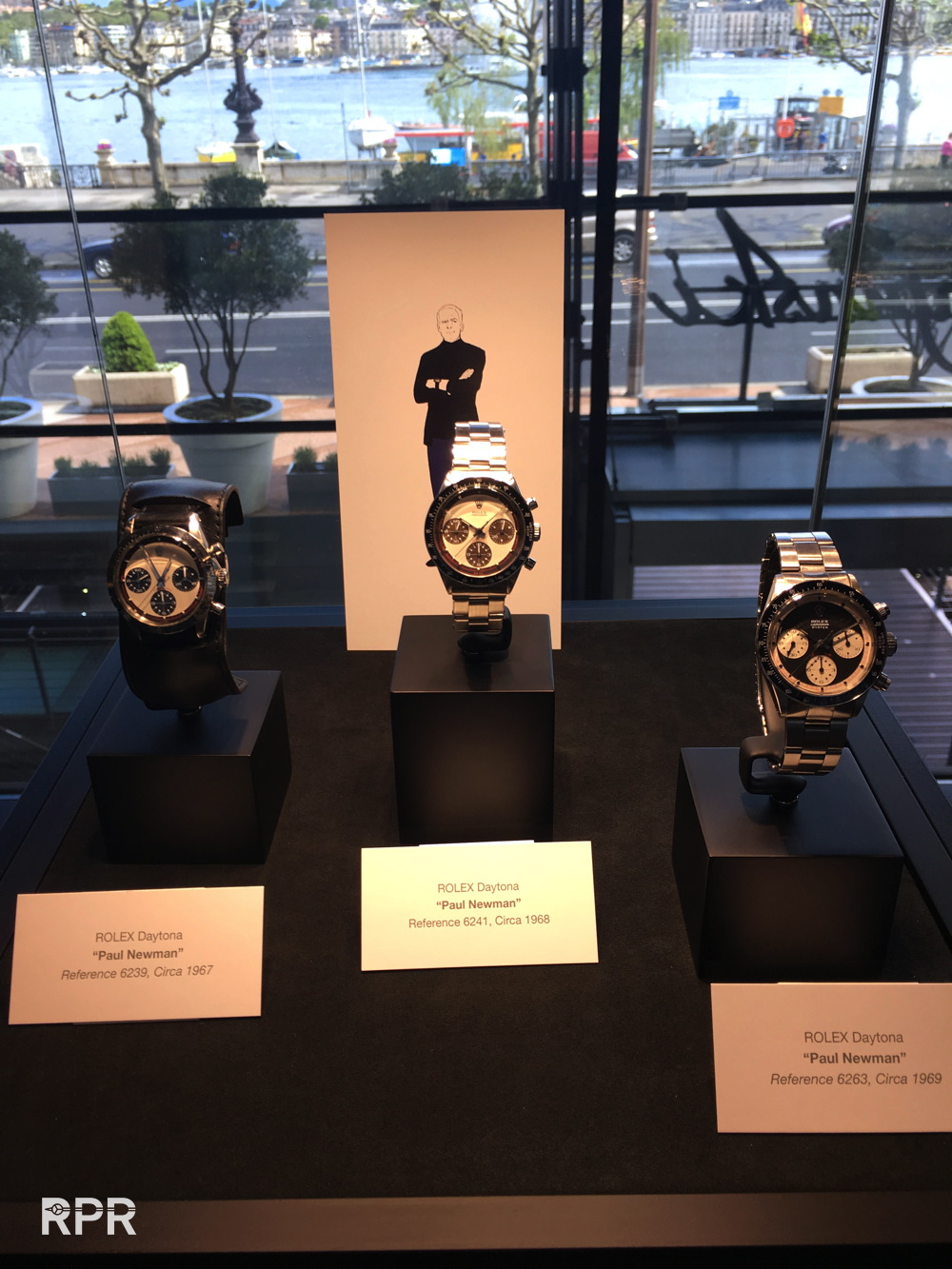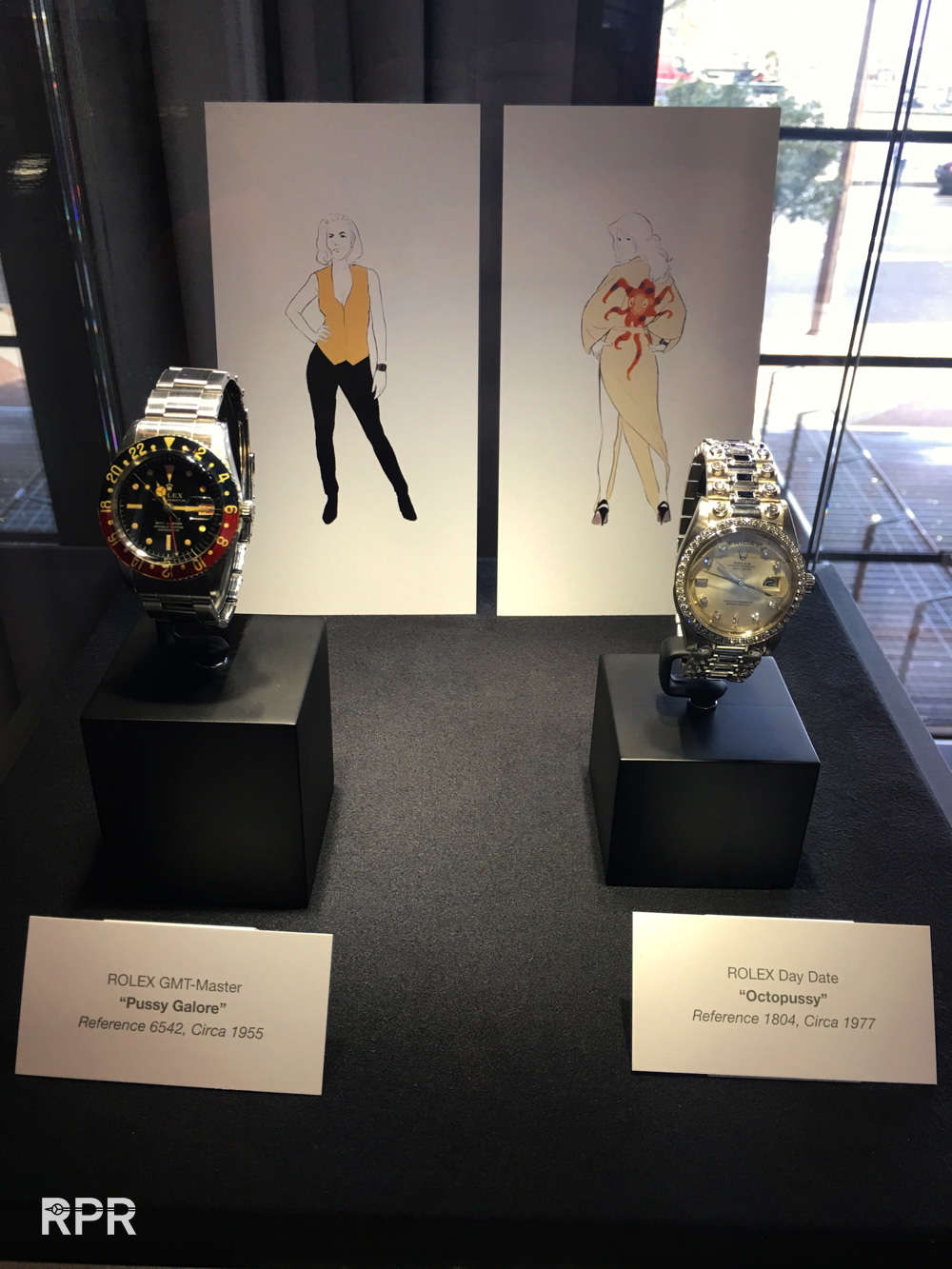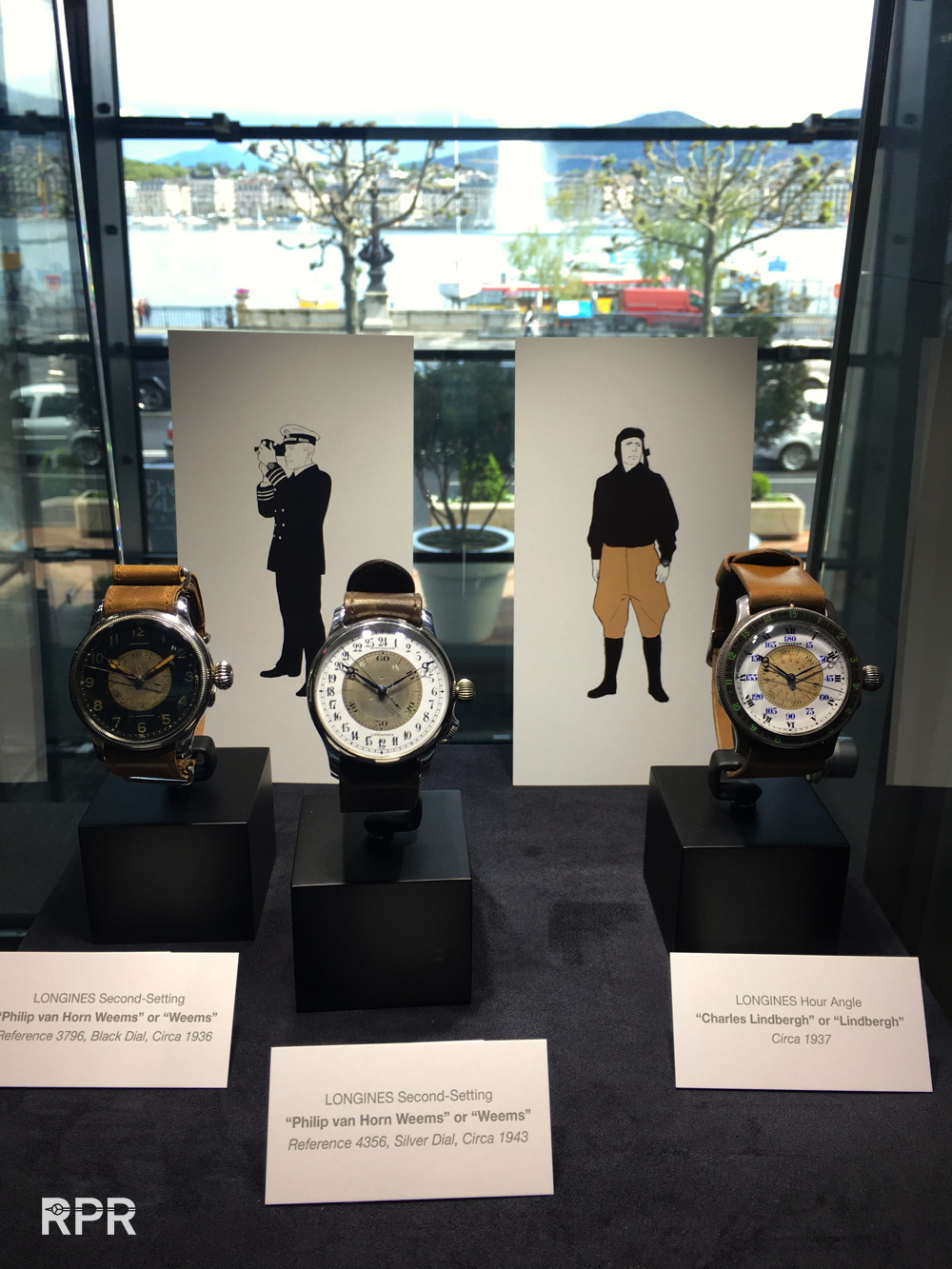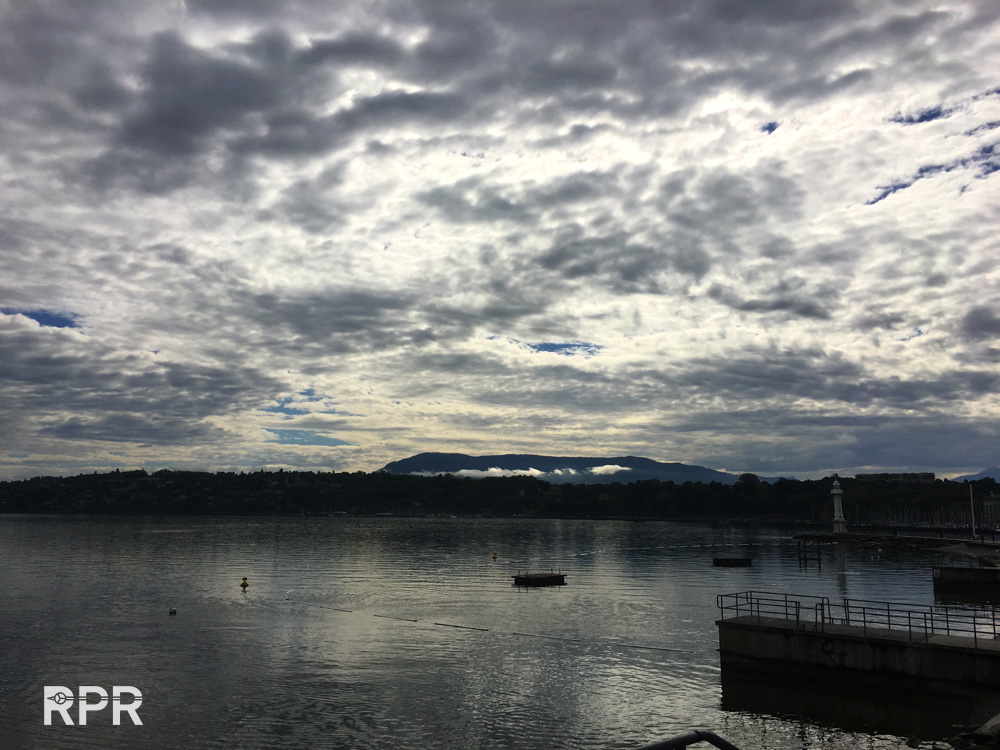 Cheers,
Philipp