Rolex Daytona 116519 Sodalite Dial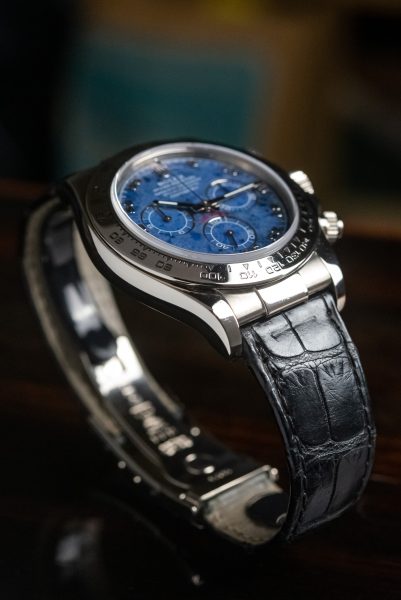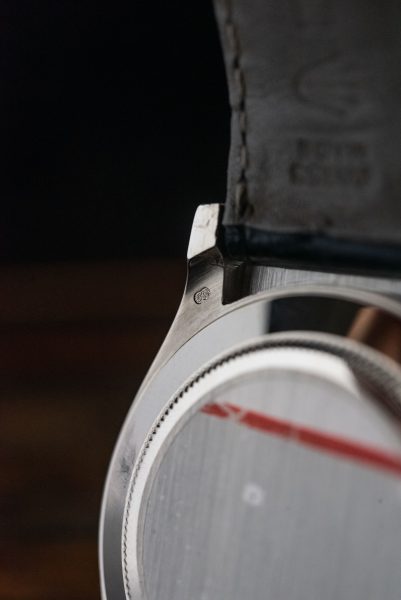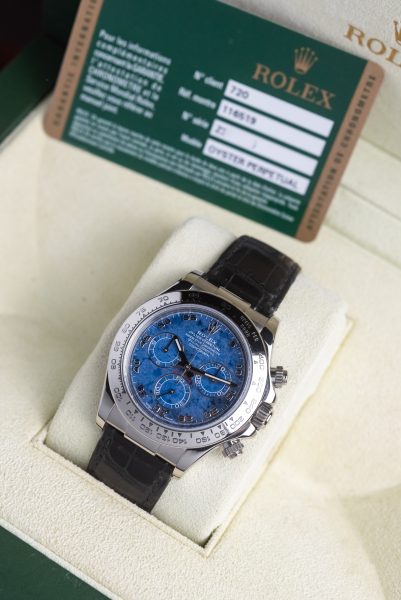 Description
The present Daytona is a modern interpretation of this trend, featuring a blue hardstone dial, precisely: sodalite. It can be considered one of the most well executed and appealing example of hardstone dials Daytona: the blue sodalite perfectly harmonizing with the white gold case. The index configuration changes as well, in respect to the standard model.
Dealer
DAYTONA BEACH 1960
Daytona Beach, Florida. Long, flat and firm, with hard-packed sand, the beach helped the city of Daytona to forge a legend as the world capital of speed. It boasts 14 world land speed records set between 1904 and 1935, five of them by Rolex-wearer Sir Malcolm Campbell. Over the years, the sand deteriorated. By 1959, a "Super Speedway" was built: the Daytona International Speedway. Follow this link
to learn all about the legendary Rolex Daytona references
...
THE COSMOGRAPH DAYTONA 1963
Launched in 1963 as a new-generation chronograph, the Cosmograph soon gained the name that became the mark of an icon: Daytona. Designed as the ultimate tool for endurance racing drivers, the Cosmograph Daytona was robust, waterproof and featured a tachymetric scale on the bezel for calculating average speed. Follow this link to learn more about the
Evolution of the Oyster Daytona...
Birth of a Horological Icon Timepiece 
The myth around the iconic Rolex Daytona has spread around the world recent years. Always has the Daytona model been attached to motor racing, at first Rolex called their new Cosmograph the "Le Mans" and little later to "Daytona" when Rolex started to sponsor the well known U.S. speedway.
Cosmograph: a name that was to be the forerunner of great fortune. Actually, the choice of the name proved to be neither easy nor expected. Whilst Rolex on the one hand flirted with the car-racing world, on the other hand it could not remain unaware of the vast media attention, which at that time was surrounding the conquest of outer space.