The $ 1 million Rolex Big Crown Ref 6538
The $ 1 million Rolex Big Crown Ref 6538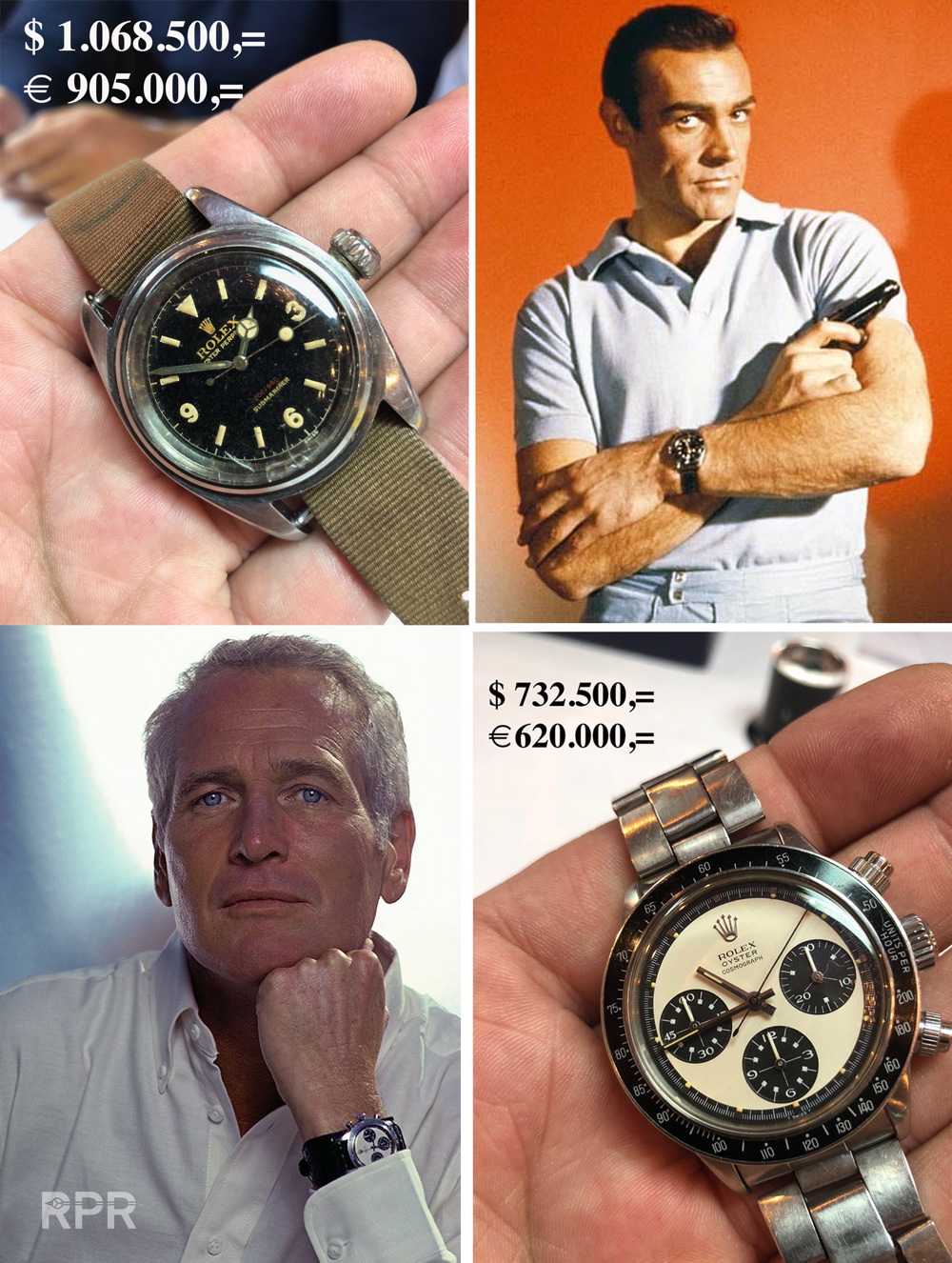 Christies just auctioned the rarely seen Rolex Submariner Big Crown Ref 6538 with explorer type 3-6-9 dial and red depth for a little over $ 1 million ( $ 1.068.500 / € 920.000,=). This results is a world record for any Submariner coming to auction and i'm really happy for the buyer, seller and Christies!  With this article I want to explain you better what exactly sold and why it's so damn rare and deserves this million dollar price tag for now….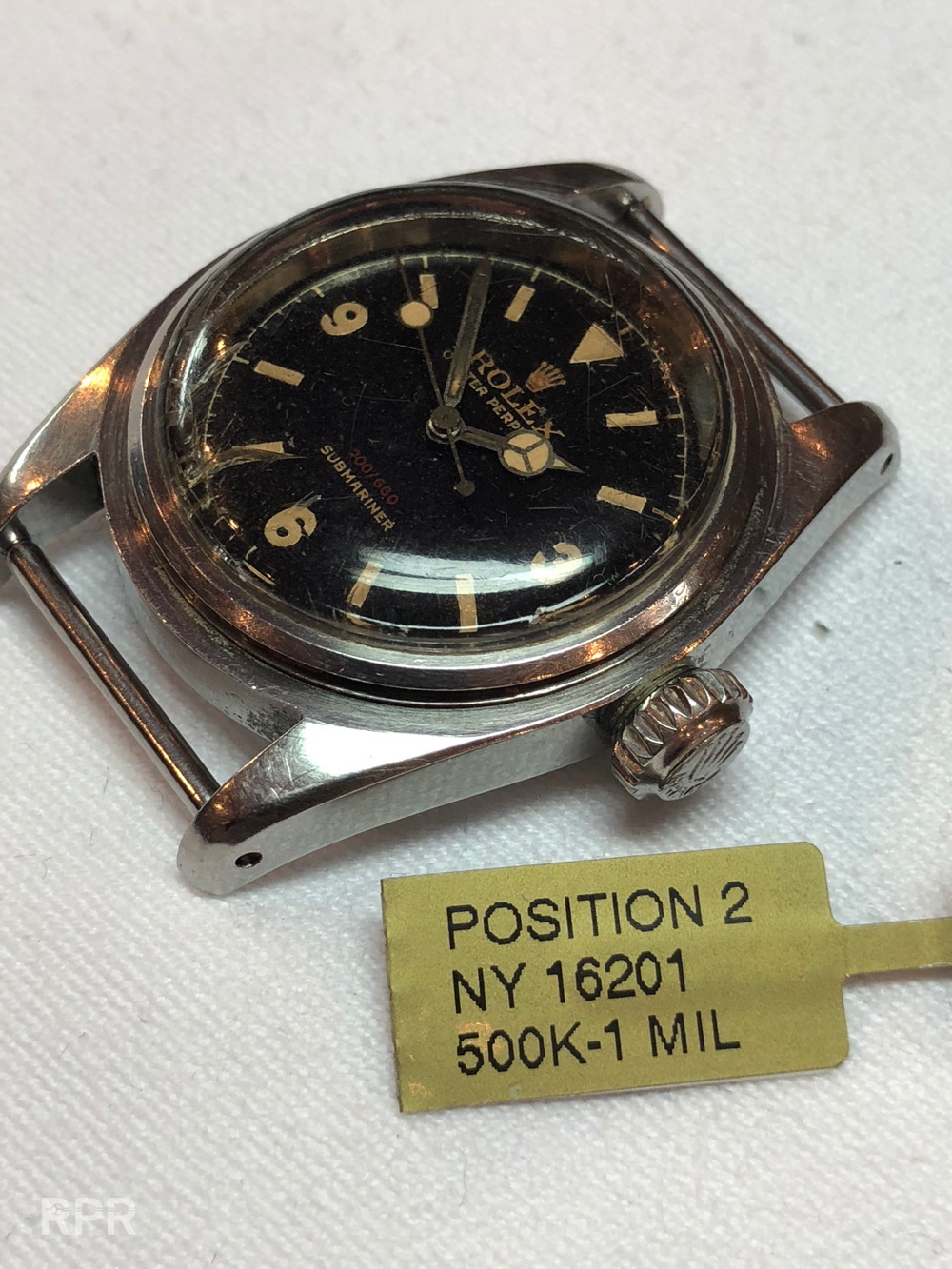 The estimate of $ 500.000,= to $ 1 million was for many, also seasoned collectors, very high. The missing bezel and the scratched crystal doesn't make it look attractive but those that have tried to find a similar one and add it to their  collection know how incredible rare this particular Rolex Big Crown is. The explorer type 3-6-9 dial configuration is always very sought after when we see it on a Submariner, the Red depth is making it's rarity even higher. (Not that I know of one similar 6538 of which the depth is not red as what we see with small crowns)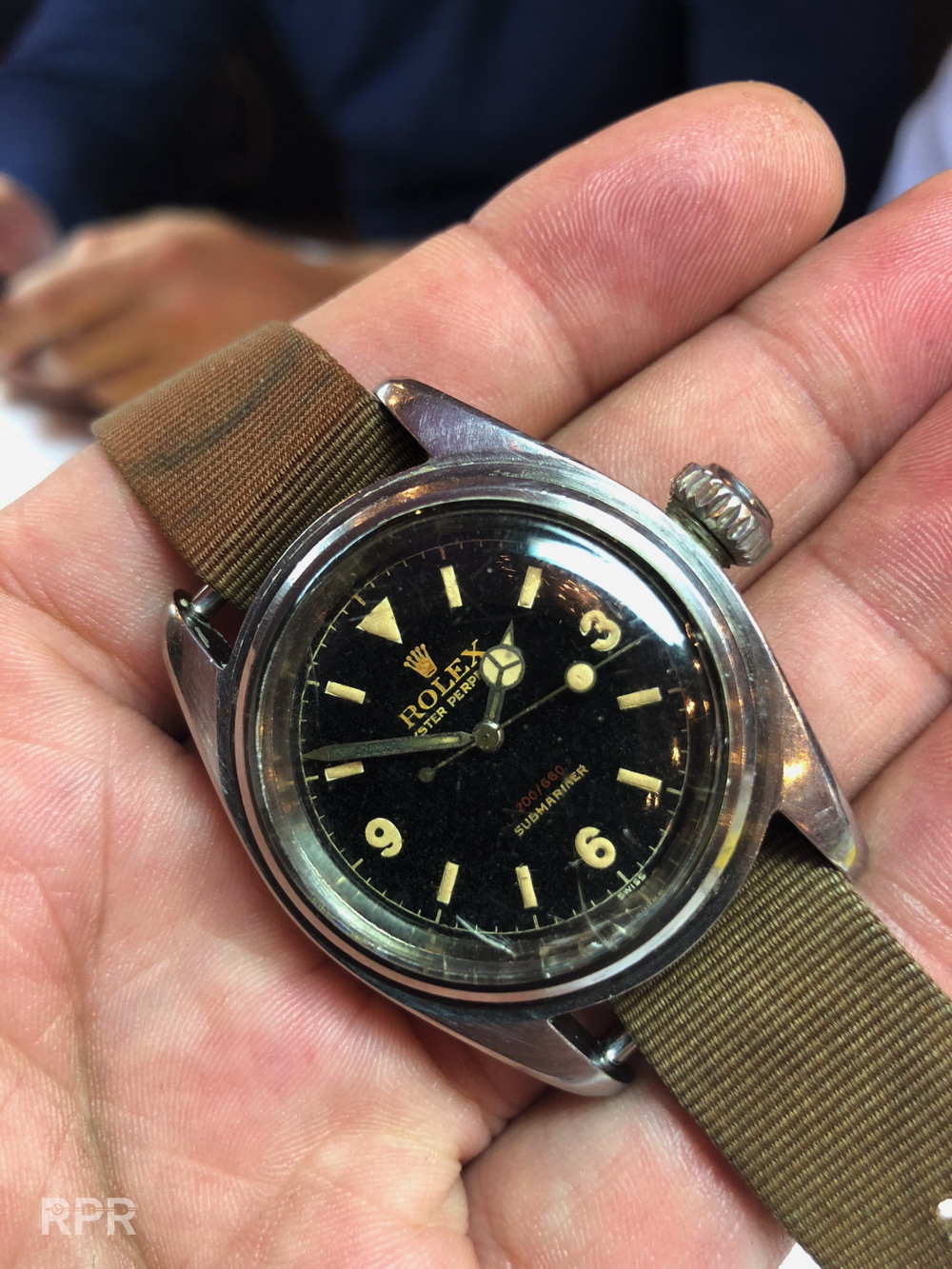 Looking above to the left top lug you still see the white paint on the inside. Below it's blanco non engraved case back…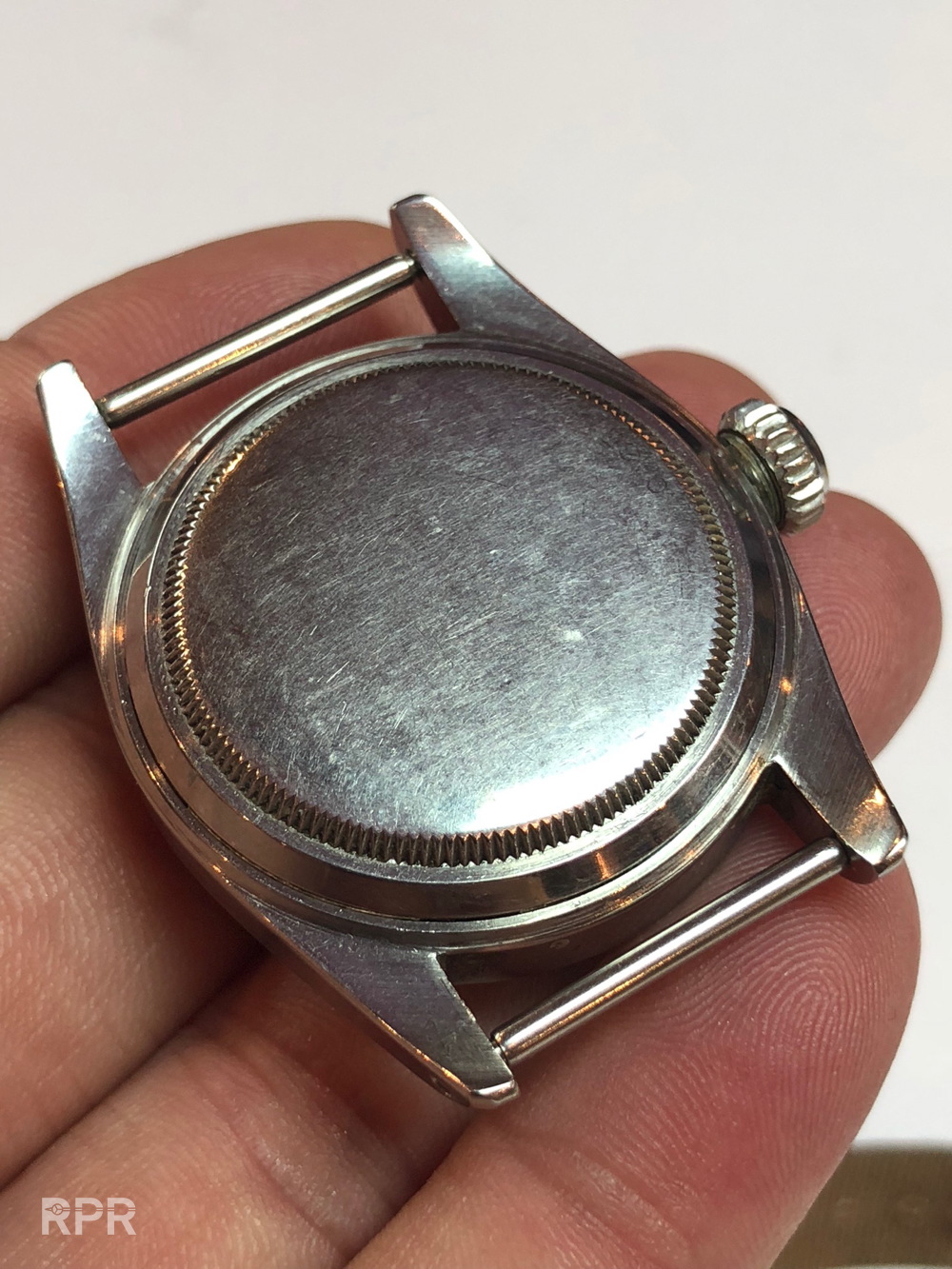 Coming directly from the first owner who flipped off the currently 30K expensive bezel with insert because he was a painter and didn't want the paint to prevent the bezel from turning. The most important part of this Submariner is yet again the dial, as we see with Paul Newman's (and many other vintage Rolex) as well, 80-90 % of the value is in the dial. The premium that has been paid because this exceptional rare dial is like 900K. Why? because you can find a Ref 6538 from 1956 starting from $50-100K depending the condition of the regular non 369 dial. Read all about the Submariner EVOLUTION here in one of my earlier RPR articles. On below picture you see a regular Ref 6538 from 1956 on the left, on the right you see a early ref 6204, one of the very first Submariners even before the used the mercedes hands to become standard…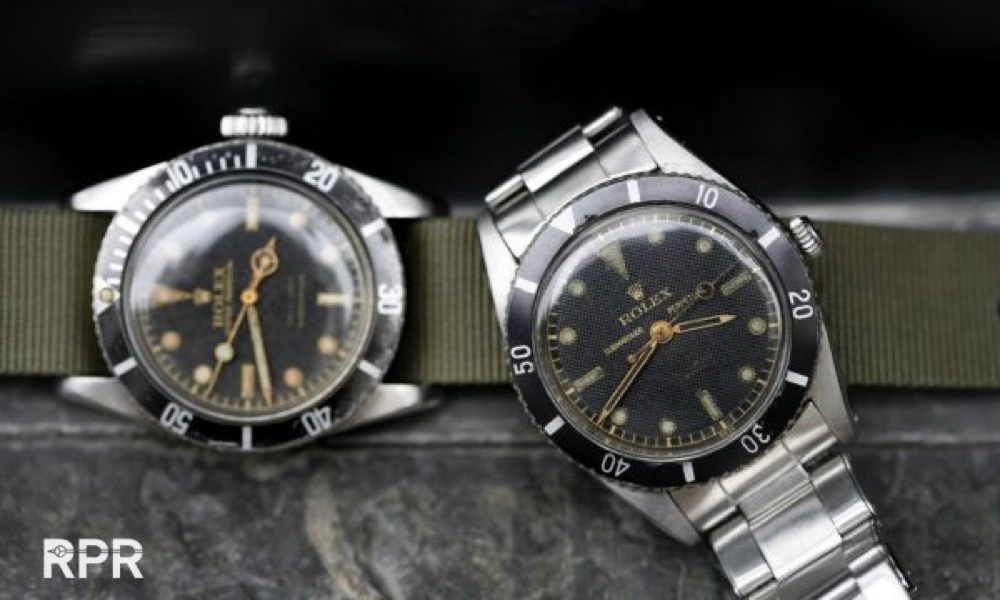 Below you see how the Christies 6538 should look with the bezel. It's a very crispy 3-6-9 red Rolex Ref 6538 from a European collector. The fact we have hardly seen any of these Submariner for auction is besides the extreme rarity also the fact that if any popped up in the past, it sold immediately to a hardcore collector like me and then got stored and cherished. If any of these came back to the market a line of possible buyers was already queuing up to pay way more then what was seen in the open market.. This because they knew these Big Crowns are very hard to find. These really rare submariners sell in-between collectors and therefor I was also curious to see how much the Christie's one would end up. For most $ 1million seems to be a ridiculous high amount for a Sub missing it's bezel but for insiders this was a logic move and the collector who secured this marvel used this opportunity, that seldom comes along, to add it for his already stunning collection. He knew exactly what he was doing as non others are for sale and all are hidden in great collections of owners that are not in need for money. I even think he would have been prepared to pay more then he had to do now…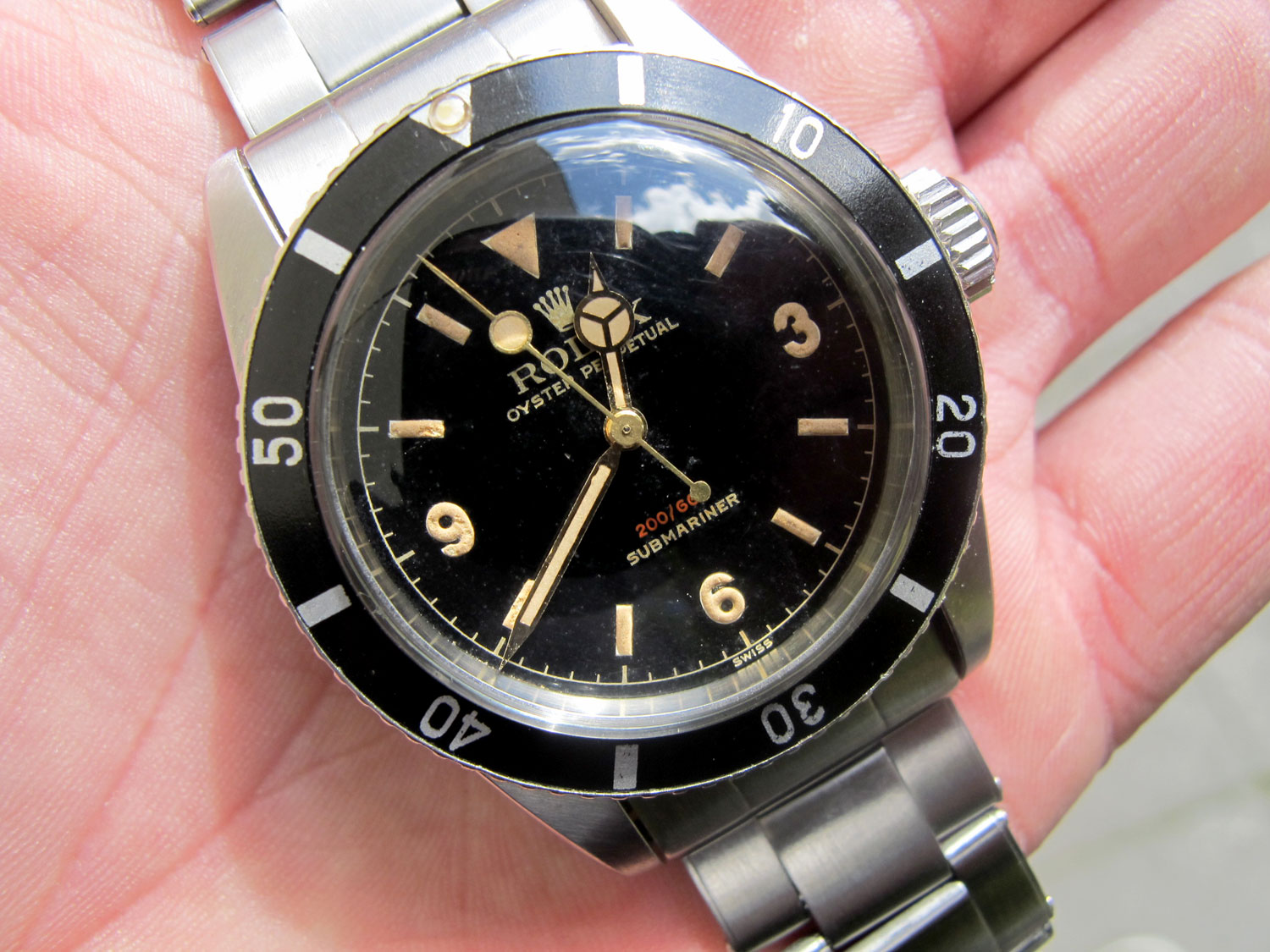 The serial numbers of those so far less then 10 known ( actually I only know like 5 examples) are all in the 140.xxx serial batch. Let me sum up the different versions of the Big Crown with 3-6-9 explorer index for you:
Ref 6200 ( without Submariner)
Ref 6200 ( with Submariner added at 6 o'clock)
Ref 6200 OCC ( official certified chronometer added on the dial at 6 o'clock )
Ref 6538 red depth, 369 dial like being sold at Christie's.
Ref 6538 red depth, 369 and OCC ( official certified chronometer added on the dial at 6 o'clock )
Ref 5510 with 369 and small Rolex logo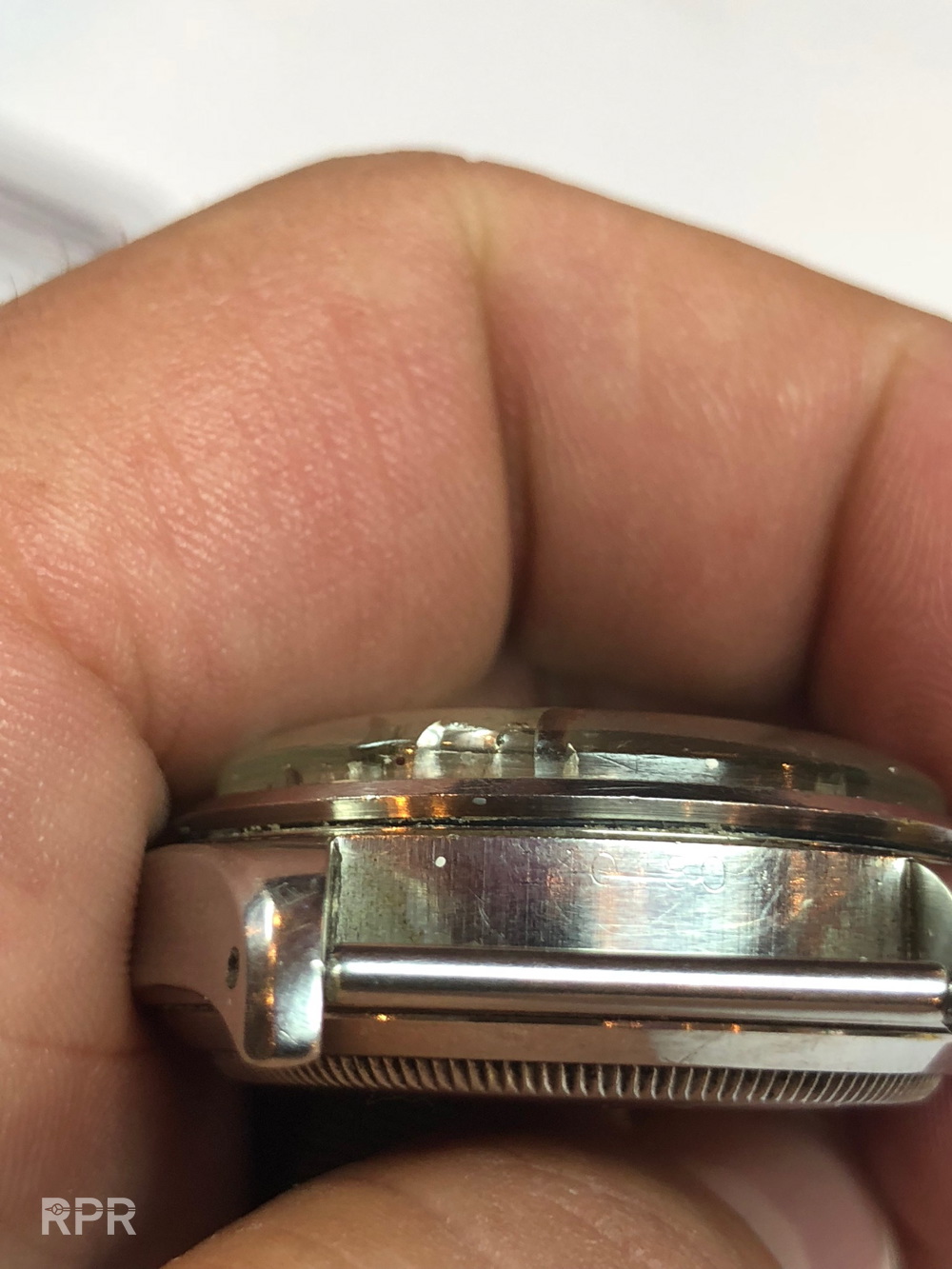 I'm somehow flabbergasted to see that some so called watch experts don't know the difference between a explorer type Ref 6538 and the legendary UK Military Ref A/6538. Both use the same type of dial but the military Sub had totally different features like fixed bars, special german silver bezel, Military engravings etc. You find all info about the only known all original A/6538 by following this link to an earlier RPR article…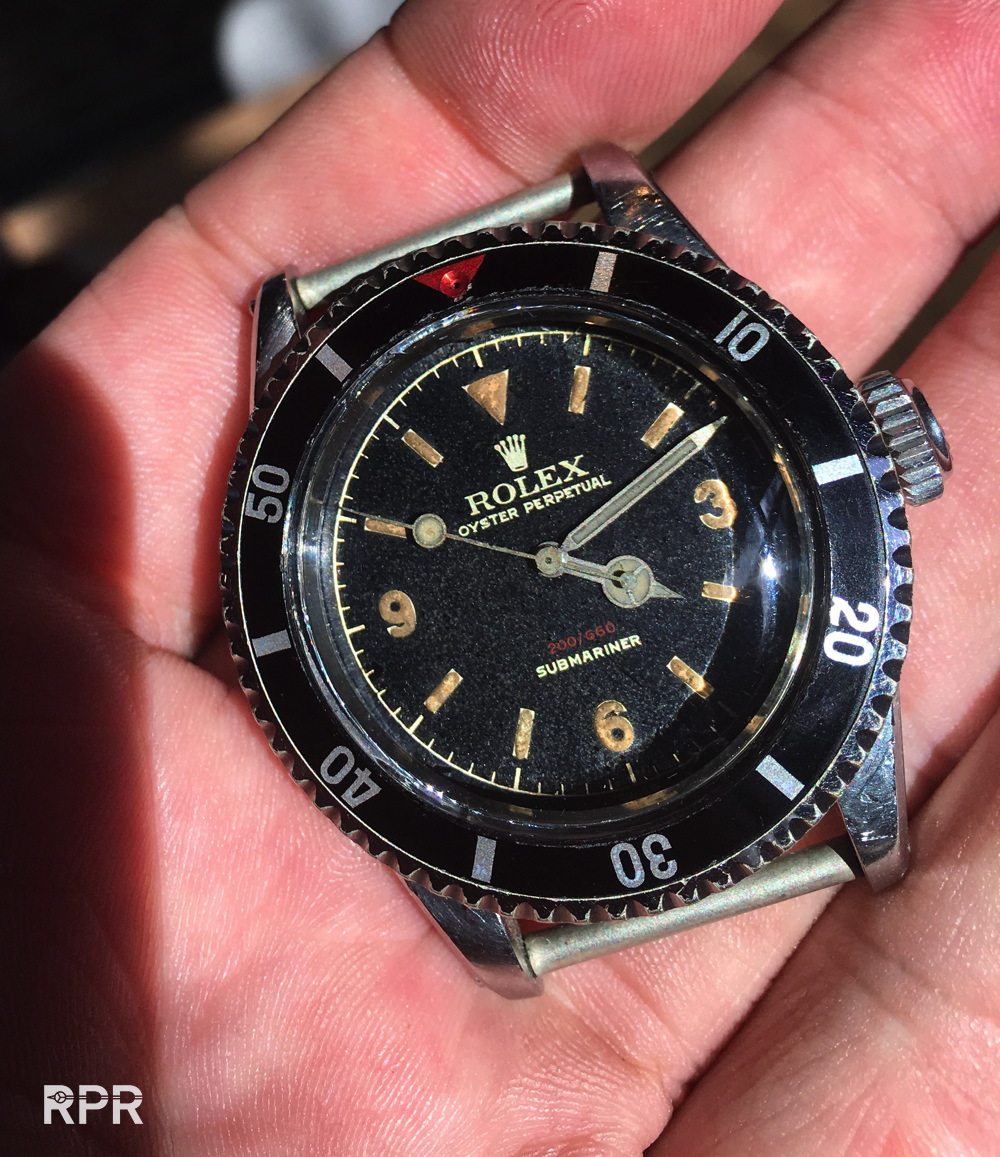 Back to the Christies $1 million Rolex Big Crown Submariner Ref 6538, if you inspect the dial and hands you will notice that the radium luminous is still all in tact and nicely aged. As i've always said, the condition of the luminous on the dial is like a 'condition meter', its tells you what has happened to the watch during it's life. The original owner did reveil that he has often used it and yet again that is so special about vintage Rolex Submariners. Even though these rare birds have been worn a lot, the inside condition due to the excellent oyster case and big crown is often still in wonderful condition as you see below. The only difference is the you see the hands have partly faded to a more dark color and the gilt print is a bit dirty, maybe some moisture has entered the inside and left this patina there over time….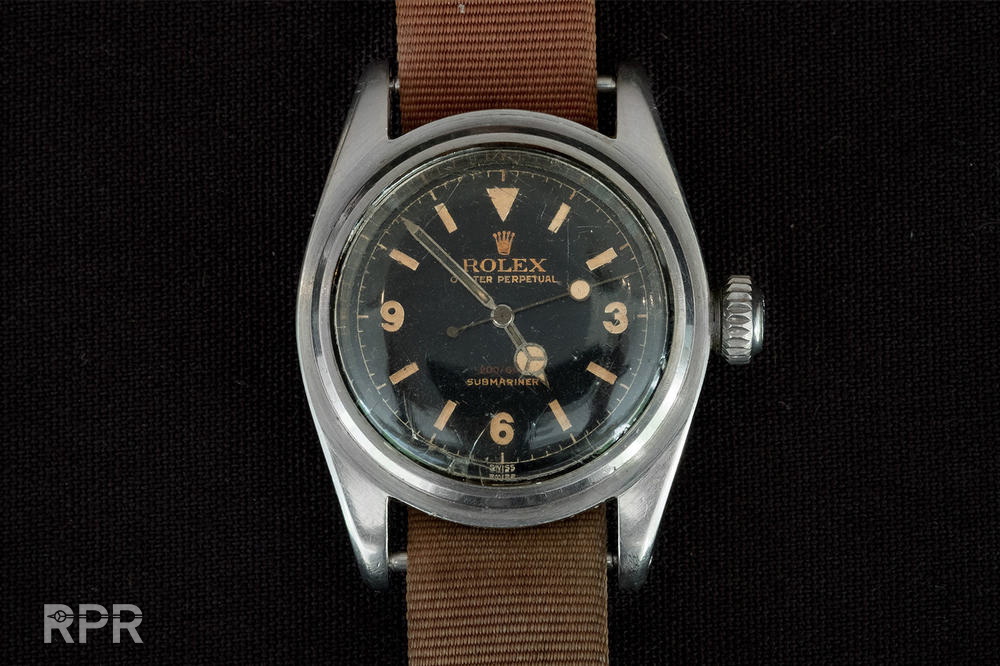 We know now that Rolex printed these important dials in different techniques. The first batch with the use of high radium where 1 color prints, from 1957 the dials became 2 color prints with less radioactive luminous. At around the same serial batch of 140.xxx we also saw the regular non 369 dial with red depth. Why Rolex made the explorer style red 6538 is not clear but when you have a look at which crown was printed on the dial, this looks very much like a ref 6200 as you see below…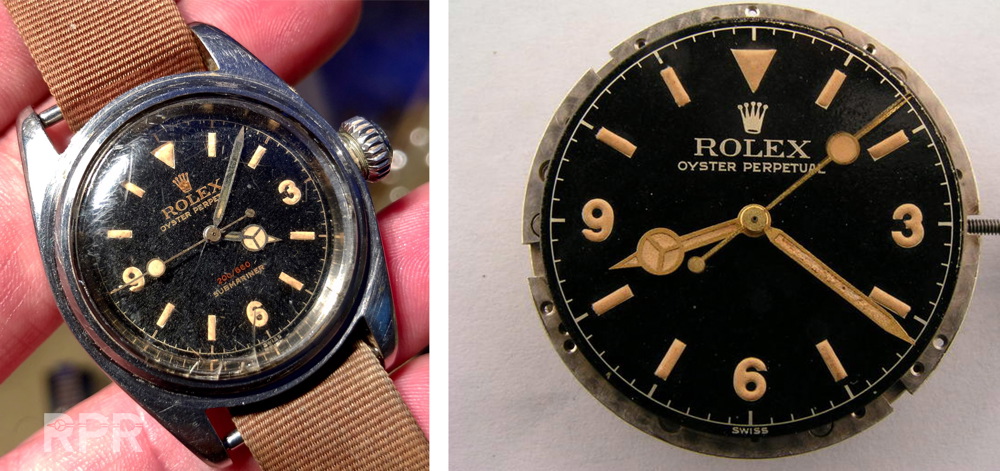 Picture courtesy of Marcello Pisani, you see the star puncture on the back side of Stern dialmaker, the later owner of Patek Philippe…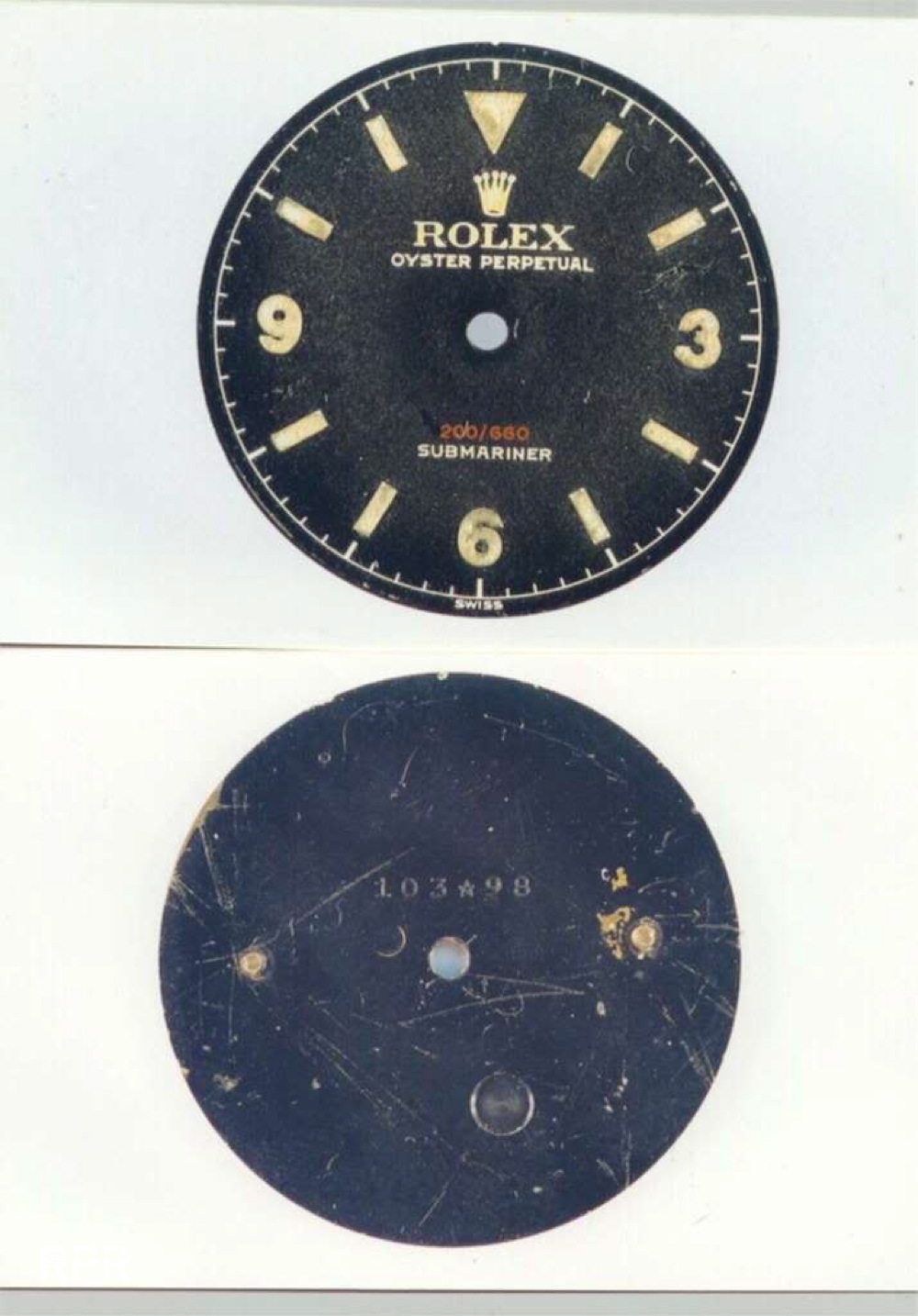 So my logic guess is that Rolex in 1956 used the left over Ref 6200 dials ( that always had 3-6-9 but not always with Submariner already added on the dial) and fitted them in the very first Ref 6538's around 1956. Rolex added was the red depth to make it stand out and from what I heard, inside Rolex they call these red depth "prototypes". Below you a see a non 369 Ref 6538 sold at Christies in 2015 with also 140.xxx serial and red depth. Apparently Rolex wanted a cleaner dial for their regular sale of the Big Crown and they left the 3-6-9 numerals….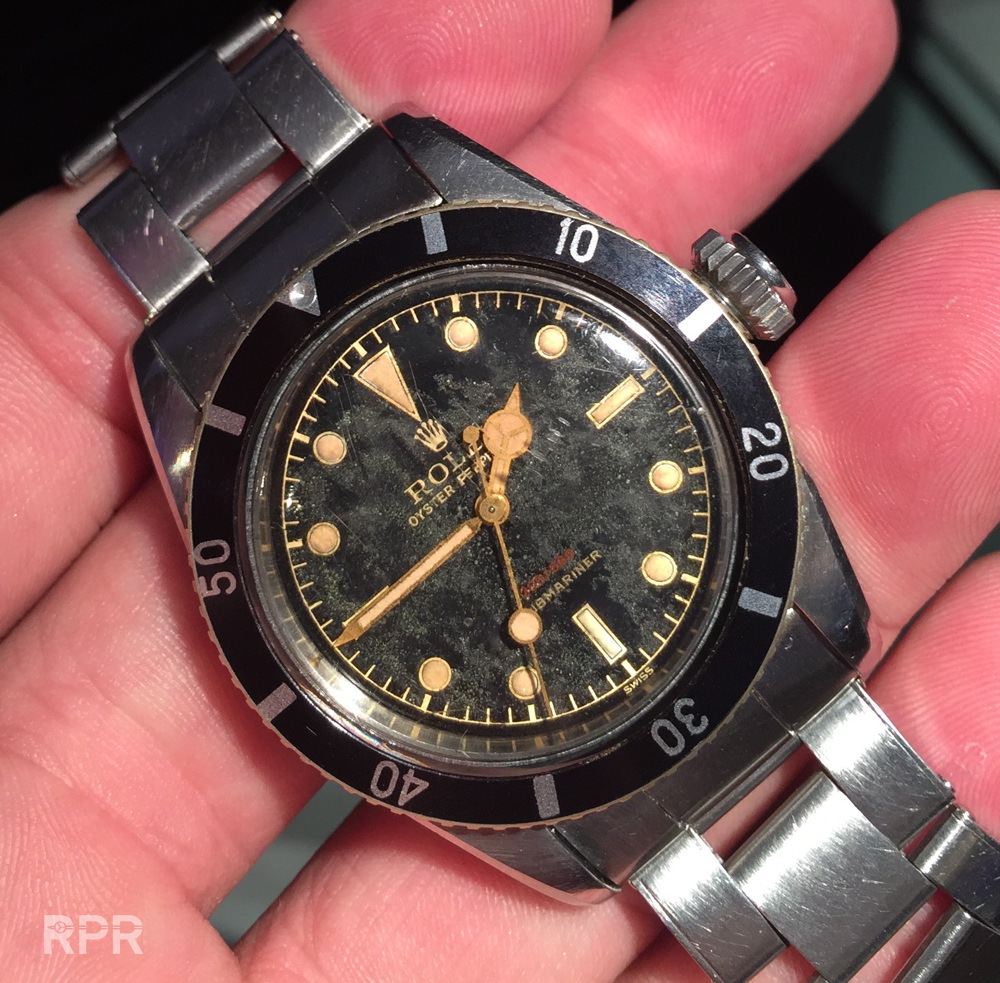 The last version of these mega rare Submariners is the rarest of them all with added OCC ( Official Certified Chronometer) print in white added on top of the red depth 3-6-9 Big Crown. It was found by the son of the original owner hardly used in a drawer in Mexico. It has also the 140.xxx serial and you find more info about this unicorn when you follow this link….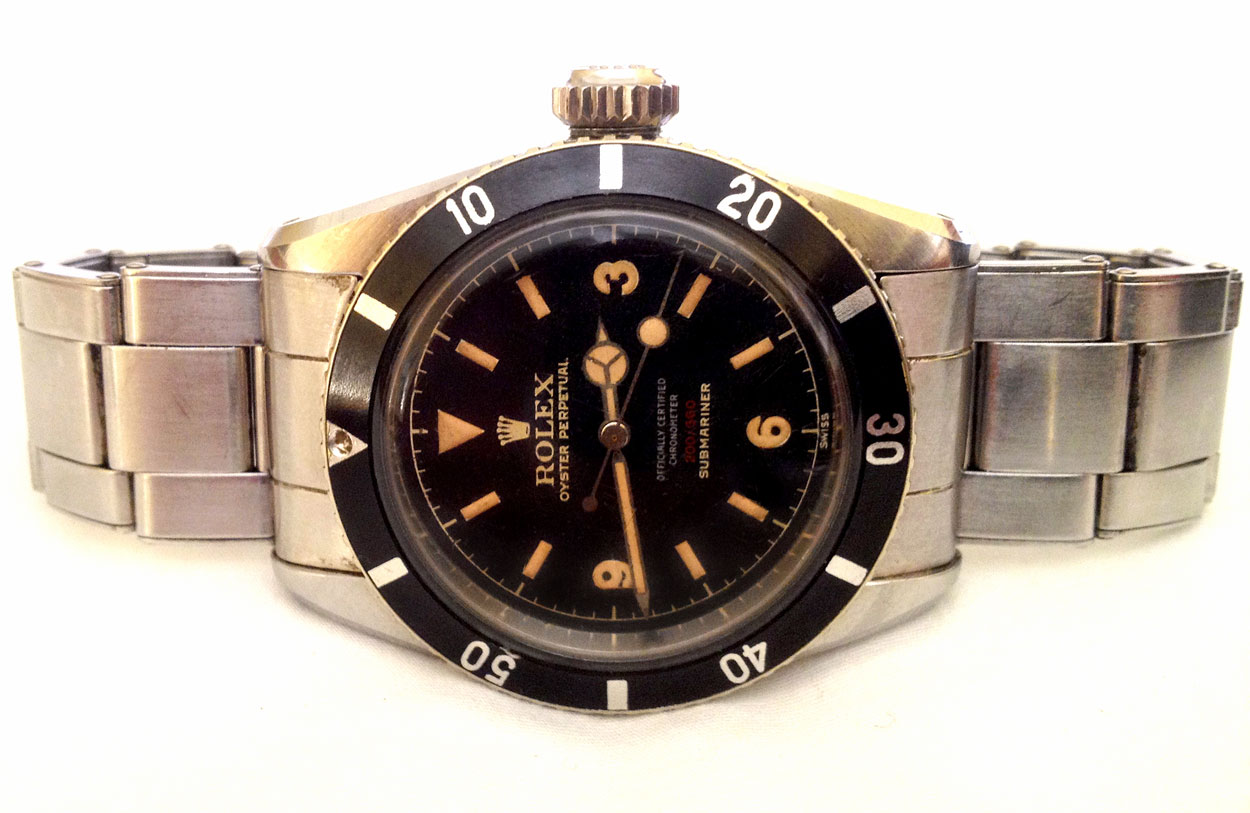 These are the exact picture I made right after I closed the deal, you will notice how fresh and hardly worn it is, with the bracelet being stiff, the crystal is iced due to the tension and radium dust…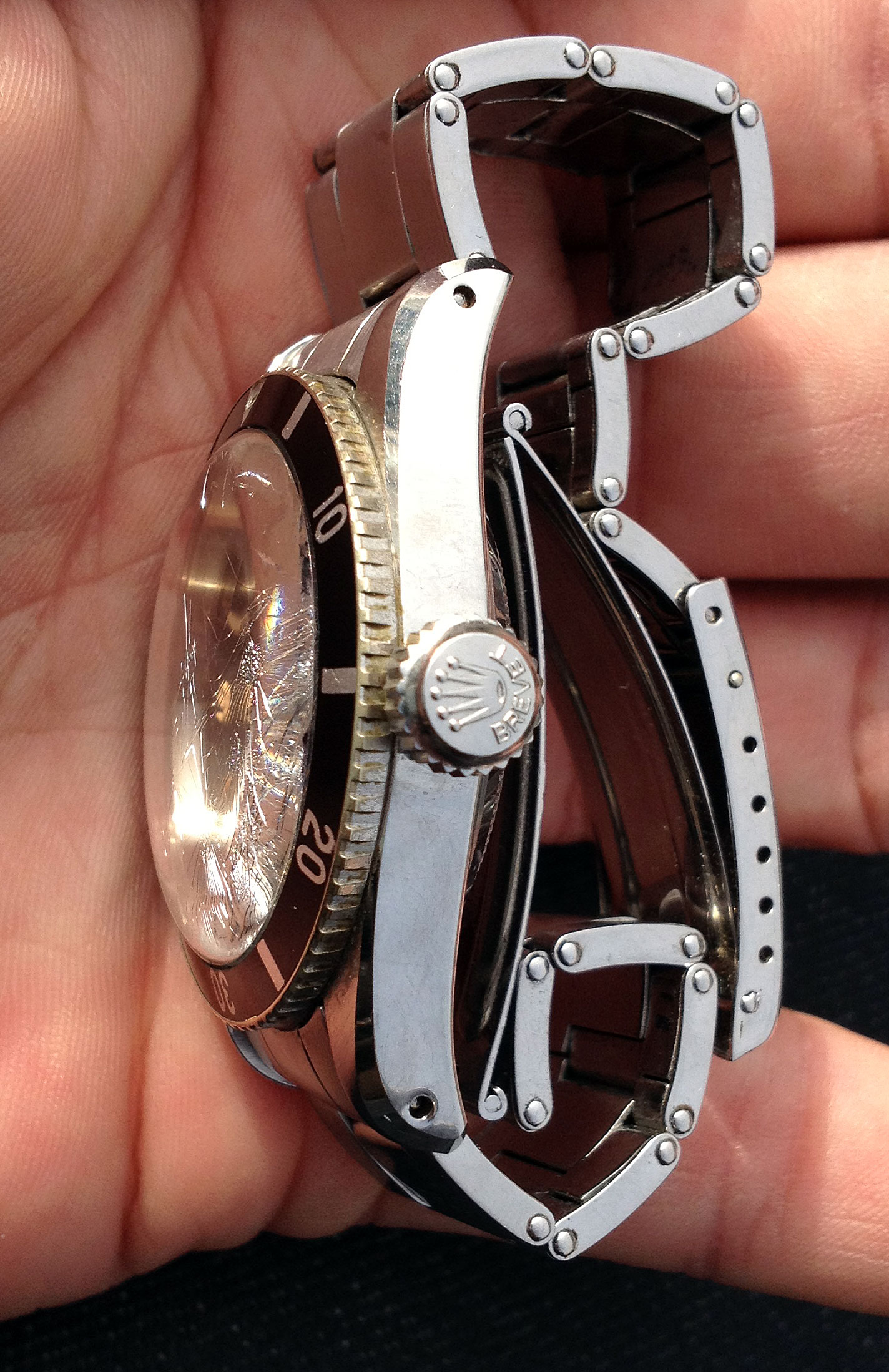 With the correct bracelet with 65 end-links and hardly any scratches on the case-back or whatsoever…
It's one of those marvels that survived time being unused and I always believed that this could become a multi million dollar Rolex. Since that Christie's sold their's yesterday, i'm confident that collectors worldwide do understand the rarity and importance of these one of a kind Rolex Submariner's.  Find below together the 2 rarest Big Crowns of them all, the Ref 6538 red 369 OCC 4 line & the Ref A/6538 UK Military….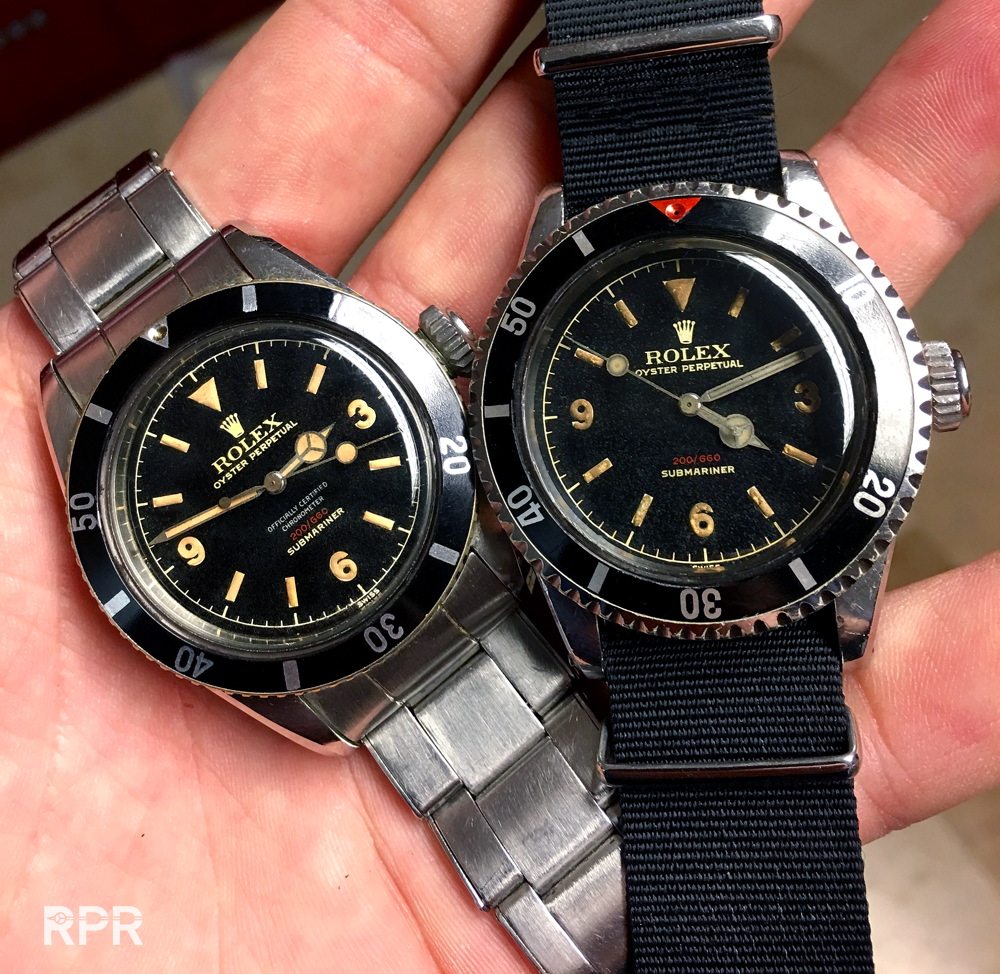 Yet another very rarely seen Rolex Submariner Big Crown with 369 and explorer style Rolex logo. Some say that these 369 dials where made for military use, or at least being offered at military bases, something you also see with the later 5512/3 advertising Rolex used…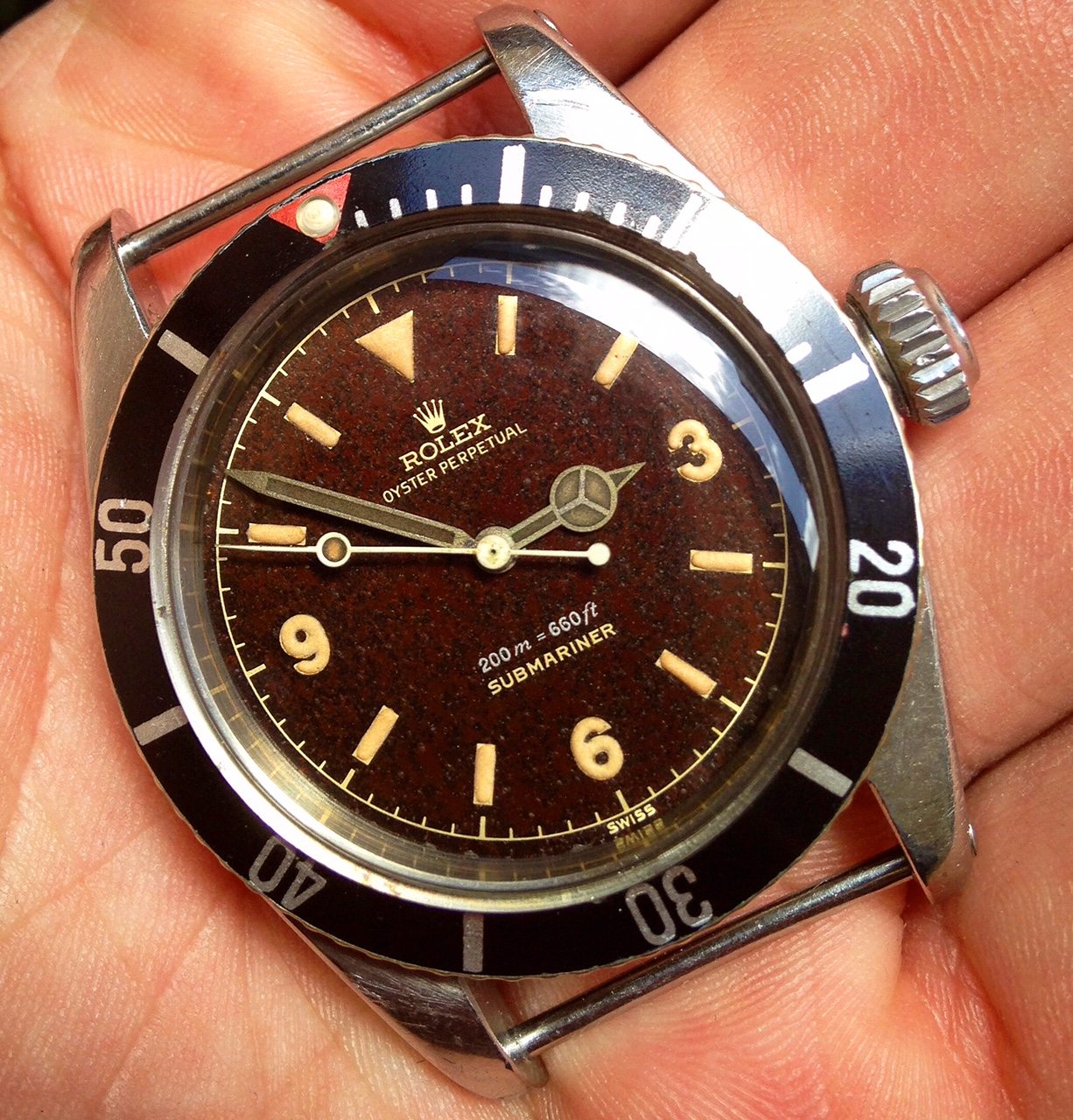 Just like we see with the Daytona, there are many different versions made by Rolex. Not only by reference but also for instance with the rare Paul Newman dials. We see them for the Pump and for Oyster cases, in black and white, for gold and steel, in tropical, with double name, as lemon with different sub dials. The same you can say about the Submariner. Due to the constant improving Rolex updated their Submariner regularly, specially in the early days. A handful of rare Ref 6200…
Therefor we see as many ( maybe even more) different versions of rare Submariner which make each reference and version even more rare as those little different details are the reason why many collectors started blowing their money into collecting vintage Rolex. With other words, hardly any submariner is the same what makes collecting them so interesting. Then finding one for sale thats all correct has become almost impossible. There where you can buy a Oyster Newman for like 500K every day, you will have to hunt down a great big crown and don't hesitate if they tell you the price before its gone again. Since a couple of years we slowly see the Rolex Big Crowns to go up in price. The sale of the Ref 6200 with OCC started the price explosion and reached Chf 485.000,= in 2013….

Then the brown 4 line ref 6538 that was bought by a italian dealer for CHF 520K, which was kind of 'cheap' but apparently no collectors saw the potential…

Latest was the nice Ref 6200 coming from a great collector that was sold at Phillips New York last year October for $ 580.000,=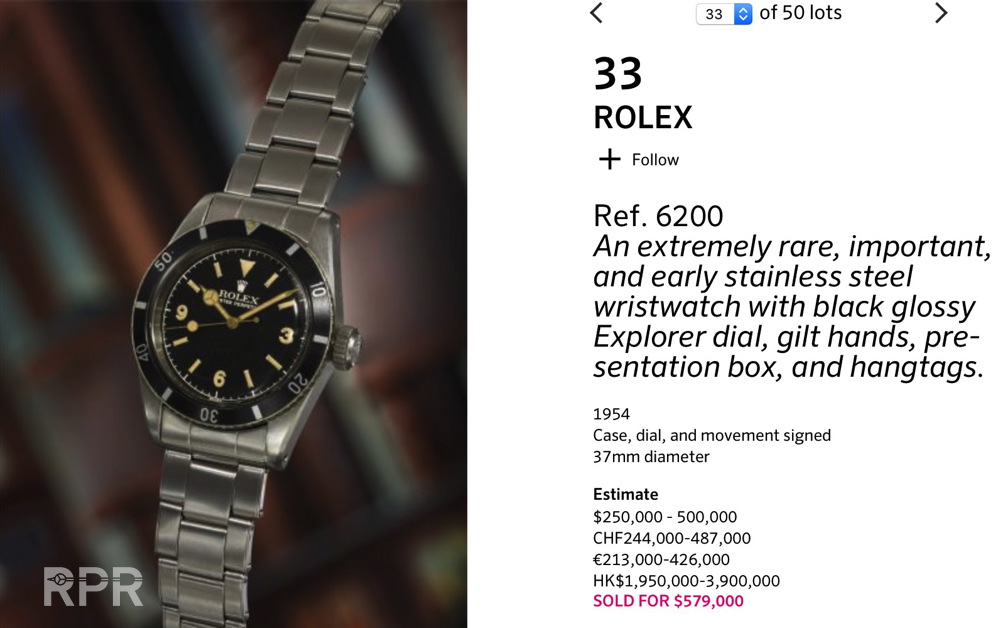 And yesterday the $ 1 million was broken when Christie's sold their original owner red 369 ref 6538.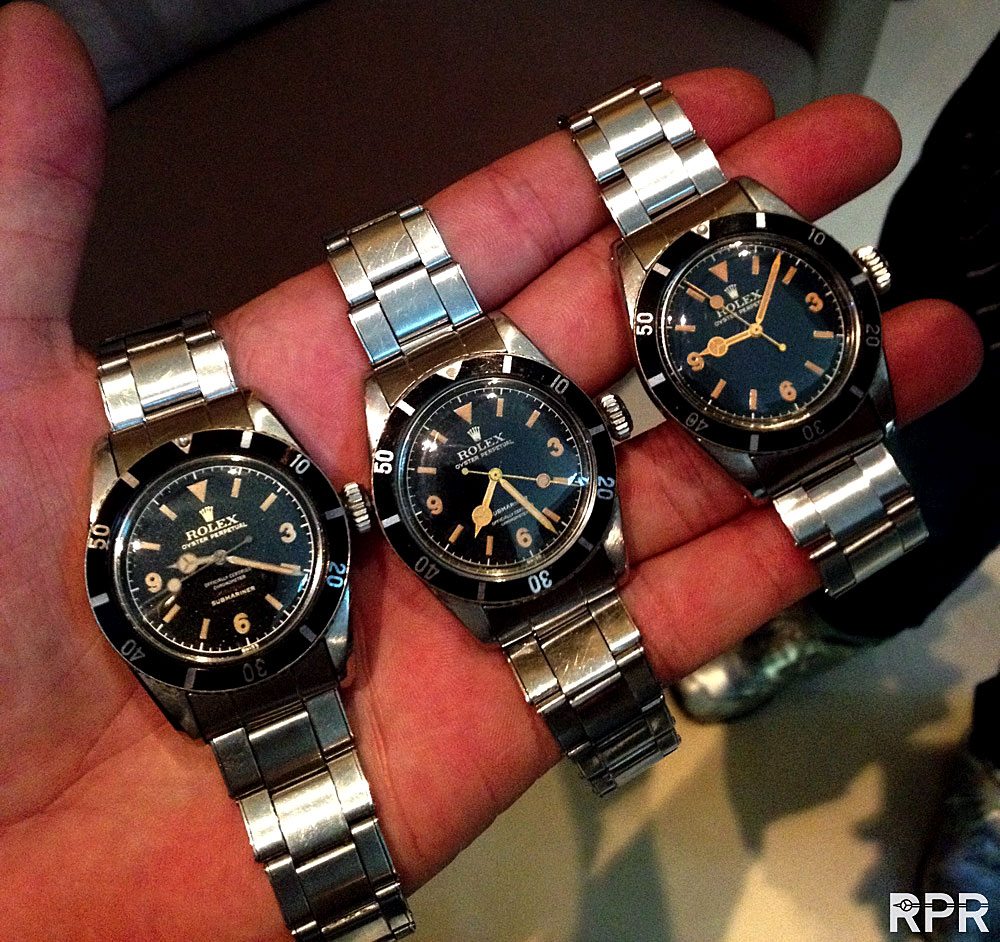 What do we learn from this and how will the future prices be?
You see when I was in the auction room in 2013 during the Daytona Lesson One sale and a RCO – Oyster Sotto Daytona sold for nearly $ 1 million to an middle east collector, I was really surprised as the estimate was 200-400K and in the market I could buy them for 250-300K.

5 years later in 2018 during the Ultimatum Daytona sale by Phillips this time, one RCO went for Chf 1.65 million but then the estimate as 1-2 million…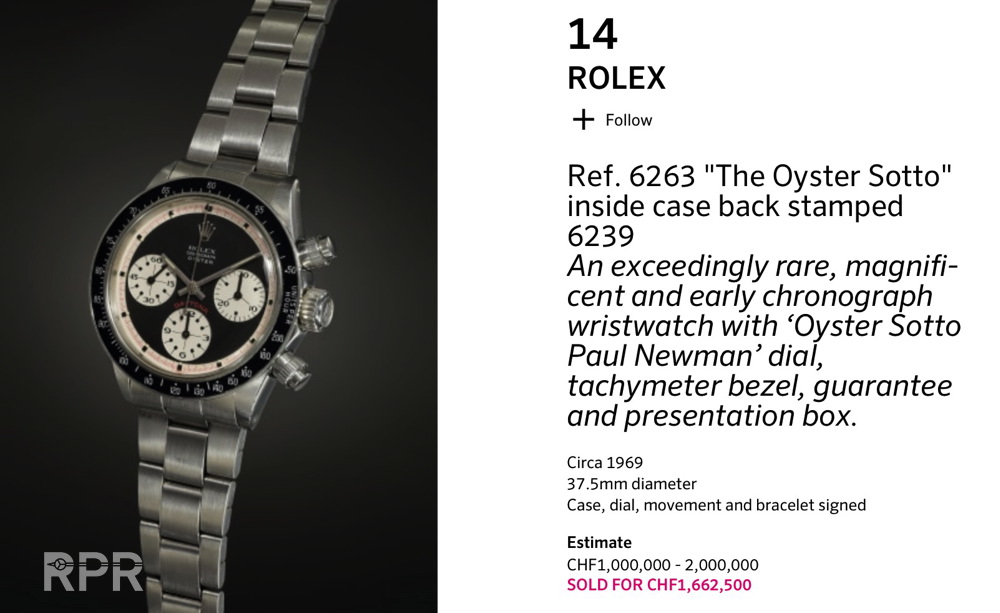 So over sudden somebody jumped up and paid almost 3 times the regular value. Some thought it was due to the effect of Pucci & Bacs & dedicated Daytona this sale exploded and yes thats what I also believe because after the sale we didn't necessarily saw that the prices in the market became the same as the results of the 50 Daytona's that sold crazy high. 5 years later during the second Daytona Ultimatum theme auction did not explode above the estimates although the results where high the spectators where prepared to see even higher numbers, the market didn't fetch. Don't get me wrong, the auction was yet again a succes but to explain you the difference between Daytona prices and Submariner prices I have to point out that Daytona's are pushed and therefor got way more attention and exposure last 5 years then Submariners, which never had a special theme sale yet.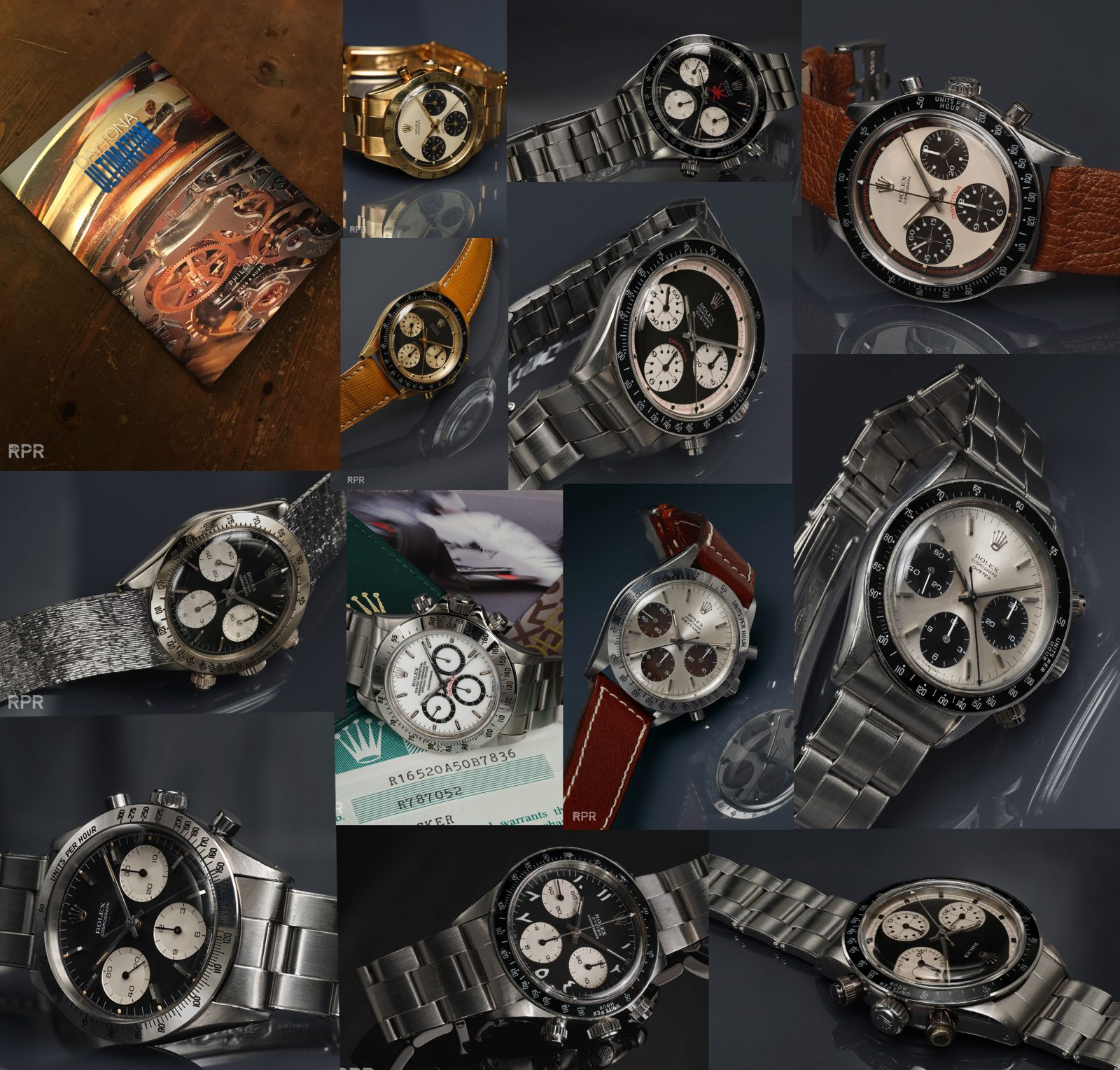 So was this $ 1 million for the Christies 6538 really such a high price? No it was not, specially not when you compare rarity and importance in Rolex history. The Submariner is a 100% Rolex watch, iconic and important for the successful sale of all other Rolex models. Picked up by James Bond early 1962 and quickly reached cult status as the watch to have. It has it's own Rolex movement and no valjoux based external motor inside. It has been hugely important for the evolution of tool watches in general and for Rolex in particular. Due to the succes of the Submariner, Rolex developed the GMT Master, the Milgauss, Seadweller and Explorer. For me personally the Submariner is the number 1 vintage Rolex to have, everything Rolex stands for is in this watch.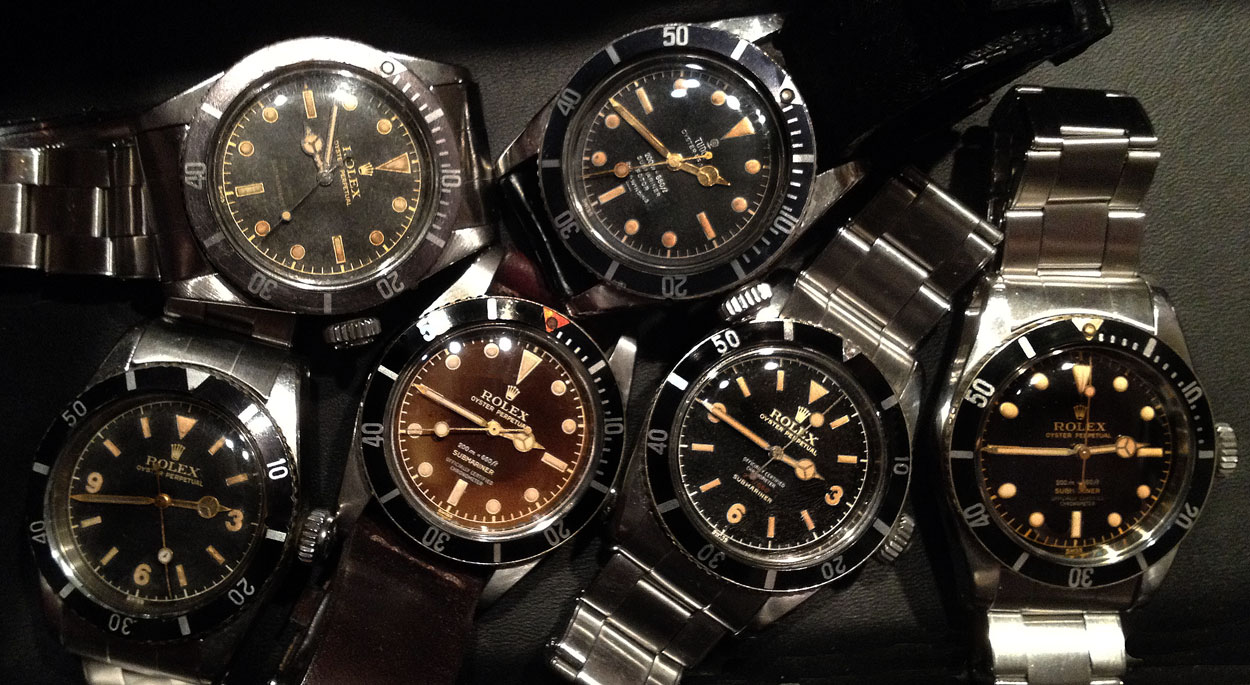 After the price explosion of the Daytona it's the Submariner that will blow in price now so guys if you think to add a Big Crown to your collection, do it now before it's too late….
Cheers,
Philipp