RPM interview with Andrew Shear
The next RPM dealer interview here is with Andrew Shear from New York. Read the interesting answers this top dealer has on my question list. Many thanks again for finding the time for this Andrew, I really appreciate your effort!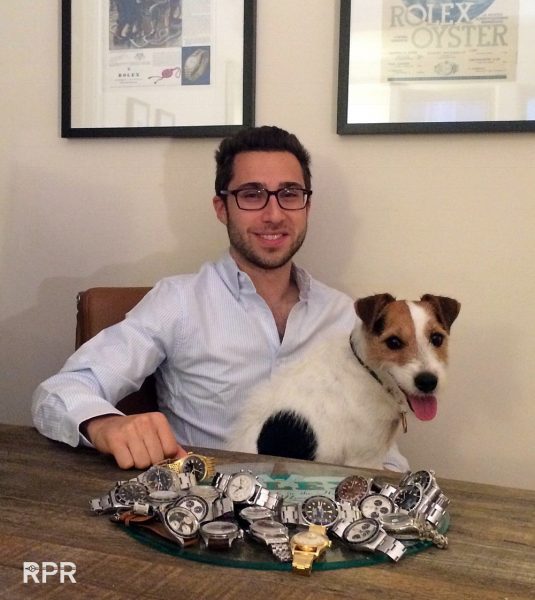 # Which watch made your heart skip a beat during your worldwide search for vintage models?
-Many watches have the ability to get me excited. That's why this passion remains so hot for me ;-). Finding untouched fresh watches really gets me going.
# Which vintage watch would you never sell?
-A 5512 with a completely even tropical caramel brown dial is one that I plan on keeping until my last days. I can't stop smiling when I see the watch.
# Which watch do you regret not having bought?
-There are probably too many to recall. When opportunities for rare, untouched fresh watches appear, I try to always buy them. The regrets are more from, the watches I wish I kept.
# Tell us your greatest vintage watch anecdote of your collecting history
-I can't think of just one. But I have always tremendously enjoyed buying special watches from original owners. It's an amazing feeling, to be the second owner and to hear about the history of the watch. To think of all the watch has been through. To hear what the watch has done for that owner and how it was part of their life. To meet the kind of person, that was that forward thinking to buy such a great watch years ago, for reasons totally different than today. Those purchases, always remain the most important to me.
# What was your most lucrative deal?
– I wish one stood out. I have been fortunate to buy some great watches over the years.
# How far did you go to get your hands on a particular vintage watch?
-I've traveled around the world, with the drop of a hat to buy a watch, with only the possibility to buy. Most times, when making that kind of effort I've returned home with the watch, but other times I wasn't as lucky.
# Describe the perfect day for you as watch collector
-There are watches and watch deals that I have literally worked on buying for years. Being patient for so long and to finally receive such a watch and then to be blown away by the watch is one of the greatest joys I've had in collecting watches.
# Most collectors look for quality, age, uniqueness and complications. How do you calibrate the value of a vintage watch to avoid overpayment?
-Great watches are only getting harder and harder to find. They aren't making any more and the interest and demand continues to grow. Watches that are rare, in the most original condition and simply look great, should command a premium. These three factors are the most crucial factors in a collectible vintage watch. With that trifecta, it can be ok to possibly over pay a bit or pay the price of tomorrow. Just the opportunity to buy certain watches, is so special that the price isn't the main focus.
# Which features are your core collection criteria, year, model, style, complication, material or …?
-I have love for the classics of vintage Rolex. I think whichever period speaks the most to the buyer, is important. I prefer the sports watches of the 1950's and 1960's. I love early gilt glossy dials when in superb condition, but then again cannot get enough of great daytonas.
# Should a collector always strive for a 100% original vintage watch or are periodically correct but not- authentic-to-watch parts allowed?
-The optimal goal in collecting vintage watches, is to own a watch that is in the closest condition as to how it originally left the factory. However, new old stock watches are very rare, as watches were made to be worn. Some concessions to condition must be understood and accepted. However, non-authentic parts are not acceptable in any way.
# Which brand met/exceeded your expectations in terms of creating a true vintage watch identity? Which brand could have done better in terms of creating a true vintage watch identity?
-There are many great watch brands and many great watches. However, Rolex has remained number one. They created some of the most iconic and timeless watches ever. There are many brands, that made some great watches, but very few have stood the test of time, like Rolex. One of the biggest missed opportunities would have to be Longines. They made some of the most beautiful and well made chronographs in the 1940's. Watches that rival Rolex and Patek for the period and are therefore extremely sought after today. They then made some nice simpler chronographs in the 1950's and some classic calatravas, but then the brand stopped designing great watches and totally lost their appeal.
# Which brand is the dark horse at the moment, having potential to gain collector's interest in the near future?
-While great Rolex become more and more difficult to find and the prices continue to rise due to scarcity, many collectors have looked to other brands. It's interesting to see collectors going after off brand or no-name vintage chronographs, simply based on the look of the watch.
# Which contemporary watch models have the potential to become the classics of tomorrow?
-I think there are some very interesting independent watches being produced today, which in many years from now, could be collectible.
# Do you expect a shift in collecting vintage watches towards less rare models, given the high prices the extraordinary examples fetch at auctions?
-Yes, we have seen less rare or smaller watches gaining popularity, as the very special watches continue to rise in value. Simple watches in superb condition have become very sought after, yet are still quite difficult to find. The rise in prices is across the board.
# Do you think collecting vintage watches has become a bubble of ever increasing prices that will burst one day?
-This is a common question, especially as prices continue to rise. However, the watches that remain desirable are iconic, classic and timeless. There is nothing quite like a great vintage watch. The one true accessory a man uses, which serves a very necessary function. I can't imagine the day, when everyone chooses to use only an iPhone and abandons the wristwatch. That would probably be the only reason the market could die. These watches are only getting that much harder to find and the demand continues to grow.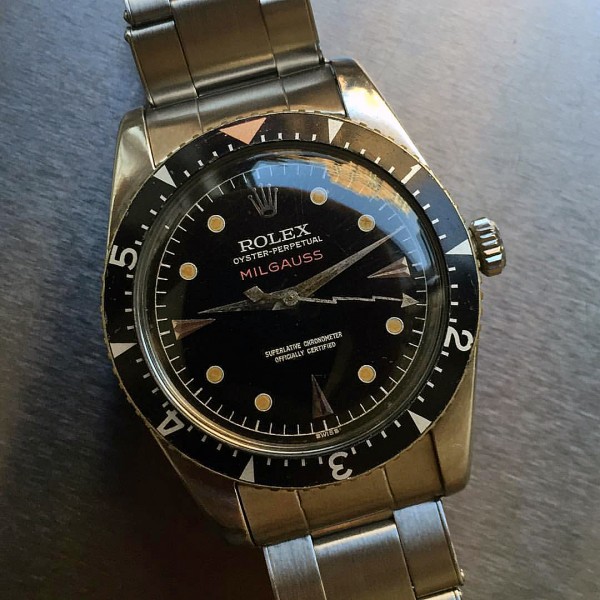 # The word passion is used frequently in the vintage watch community to mark a common driver to collect. Isn't this word misused too often nowadays and collecting has become a cold hard cash business?
-Unfortunately, as prices do continue to rise it is hard to put the money side of watch collecting completely aside. Most collectors do get into watches, because of the feeling the watch gives them. It's important to not lose site of the joy wearing a great watch offers and less about the dollars and cents.
# What is your view on the development of the increasing number fake vintage watches that are almost impossible to detect with only the eye?
-With the increasing scarcity of great watches, prices continue to rise. And with such high prices, fakes will get better. It is most important to buy from trusted sources, who have the expertise to know what's what and one who stands by what they sell. As always, if it's too good to be true, it generally is!
# How would you compare vintage car collecting with vintage watch collecting? What are the differences and similarities?
-The car market seems to have had some major ups and downs in values over the years. We have seen much less stagnation in watches. Watches are so much more manageable and probably then more enjoyable. A watch can be easily worn or easily stored. It can be transported on your wrist and requires very little maintenance.
# The art world resembles a meritocracy where talent eventually is achieves the highest status. Do you see any similarities compared to the vintage watch world?
-I see trends come, go and transform into new trends. This is something seen in the art world as well. To avoid getting caught up in a possibly passing trend, sticking to those core collecting values is very important. Classic iconic watches will never go out of style. They are timeless and here to stay.
# Two events are organised at the same time: a classic car fair displaying some of the rarest vintage cars out there and a vintage watch fair showing some of the most complicated watches ever made. Which event will you attend and why?
-I love classic cars, but would absolutely choose the watch event. When you pick up an important or special watch in your hand, you can immediately feel what makes it what it is. The opportunity to hold such watches can be priceless.
# If you could travel back in time, who would you choose to have lunch with: Hans Wilsdorf or Antoni Patek & Adrien Philippe?
-For sure Hans Wilsdorf. He was such an incredibly inventive, forward thinking genius!
# What is your golden tip for novice collectors?
-Always go for what watches personally appeal to you. Then try to find the very best examples you can afford!
Many thanks Andrew!