November 2016 Geneva Auction Report
The "Freak Show" is over! We vintage watch lovers finally get international recognition after the steel Patek Philippe sold for 11 million swiss franc! For years people thought that we (the hardcore group of international collectors & dealers) where crazy spending serious money on steel vintage watches while everyone was buying new complicated gold timepieces as an 'investment'. Since last Saturday evening after the record breaking bid on the steel 1518 collecting vintage watches has become an established market. Just like collecting vintage cars or art, vintage watches have a bright future ahead. More then triple times the estimate was the result of the effort Aurel Bacs and his team got for selling this exceptional important Patek Philippe.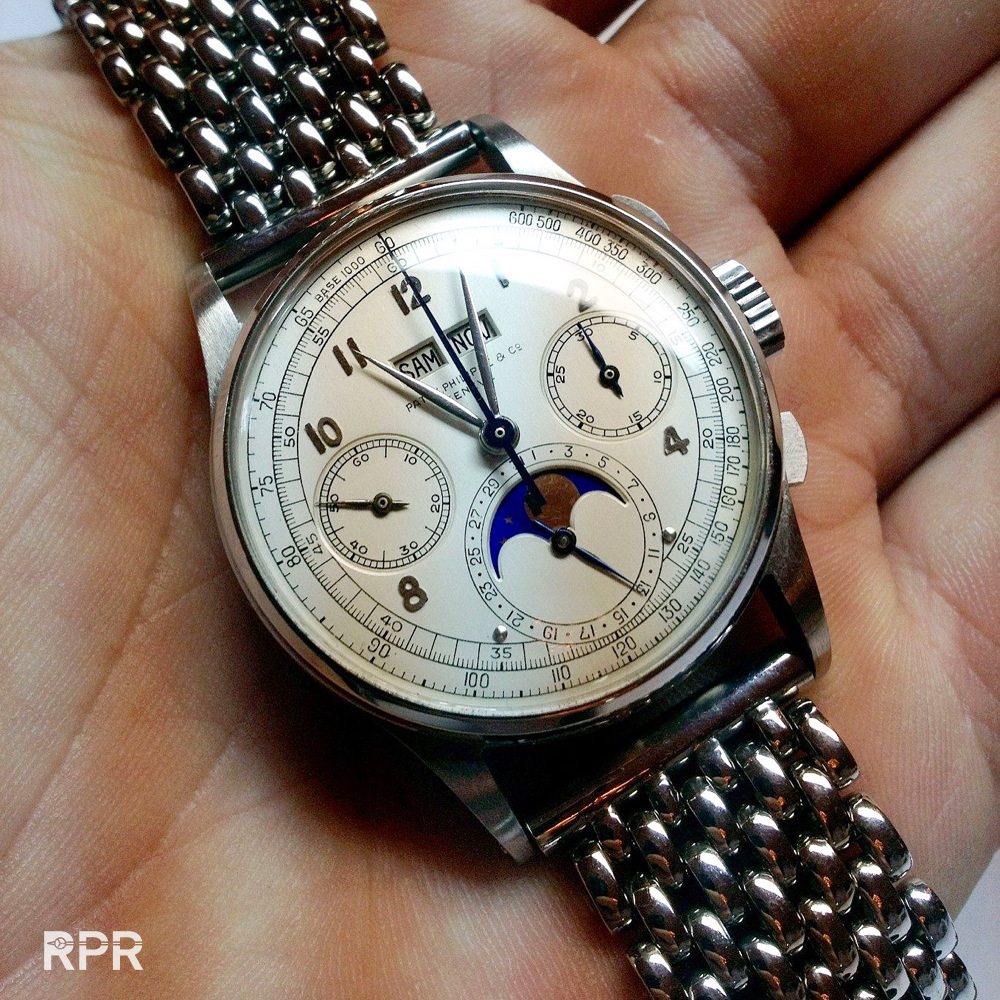 11 million all in world record is hammed down by maestro Aurel Bacs at Phillips in Geneva…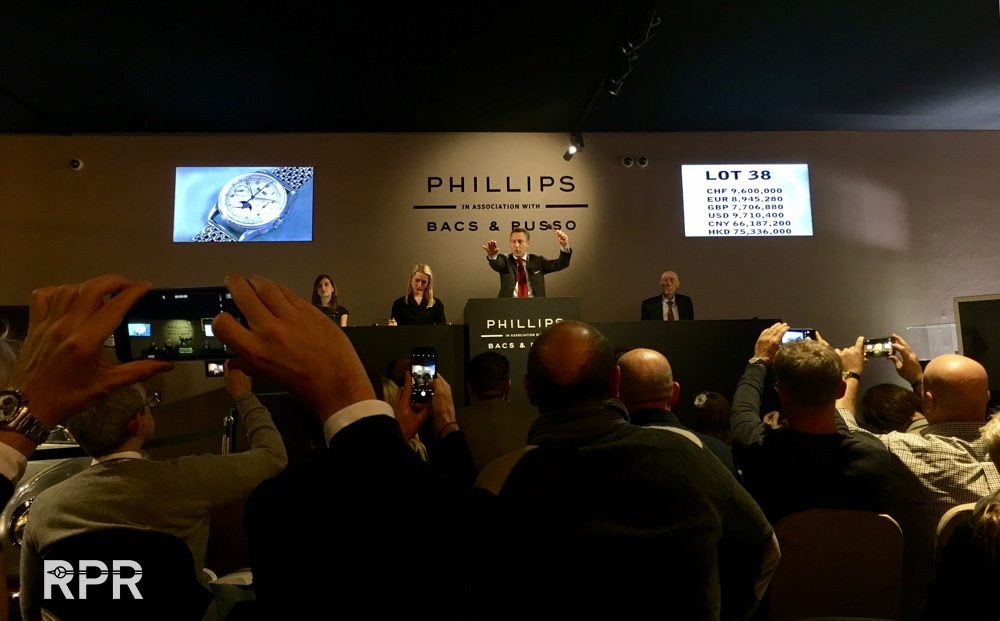 Melancholically i'm looking back to some 3.5 years ago when I was commissioned to offer € 4 million for this steel Ref 1518 but the strong offer got rejected. A lot has happened since those last 2 years in the vintage watch market. As a close spectator I can assure you that I noticed that new, mostly young, collectors are stepping up. Actually the usual suspects where very reserved this auction weekend, hence the some what disappointing results of for instance of the Rolex cloisonné dragon. Nevertheless achieving all over good results tells me that the market is very strong for quality. As we for instance also see in the established art & car market, the supply of great quality has become the mayor problem for auction houses. That doesn't mean these don't come to offer but instead of going public, owners choose to sell directly in privat, stimulated by social media like Instagram.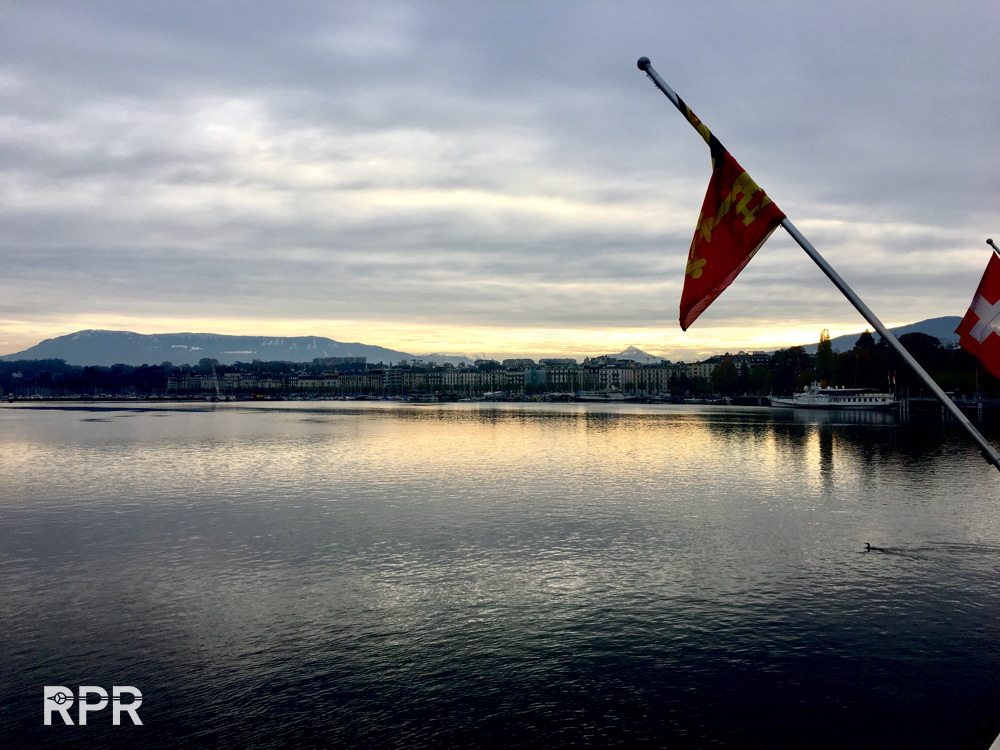 As i've said many times before, quality will rule the future, no matter the reference. Finding a fresh vintage Rolex at auction has become en exception and only happens 1 or twice nowadays. Antiquorum had a great tropical brown Ref 6238 of which you could argue if the dial was born in that case but the stunning caramel color doubled the estimate to hammer down at 250K all in that's CHF 305.000,=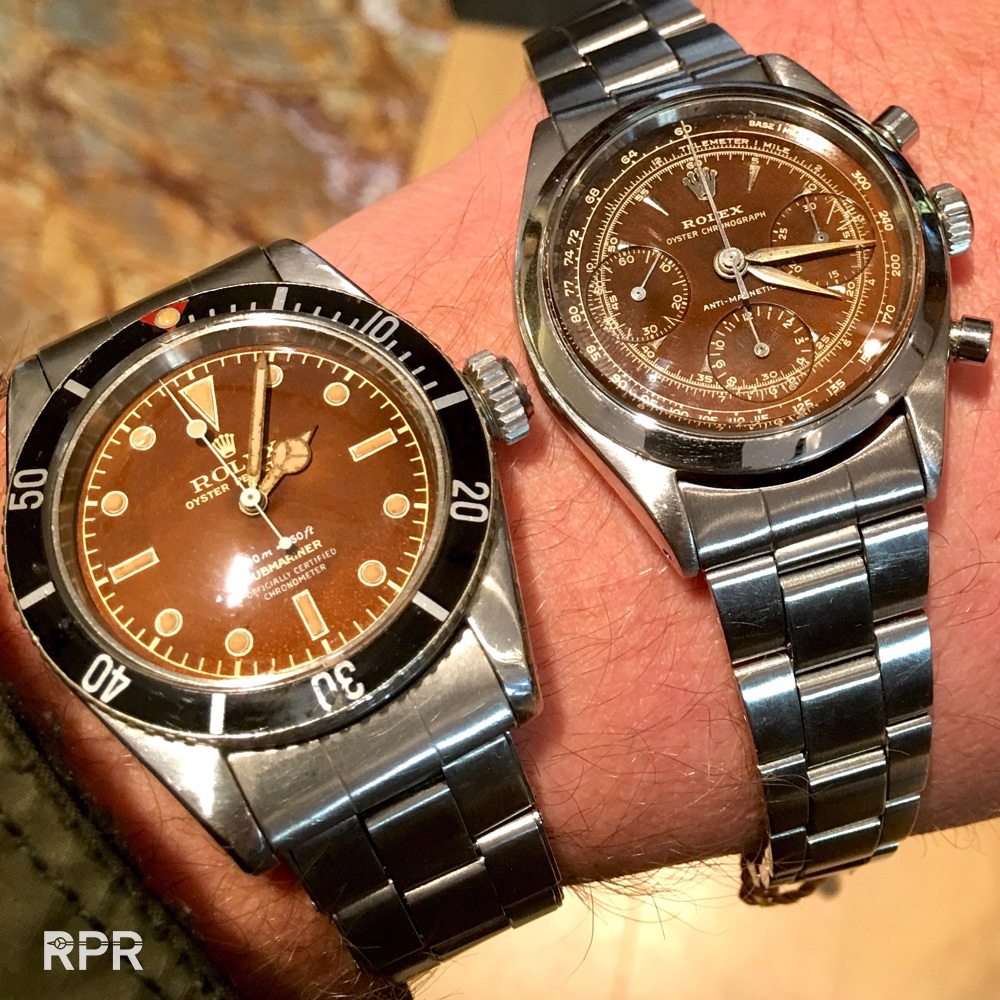 Phillips Watches is indeed the most important auction house at the moment. As big as  Christie, Sotheby's and Antiquorum combined the market leader perform again selling 93% of the lots and 97% by value. You can read their news over here on their website. Christie's 14.7 million swiss franc auction sales you find here. Antiquorum's 5.3 million swiss franc auction news and results you find here and Sotheby's auction sales you find over here. Below, James Bond arrived 😉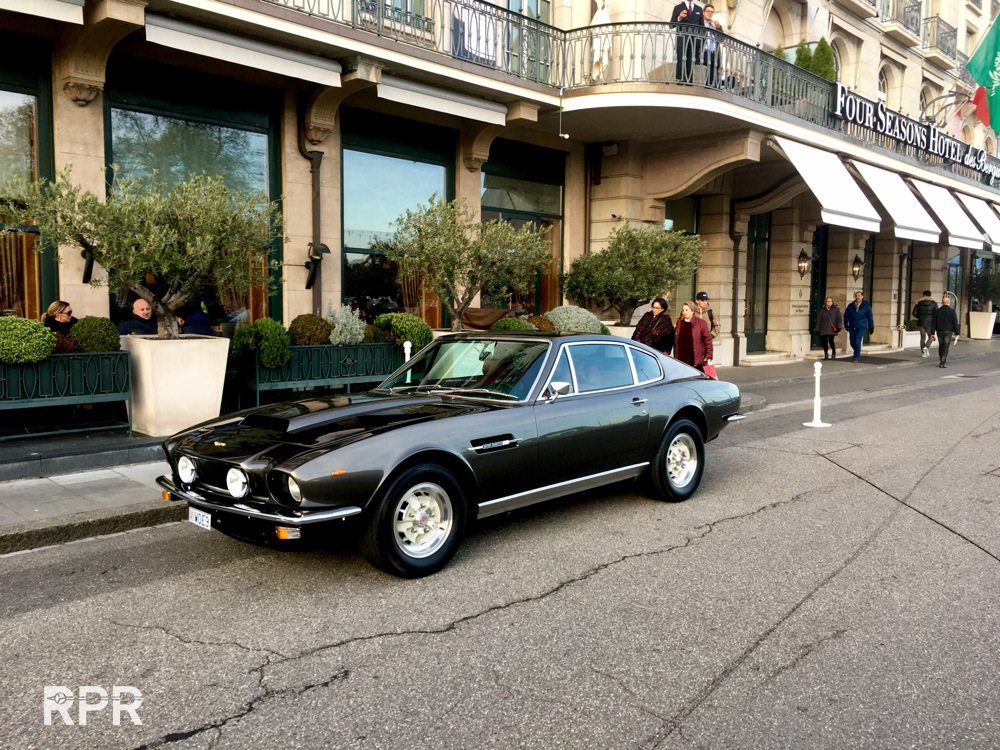 Now I'll show you some of my impressions of last weekend. It was again SUPER cool to meet so many great friends during the auctions. I'm always amazed to see guys from all around the world checking in to Geneva for the auctions! Safe travels guys!!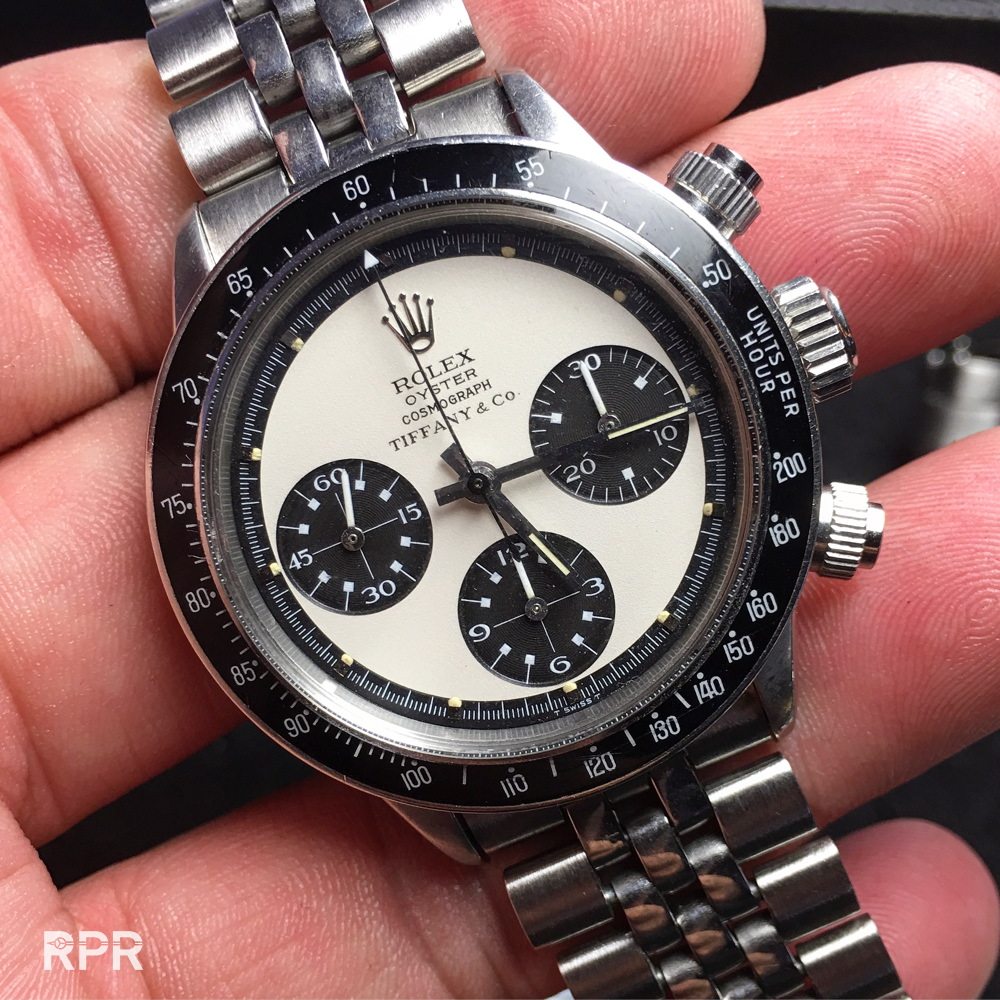 The "Tiffany & Co" Oyster Paul Newman sold for € 815.000,= and the special "Linz" Paul Newman sold for € 820.000,=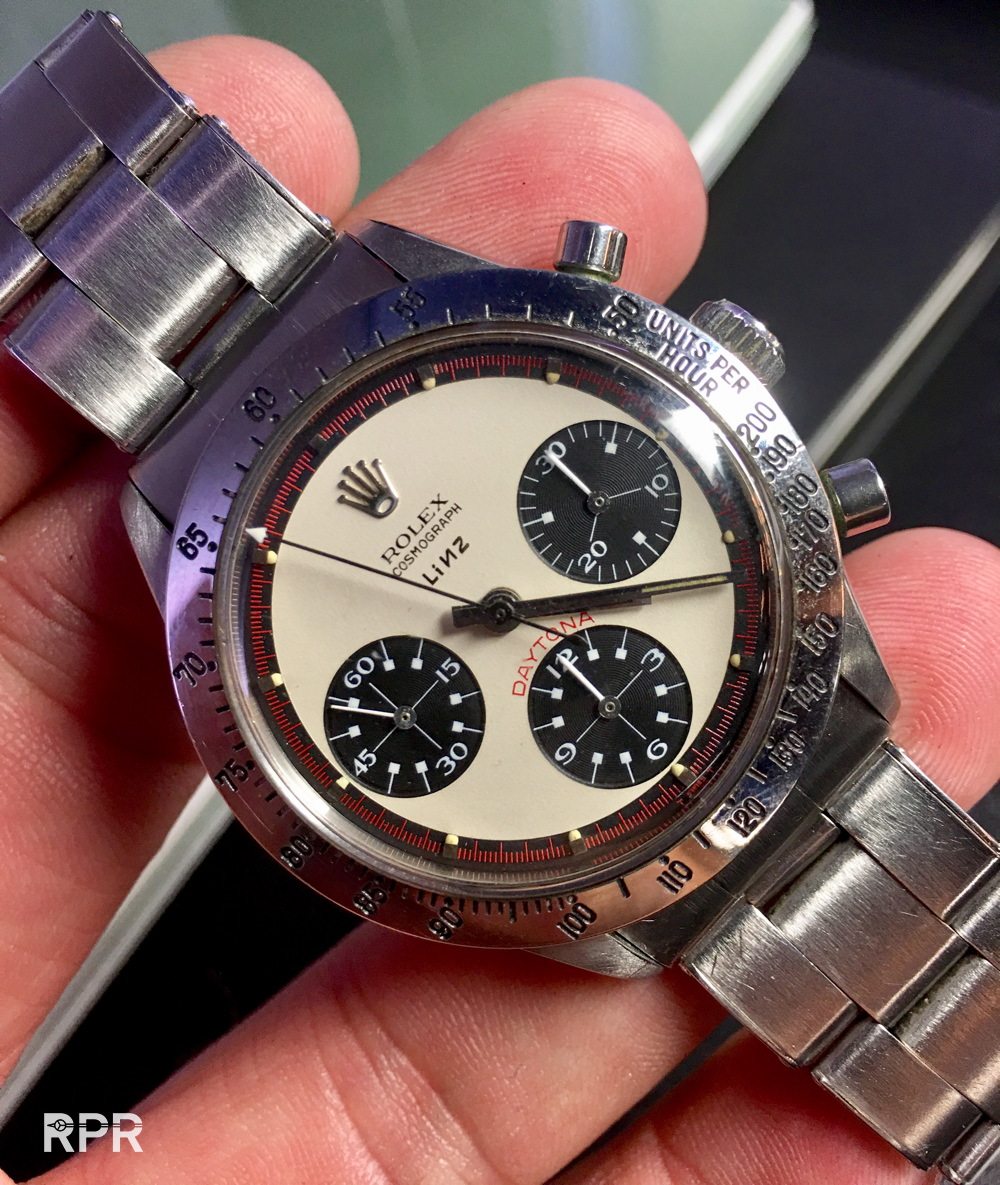 The tropical sub in the right sold for € 525.000,= all in and went to a nice dealer…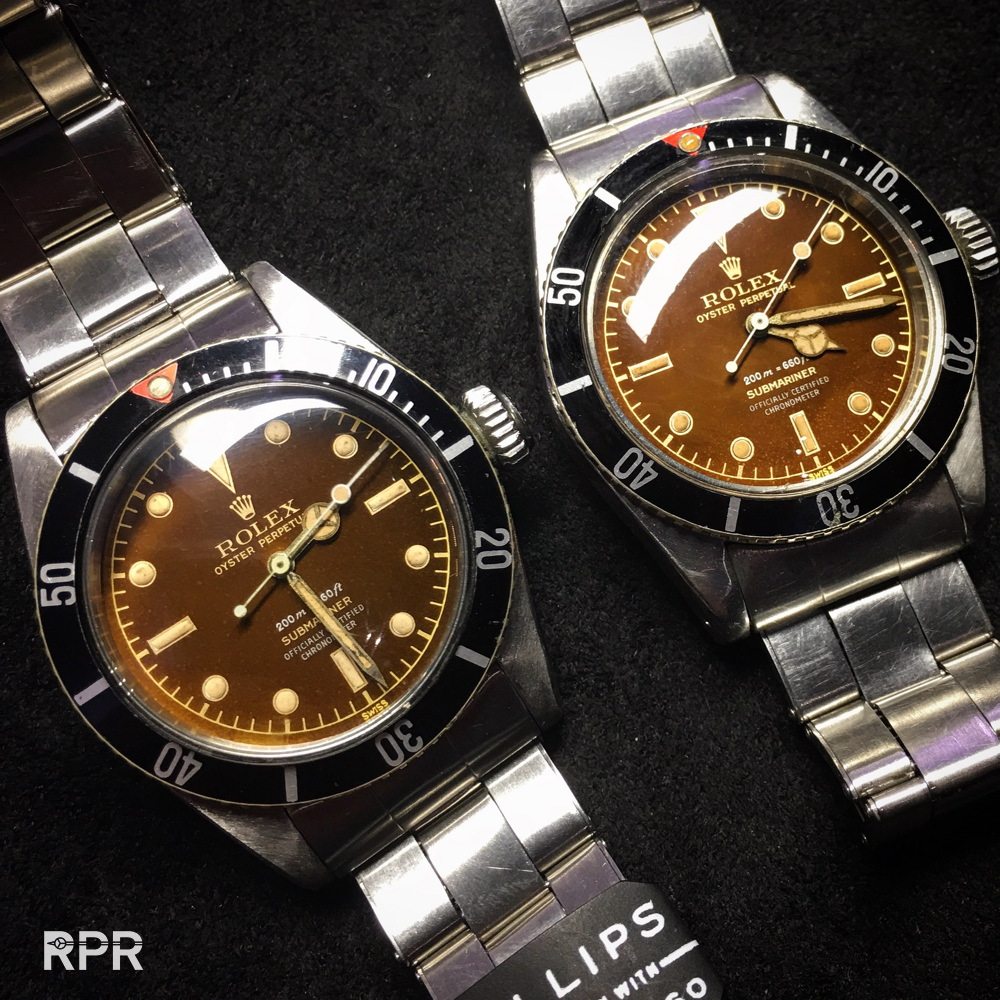 The Cloisonné Dragon sold for CHF 670.000,= all in.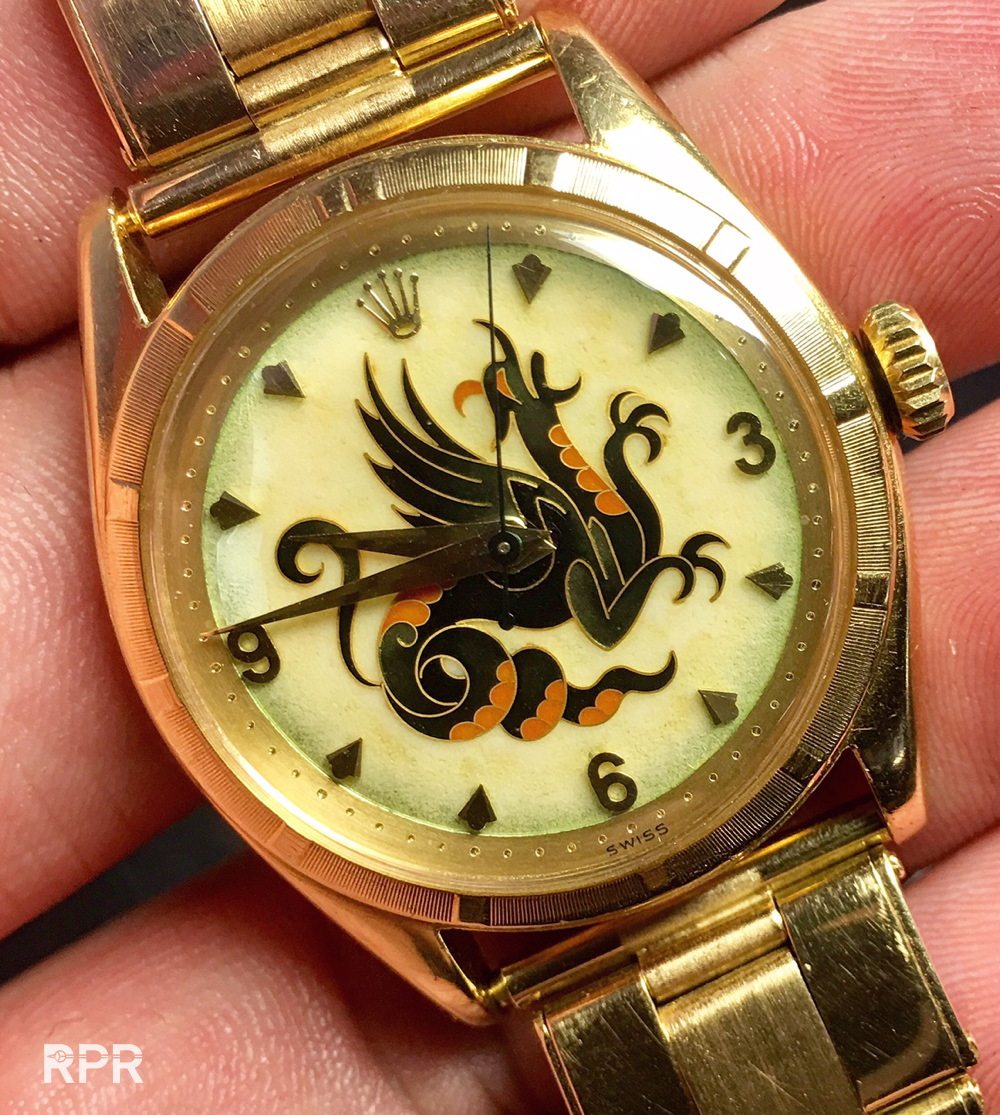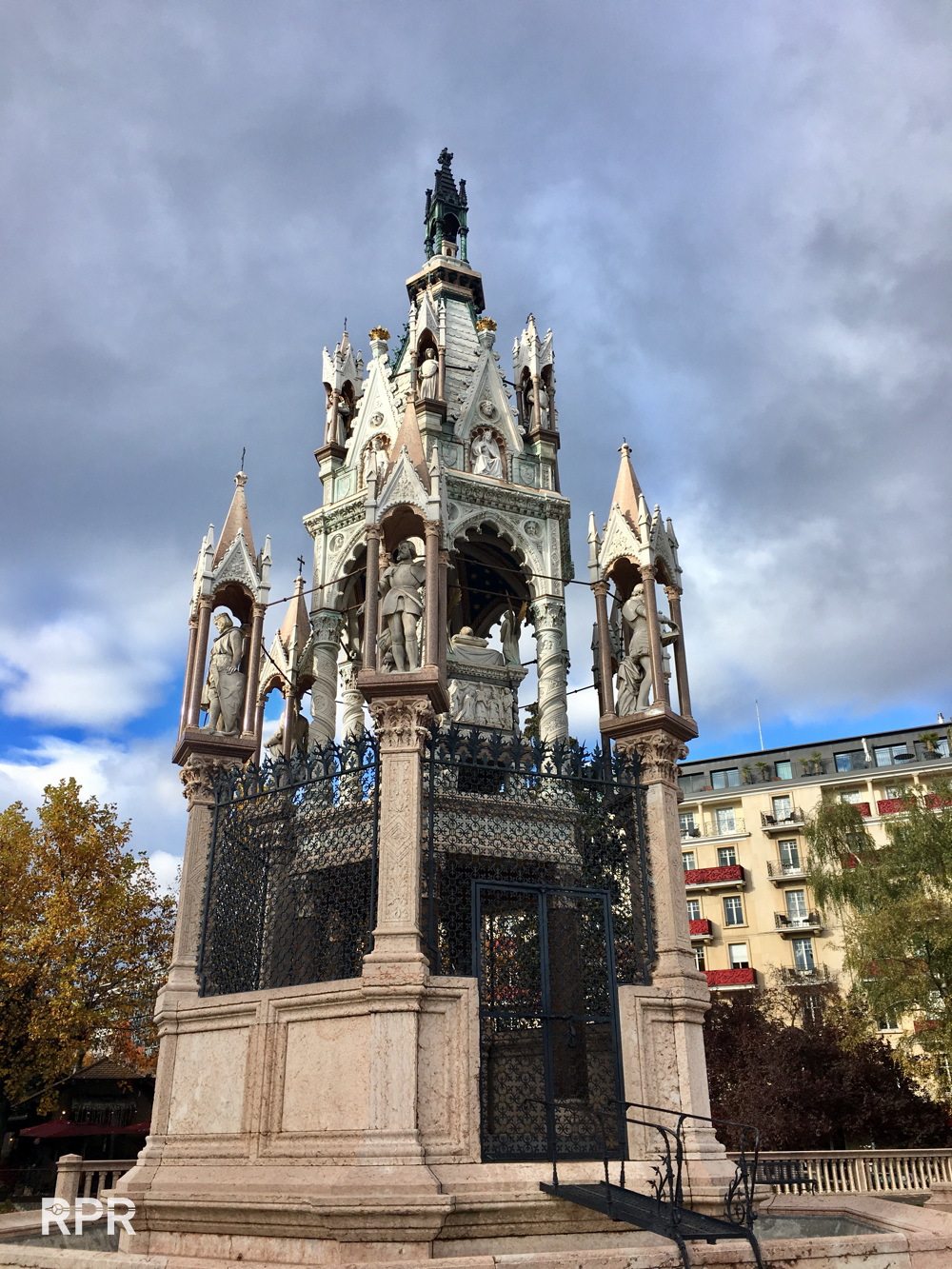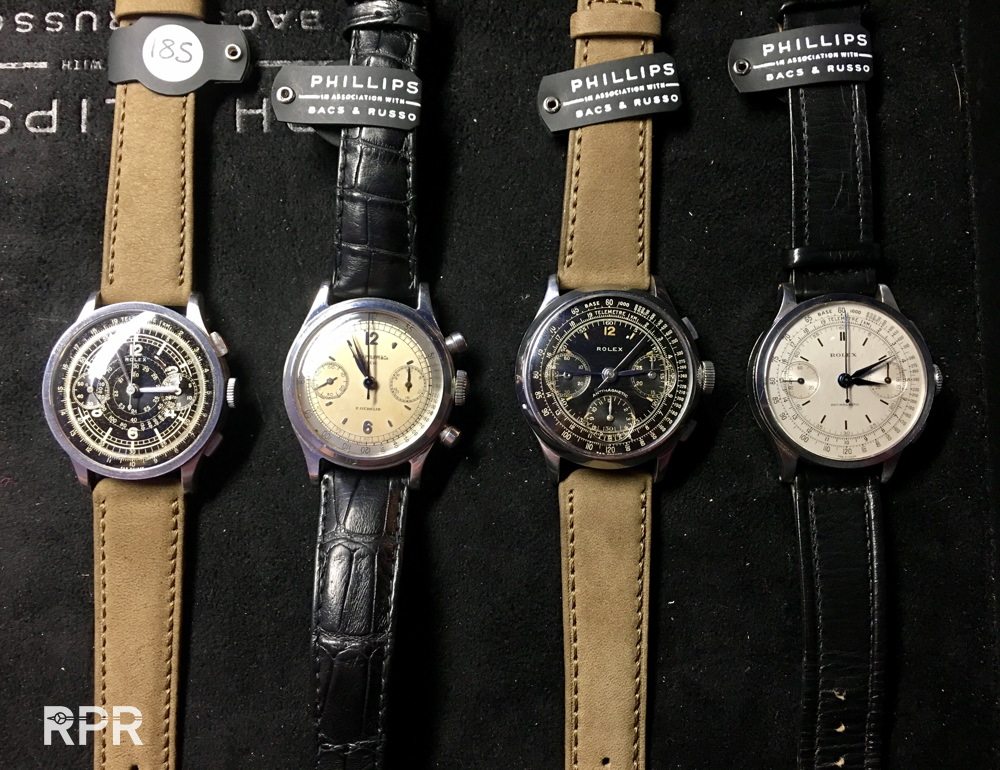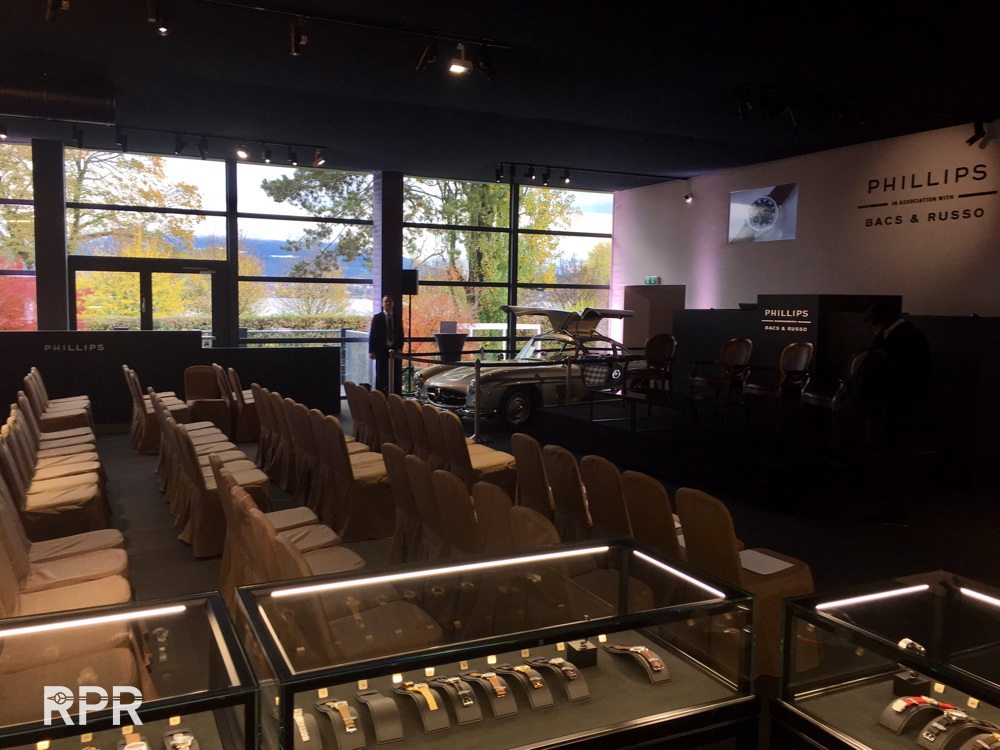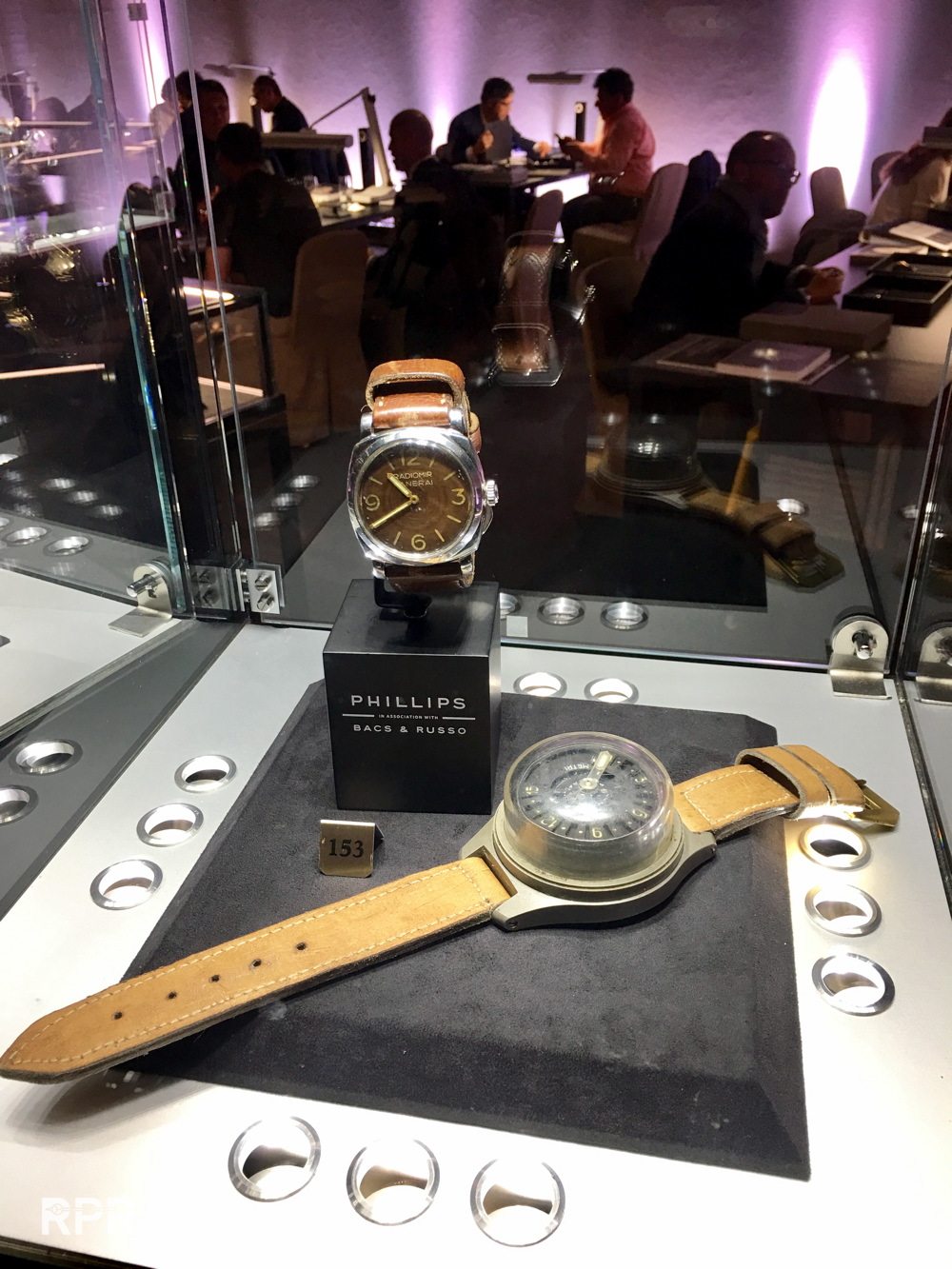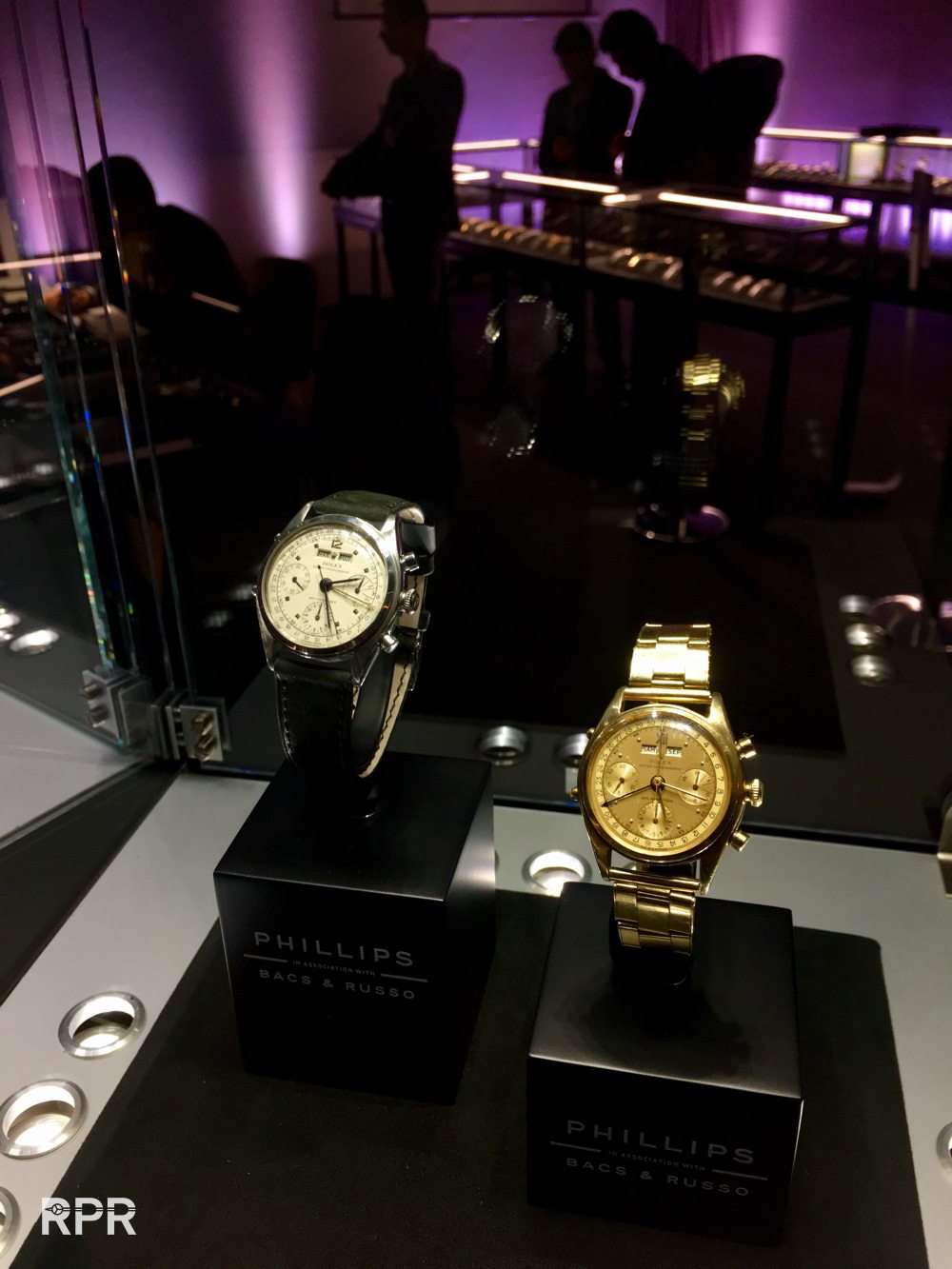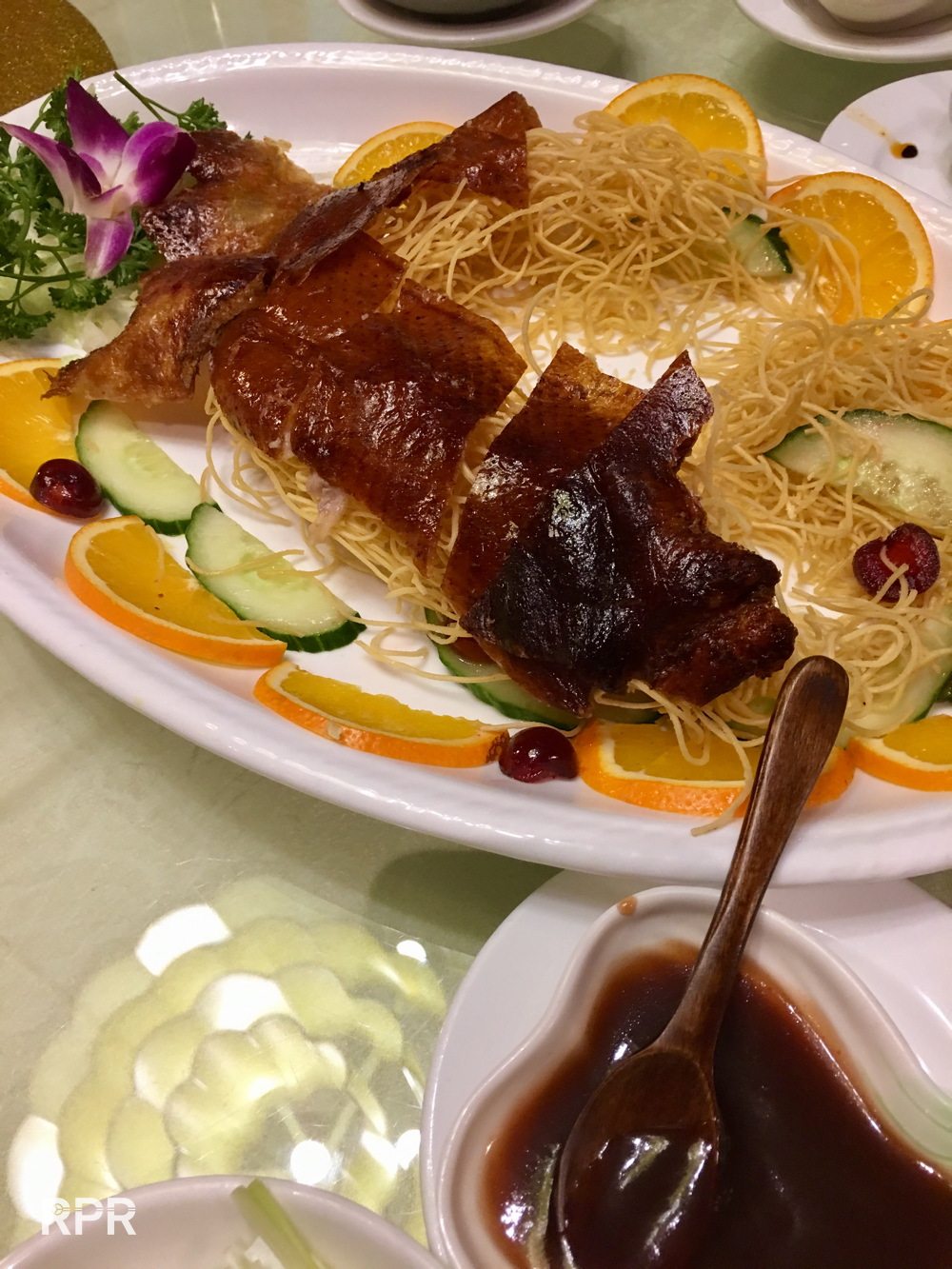 The Big Crown ref 6200 at Christies sold for CHF 272.000,= all in.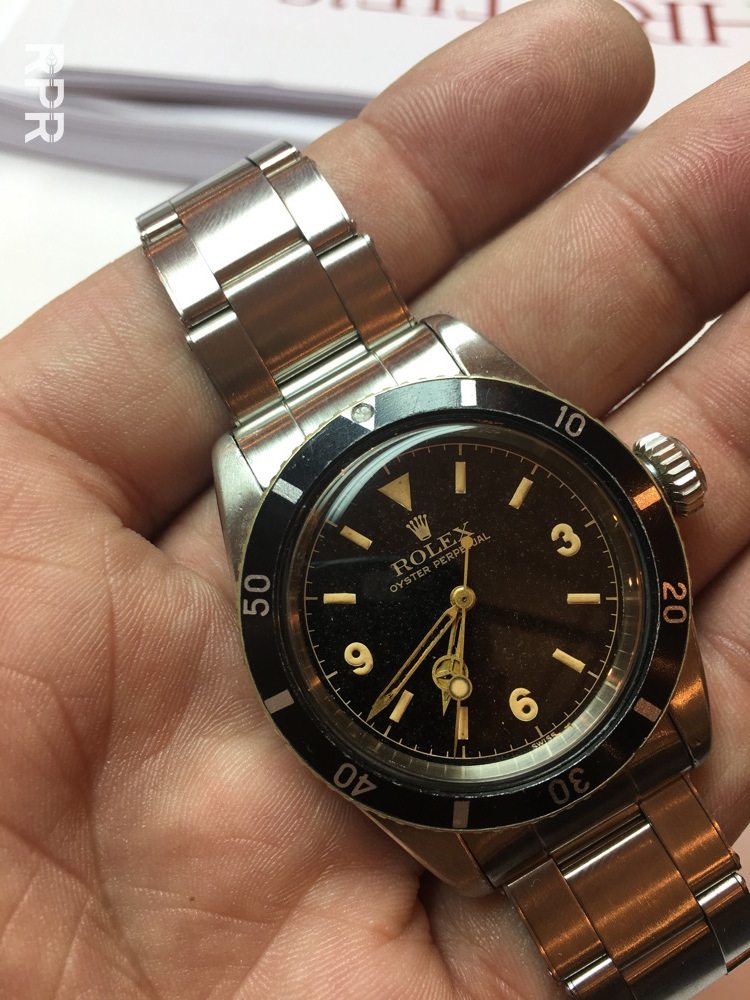 The Underline Doule Swiss Daytona Ref 6239 sold at Phillips all in for CHF 310.000,=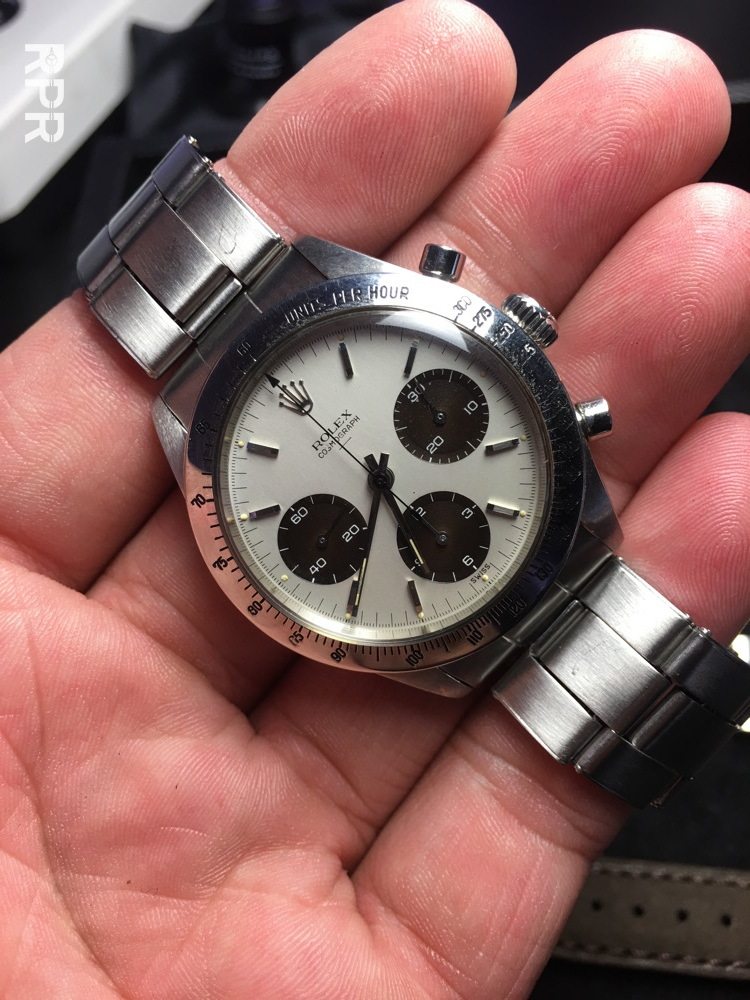 The PPC ref 1463 Gubelin sold for CHF 337.500,=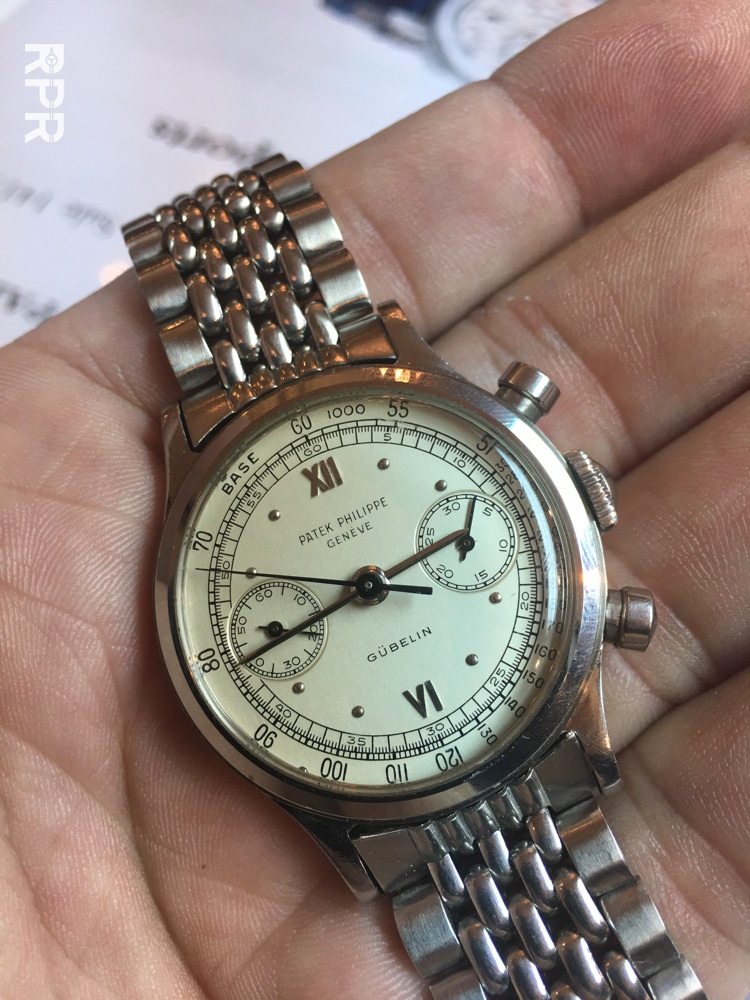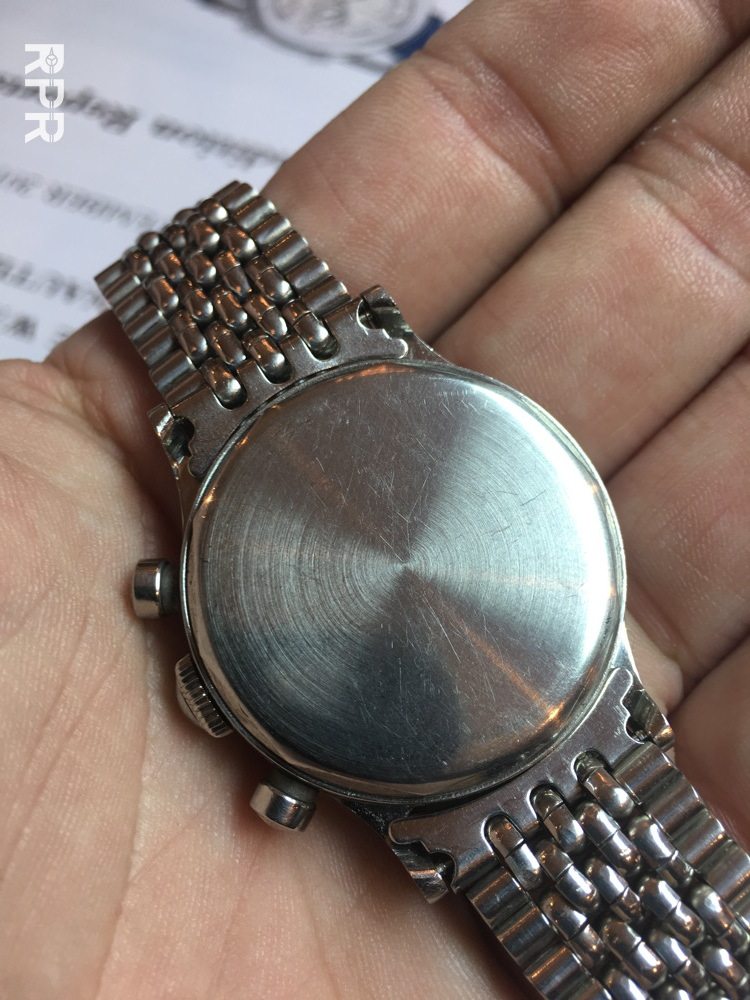 The UAE Daytona sold at Christie's for CHF 235.500,=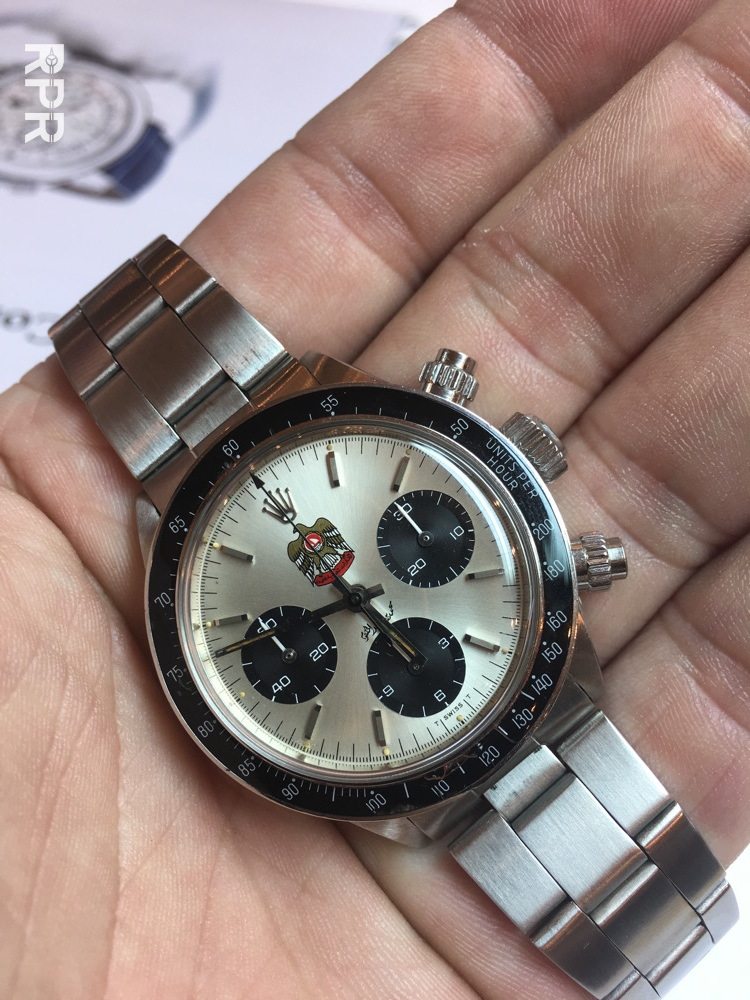 This below yellow gold star dialed Ref 6062 sold for CHF 175.000,=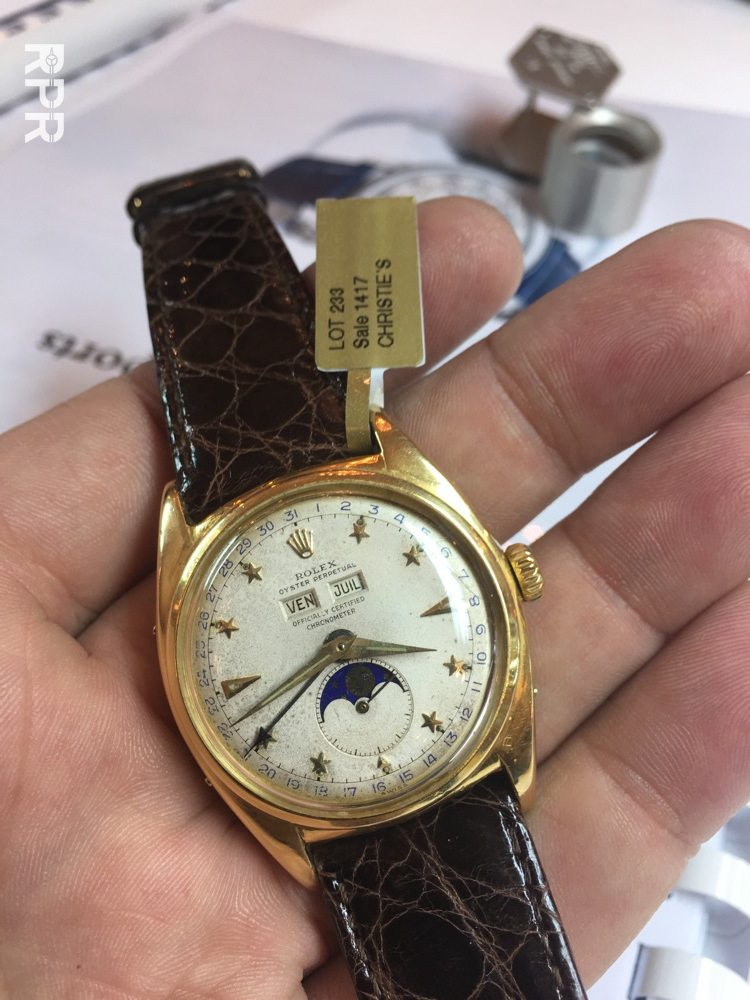 The yellow gold Paul Newman ref 6241 sold for CHF 295.500,=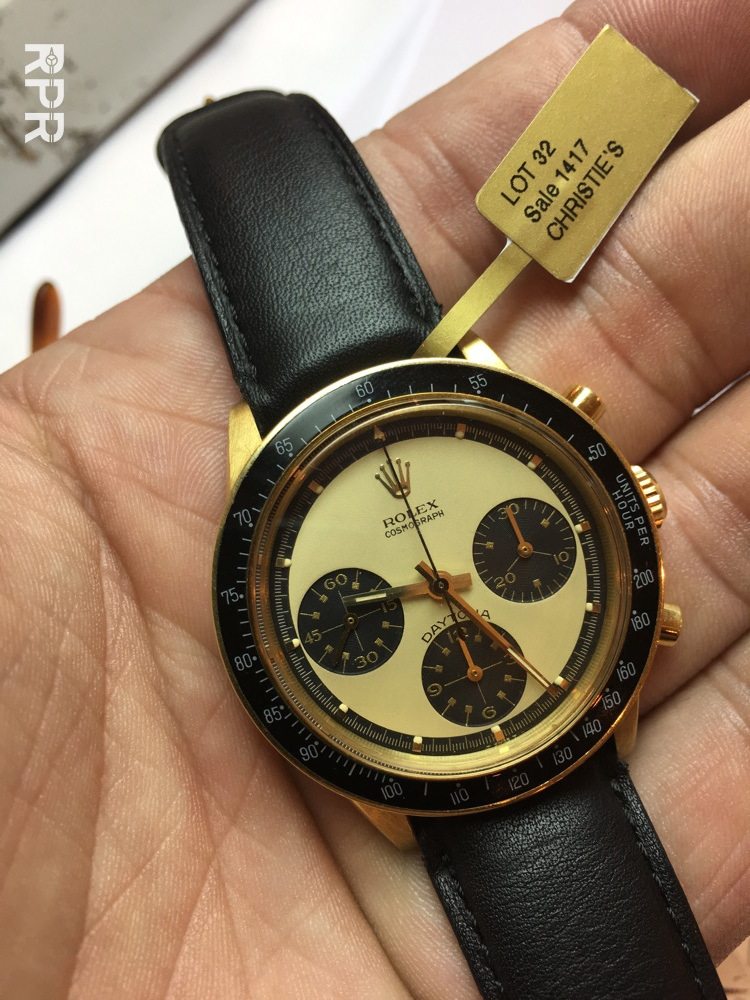 The below underline double swiss did not sell…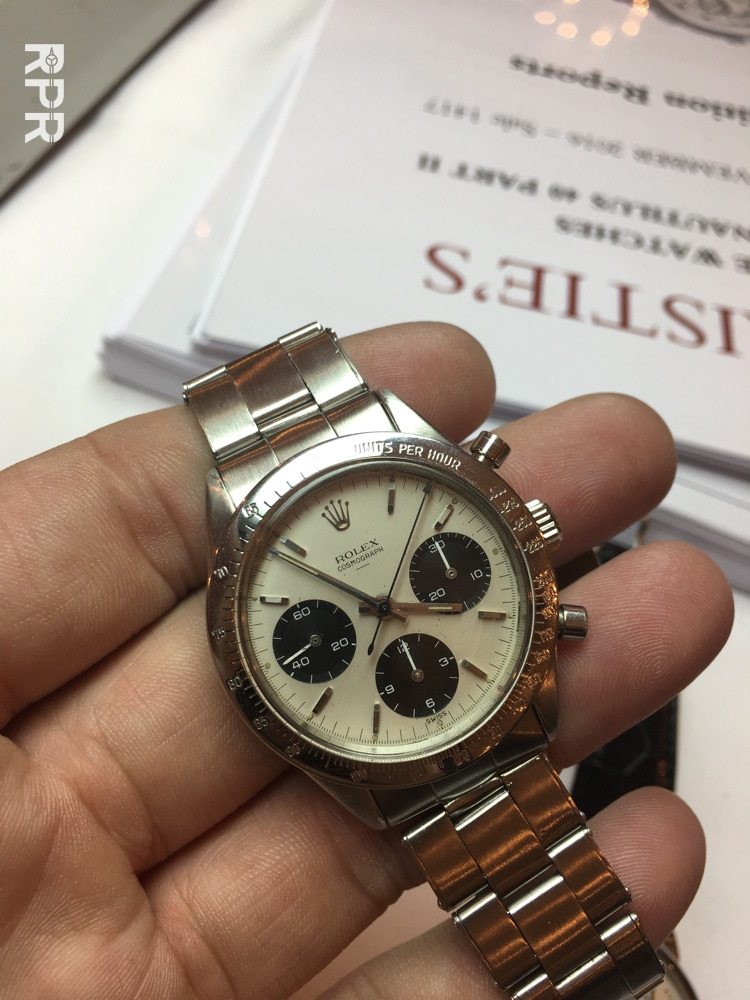 The military Rolex Ref 5513 sold for CHF 162.500,=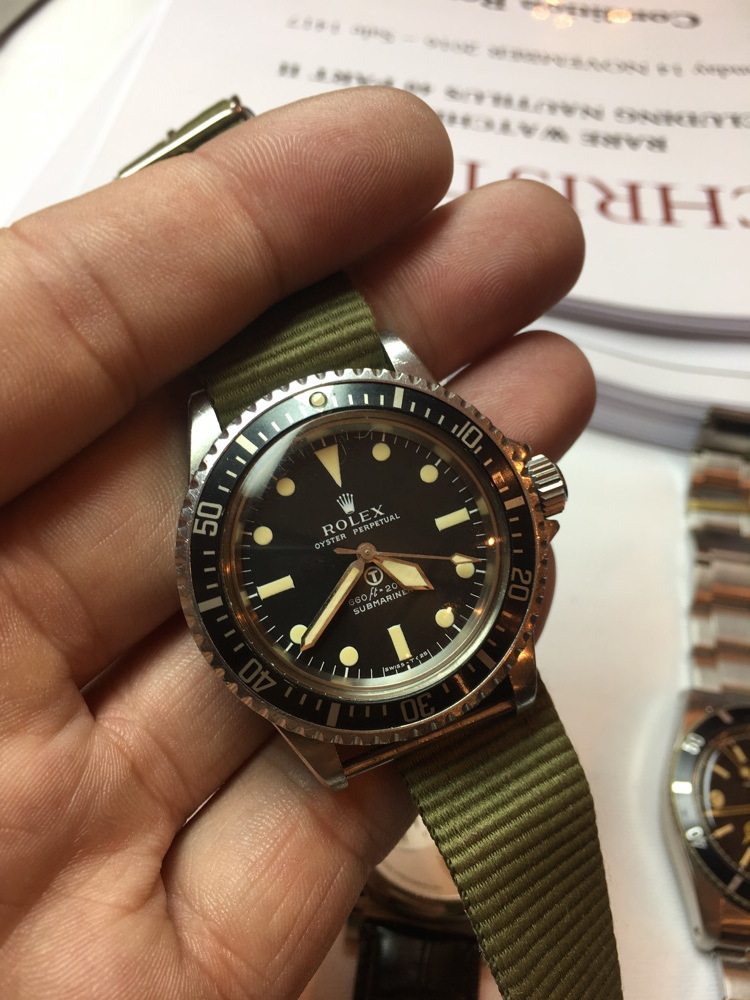 This crisp Explorer Ref 6610 with interesting Everest case back engraving sold for CHF 47.500,=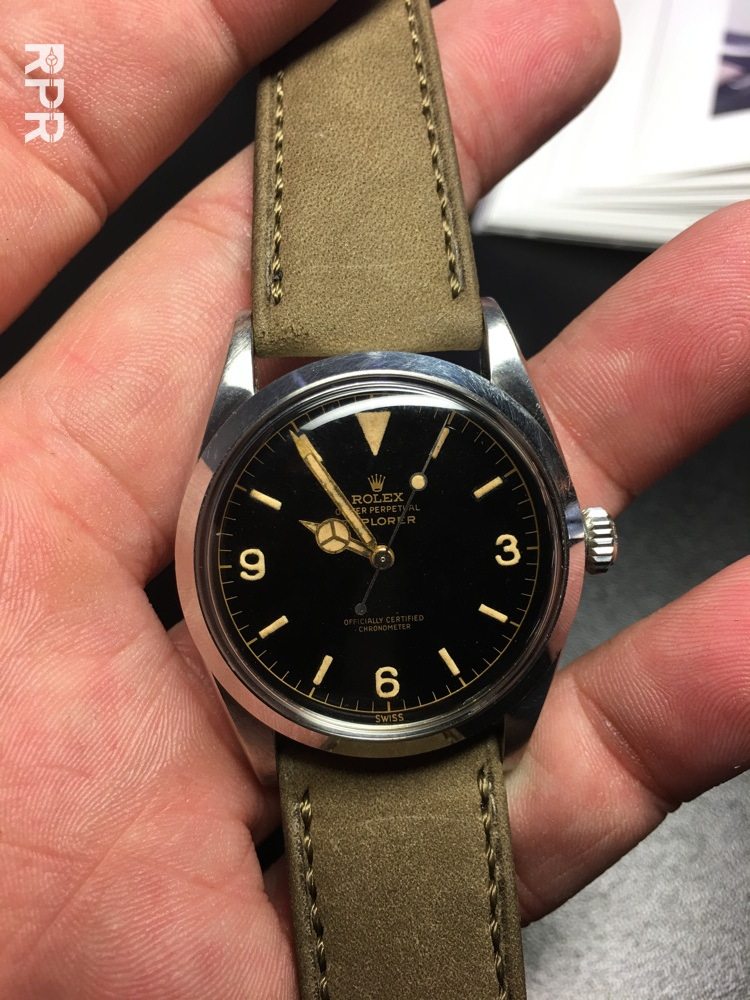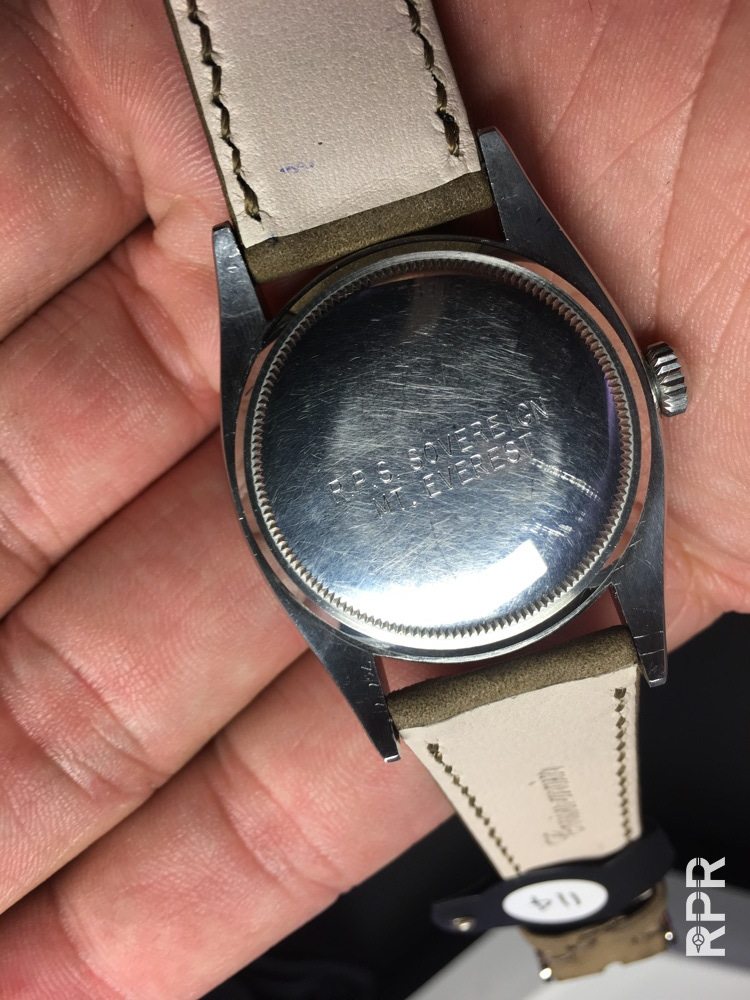 The so far unique Brequet valjoux 88 sold for CHF 286.000,=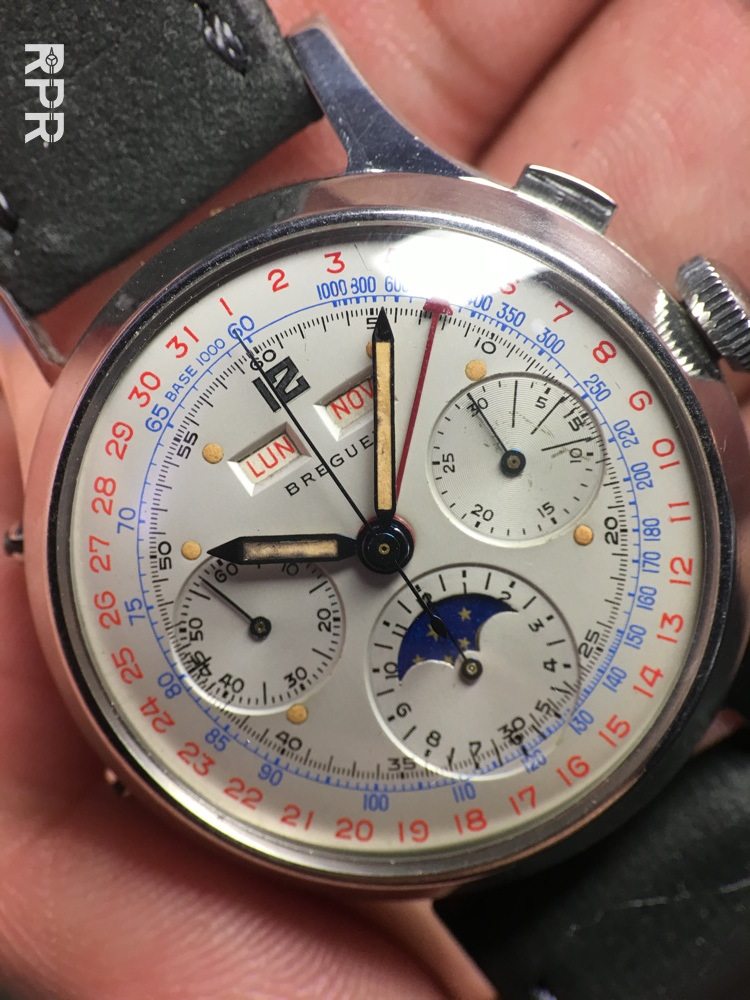 The Jack Brabam Breguet XX sold for CHF 68.750,=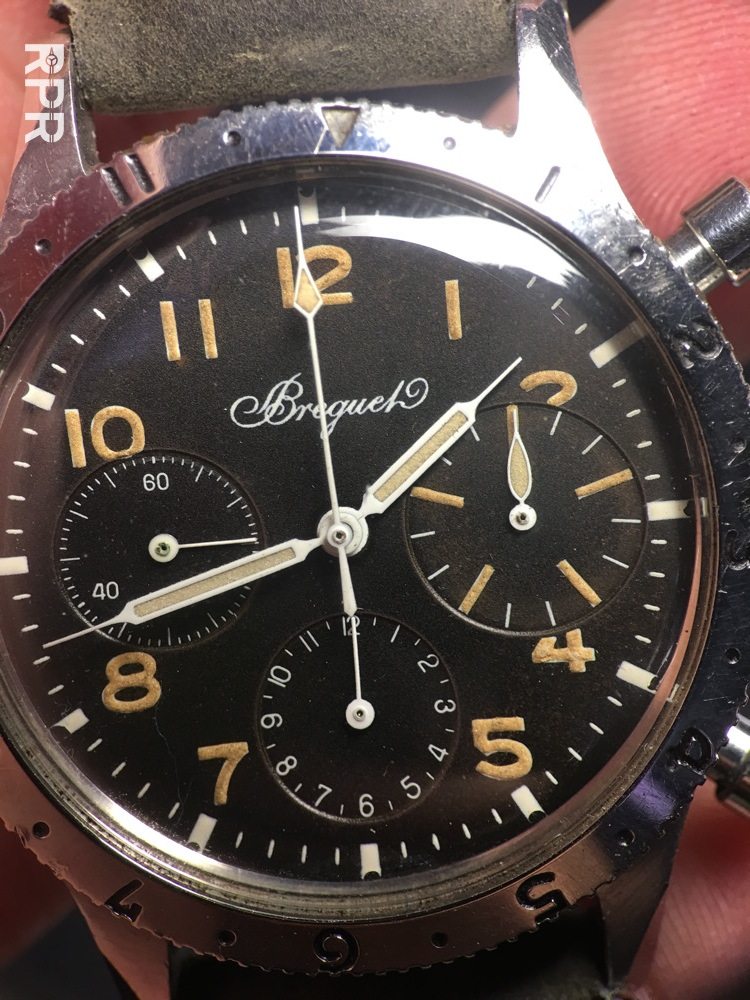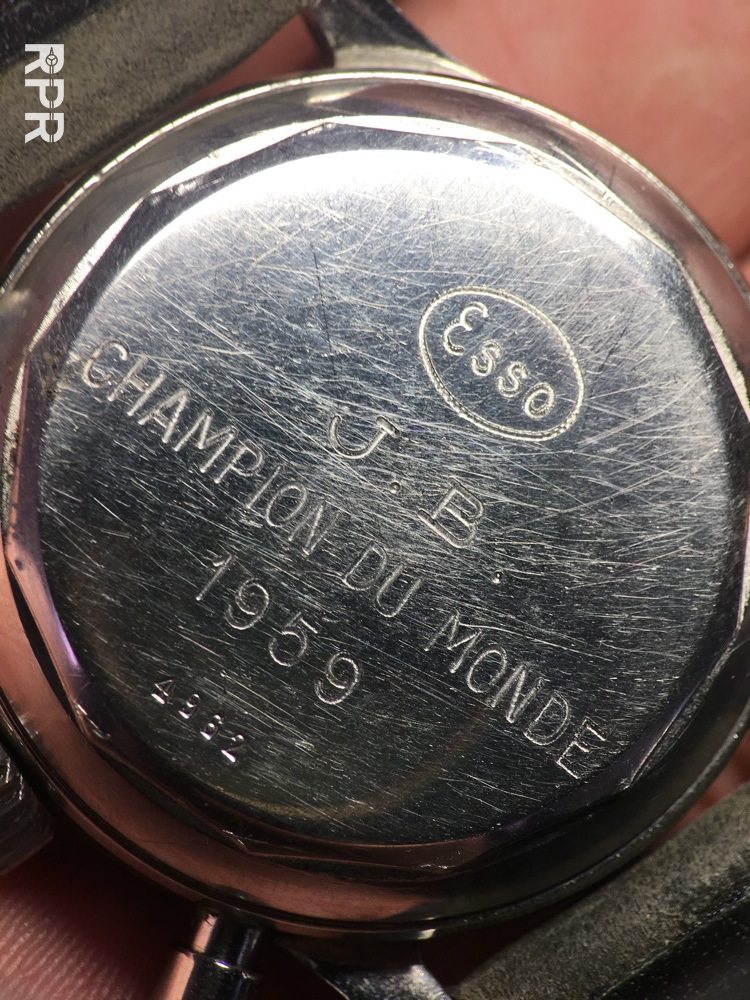 The Comex Sub  not having the correct dial version) sold nevertheless for CHF 75.000,=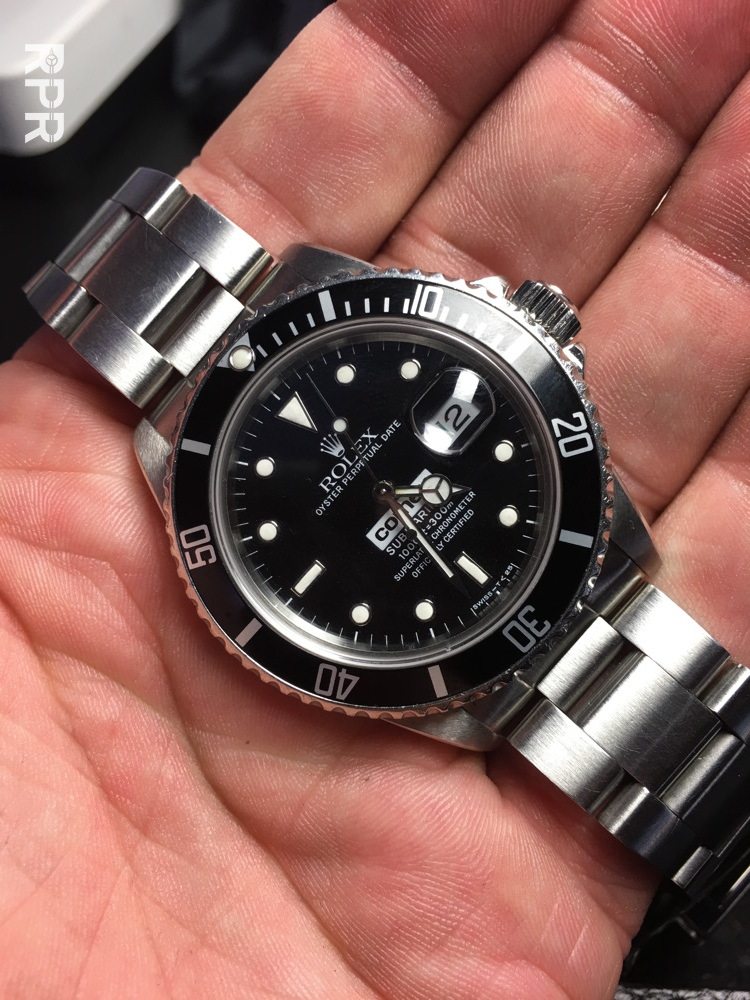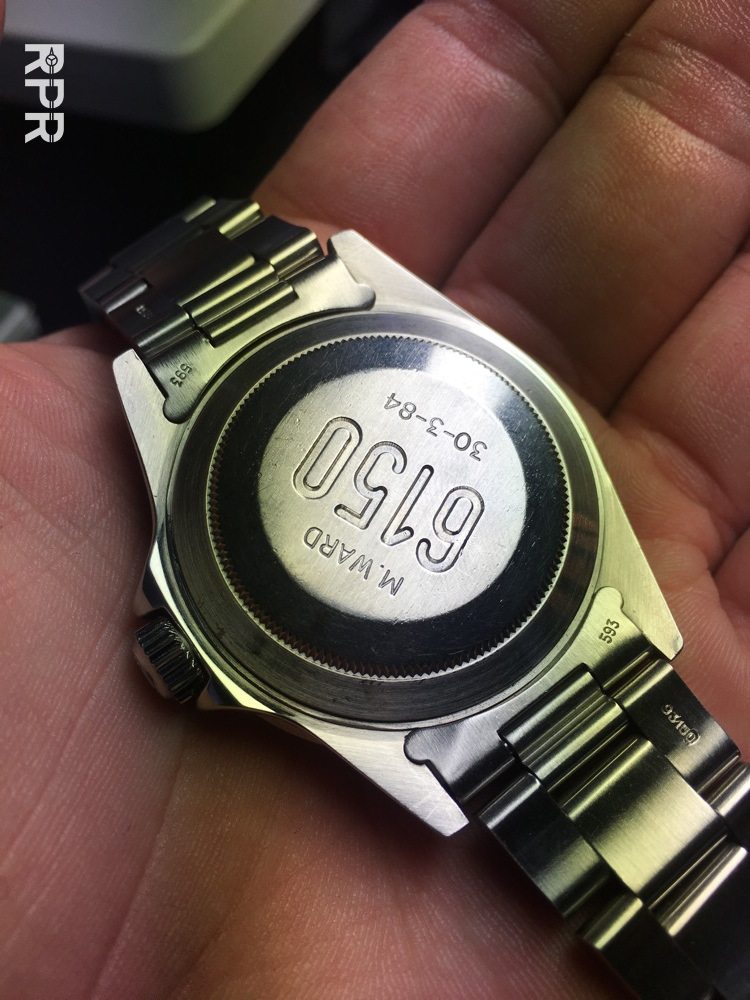 The über rare and crisp Jaeger le Coultre Geophysic sold for CHF 68.750,=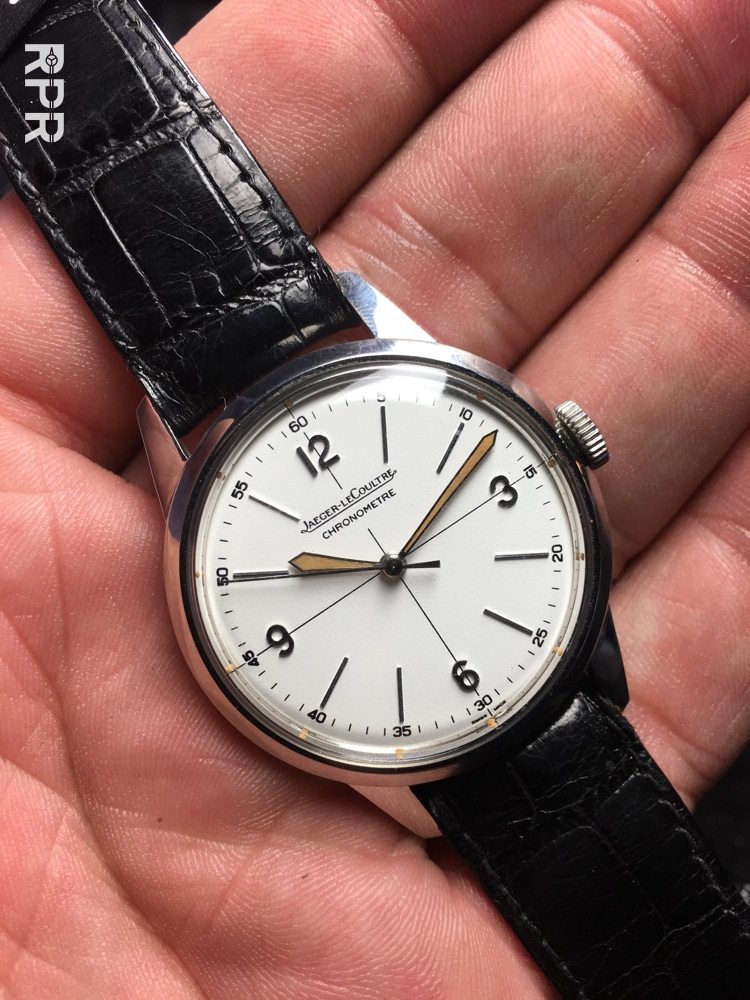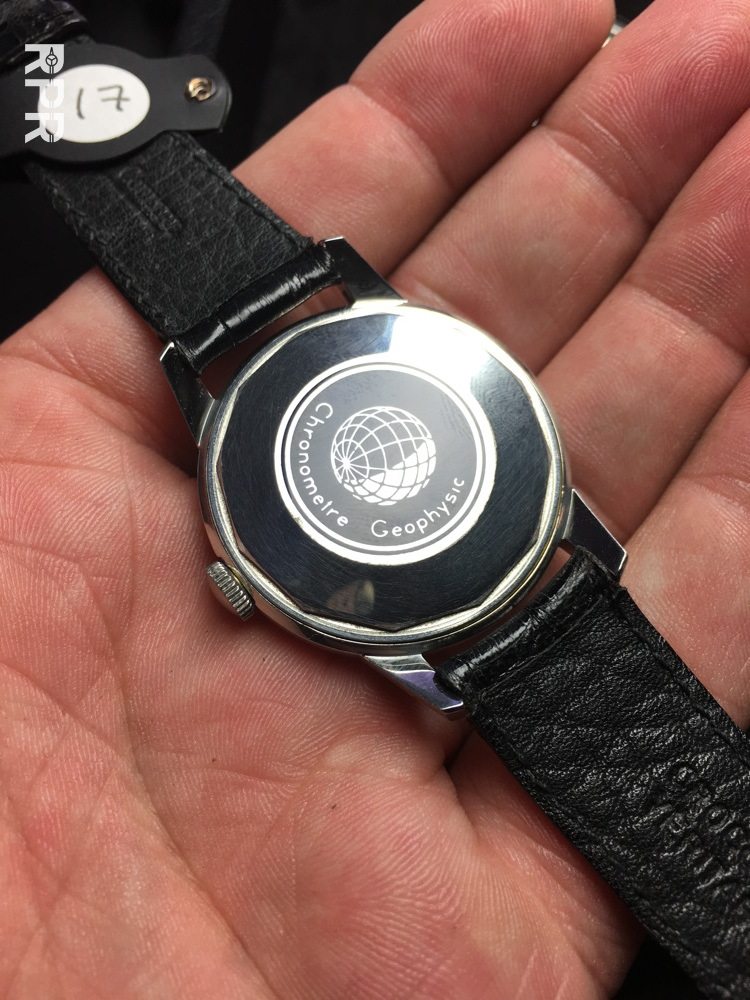 The grail Panerai Ref 6154 ex Hammer sold for CHF 322.000,=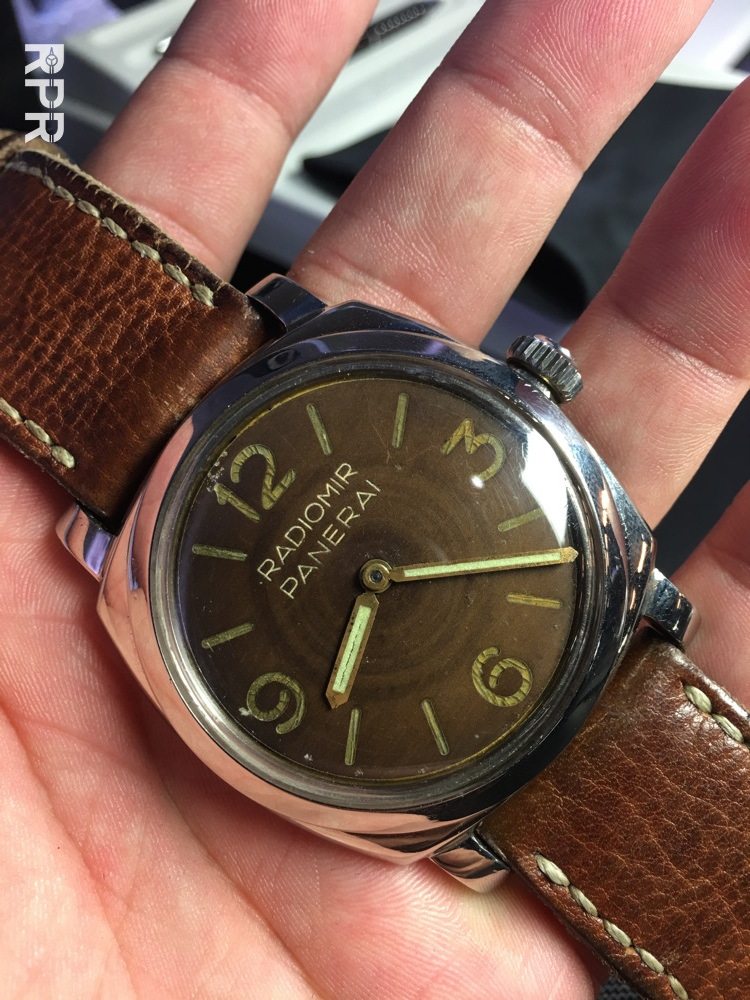 The original owner gold Killy sold for CHF 310.000,=
The libian Army Sub sold for CHF 35.000,=
The gold Killy Ref 6036 sold for CHF 223.500,=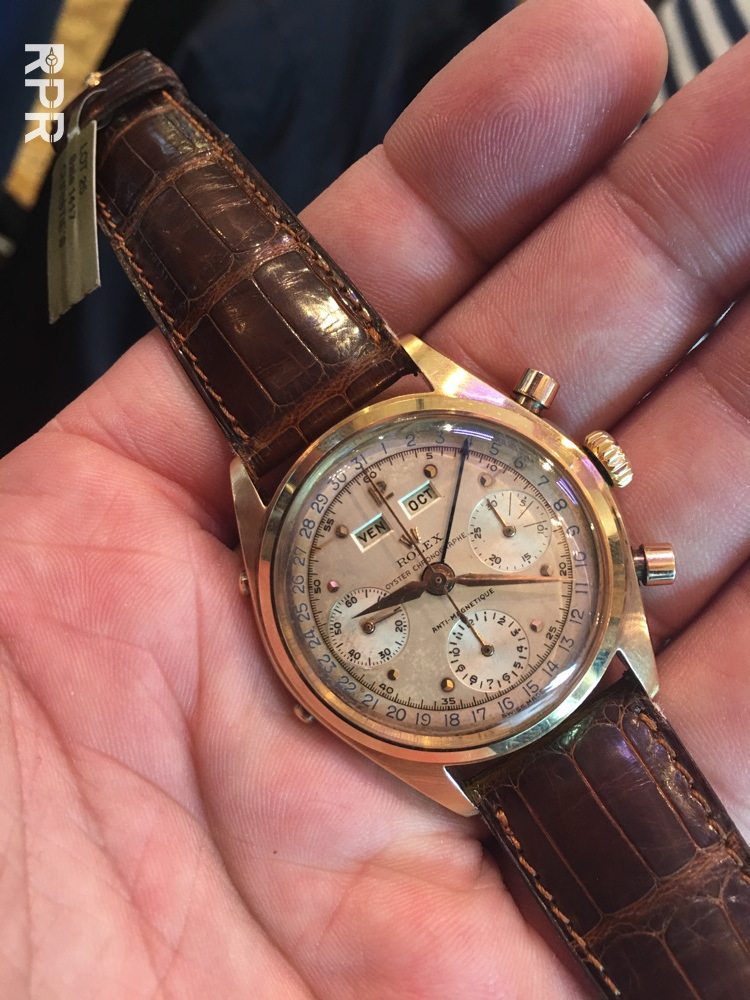 The perpetual calendar Audemars Piquet sold for CHF 125.000,=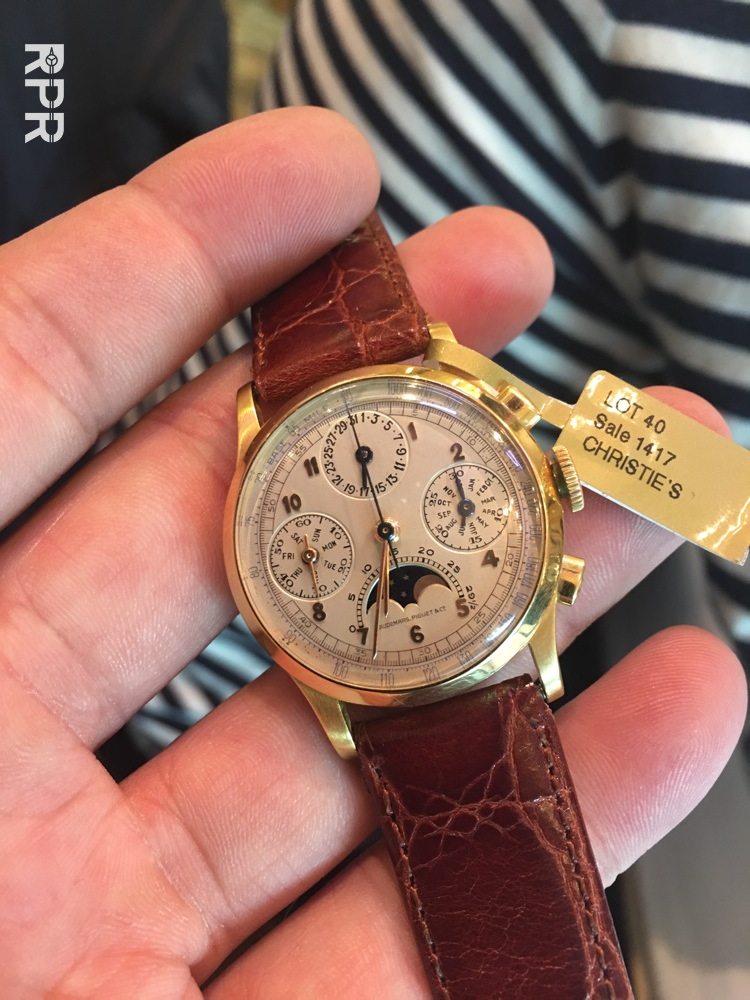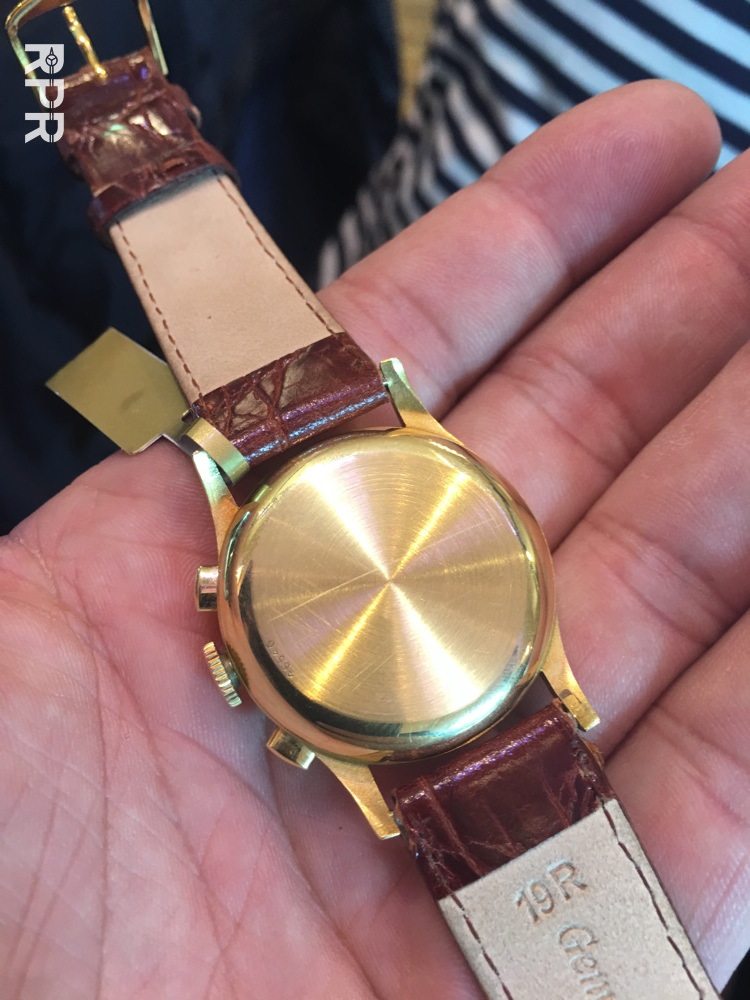 Stella Day Dates at Phillips….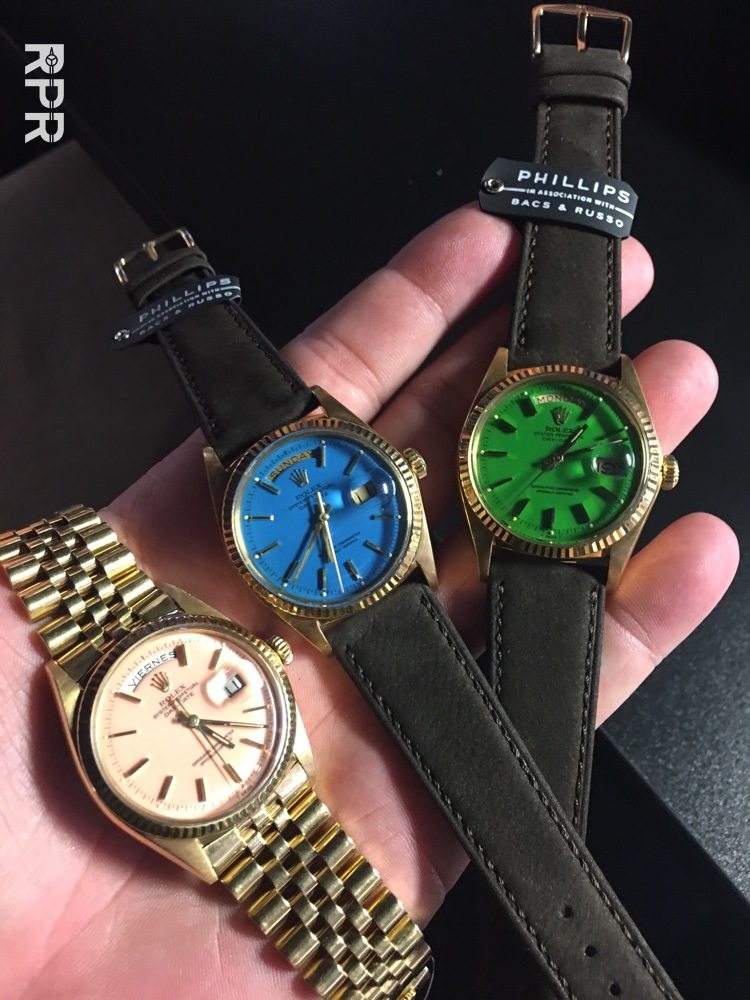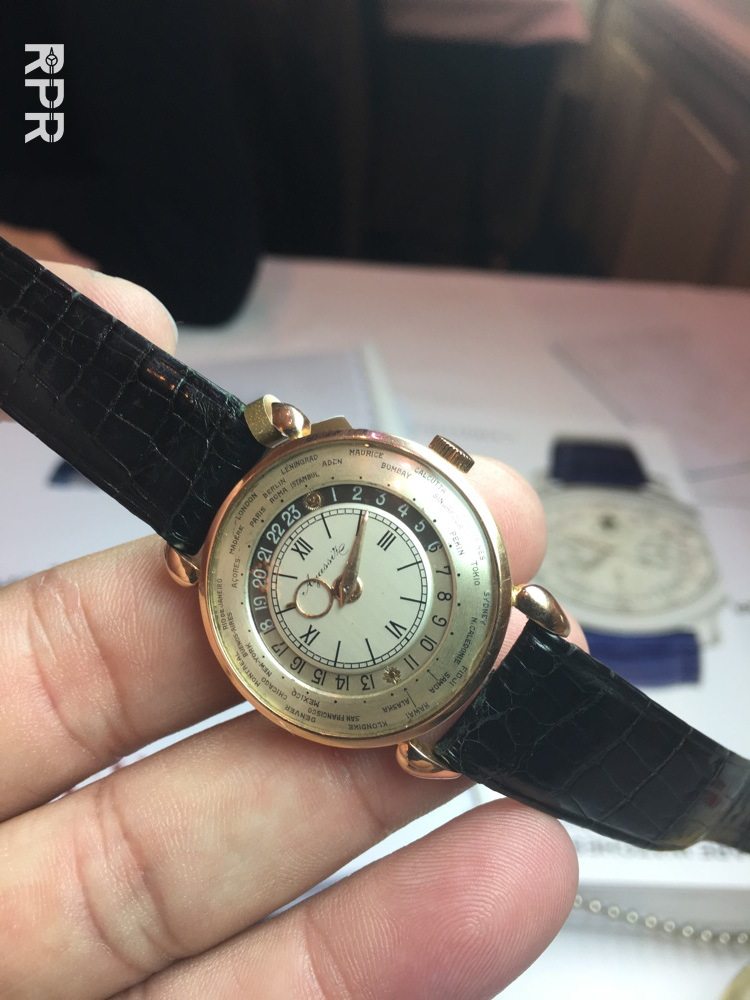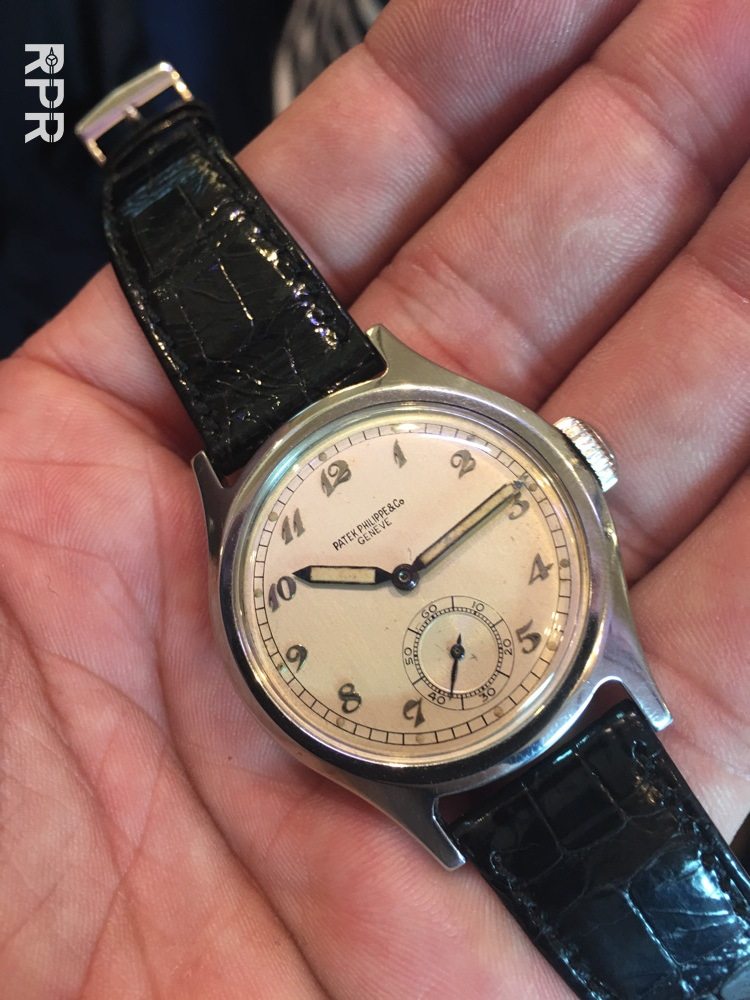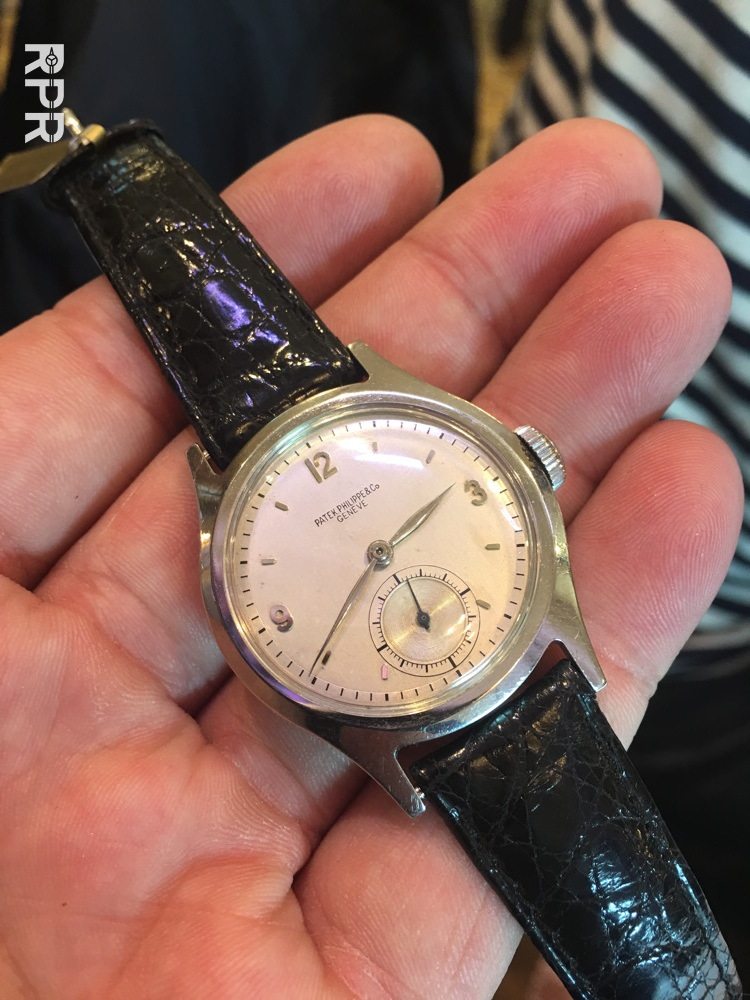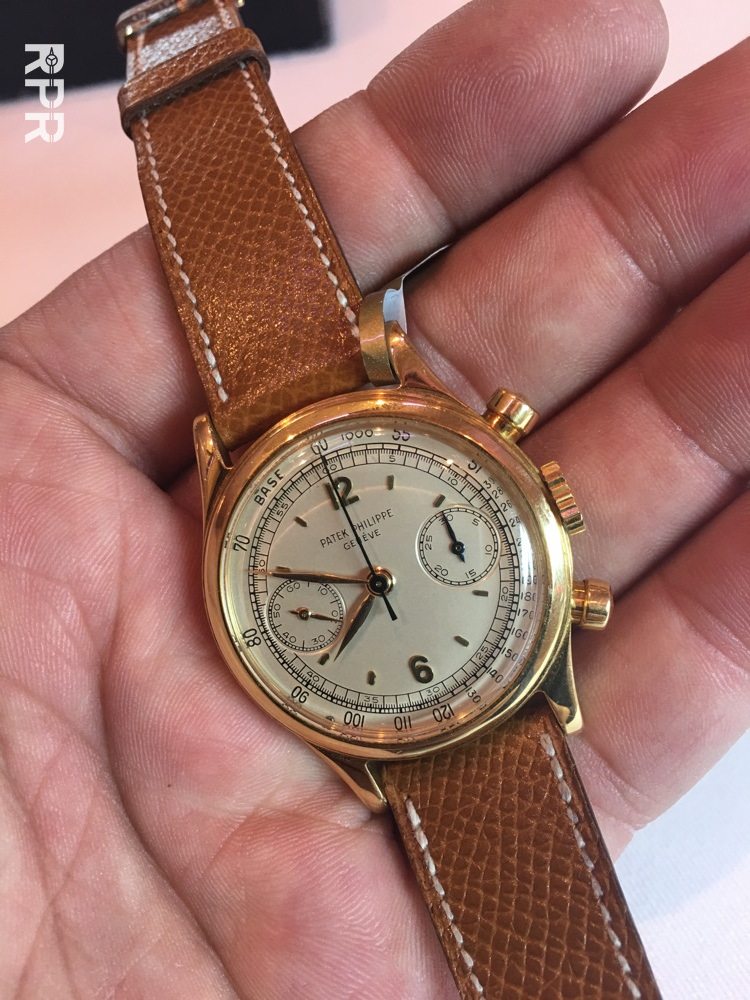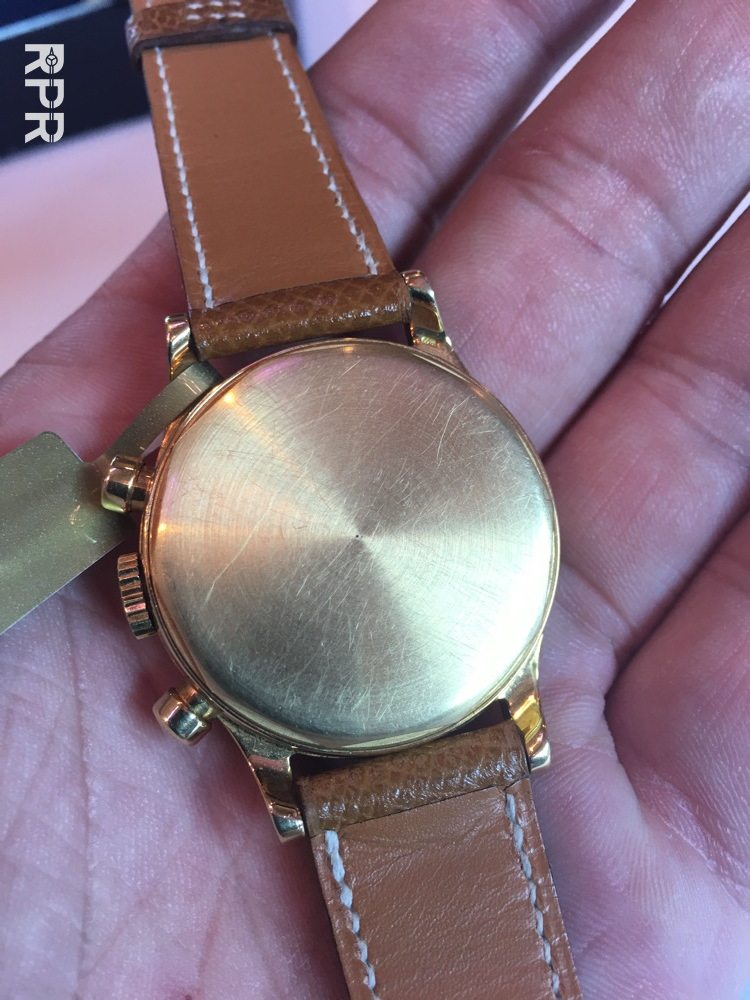 The Blueberry bezel added to a regular GMT master ref 1675 sold for CHF 30.000,=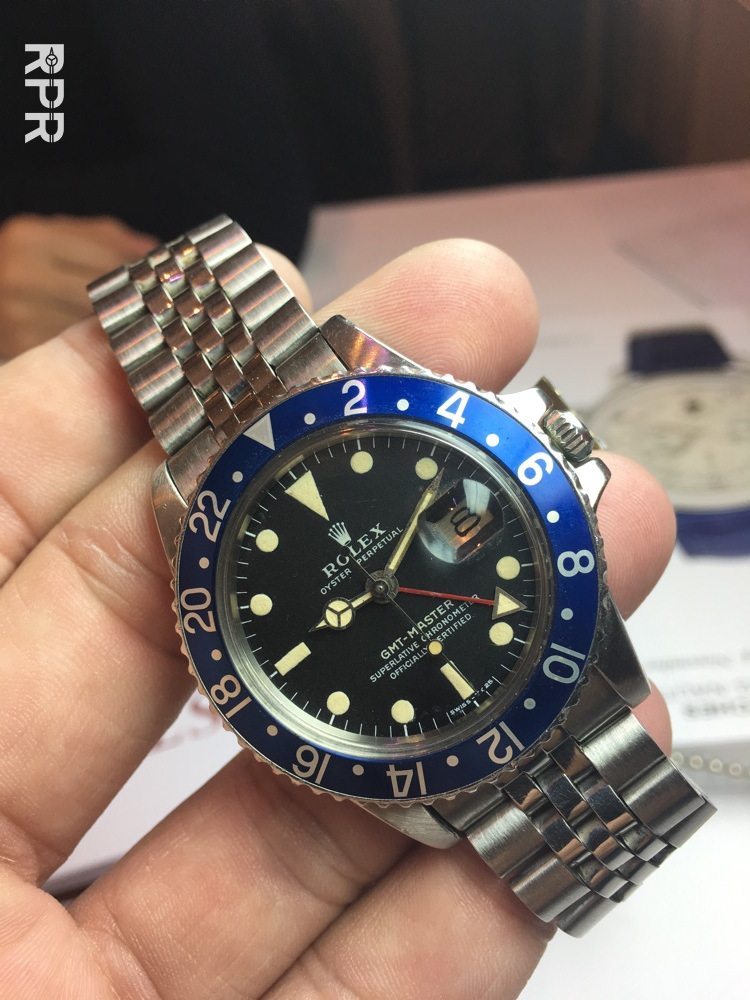 If your baby needs a leather bambi in her room, it's for sale at Hermes for CHF 140.000,= !!
Obligatory cheese fondue…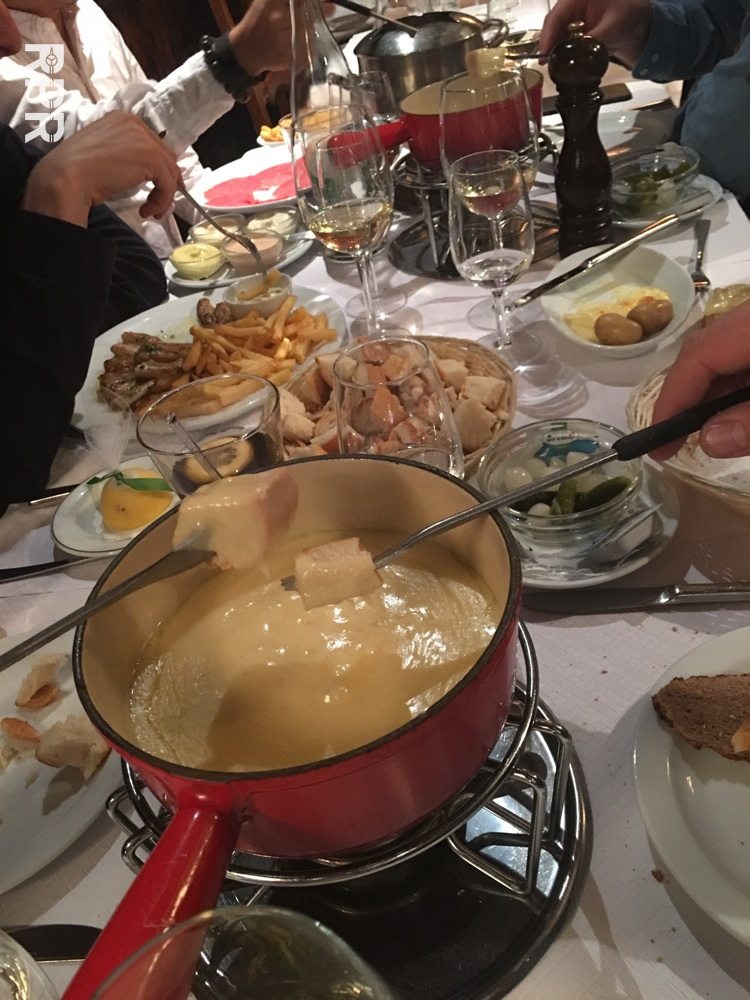 Sotheby's at Beau Rivage…
Christie's on monday..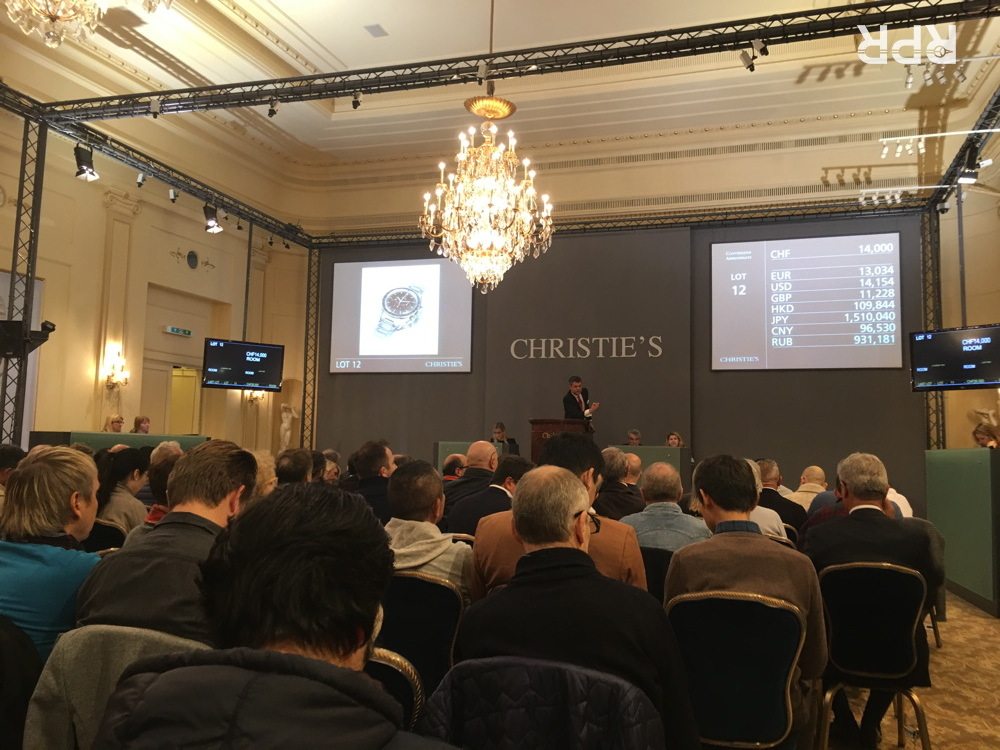 On the wrist by my friends…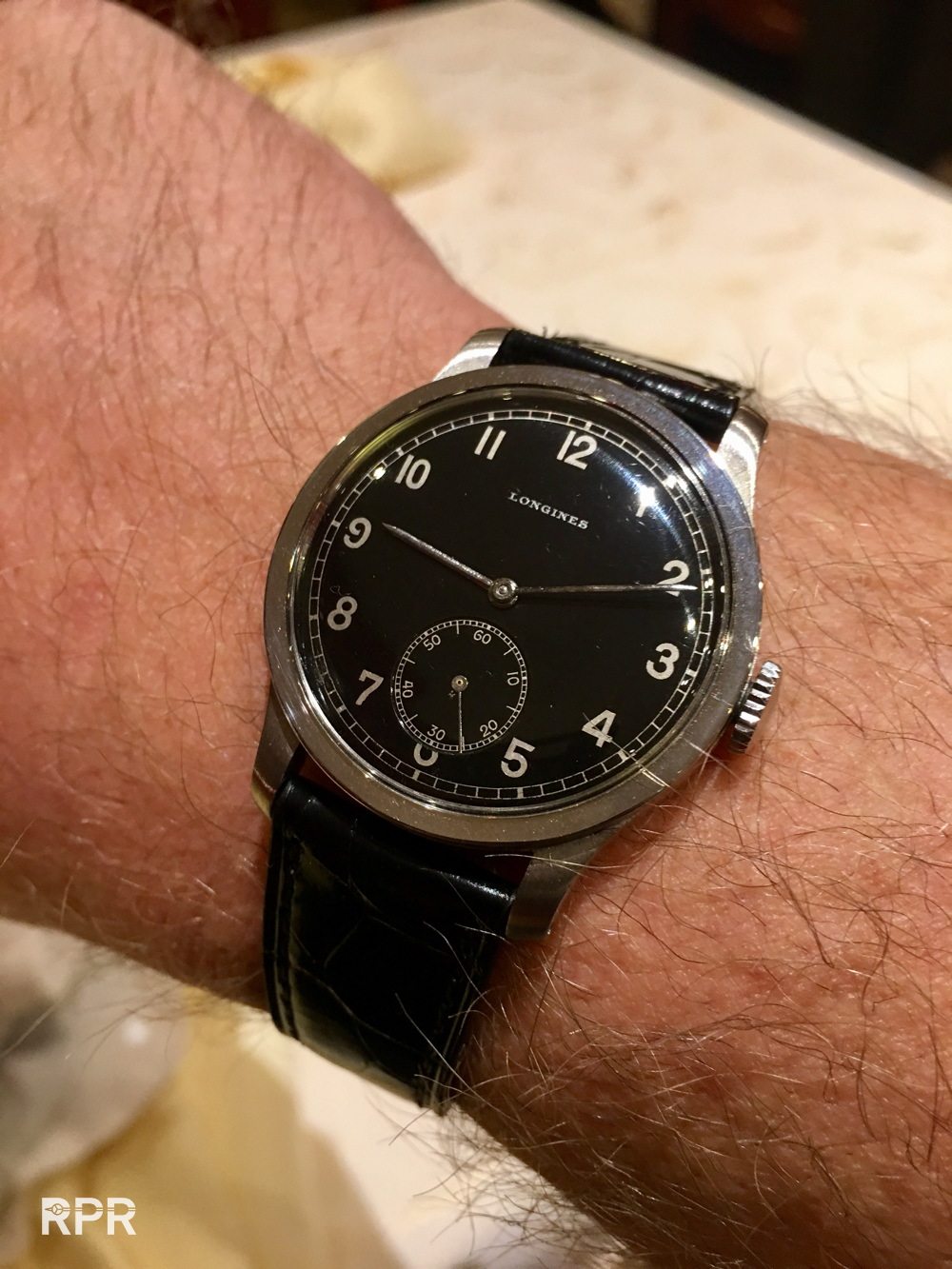 simplicity is in…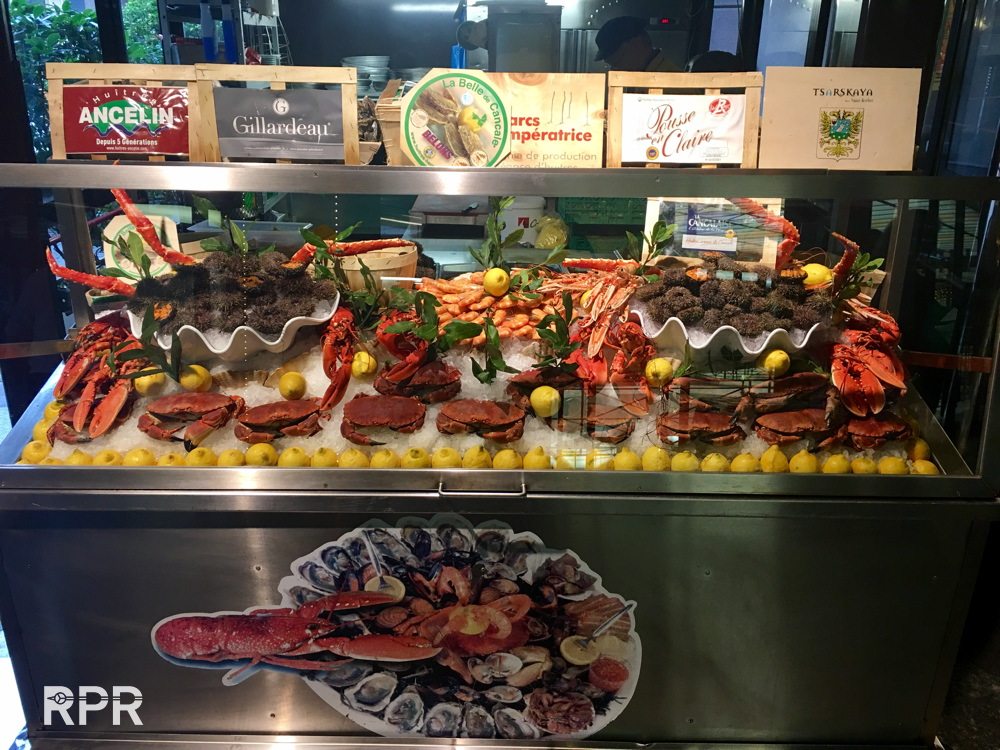 Brasserie Lipp in Geneva….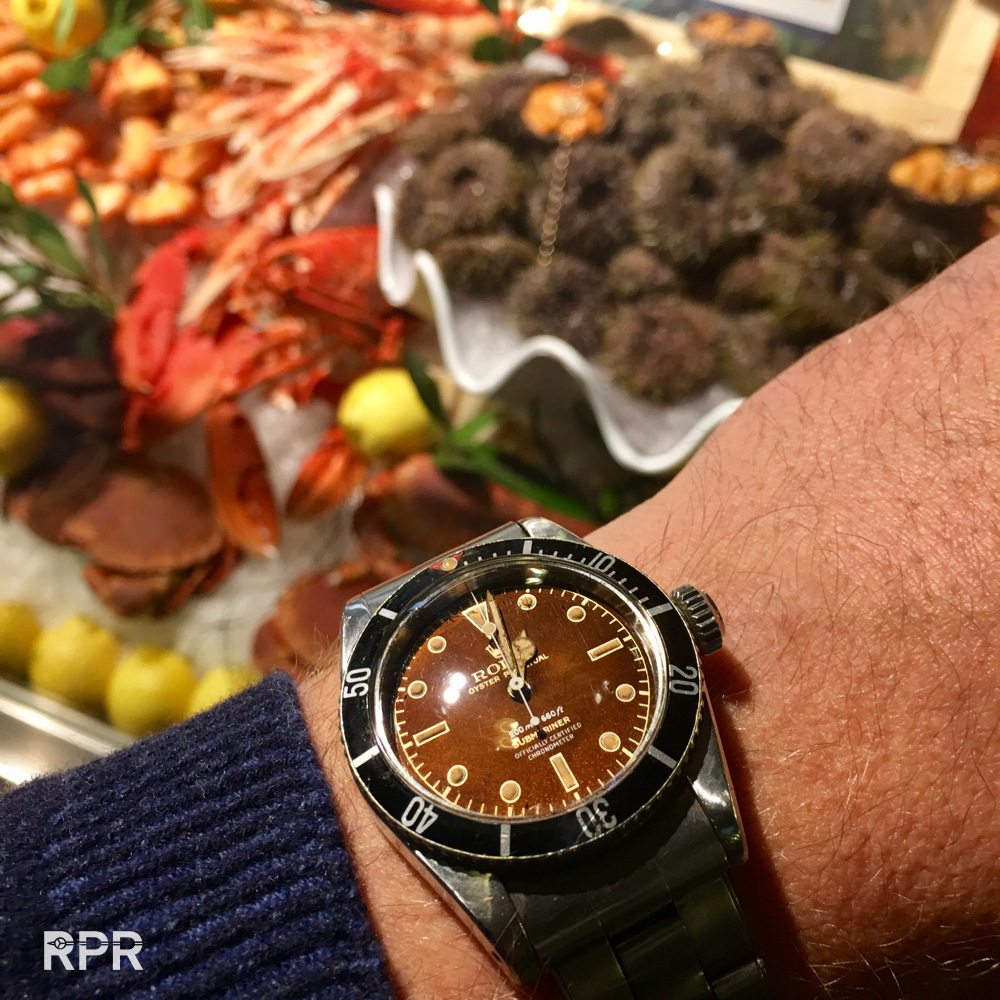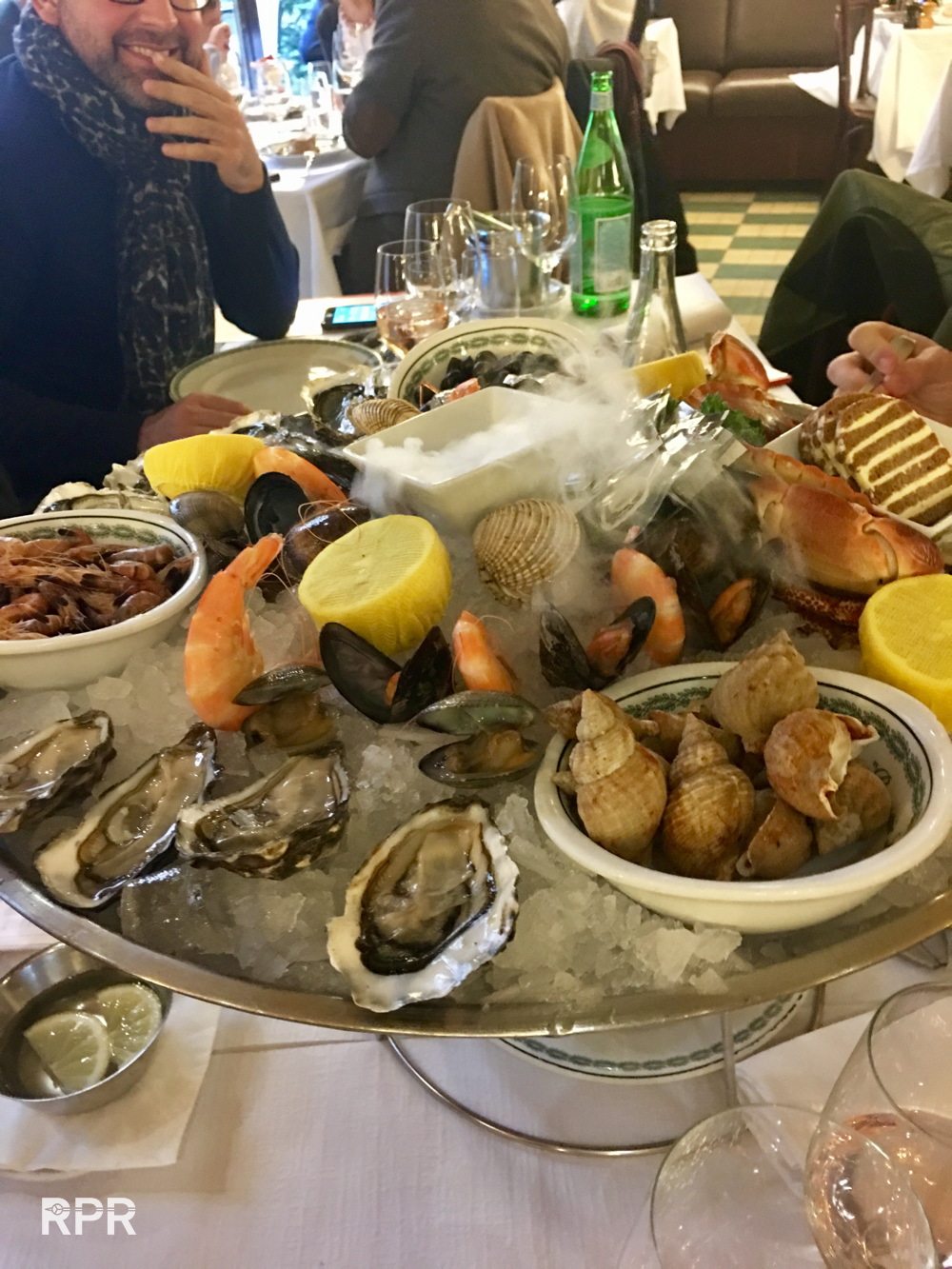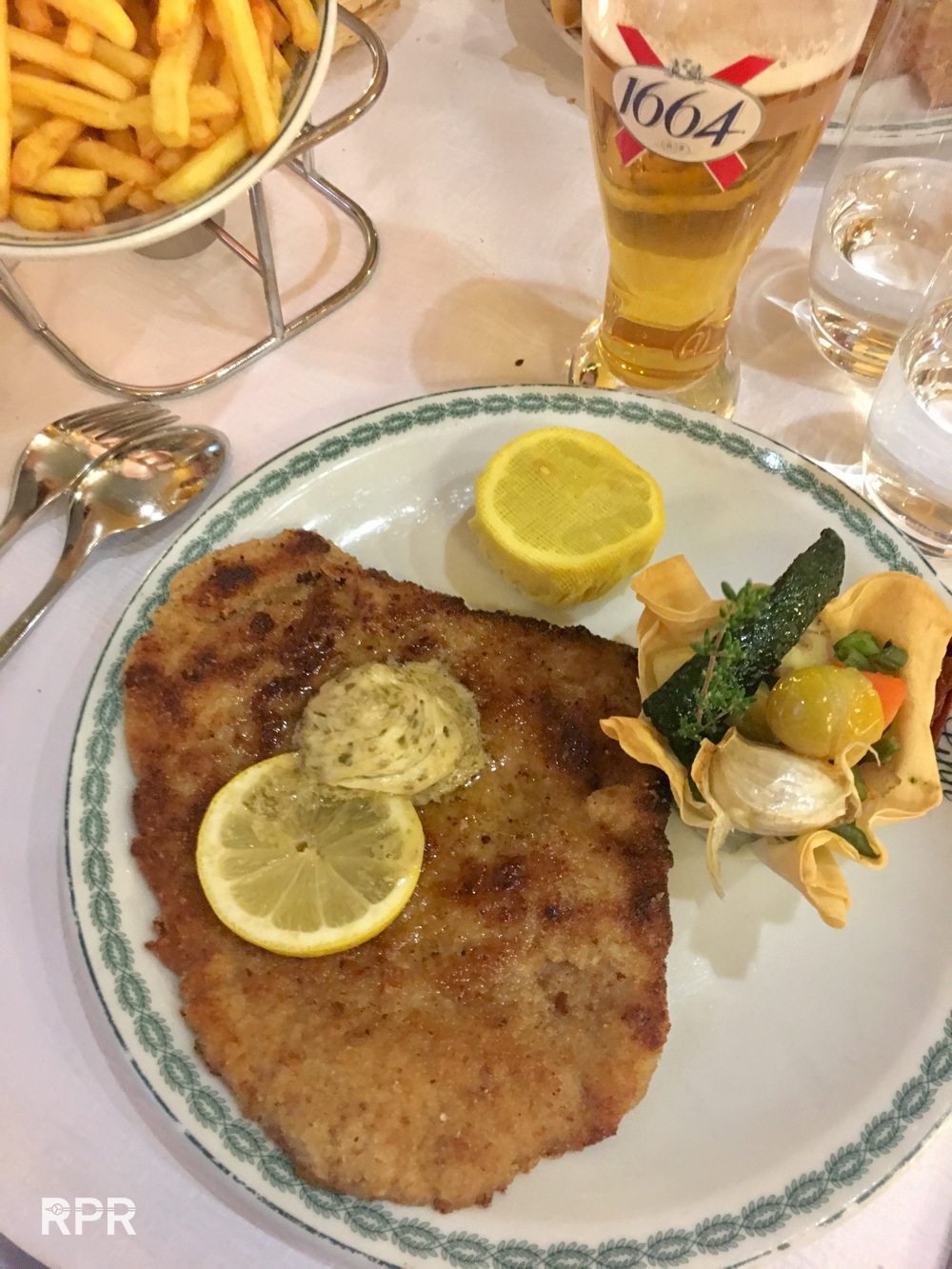 Lovely tropical XX…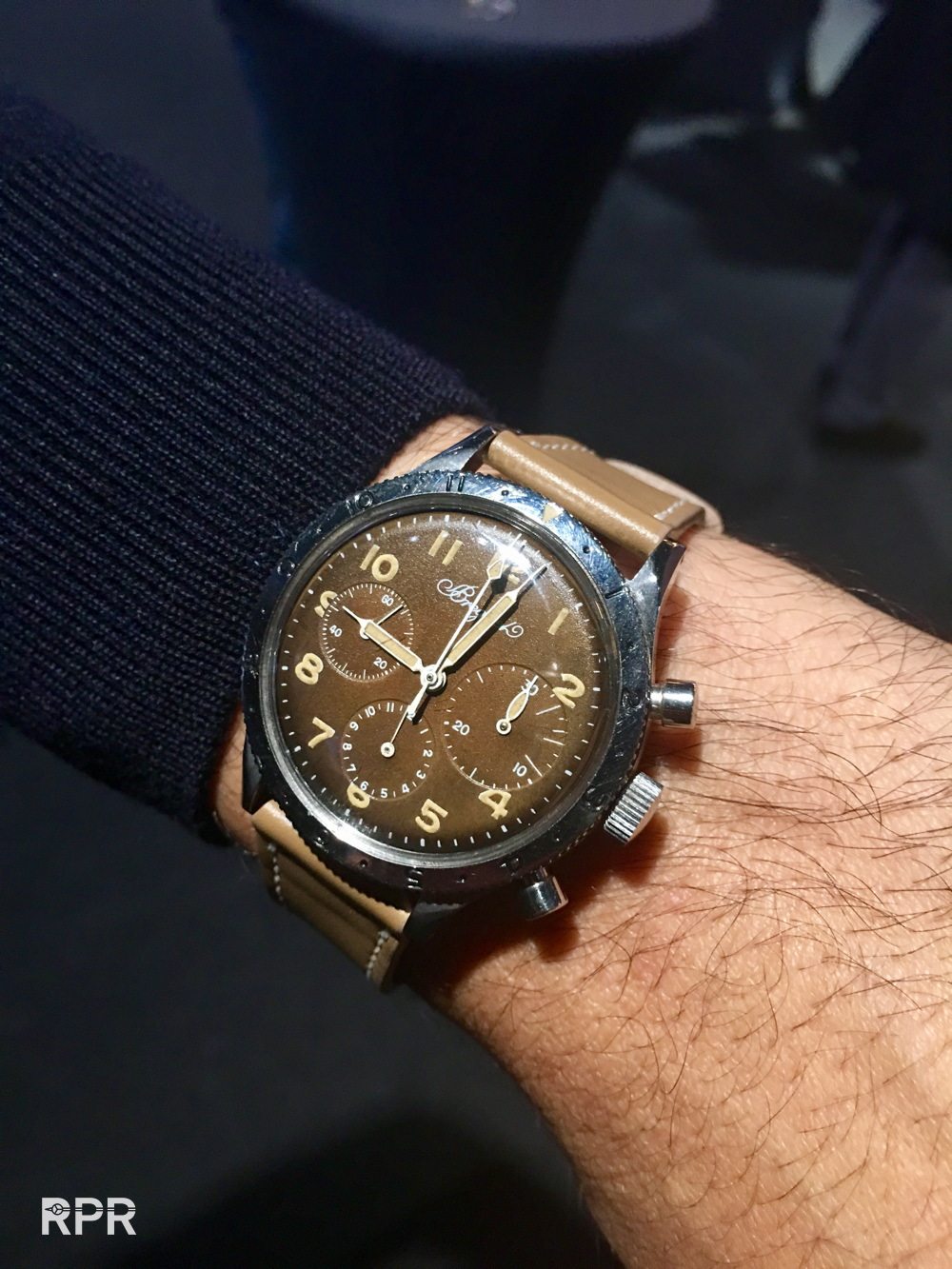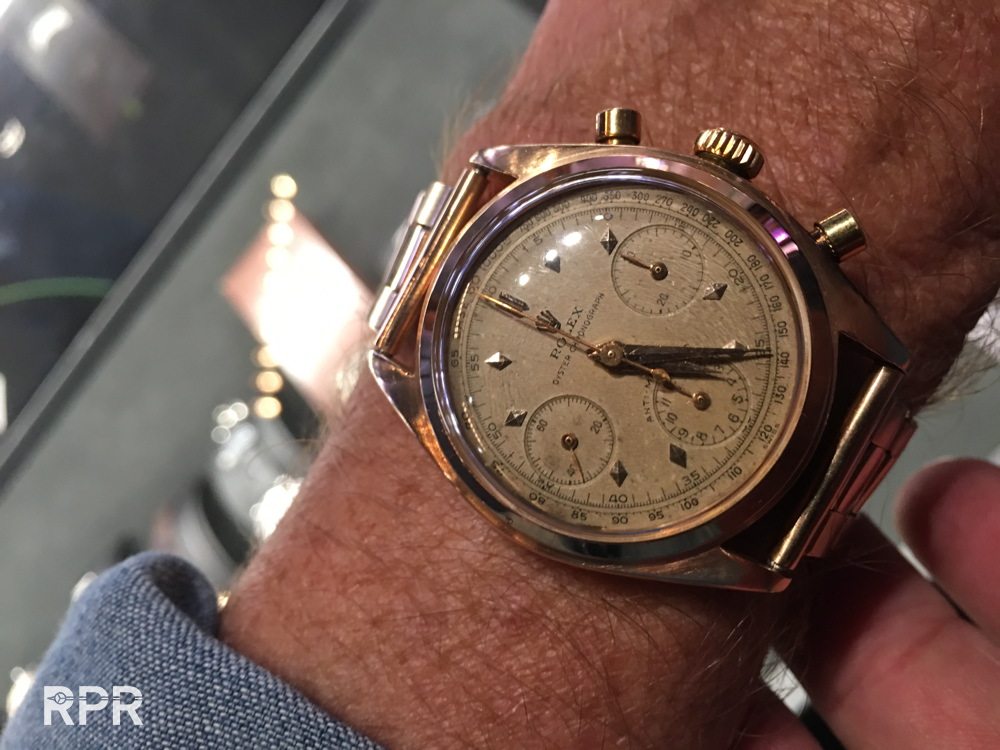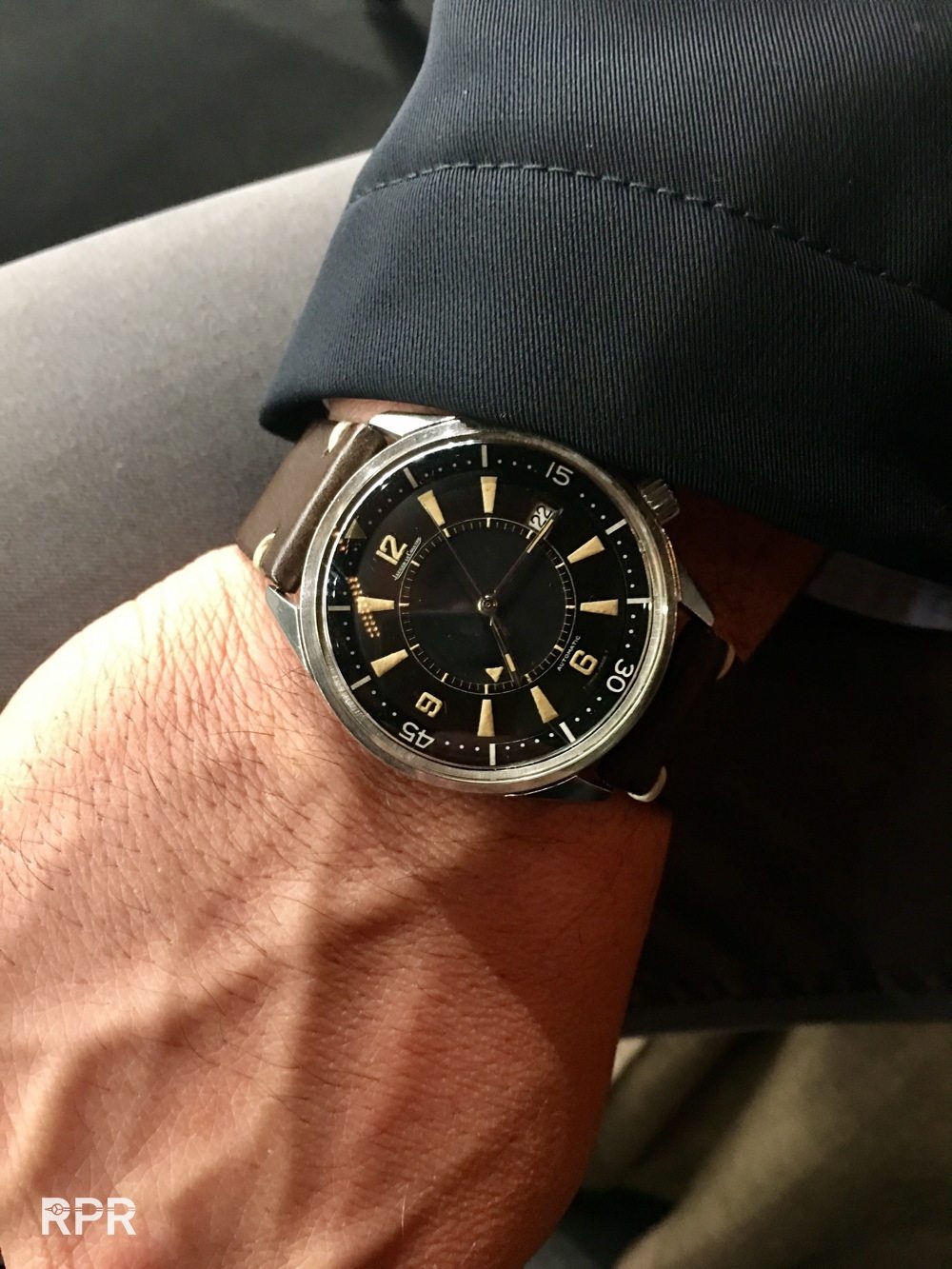 Philippe Dufour Simplicity…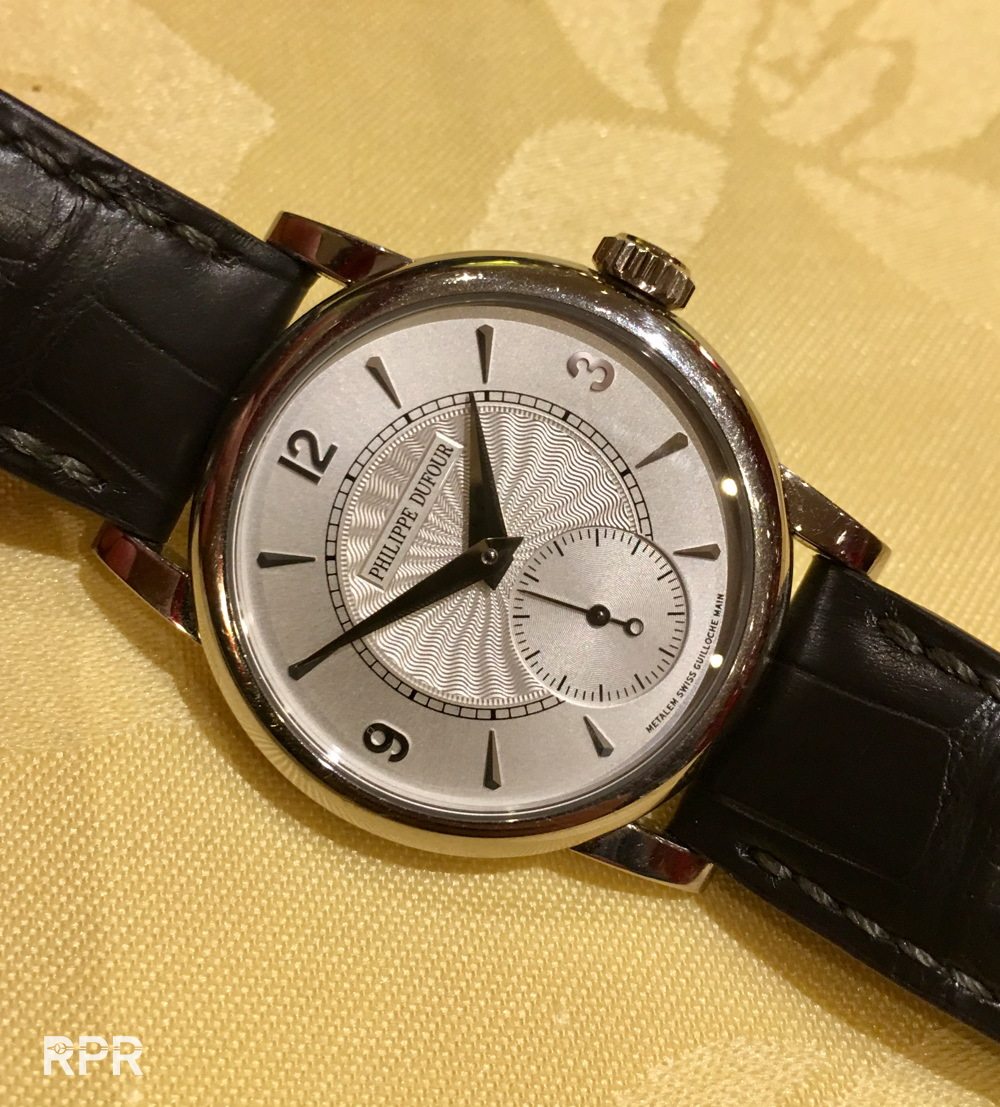 FP Journes first tourbillion…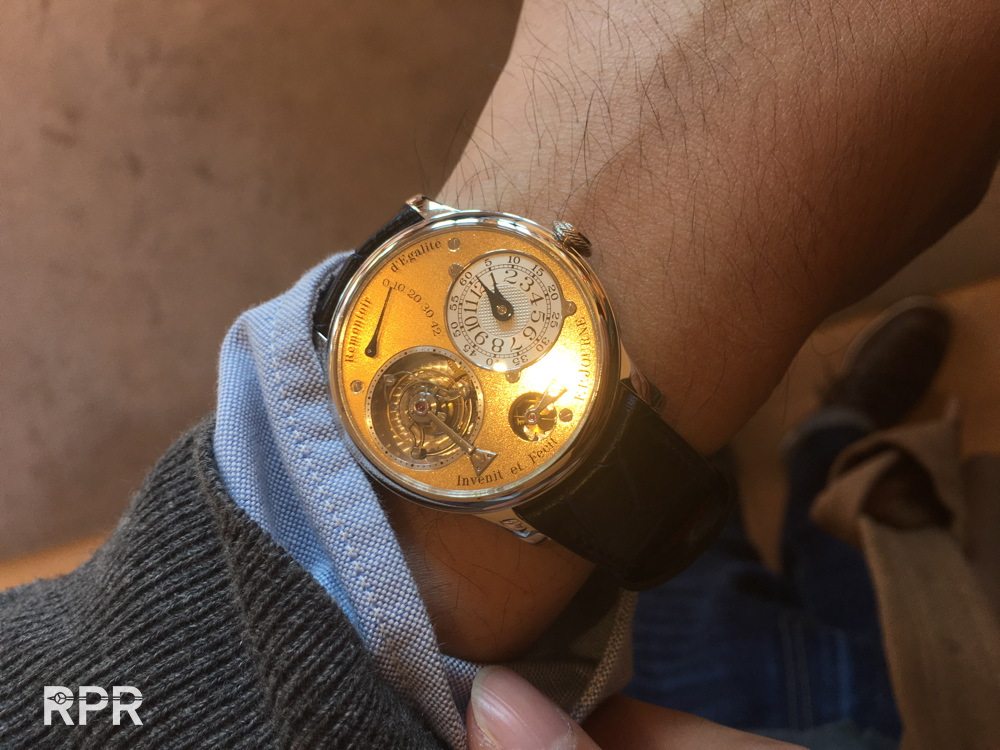 Green Khanjar Rolex Daytona..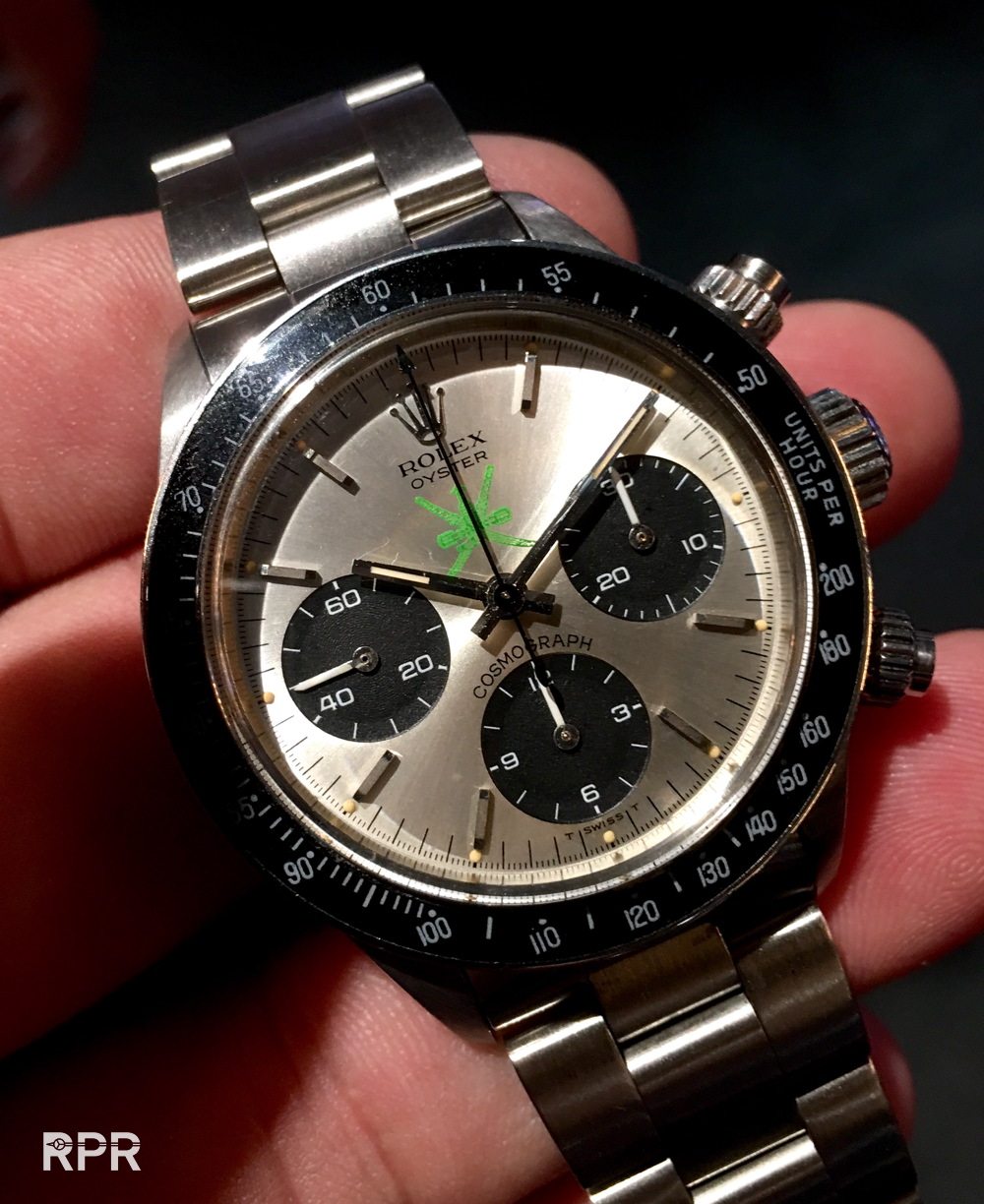 Daytona Ref 6270…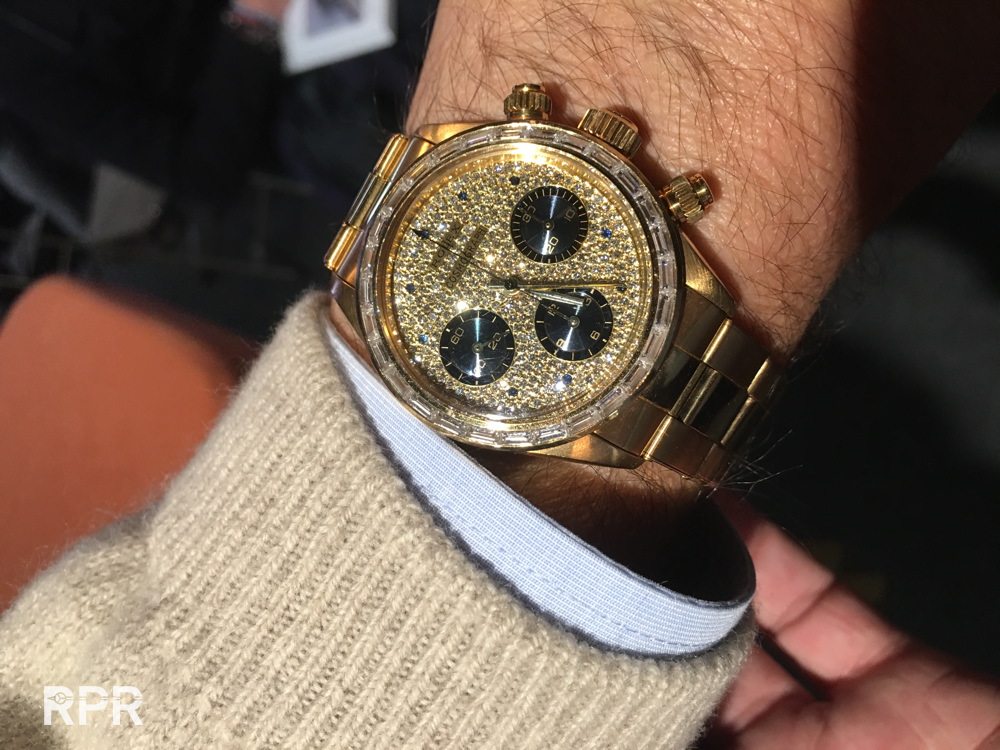 Note the PPC tatoe, thats real passion! 😉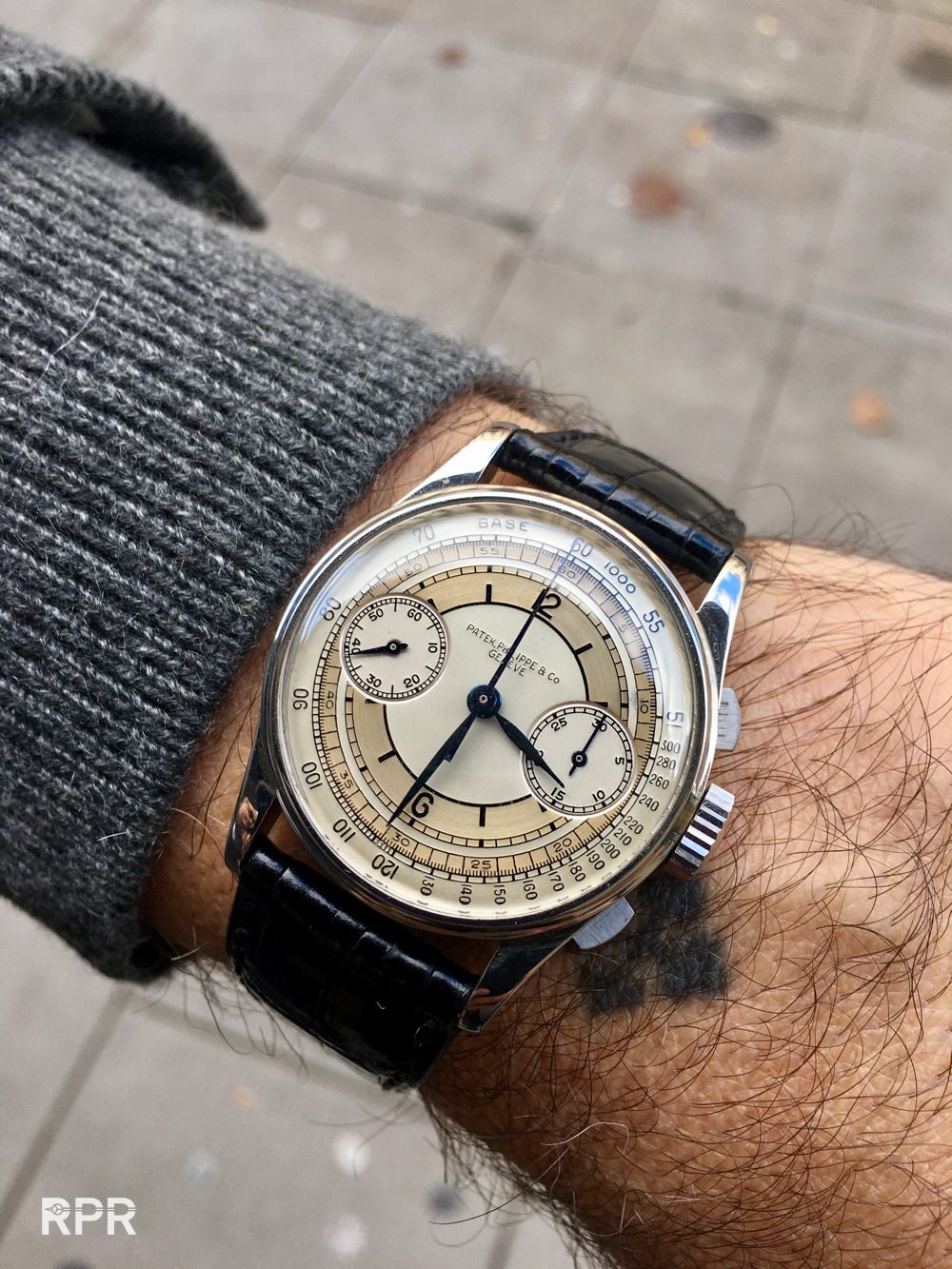 Nathalie..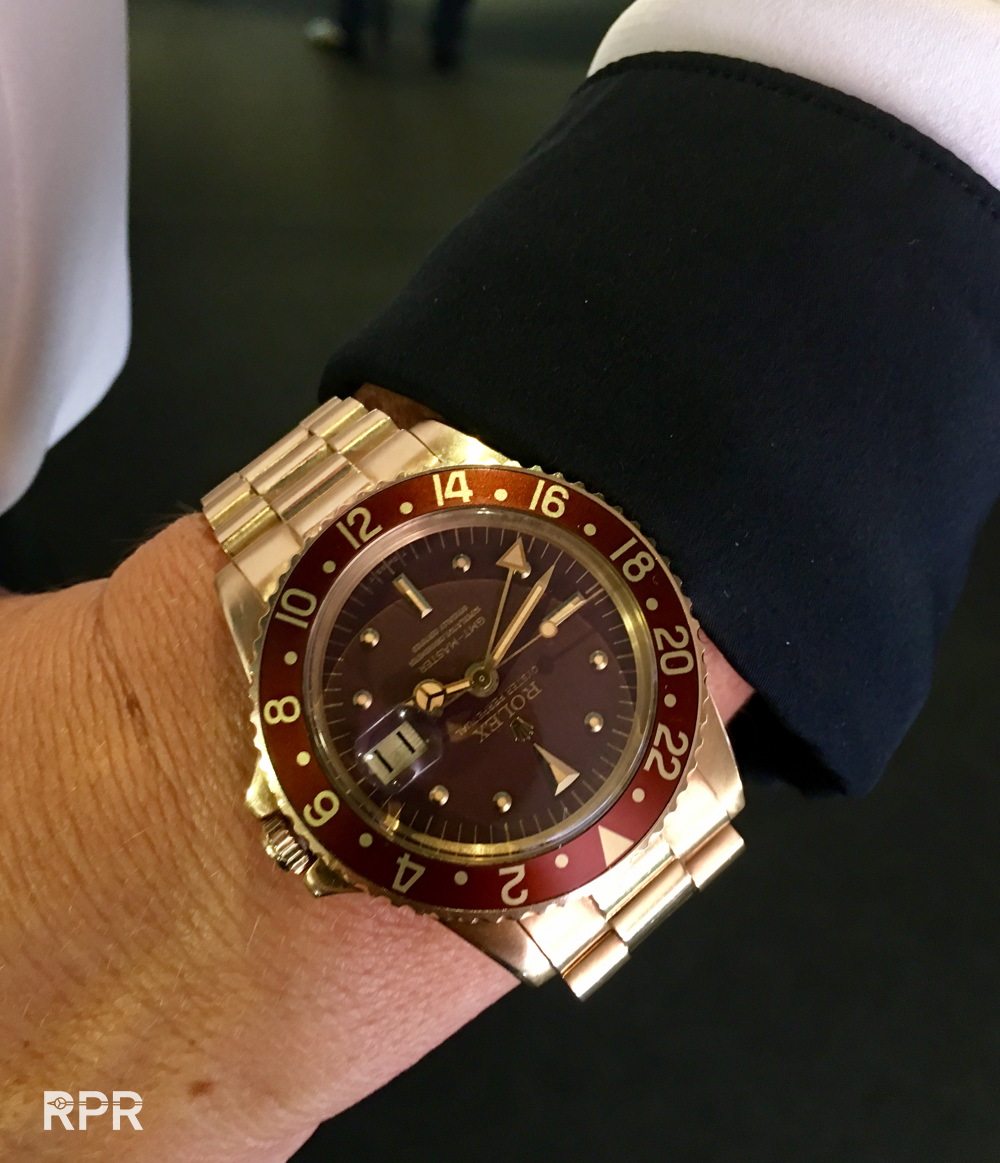 Pink on pink 1518…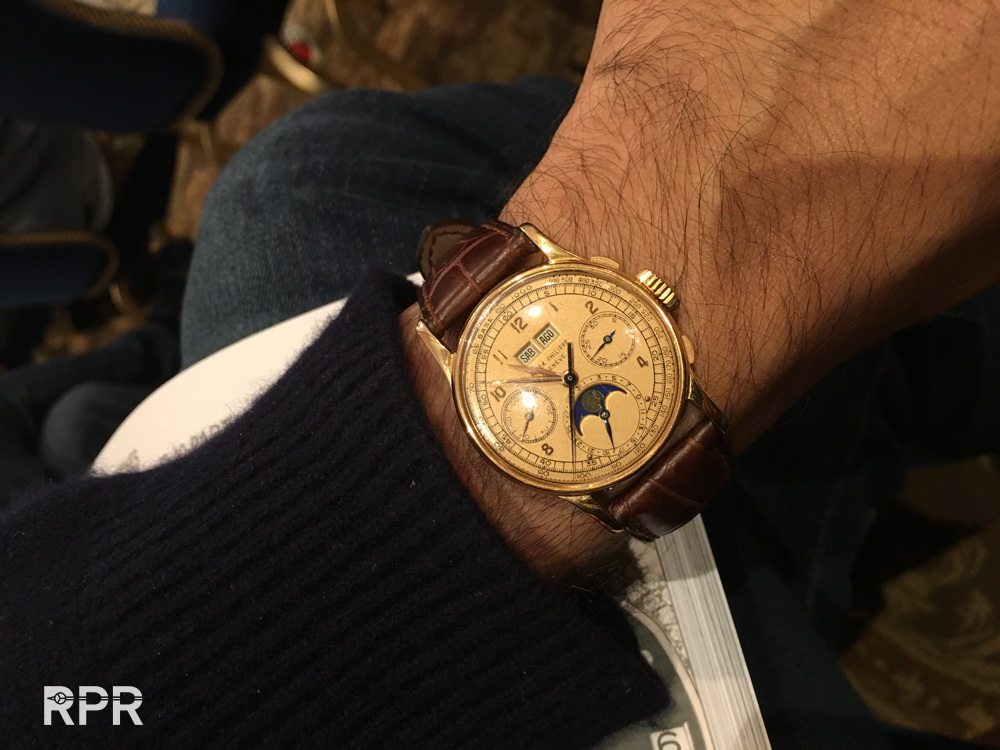 Tropical dark brown ref 5512 Square Crown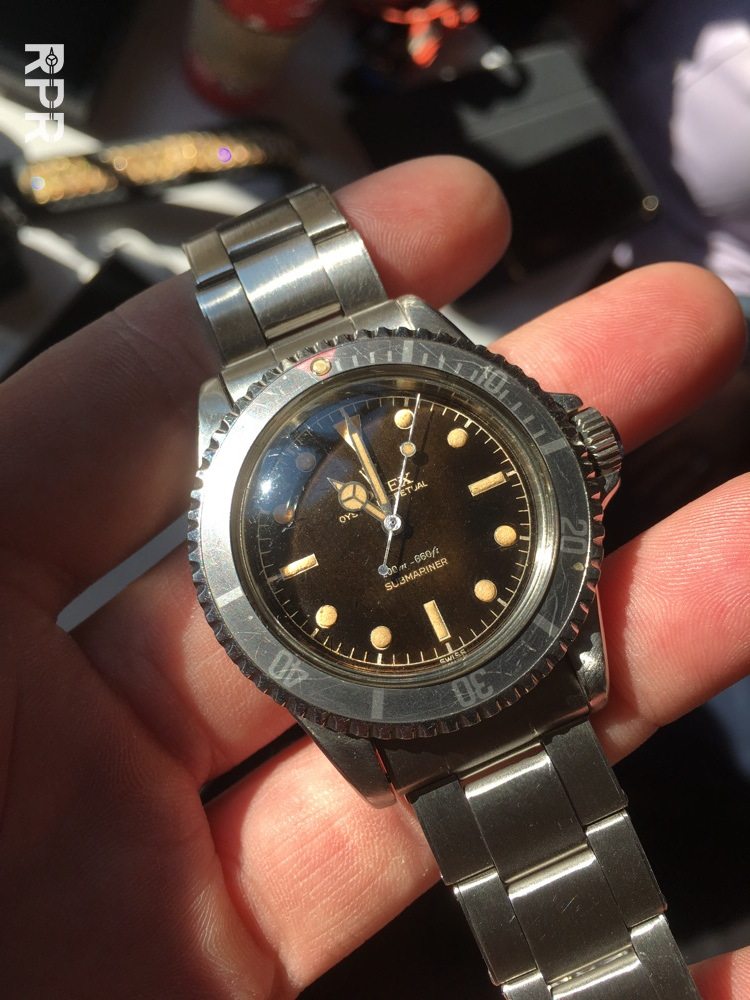 Longines chrono..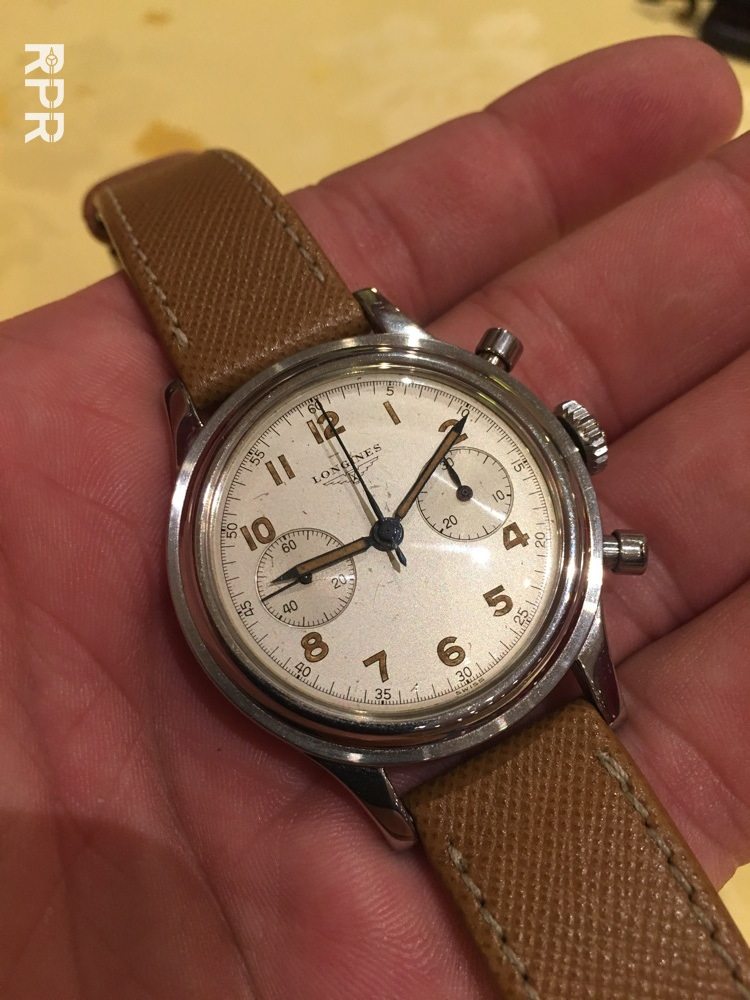 The second "Linz" Daytona known, ref 6262…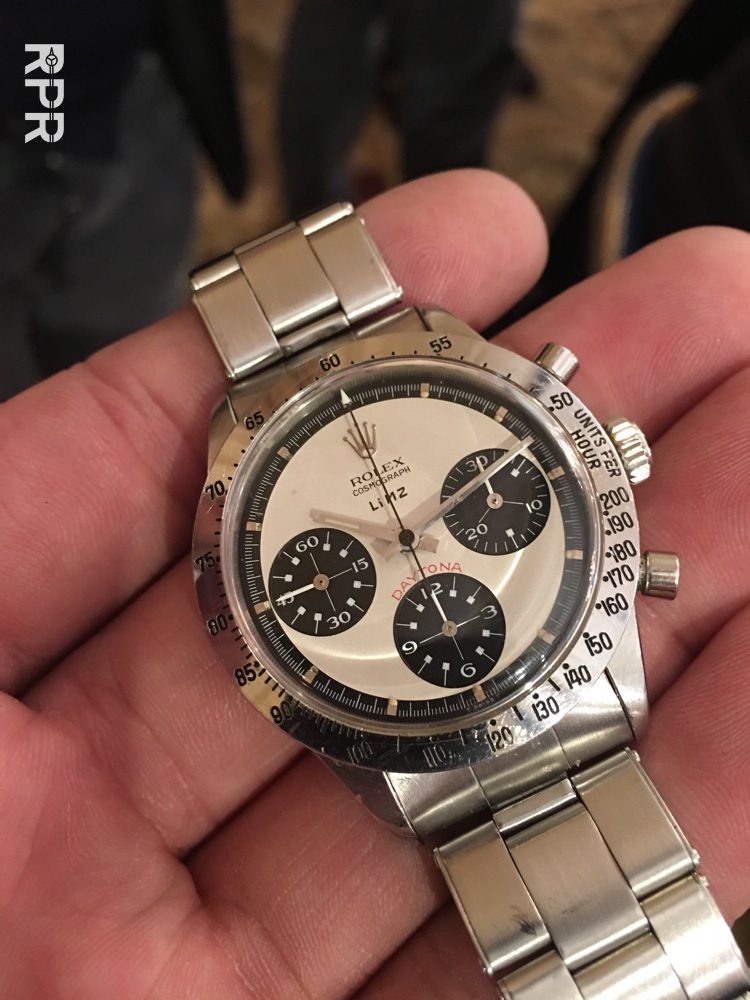 Caramel…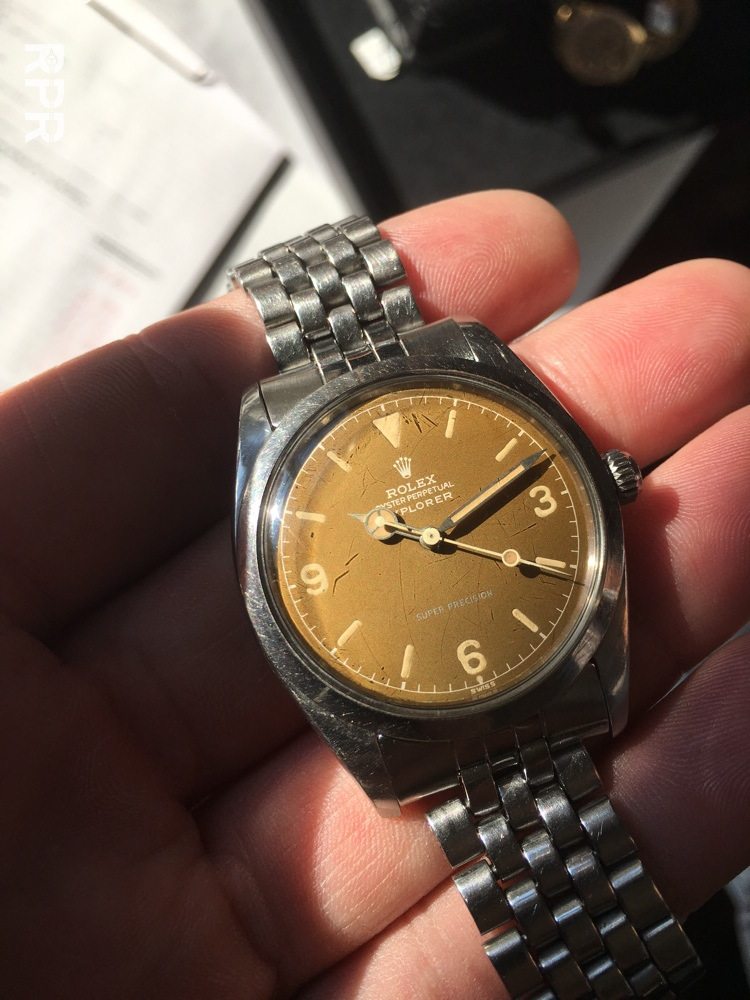 Geiger meter testing during the preview checking out the correct radiation…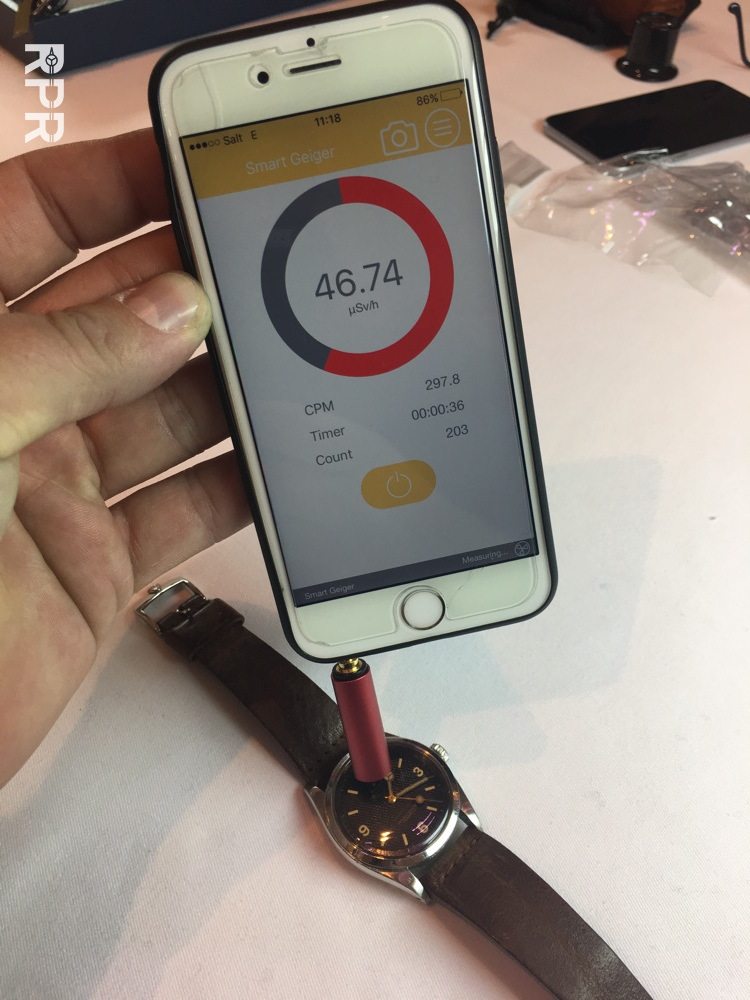 LOL, at first I thought it was a custom made Rolex but then buddy Eric Ku told me it's original Rolex made!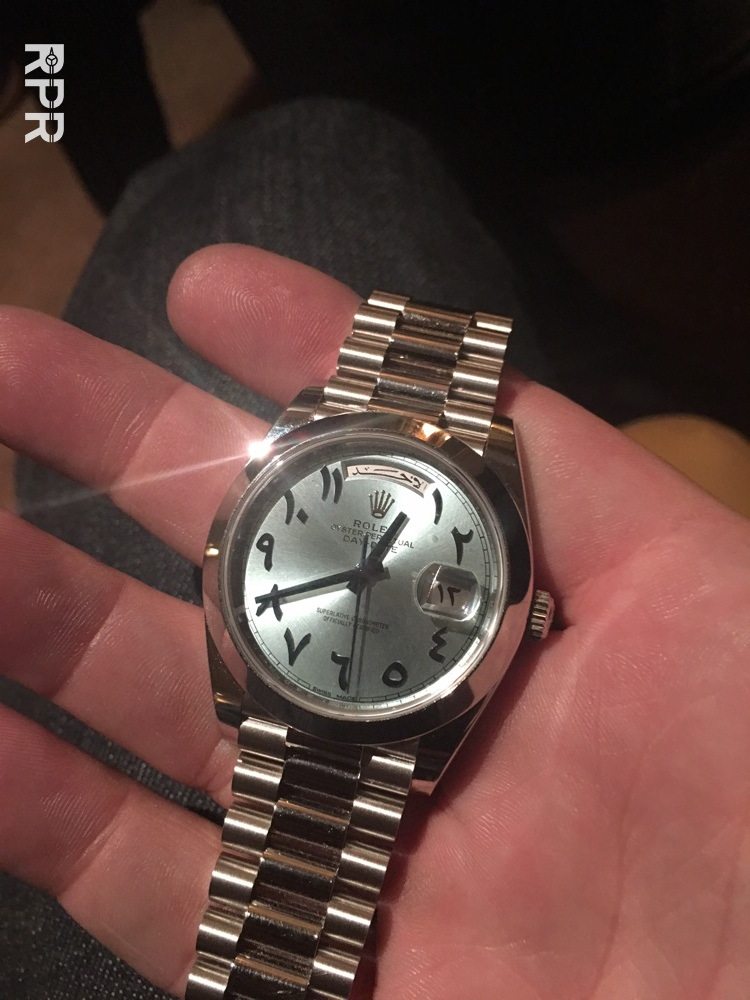 New PPC…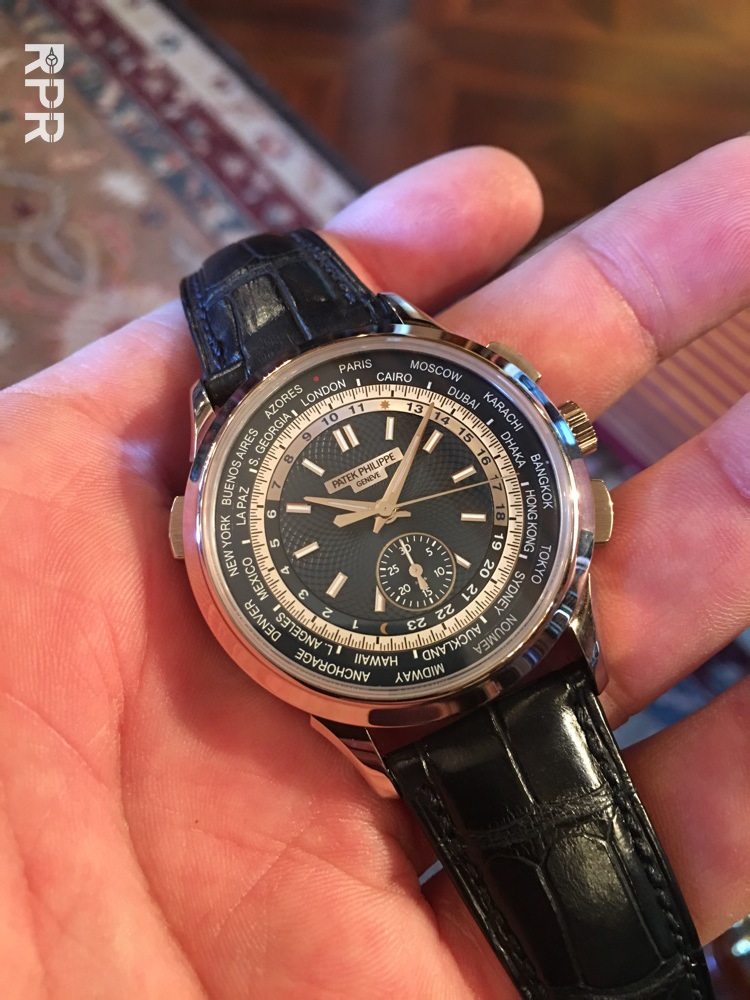 Dark brown minute track Oyster Paul Newman. Give it some heavy UV exposure and then put it in the safe for some years 😉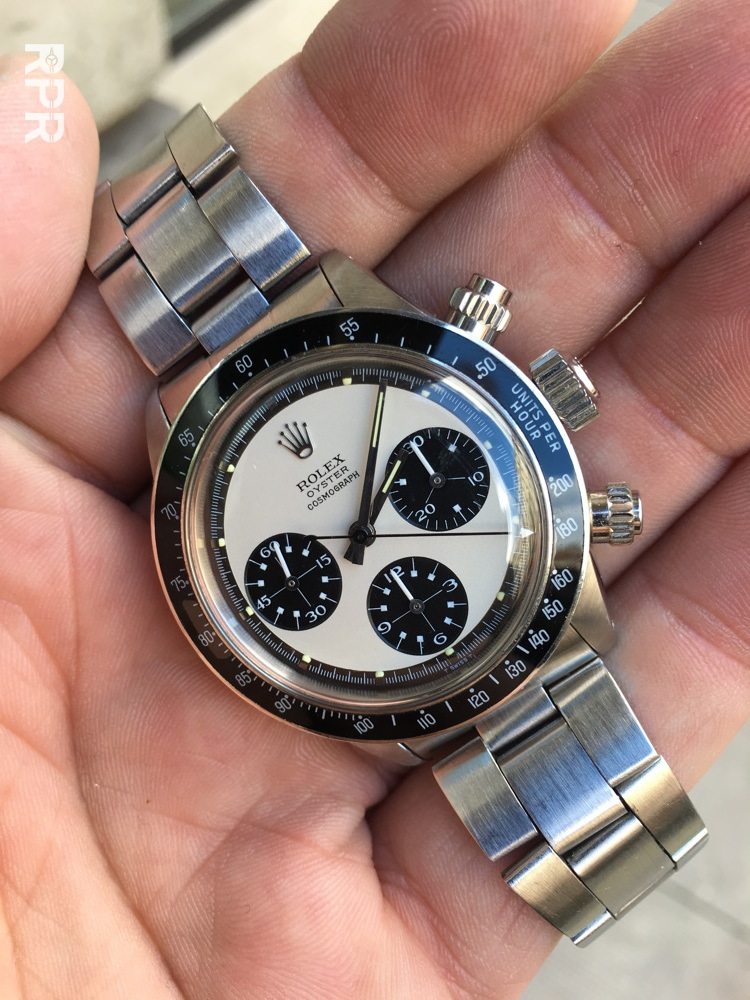 Sunday morning…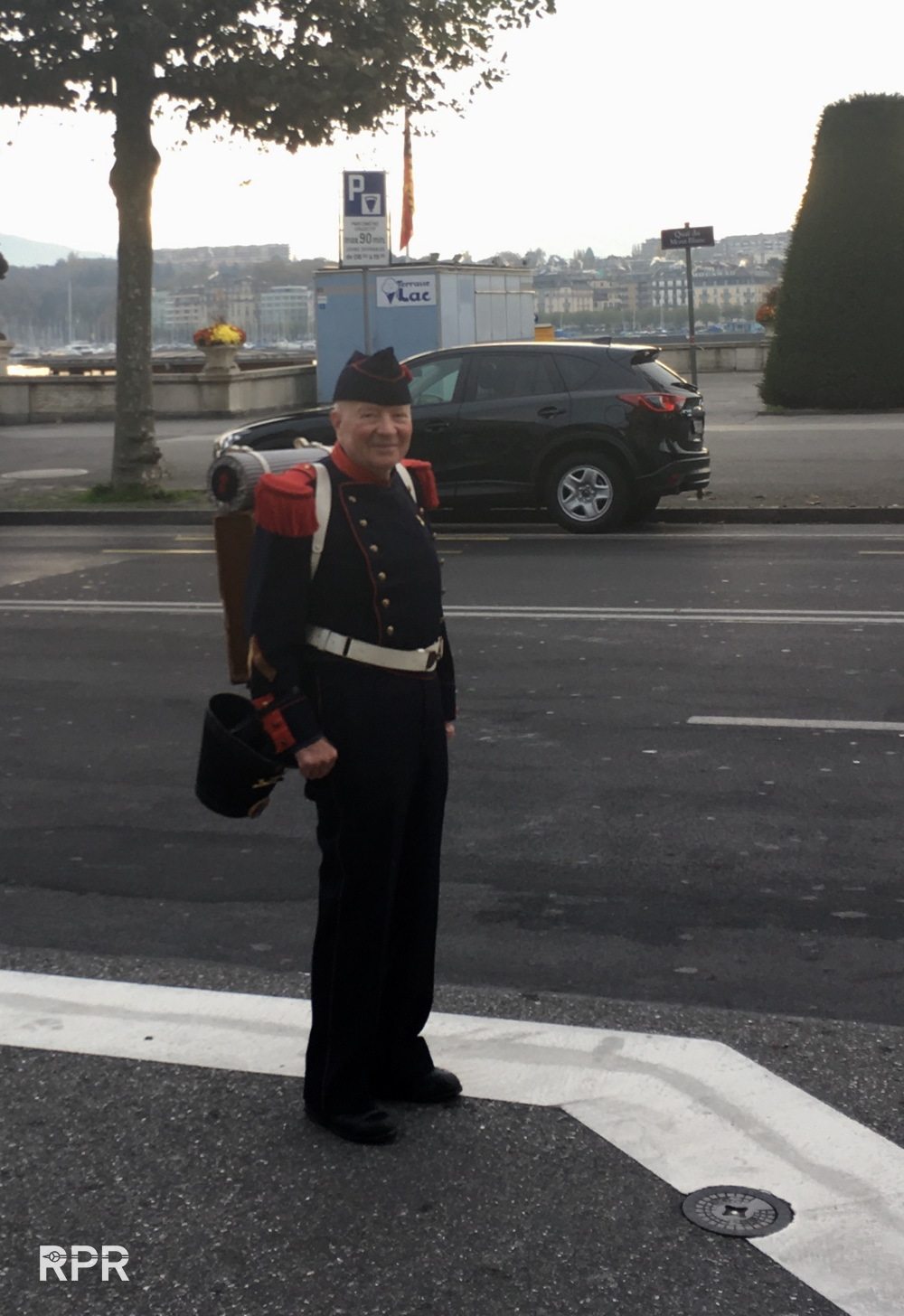 Local watch show…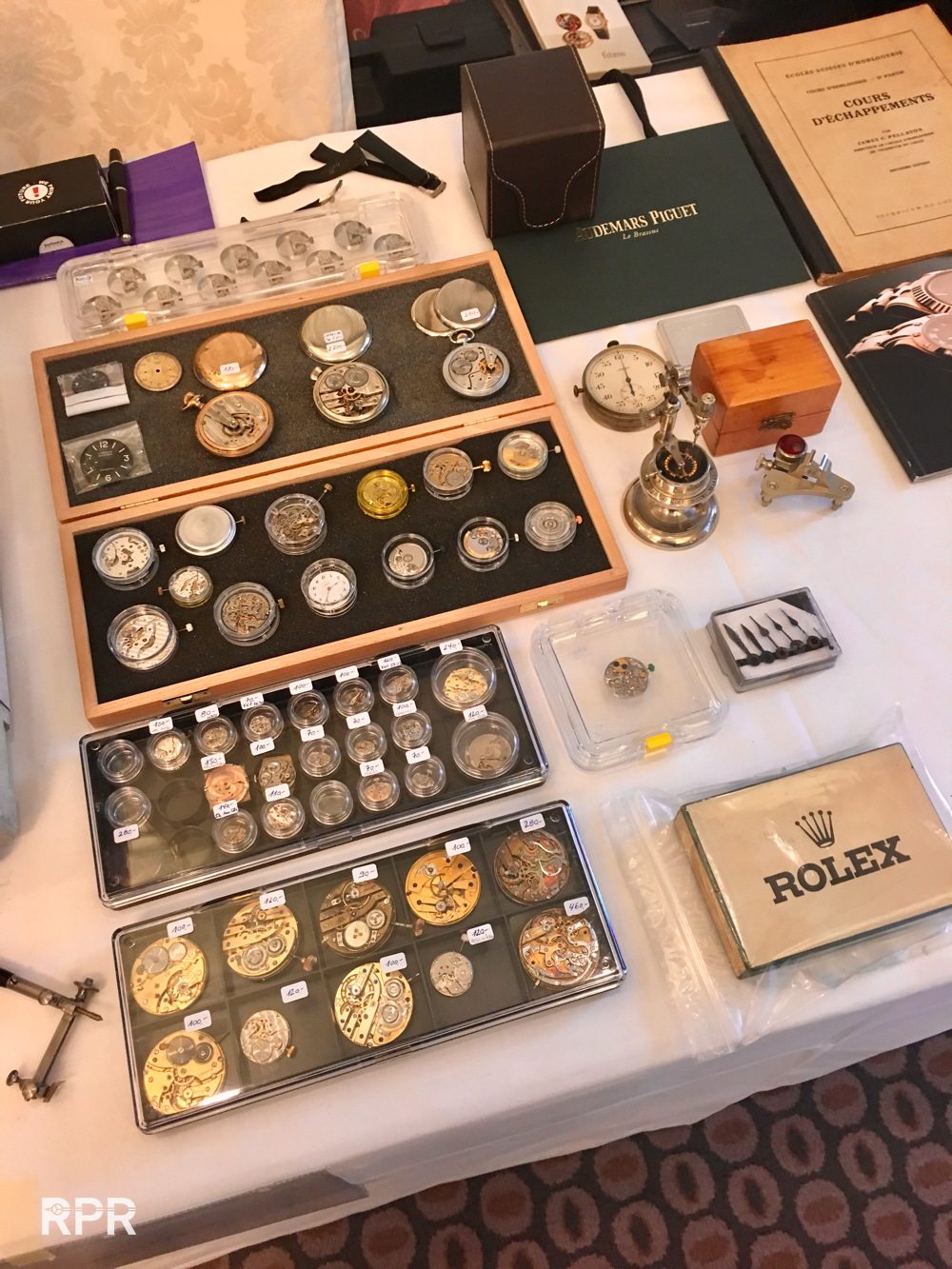 Tropical breakfast…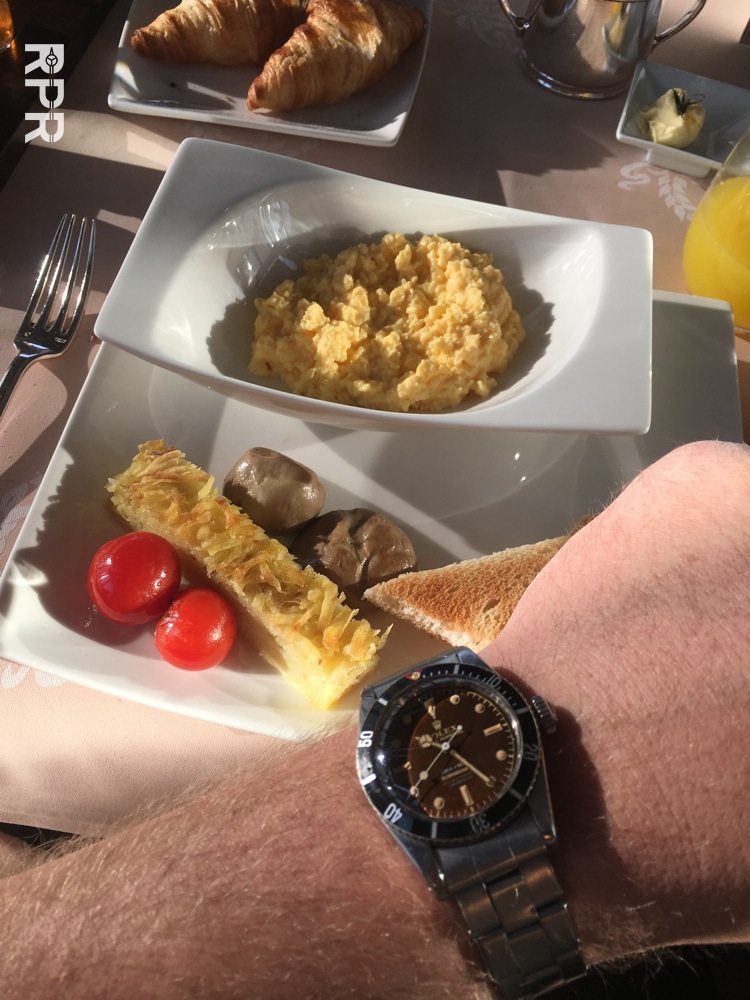 MBF Boutique Geneva…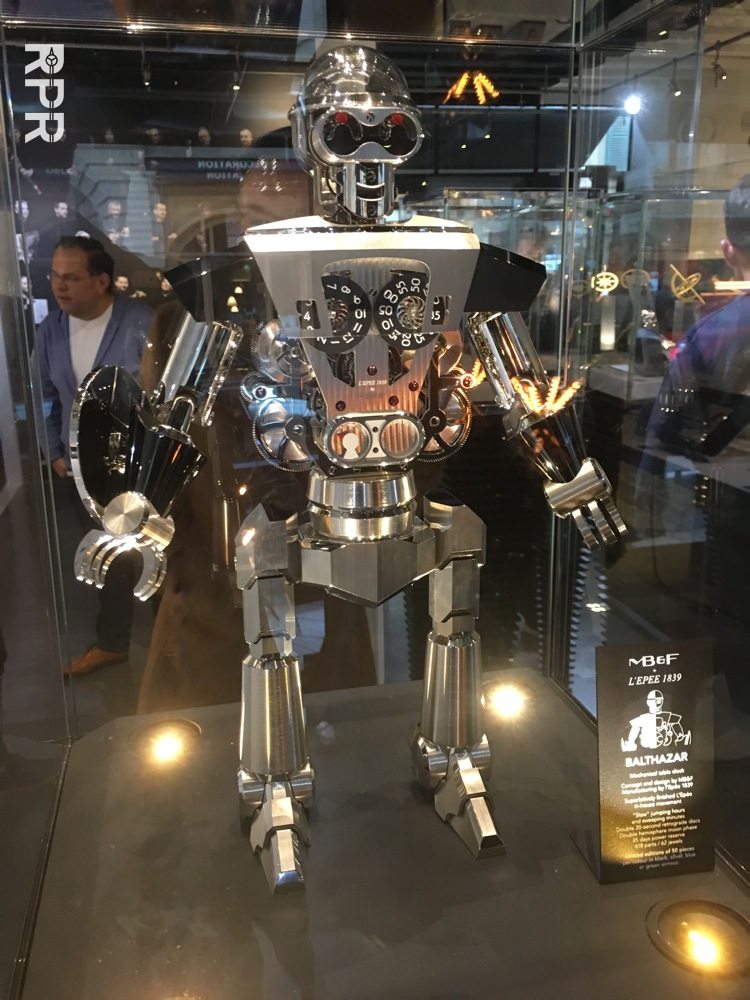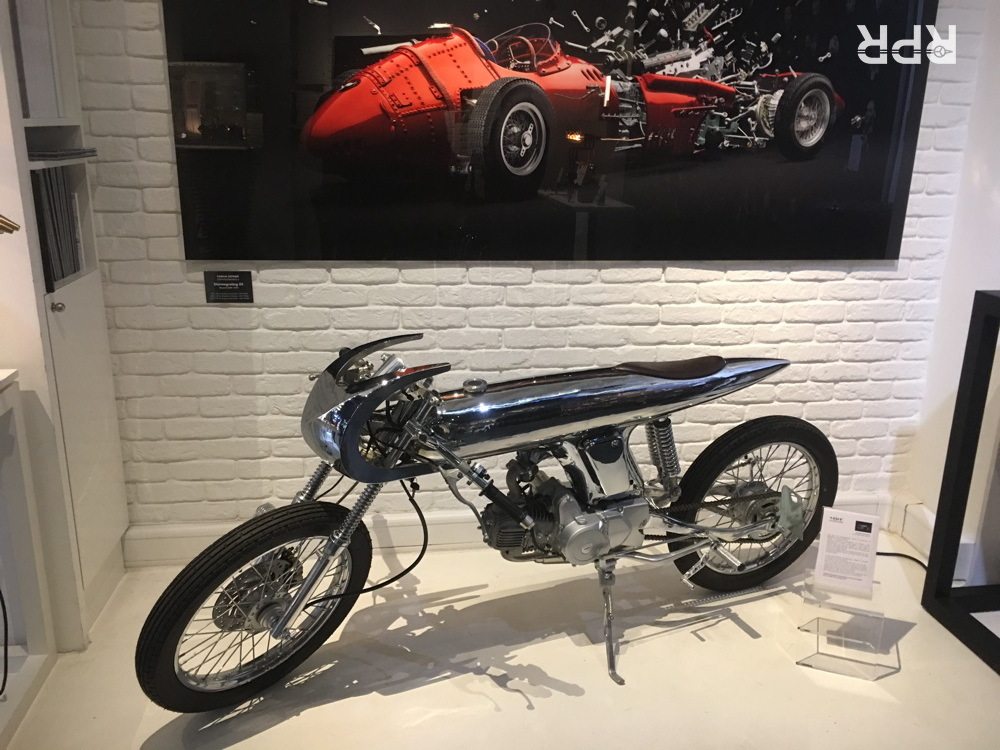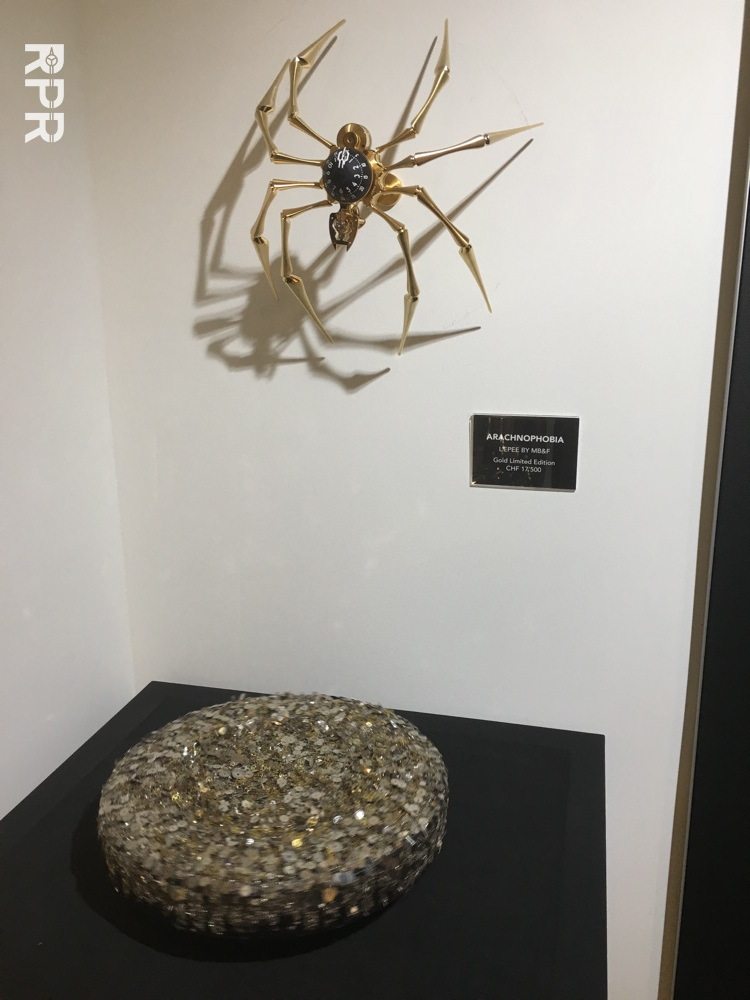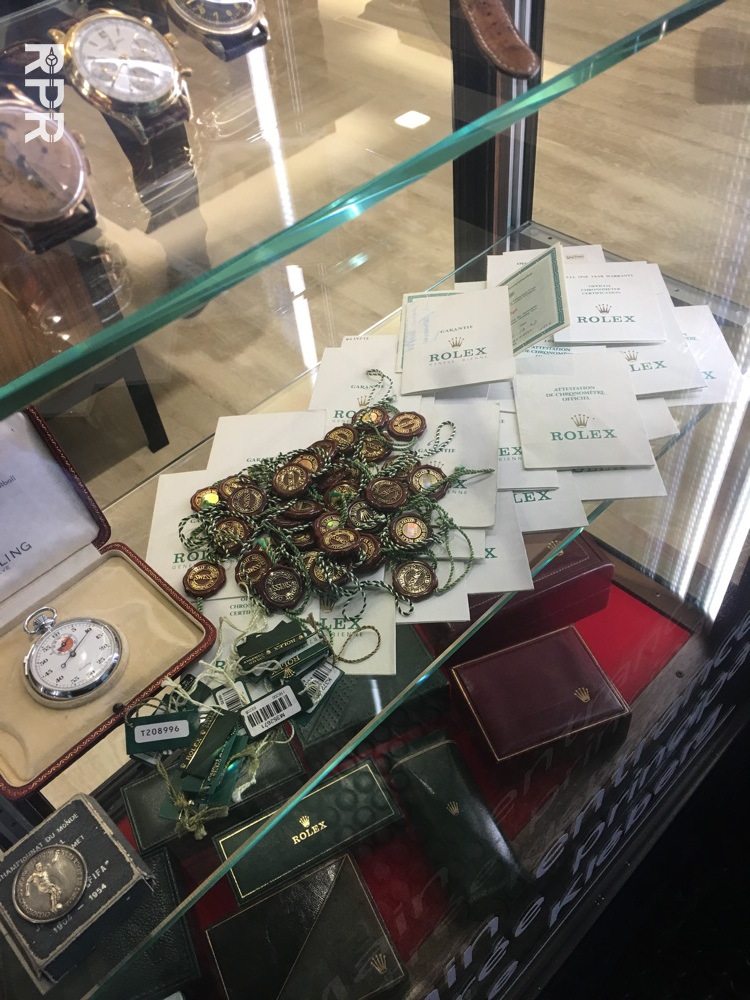 Upcoming auctions, the Rolex Milestone…. in Hong Kong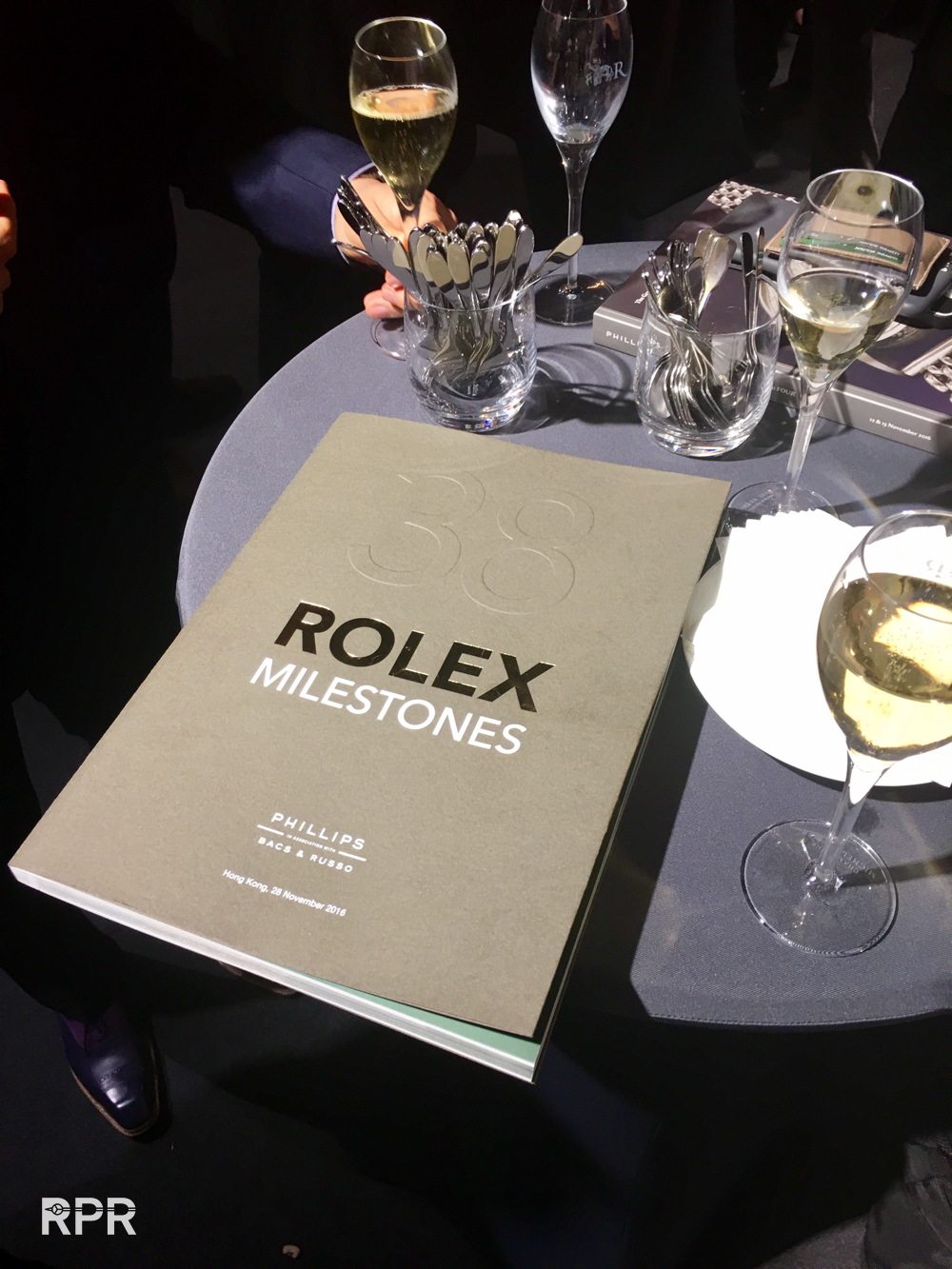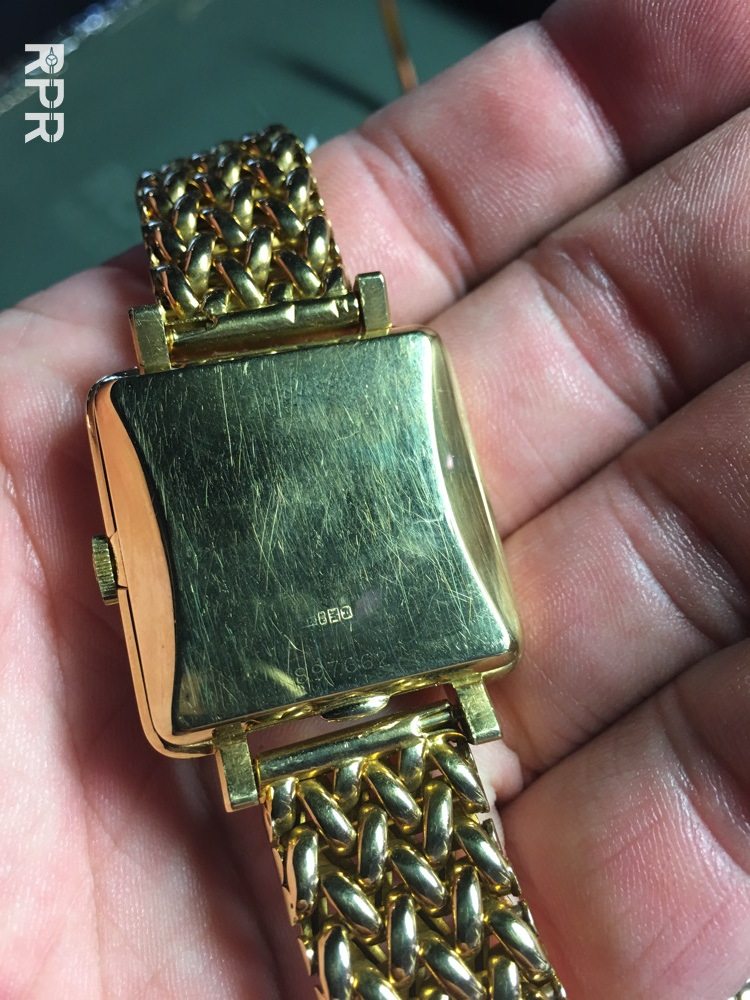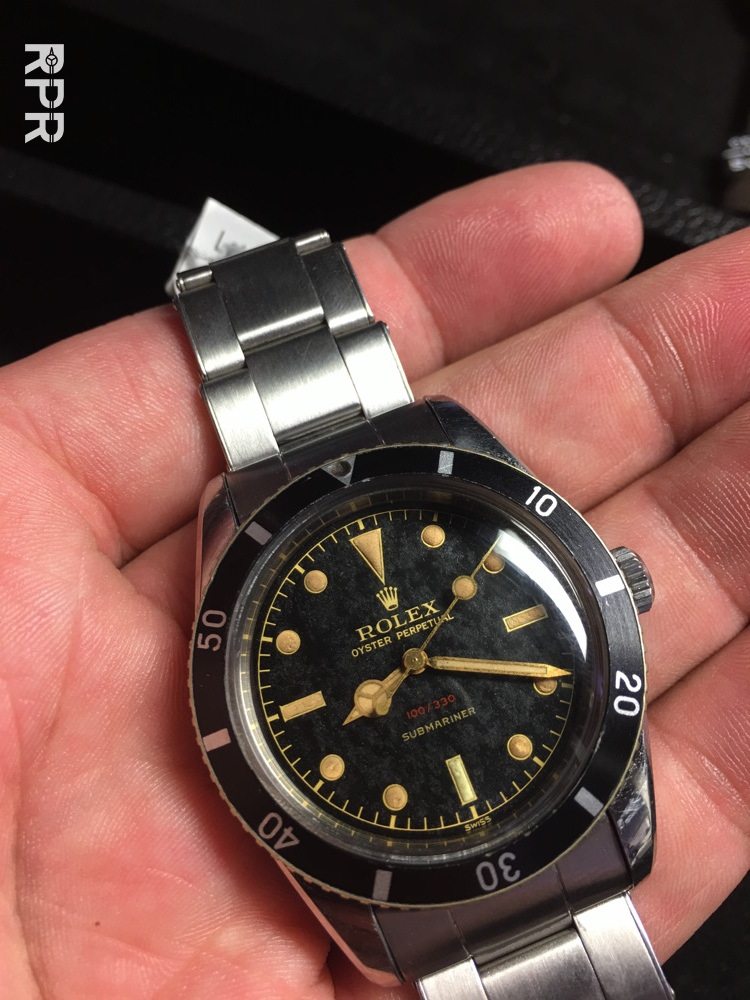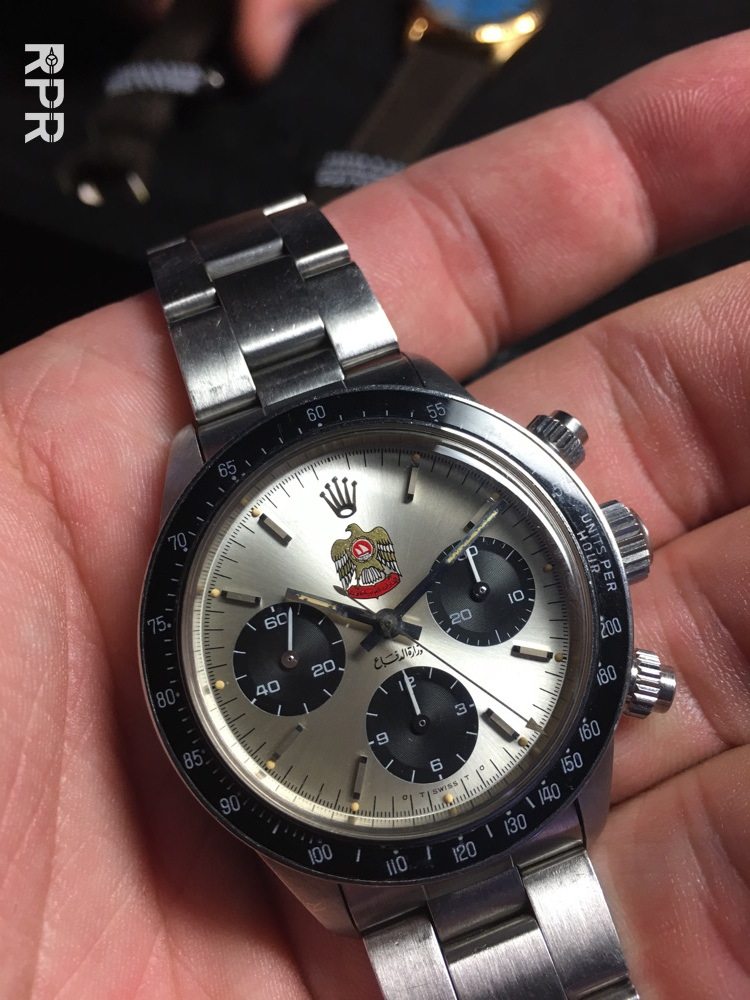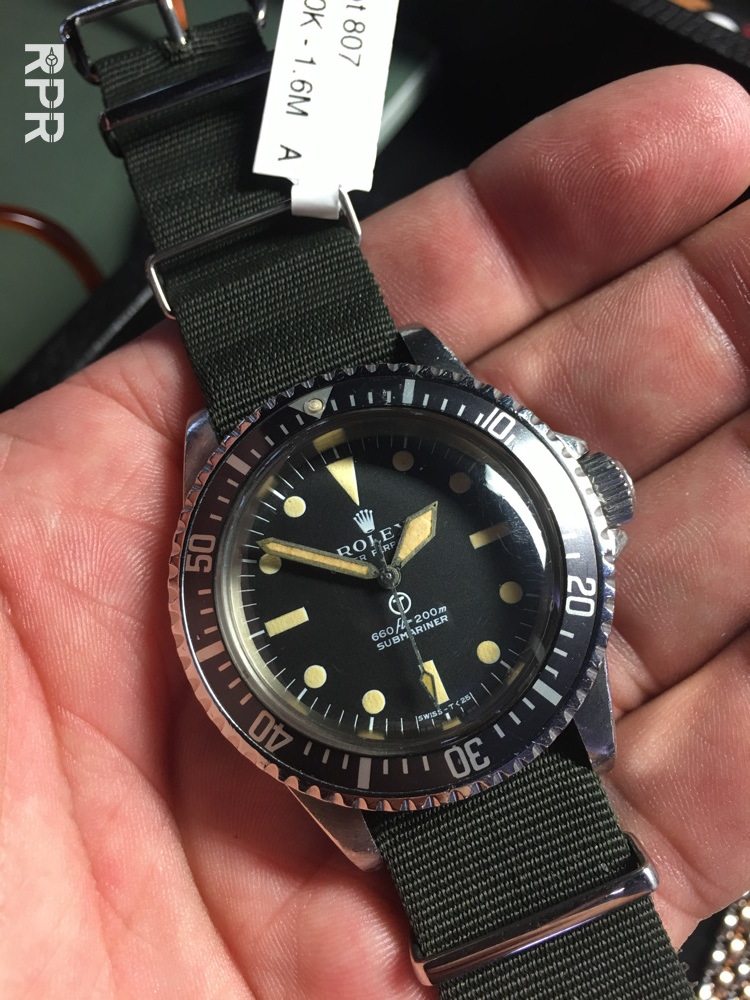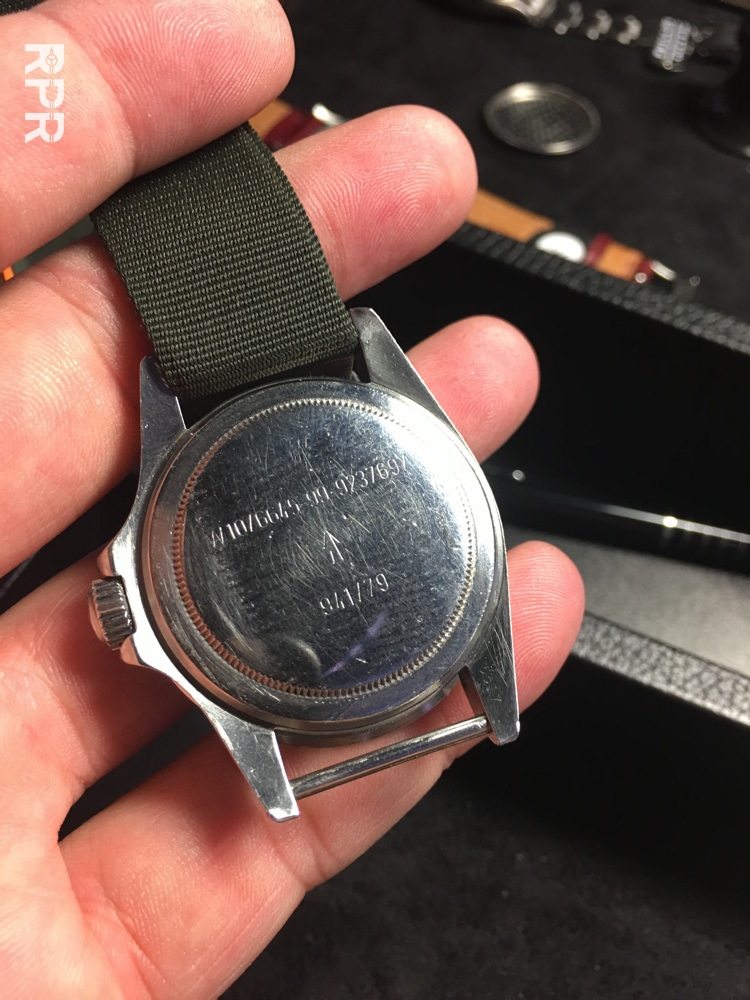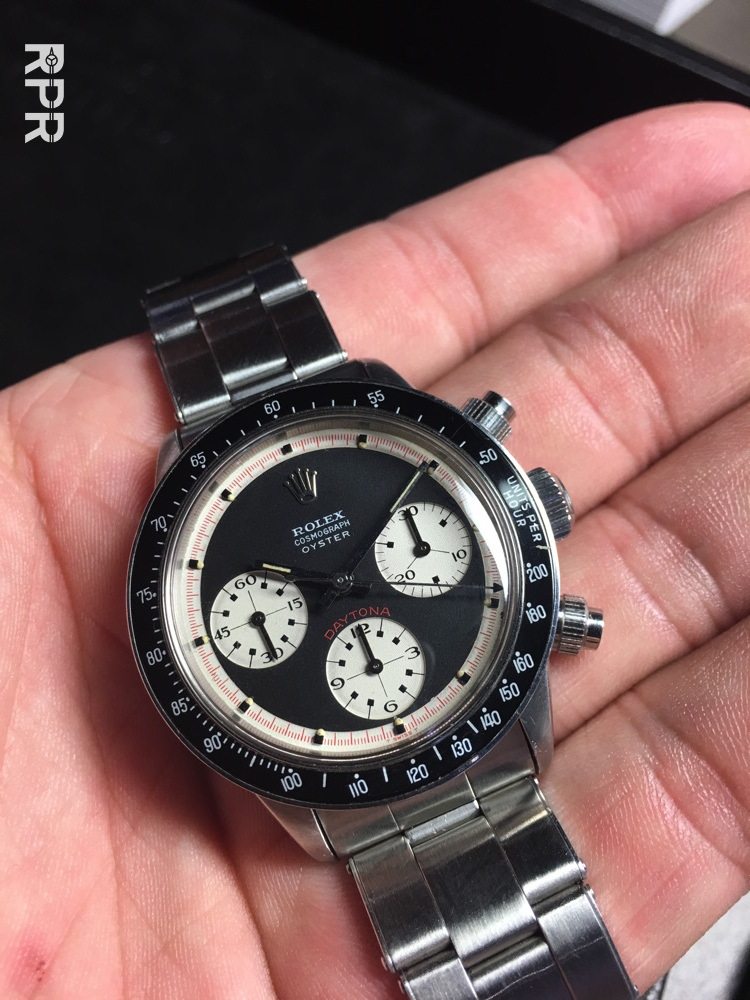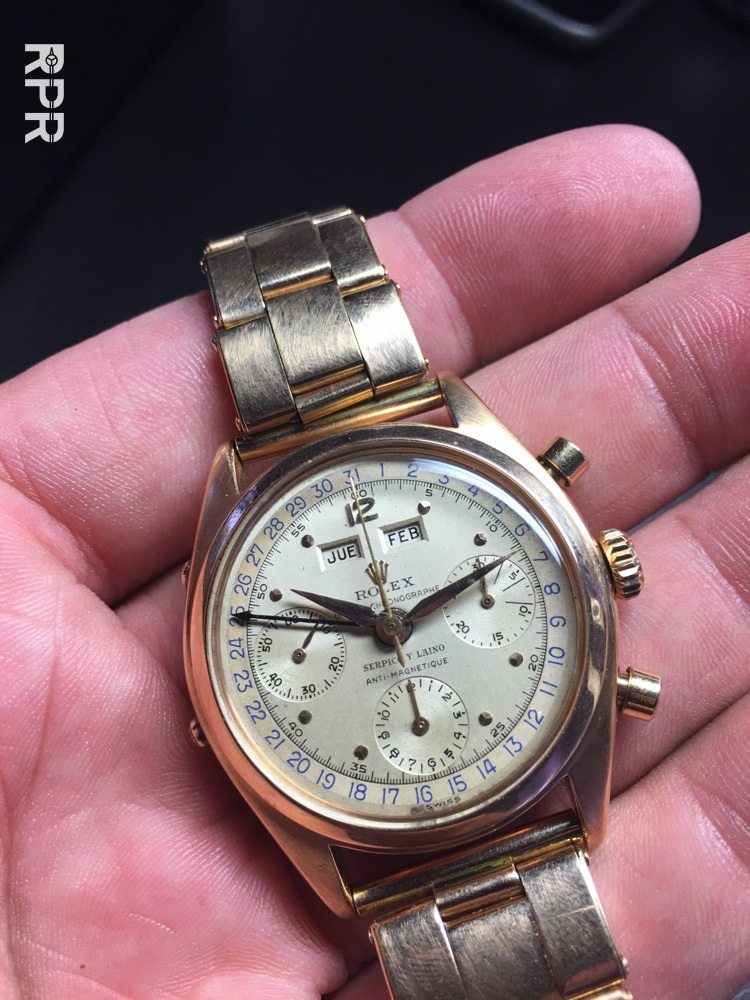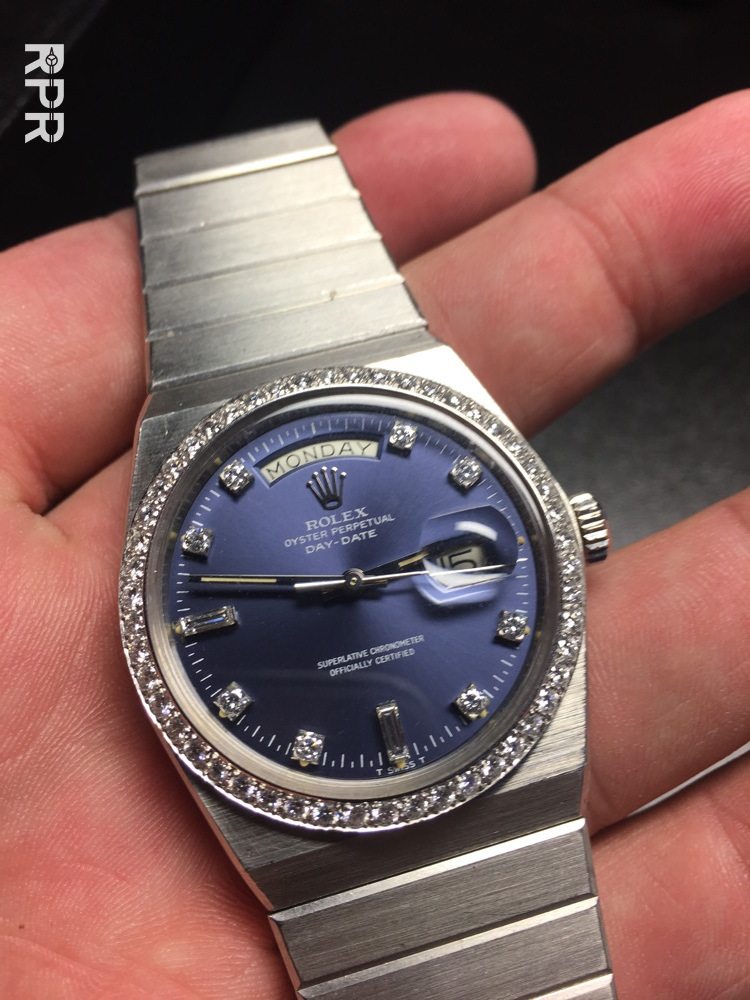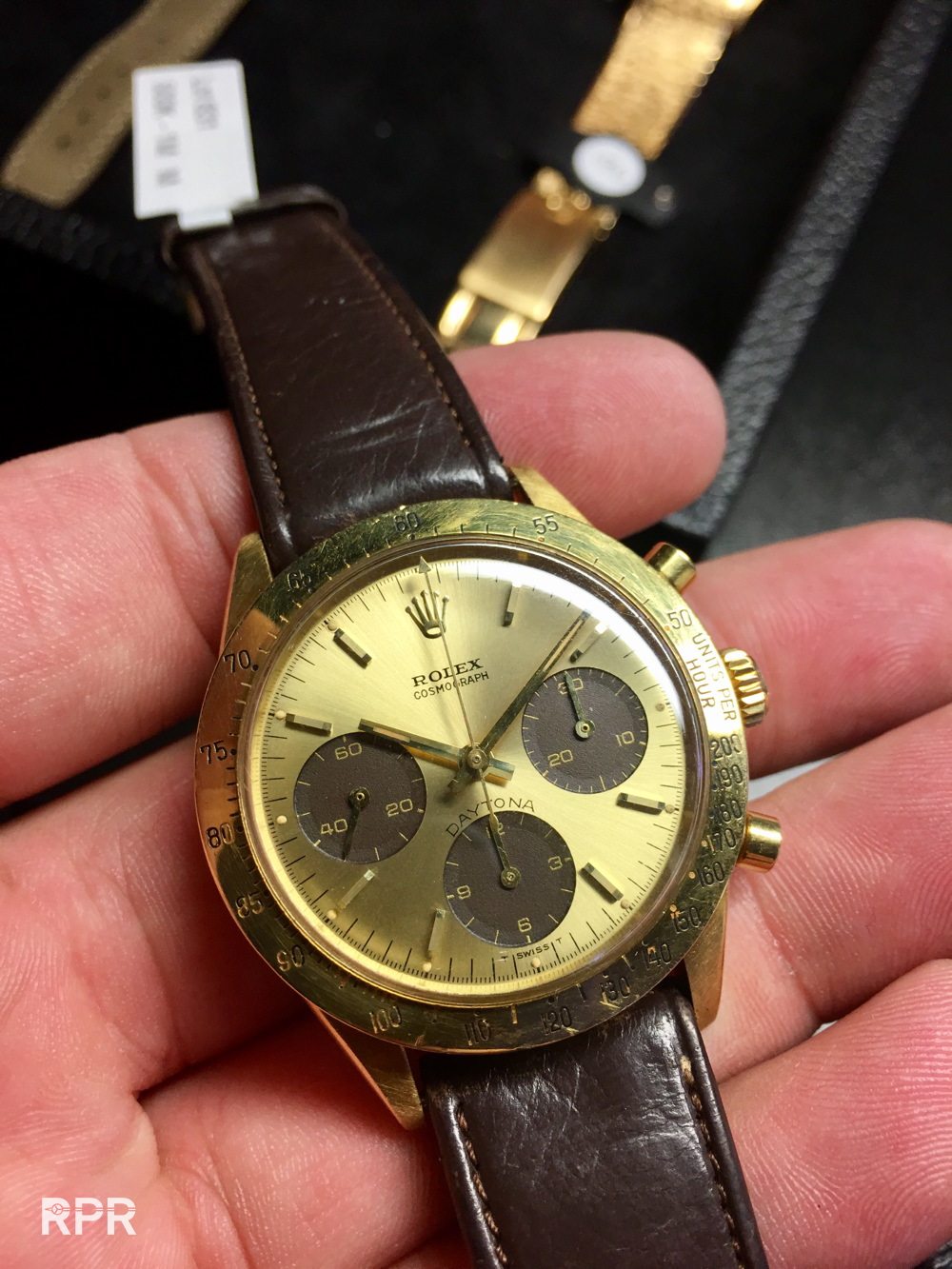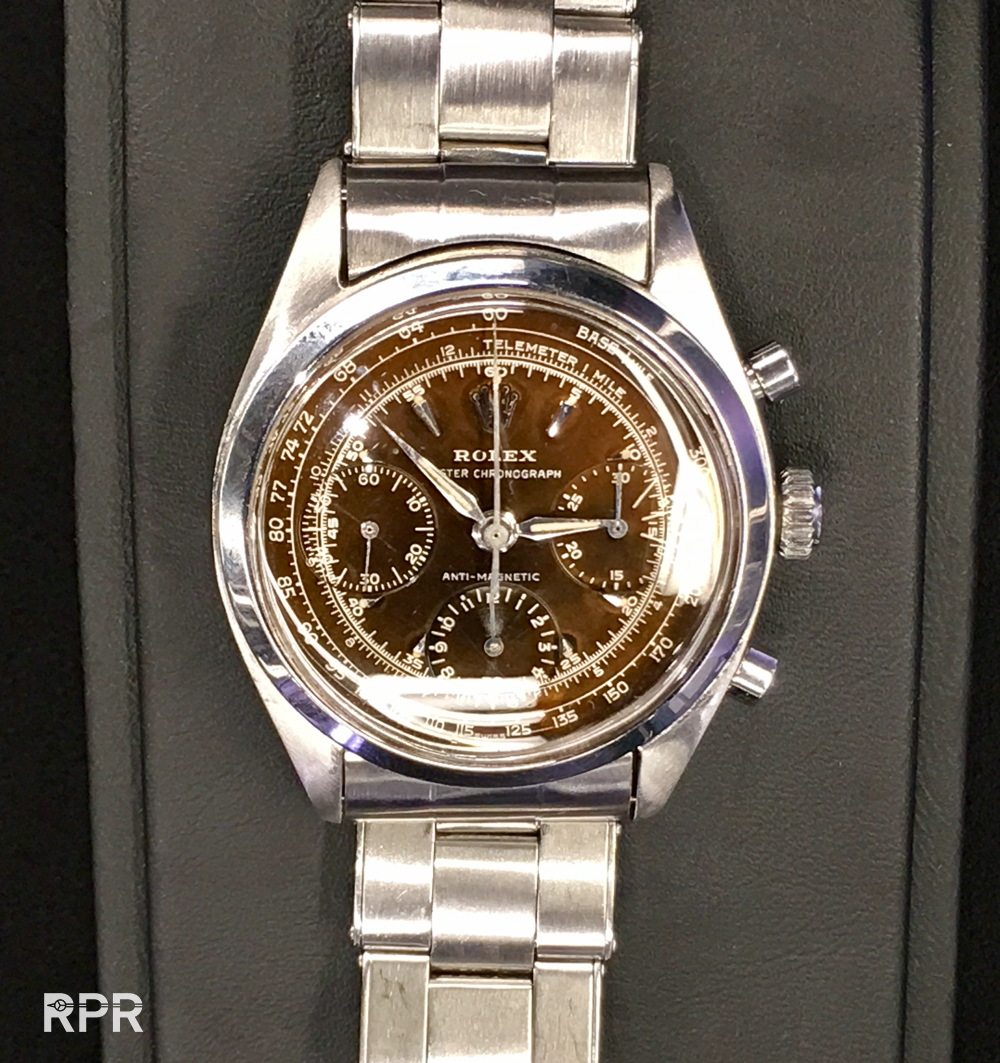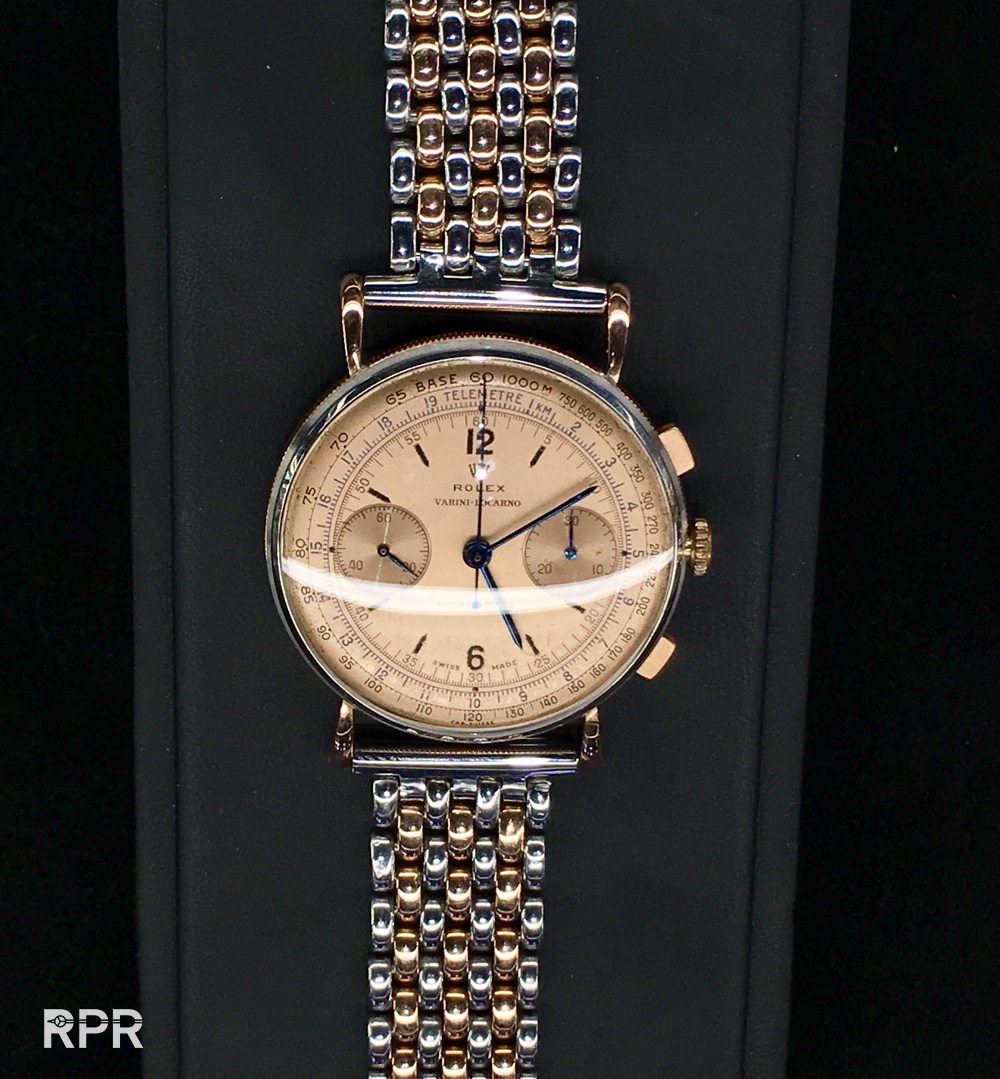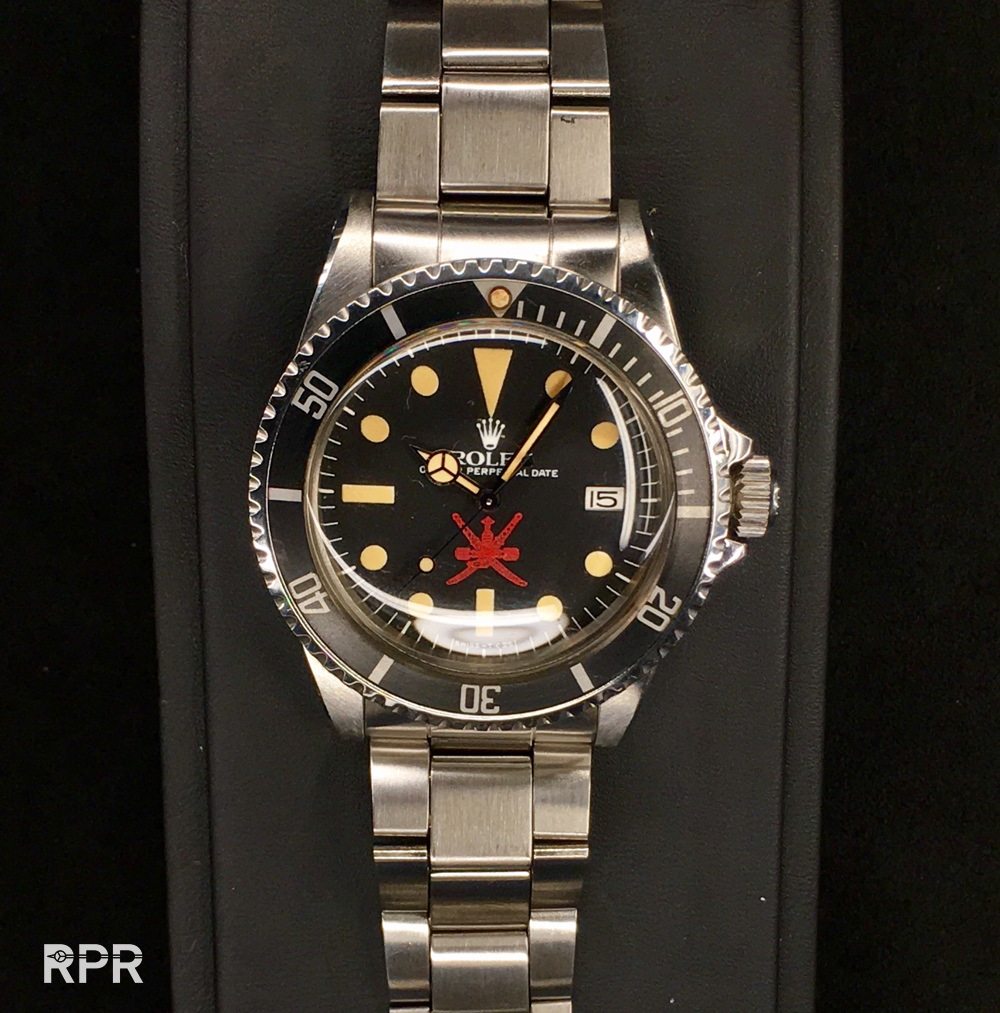 and Christie's New York…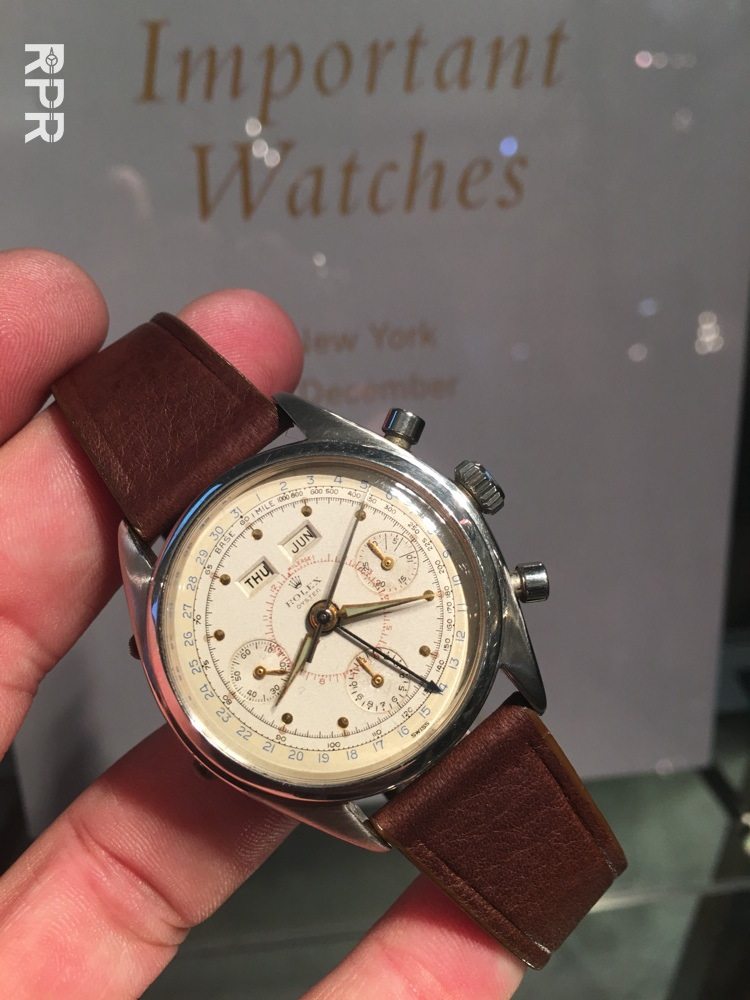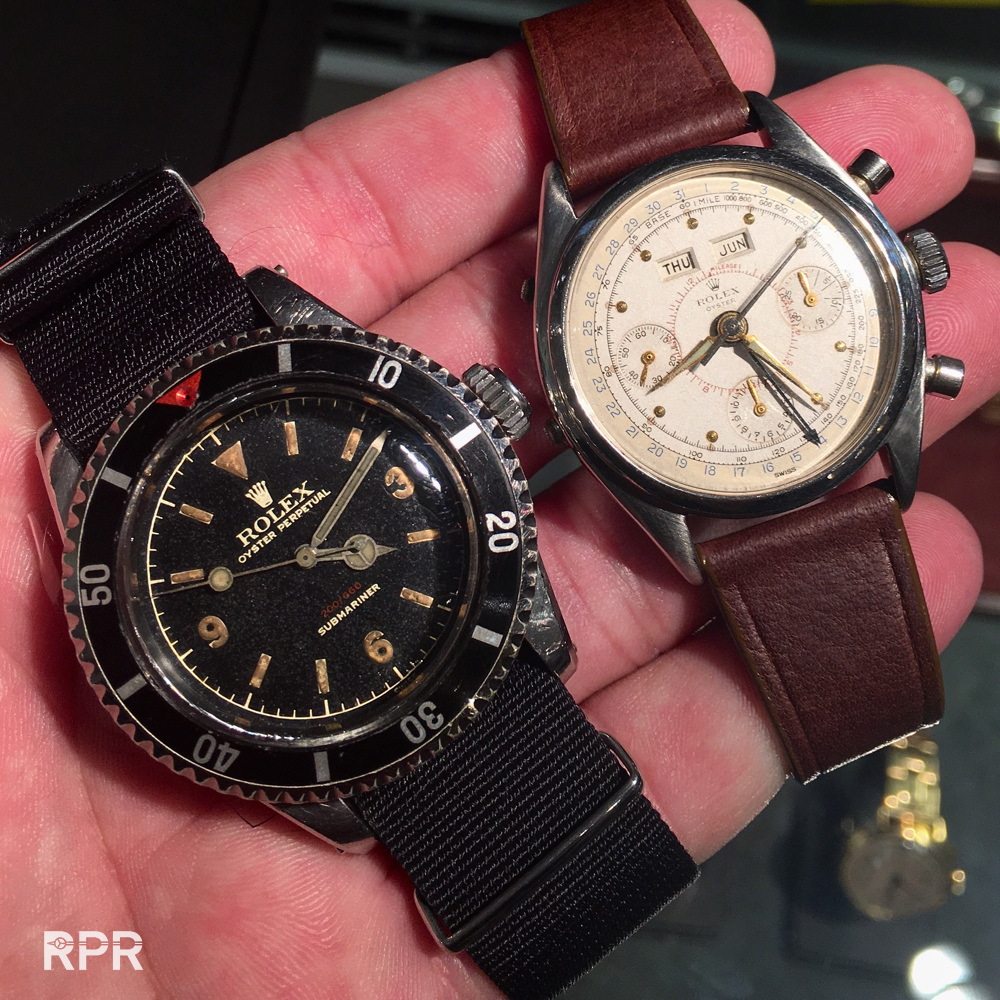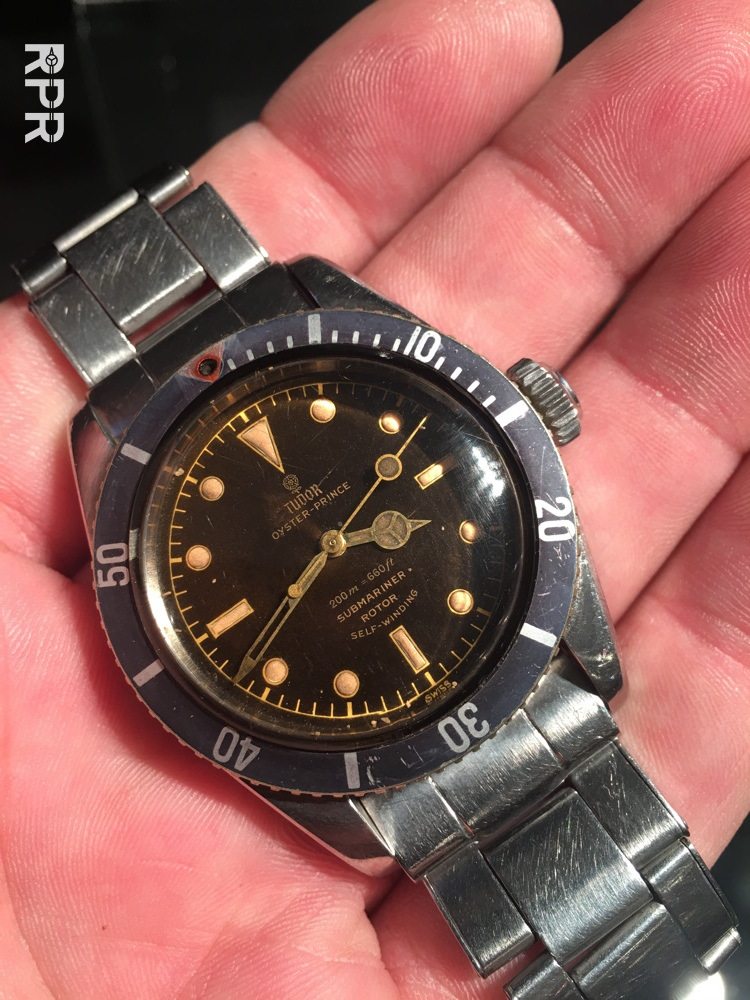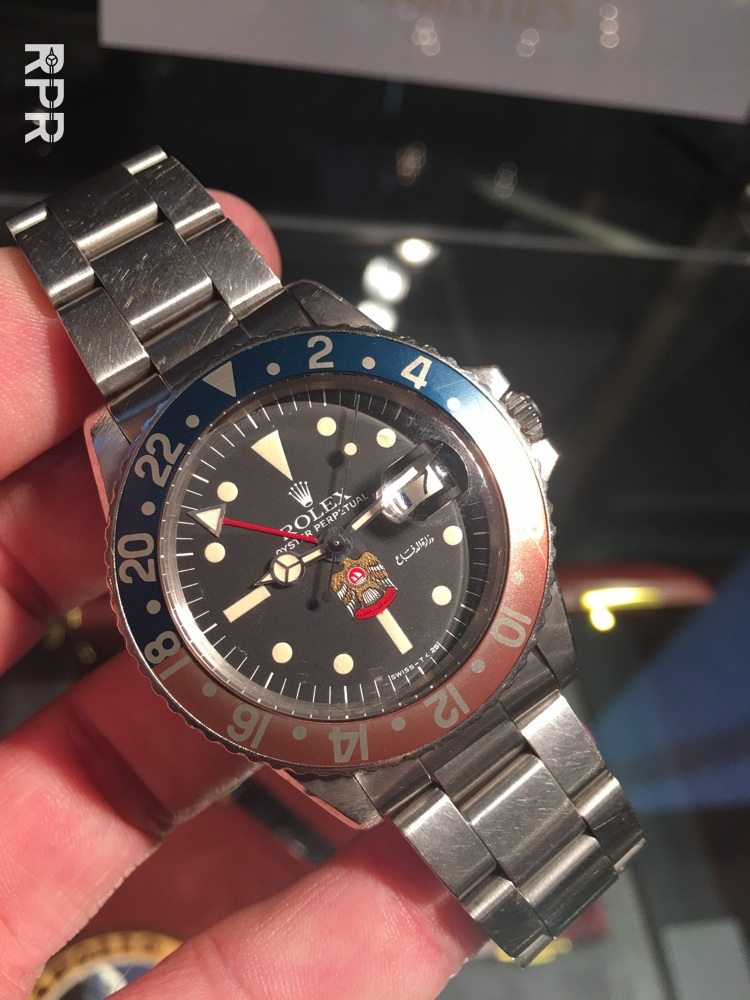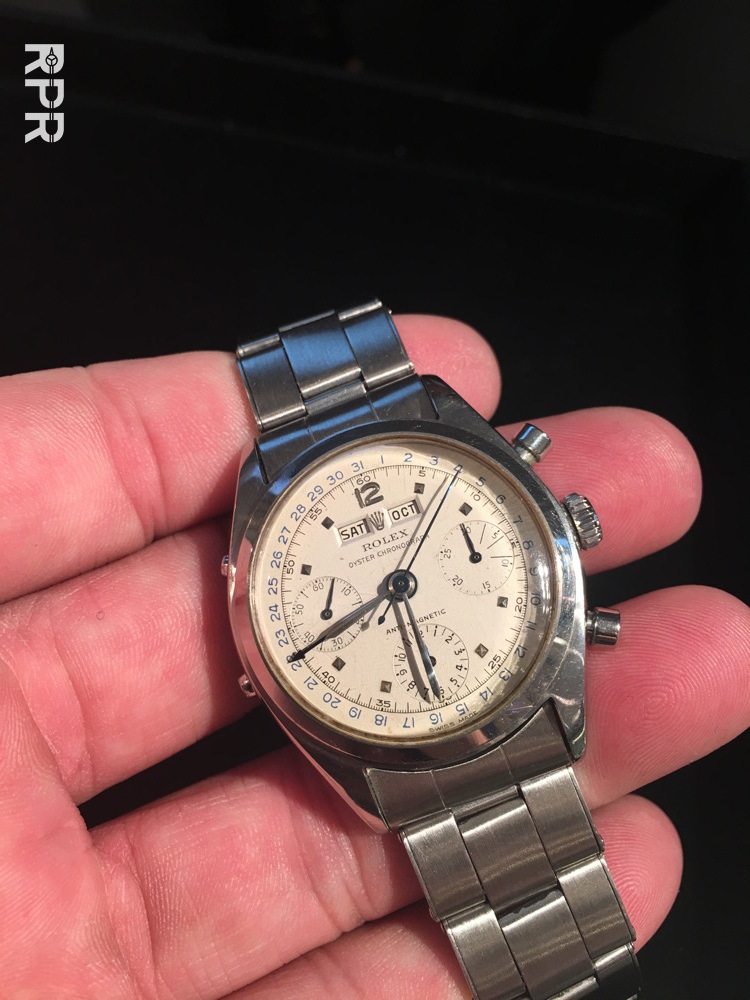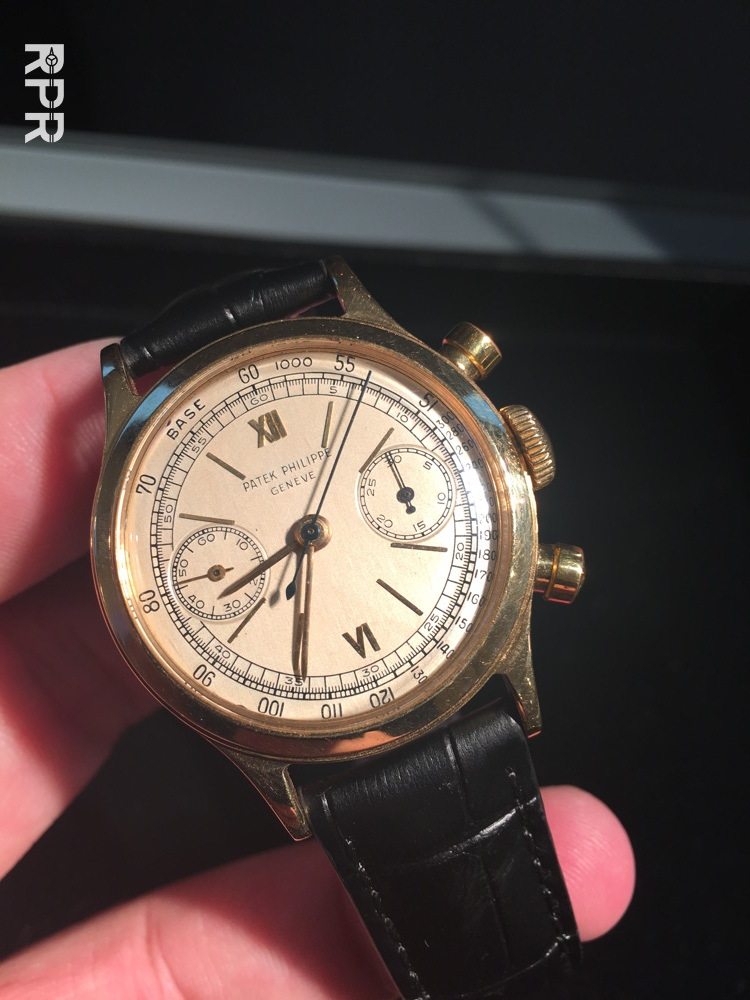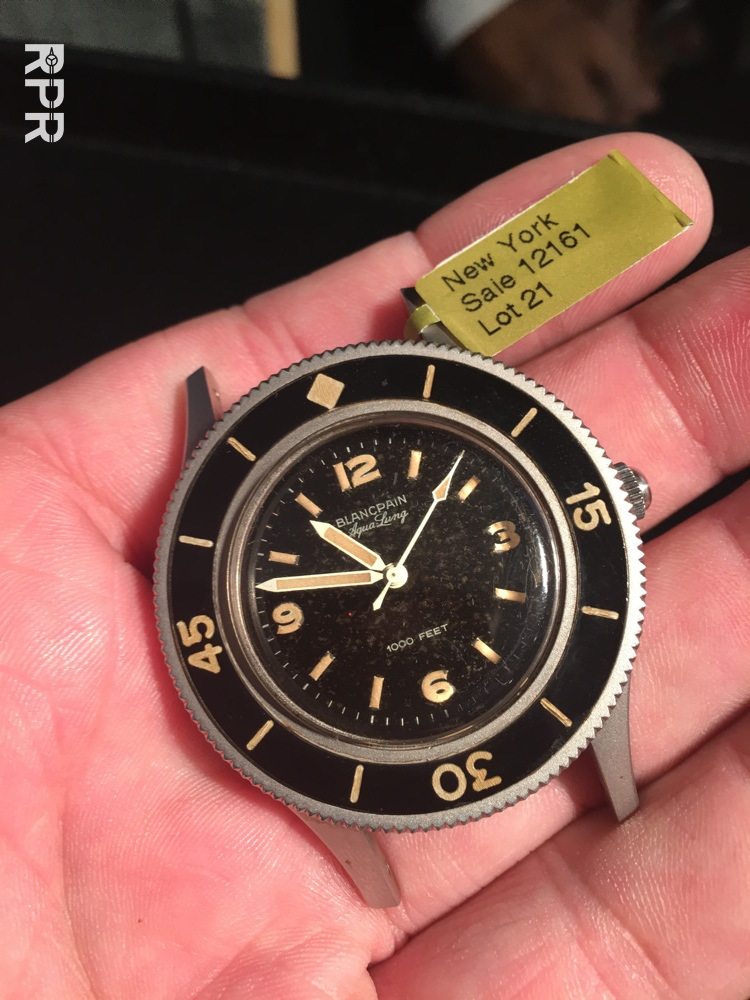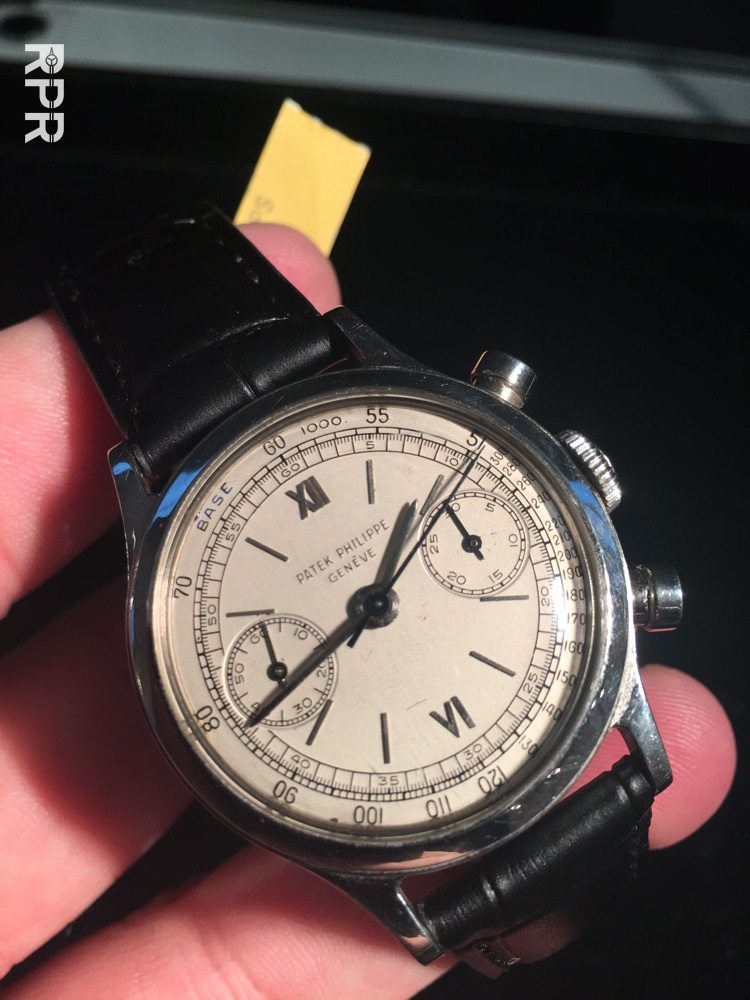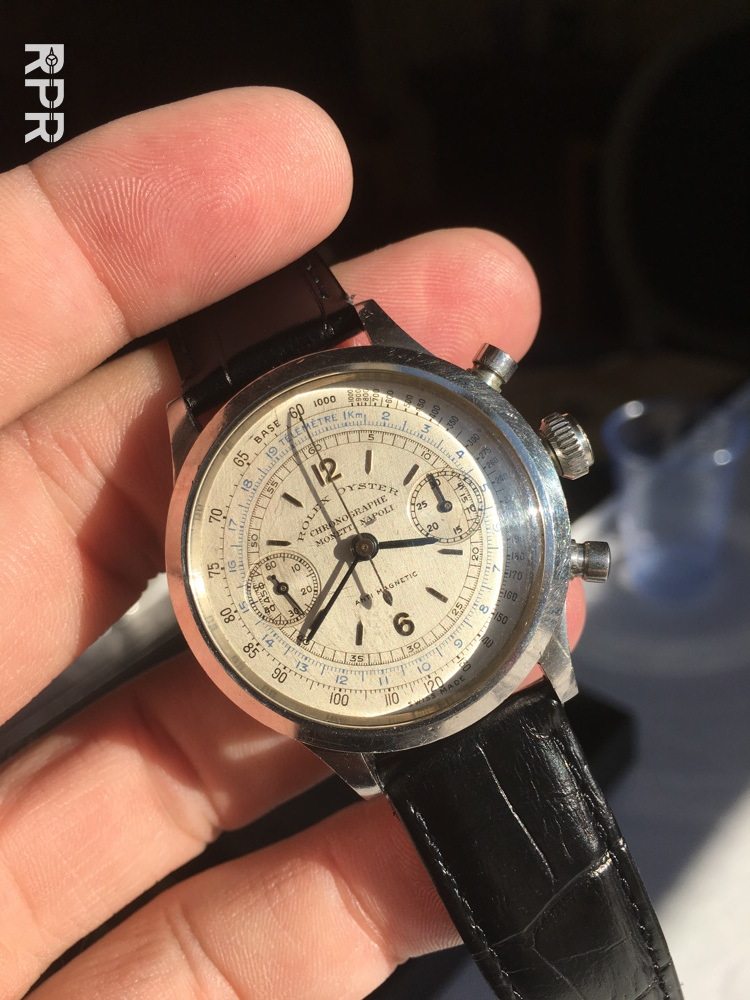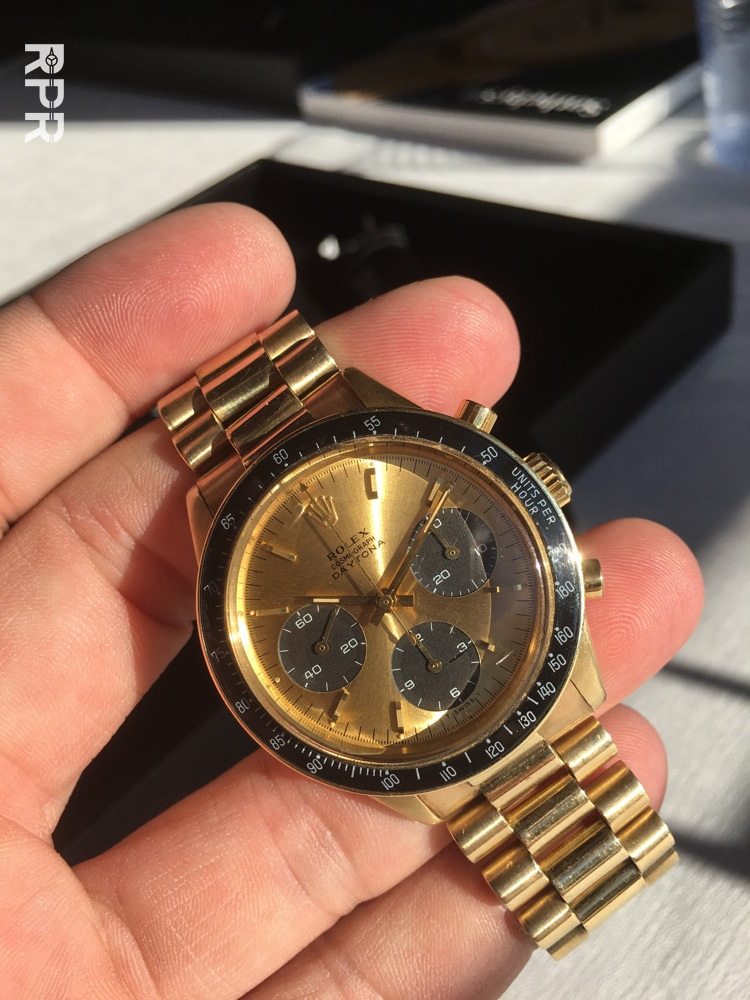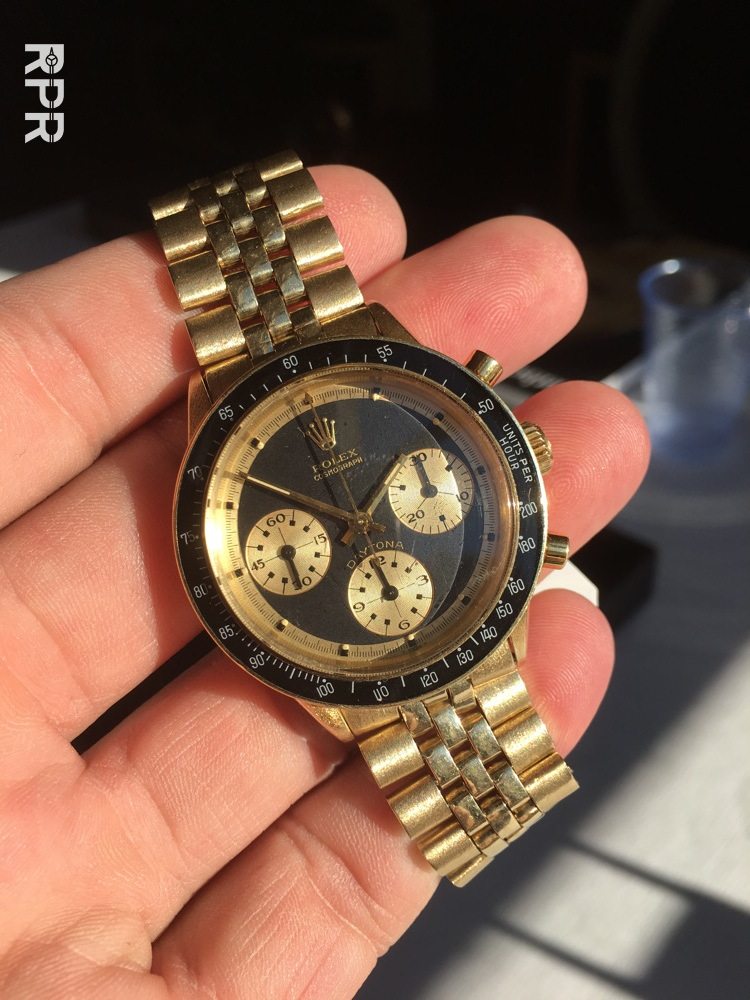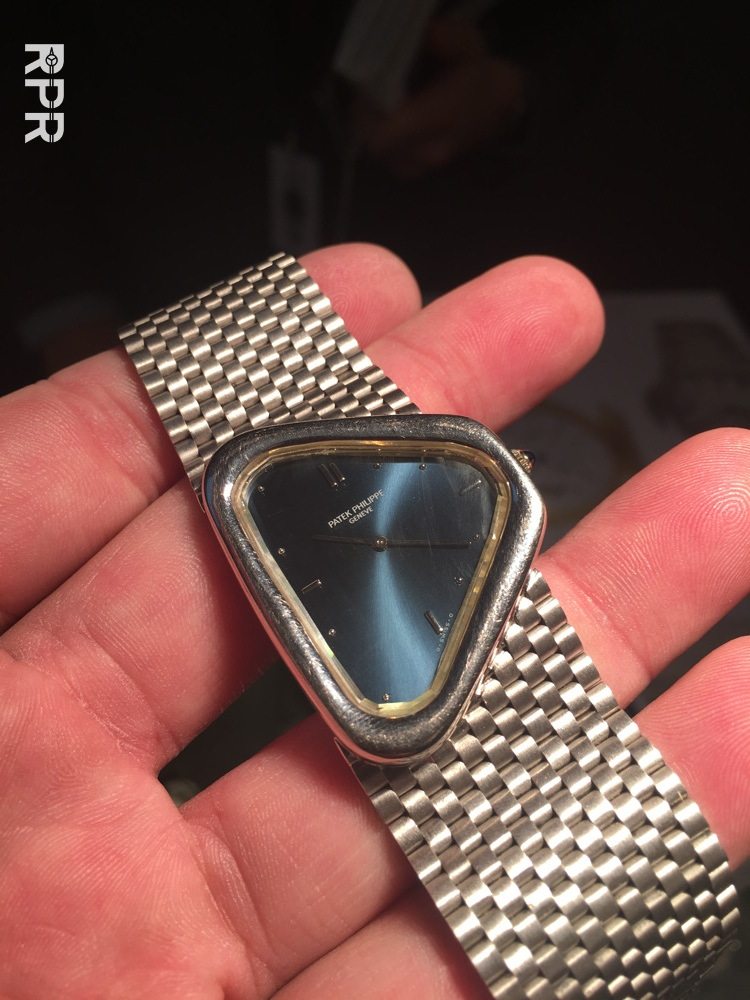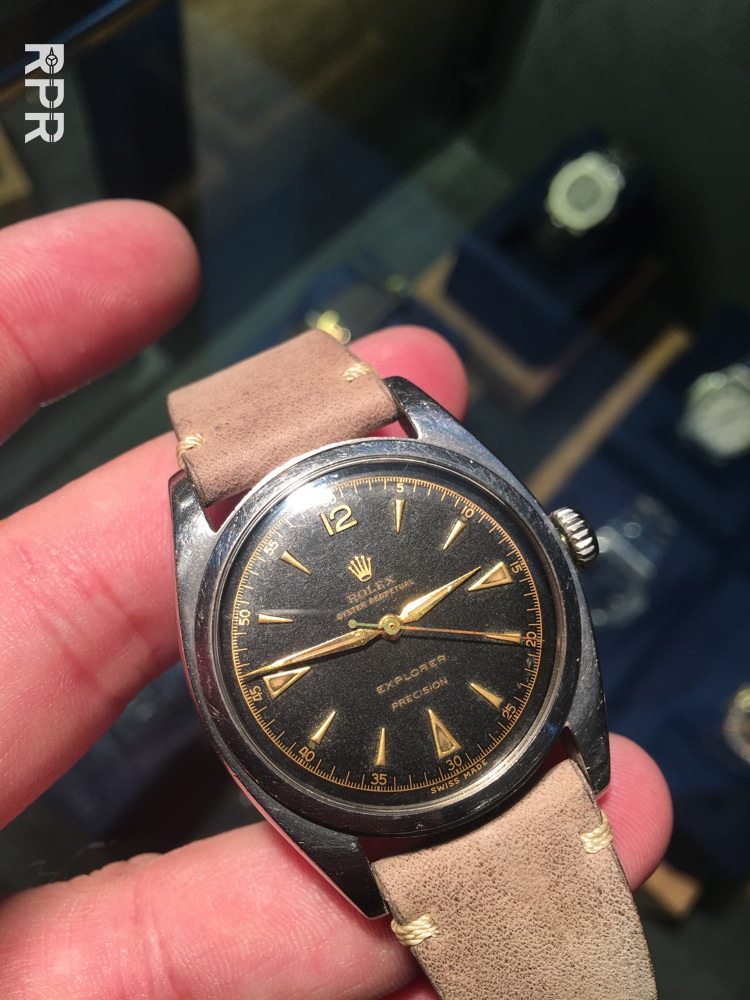 Those that are looking for a christmas gift…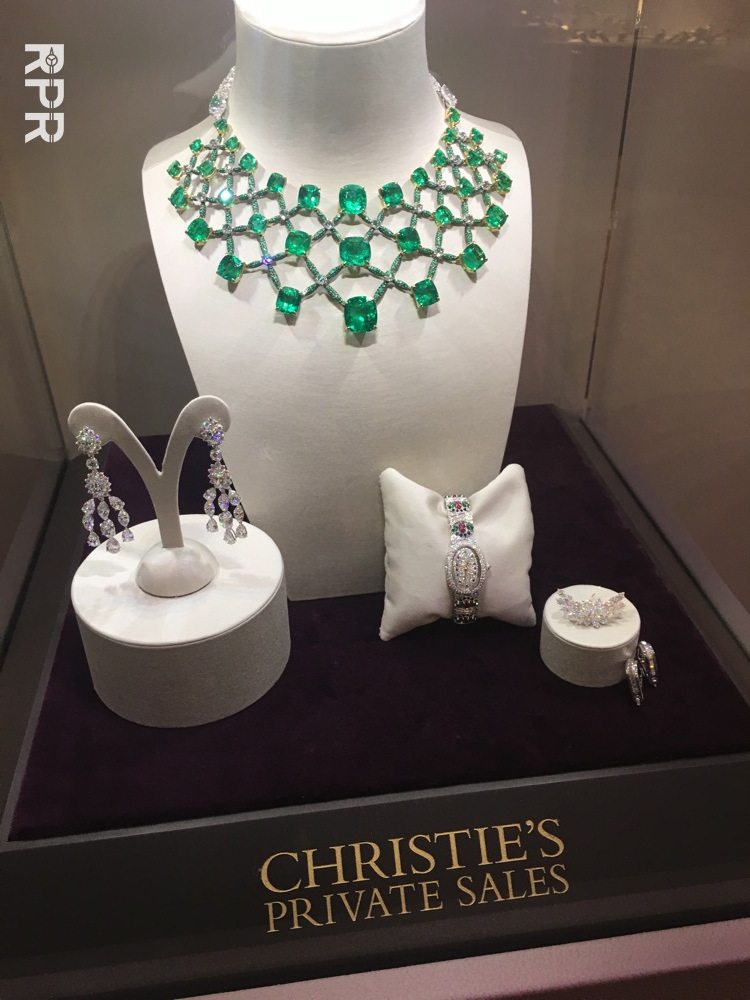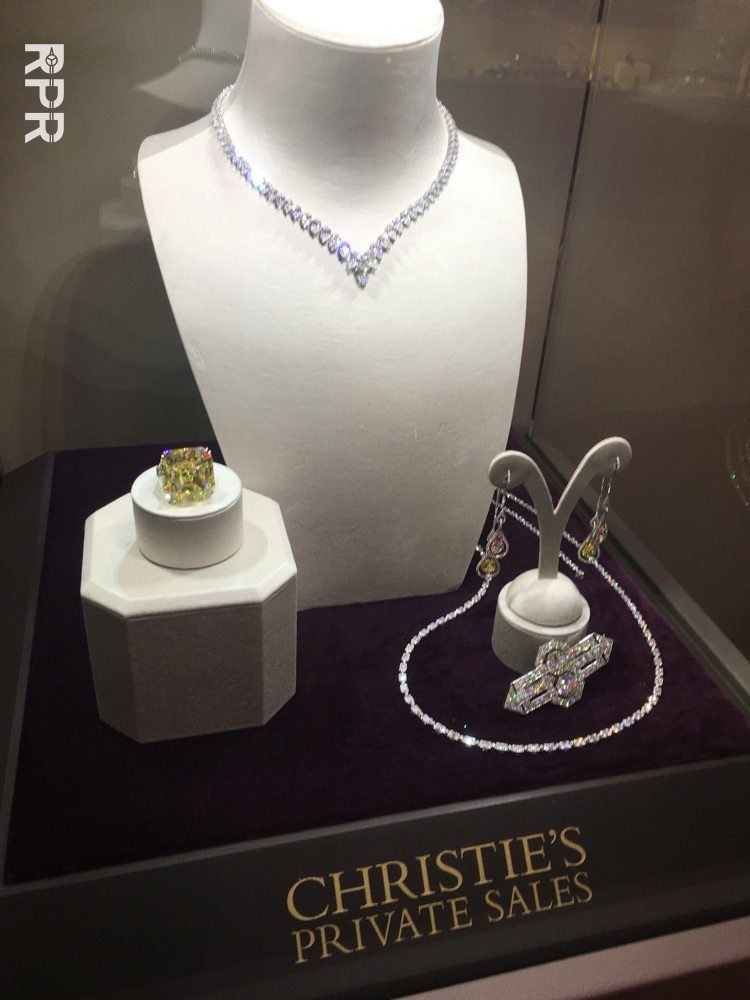 UPDATE
I like to show you some more additional pictures I made during the preview of the different auction houses. I'll also explain you my concerns with the close up's I made. Now the market decided the value of the given pieces, I like to explore some lots in depth with you. Now lets have a better look at this so calles Sub Aqua for instance..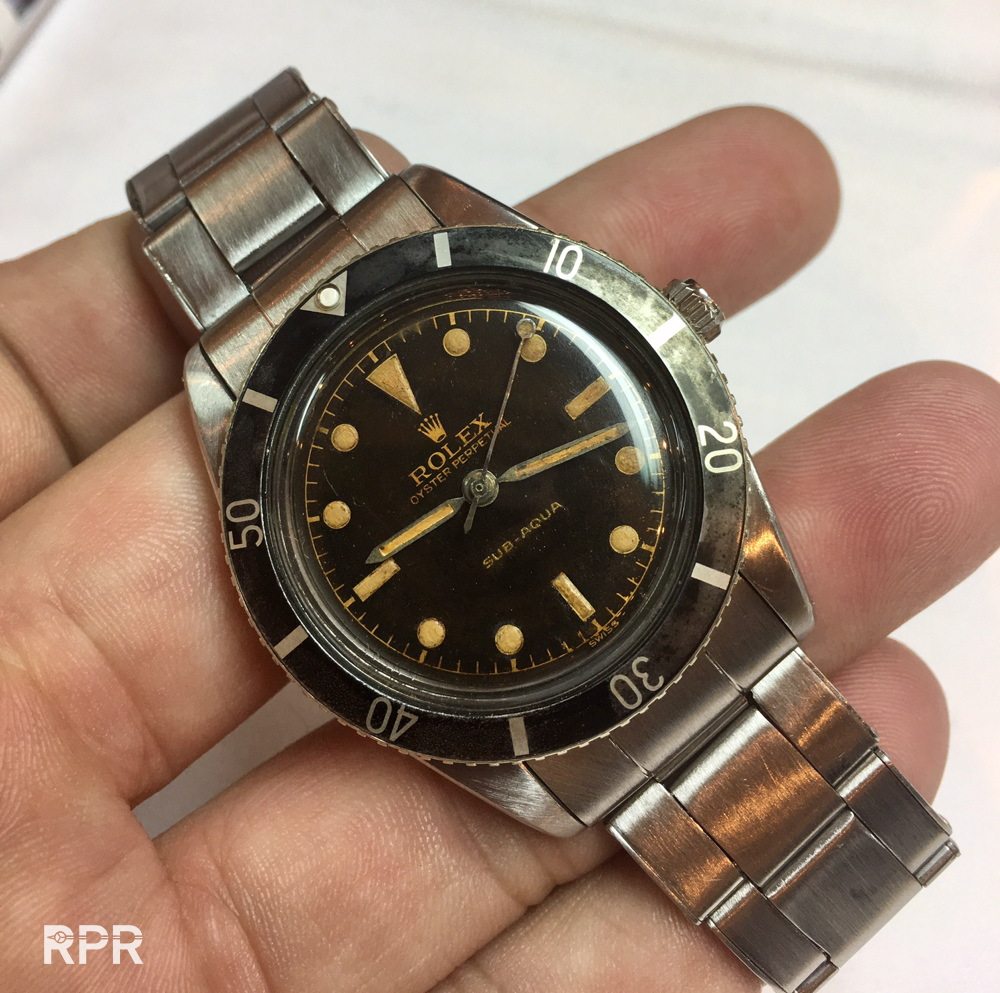 Actually what we see is a reprinted dial where Subaqua was added to, the bezel insert is wring as well. The lume on the dial is all fake as you can see up close…
Some of you guys asked my why the 6200 was performing below market price..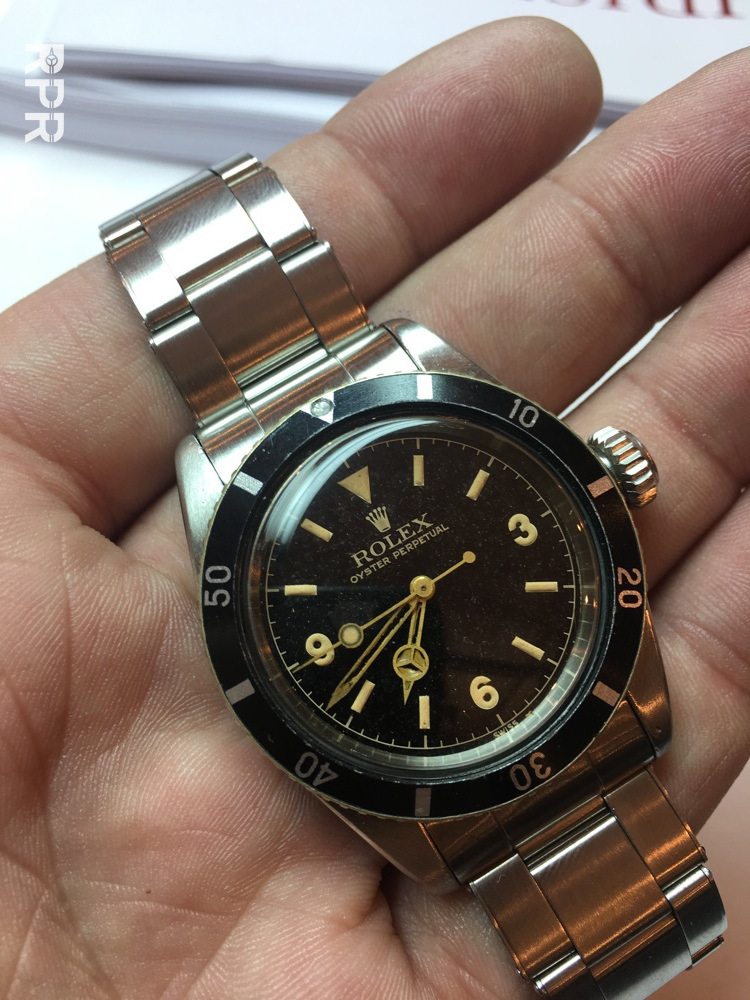 As i've warned collectors many times, you need to go to the preview to check the lots yore interested in person. Your own eyes are more trustable then the lens of camera of the auction house. The angle in which a picture is taken can hide a lot of problems…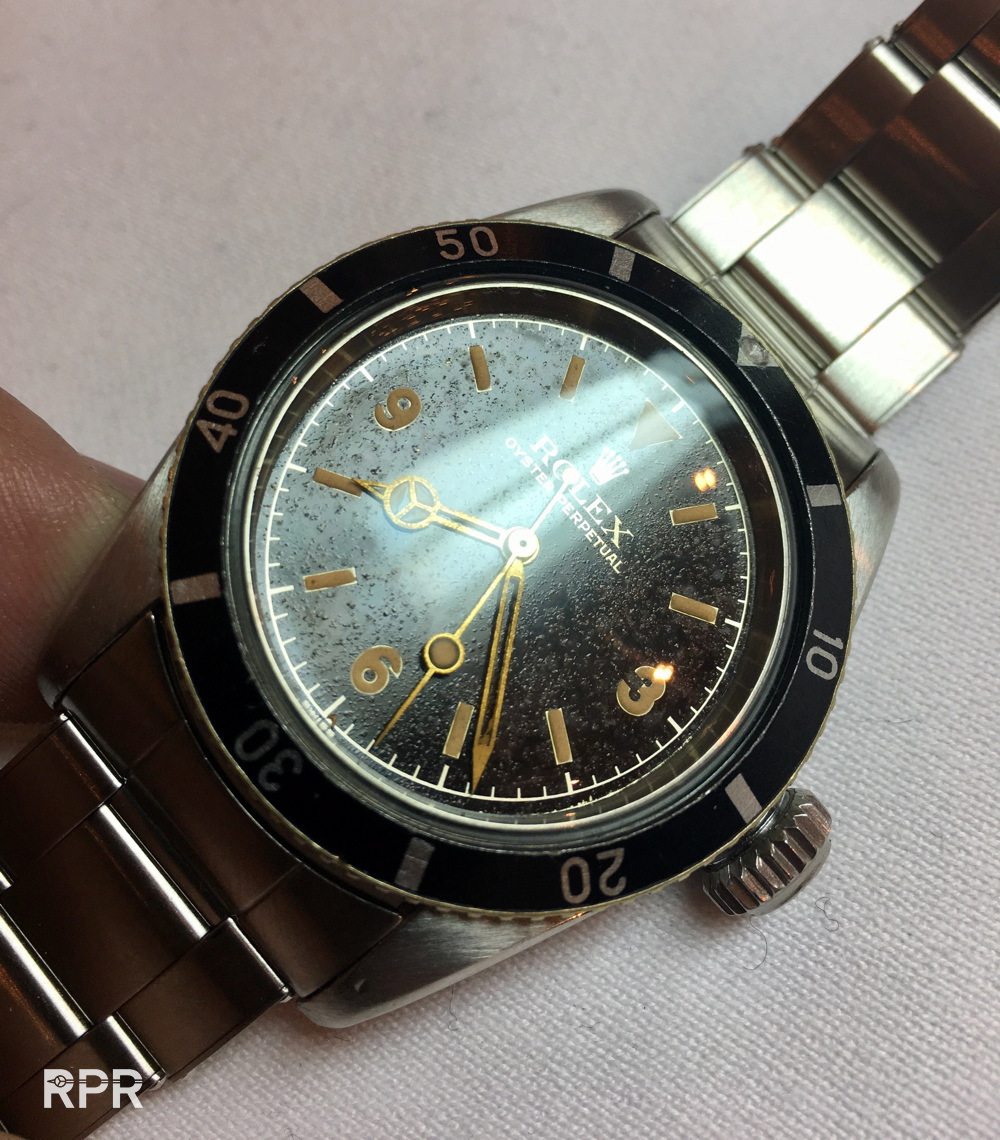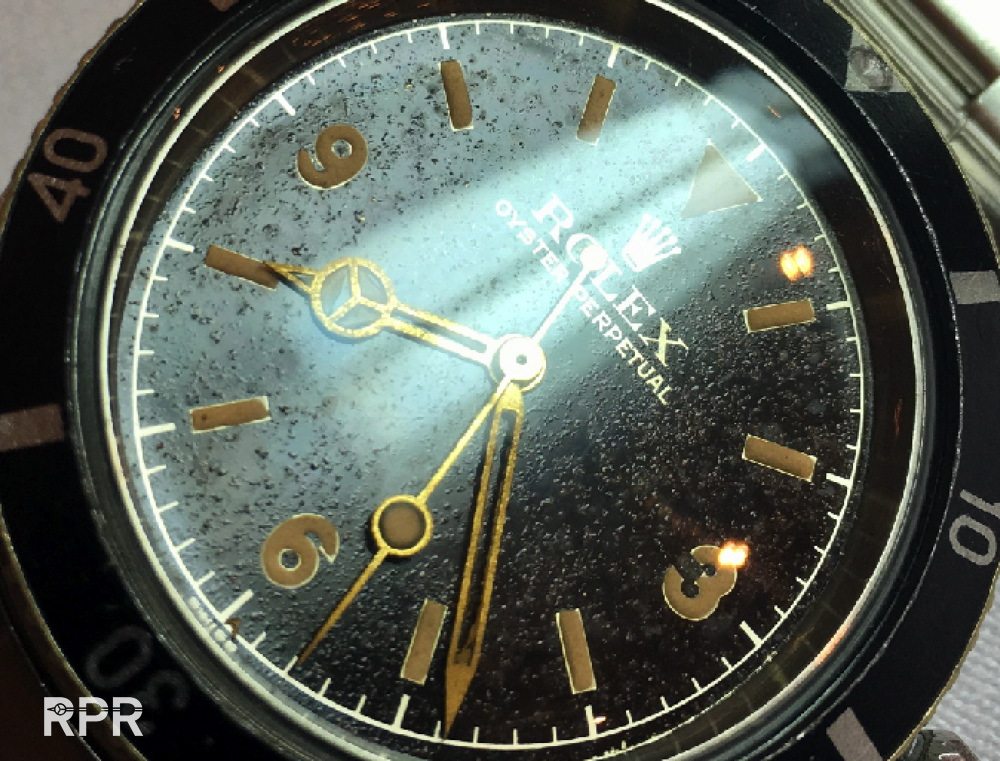 There was a reason why the room wasn't bidding on this black 2508 and you guys sitting in your lazy chair at home following the sale are wondering why perhaps. We have seen a similar example sell very high last auctions and with only a couple of numbers away from that one it didn't perform….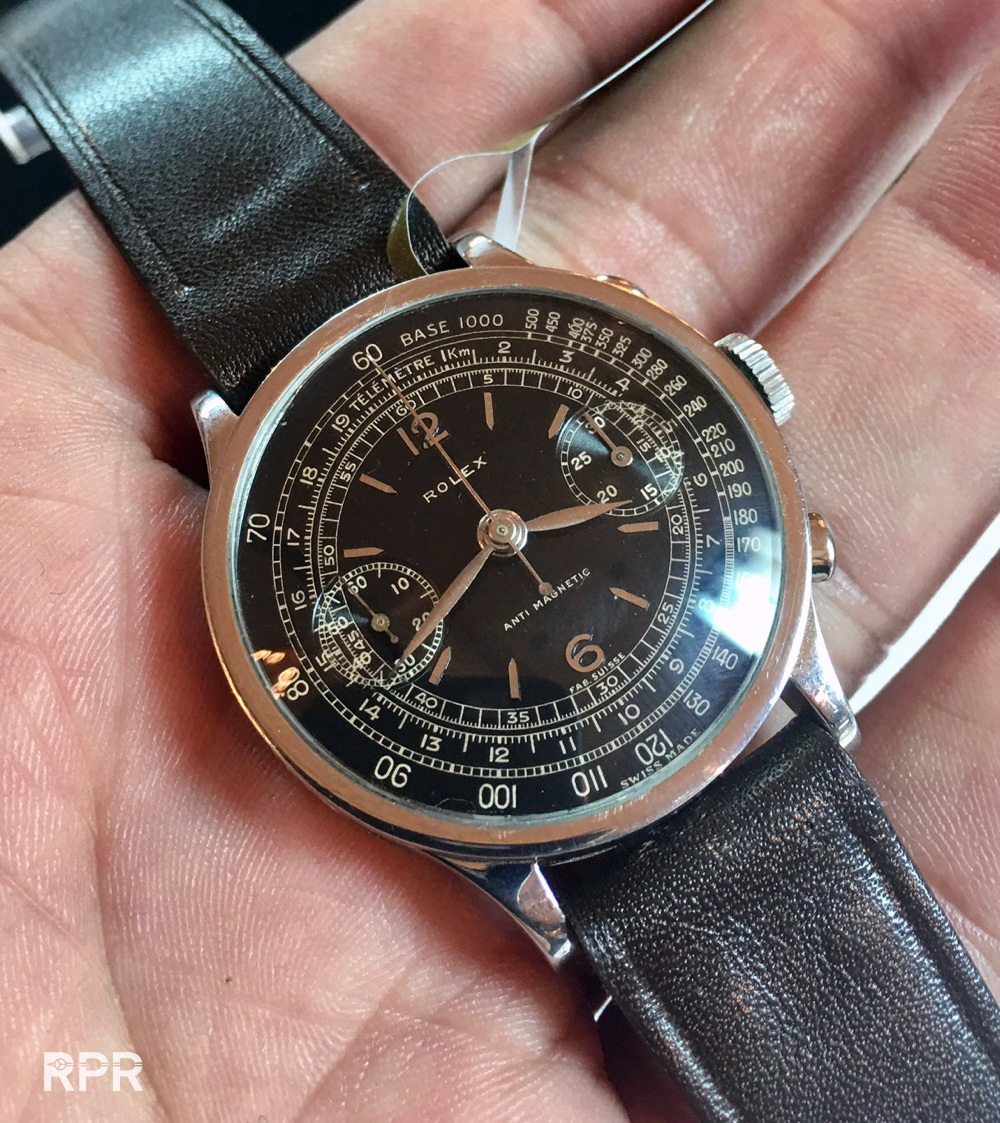 As usual there's always an explanation, the black dial had a chip on the edge of the dial between 7 and 8 o'clock, right above the 100 mark. Very difficult to make a picture of this restoration but once seen with your eyes it shows the chip has been filled with, most probably cold black enamel to cover the light surface…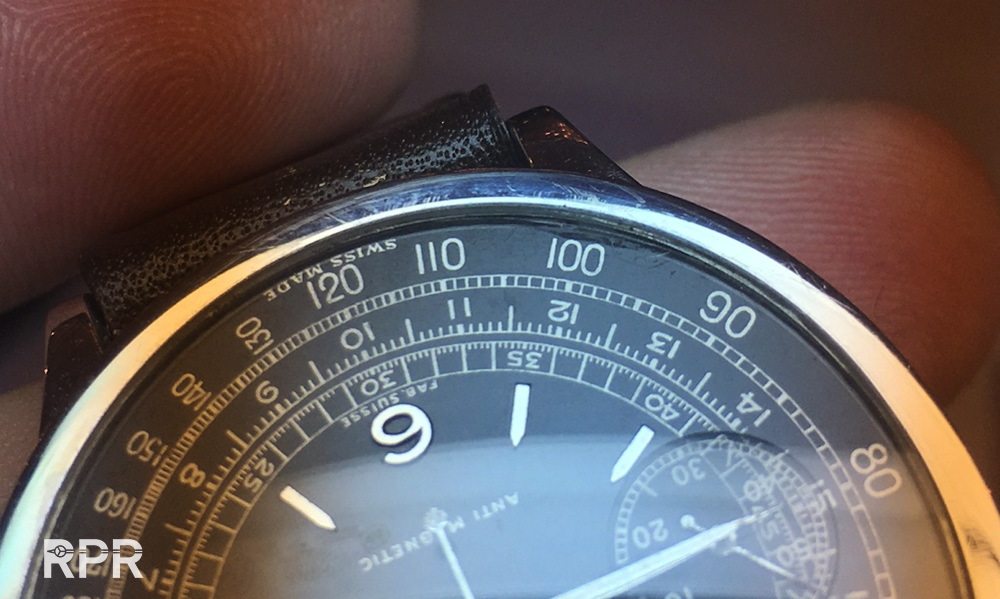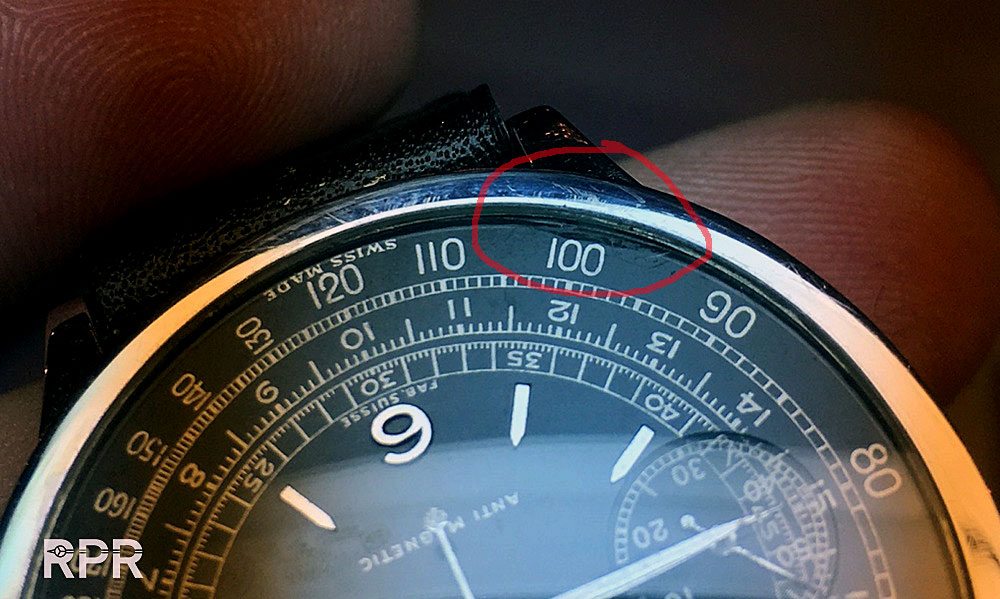 Following is the next Ref 2508, silver dial this time….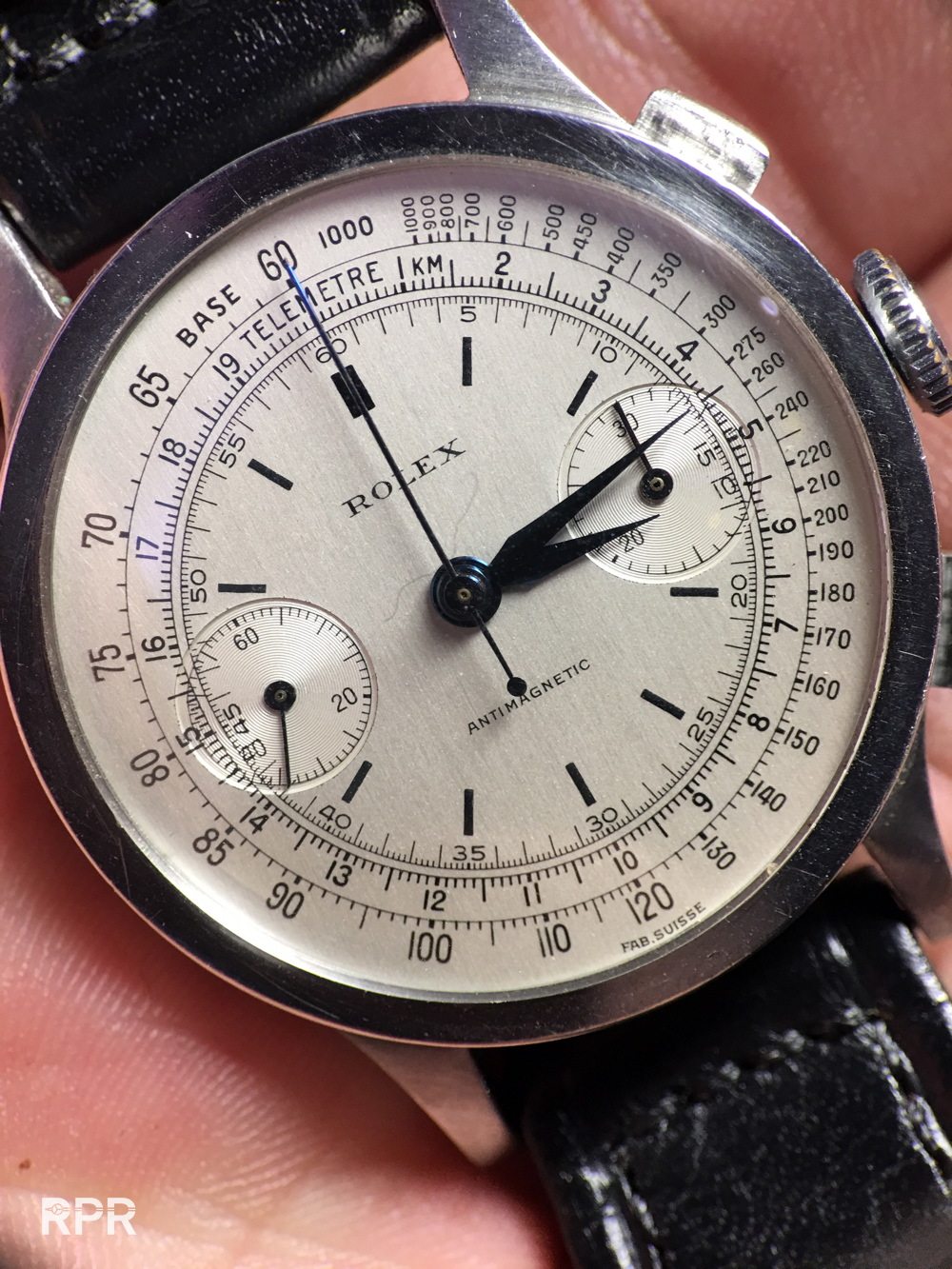 Now lets start this one from the back. The 'fresh numbers engraved in the case are a bit suspicious…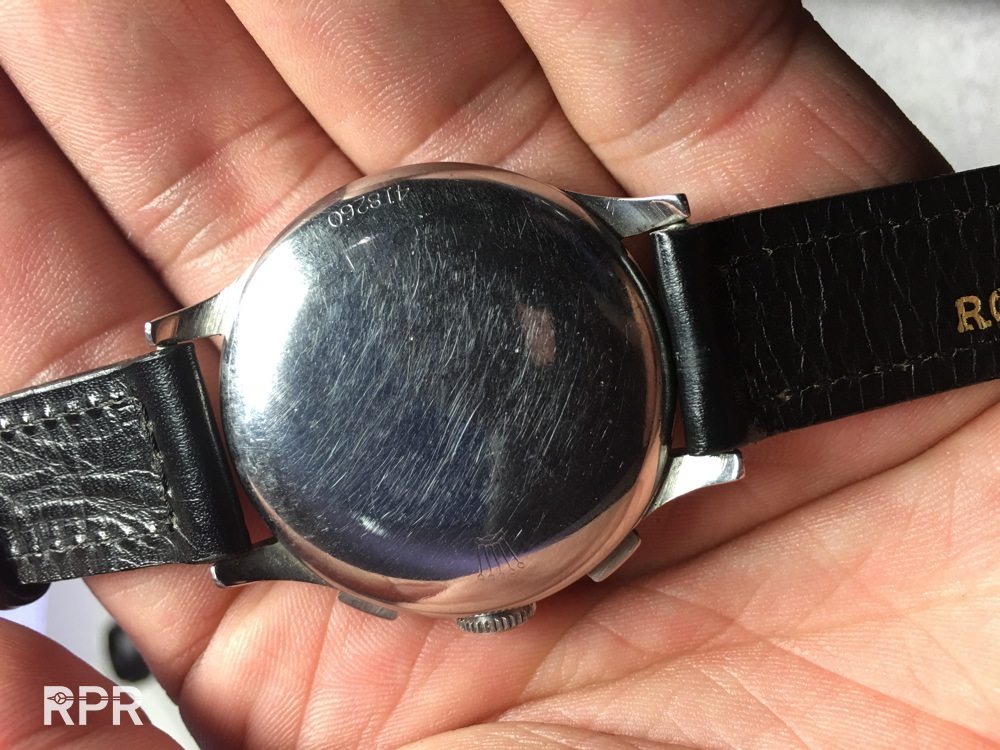 Up close for you to judge yourself…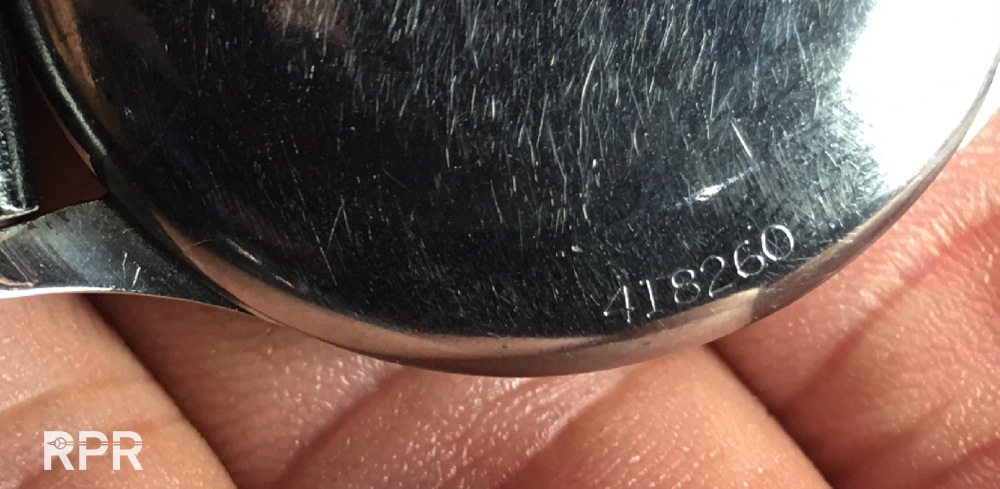 Then the front. The vertical lines on the surface normally tell you the dial has been cleaned, washed, sanded etc…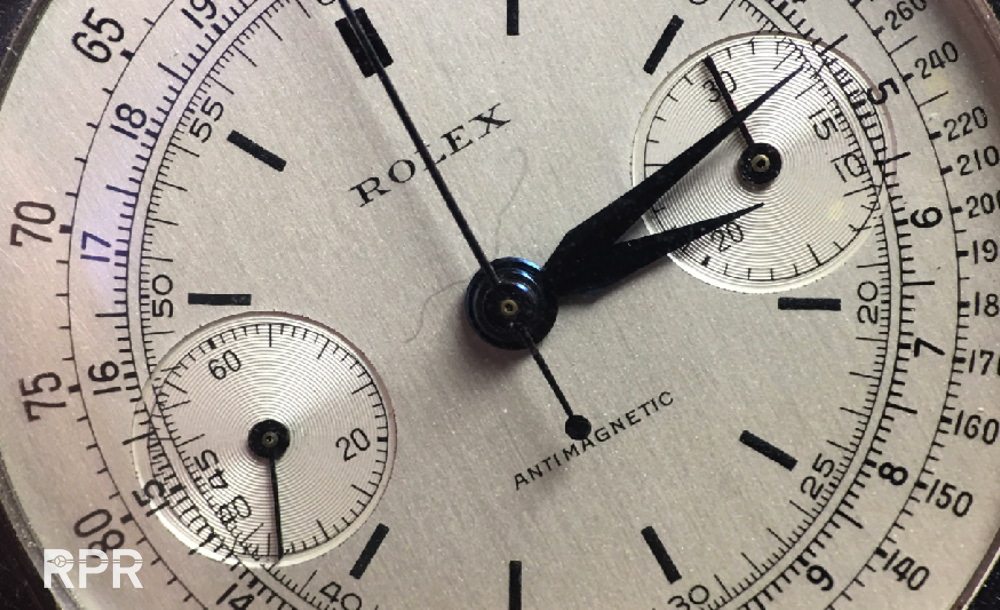 For me personally another indicator is that the printing of the sub dials don't match the openings as you see below. I marked the gap for you so you guys understand what I mean…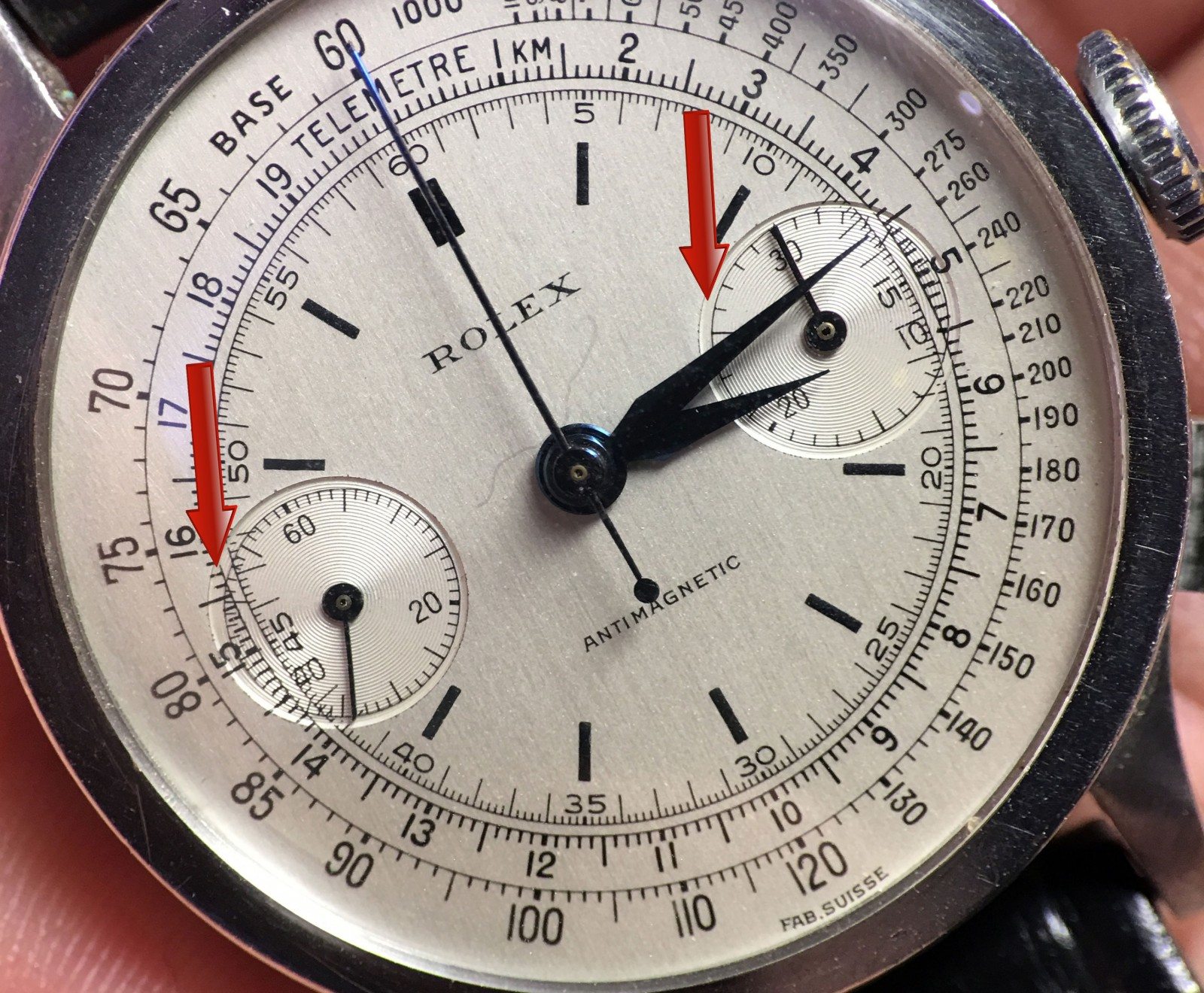 Yet another silver dial, which has been pulled from the sale by Phillips but nevertheless interesting to study why is this precision by Rolex. You clearly see the fine lines of sanding on the surface…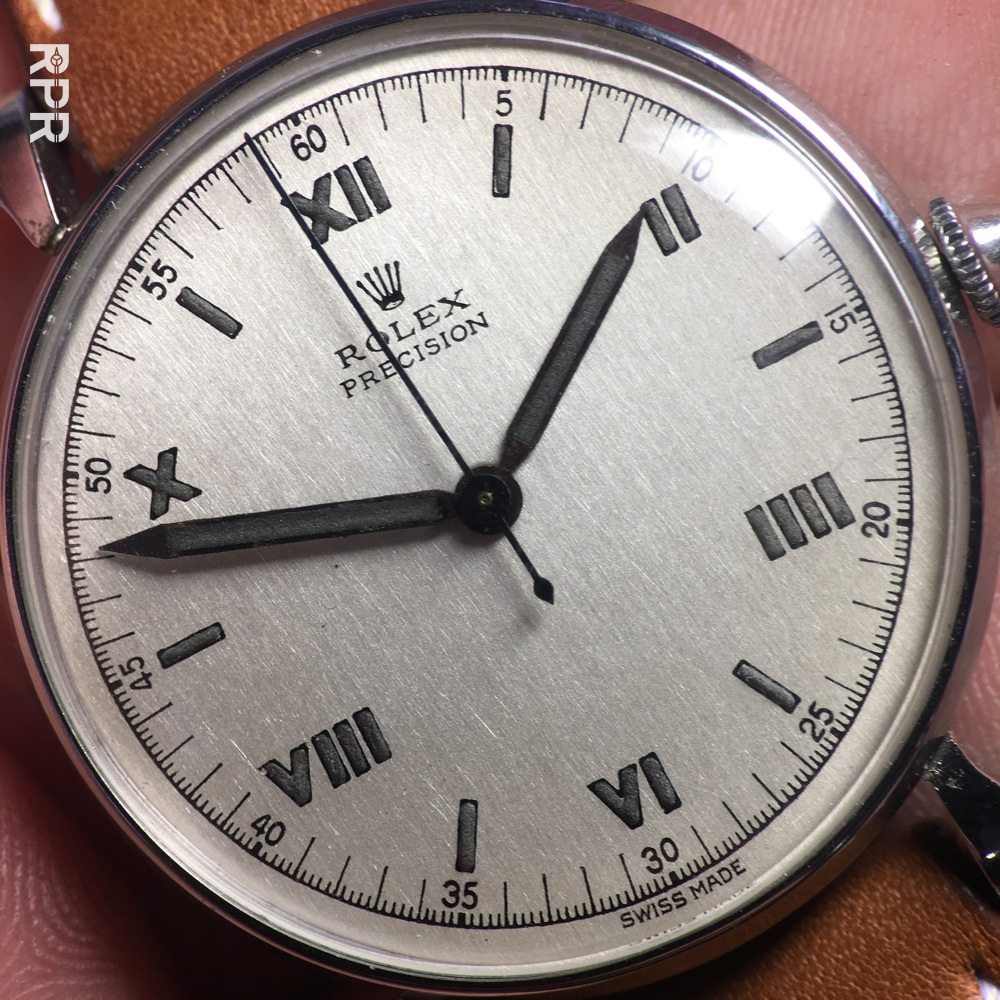 Besides that, when you go even close, you will see the coronet of Rolex and the print is way off…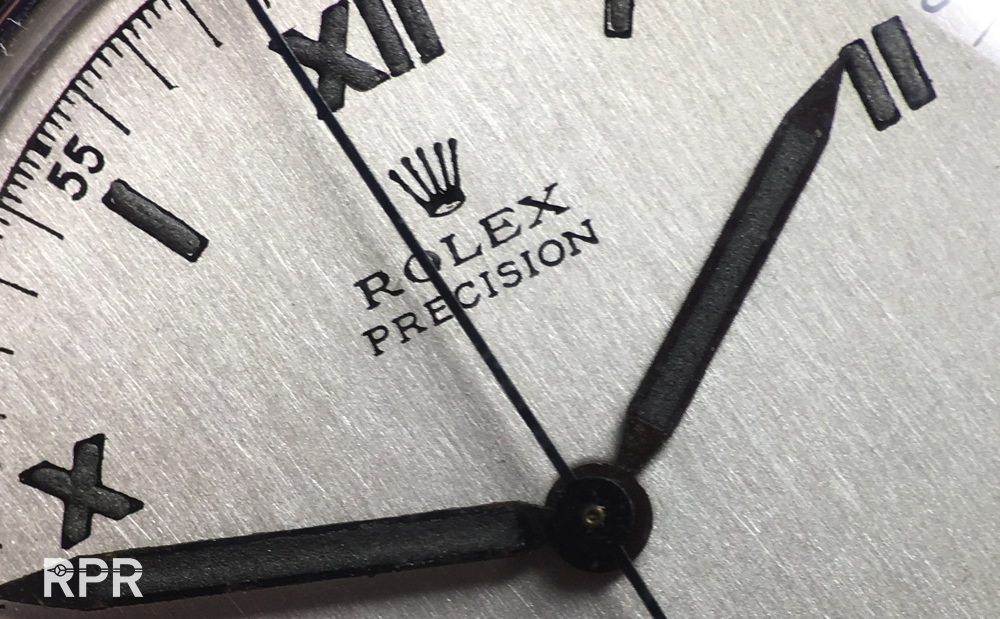 Following is early Rolex chrono and by some 'experts' described as their favorite lot.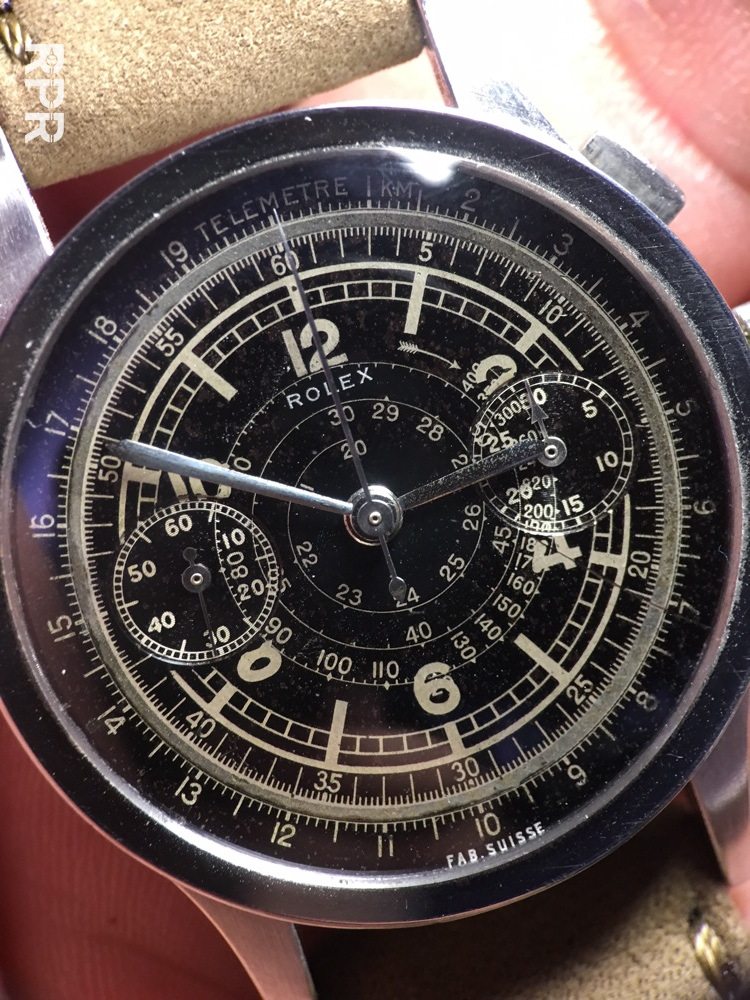 Now lets go in detail to the actual Rolex print. We know that the watch industry back in those days made many of this type of dials, often nameless. During the preview I made some special close ups to see if perhaps something was not logic…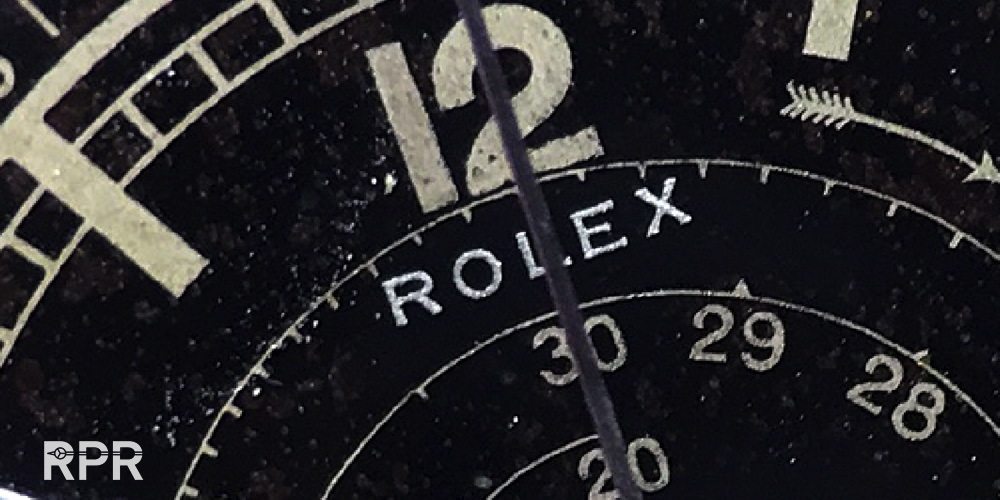 Now why would a dial thats this old have all kind of marks on the print which I pointed out and the Rolex logo look so fresh and clean?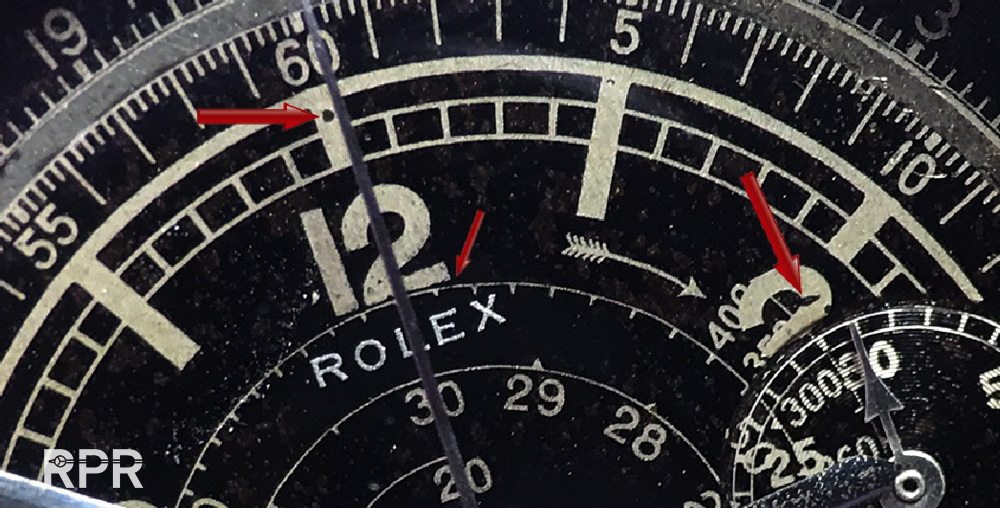 I for instance ask myself, why would a old watch have a luminous dial but non luminous hands? Isn't the idea of luminosity that you can see the time in the dark??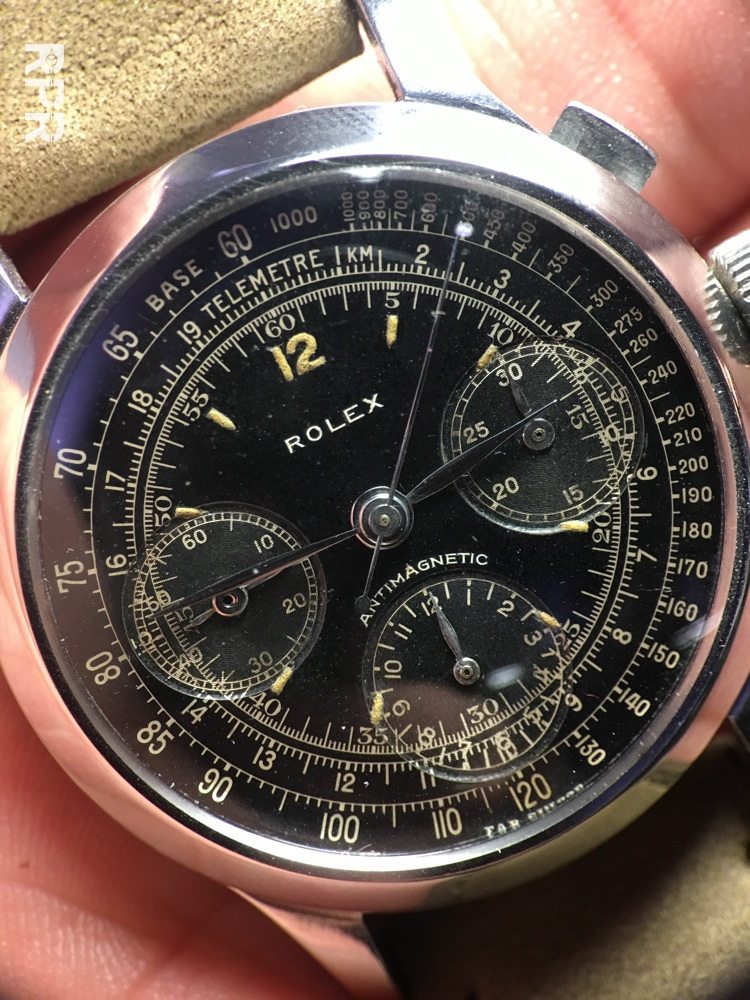 Now lets' zoom in and see what happened…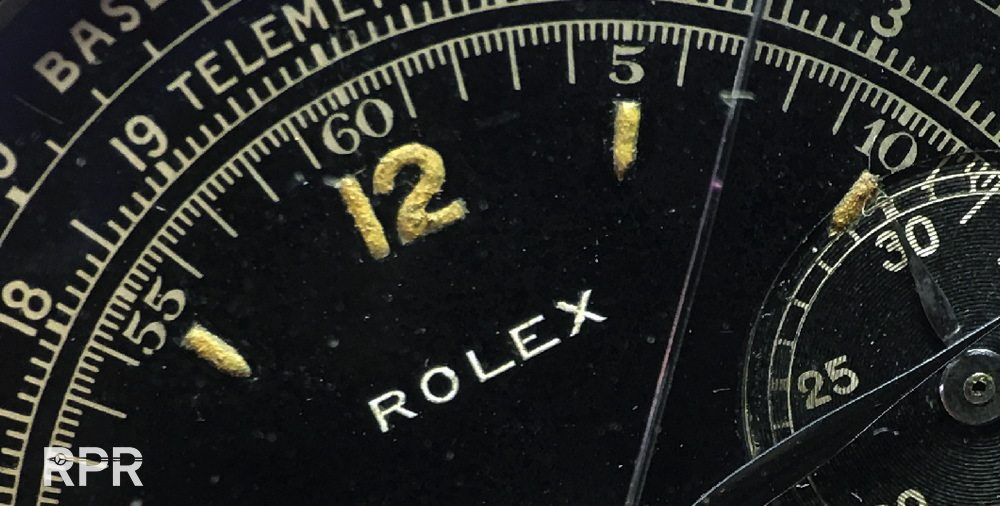 Obviously that luminous wasn't born on the dial and the rolex print also looks a bit sloppy, not necessary wrong as the restorer might have overprinted, hand painted the original vague Rolex print….
The following Ref 3525 is a 'fresh' find according to the auctioneer. Fresh find are great examples for us that teach correct all over matching patina….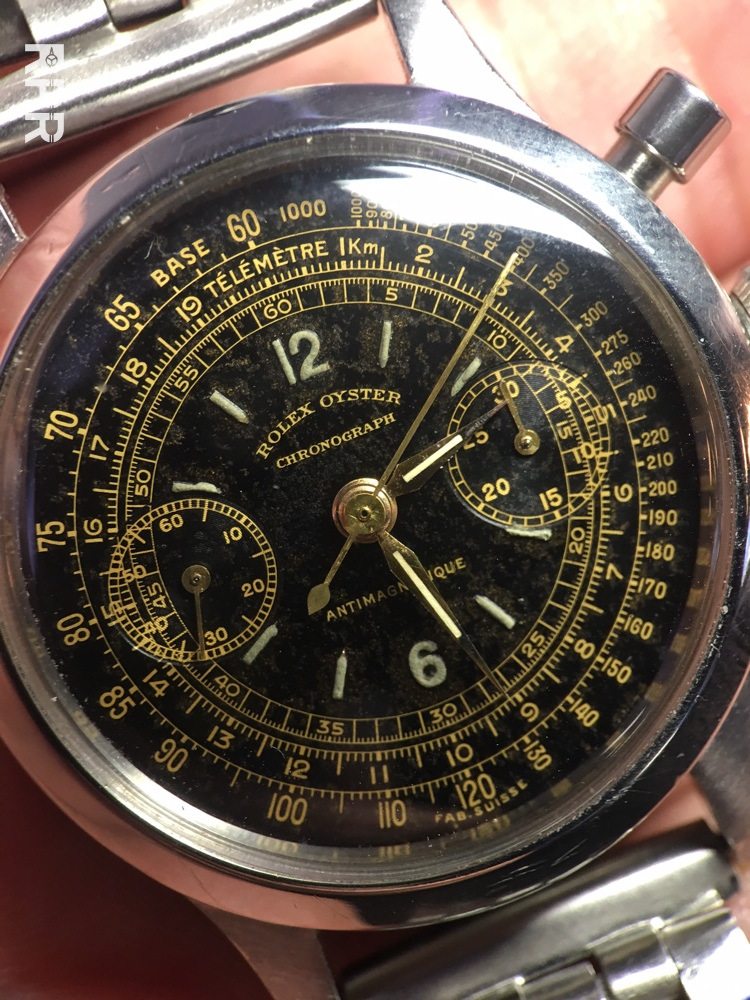 The non matching handset isn't that great of a deal but apparently the market decided not to go as high as other comparable black oyster monobloc's…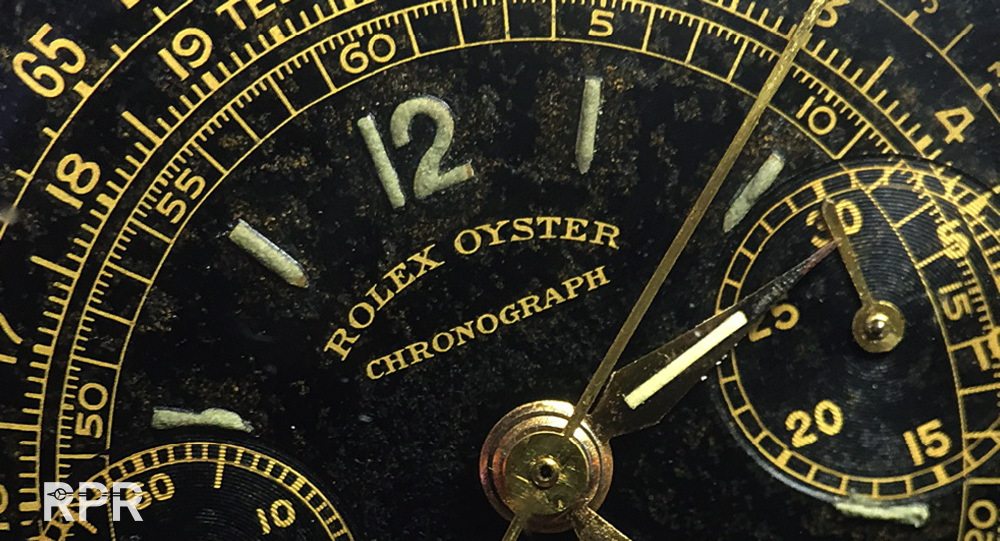 Following monobloc ref 3525 is all wrong, the whole print and the patinated chewing gum 😉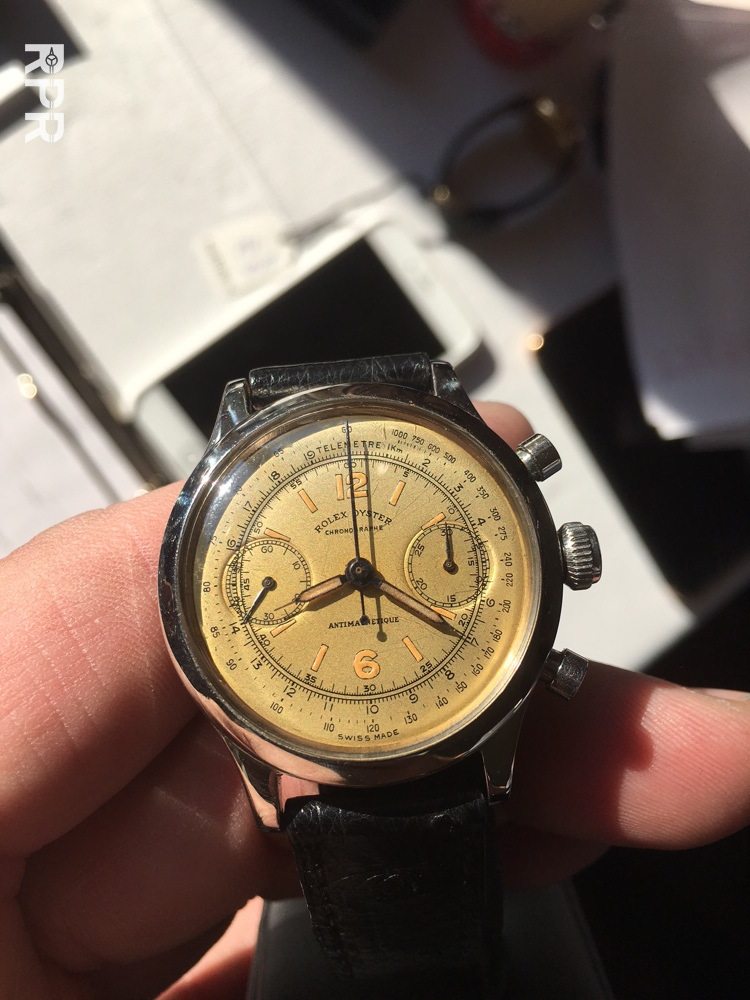 All honest honeycomb Explorer…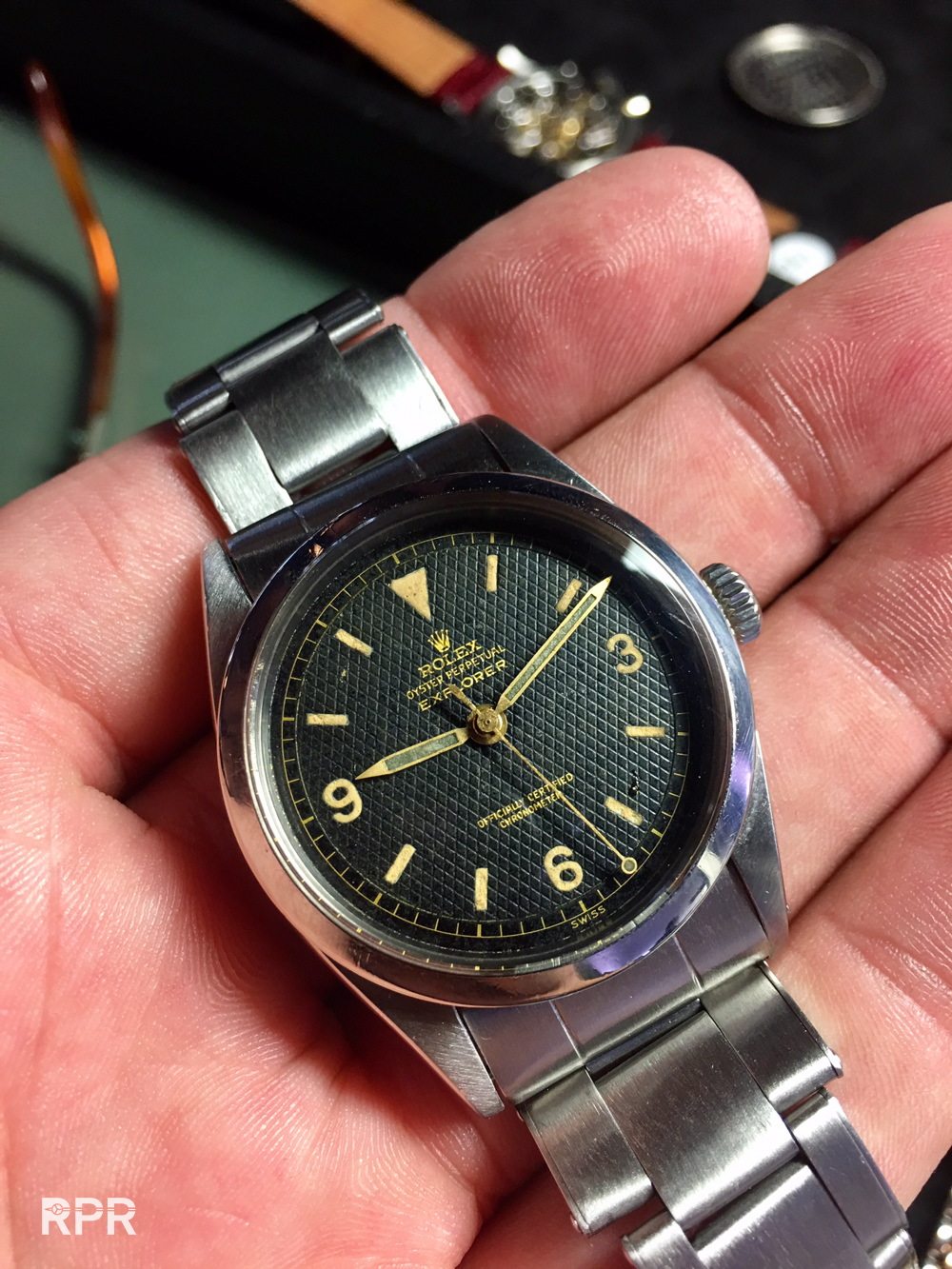 The result was a bit low because of the quality, like always, here in detail you see a bit of glue above 4 o'clock market and the luminous on those index has been scrubbed off, missing the original volume, something that has been done a lot by watchmakers in the past as the top layer was showing some dark spots, not un logic when you see how green the hands got from the moisture…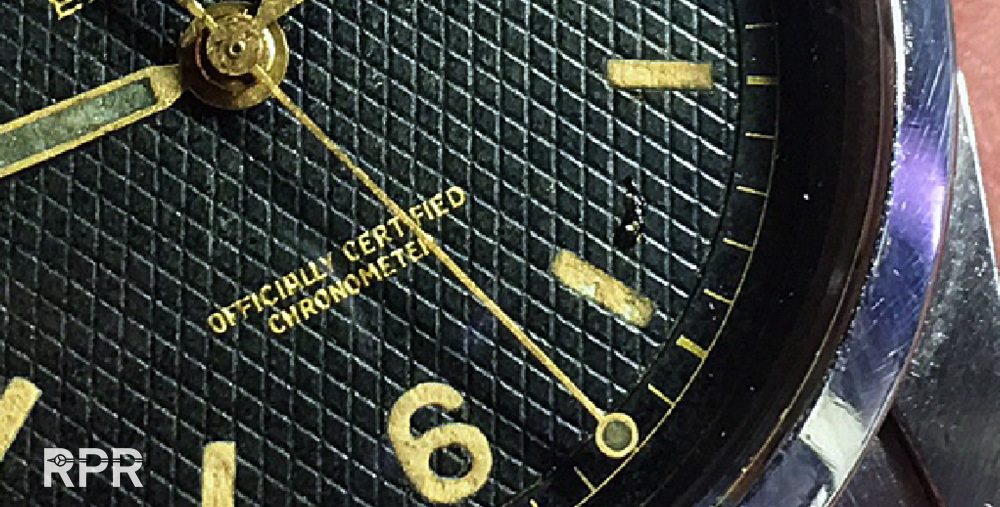 Last but not least, lets make a comparison between nice and great condition. Here are 2 x rare Ref 6239 double swiss underline. One of the earliest Daytona's Rolex made with serial numbers below 1 million. The cream grené dial surface is very sensitive for moisture and most of the times we see examples like the left one from Christie's with pitting, broken luminous dots, wrong hands in the subdials and polished case, clearly visible from the worn out steel bezel.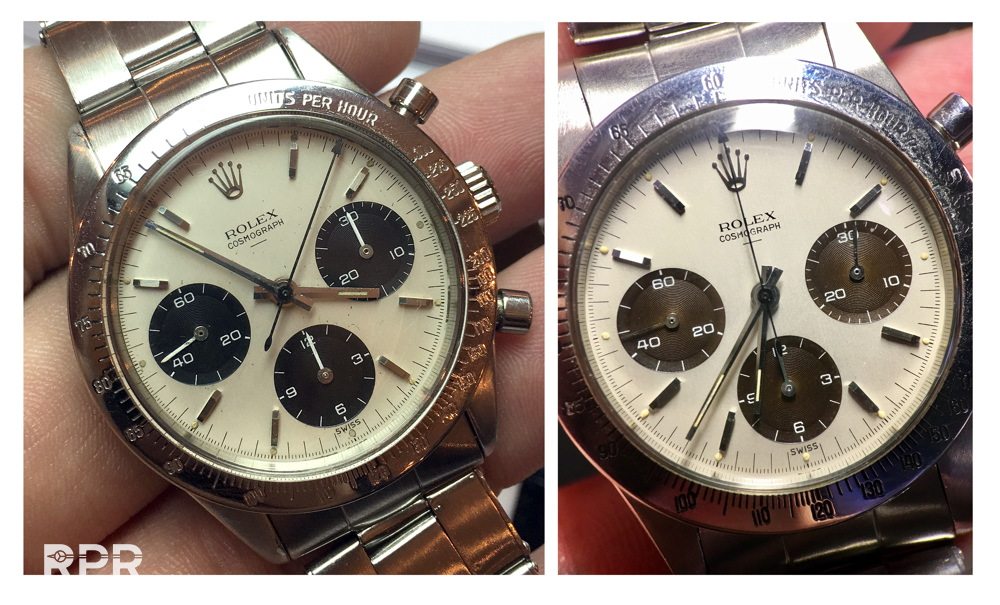 The price difference is huge between these two brothers. The left one at christie's was unsold with an estimate of CHF 60-90.000,= and the right tropical one sold at Phillips CHF 310.000,=. Quality rules, remember when you're buying your next vintage Rolex, no matter the reference try to buy the best possible condition you wallet allows you too!..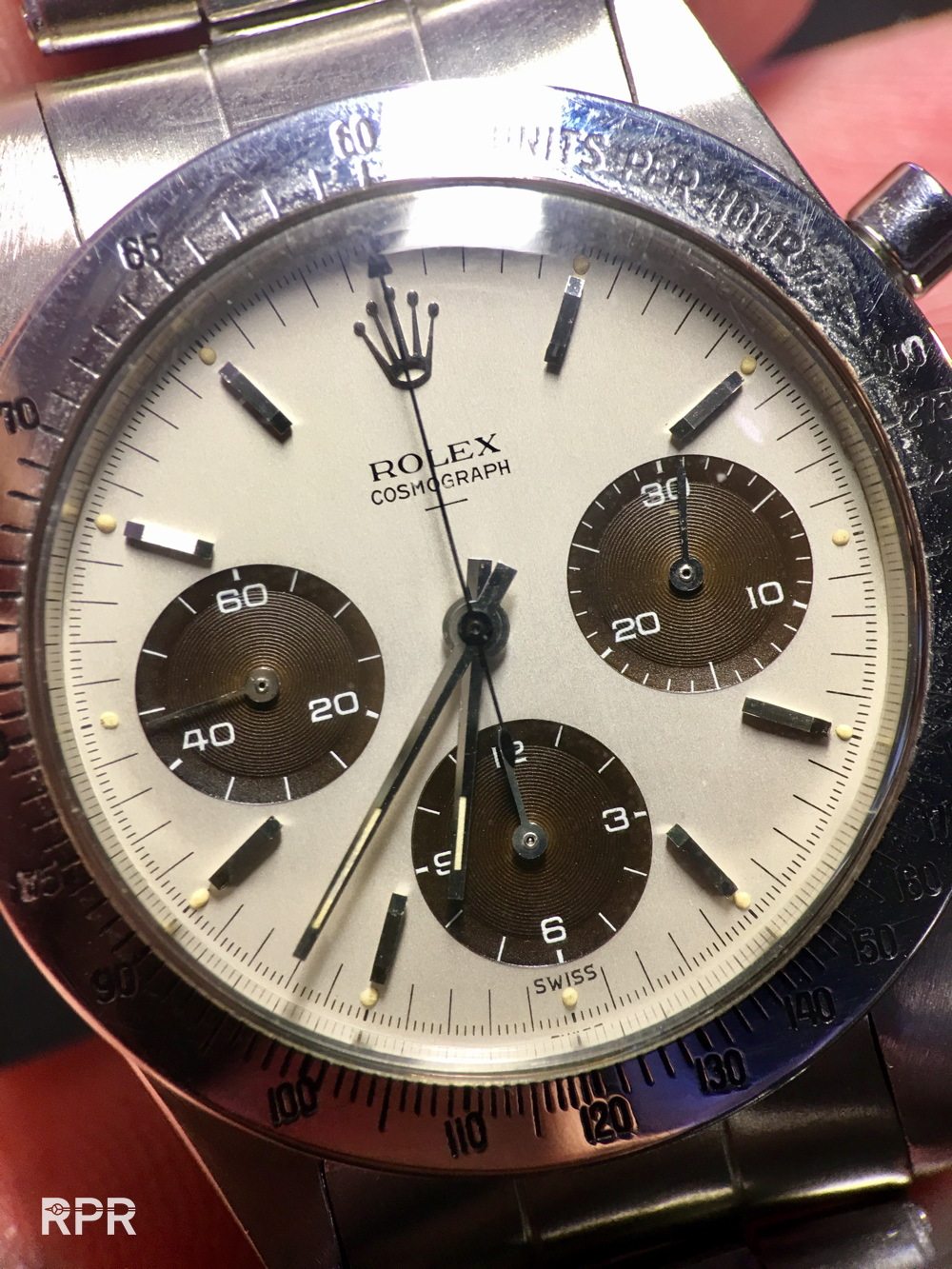 Heading back home. Thanks again Geneva, it was yet another great experience !! I like to thank all my collector friends, dealer friends and auction house friends. It was really nice seeing you all again. Lot's of great passion you have! Safe trips and good luck!