The Geneva Auctions November 2015

The Geneva Auctions November 2015
Estimated: € 319.000 – 638.000,= and my prediction for this exceptional rare beauty is € 680.000,= all in.
The Geneva Watch Auction are soon again. Twice a year the world of watch collectors come together to see, bid and hopefully win another stunner for their collection. Only the best what is for sale in the market comes to Geneva so as always the expectations are high. Many years the monday sale of Christie's was the highlight of the auction weekend but since Bacs & co left the company and started very successfully Phillips Watches, the focus has chance to Saturday 7th and Sunday 8th of November with their Geneva Watch Auction: TWO.
On Sunday is also Antiquorum having their watch auction, then on Monday it's Christie's and Sotheby's is closing the watch sales on tuesday 10th. The expectations are high and so far from what I've seen from all sales that are visible online now, it's gonna be yet another blast. Some extremely rare examples are coming for sale with high estimated, like the steel PPC Split ref 1436 ( 1.5-3 million swiss franc ) The above mentioned Rolex ref 6102 with Margarita Koch cloisonné, the pink Stelline 6062, the fresh Emperor find black dialed PPC ref 2497 and crisp steel 8171 Padellone all potential 1 million euro watches….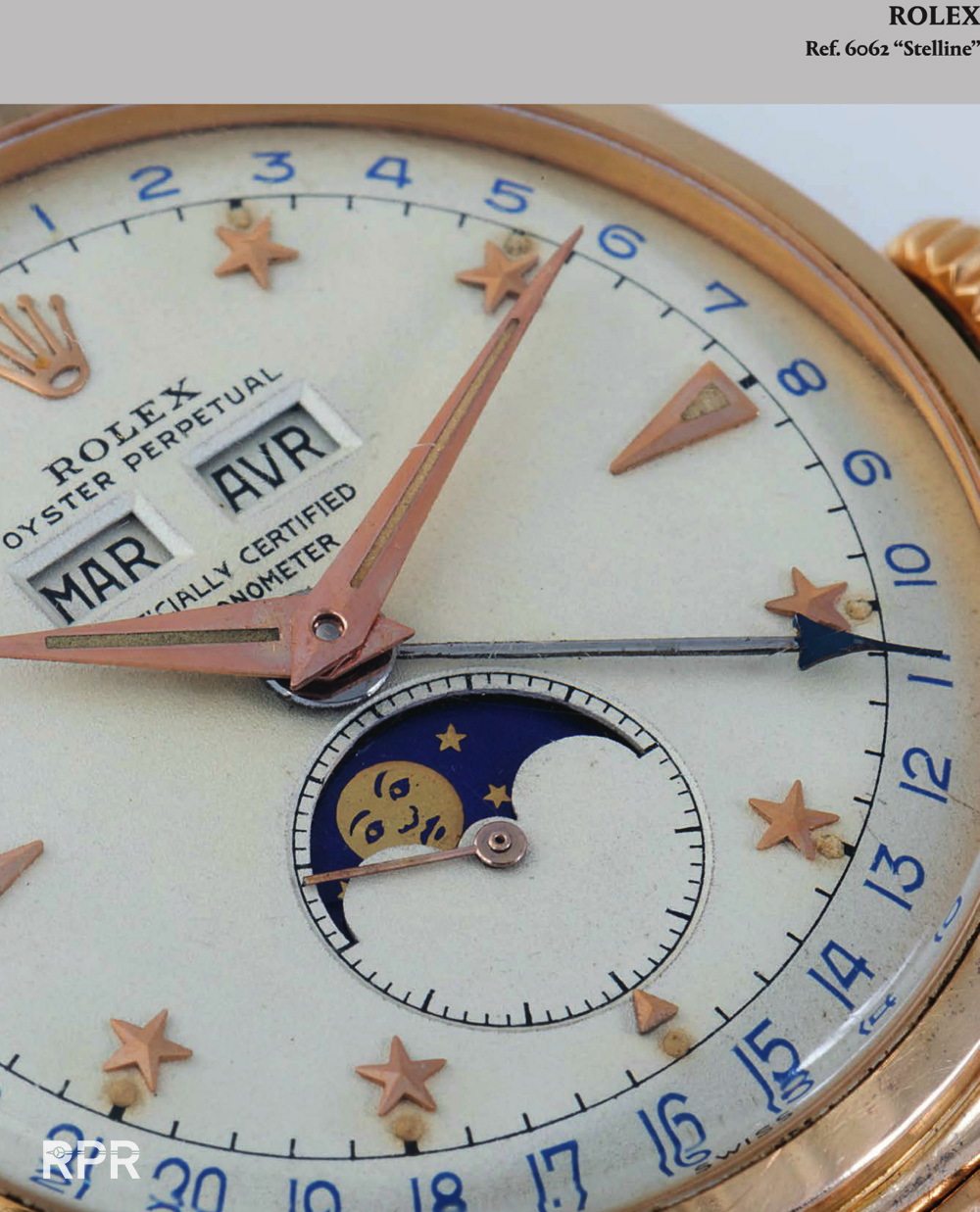 This pink Stelline ref 6062 is estimated € 457.000 – 913.000,= and my prediction for this example is € 750.000,= all in.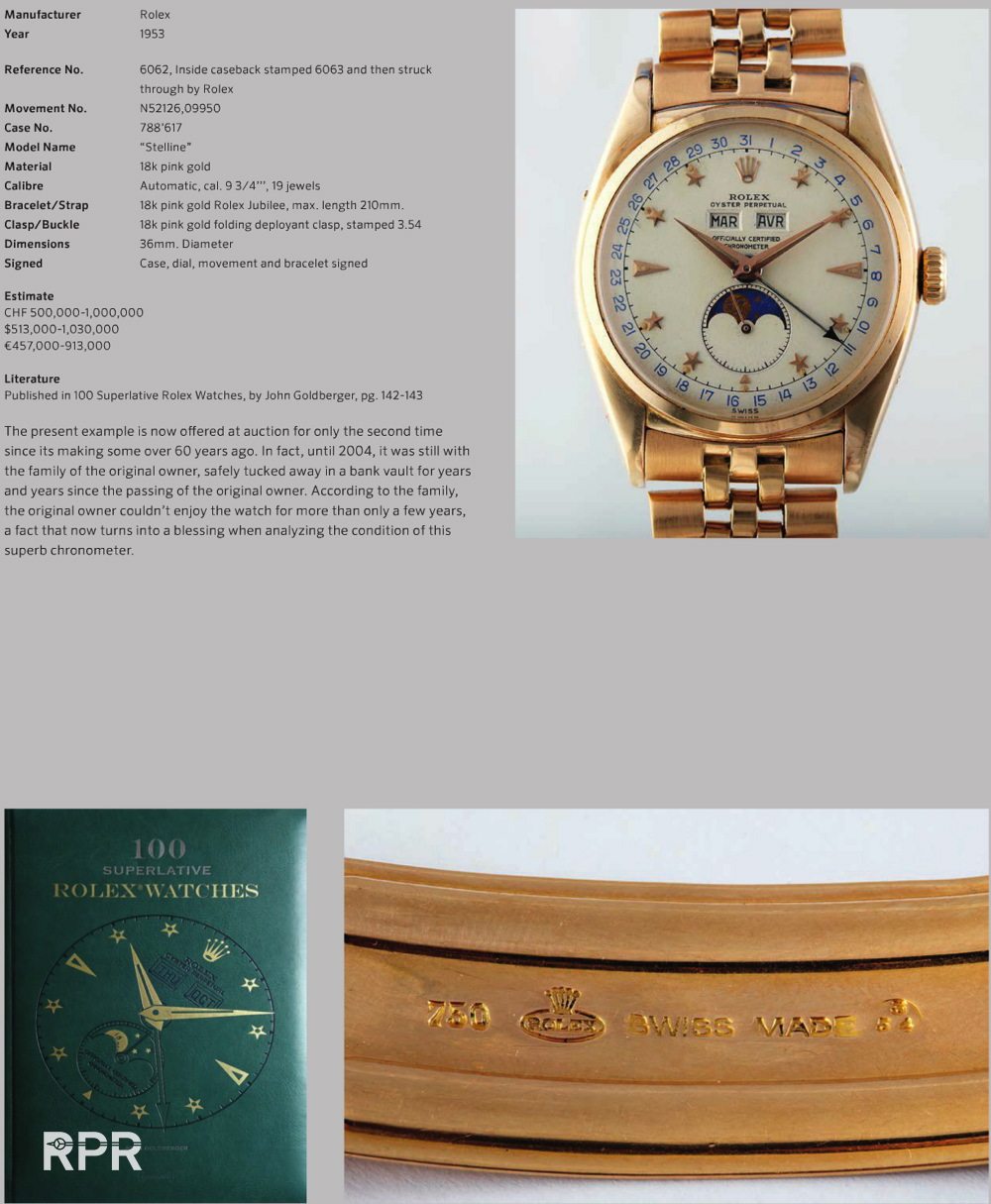 Phillips, Christies, Antiquorum and Sotheby's have curated their sales carefully and once you take your time to have a closer look, you"ll notice that Phillips is yet again having a stunning amount of rare vintage Rolex & Patek Philippe in offer. As i'm not into pocket watches or any other brands then those 2 market leaders, my focus in this report is purely on what I would buy myself.
Making this report different then others I posted before I'll try to predict the final sales price of all mentioned lots below, in euro including the commission (20-25% on top) you've to pay once you're the winning bidder 😉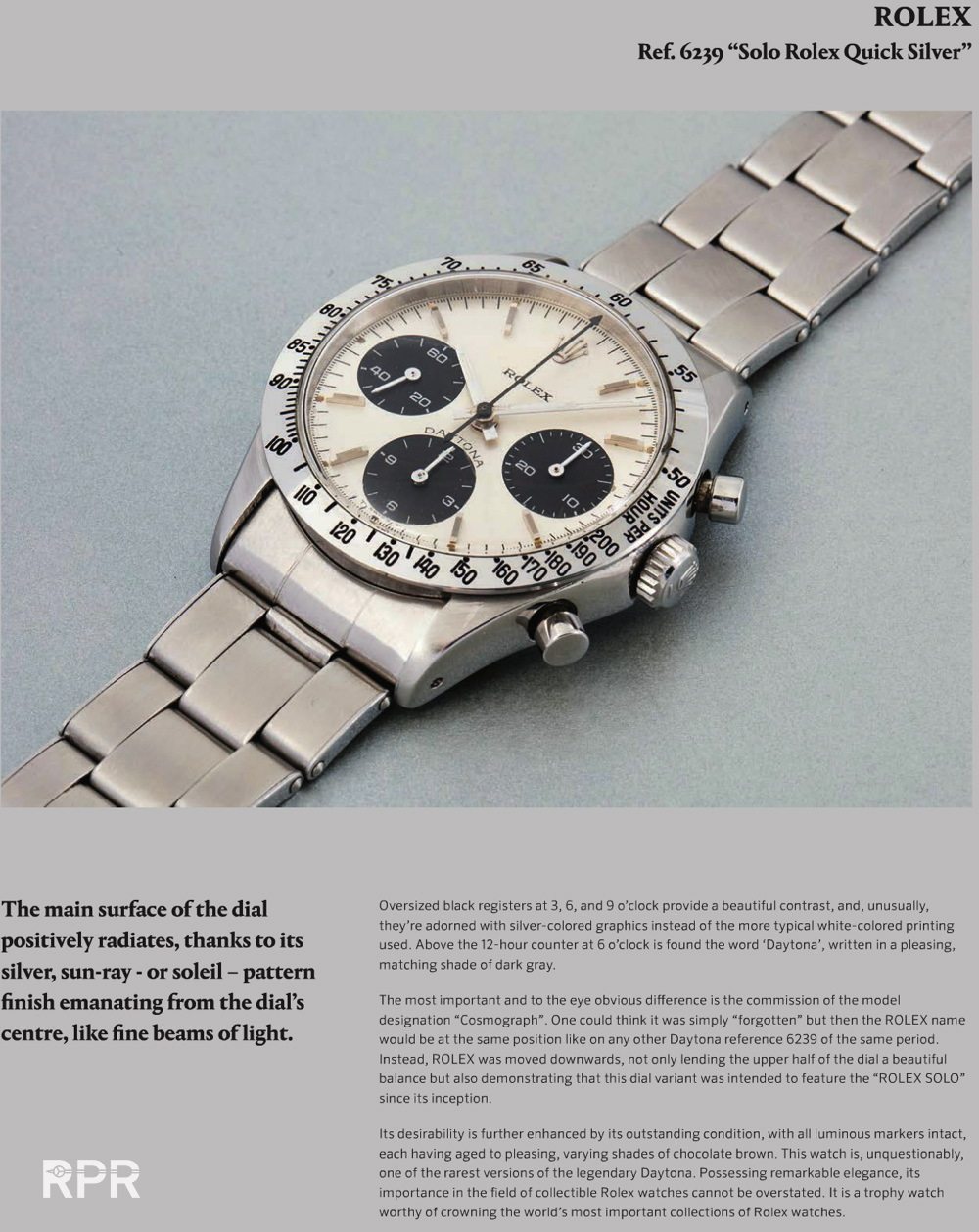 This so far unique example of a rare version of the legendary Daytona is something really special only hard core collectors will understand. The special design of this dial, the missing cosmography on top, different placing and typography doesn't make it look special at first. I bet you some collectors need to look twice to notice something is different. But then, this unicorn is important for the evolution of the Daytona and all serious Chrono collectors will consider adding it to their collection. Personally I like it a lot, I know the owner, have see it up close and think it's gonna sell high but I would like to see a handset with luminous matching the dial but thats me, crazy about the smallest detail. From € 228.000,= to € 456.000,= I think it sell for high estimate.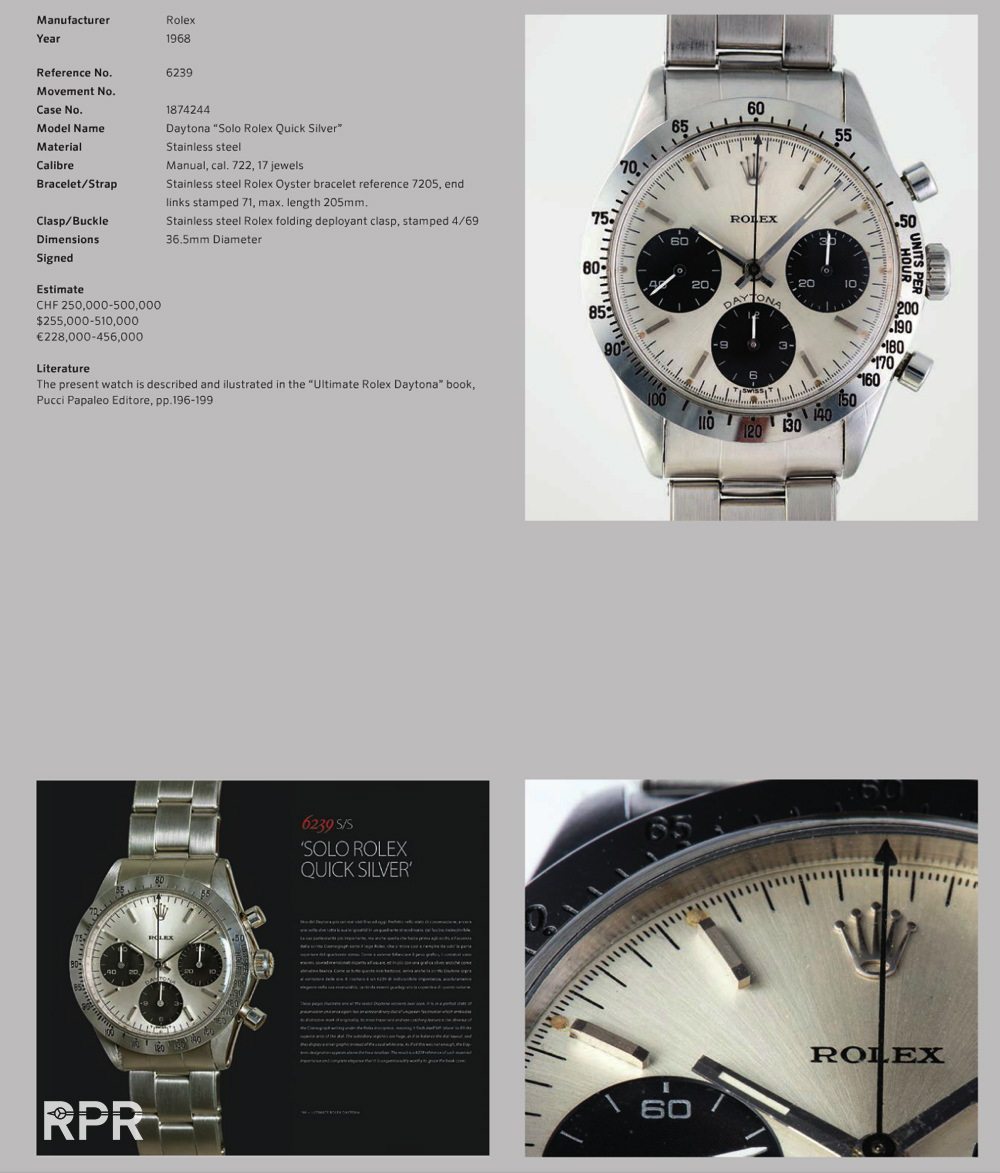 Next is a rare version of a rare version of the Daytona. A Tiffany Daytona is special but a Tiffany Newman is really special. As we see with many of the Tiffany prints, they are never really perfectly added and also here so see a kind of double print. Little side note again, we see the luminous of the dial and the hands is not really matching. Estimated € 183.000,= to € 365.000,= I think now this one could go up high estimate and over €300K due to it's rarity.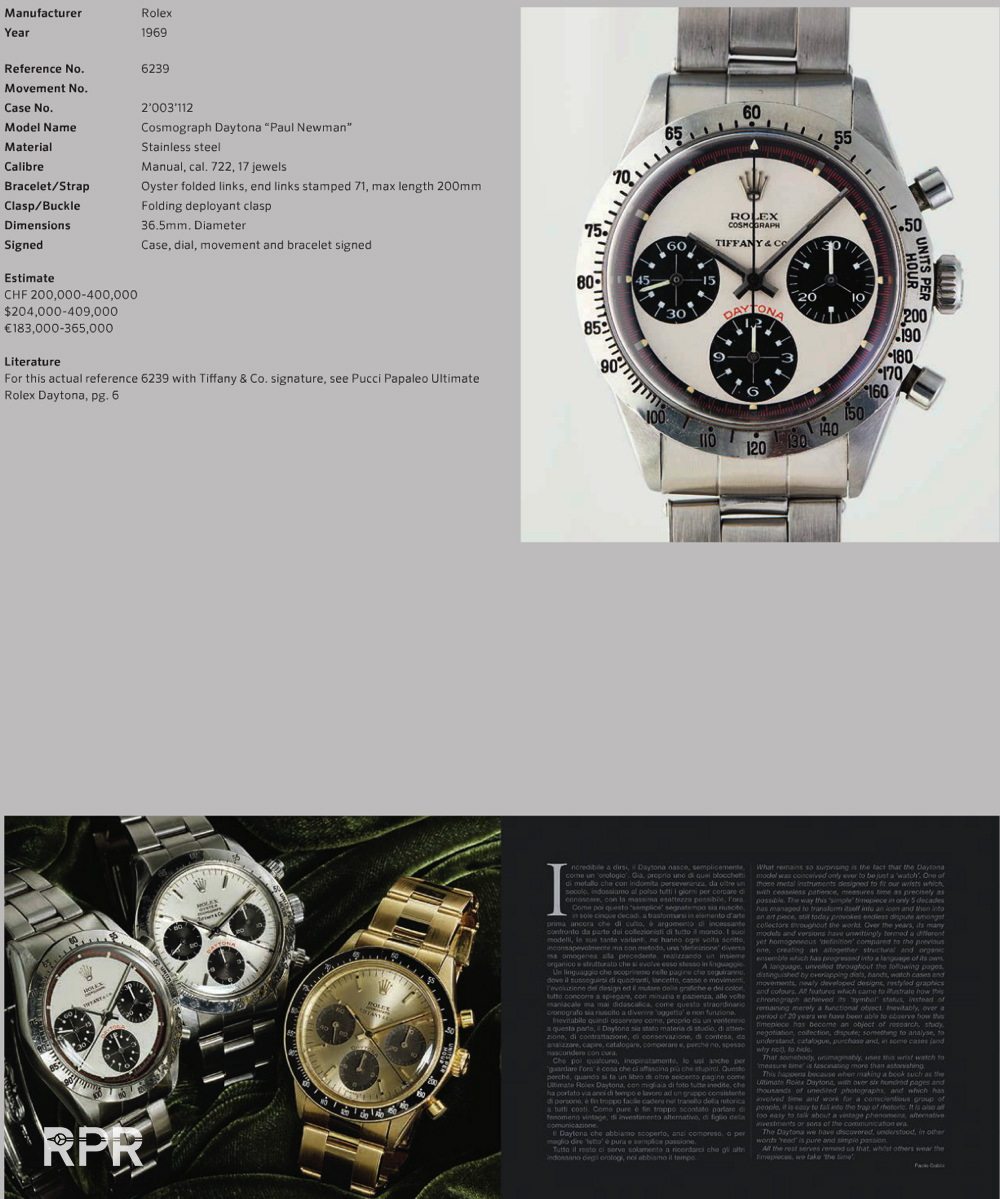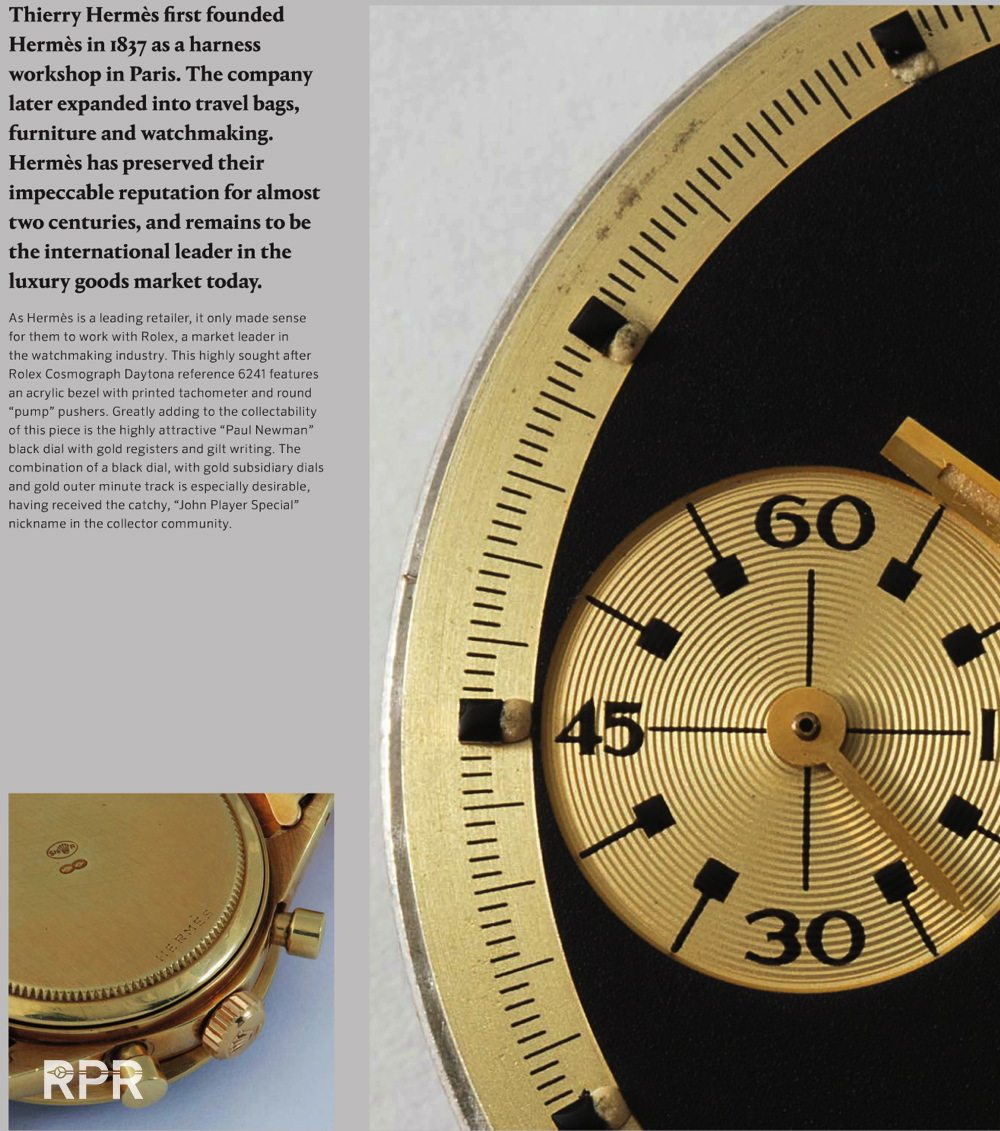 Previously sold for 1/2 million swiss franc in May 2013, this Hermes signed gold Paul Newman is indeed special. The condition is near to perfect only missing some minuscule parts of the lume dots but all over very impressive and probably unique. Estimated for € 274.000 – € 548.000 I think this one deserves a price of 1/2 million euro now.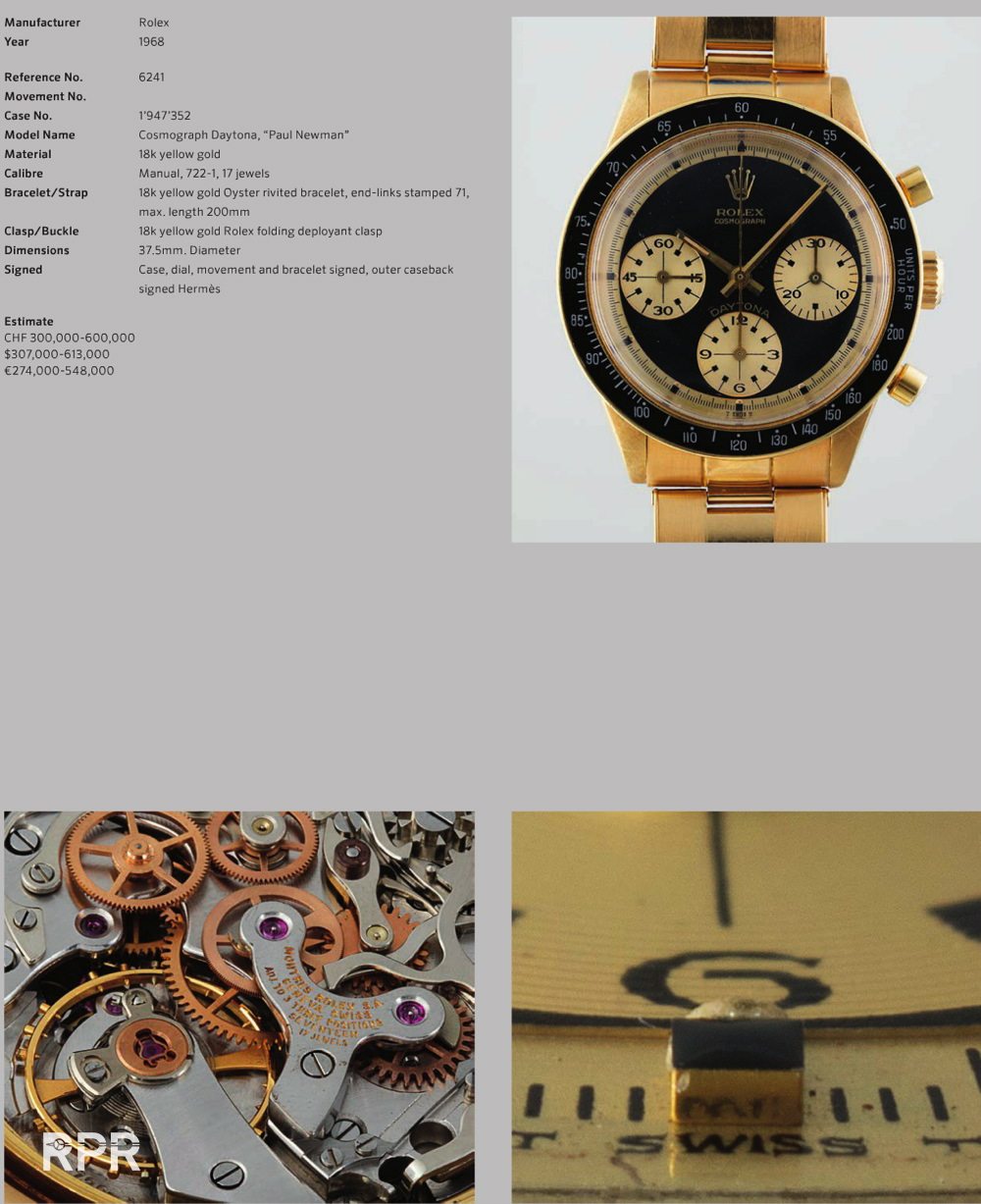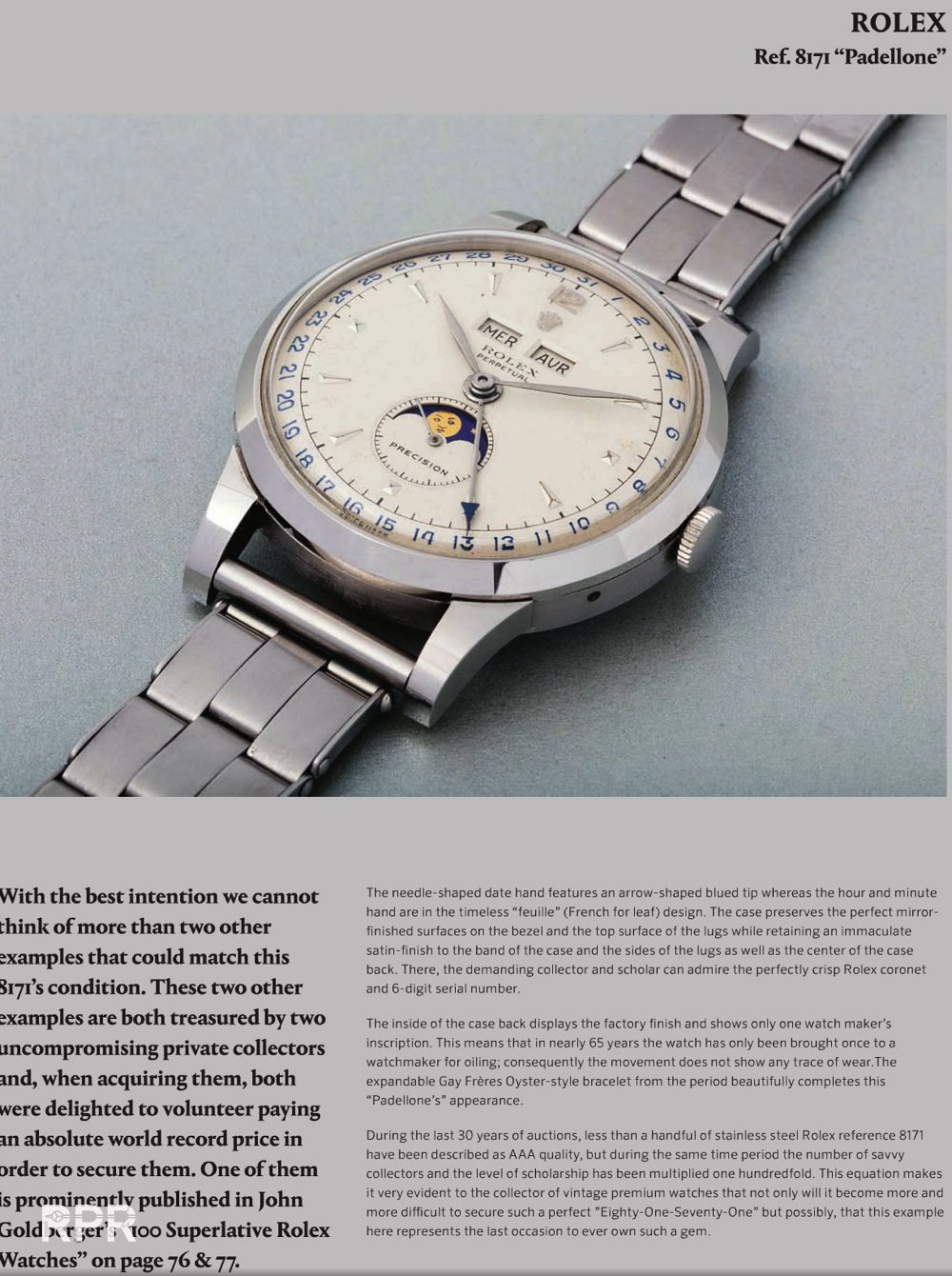 Paul Maudsley showed us on IG a great wrist shot where this crisp 8171 shows it's real beauty! What a sharp case and lovely dial!!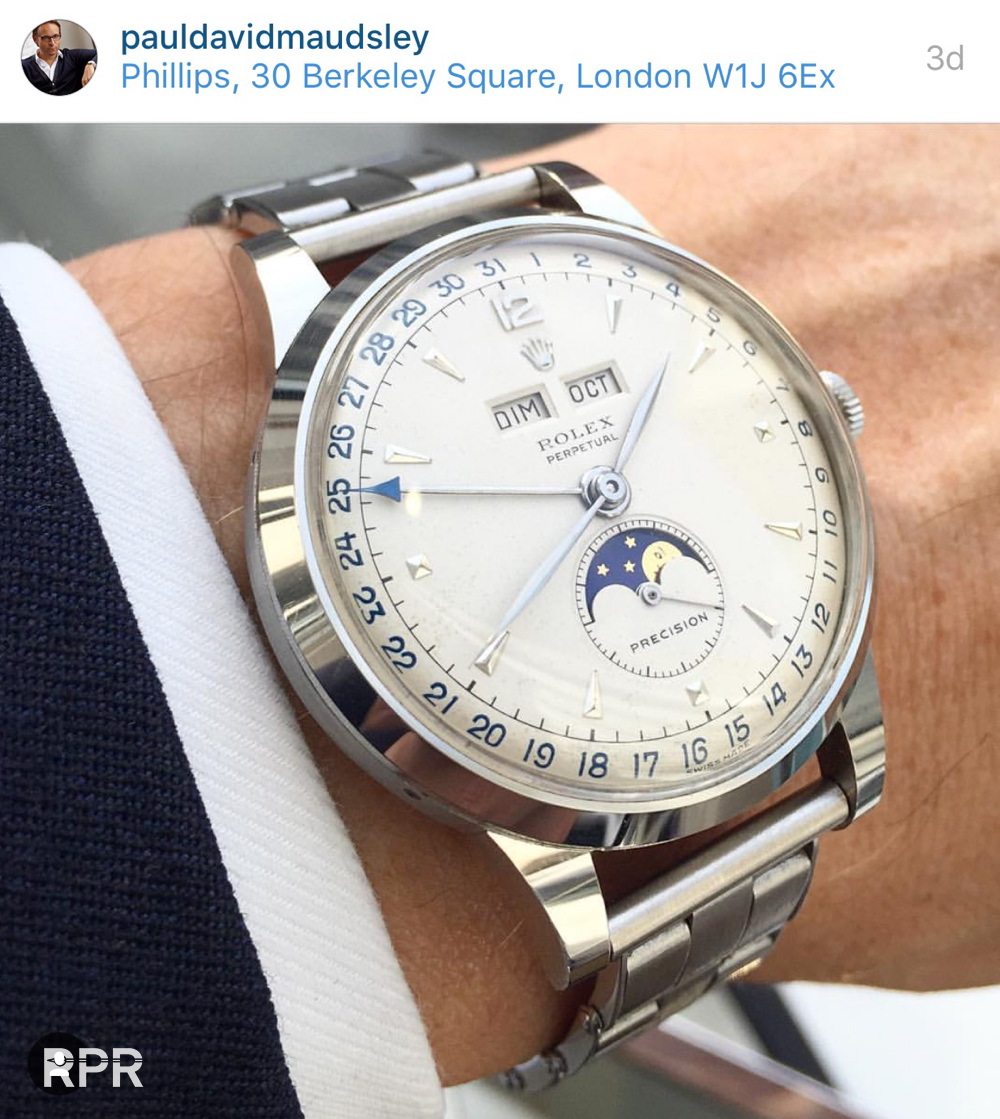 Estimated to € 319.000,= to € 639.000,= I do believe it could hit the high reserve. Even with the little spots on the dial, showing it's real patina, untouched and not restored, cleaned or whatever has been done to others, just honest and almost unreal, I love it!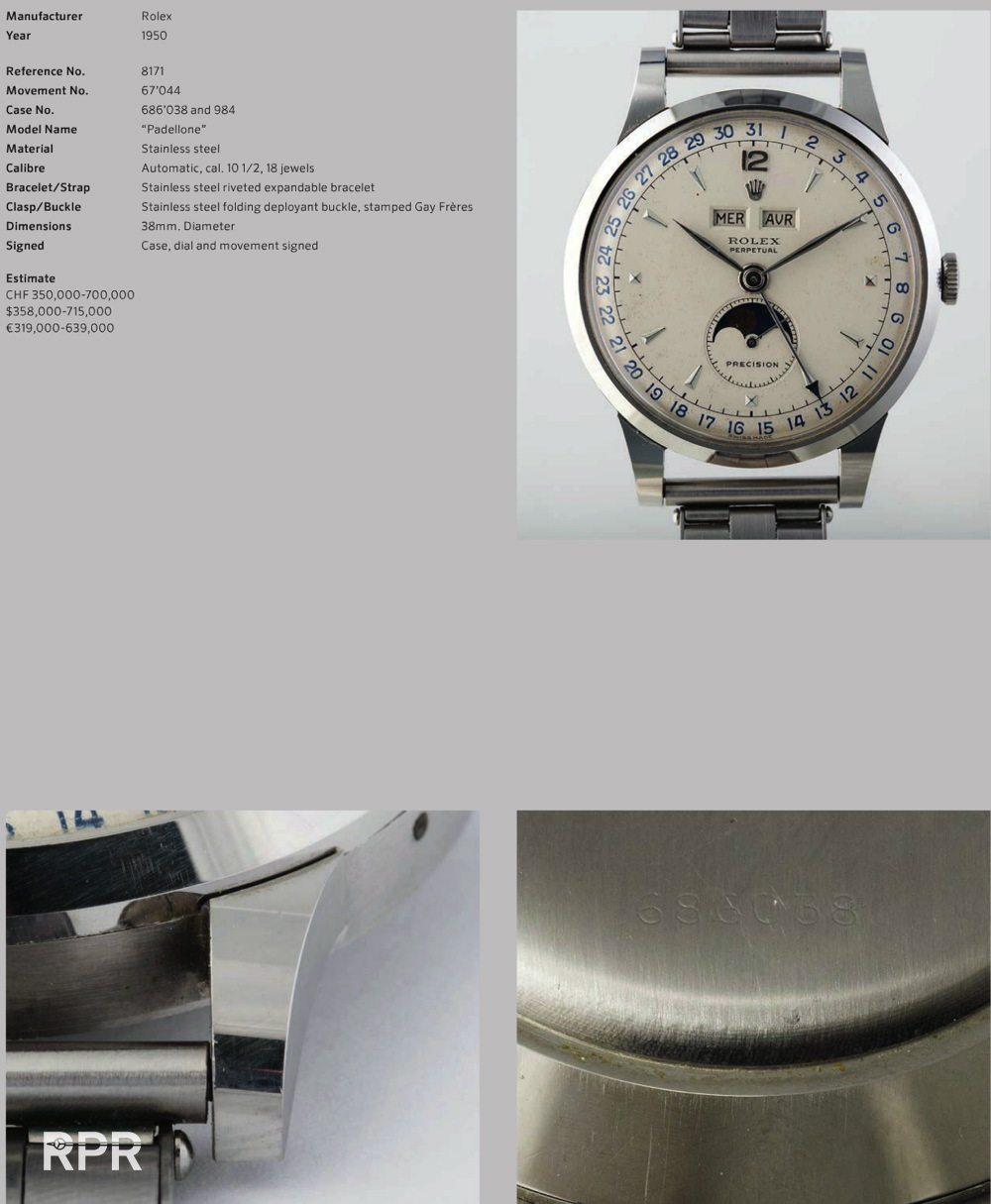 Another rare beauty we find at Christie's this time. Pink dialed ref 3666. Just 14 number away from the previous one sold at Sotheby's November 2013 and achieved after strong bidding a remarkable Sfr 161.000,= Christie's estimated it for € 55.000 to € 92.000,= which it will fetch and probably more.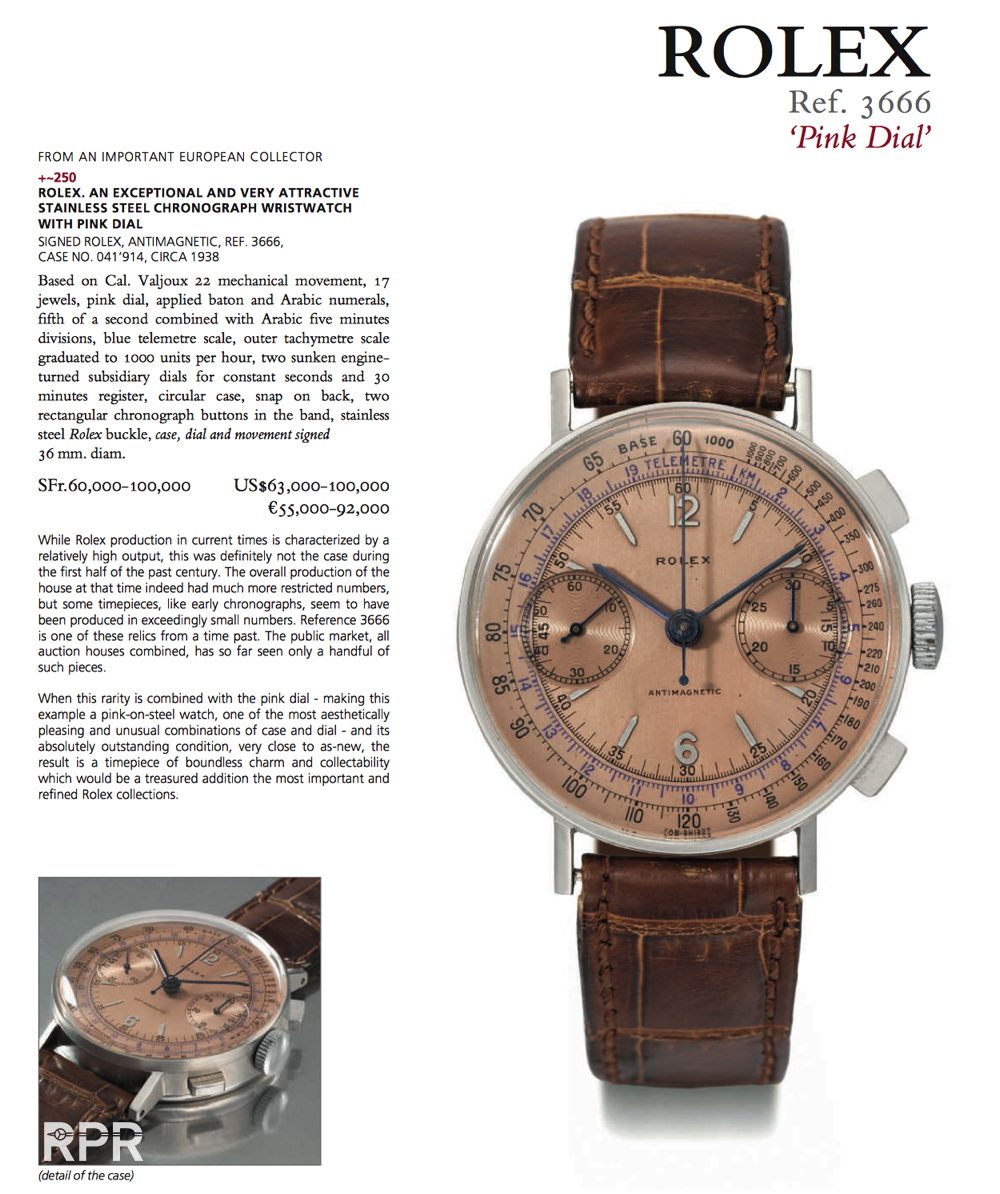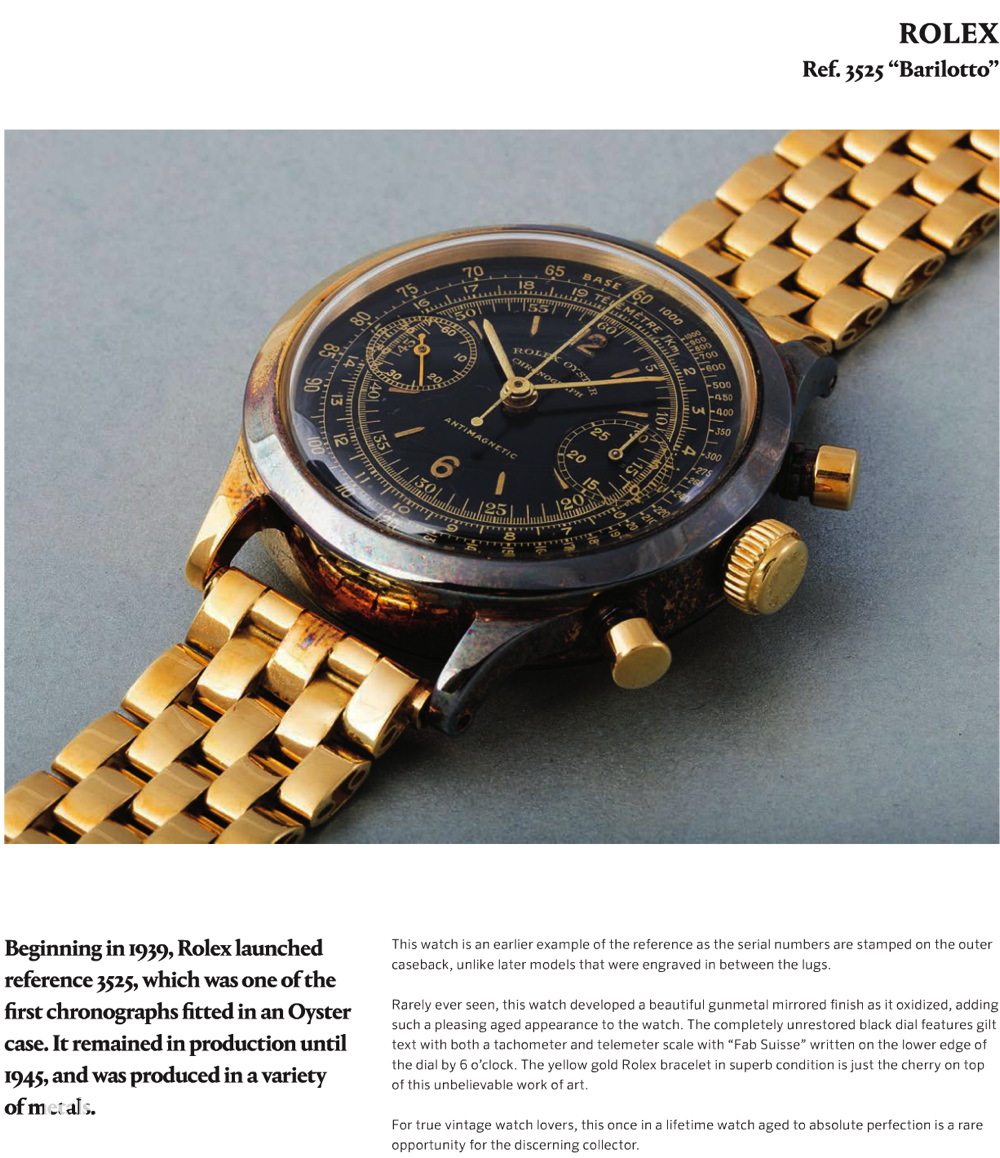 Next is a great Monobloc, one of my personal favorites and although great examples have achieved high results, compared with Newmans these important Rolex are still kind of unvalued. A black dial in a gold case is exceptional rare, to find it in this oxidized oyster case is fabulous. Estimated €183.000 – € 365.000 I think this one should be 400K or more in the future but will now probably sell a bit lower.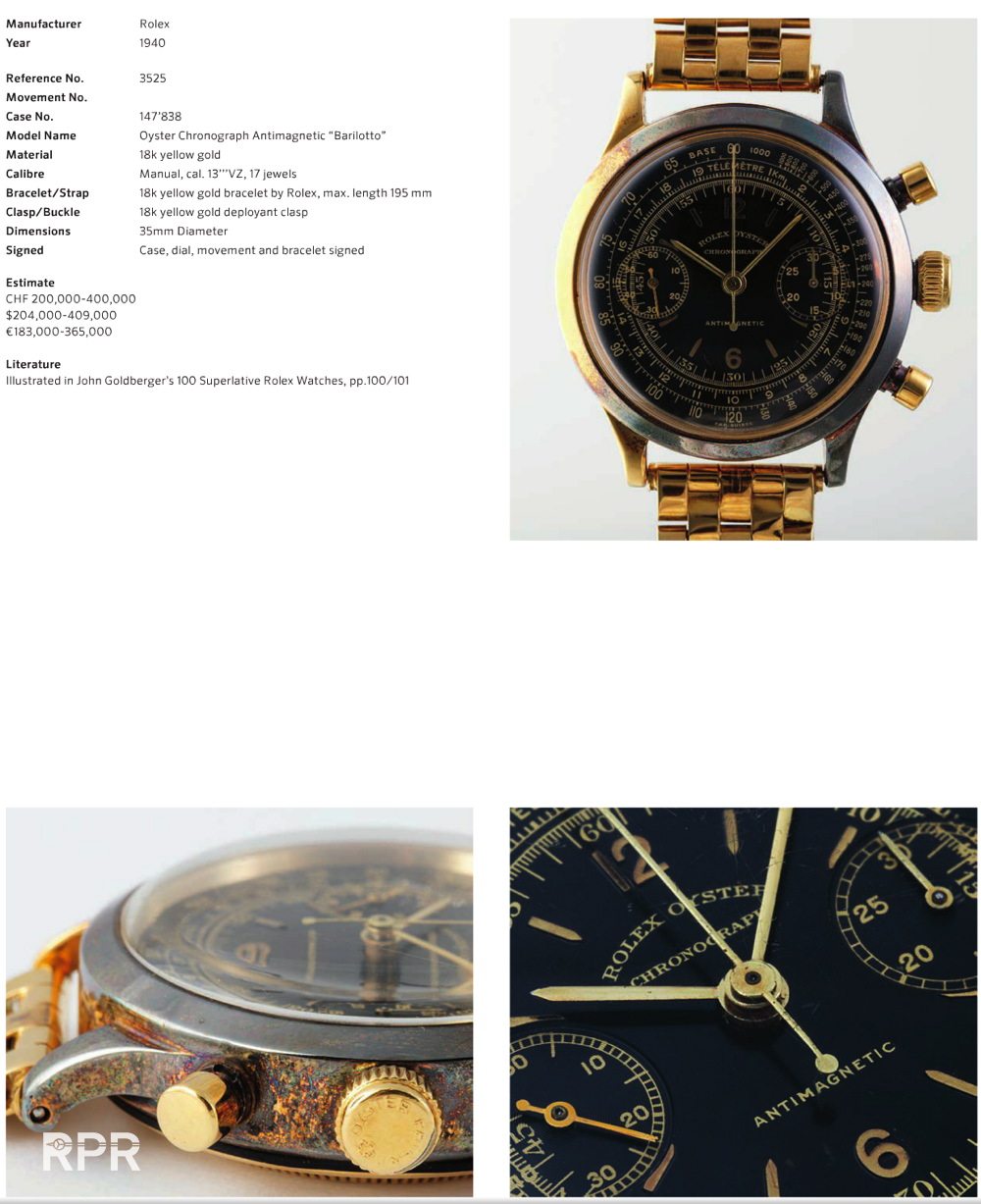 Next is a rare bird, A regulator chronograph, black dial from Rolex, probably made in less then 12 examples, 36 mm diameter and estimated to CHF 70-100.000,= it will logically make the high estimate, maybe 120-125 all in.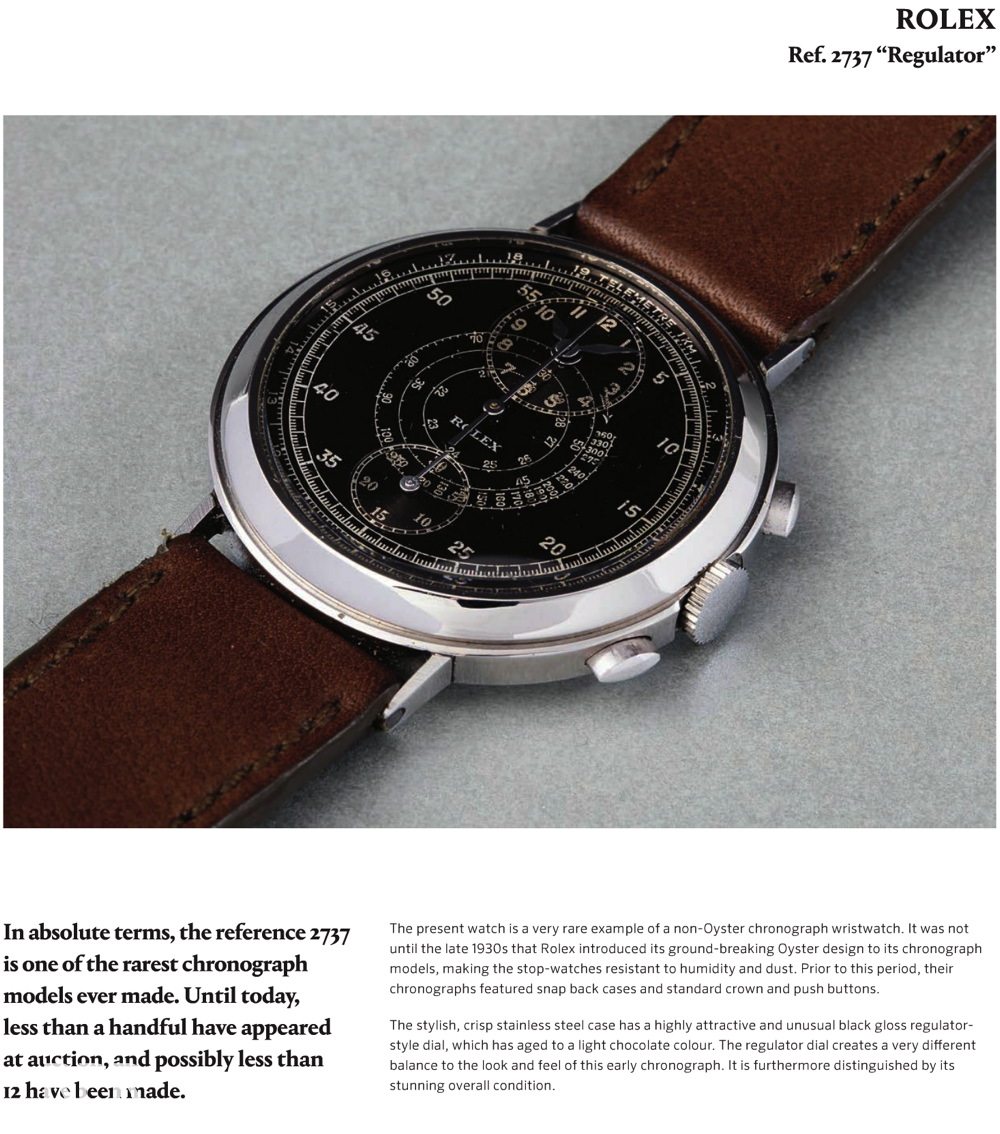 Lovely in detail, stunning in condition and rare in pink, special due to the italian dealer signature on the dial; Verga. Everything is perfect, even the little matching Rolex box that comes with it. Except the 31 mm diameter, which is more for ladies then for man. Therefor estimated to € 18-27.000,= I think it will go for 40K all in.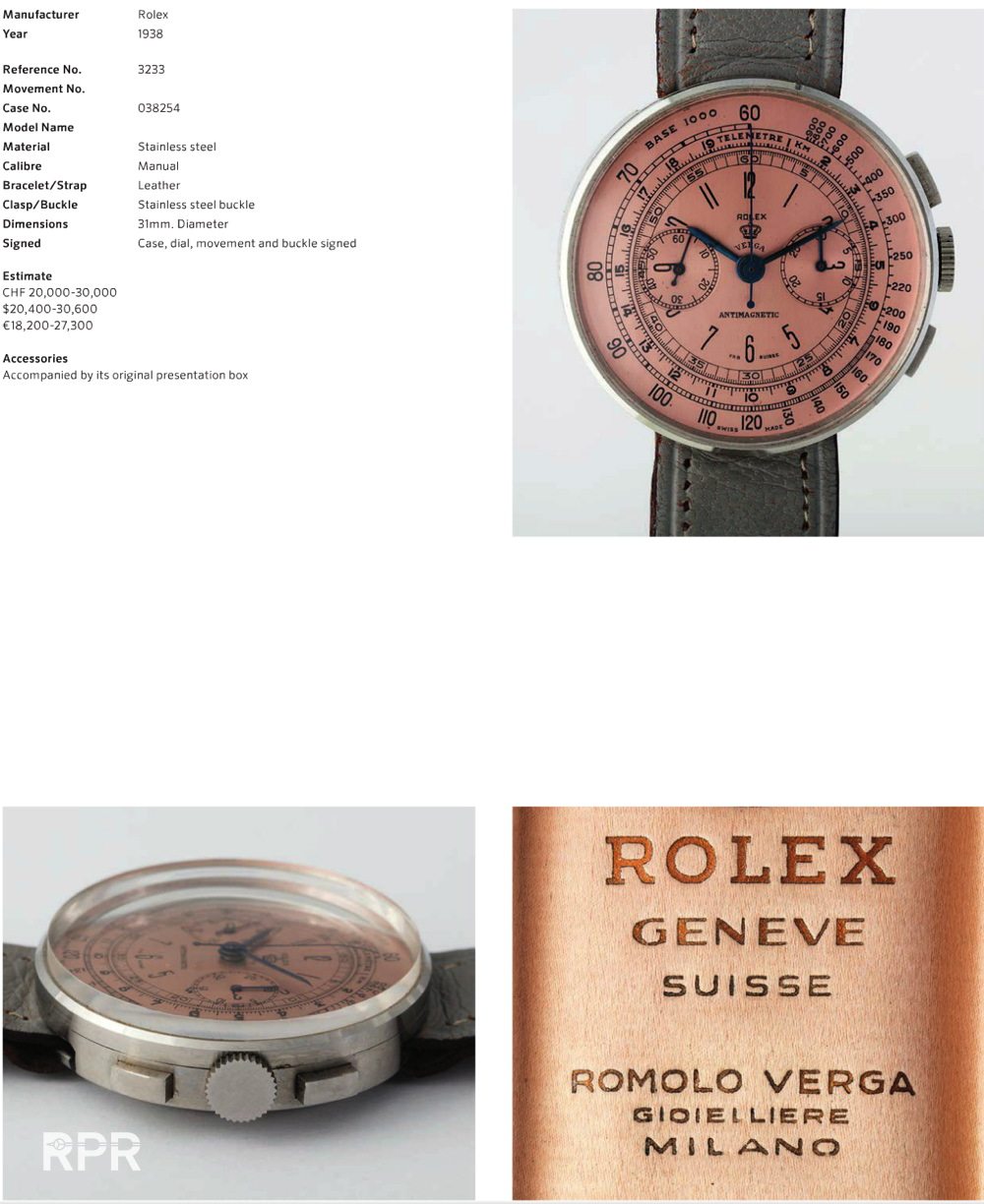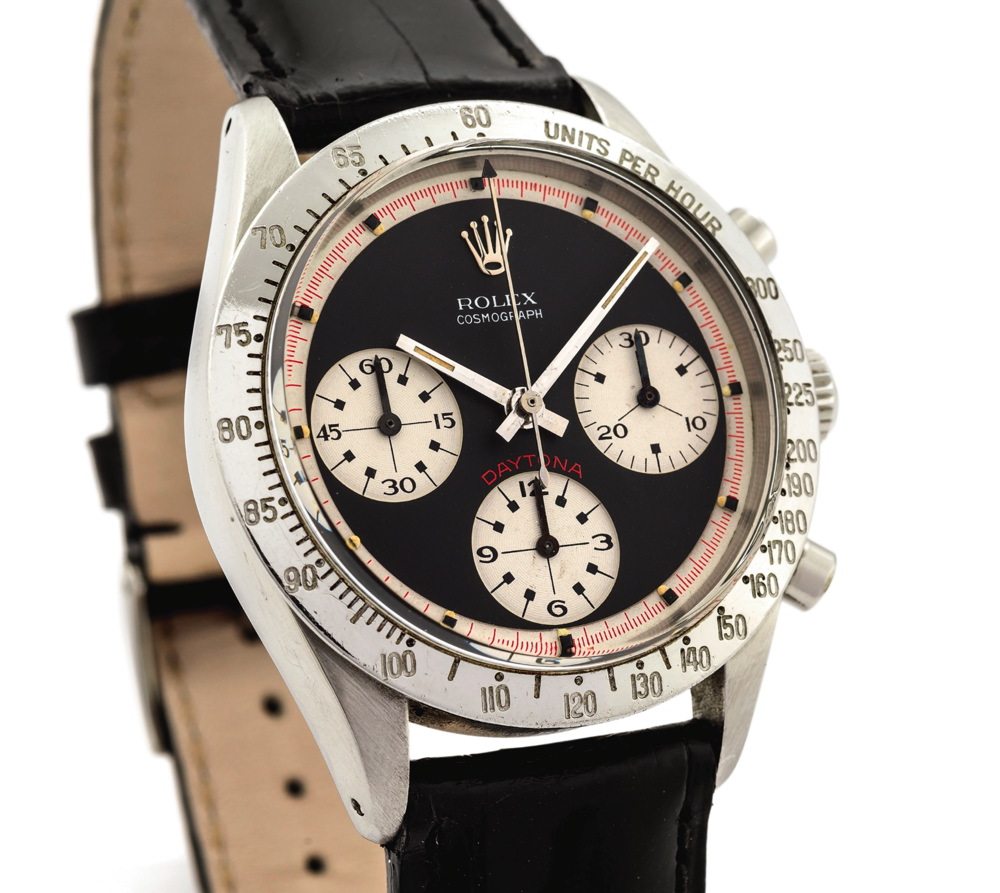 Antiquorum has some regular Paul Newmans in their sale. This black one is nicely patinated by the luminous but having some small imperfections on the sub dials, estimated to CHF 75-95.000,= I think it will go all in for CHF 90K.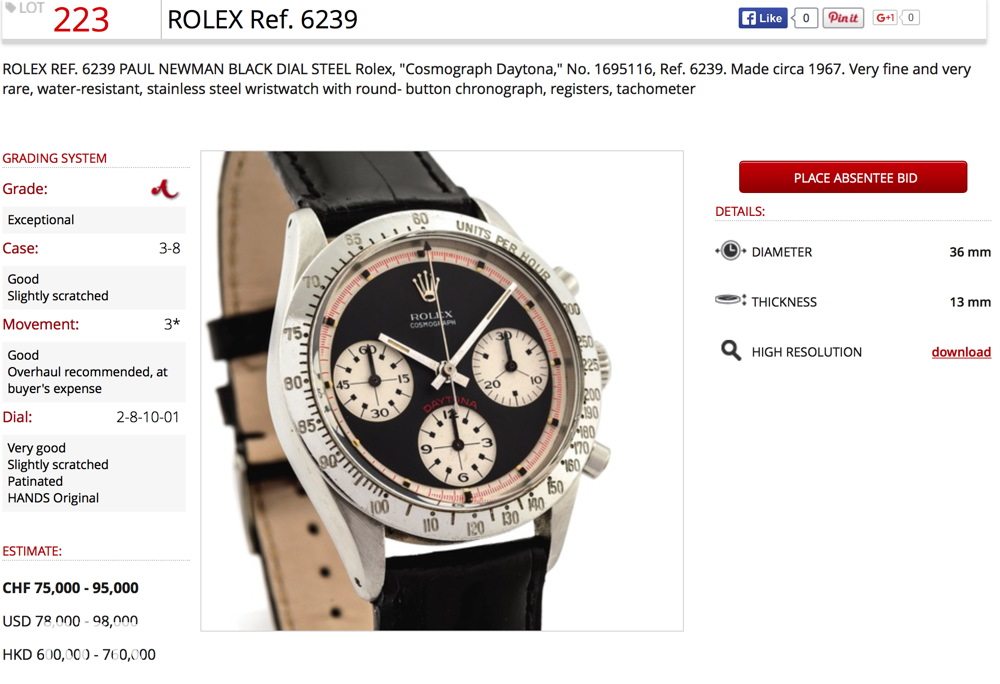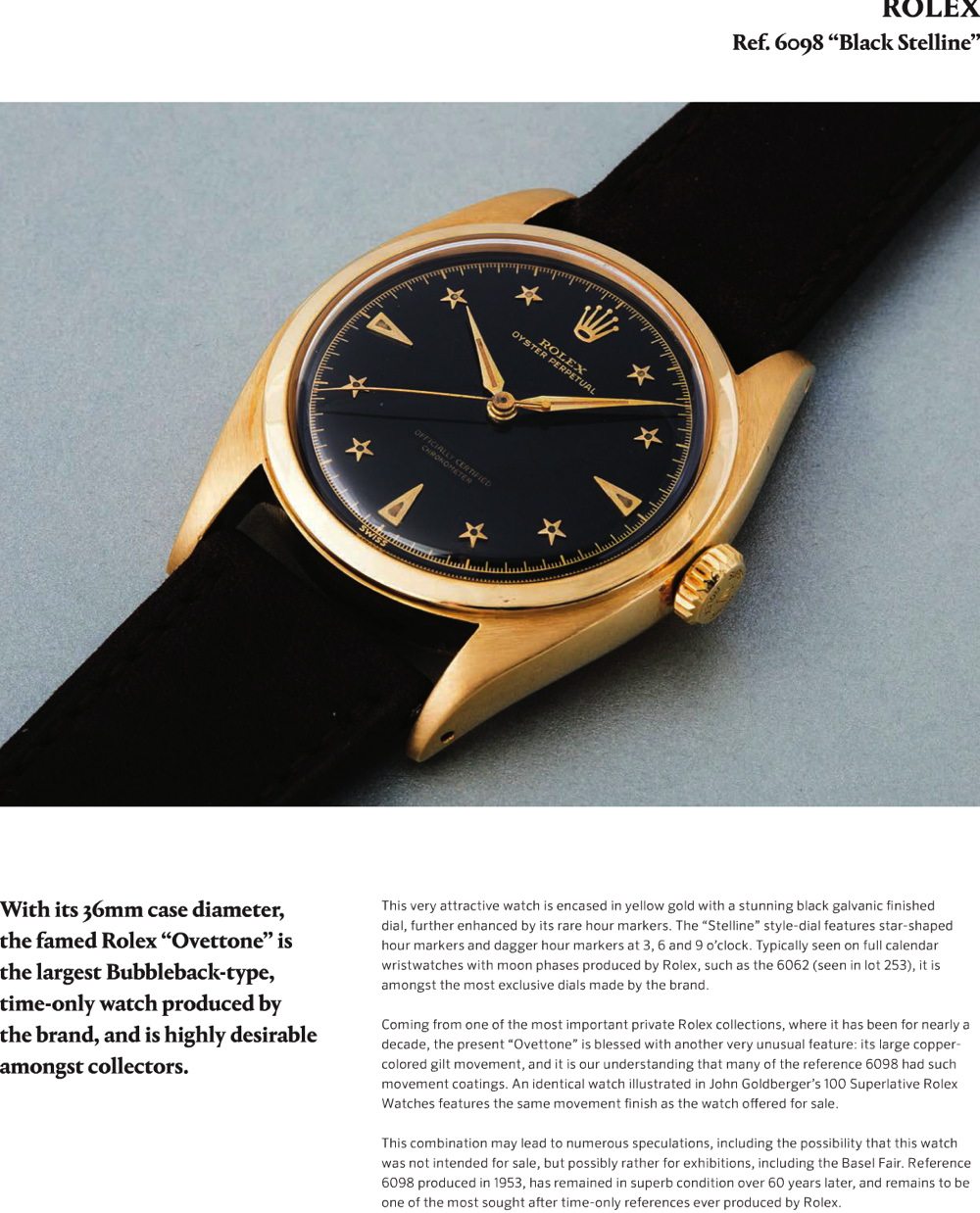 Ref 6098 are special in general with Rolex, many great and historical important examples have come to sale last years. This sexy black dialed star dial is coming up for sale, last time a similar example was sold by Christie's May 2012, it fetched € 300.000,=  in very crisp condition! This one is estimated on € 91.000 -182.000,= and one could wonder why it's so much lower then last auction result. As I've not seen this one in real, it's hard to predict but one thing I know for sure and that is that Phillips want to show us all honest pictures, taken by Paul Boutros. So judging from them I think its gonna hit 180 – 200K all in.
Update: "RolexWatchTime" from VRF mentioned that it's very rare to see a yellow gold plated movement and almost unique to see a pink gold plated one. Thanks for sharing your wisdom with us Tommy!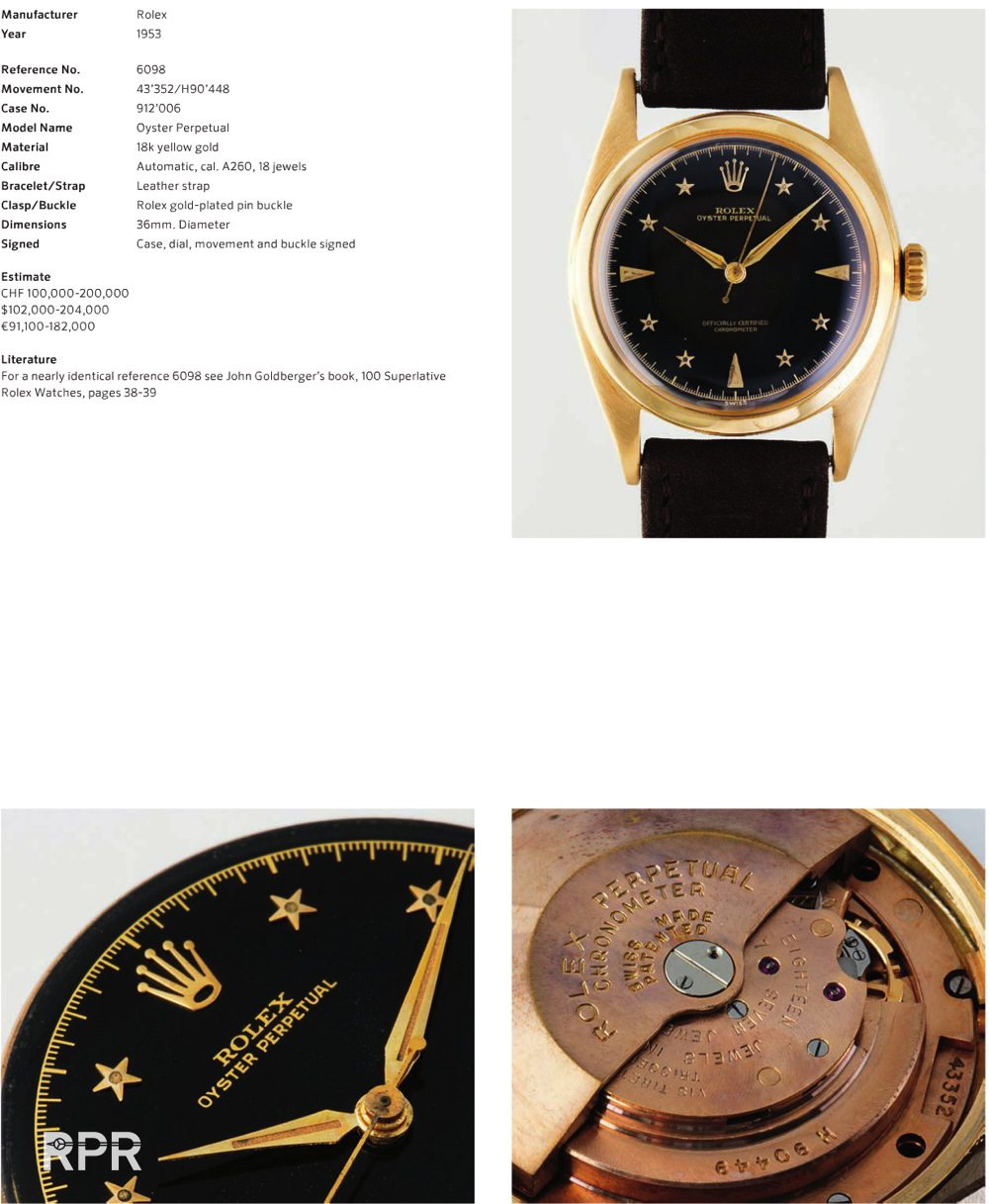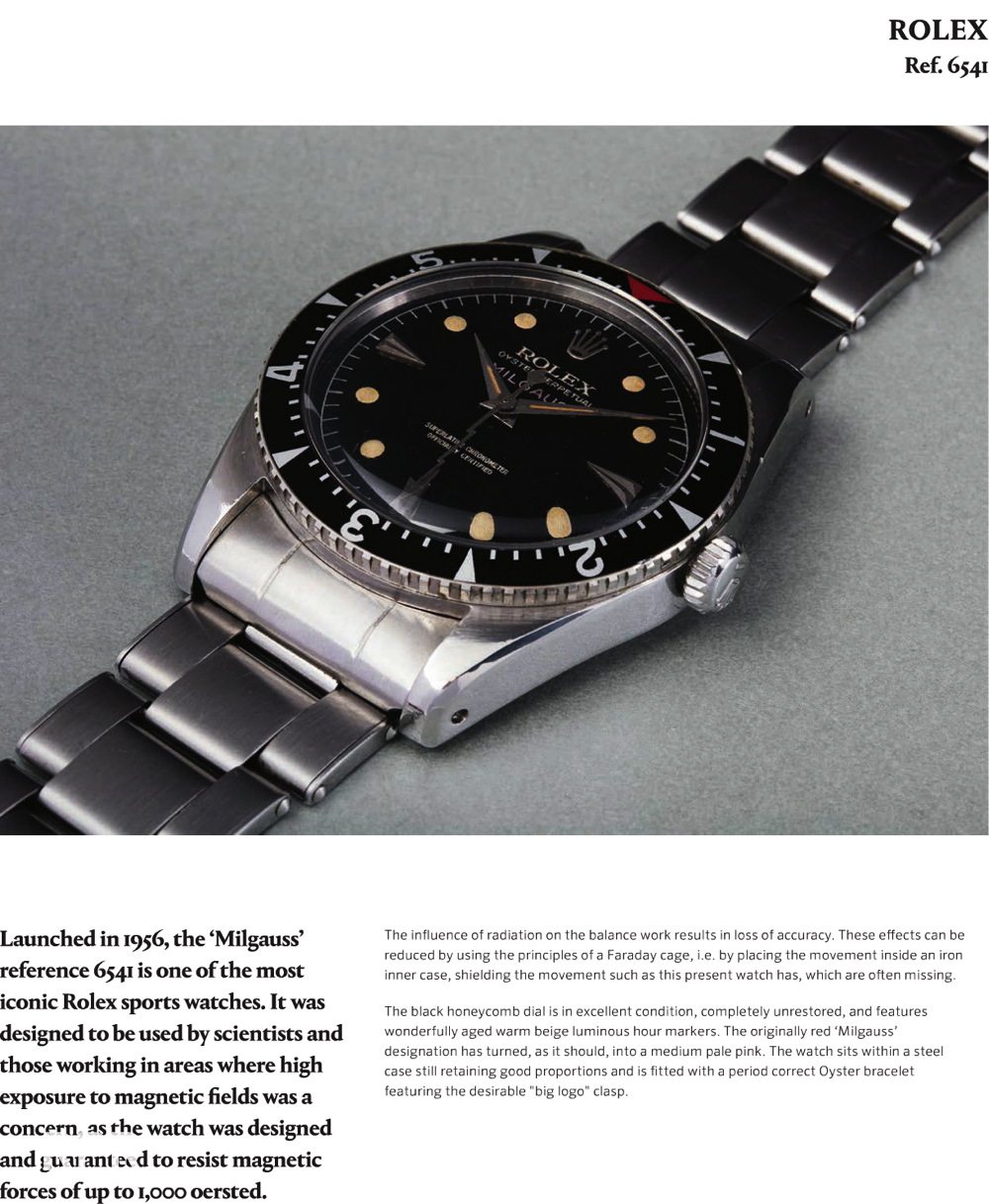 Not easy to find in great condition, the bezel almost looks like new on this luminated Ref 6541 Milgauss. Here's one estimated for € 137.000,= to € 183.000,= There where regular 2 line Rolex Big Crowns in great condition already sell for this estimate, it sometimes surprises me to see that the Milgauss isn't seen as sexy as the Submariner is. Back then, it was already difficult to sell and many 6541's have been transformed to submariner lookalikes with Sub bezel and sub hands. The dial has some aging as you can see below in the close up but nevertheless this one will go for 150-160K I think now..
A important Rolex gadged, specially now new James Bond movie Spectre is coming out, the timing is perfect to sell this by Q prepared Submariner. Estimated to € 137.000 – € 228.000,= it should sell higher then this. Before collectors think it's unwearable due to the tube connector added on the case back, a regular 5513 case back is easy to find to swap and enjoy it on the wrist.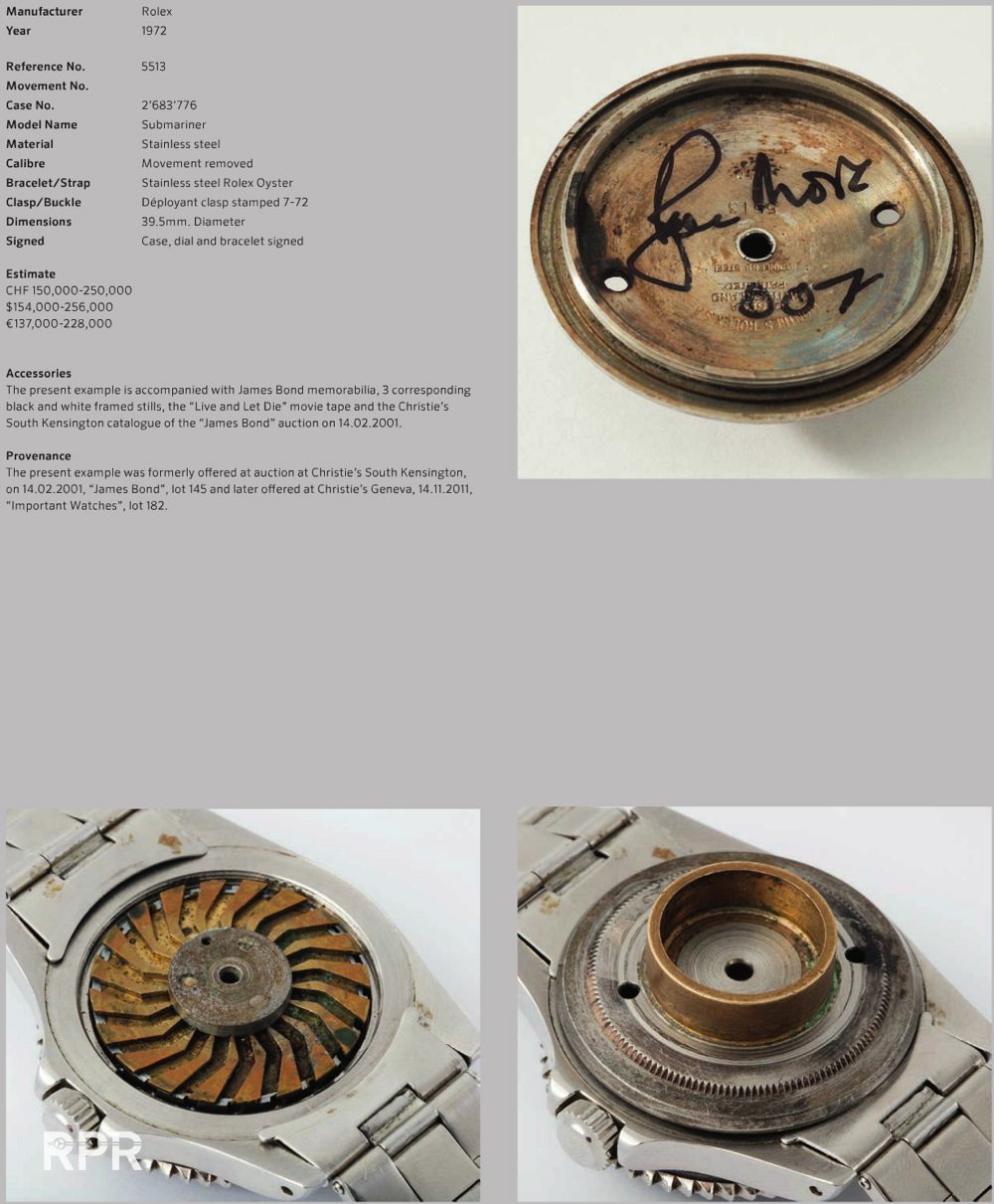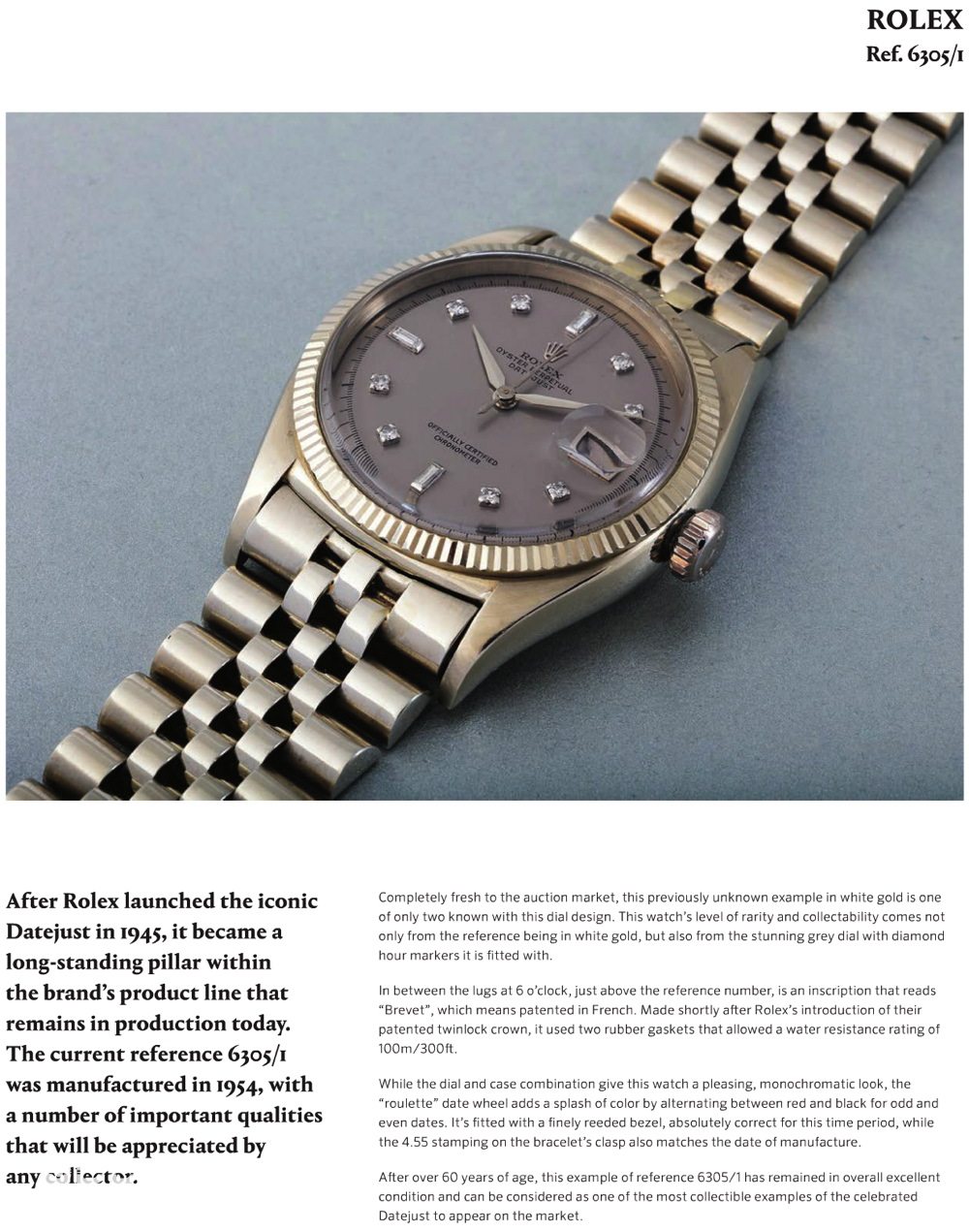 After the success of the Day Date sale from last geneva auctions, it's slowly getting time to give the Datejust more awareness. Here's a whitegold ref 6305/1 with rarely seen dial dial estimated for € 45.600 – € 91.000,= and I think it will go for 75K all in.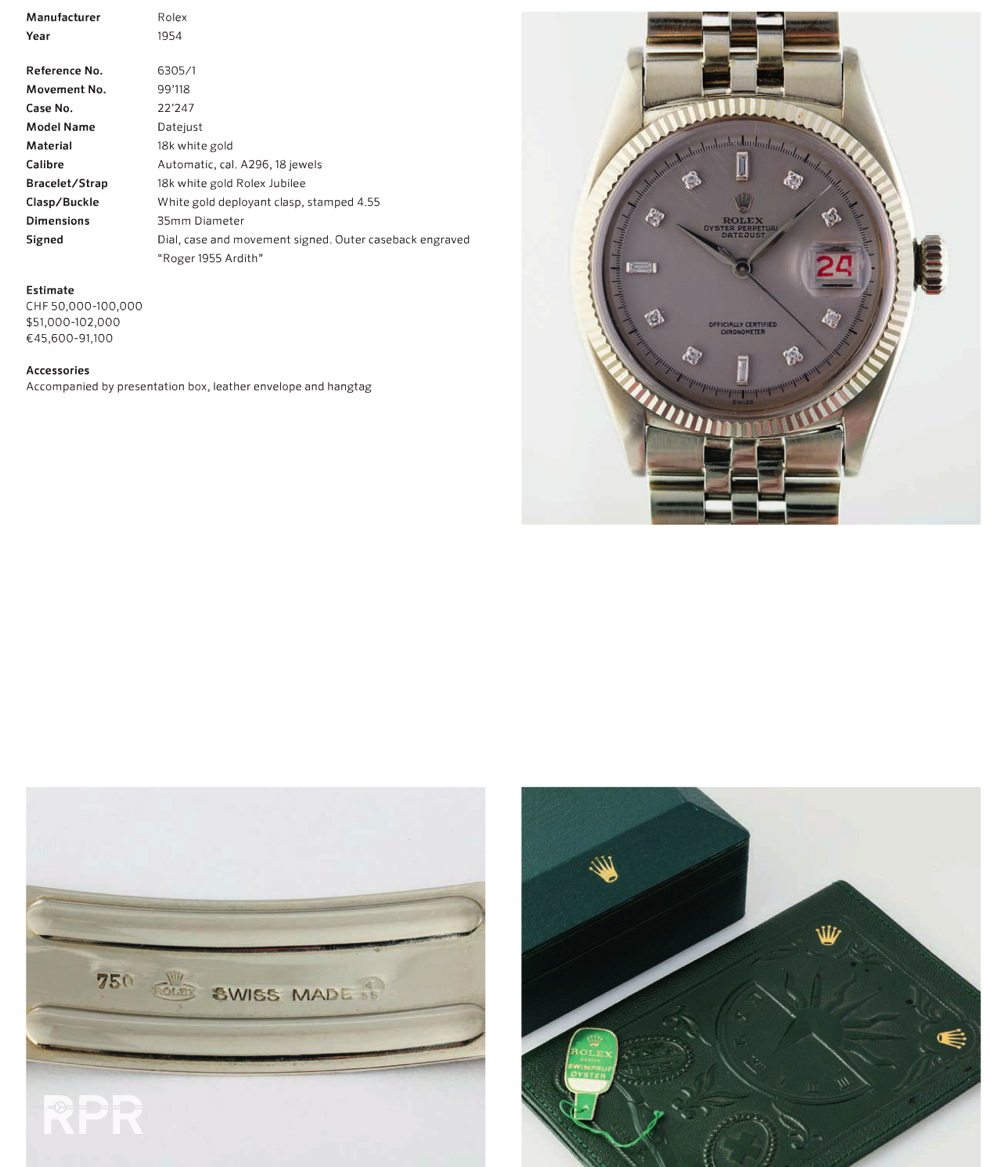 And a elegant yellow gold Datejust ref 6305, originally sold by Genevan Rolex dealer Jost is having a lovely black glossy dial with gilt print and 5 x diamonds. This rare bird deserves to go sky high in my opinion.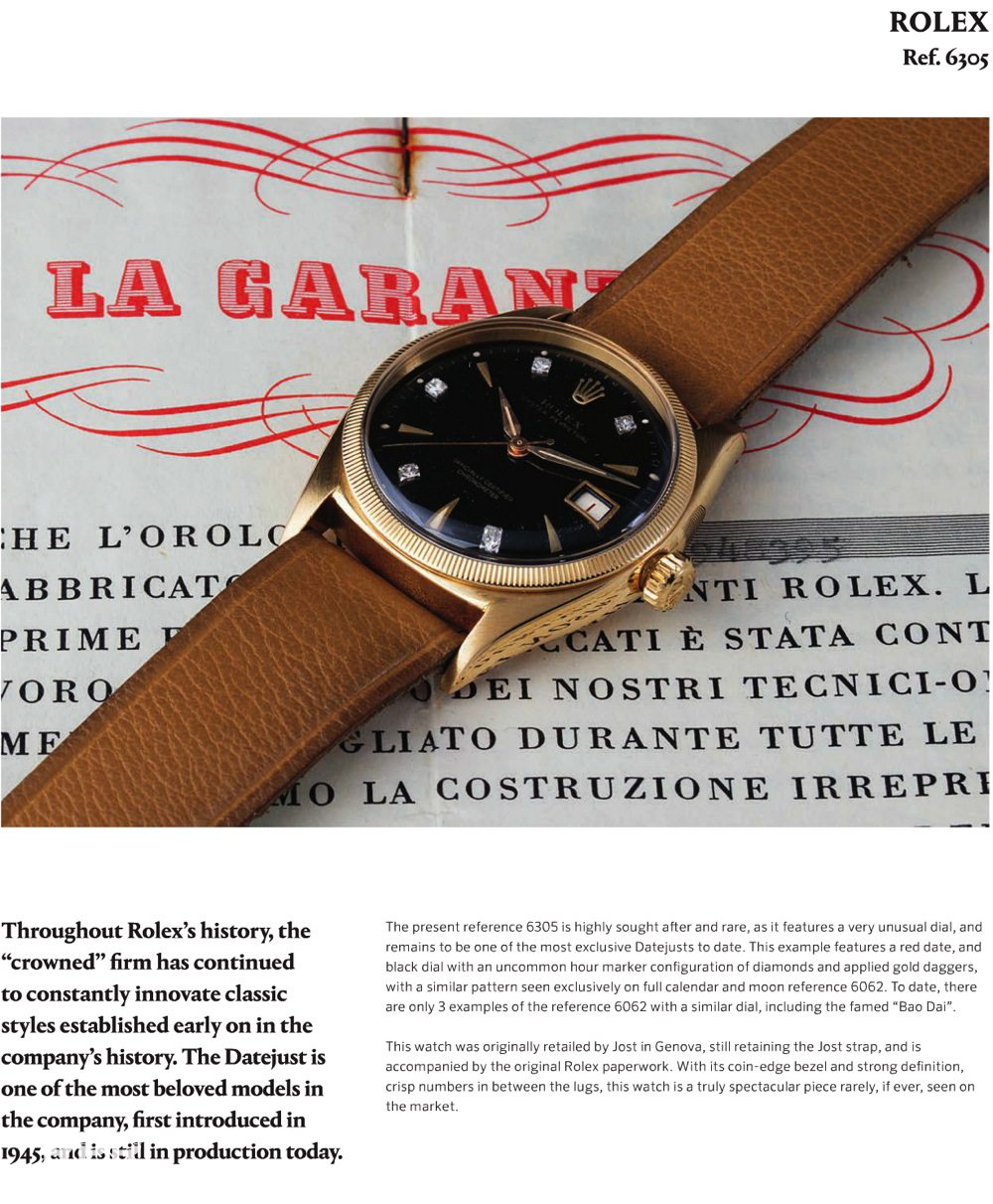 Paul Newmans are hot, specially after the special Daytona sale. But Oyster Paul Newmans have become the ultimate Sports Chrono of any brand. Simpel and perfect in design, not to much color just black and white, added with screw down pushers its simply the best possible important Daytona you can get. It never disappoints you when you look at it. ~We see the prices climb to €300K for nice examples and as this one Phillips offer is indeed very nice, it will sell higher, my guess is €350K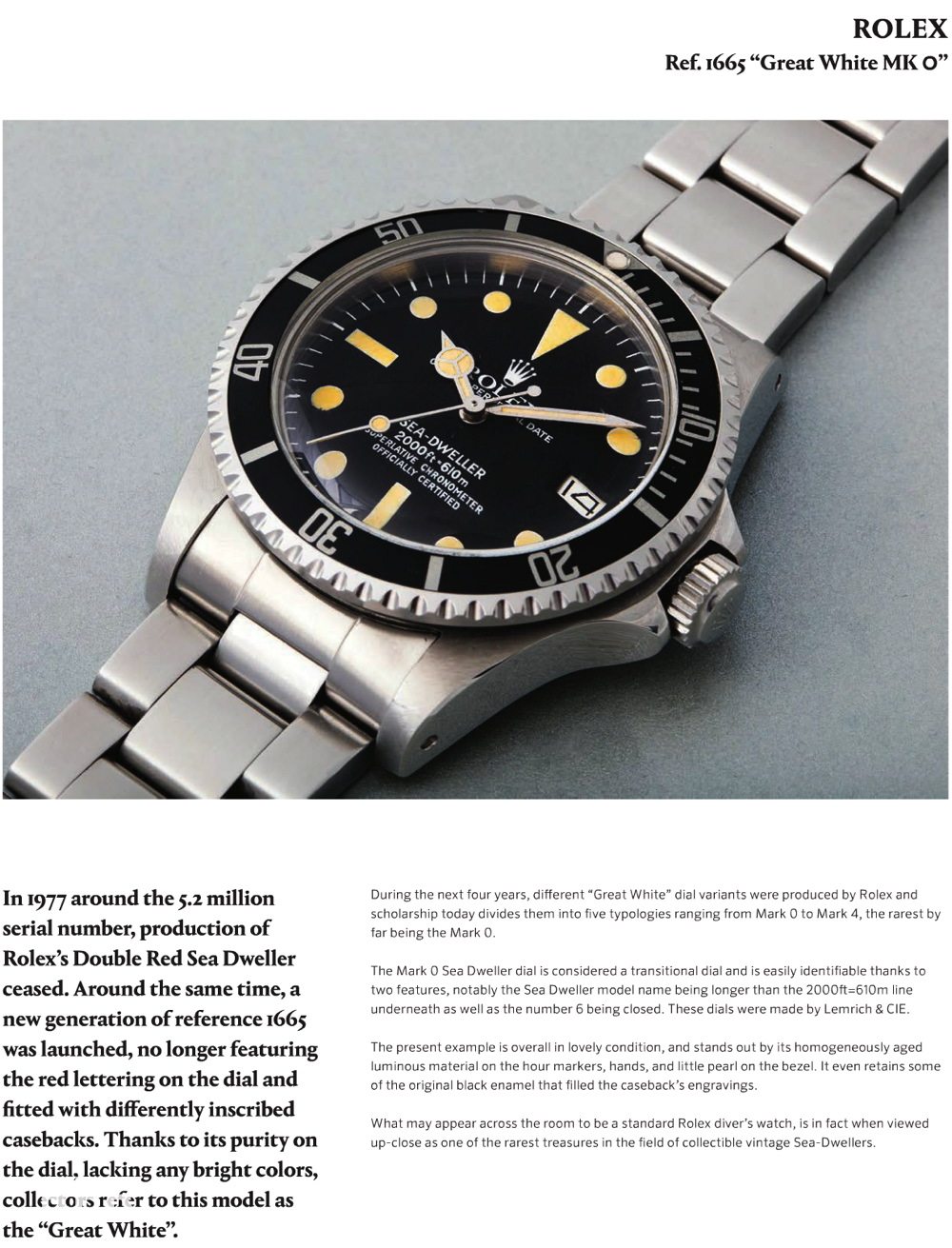 Yet another special vintage Rolex most collectors would not even consider being special. I myself had to look twice to see it's the rare MK0 with special dial design you can only recognize once you know all others. Estimated to € 45 – €73.000,=  I think now, also due to it's crisp condition, could go for 70K all in.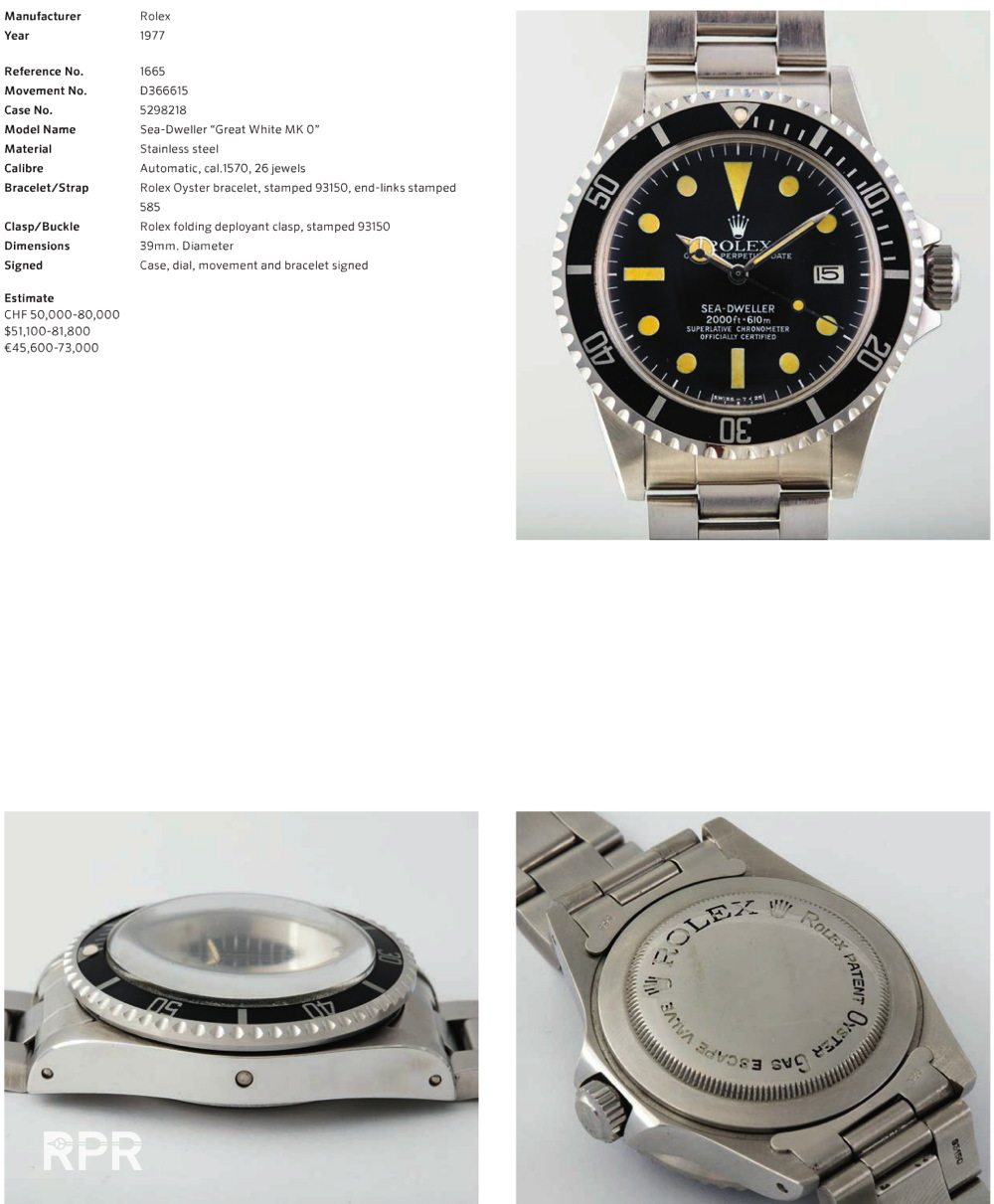 As you can read above, the Ref 6240 is only mdd in 1700 examples and thats rare! This one is estimated a bit lower then a perfect example to € 45 – 91.000,= We see the sub dials have some imperfections. I think this one will fetch 80K all in.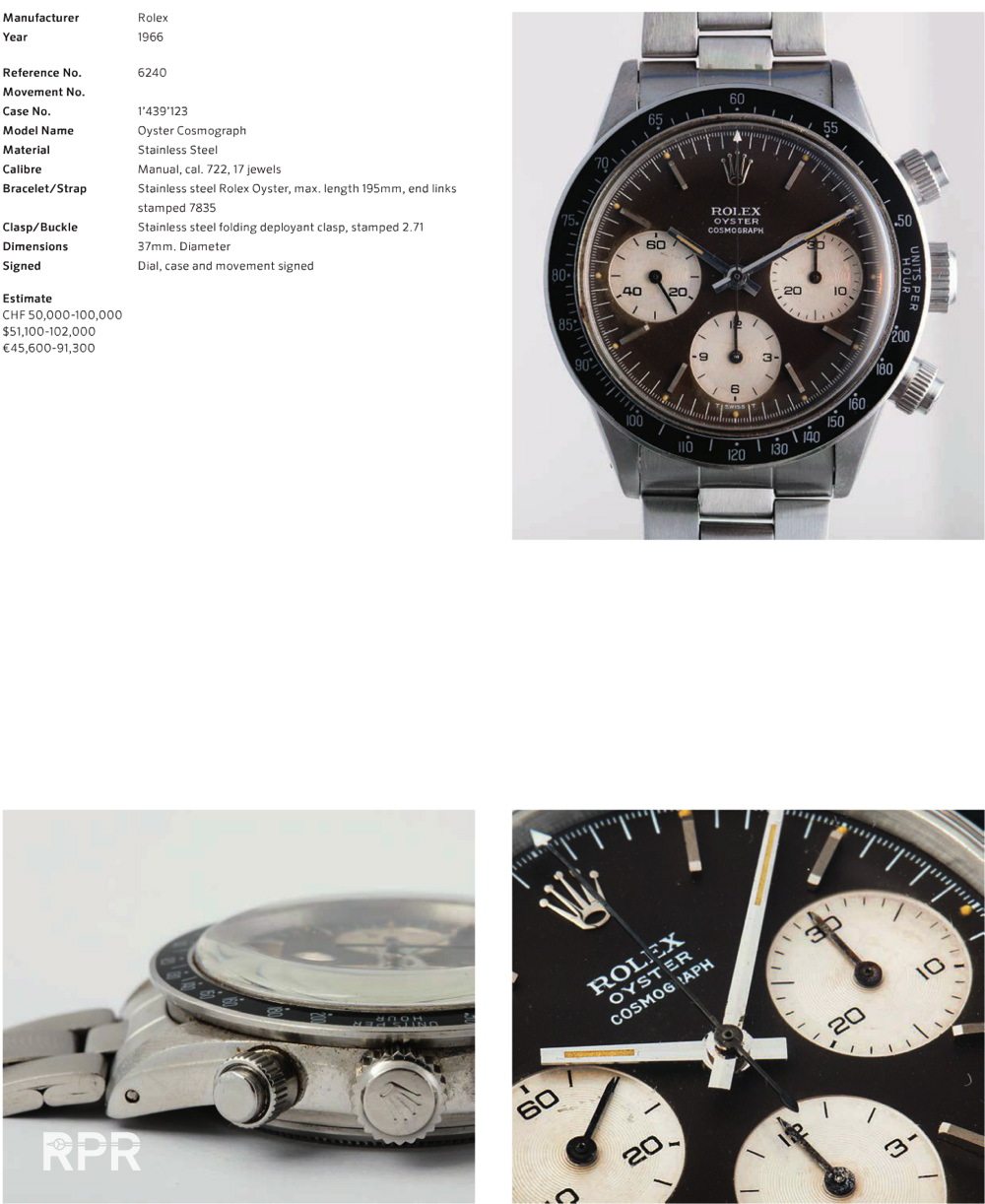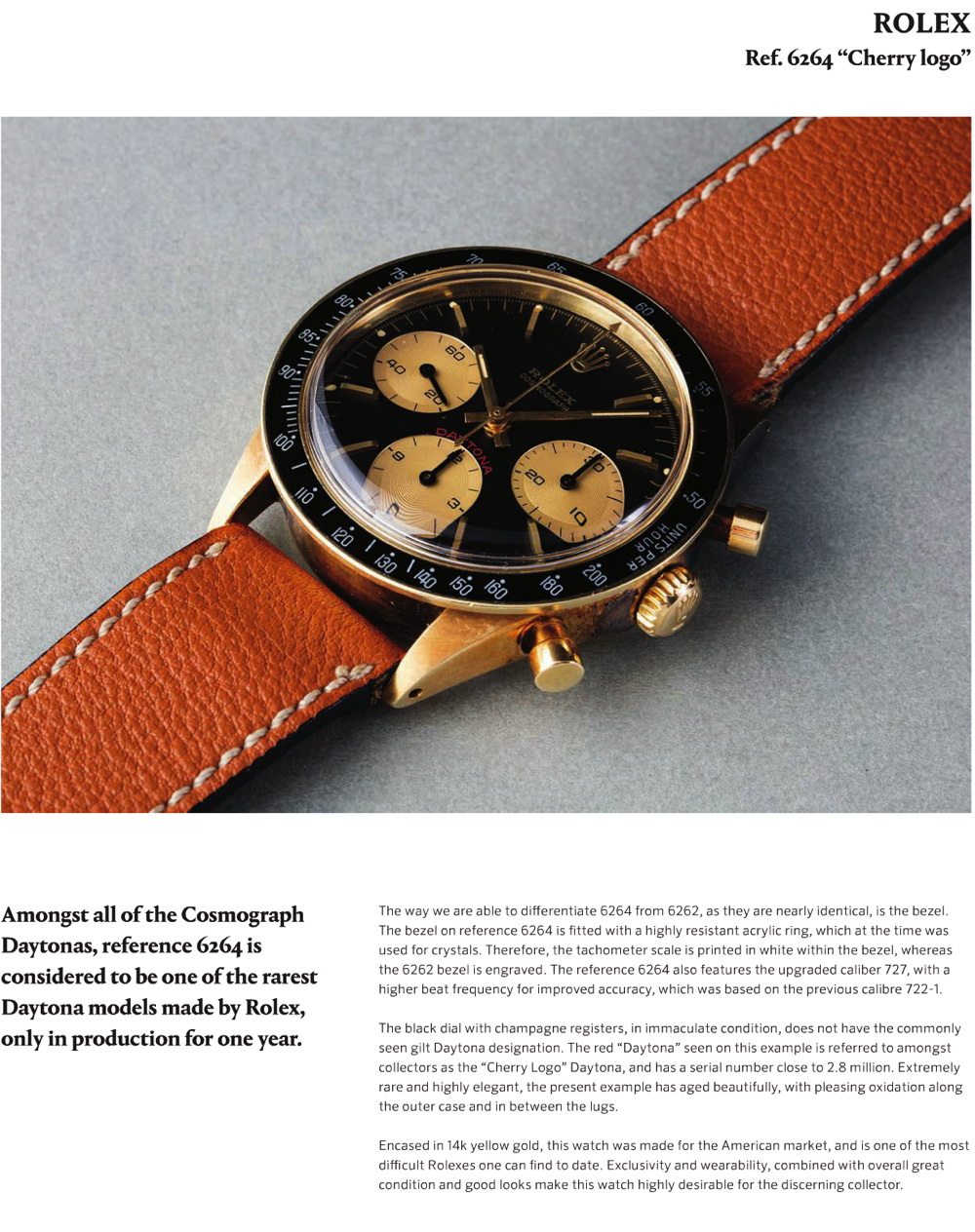 Very rare and charming, gold and black makes me think John Player Special, a touch of red is the cherry on the cake. Estimated for € 82 – € 128.000,= this one should go for more. Lets see and analyse after the auction.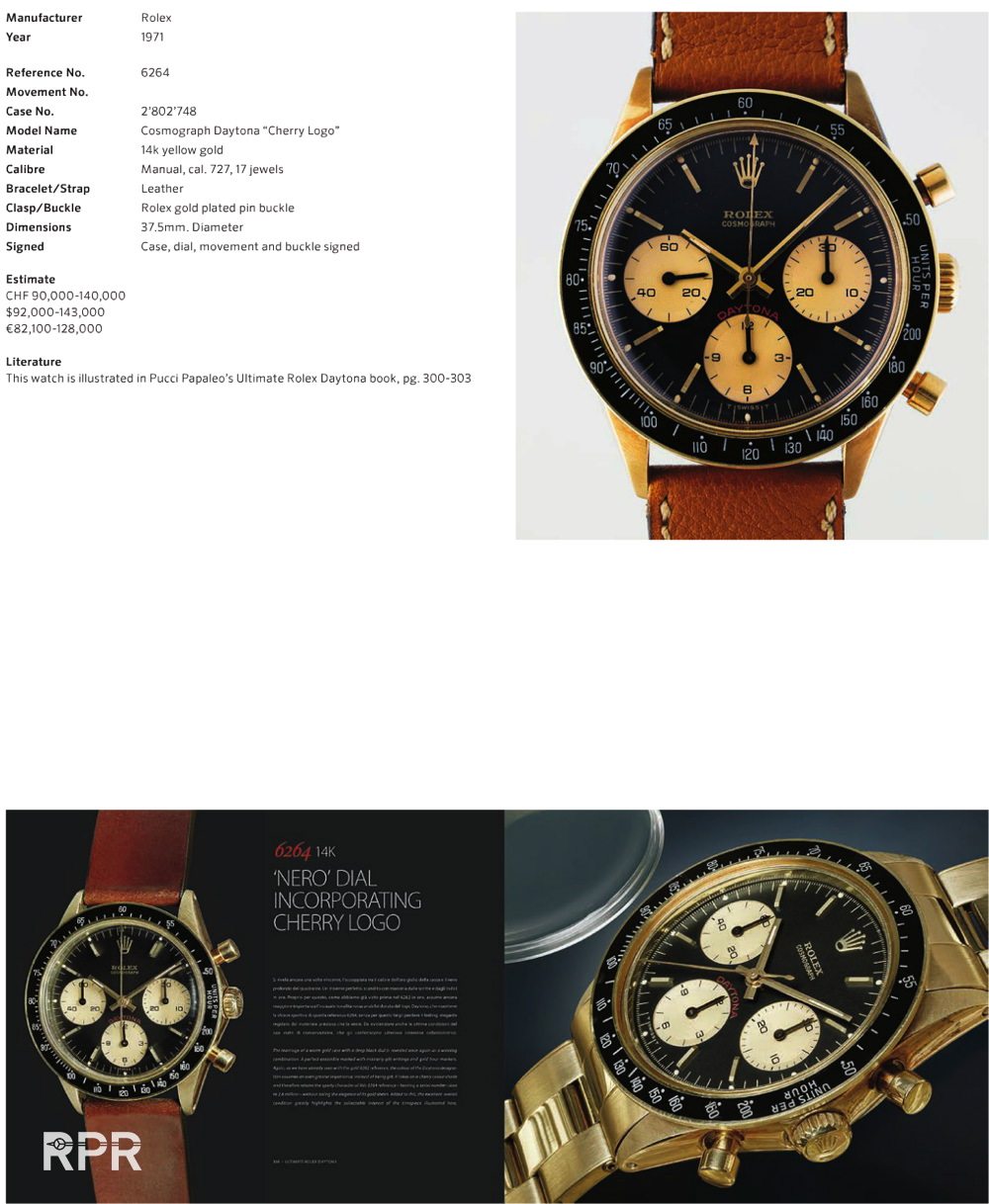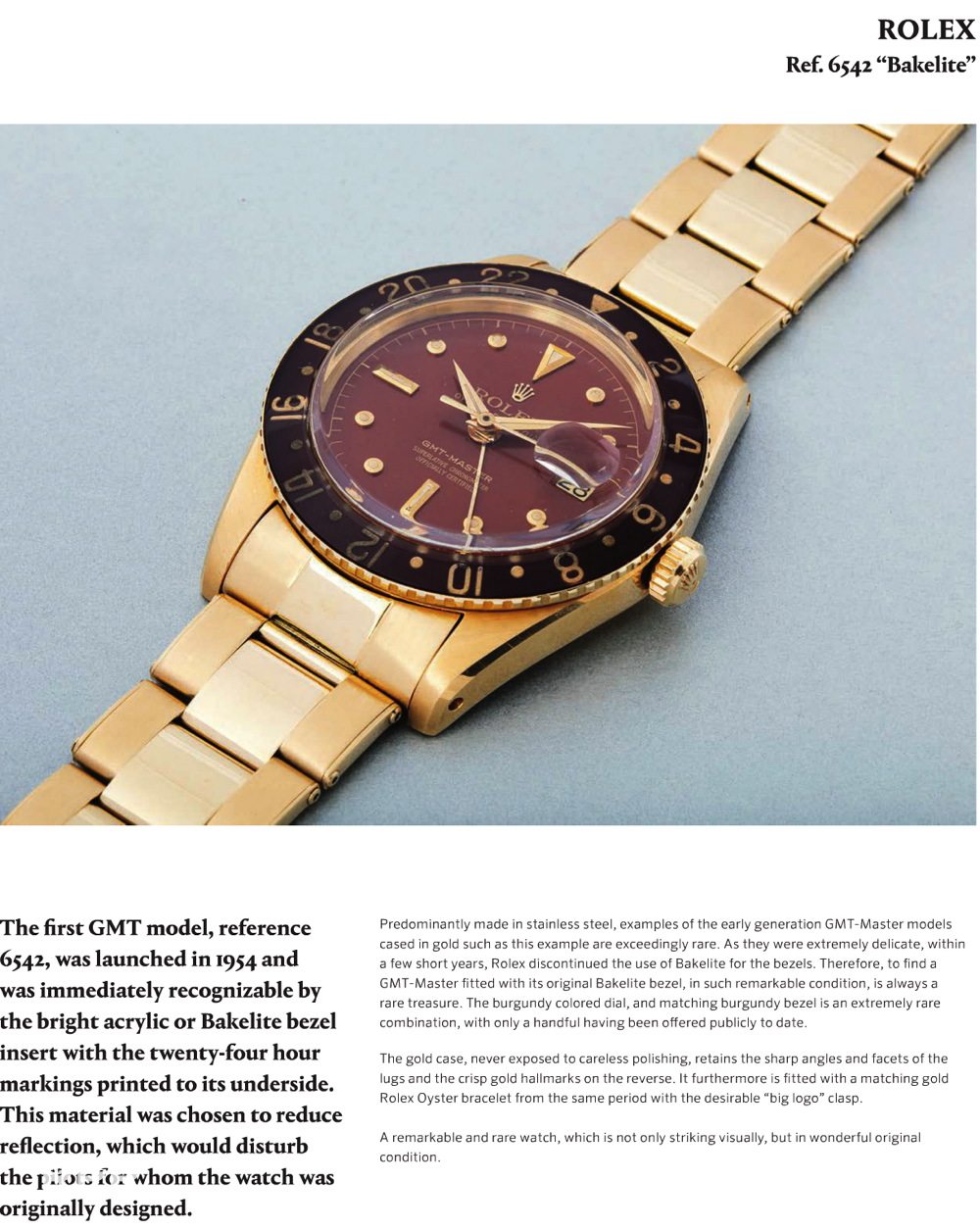 Gold early GMT master ref 6542 are always rare. With this one as you see above the chamfers are really sharp. The rare matching big logo bracelet is yet another cool feature. The dark brown dial and bakelite bezel seems to be ok, the luminous could have been a bit more patinated but then, this could be the lighting of the picture so actually nothing is in the way to reach a price as estimated, €137.000 – 228.000,=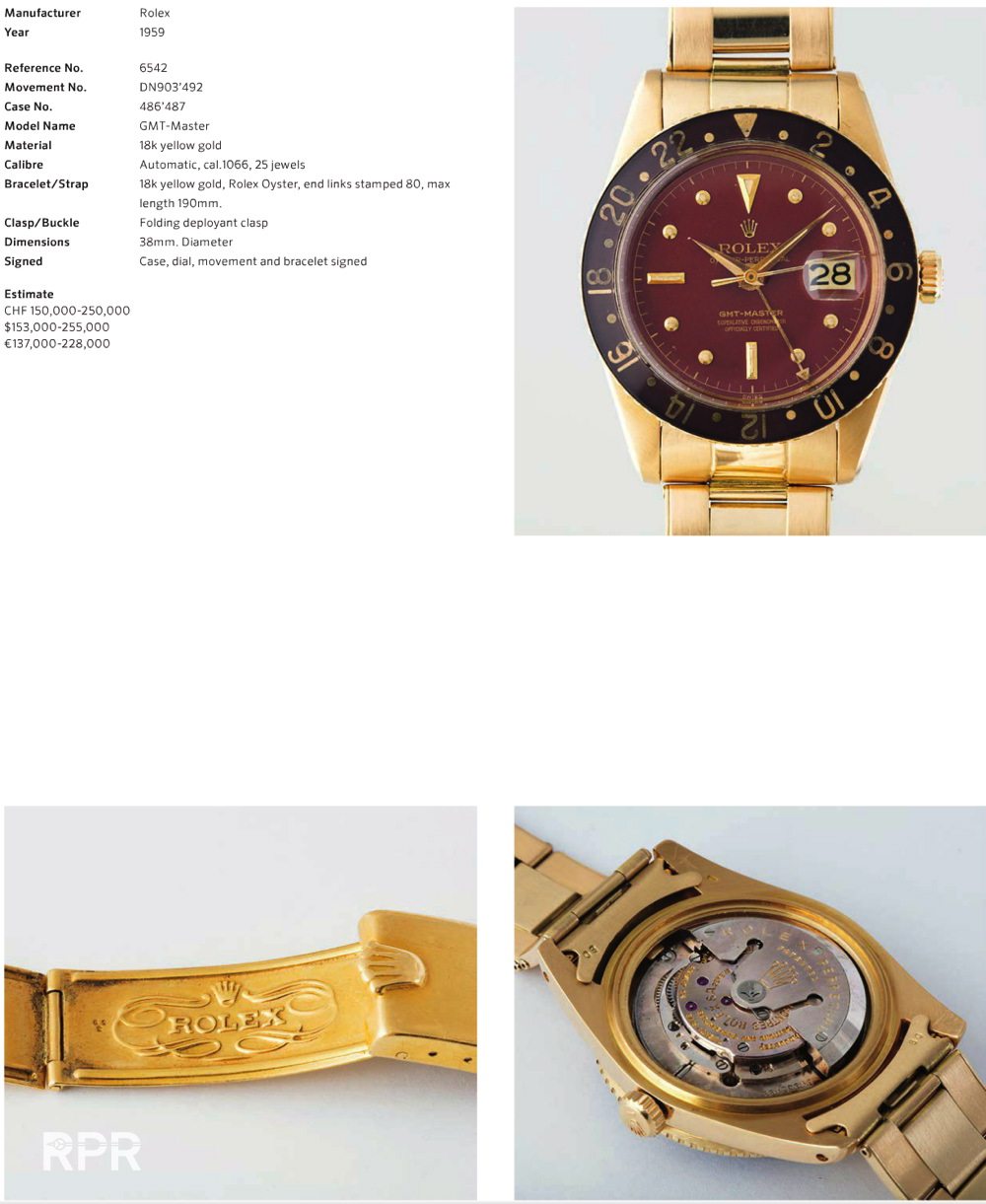 Next is a lovely crisp steel and pink gold Rolex Prince with rarely seen pink dial. The fact this Rolex is already some 75 years old, it looks super clean. Estimated to € 13-22.800 I believe now it will go for 30K euro.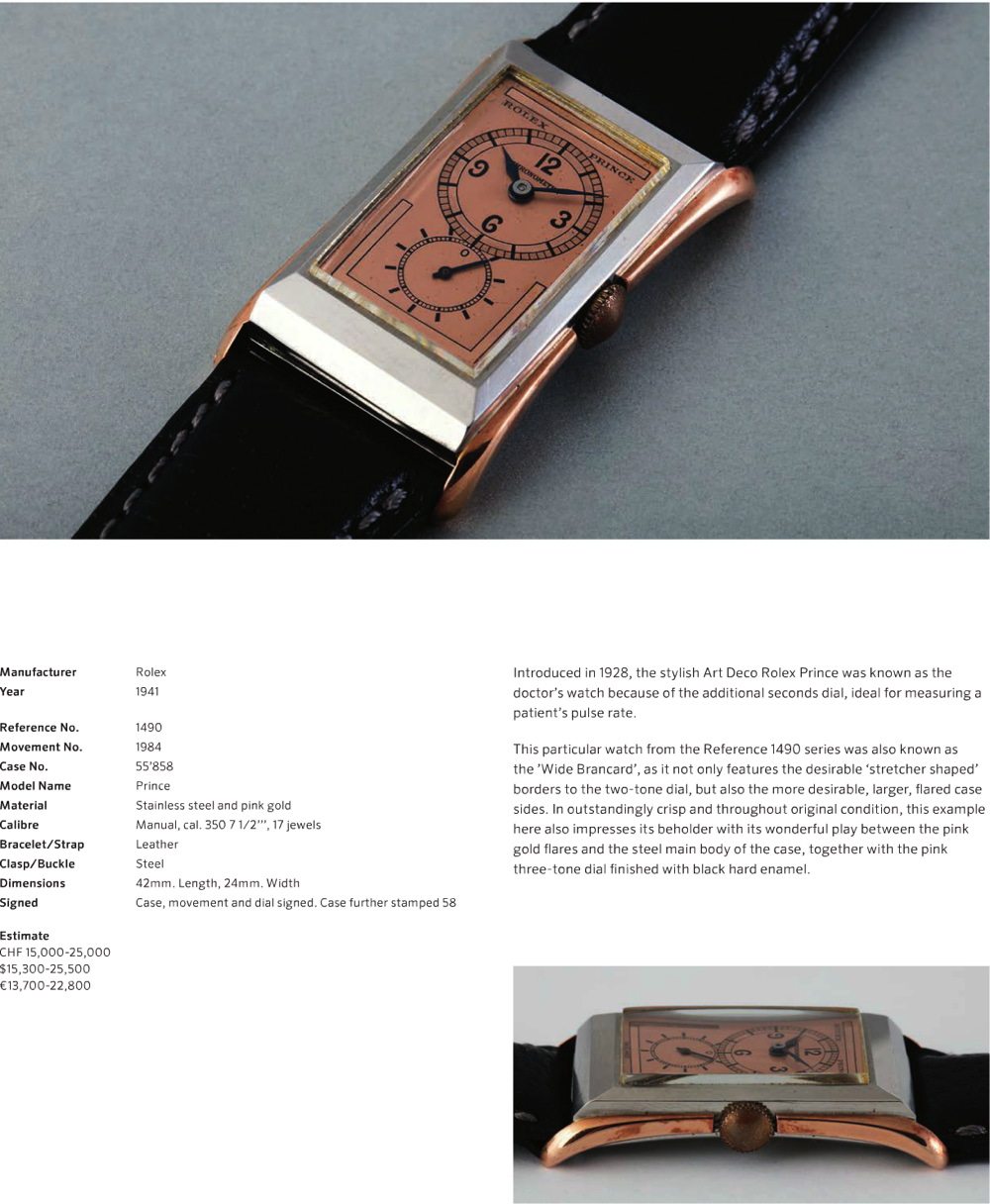 Christies is showing us a Oyster Paul Newman with a engraved case back. We notice the pushers have been service to later type, not perfect in detail when we look up close, the lume isn't perfect so that made Christie's decide to estimate it to €110-€200.000,=I think the price difference for a regular PN and a good one is quite big and could make 50% of the price, therefor I think this one will fetch 175-200K all in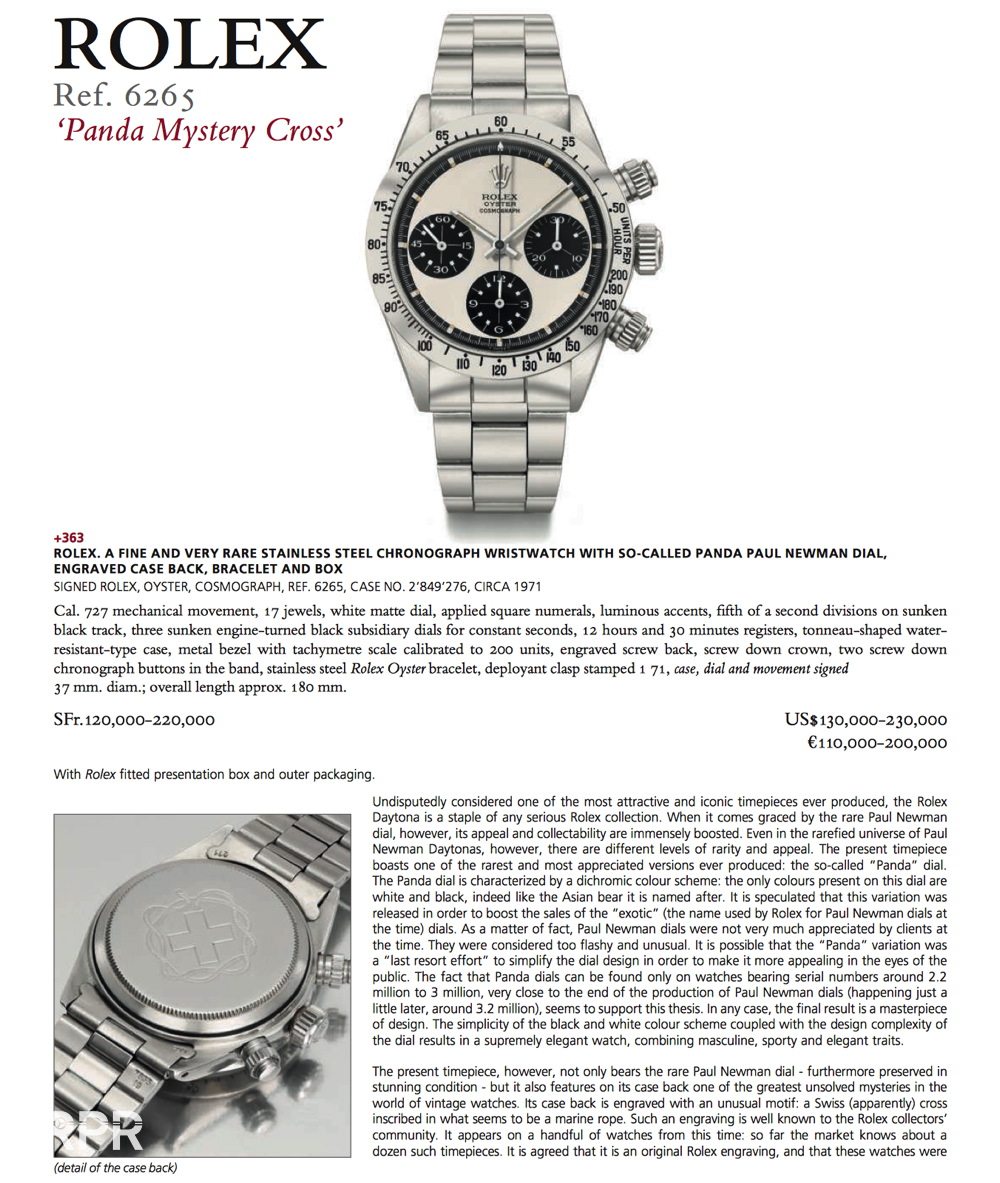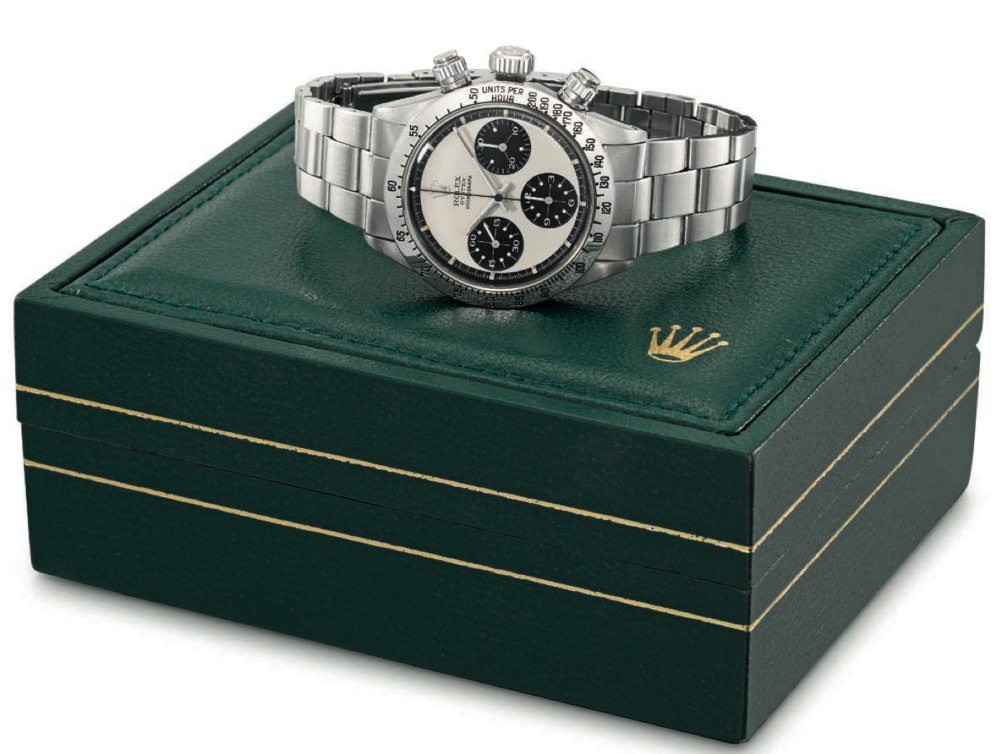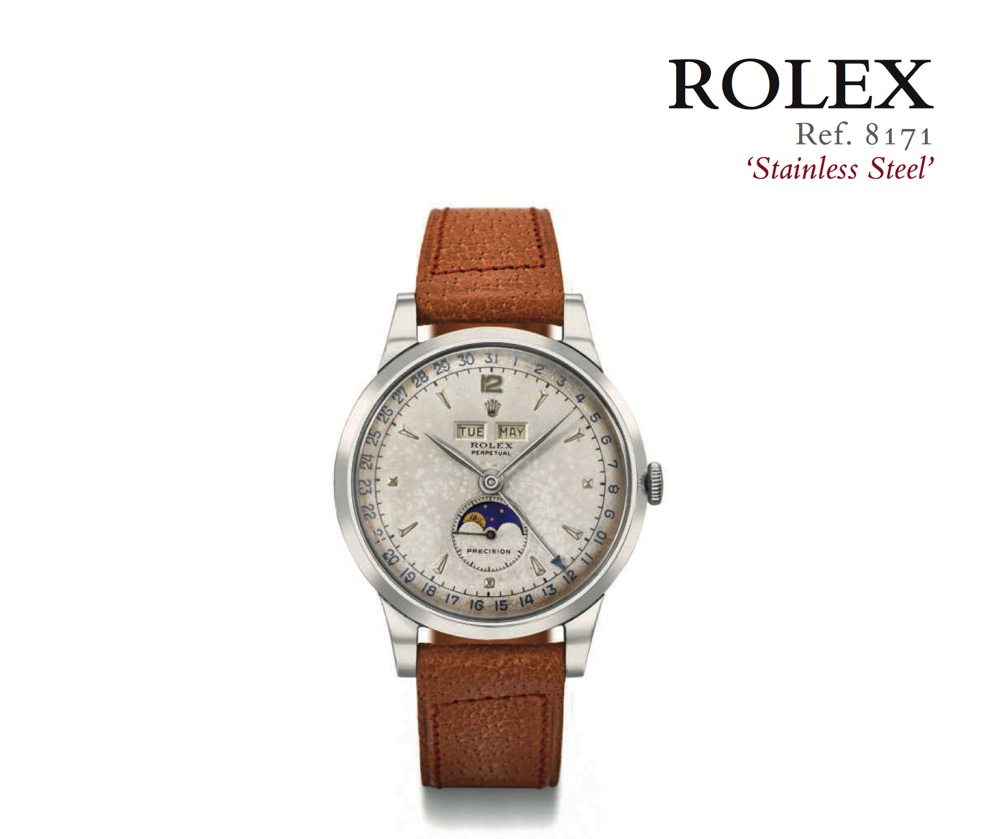 Christie's also offers a 8171 and just as I wanted to show you the difference between a perfect one, as in the beginning of my post and offered by Phillips and this one. We see the case has been polished and the dial has some serious aging but we also see it's kind of honest, making an example as offered by Phillips exceptional rare and exactly thats what modern watch collecting is all about. To a novice they kind of look the same but then in detail there so much difference. This one is estimated from 60-100K and probably sell for 80, maybe 90K all in.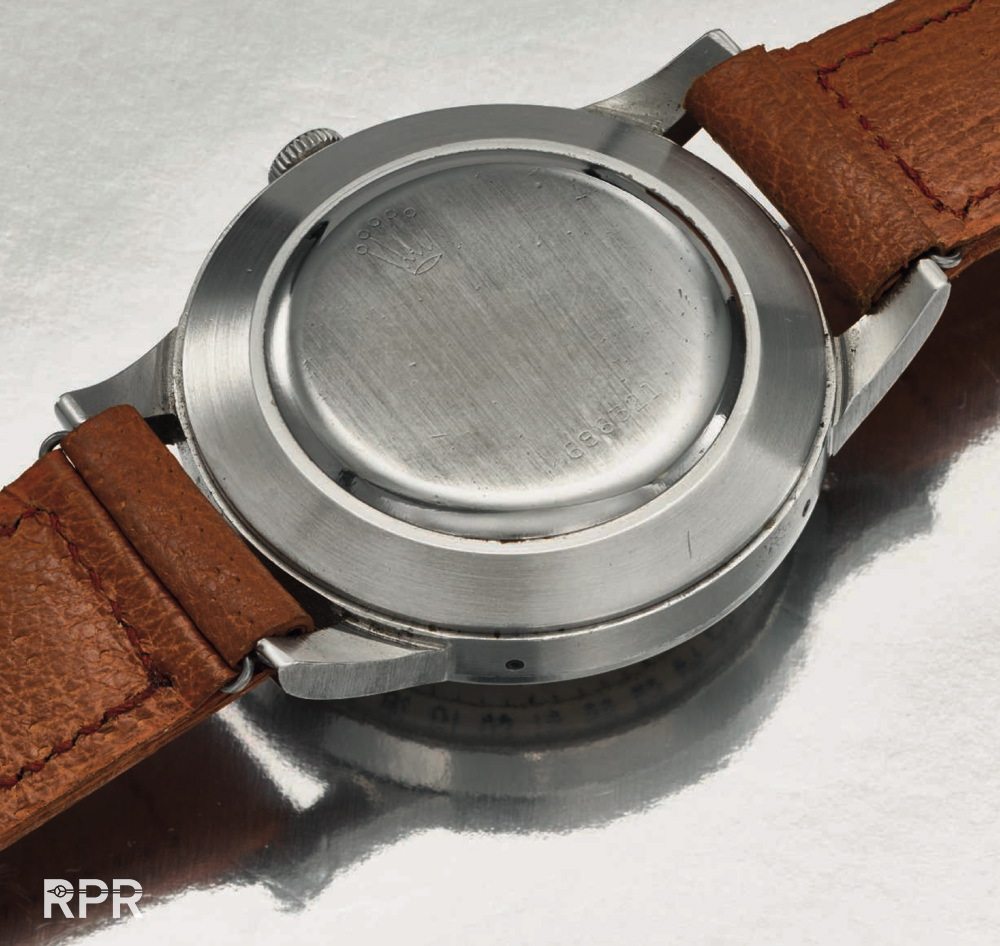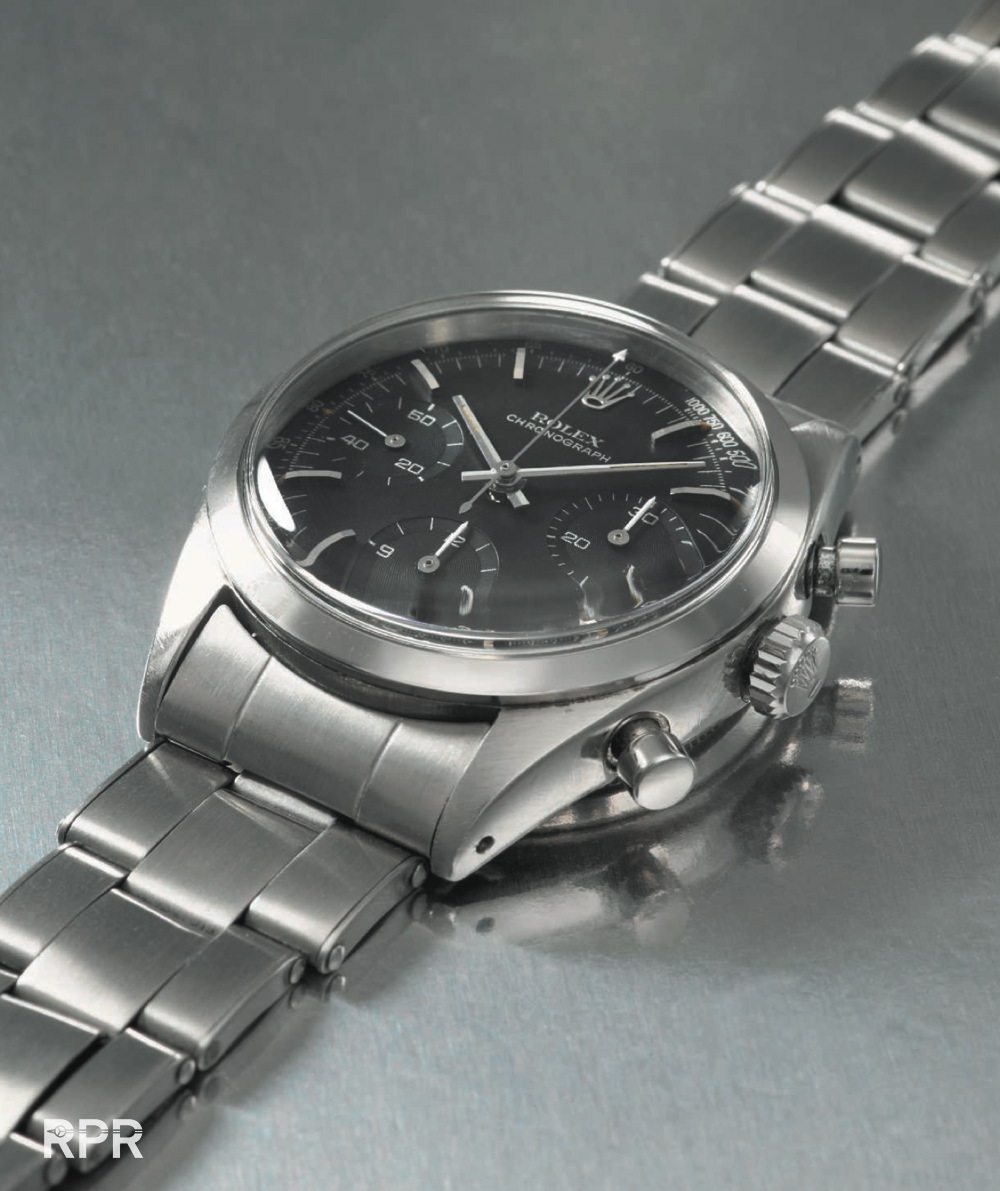 Above yet another christie's Pre Daytona, estimated to 60-100 CHF it will sell for like 75K all in. And below Newman looks clean and therefor it will sell for around 90-100K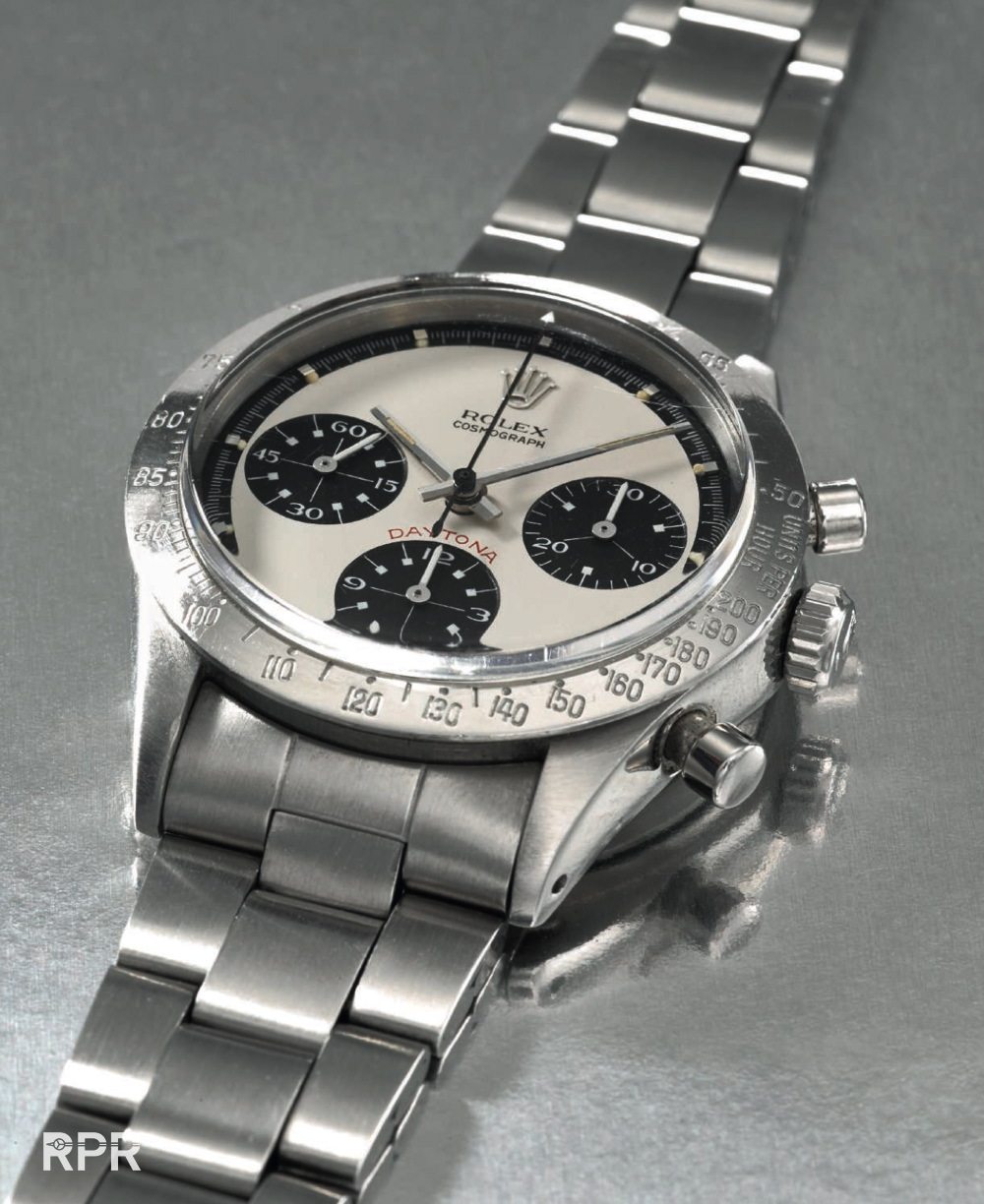 When you look at it, you think why isn't it bigger. With it's 18.5 mm it's quite small but very adorable. I like these early chrono's in good condition as it's so rare you find them still looking great.  The snap back and olive pushers are not waterproof. I think this one could go for 30K all in.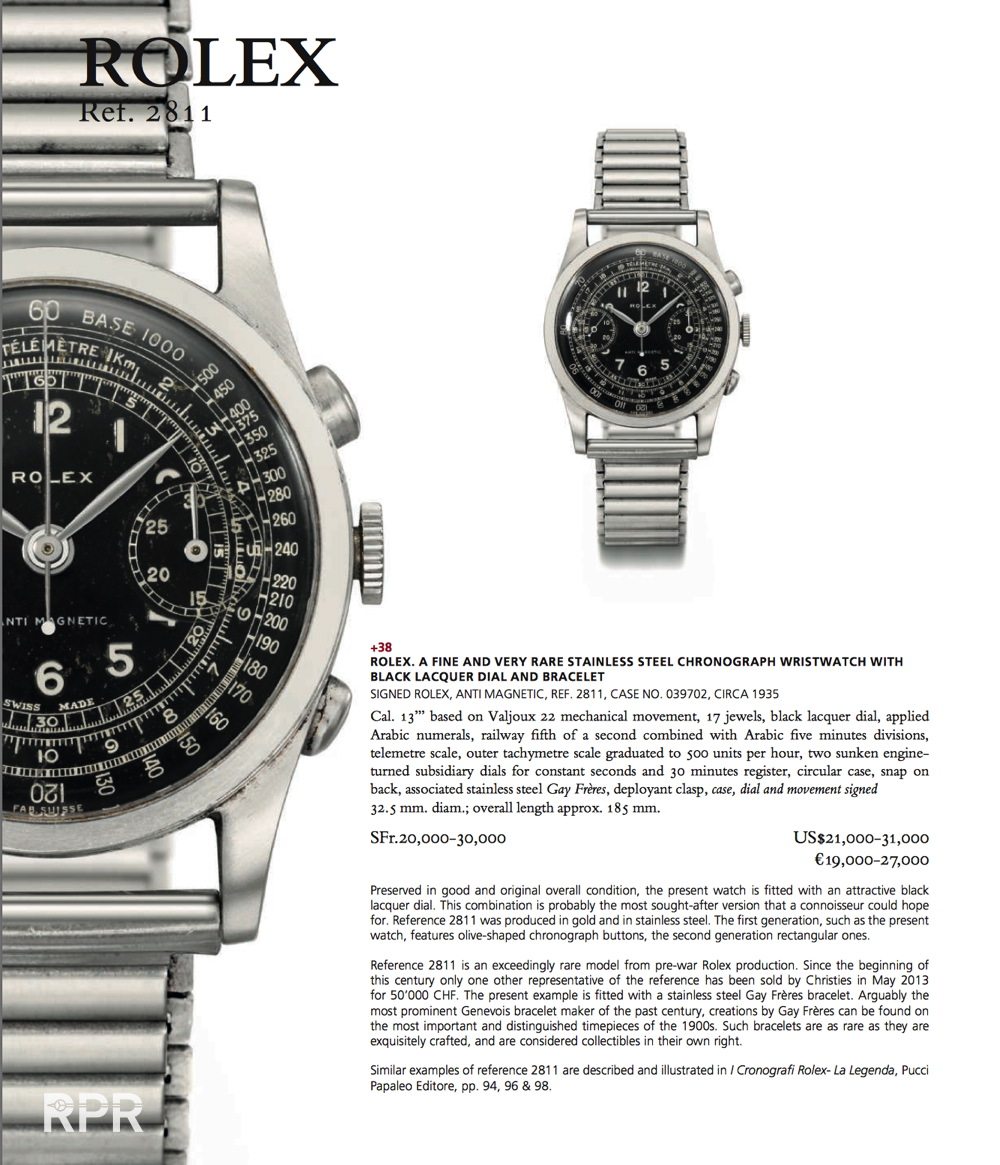 As previous pump pusher Paul Newman above from christie's, this one looks nice and matching by luminous. If there rate no stains on the creme part of the dial, these go for 100K all in easily nowadays.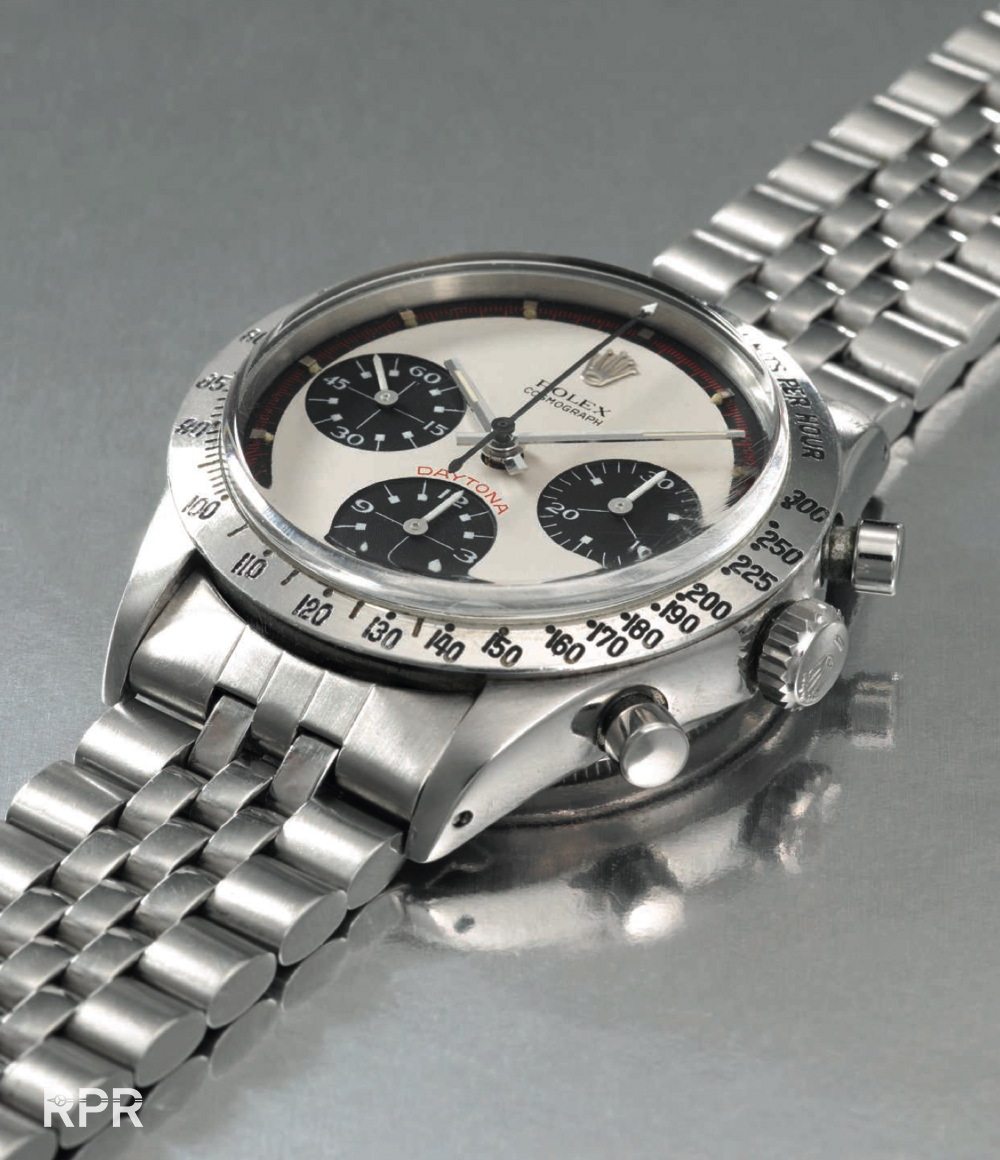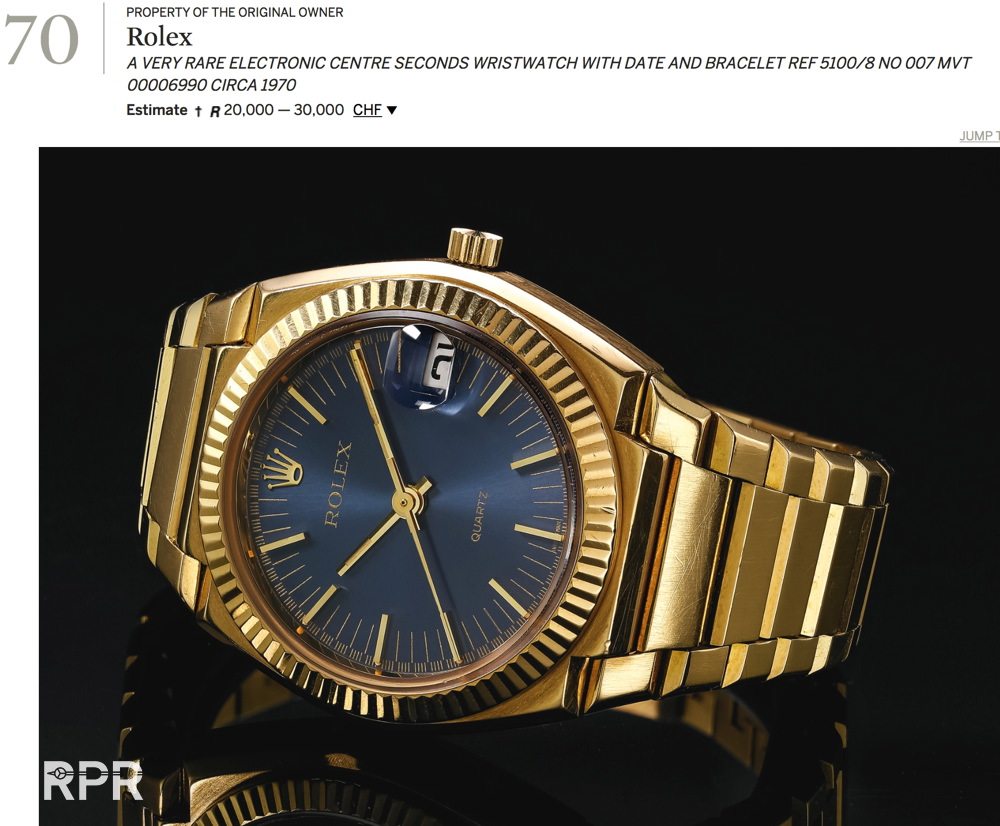 Sothebys has this blue ref 5100 Quartz in their sale and as the dial looks clean, it should go for 25K all in, maybe even more. Below they offer a pump Newman that will go for 85-90 all in I think now as the luminous looks a bit dirty.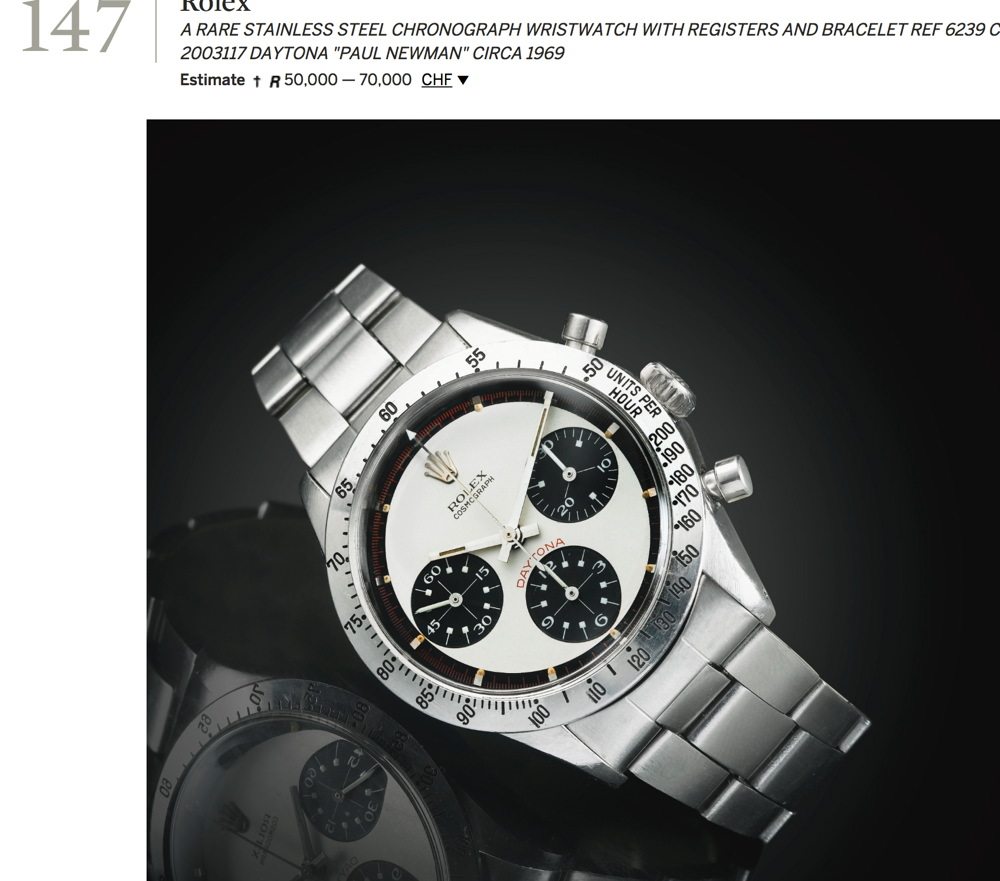 a square Crown Submariner is rare, this 5512 below Christie's offers looks all ok, maybe not the nicest by condition and for sure the case has been polished but then how many of these rare birds do you know for sale? Therefor I think the estimate of €65-110.000,= is reasonable and it will go for around 100K.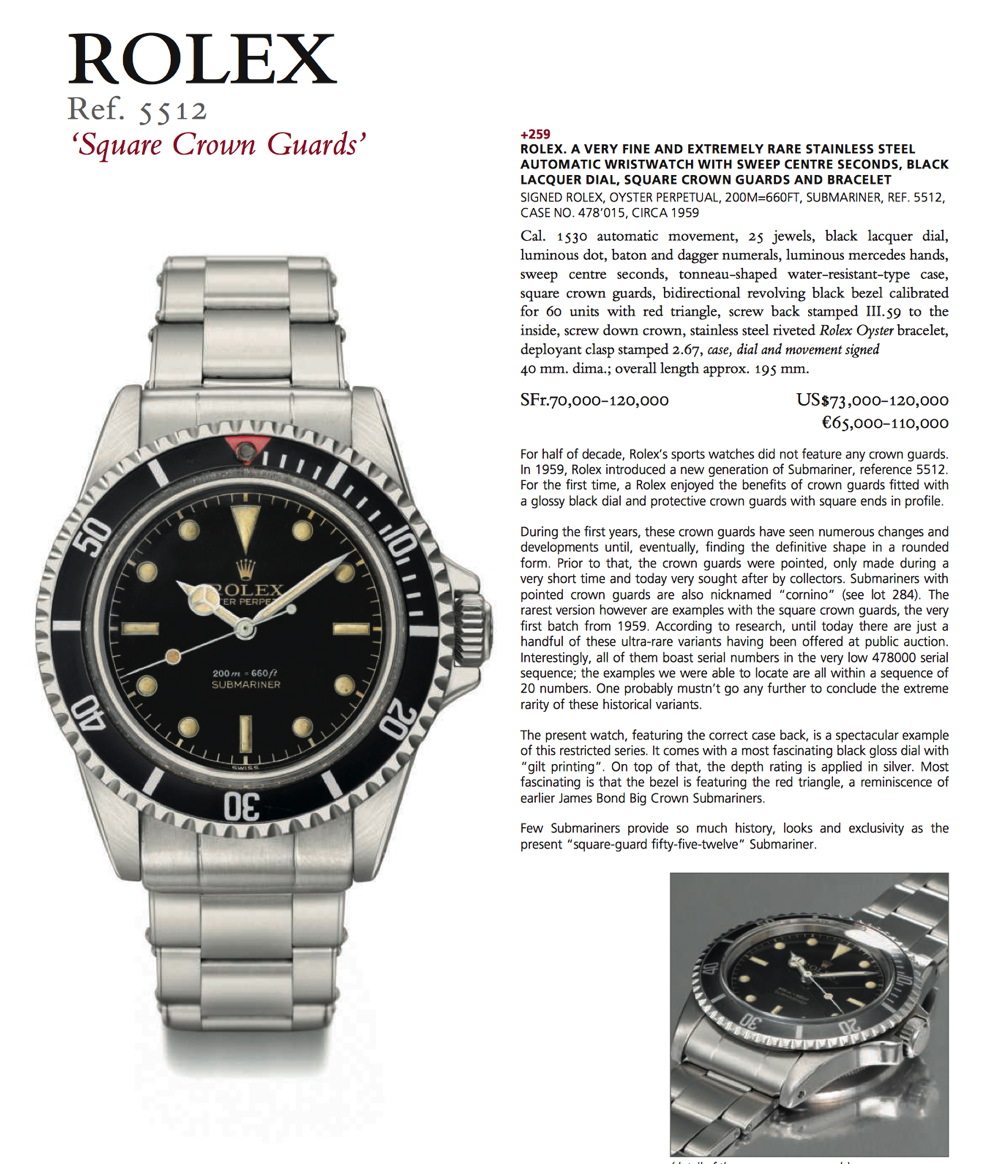 I like the initiative taken by a nice friend and great collector to support Mike Horn in his expedition. Hopefully it sells high!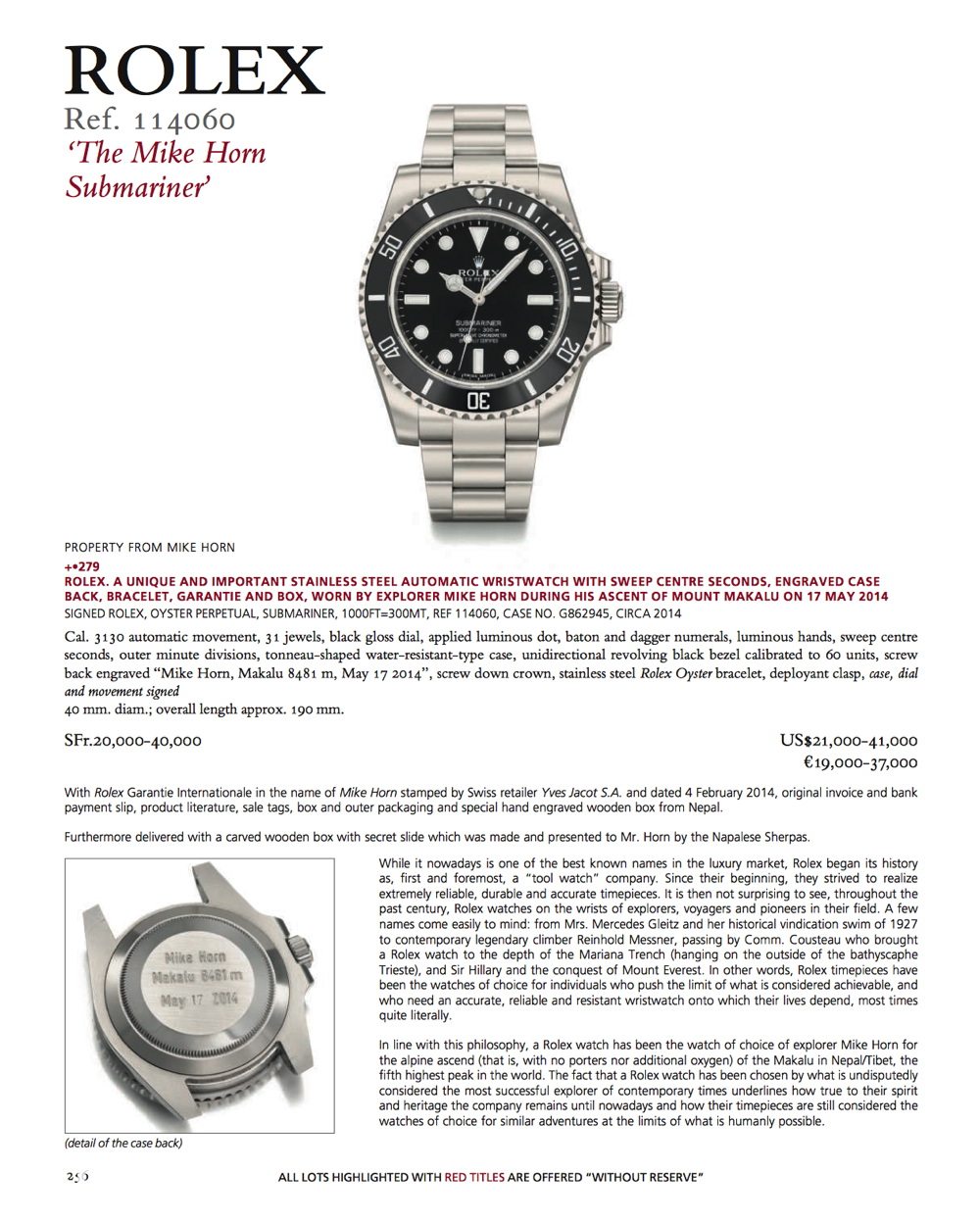 Antiquorum offers this gold Ref 6062 with star dial, estimated to CHF 250-350.000,= I think now, due to the big luminous dots that have been added late, it won't sell higher then the already steep estimate in my opinion. Maybe it helps to see it live, something I strongly recommend everybody who's interested in buying at the auctions! go yourself or ask somebody to double check!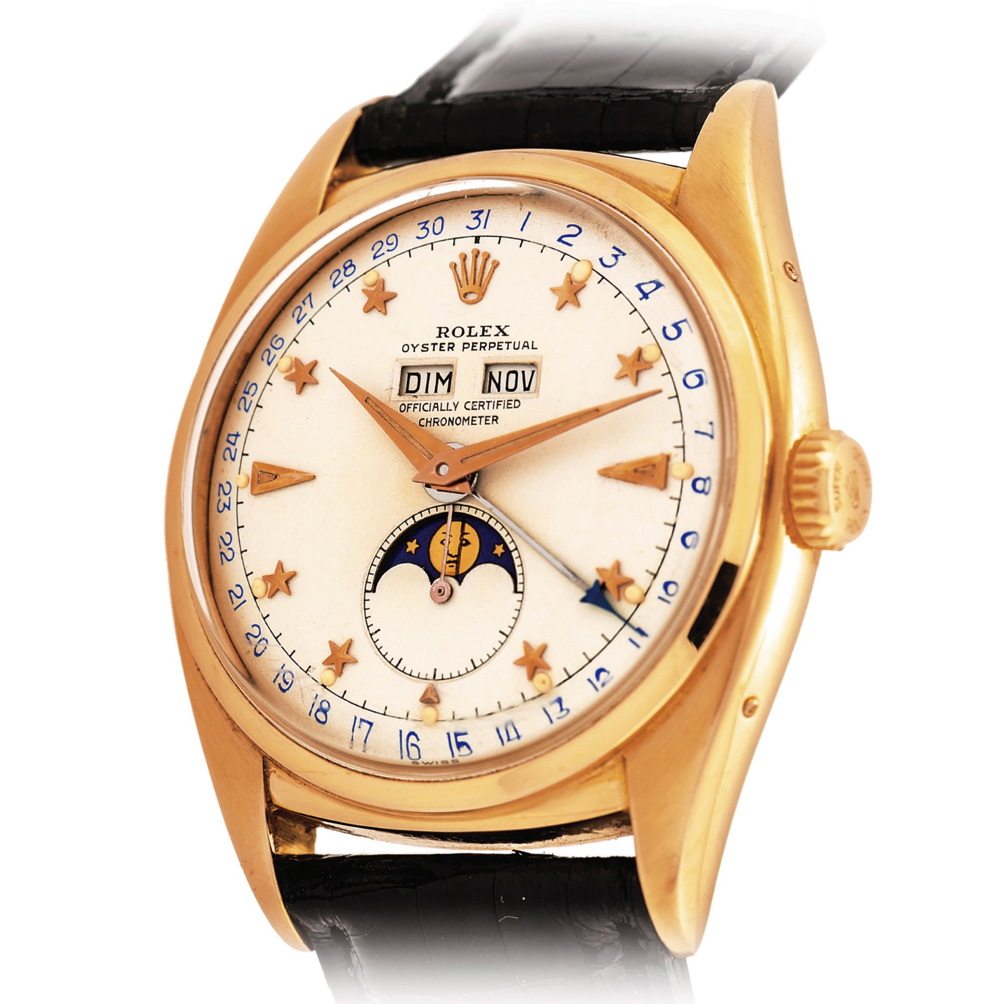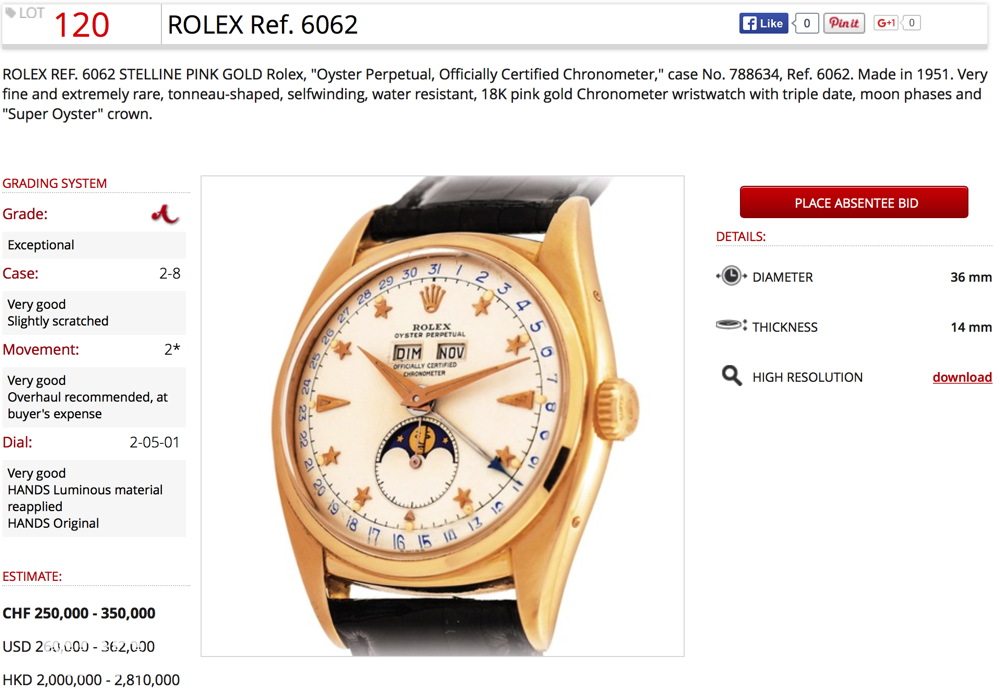 Black dialed ref 6284, estimated for € 28-55.000 I think it will sell for around 50K all in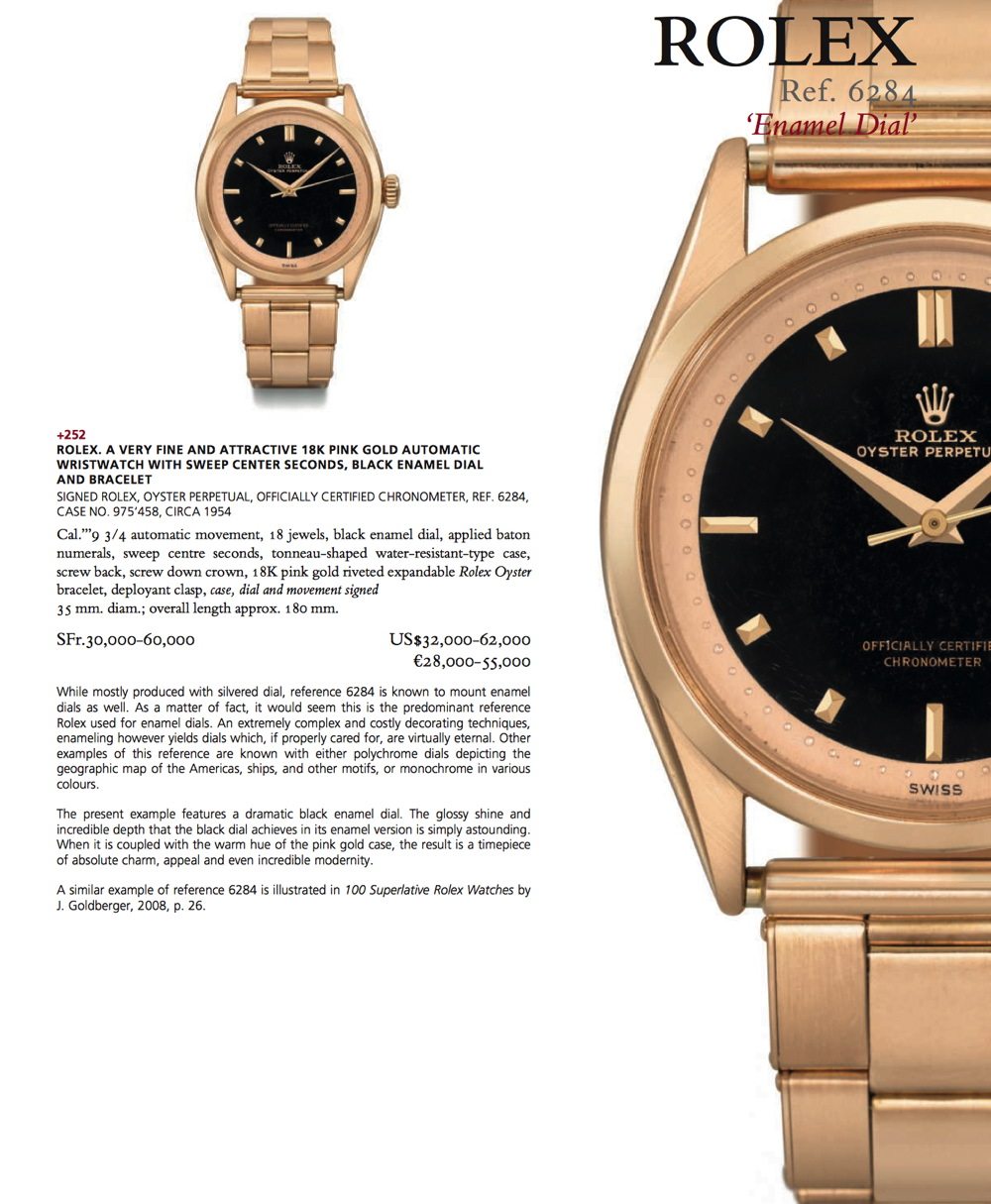 Double swiss & underline ref 1675, this transitional GMT master still seems to have a glossy dial and nice luminous. The case seems to be polished newly but nevertheless it will sell for around 35 maybe 40K all in.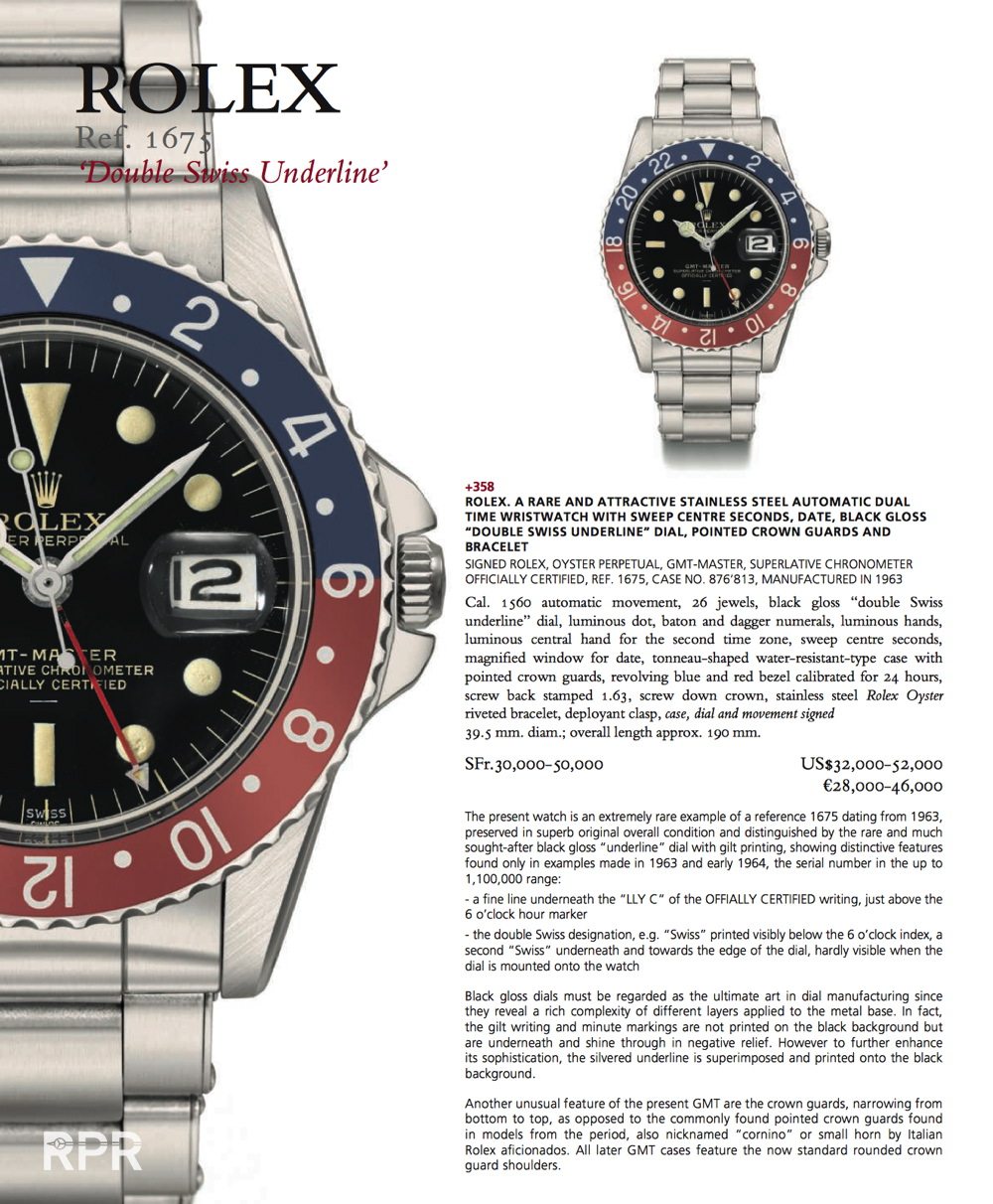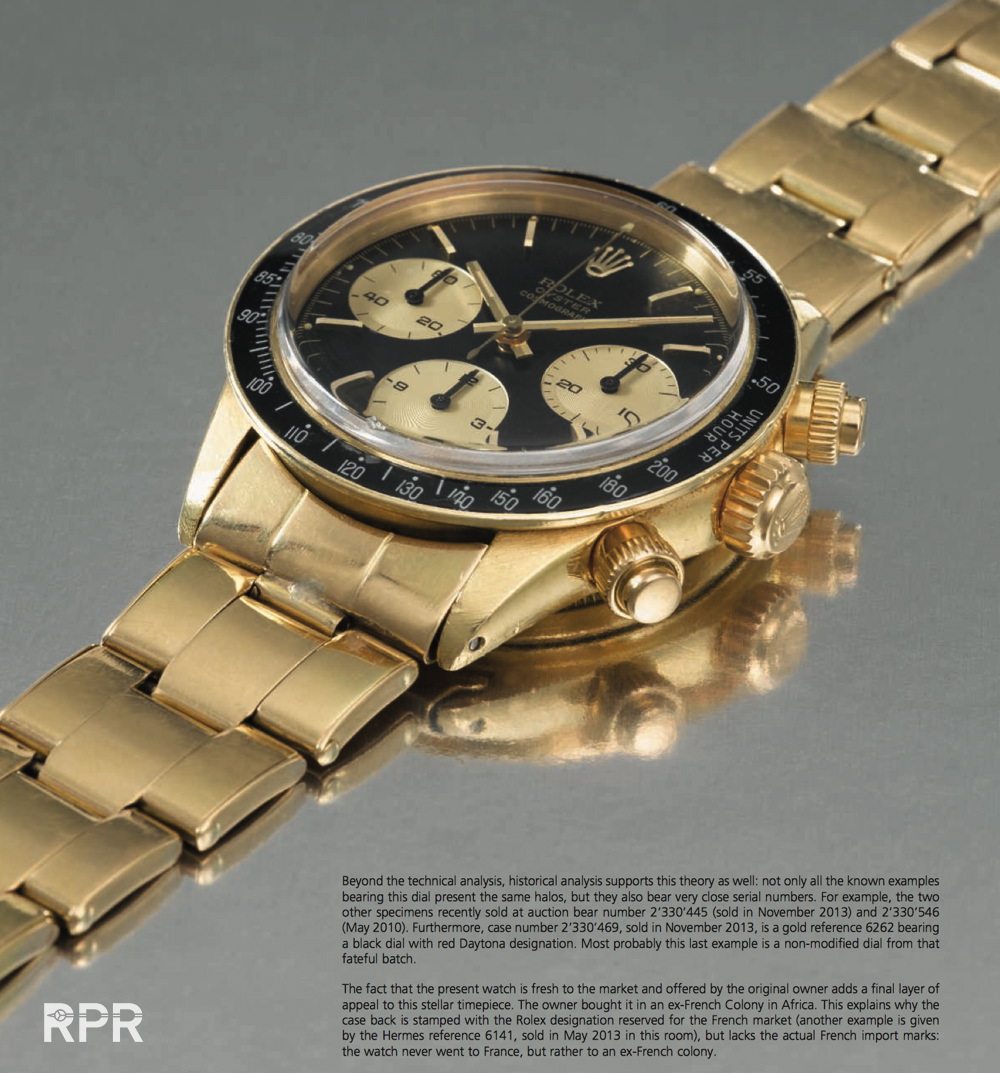 The ref 1665 MK2 is maybe the best looking Seadwellers around. On Instagram you see many brown faded ones, great tropicals that we only see with the MK2. This below mk2 looks a bit dark brown and will probably fetch 40K all in.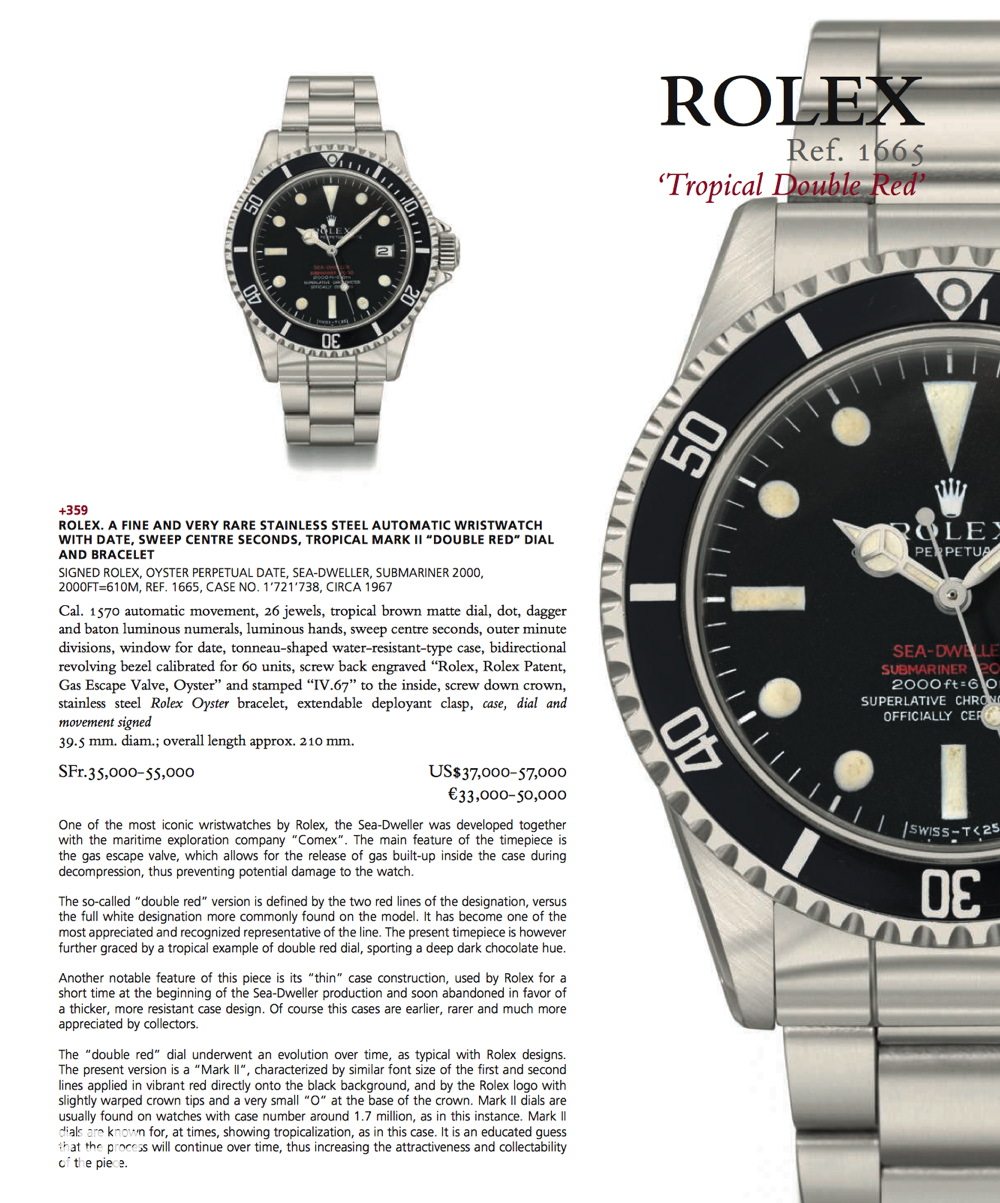 Many Japanese collectors love these rare bubble backs. I hear many collectors think, why aren't these bigger on the wrist. Something that won't help the adoration and pushing it to another level… Will sell in estimate my guess is.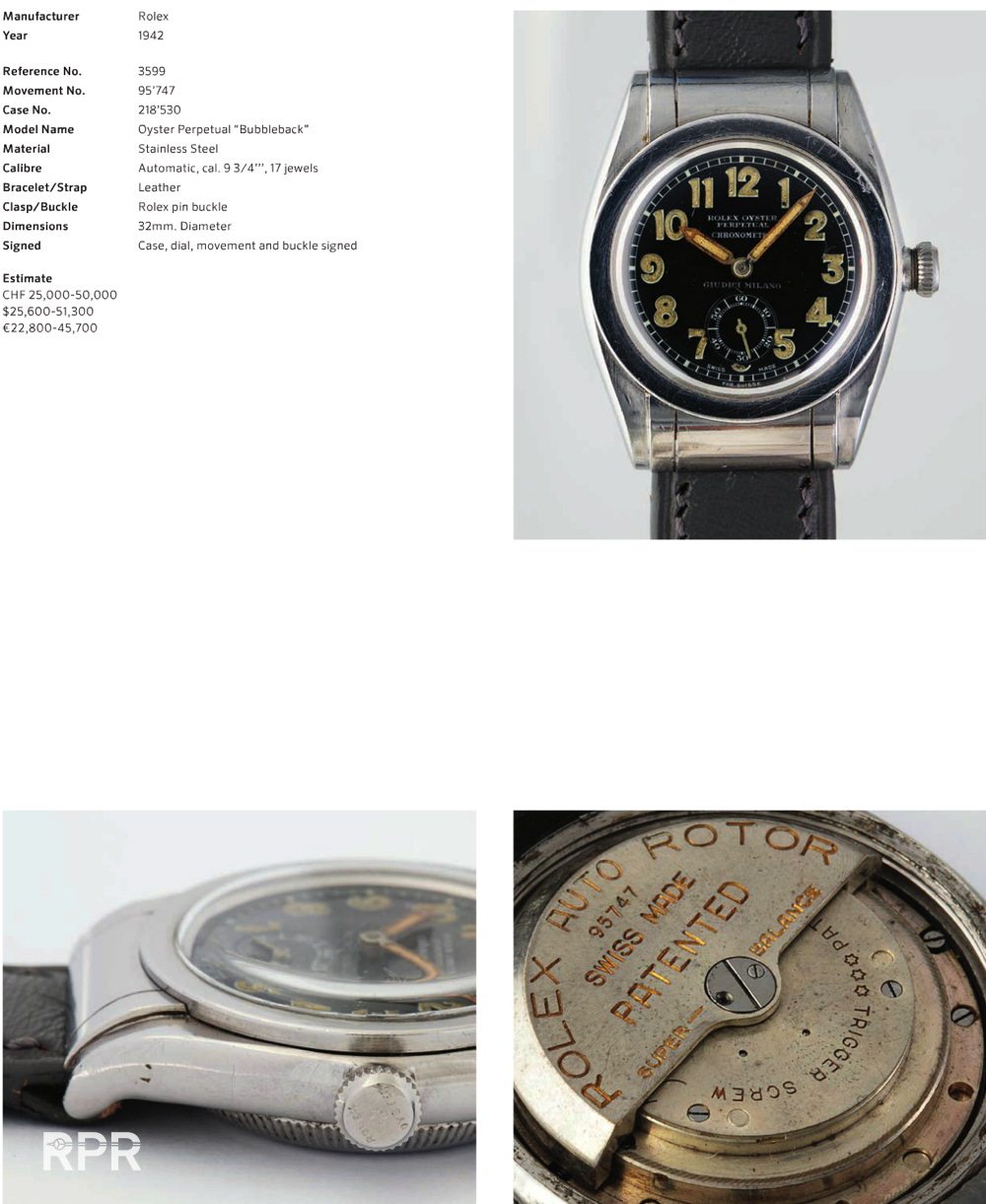 Below early Paul Newman ref 6239 looks quite nice, the lume is ok, the dial has no stains, the case is looks honest so my bet is it will sell for CHF 90-100K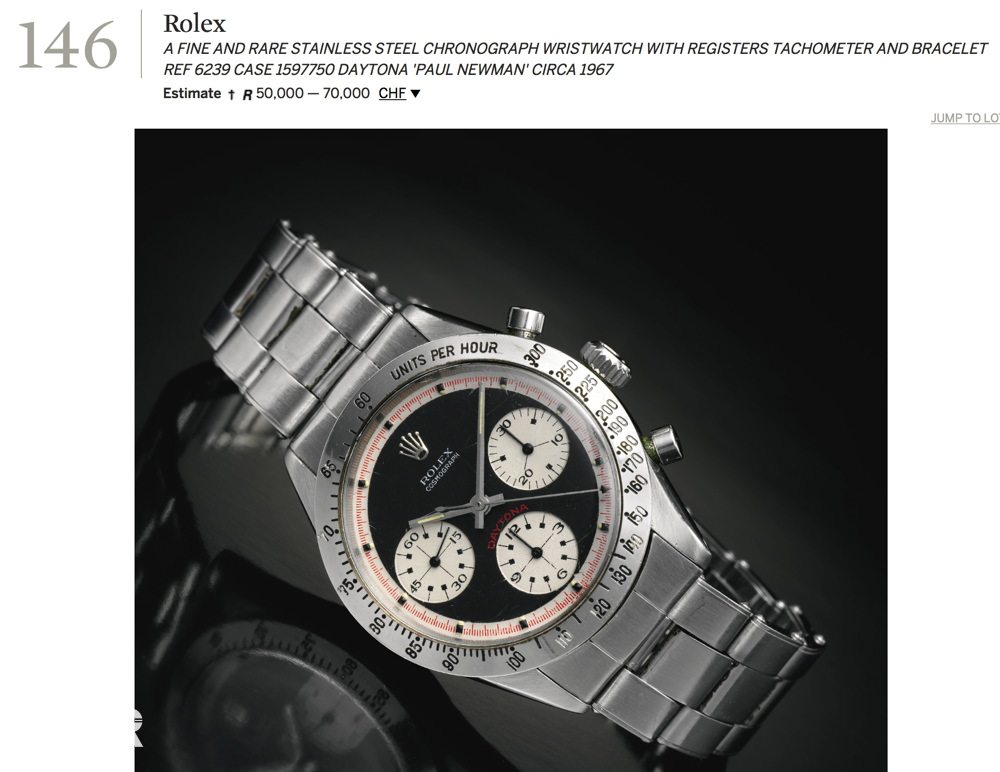 One of the earliest Rolex Daytona Geneva has made. Not having the mythical transitional underline but just the double swiss of which one is hidden underneath the rehaut and slightly polished all over, the sub dials are dark brown, bezel is matching with the rare first MK1 275 mentioning so it should sell for € 60K all in, maybe a bit more because the luminous looks nice.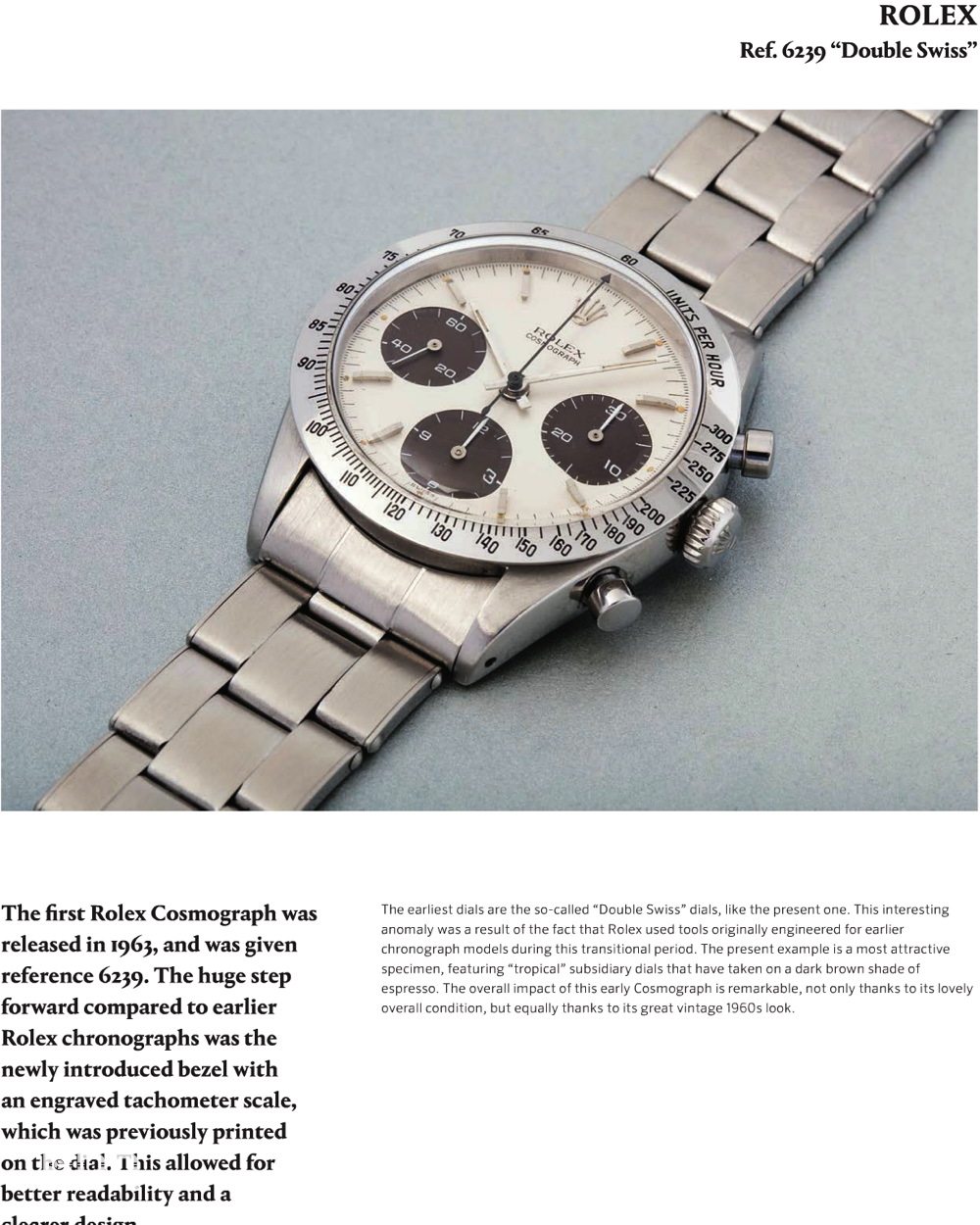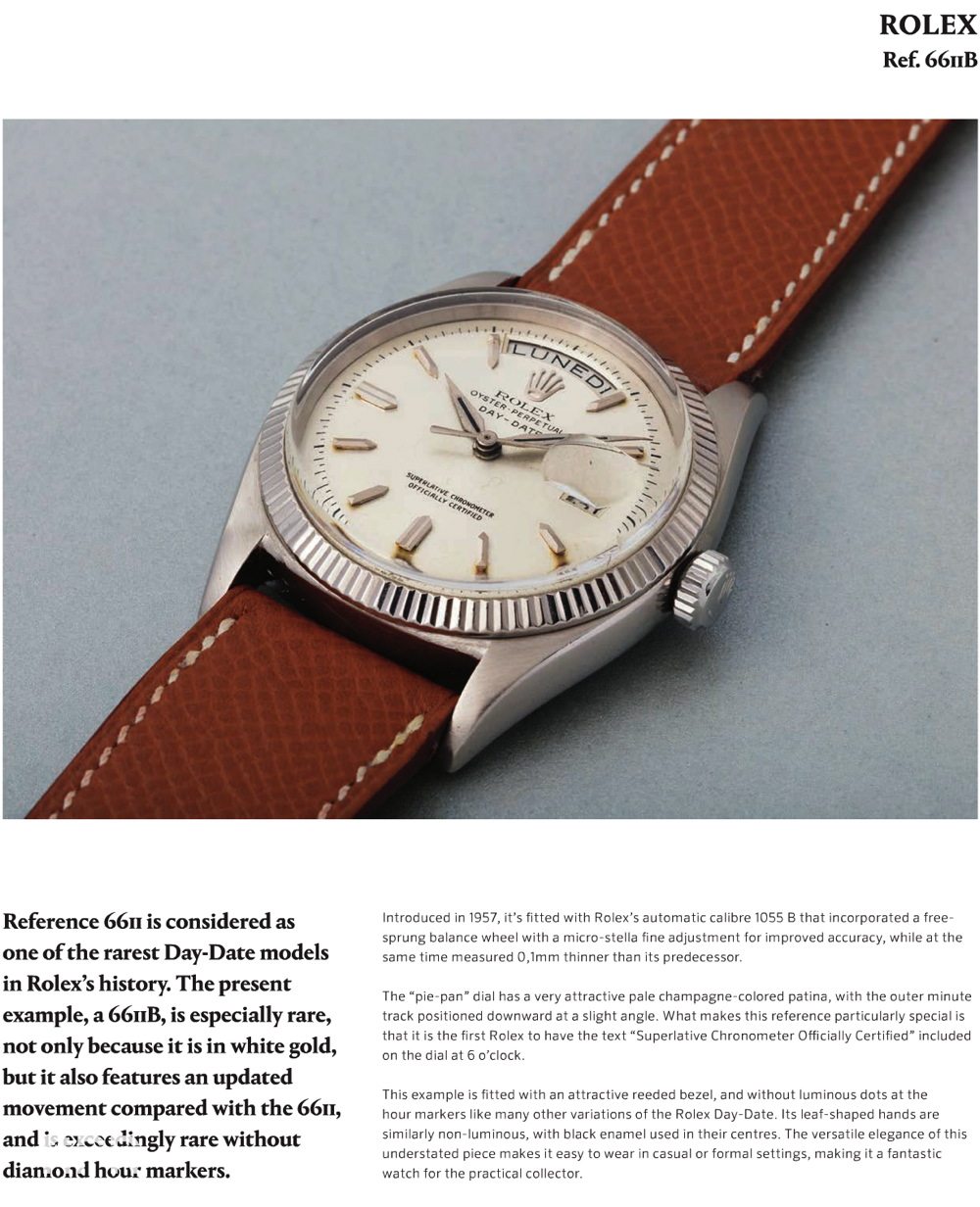 This is a very rare Day Date, actually one that could easily been offered at the previous DD sale. Not many are around and therefore judging from the once dial, it will most probably sell for around €75K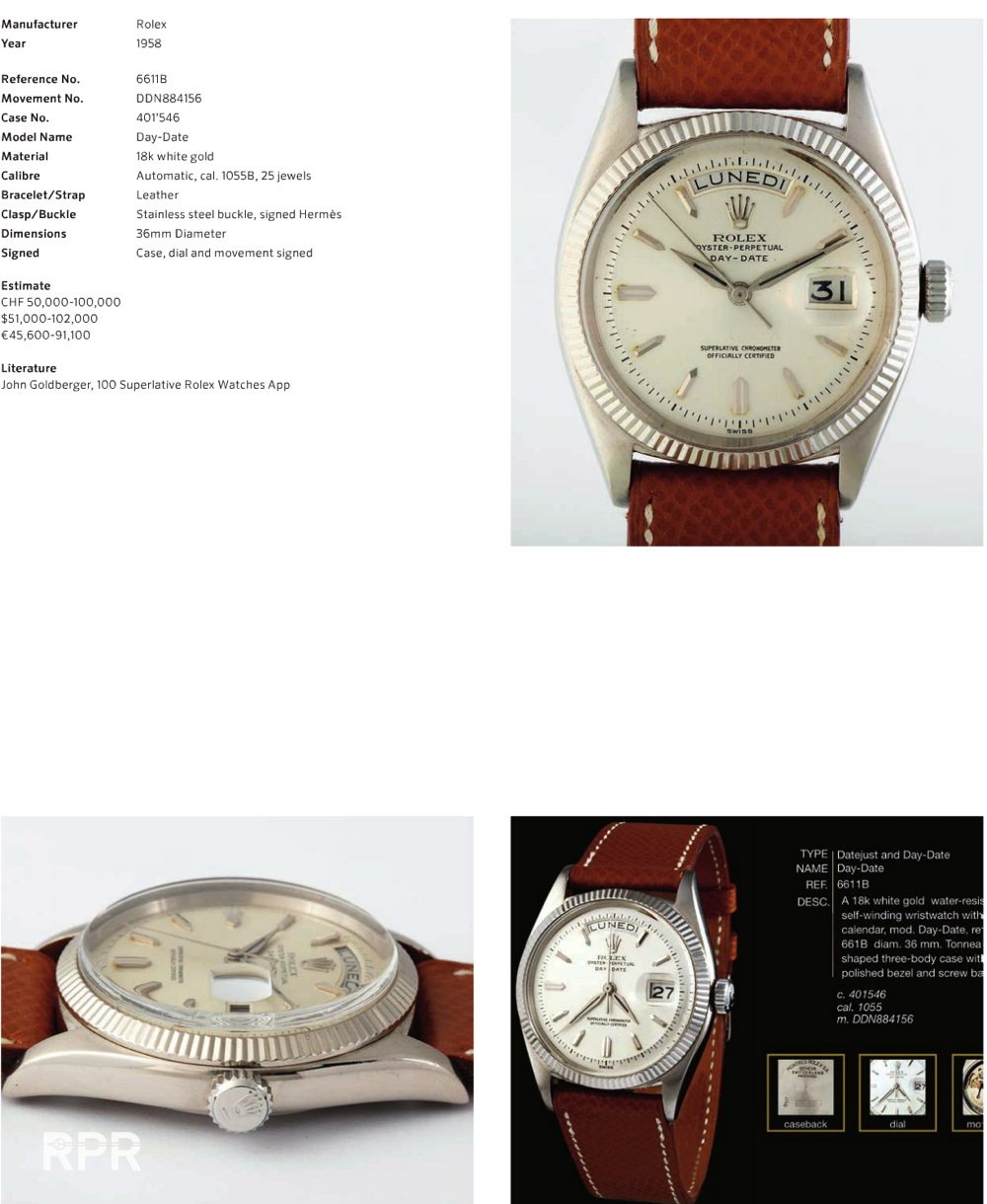 Antiquorum has a Rolex solo in their Geneva sale. Fitted this time in a early 1.2 million ref 6240 case. The sub dials have some small imperfections as you see below and it's hard to tell if the luminous is original or added later. The color of the lume on the dial isn't really matching those of the hands, which always makes me wonder what happened. The estimate is strong and honestly I doubt if it will sell from these pictures, maybe 100K all in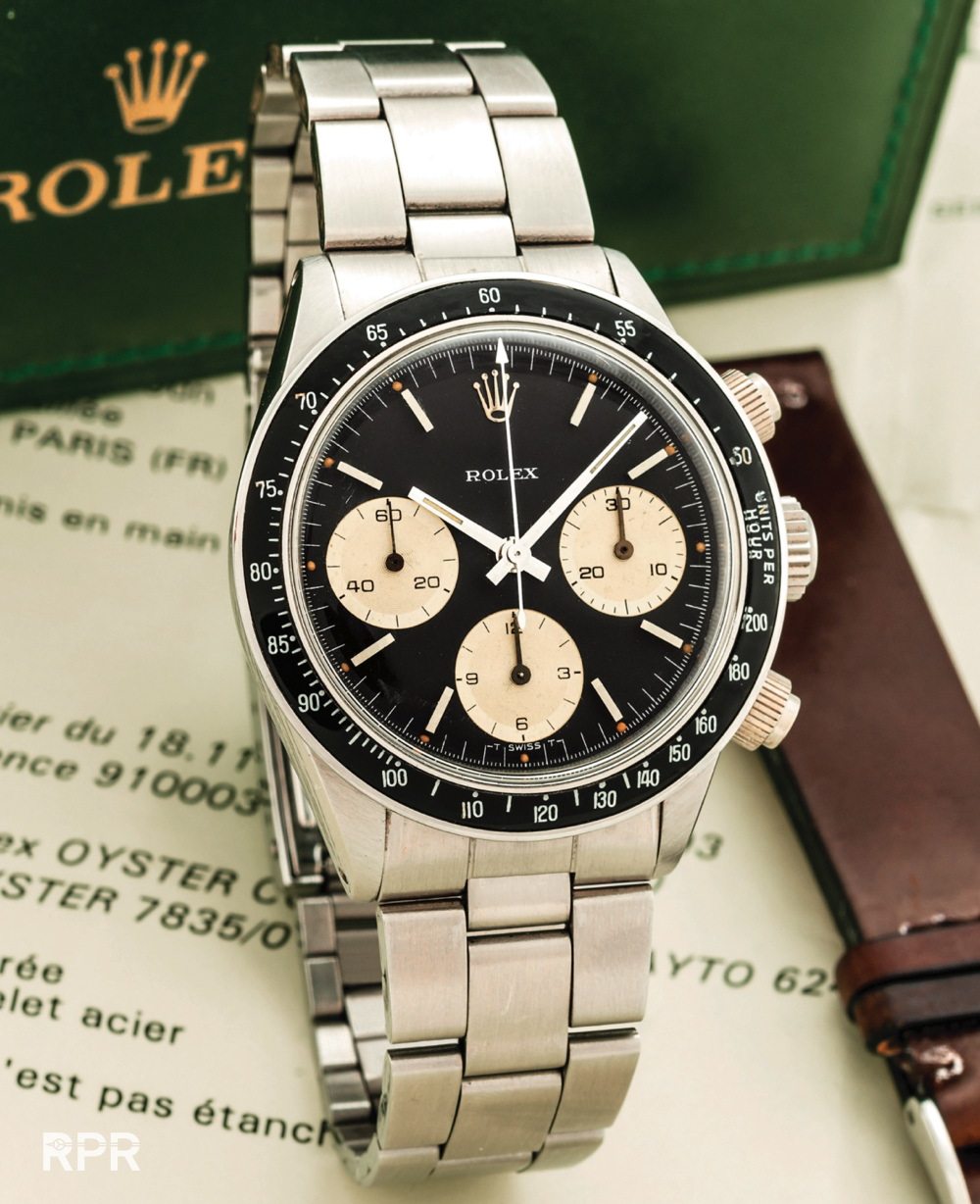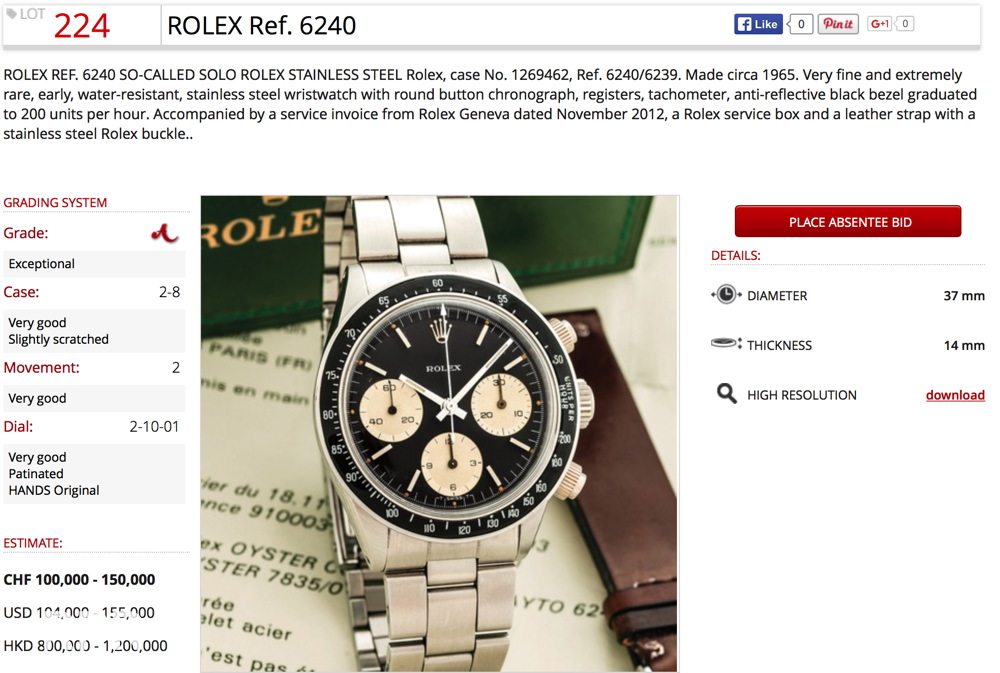 Rare and early Panerai we have seen sell high in recent years. But then those examples that came to the market where very nice looking by patina. I think below examples of the ref 3646 type C will sell for around 75K all in.
A set like this is very rare and we often see that the luminous of the sandwich dial isn't matching that of the hands. The all over condition looks nice and clean with an original bracelet, which becomes very rare to find. All in my believe is it could fetch 125K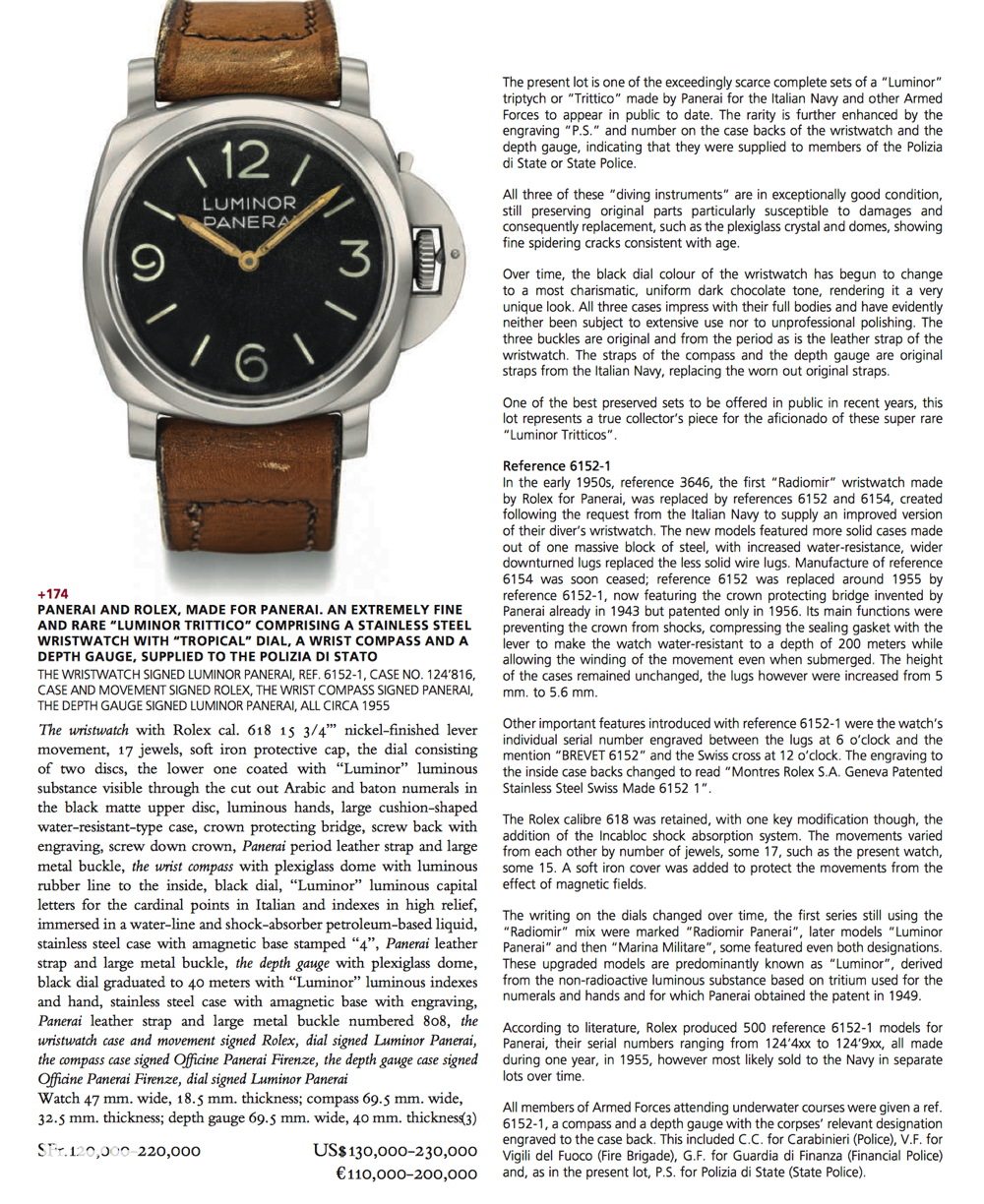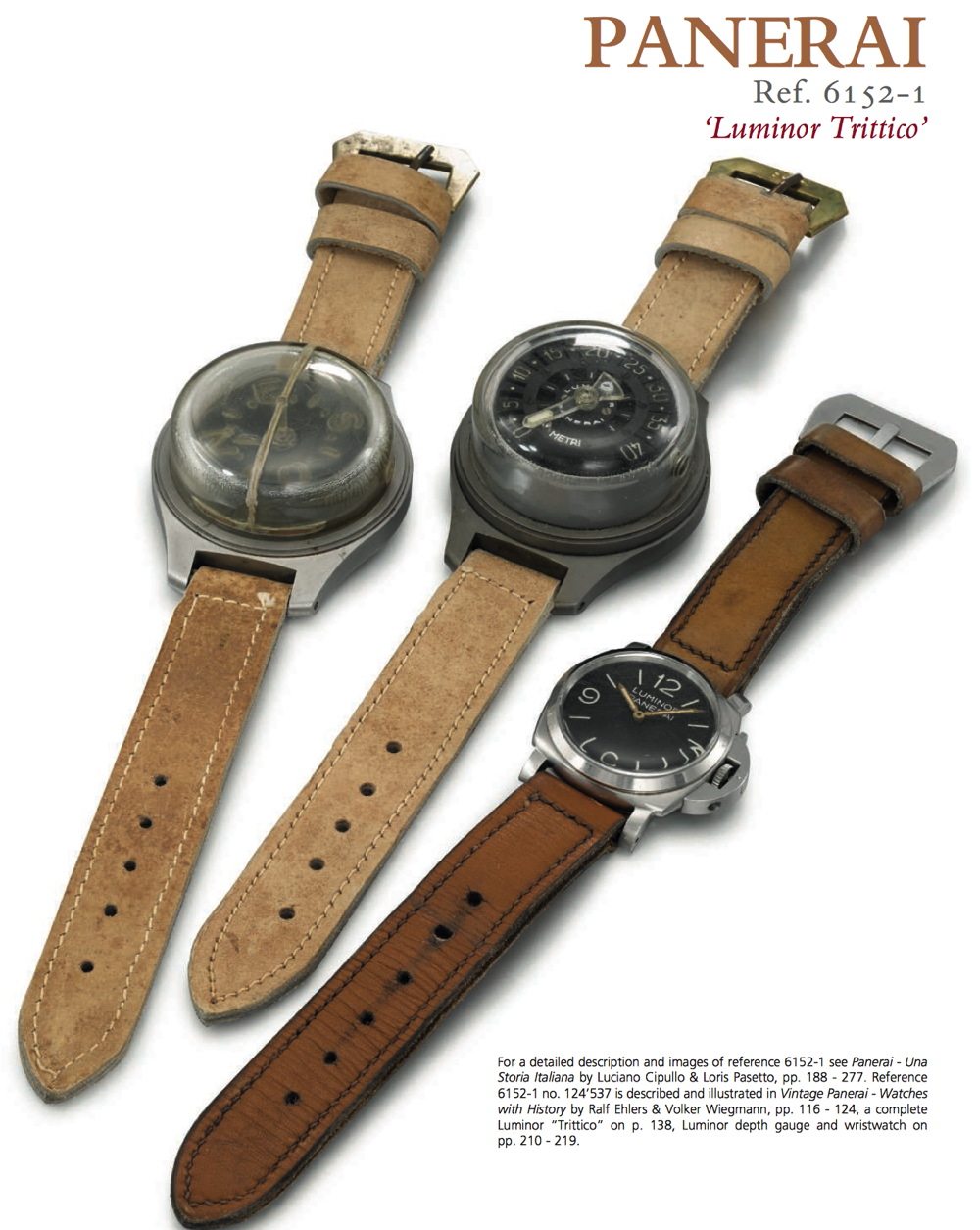 I remember the time these where sold new. I did not really understand why somebody would want to have a huge black steel watch but then I wash;t the target group Panerai was aiming at. People like Sylvester Stallone was and the typical non matching luminous of the dial and hands, have become a must on these models. Didn't knew they where traded so high already but somehow with all the reproductions Panerai has made the recent years, I'm not surprised collectors want the real deal. So yes, maybe 120-130K all in, why not! 😉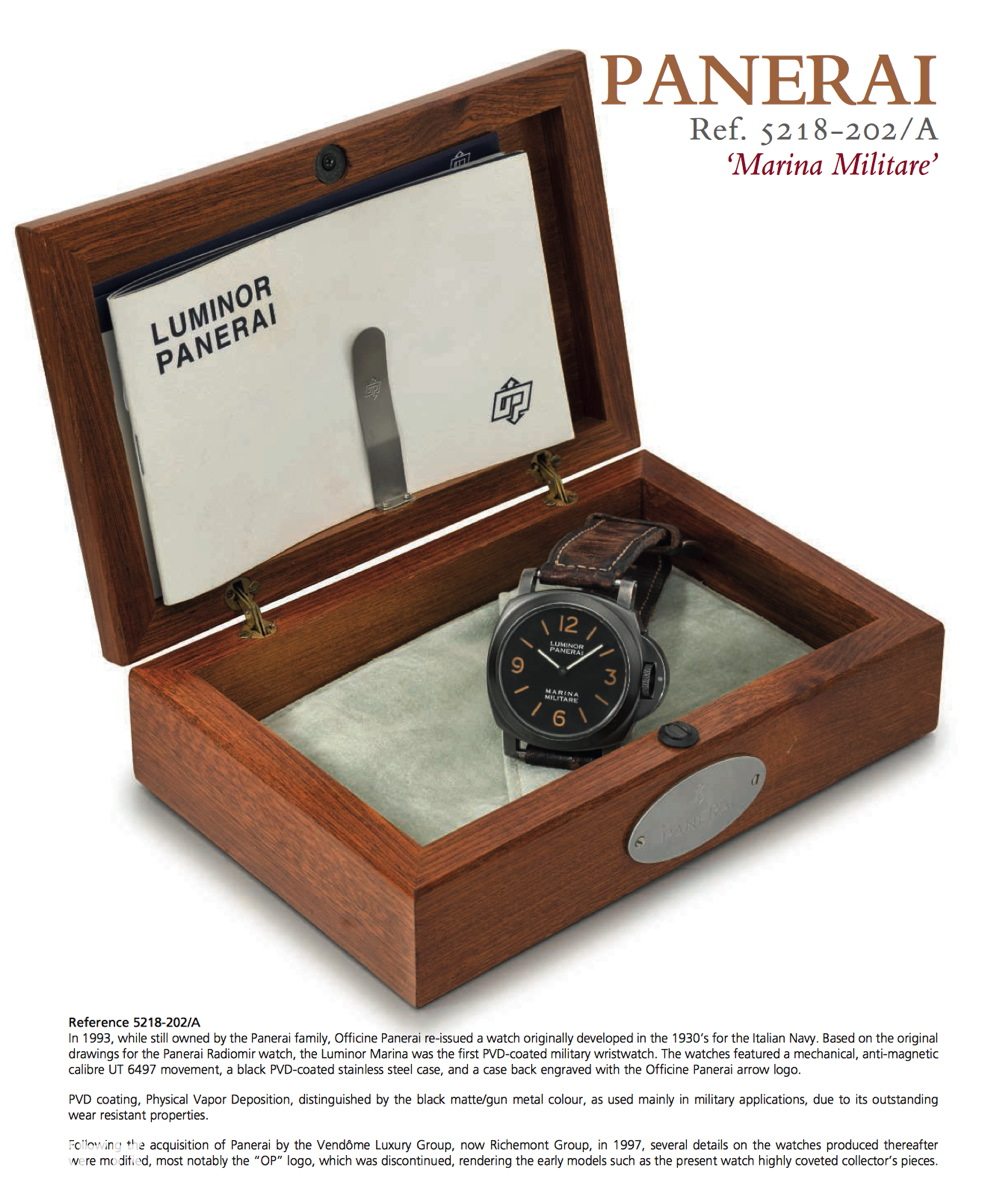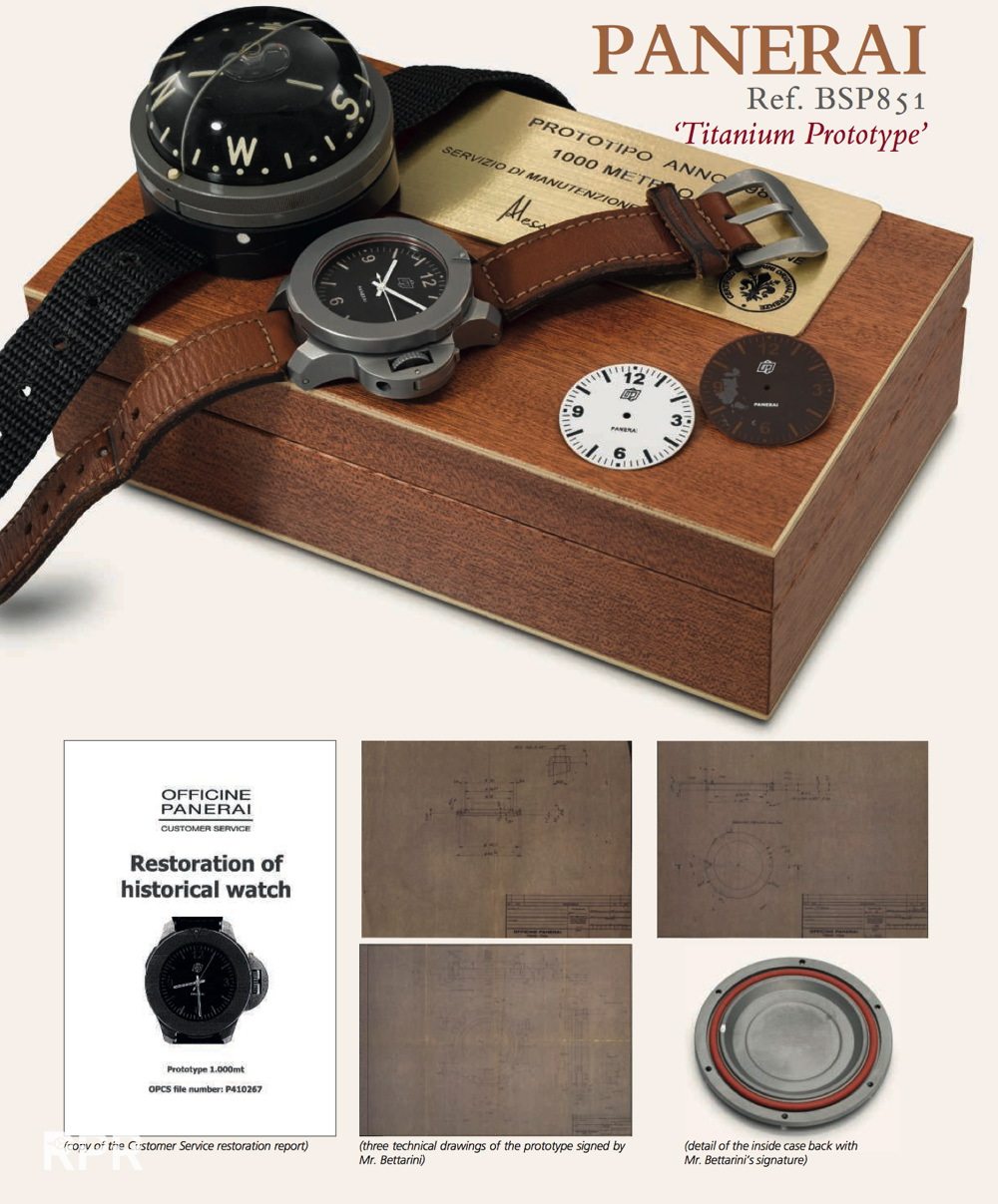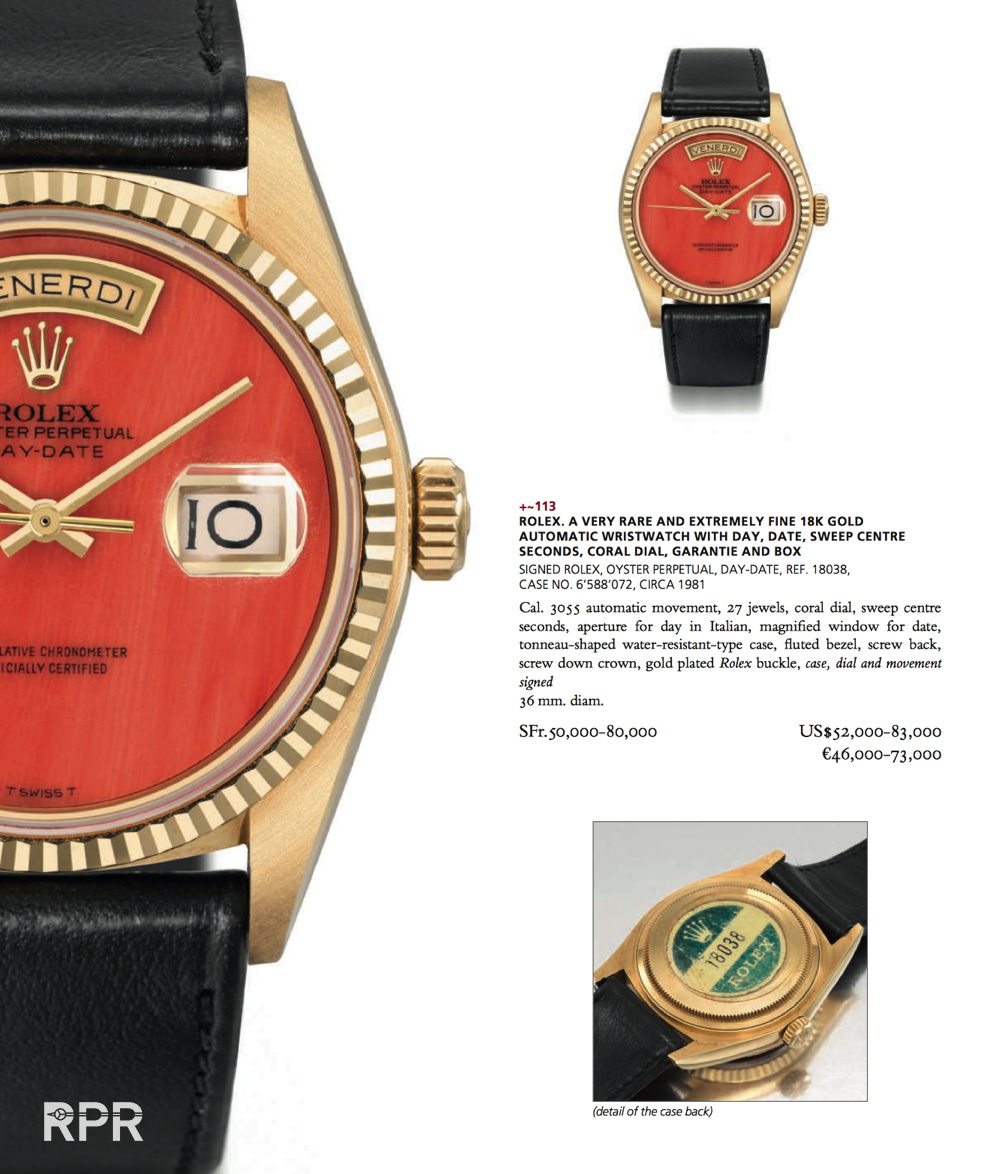 The rarest of the colored dialed Day Dates is certainly the coral Ref 18038. Hardly any of these have survived and this examples is really looking crisp and the dial still intact. I wouldn't be surprised if it sell higher then the estimate of € 46-73.000,=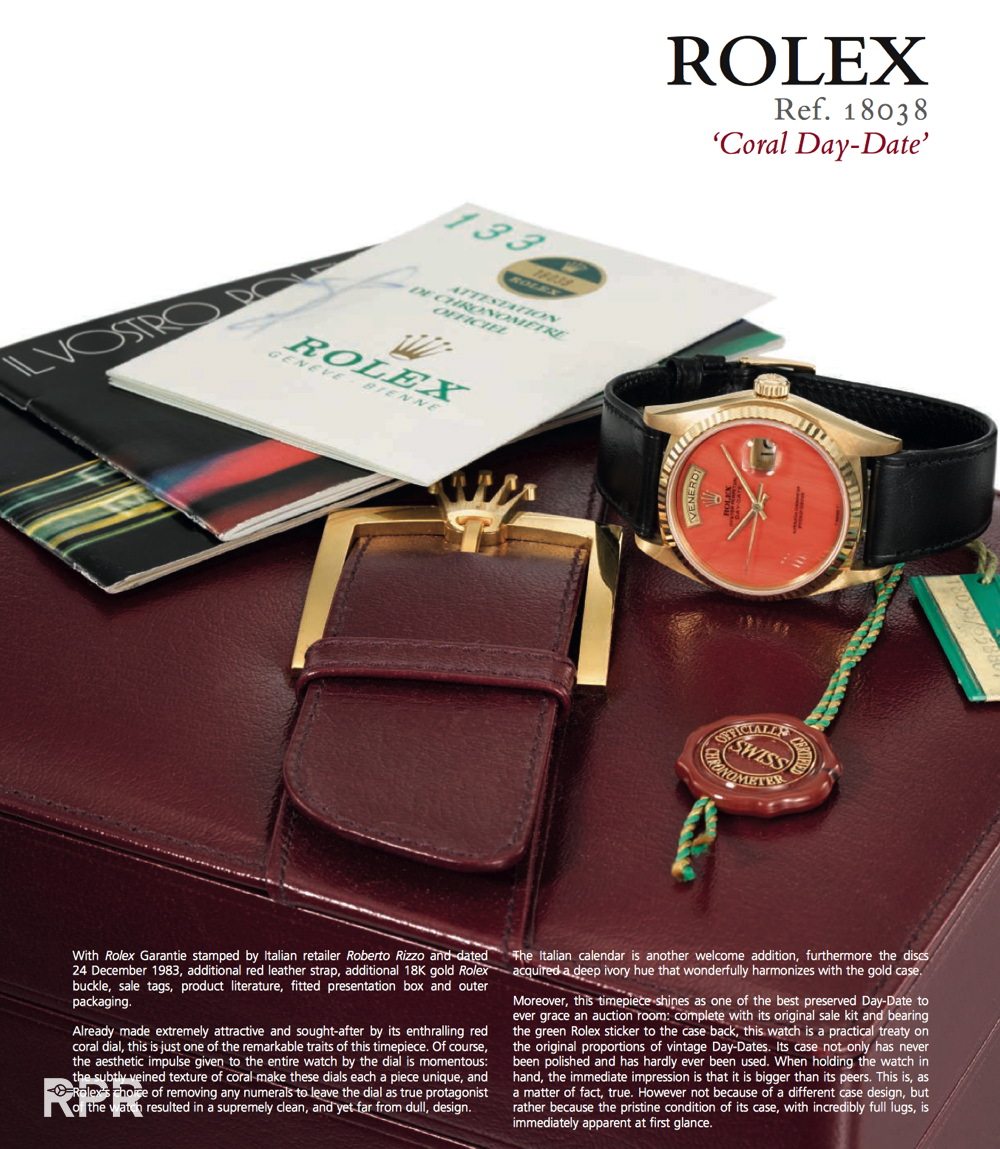 Then the Patek Philippe section with many great rare examples are coming for sale. The following important ones caught my eye..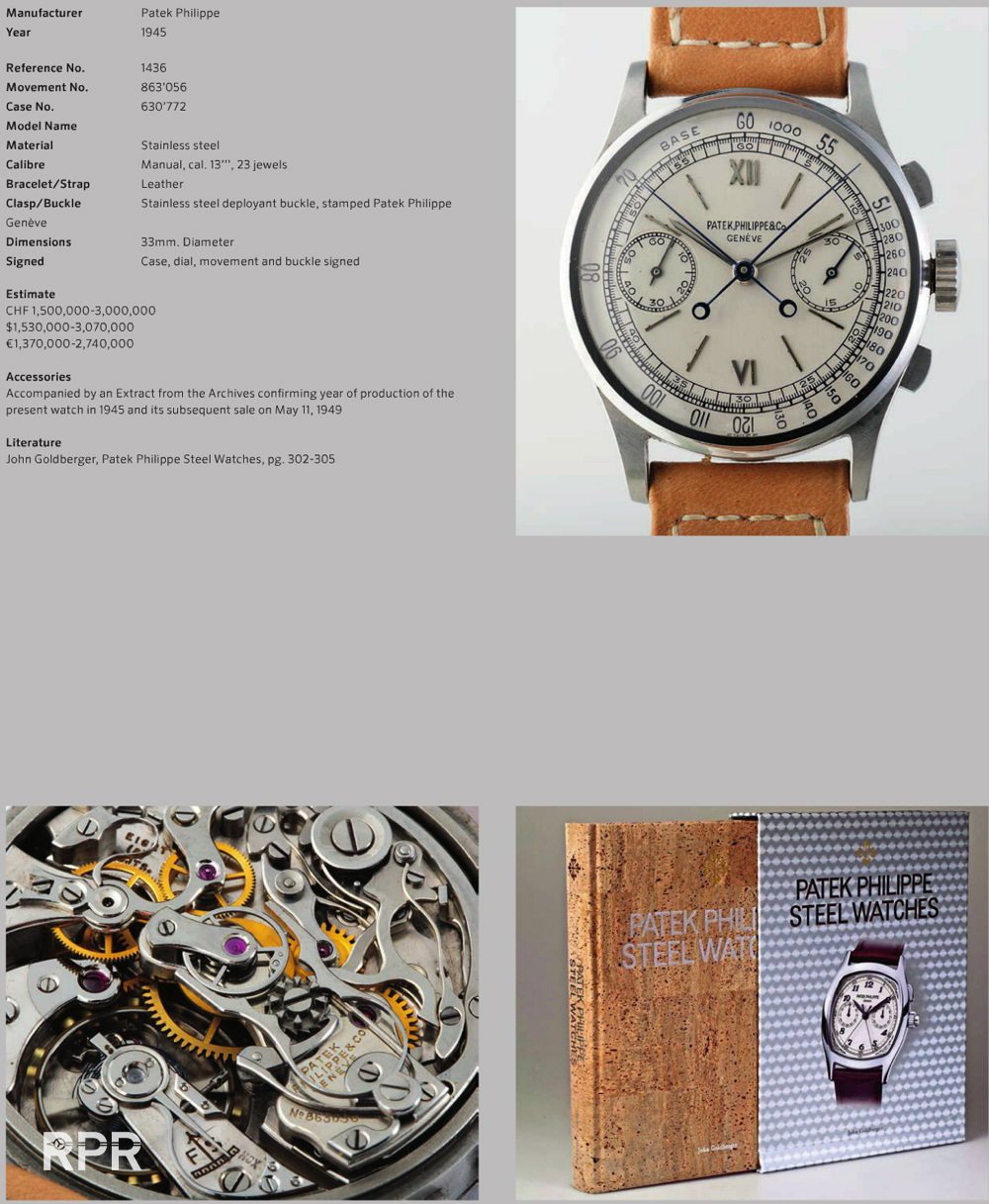 This ref 1436 Split second in steel is just heaven to every serious watch collector. The fact it even exist is the reason for many why they started collecting in the first place. An über rare complication in an ultra rare case by the best possible watch brand. Then the condition is still to die for making this lot Phillips proudly offers, the star of the weekend. Estimated to € 1.3 to 2.740.000,= million everybody will be anxious to see the final result. I wouldn't be surprised if Aurel Bacs hammers this down for more then 3 million all in.
Next PPC rarity is a so far unknown, fresh to the market yellow gold ref 2497 with luminous black ( military) dial. What a find and what a stunning beauty! One can only dream to have such a rarity in their collection so the big PPC collectors from around the world will also fight for this one. The estimate of € 460 – € 920.000,= is considering the importance of this piece kind of low, being a unique Patek Philippe, one of a kind with this exceptional face and coming with this provenance, logically it should go over 1 million easily. Where it ends, we'll know monday evening but i'm very happy for Christie's they have found this one.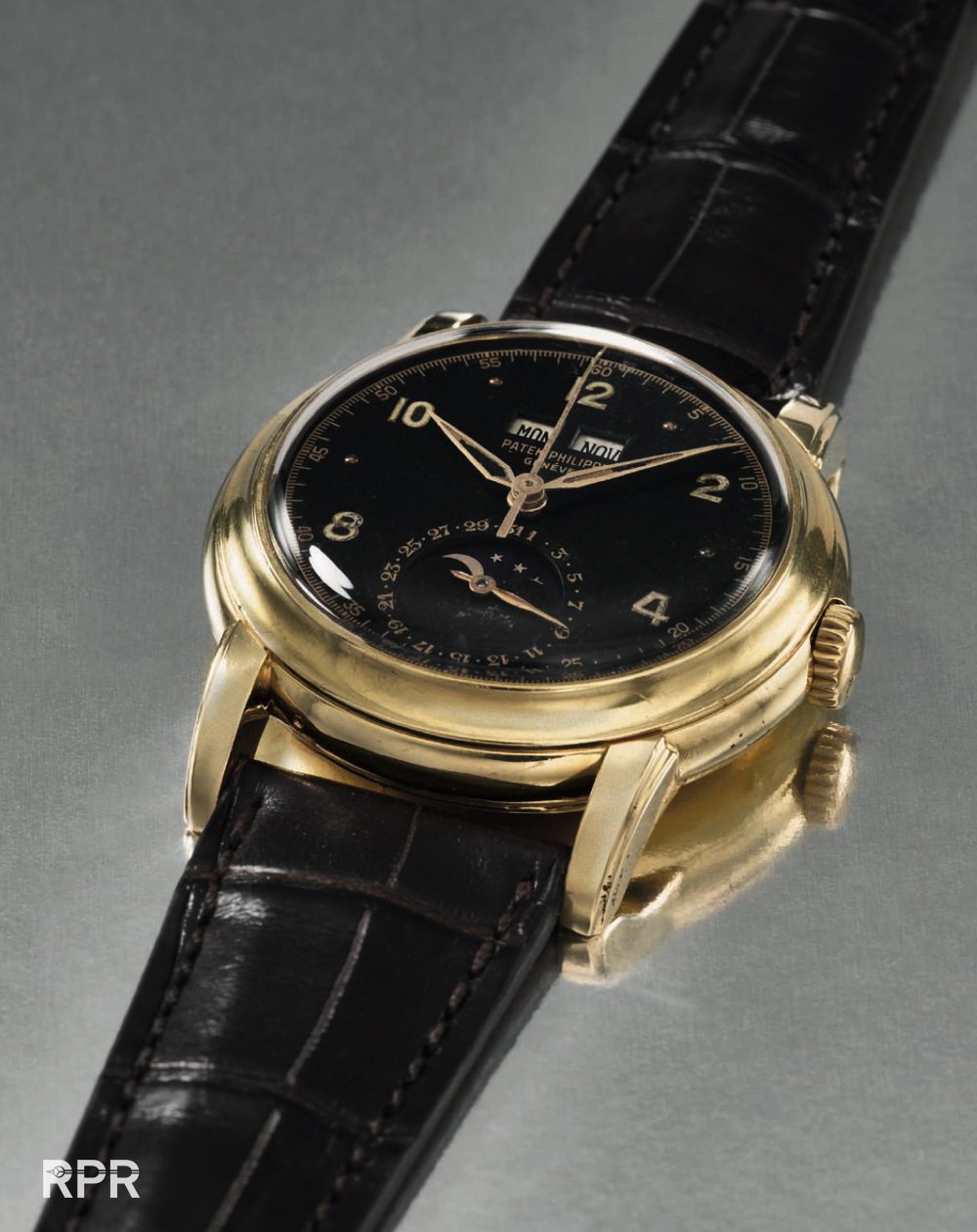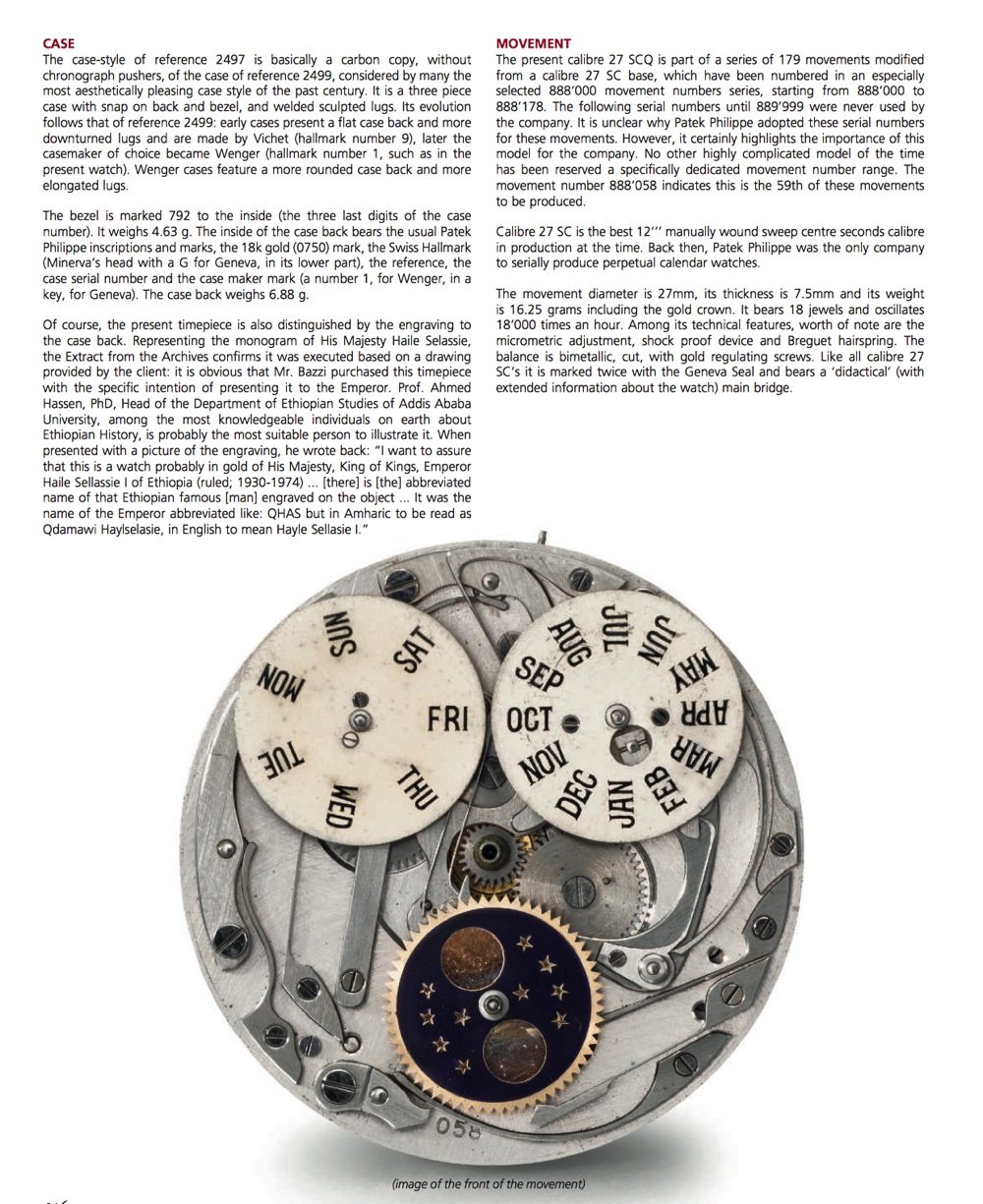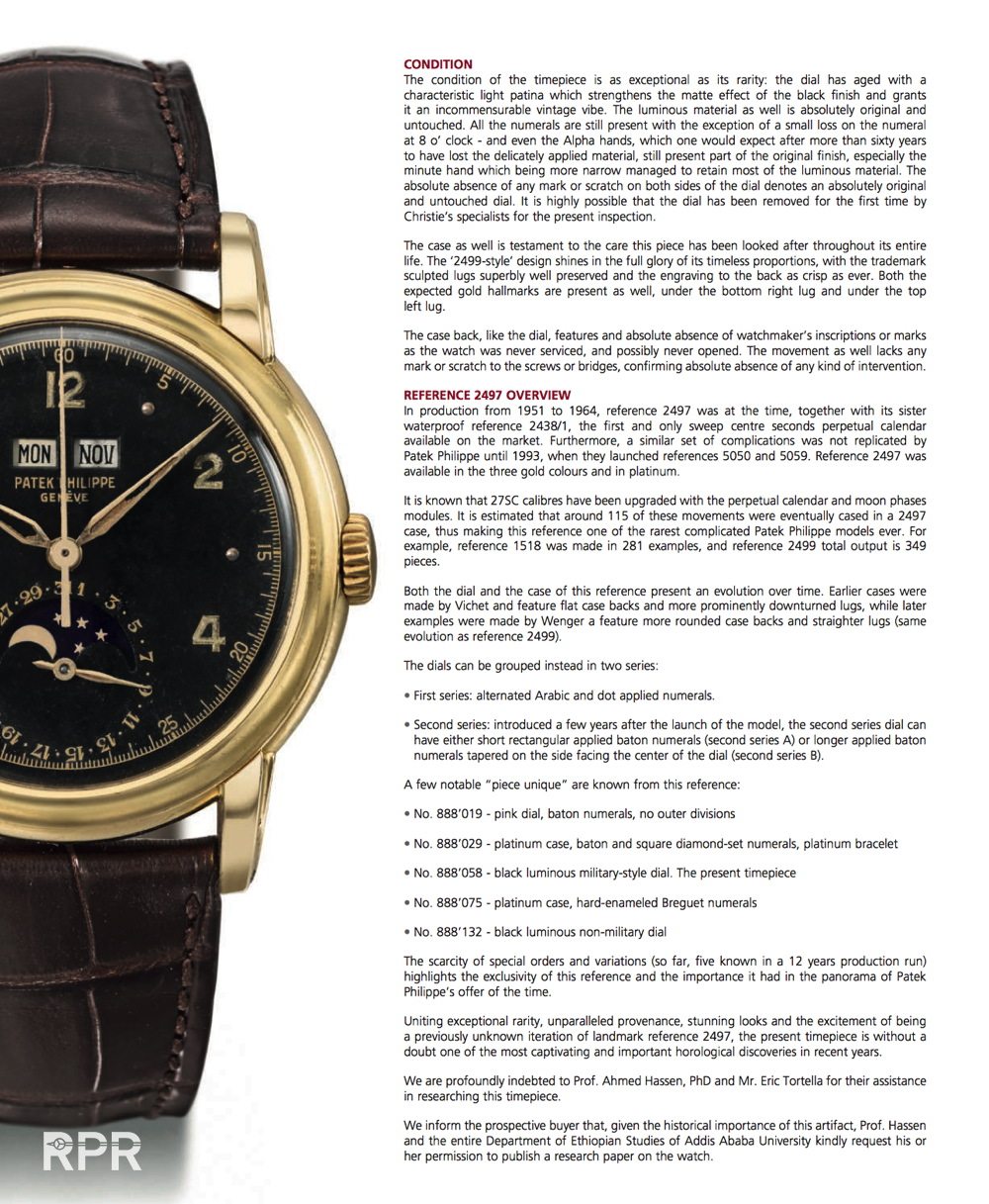 Yet another exceptional rare stunner, the champagne dialed ref 2499 from the first serie in yellow gold. The wonderful almost curved case back made by Vichet has so far only known in 4 examples. Phillips offers this still in excellent condition and just as the other 2 Patek's above, it's is almost a once in a lifetime opportunity to be able to buy one of these. Estimated for € 731 – € 1.280.000,= is should, compared to what some vintage Rolex sell nowadays, easily go up to € 1.5 million. I'm very curieus to see the result!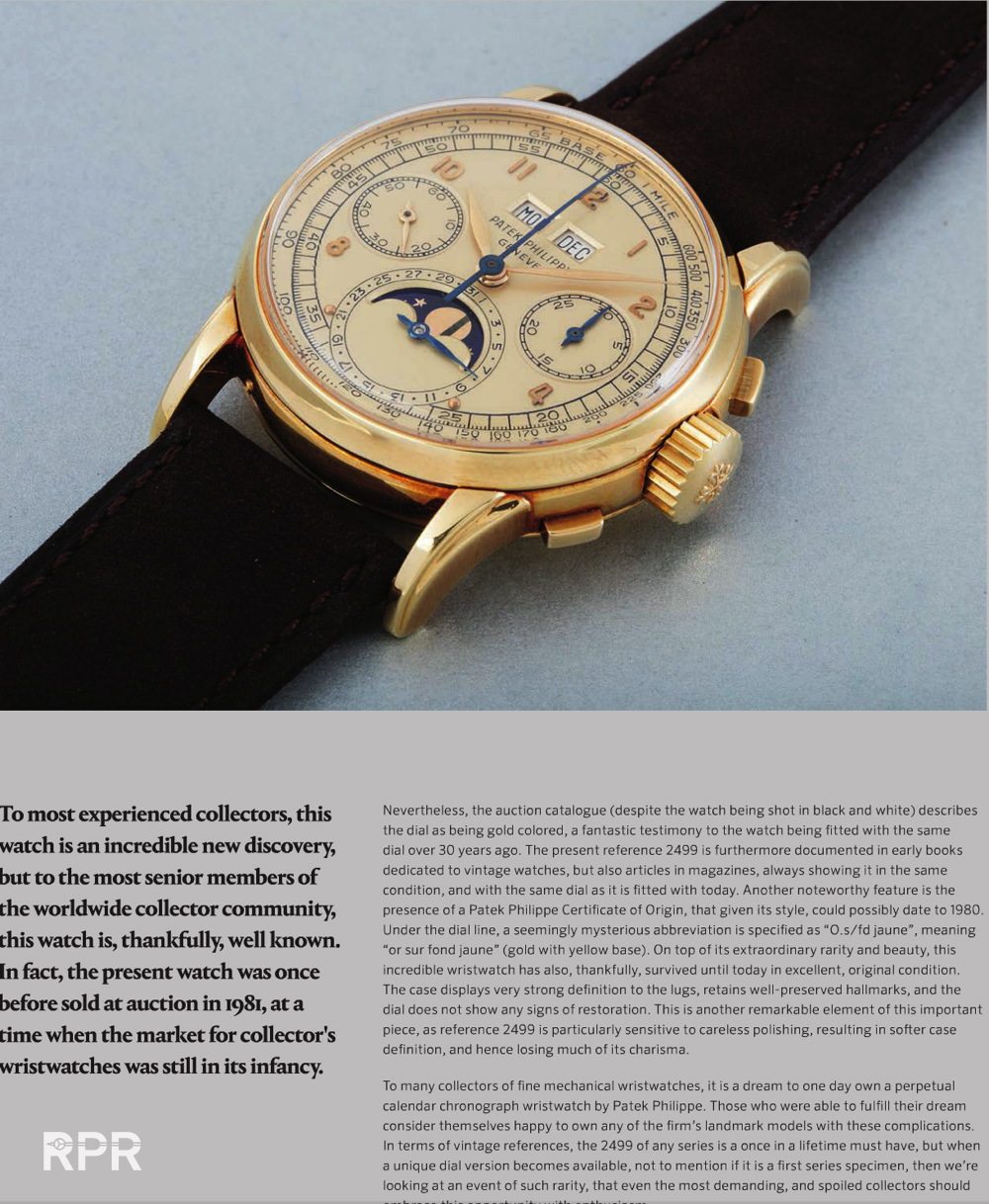 Next is again a previously unknown Patek Philippe, ref 1518 in pink gold with gold plate dial and raised gold hour markers. I love to read this as it tells us still many great watches are out there to discover. Estimated to € 330 -€ 640.000,= it will probably make high estimate all in.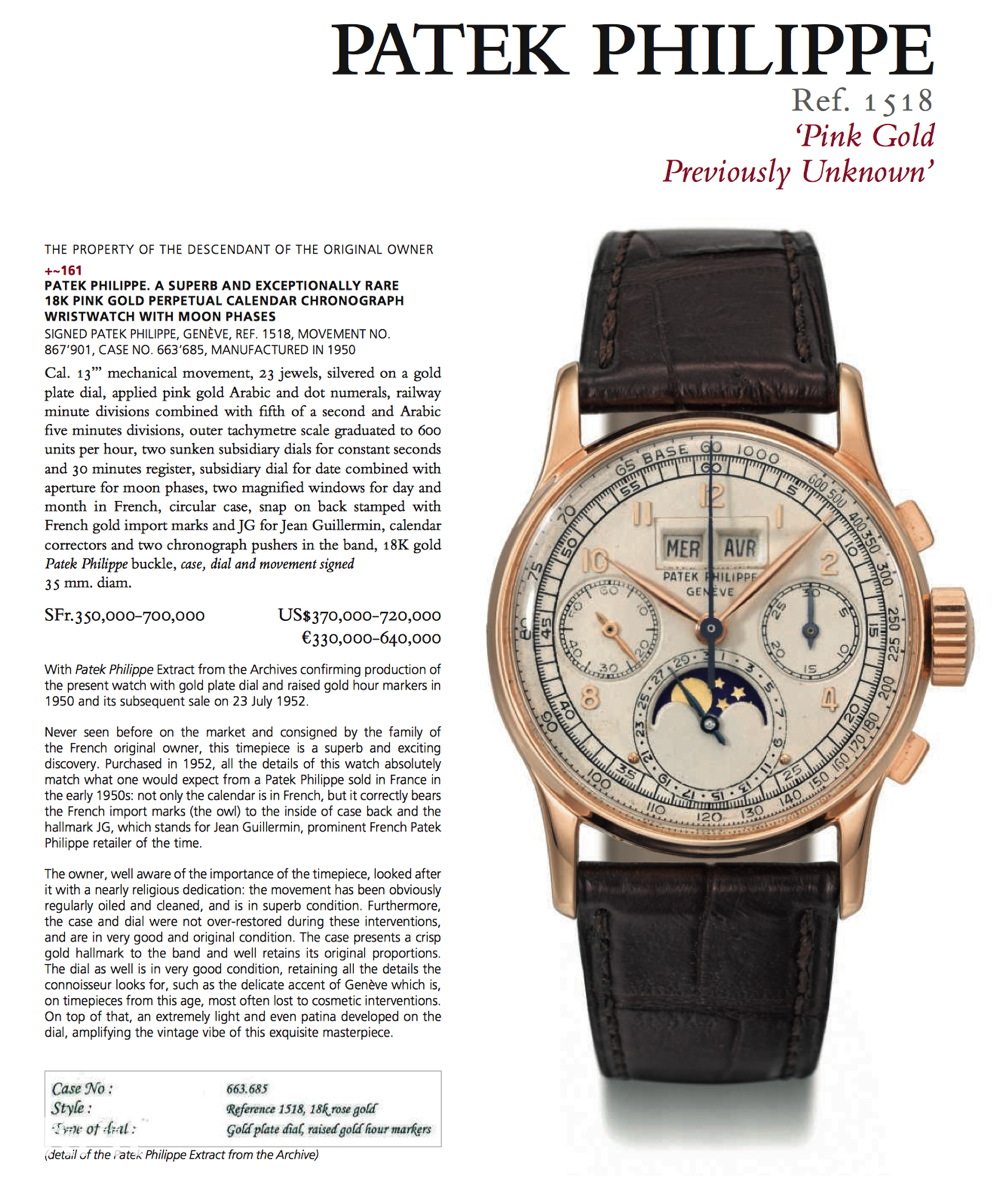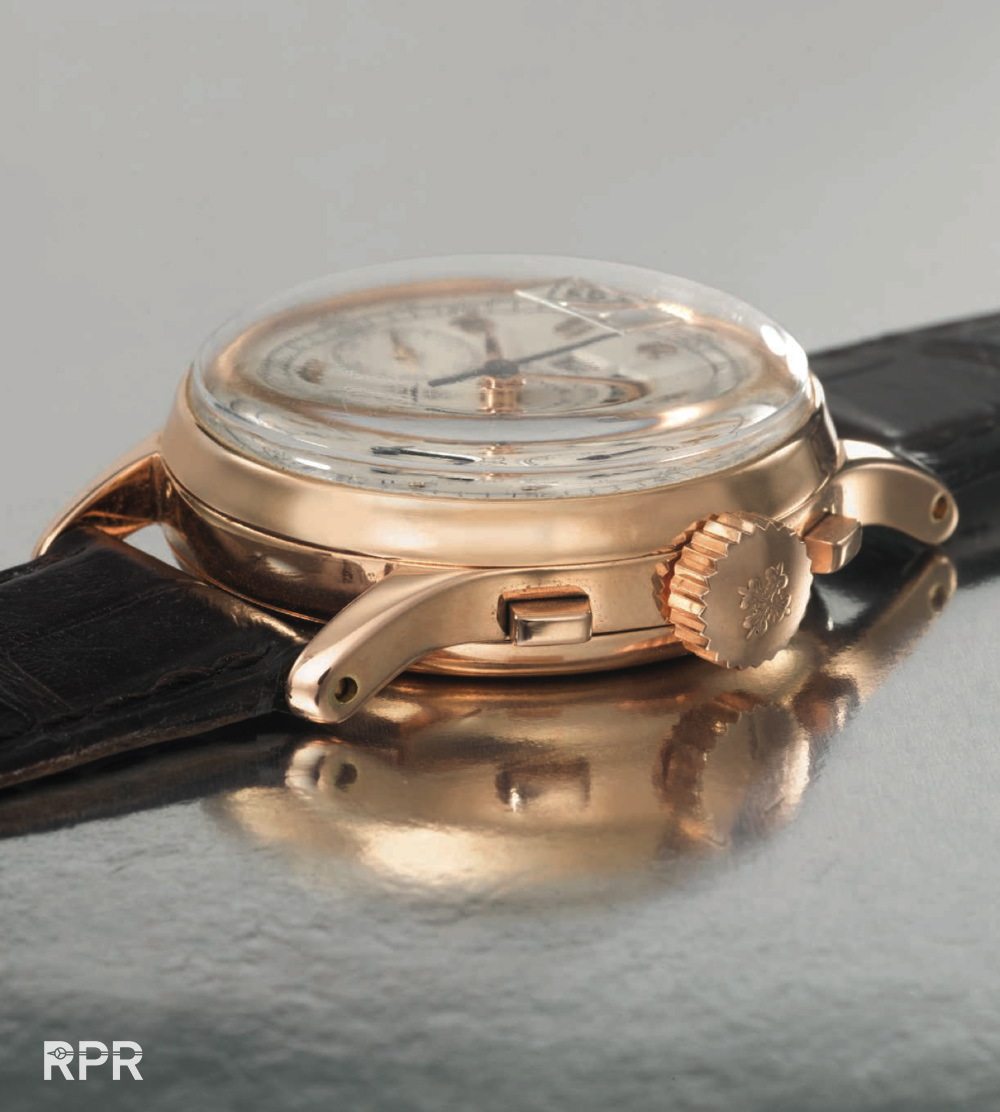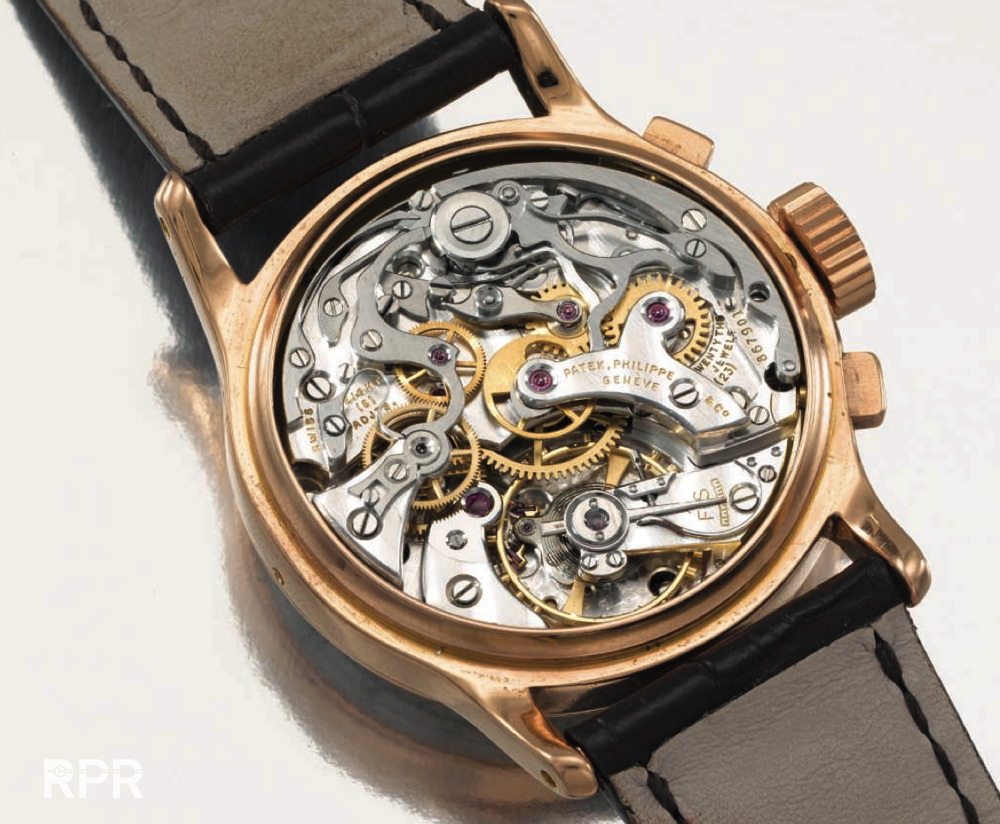 Yet another, rare curvexed Vichet case on a PPC, this time a ref 2497 in pink gold and again as it appears in excellent condition. Estimated to € 400-€800.000,= considering the rarity and beauty in pink, it should hit high estimate easily, let wait and see.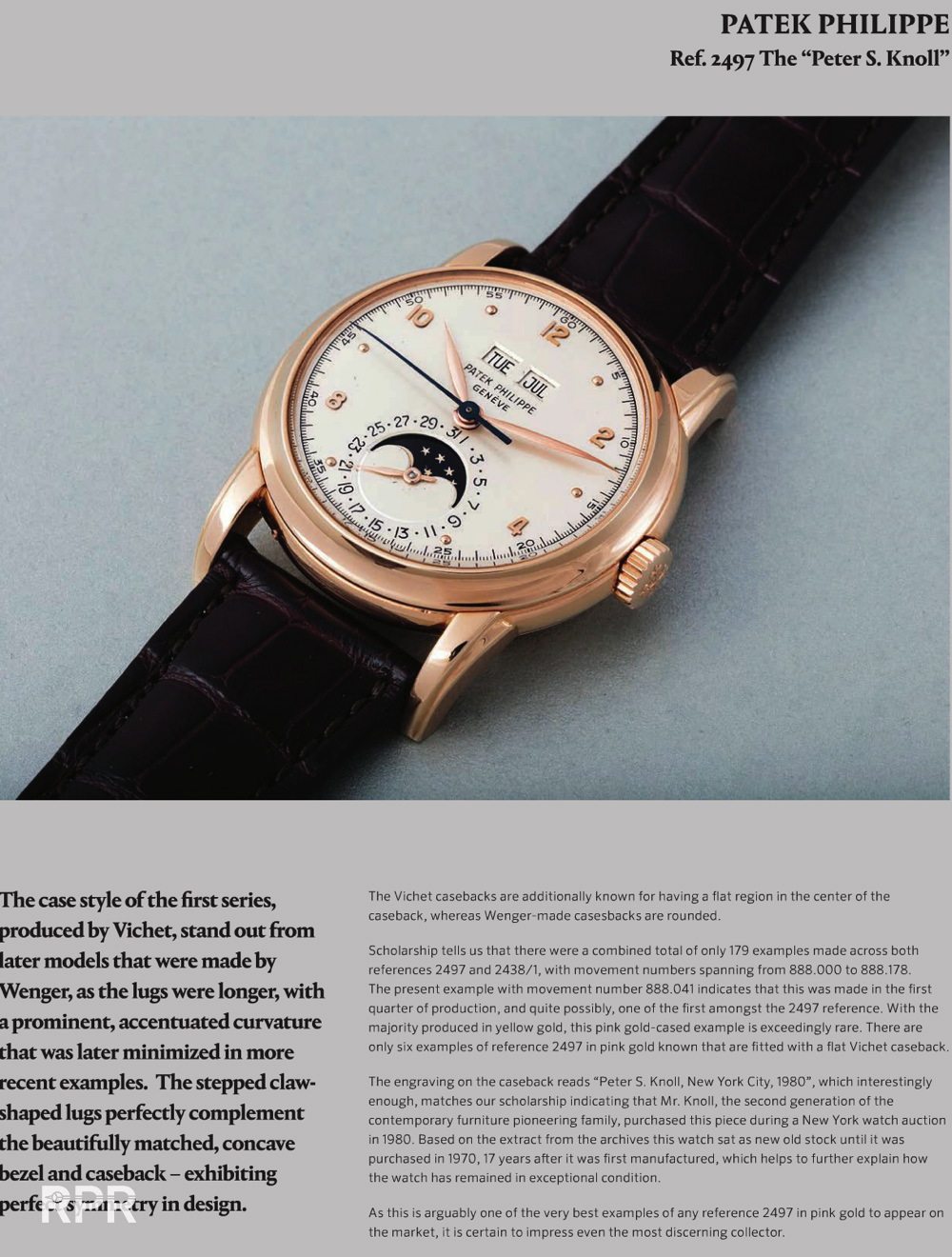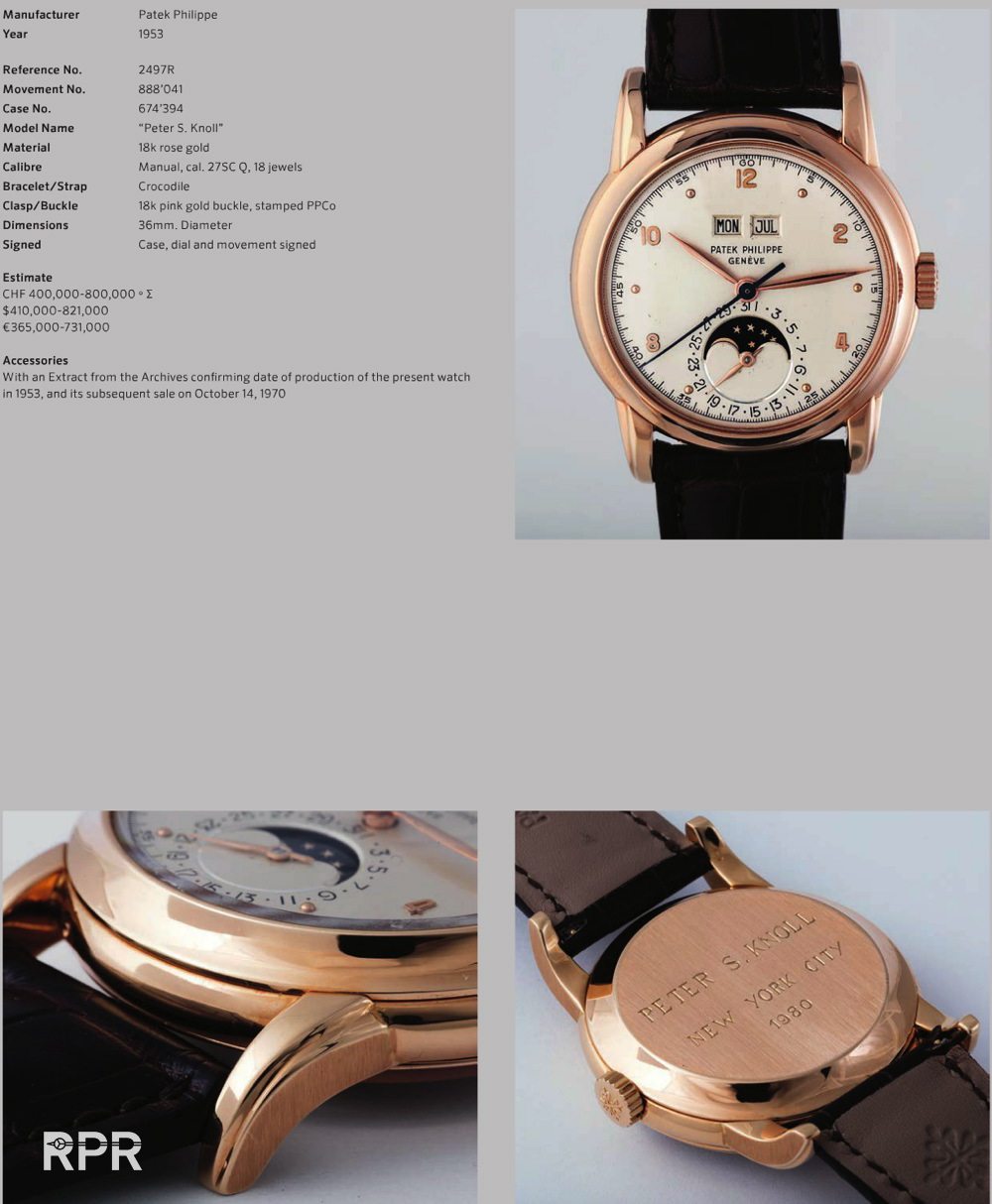 For collectors in love with the Breguet numerals, this is the holy grail for time only that comes to the market. A stainless steel Ref 530 is rare but with these giant breguet numerals it's a unicorn. Confirmed by PPC extract the two tone silver dial it's estimated to € 183-€365.000,= and yes most probably it will hit that high estimate.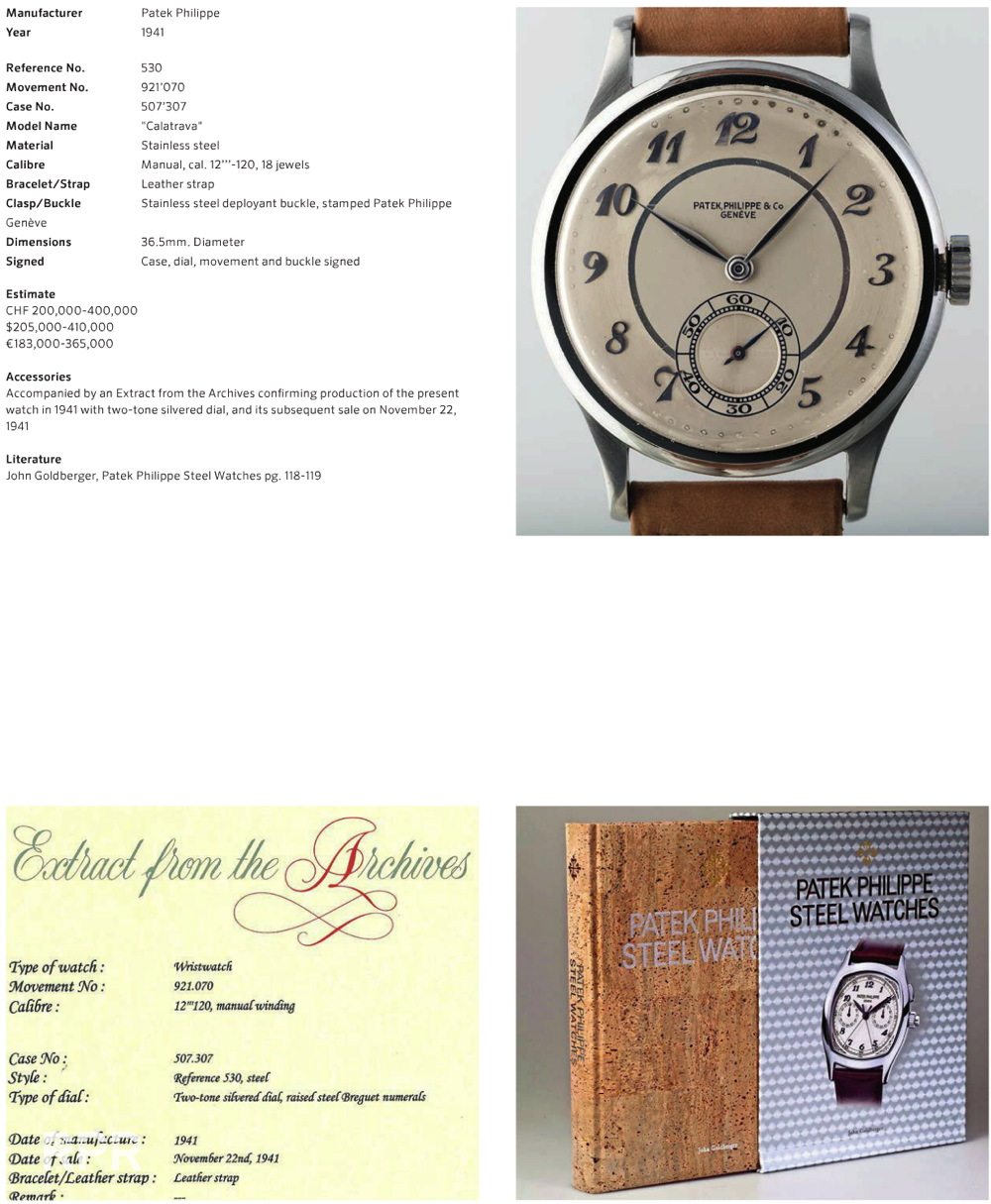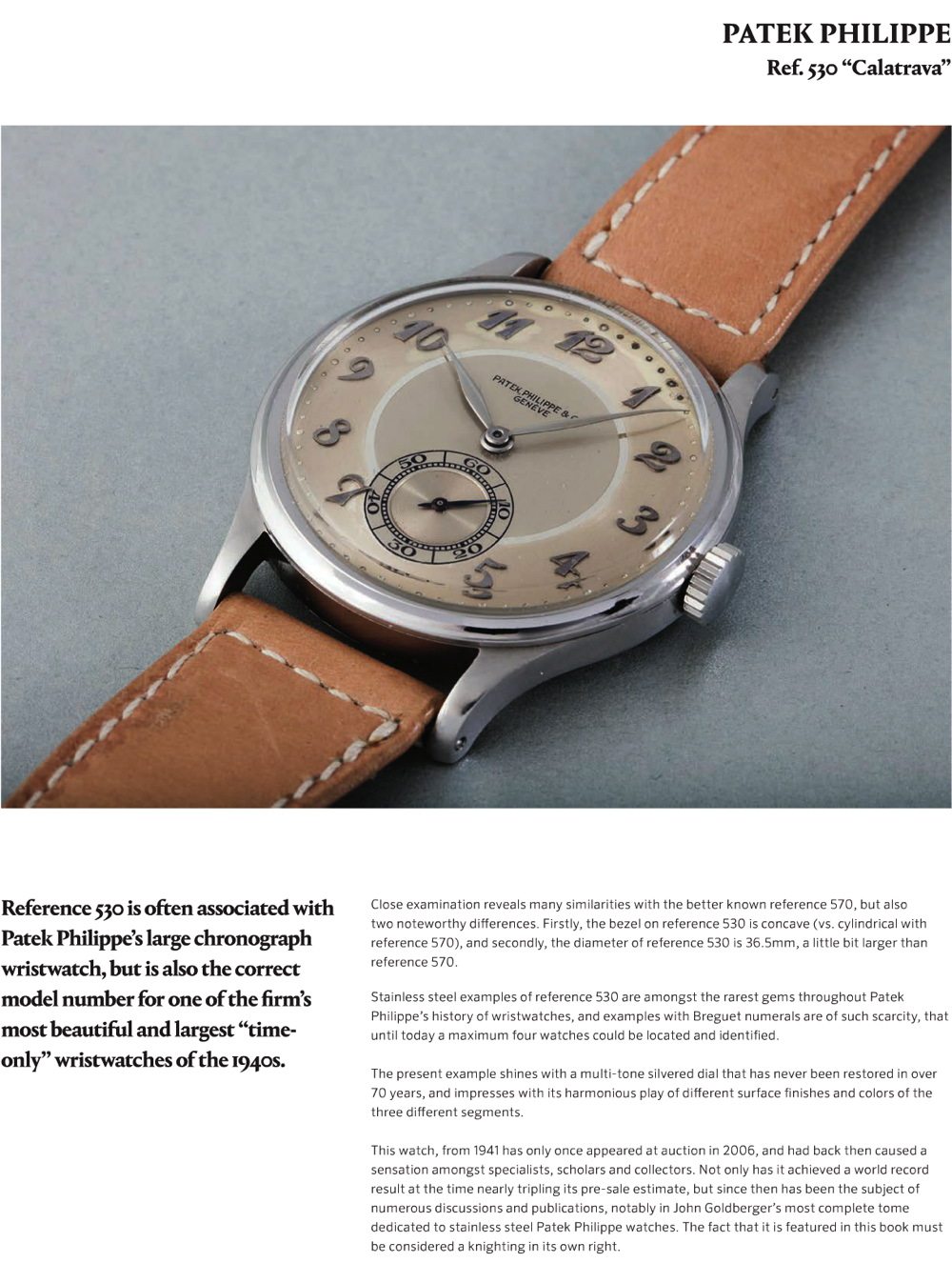 One of the last Ref 1463 that have been made by PPC in Geneva, the following stainless steel 'Tasti Tondi" looks to be in great condition. Personally I like the long hour markers on the dial matching the dauphine handset. Estimated to € 228- €457.000,= I think it will sell for like 300-350K all in but probably i'm wrong and it will go higher.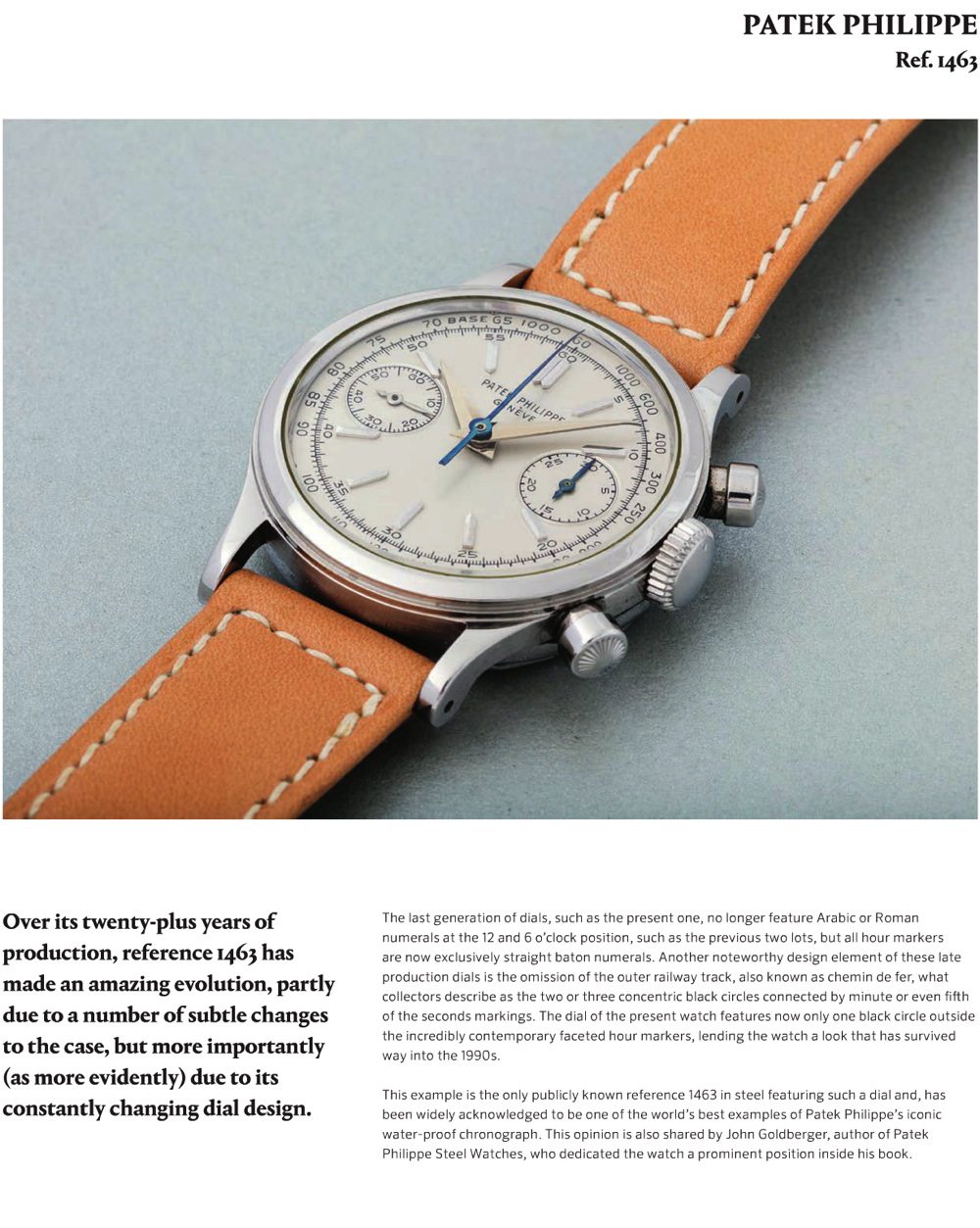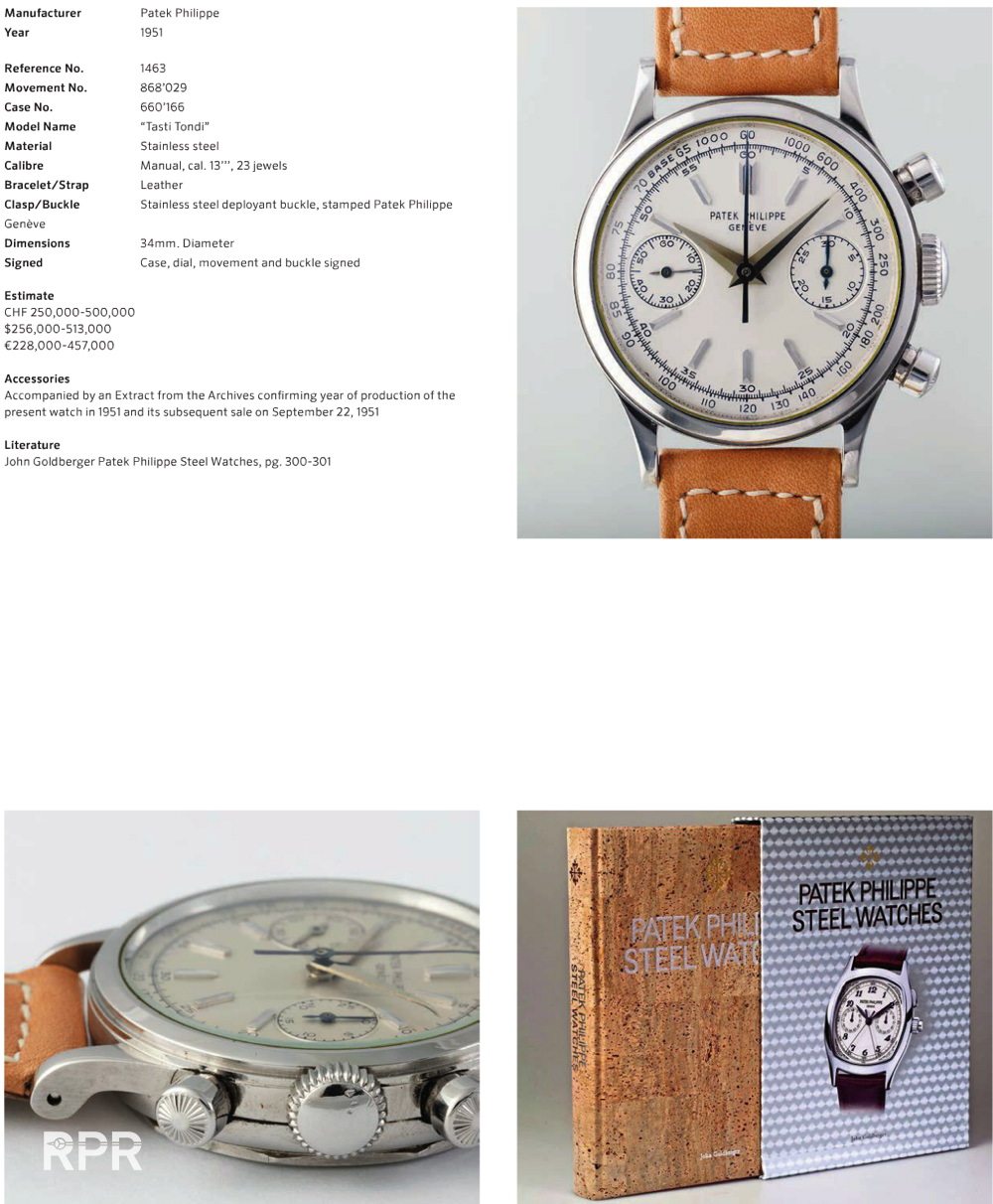 What a elegant Patek is the following waterproof automatic PPC. The ref 2526 is always special but finding one in platinum with this bright white dial and gold text is very subtle. The estimate of € 93 – € 183.000 seems to be high but then these are so rare I wouldn't be surprised it hits the high estimate all in.
Black dial & stainless steel in a PPC is always special. This lovely ref 530 is a real rare beauty, estimated to € 37- €73.000,= it will most probably go over the 100K mark all in.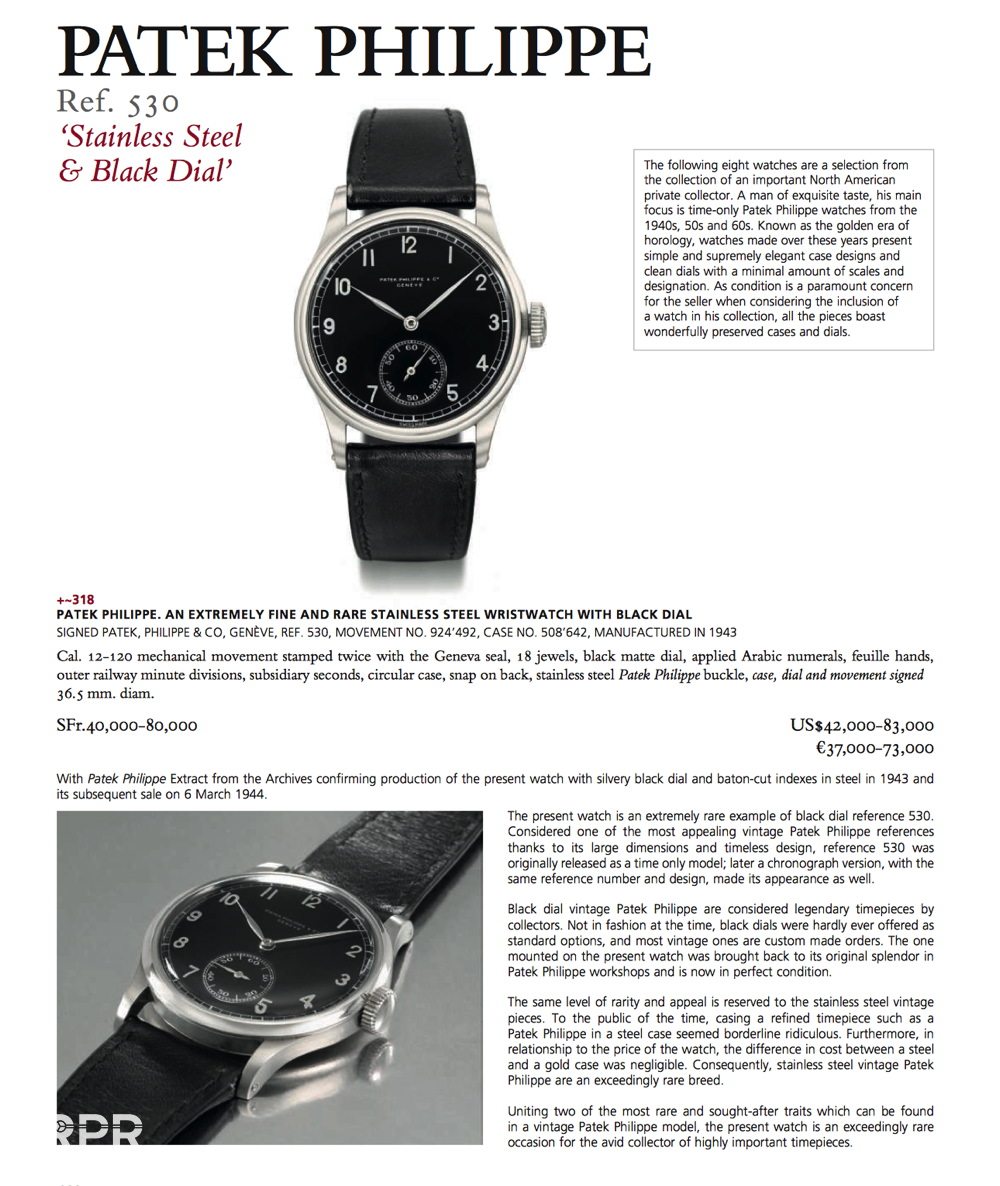 And another steel black dialed Patek Philippe Ref 3466. I've never seen this one before and it appears that this is the first time ever that a 3466 is offered with a original black dial at auction. Therefor the estimate will blow and bidders will go much higher then the € 14 – €23.000,= Christie's estimates it now..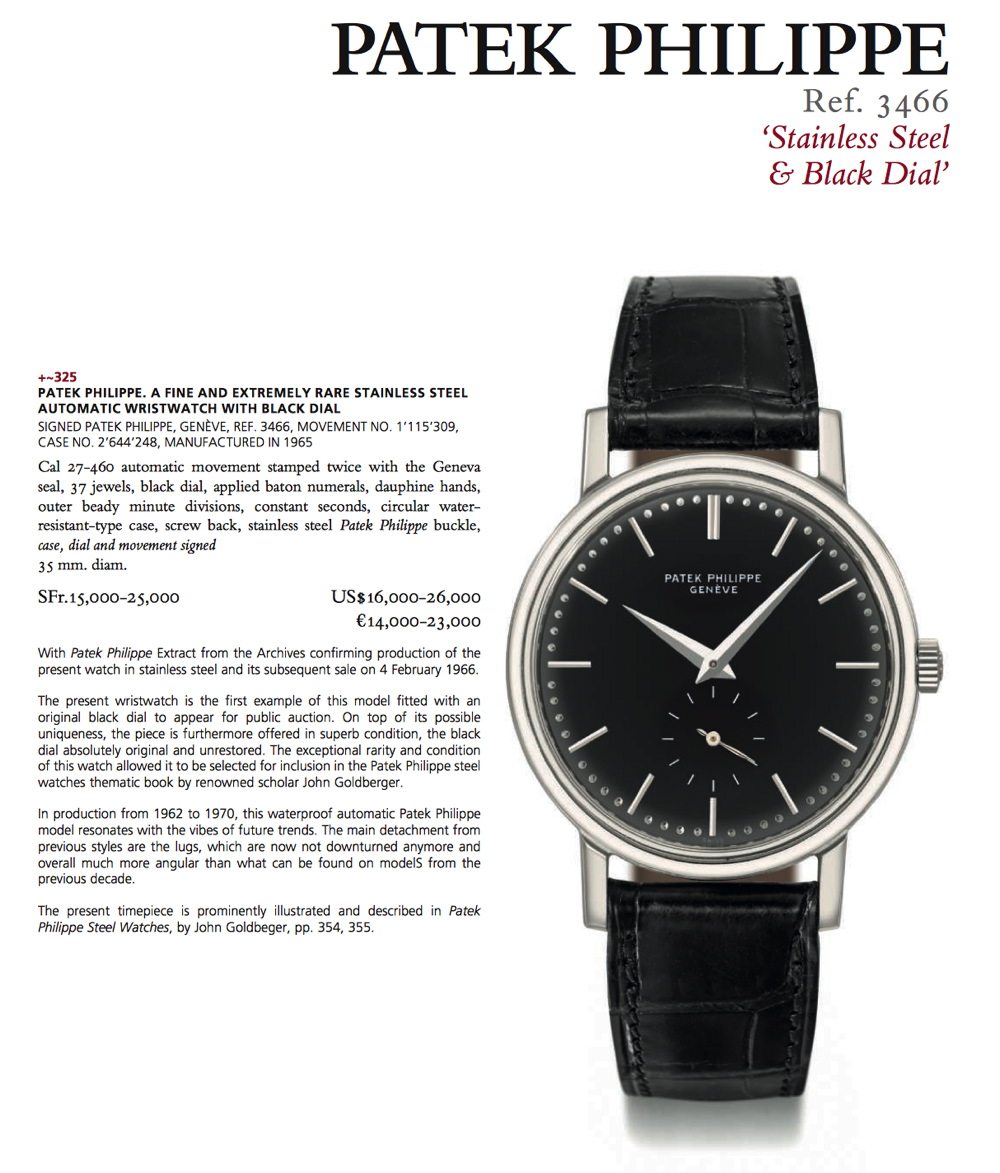 Patek made also a ref 2508 like Rolex did. Only some 100 examples are made and yet a 2 handful of stainless steel cases where sold making this one very rare again. The all over conditions seems to be nice and matching therefor the estimate of €23- €41.000,= will be no issue for this elegant center second handwinder.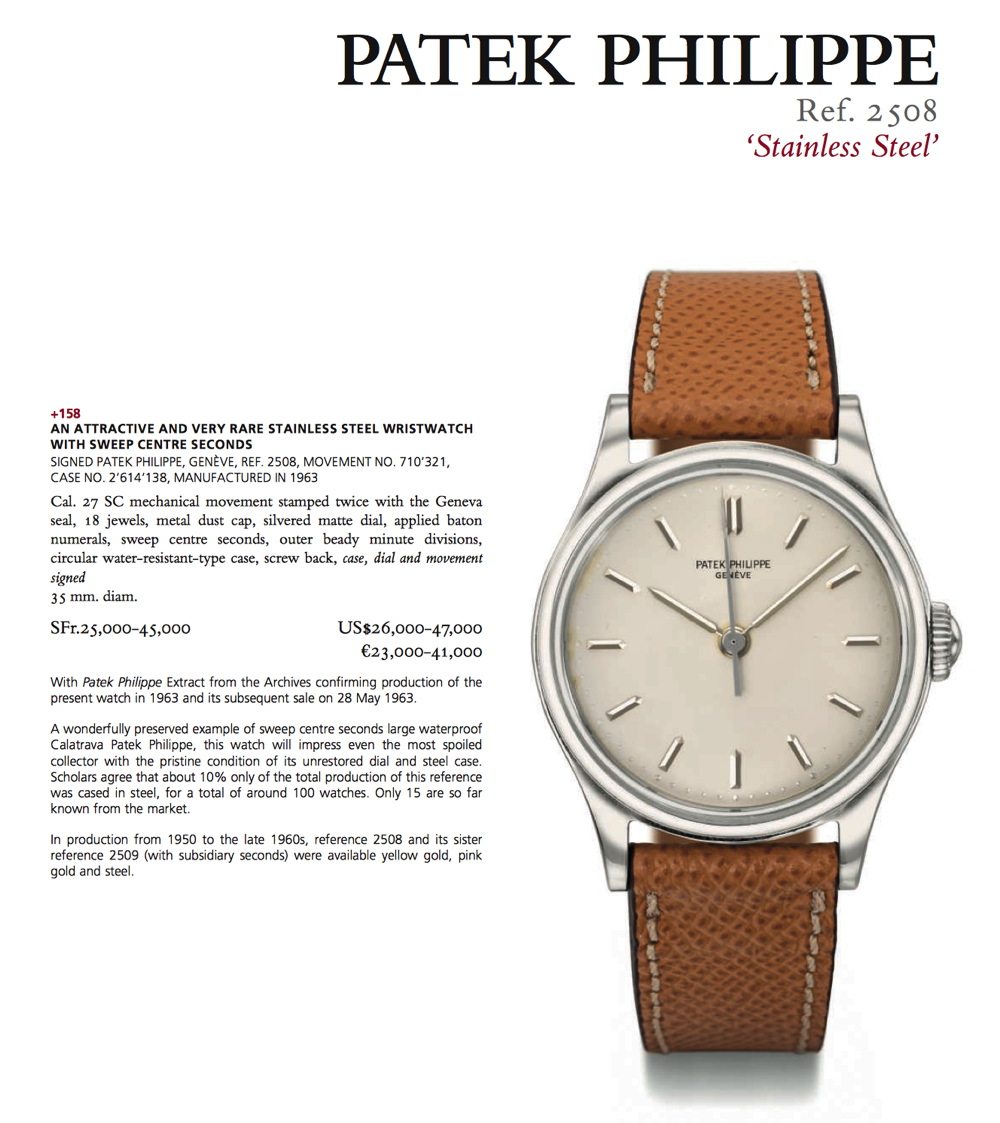 The following pink gold "Tasti Tondi" is really marvelous with it's two tone dial and dealer stamp of Casa Welsch in Lima, Peru. Estimated to 183 – € 274.000,= I would love to own it but most probably it will sell over high estimate. Just wonderful!!
One of my favorites, next to the 1436 Split, this steel Ref 565 with black dial is just mind blowing cool. Unrestored and still in marvelous original condition this rare waterproof beauty is estimated to  € 91 – €183.000,= and i wouldn't be surprised if it even went over 200K all in.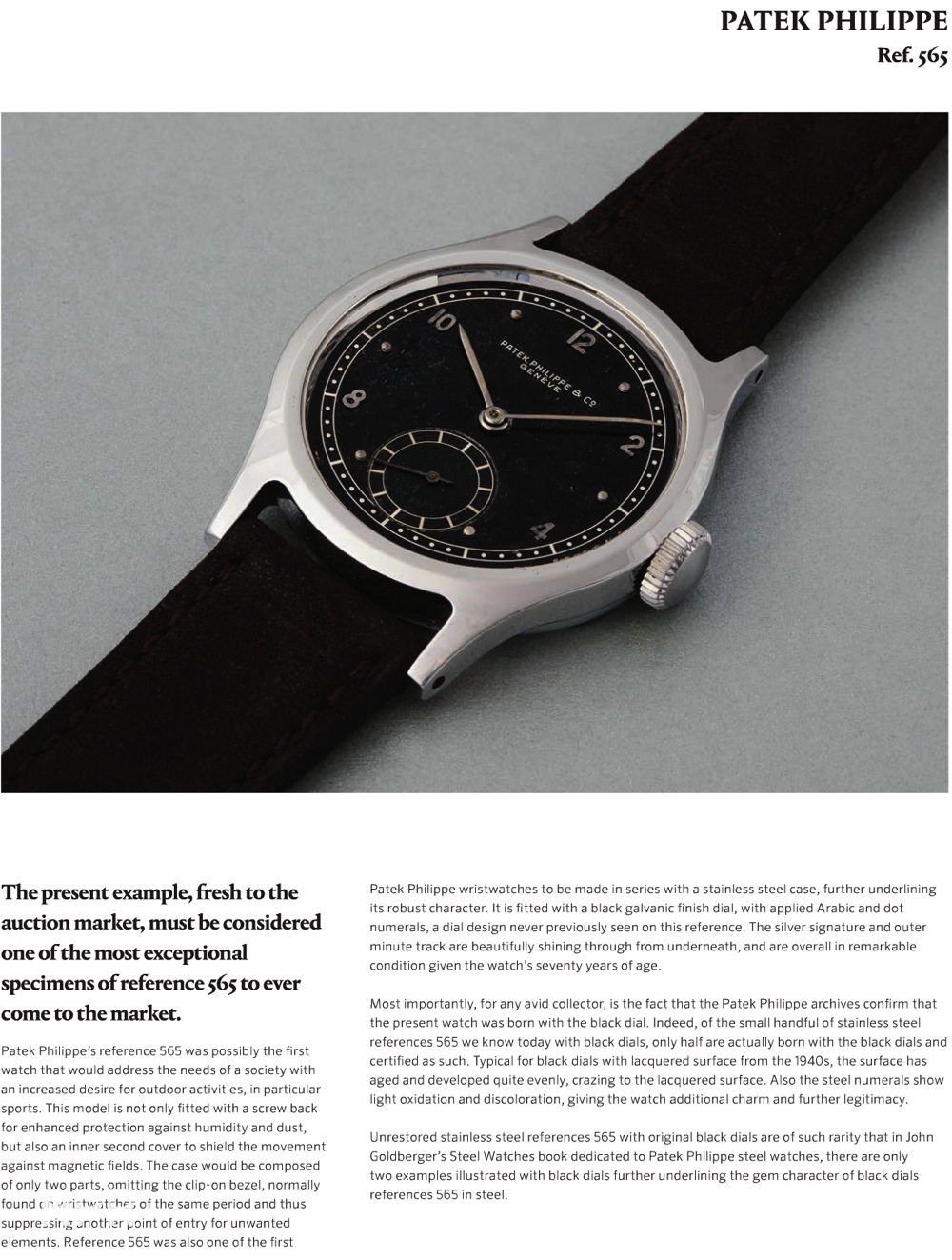 Again for the Breguet numeral fans, here's a Ref 533 chronograph from Patek Philippe in white gold with such a lovely white dial. Only 150 examples have been made from this reference and finding one in this condition is special. Therefor i would be surprised to see if the PPC collectors wouldn't pay up to the high estimate of € 365.000,=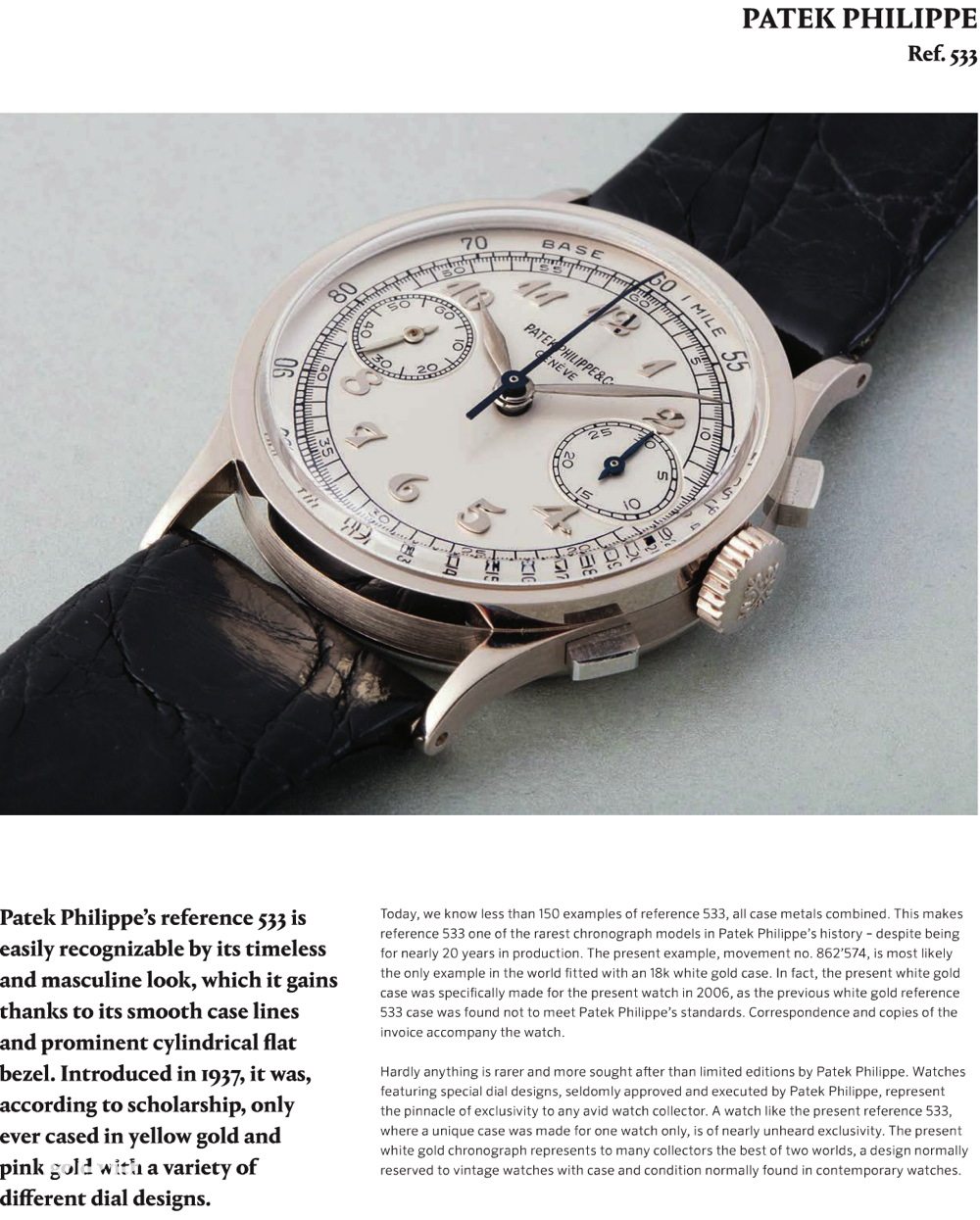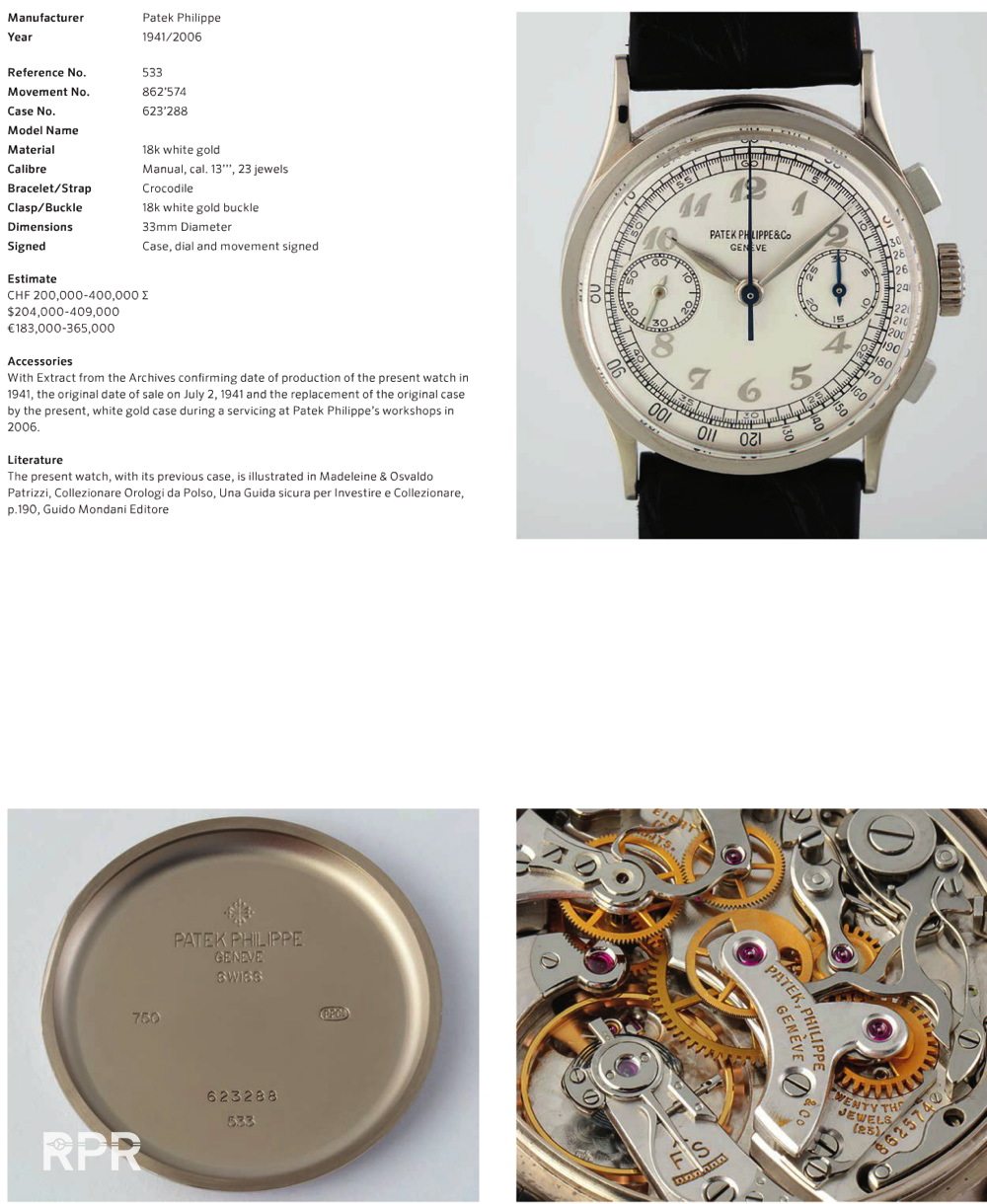 One of the very last iconic references of the first perpetual calendar & chronograph's by Patek Philippe is this ref 2499/100. Signed by Gübelin, the condition is very nice and I think it will finally sell for € 350-400 all in.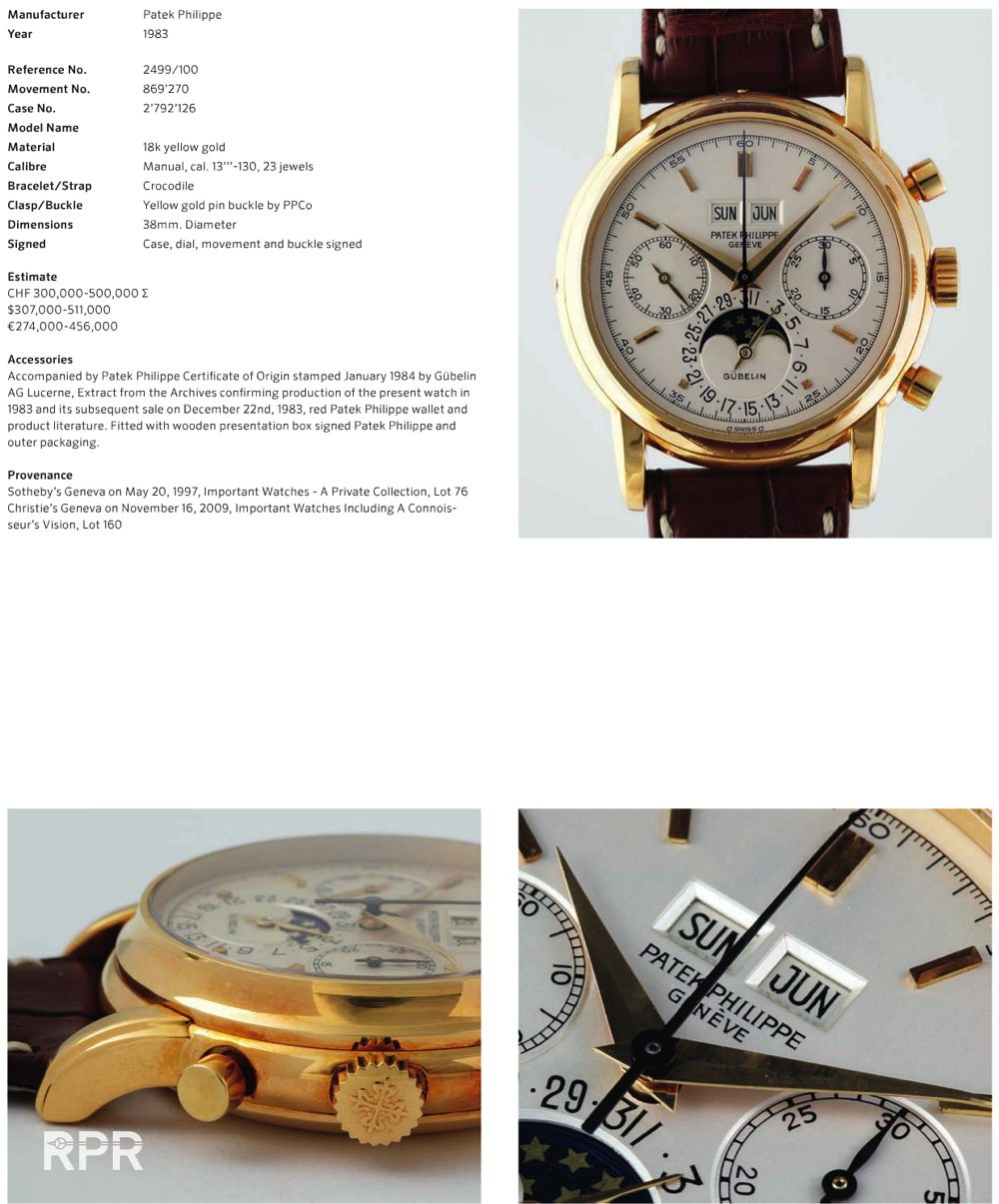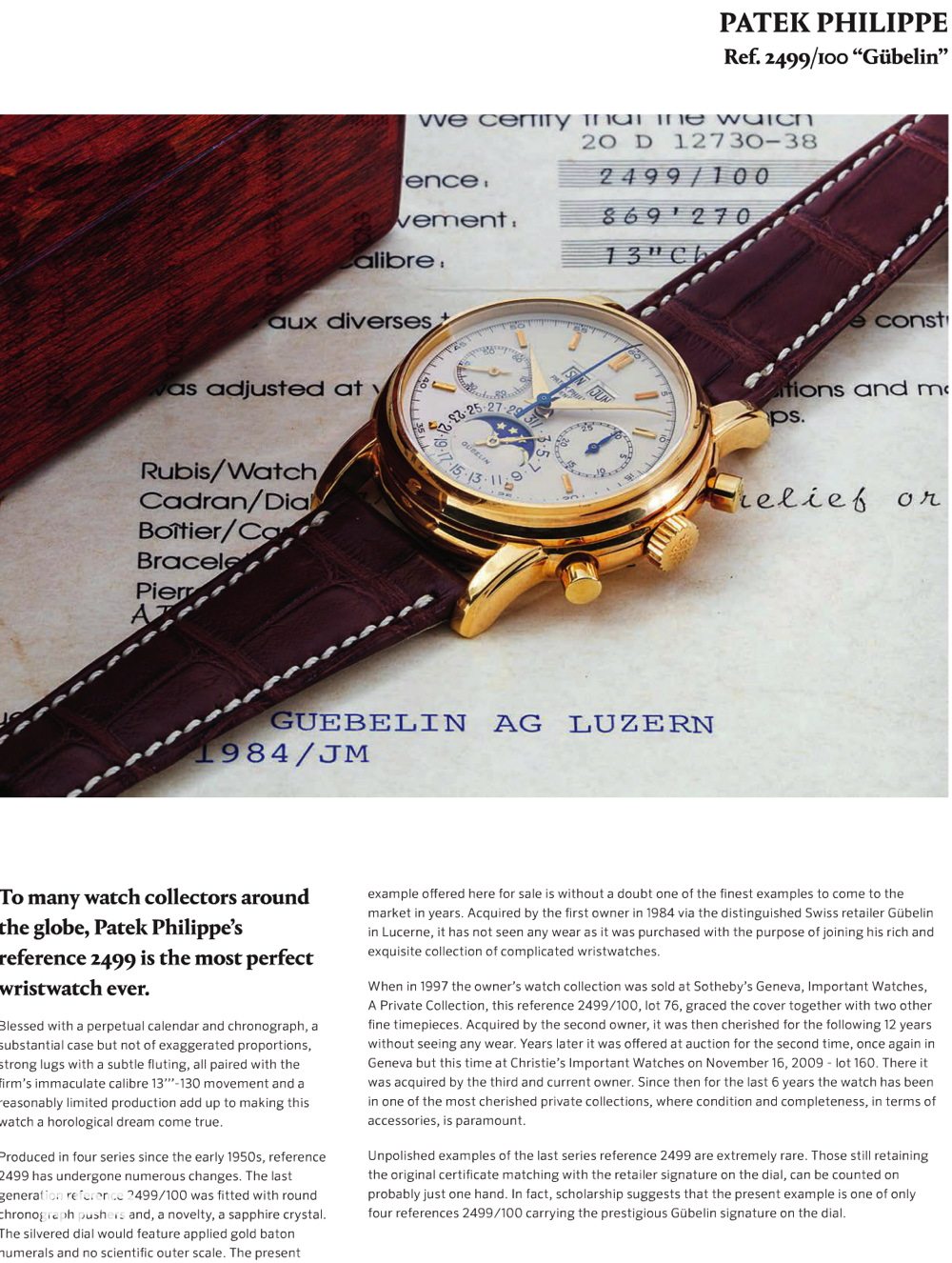 Next is a lovely fine ref 2438/1 in yellow gold with nice patina and engraved case back. Estimated to € 210 to €301.000,= it should fetch the high estimate.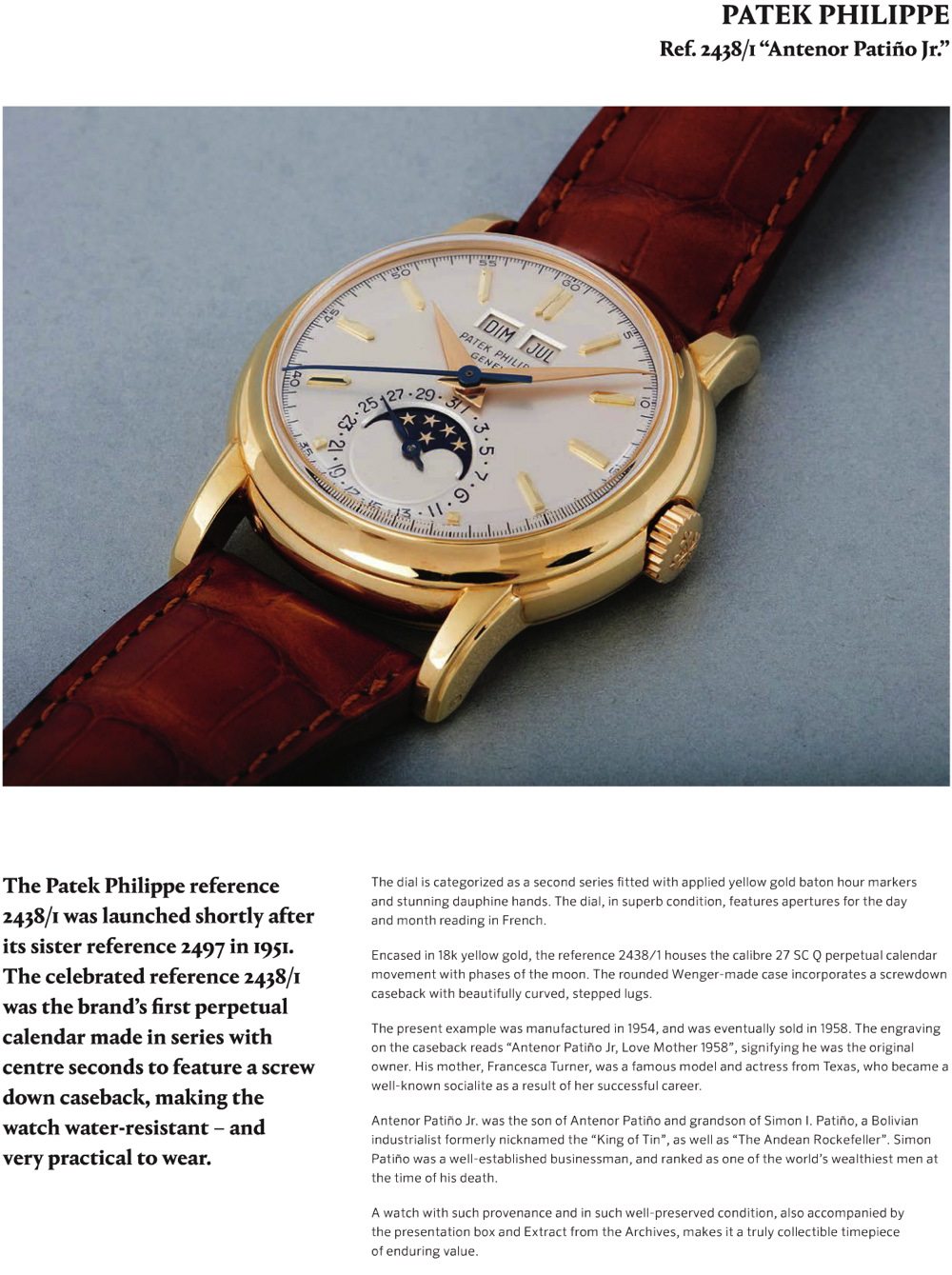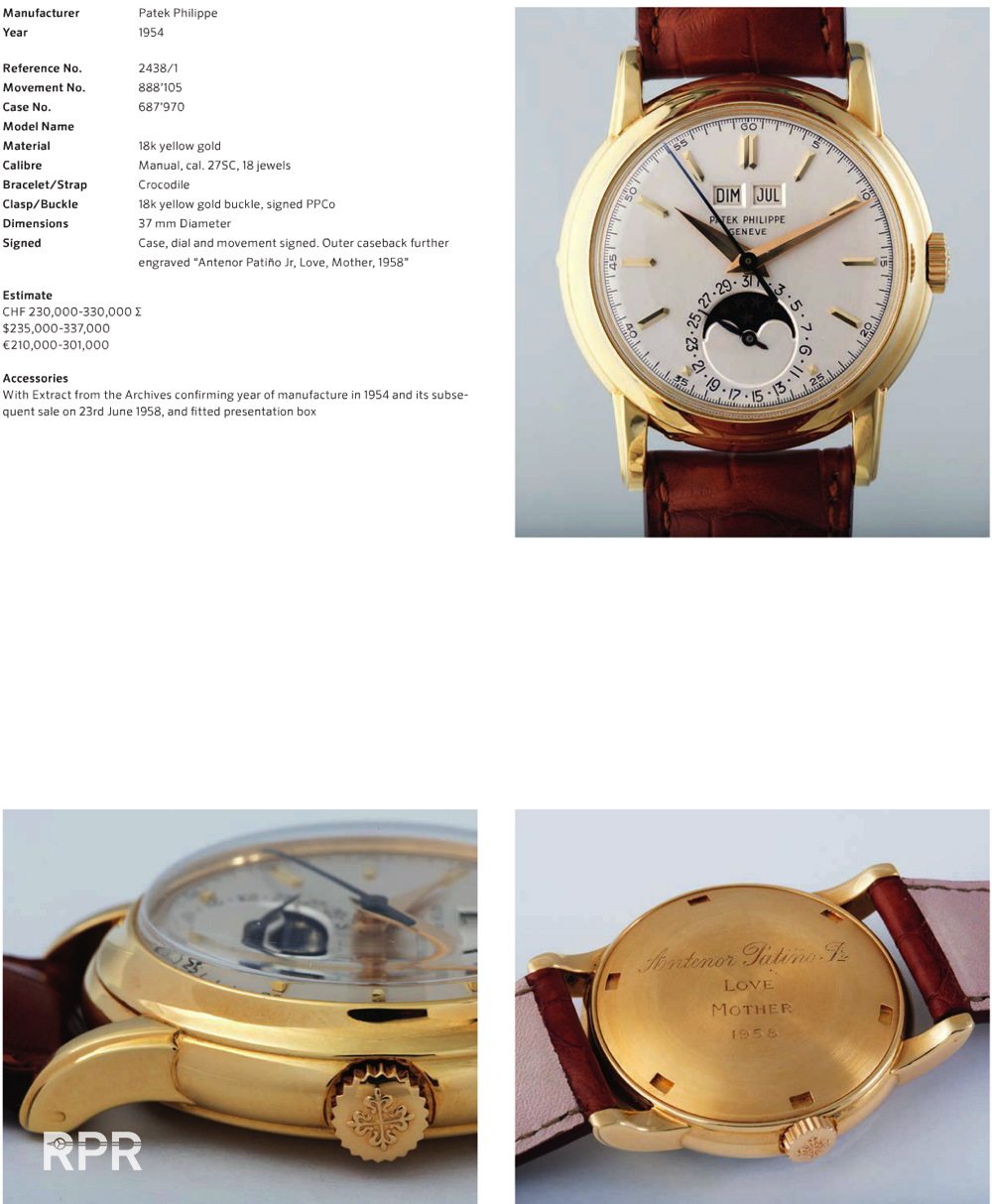 Next one I like myself also very much, the combination of a great stainless steel case, breguet numerals and a warm patina on the dial is making this Ref 2483 very adorable. The case seems to be very fat and the estimate of € 18-€27.000,= will easily be broken I think.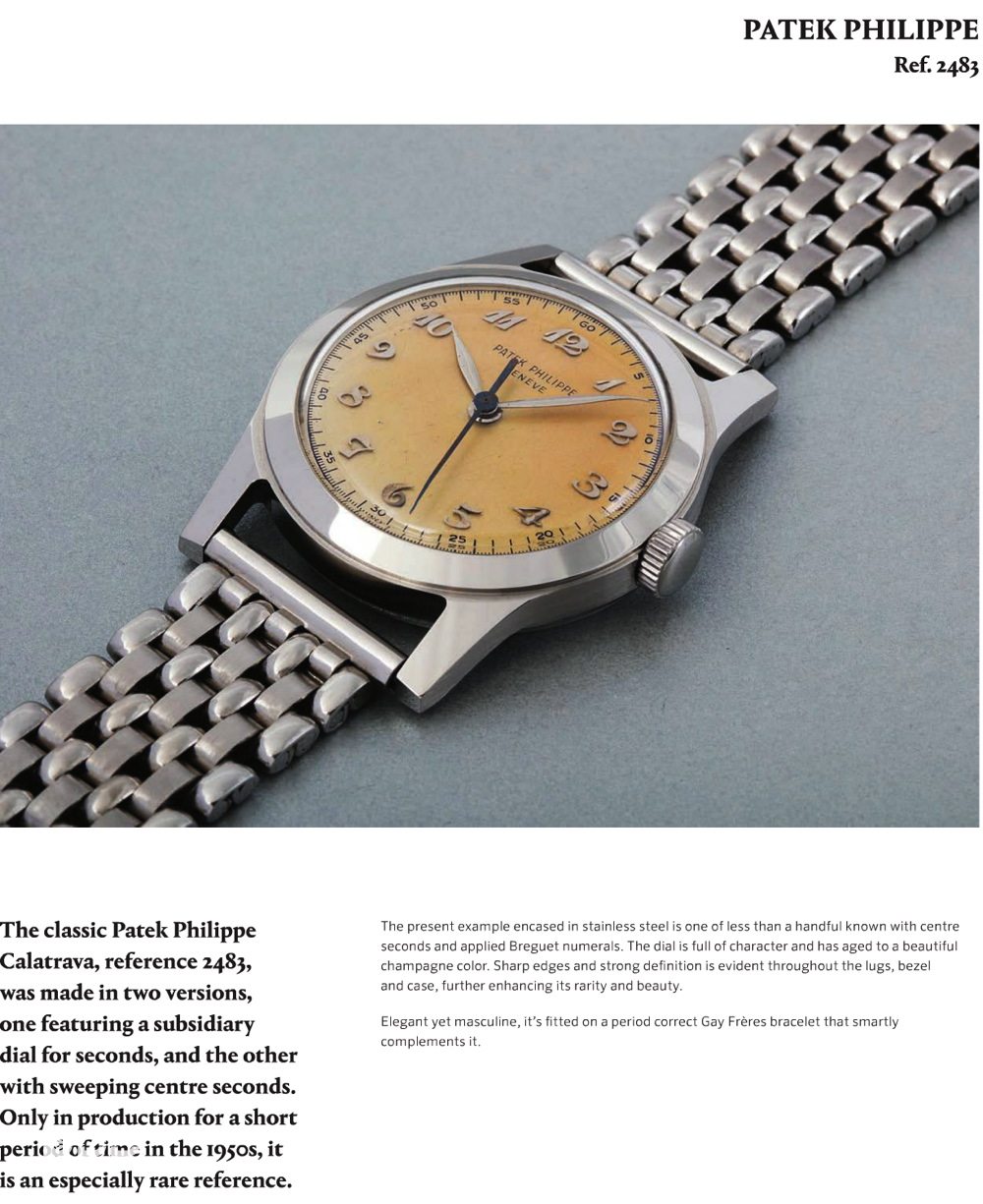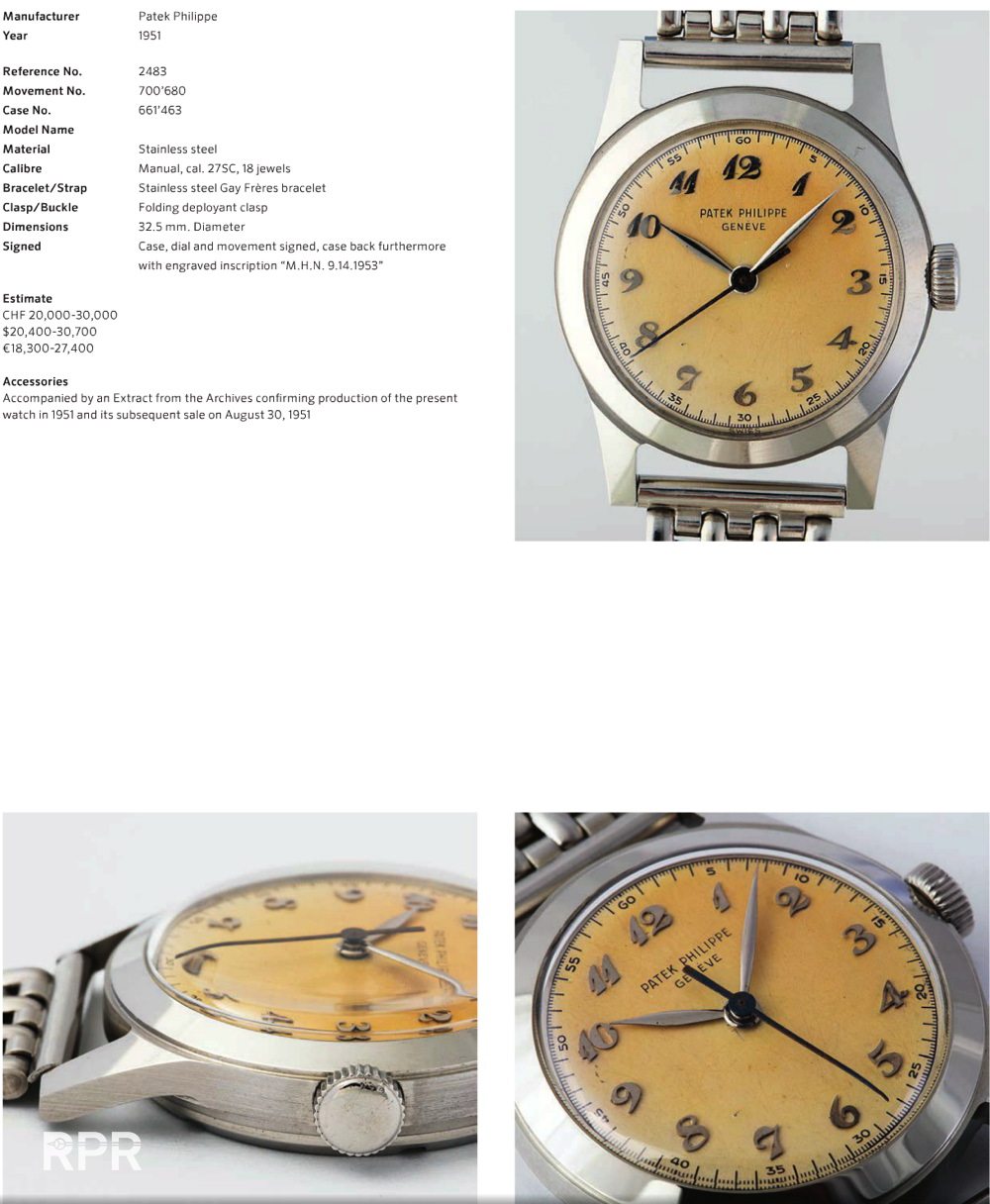 The last Patek from y report but surely not the least is this miracle of a cloisonné dialed world timer pocket watch with ref 605 HU. What a rare and stunning example this is, besides being complicated it's dial is just as good as a Rembrandt or Van Gogh. The only other known example is in the PPC museum so this one will certainly go sky high. Estimated to €456- €911.000,= it will go over the 1 million euro mark all in.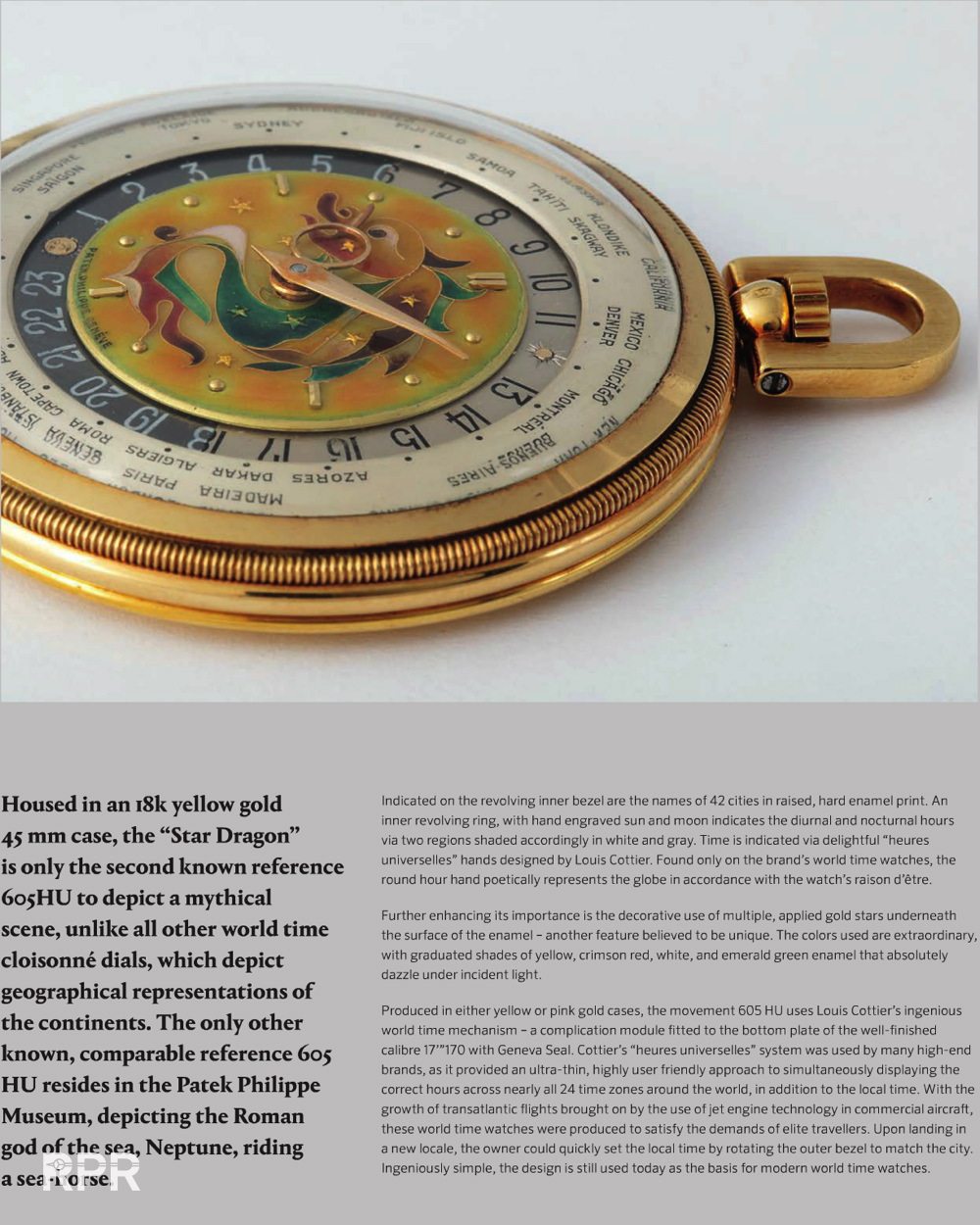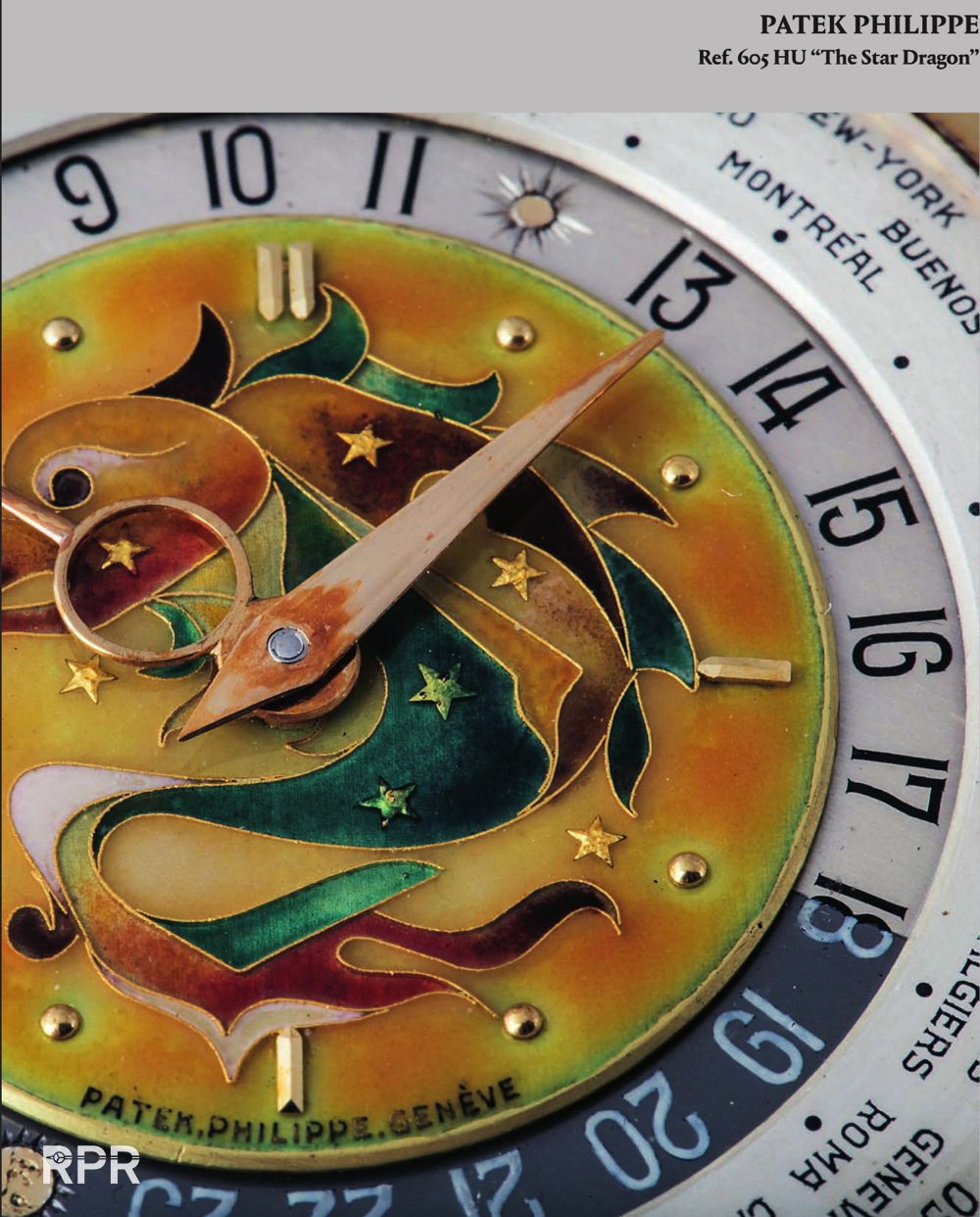 And some non Rolex & Ppc examples…Due to the enormous demand to PPC & Rolex from the market, other brand with similar looks, same case maker, dial maker or movement supplier are also very much in demand. Here a nice Eterna with black glossy dial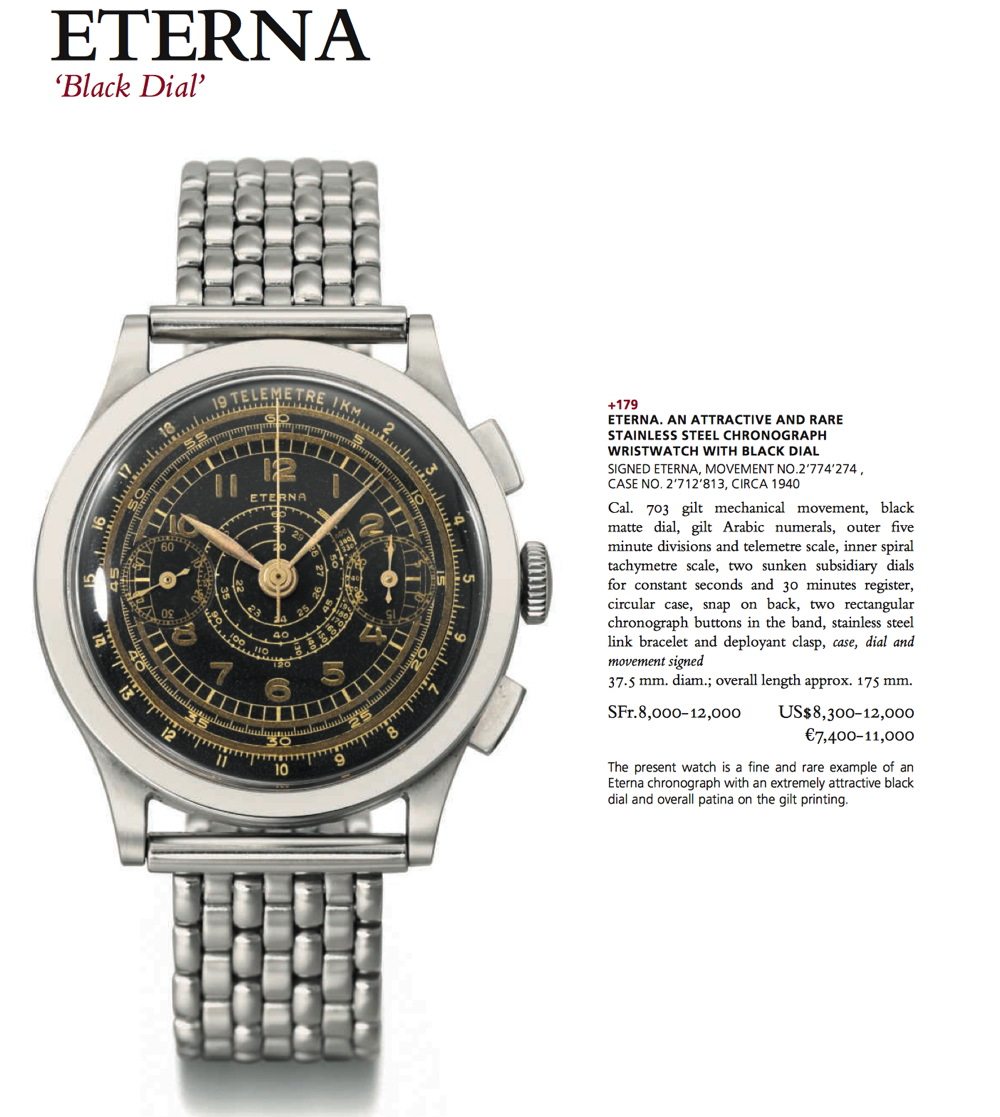 A important tonneau shaped Audemars Piquet minute repeater in small size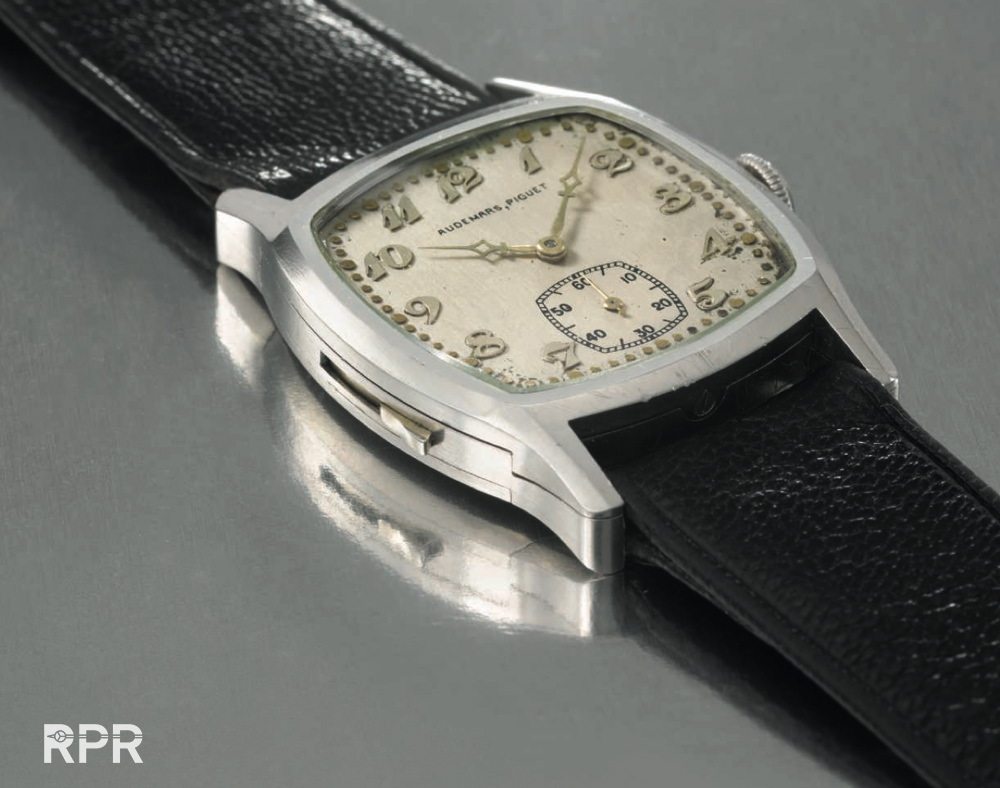 Lovely steel and pink gold Audemars Piquet calendar chronograph which are actually breaking record prices. Still kind of reasonable;e compared to PPC and Rolex, here estimated to € 74- € 130.000 with only 5 examples made, this is having much more potential, imho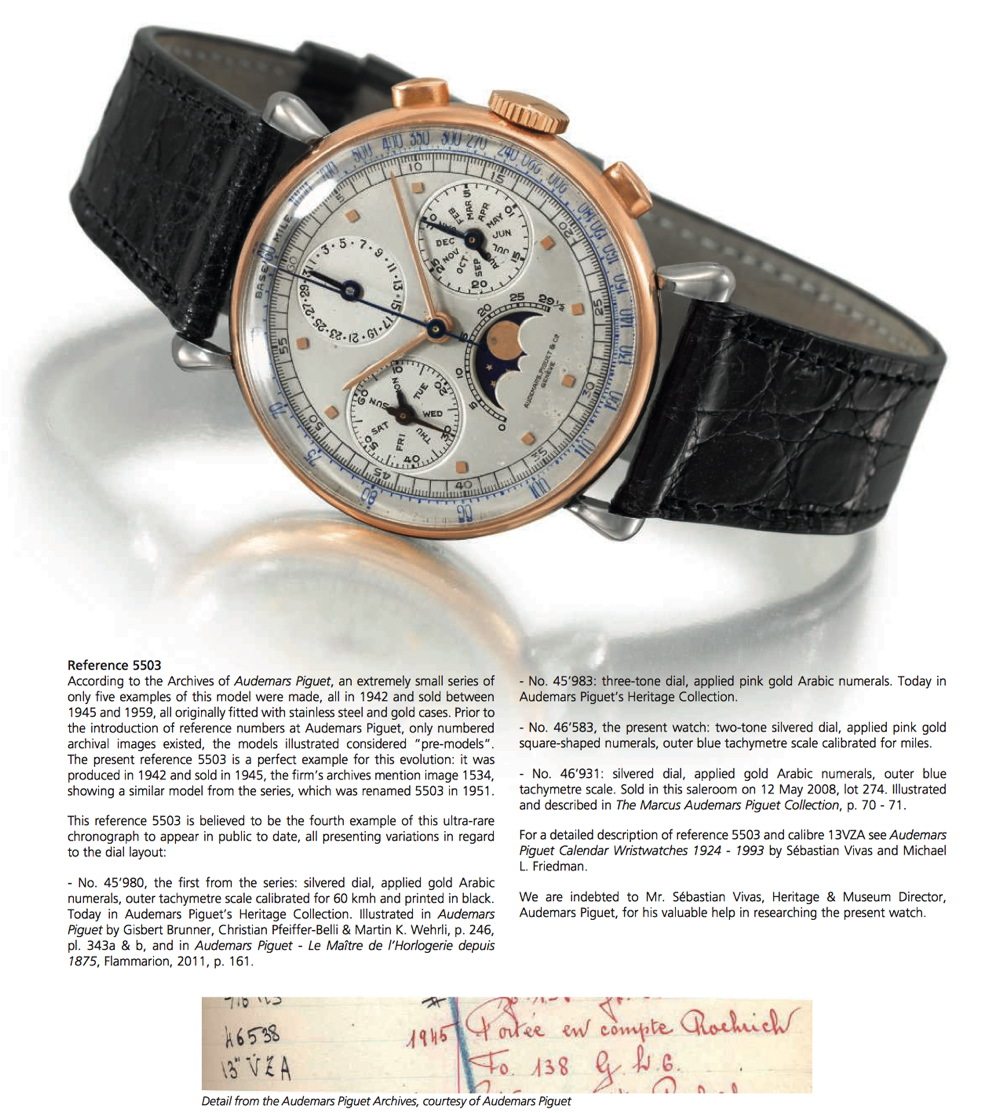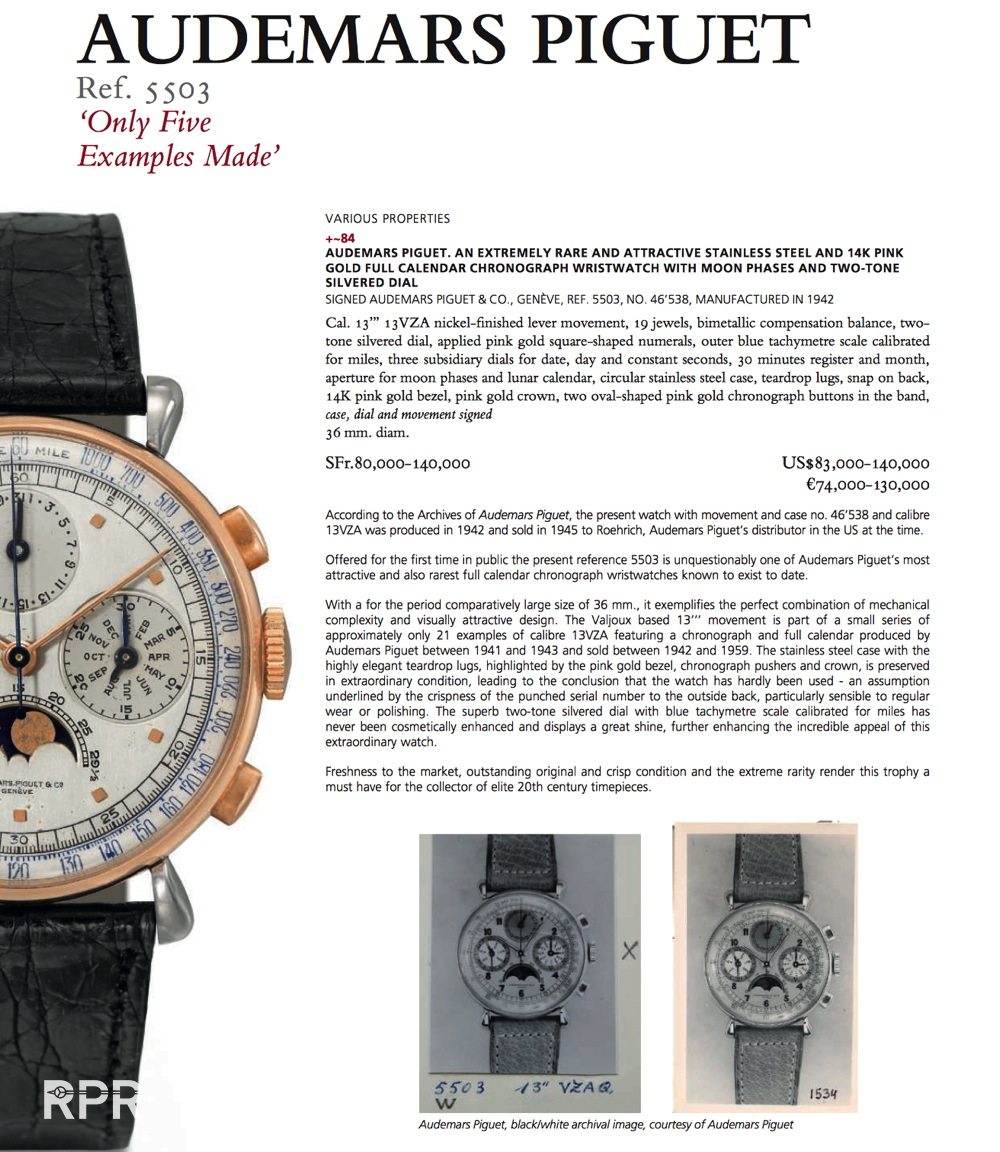 Another stunning early AP chronograph in bi color that will hit the high estimated of this reference 1533 from €91 – € 137.000,=
And maybe the hottest watch of 2015, the "Nina Rindt" Universal Compax chronograph in panda style. These are already selling much higher then the estimate so i'm not at all surprised to see this one sell double the estimate, easily. By the away, when is Universal Geneva coming back to the market with some new watches I wonder after all positive attention it gets recently.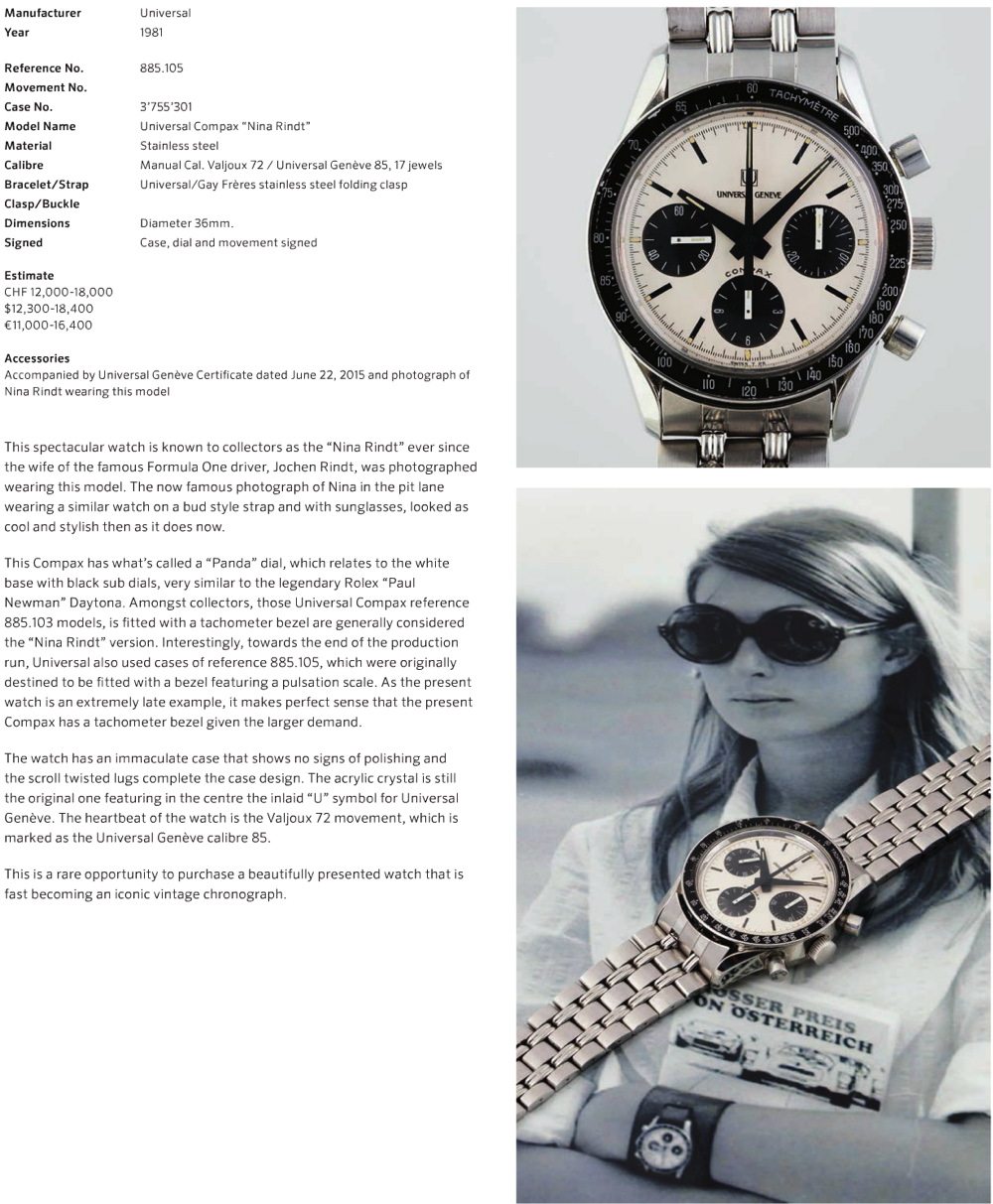 And last one, a Swatch collection by one of the original designers, estimated to CHF 1-1.5 million logically Mr Hayek should buy.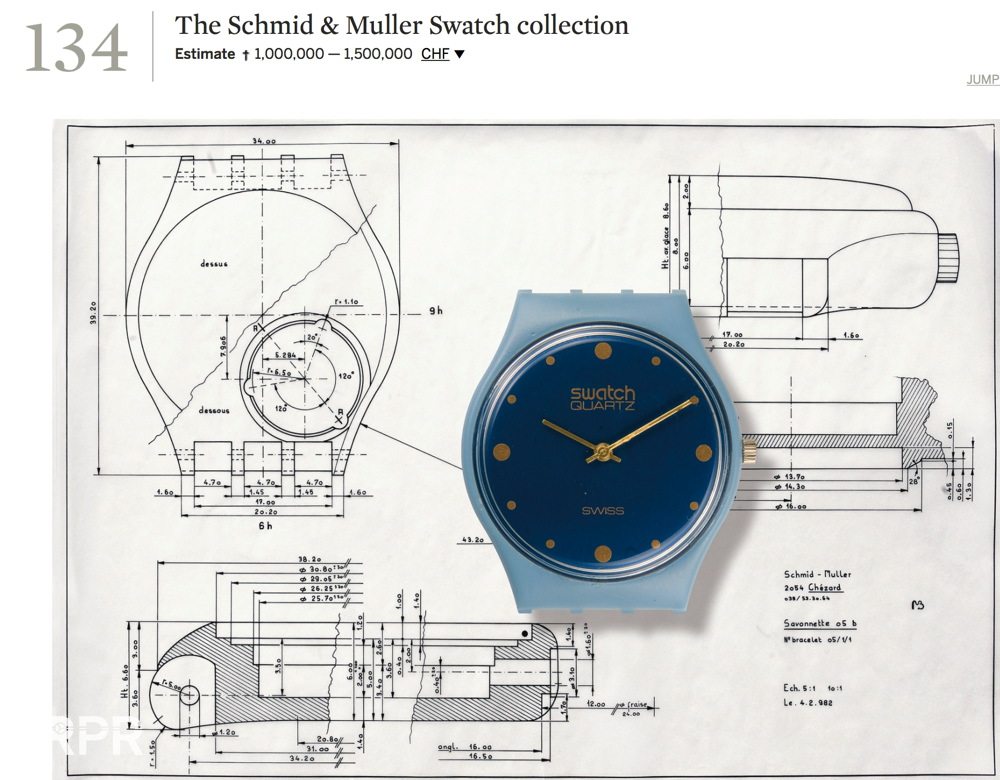 For more info about the geneva watch auctions, please visit the website of the auction houses.
Please do yourself a favor and check the above catalogues online as there are many more great watches coming up for sale!! More then happy to see many great friends, collectors and dealers from a round the world in Geneva soon!