Davide Parmegiani 100 Fabulous Watches For Sale
100 Fabulous Watches For Sale from Davide Parmegiani – Winter 2015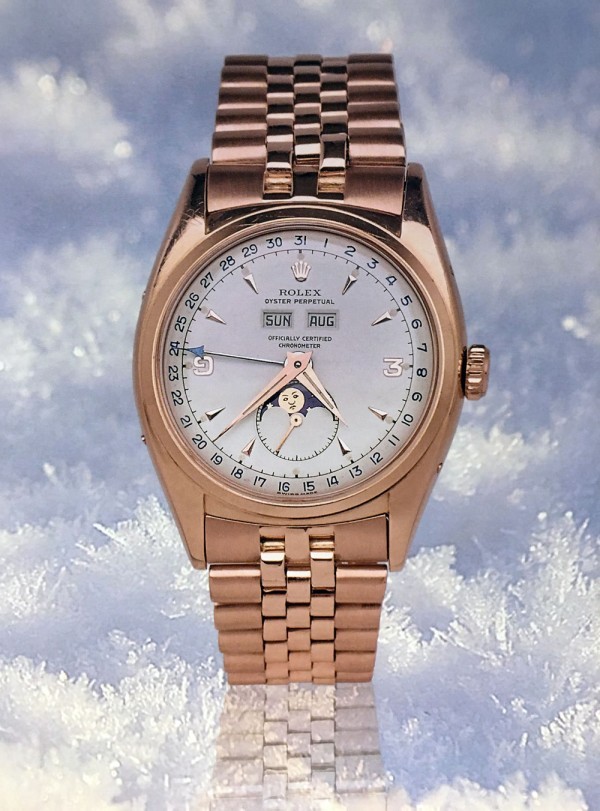 –> 18K Pink Gold Rolex Full Calendar Ref 6062..
For the 3rd time now the "Big Boss" under the vintage watches dealers, Mr Davide Parmegiani, has made his "100 Fabolous Watches" catalogue and send it around the world to his customers and friends. It's quite exceptional to see that 1 person has so many great vintage watches in his collection that he can make a brochure twice a year and fill it with 100 rare collectable watches of mainly Rolex and Patek Philippe. Off course some occasional Vacheron Constatin, Audemars Piquet. Longines or Cartier are in for offer but mainly the focus is what the market really wants; Rolex & Patek Philippe. And from these 2 legendary watch companies Mr Parmegiani doesn't really offer the mainstream models like a regular Day Date, long E GMT master or Maxi Submariner. He has no vintage Rolex for sale under € 20.000,=…
Grail –> steel Rolex ref 6062 with Full Calendar Moon-Phase..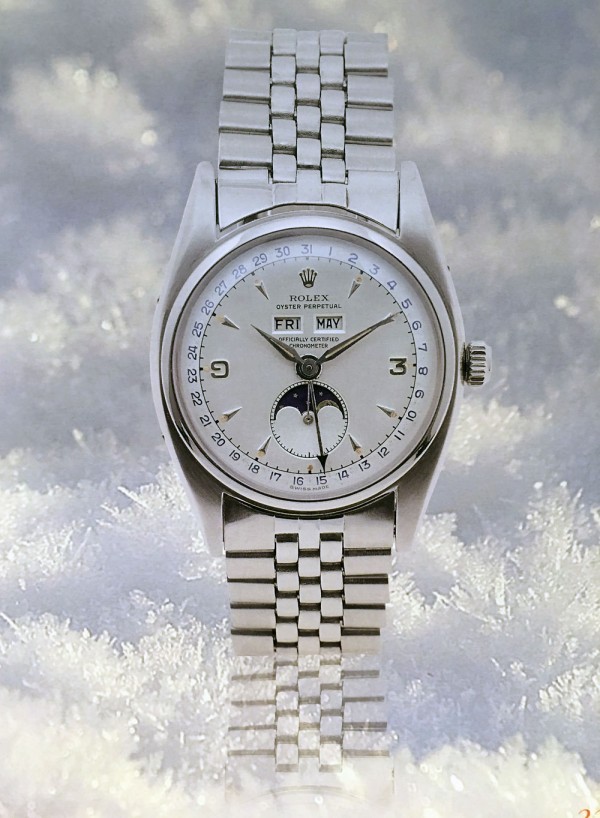 The focus on the offered vintage watches one can best explain with his own words of how he likes to describe his business; "Only the Best". The last 2 editions of this "100 Fabolous Watches For Sale" where already impressive. Whatever you like to own, it's been offered for sale. Even if it's a very hard to get stainless steel Rolex 6062 or first serie Patek Philippe Ref 2499, you name it and you'll find it for sale in Lugano Switzerland where the office is located. It's therefor an honor to have all the vintage Rolex for sale here on Rolex Passion Market, check out the trusted RPM dealer page from Davide Parmegiani here.
–> See all vintage Rolex from the Winter 2015 Catalogue on Rolex Passion Market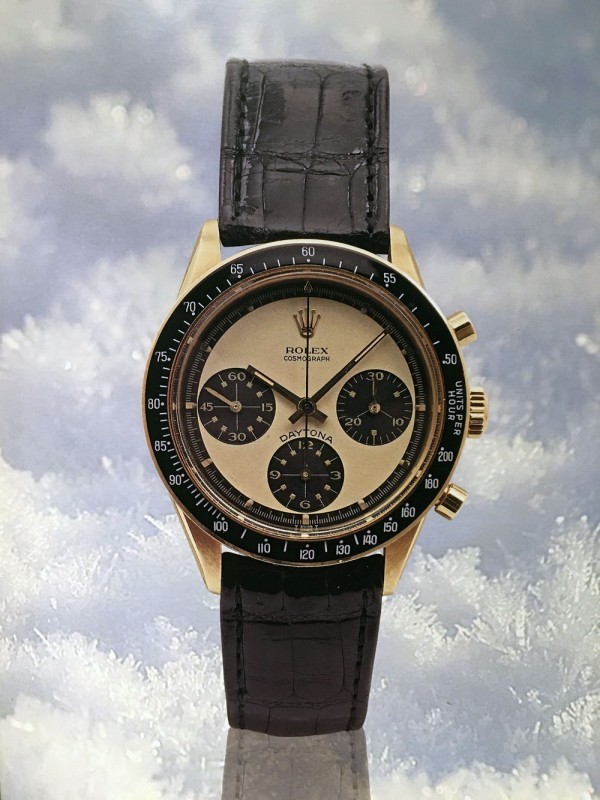 –> Champagne dialed Rolex Paul Newman Ref 6264
Next is the rare –>18K Pink Gold Rolex "Dato-Compax" Ref 6036 Silver Dial signed by Serpico Y Laino.
And very limited –> 18K Yellow Gold Rolex Daytona Ref 6270 with Pavè Diamond Dial and Baguette Bezel and Blue Register.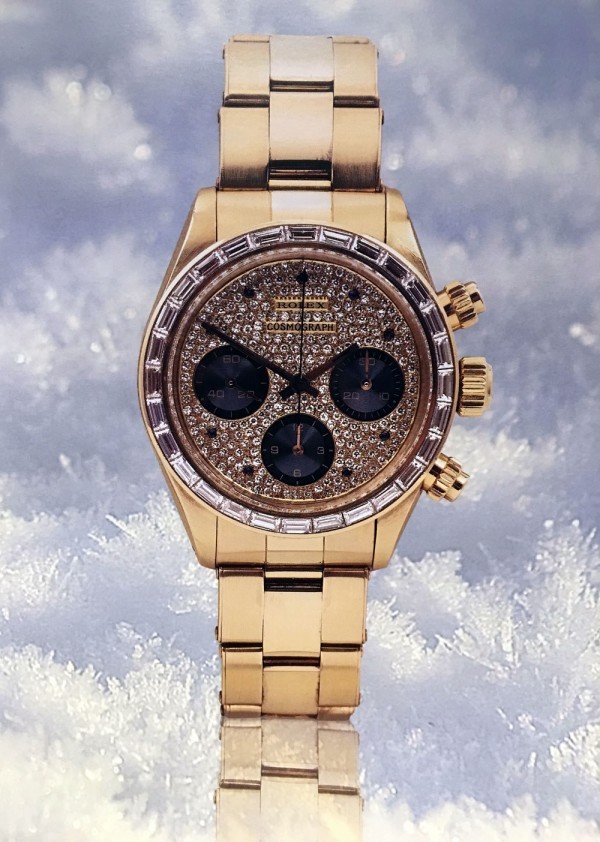 So what does the Winter 2015 100 x Fabolous Watches catalogue offer us as vintage Rolex collectors? Ok from the 100 great watches some 44 x are vintage Rolex and all of these offers are for a seasoned collector. It starts with an almost simple but perfectly preserved glossy gilt GMT Master ref 1675 but then it wouldn't be in Davide's catalogue if it didn't had anything special to add to make it rare and desirable. His 1675 GMT is made for FAP – Fuerza Aerea del Perù.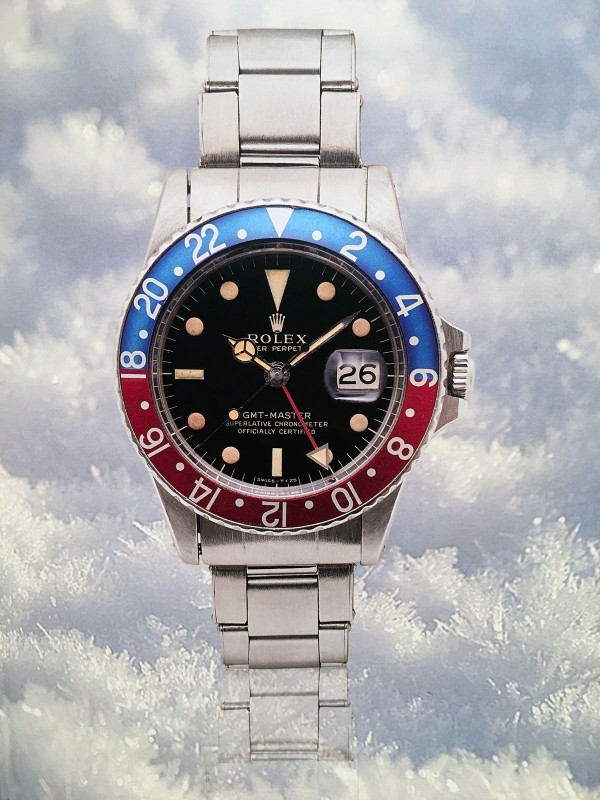 See the trusted RPM offer –> steel Rolex GMT Master Ref 1675 for FAP – Fuerza Aerea del Perù.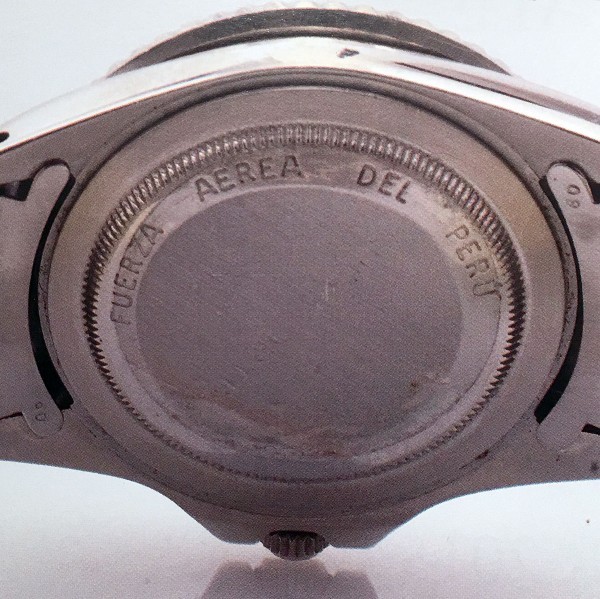 The new catalogue is a multi million euro collection of rare vintage Rolex for sale one can hardly find and buy in one lifetime. From Pink 6062, to steel 6062 and yellow 6062, steel Killy and Padelone, Big Crown 5510 and Milgauss 6541, gold Paul Newmans, gold Daytona's, steel Paul Newman's and steel Daytona's of any reference you can dream of. It's all for sale. Add some tropical Submariner and Seadweller and you come to a crazy collection of important Rolex.
–> Rolex Big Crown Submariner Ref. 5510 with big white lollipop second hand and red triangle bezel insert.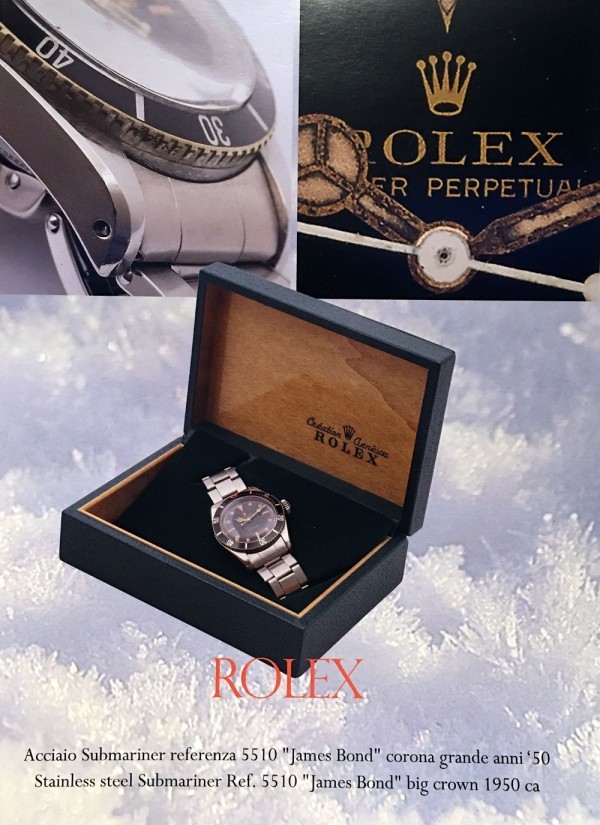 –>steel Rolex Daytona Ref 6241 Black Paul Newman with original Box and Papers.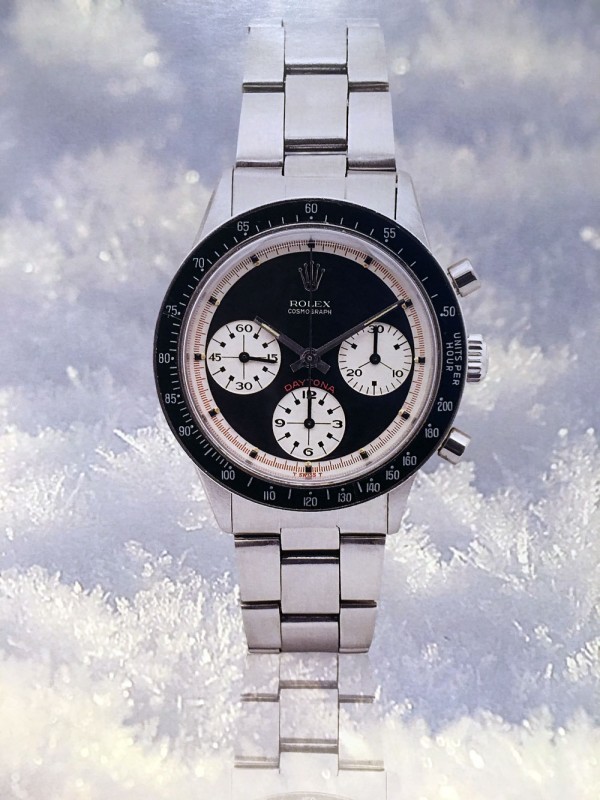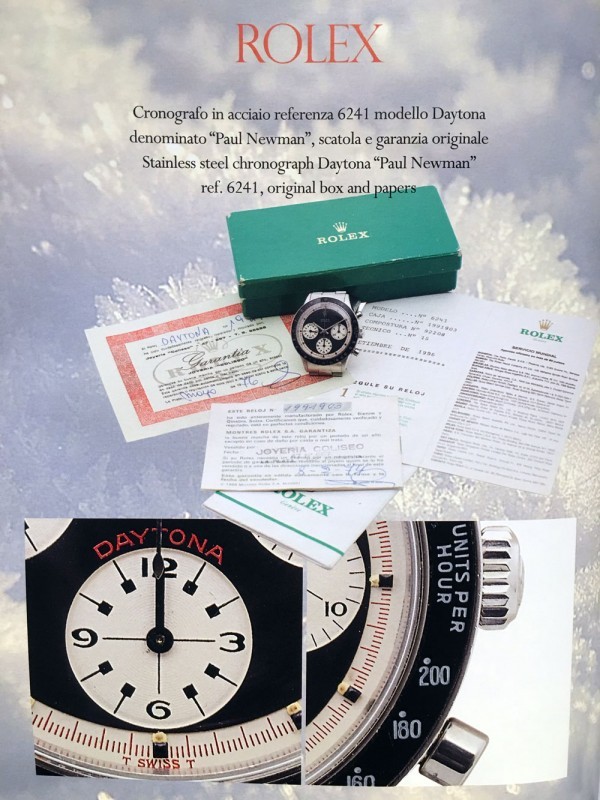 –> Stainless steel Rolex Milgauss Ref 6541
–>Stainless steel Rolex Chronograph Ref 6036 "Jean Claude Killy" with complete Calendar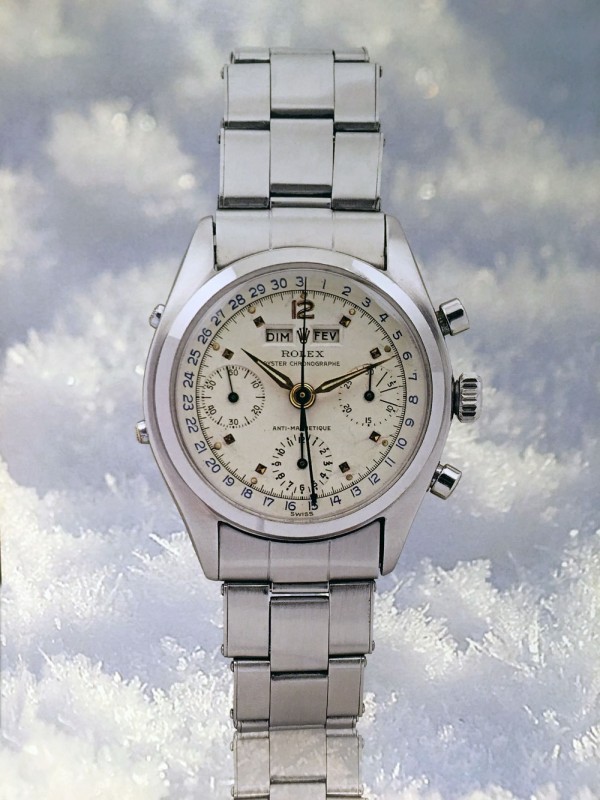 –> 18K Yellow Gold Rolex Submariner Ref 1680 with Oman Sultan Qaboos Blue Dial.
–> Rolex Submariner Small Crown Ref 6536/1 with Red Depth
–>Gold Rolex Submariner Ref 1680 with Tropical Brown Nipple Dial.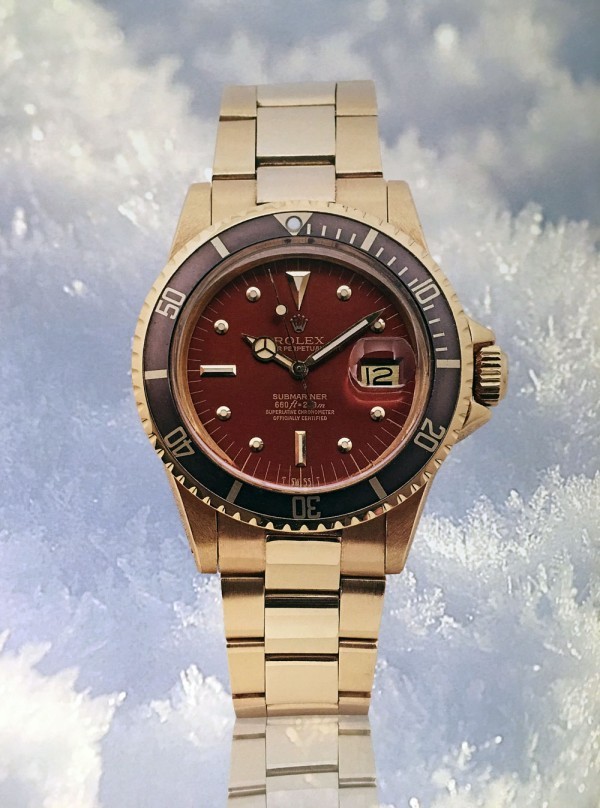 –> Unusual 18K Pink Gold Rolex Chronograph Ref 3835 with Step Lugs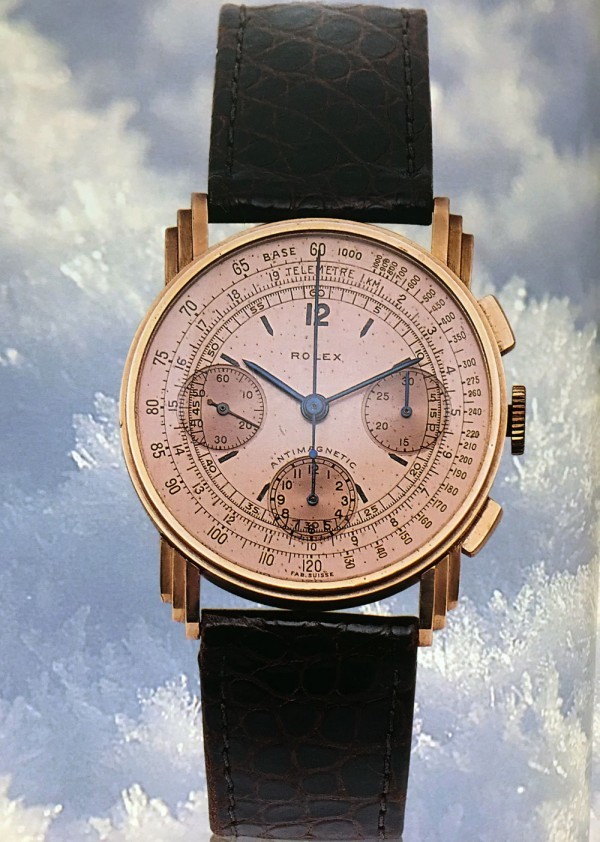 –>18K Yellow Gold Rolex Ref 6062 'Stelline" with Full Calendar Moon Phase.
We just uploaded all new "Winter 2015" vintage Rolex for you. If you want to see any of the 74 x exceptional vintage Rolex Davide Parmegiani has for sale now, please follow this link to his trusted RPM dealer page.
Davide Parmegiani, Via Nassa 40, 6900 Lugano, CH
Catalogue request on: davideparmegiani@gmail.com
Or by phone directly to: +41 (0)91 9225233